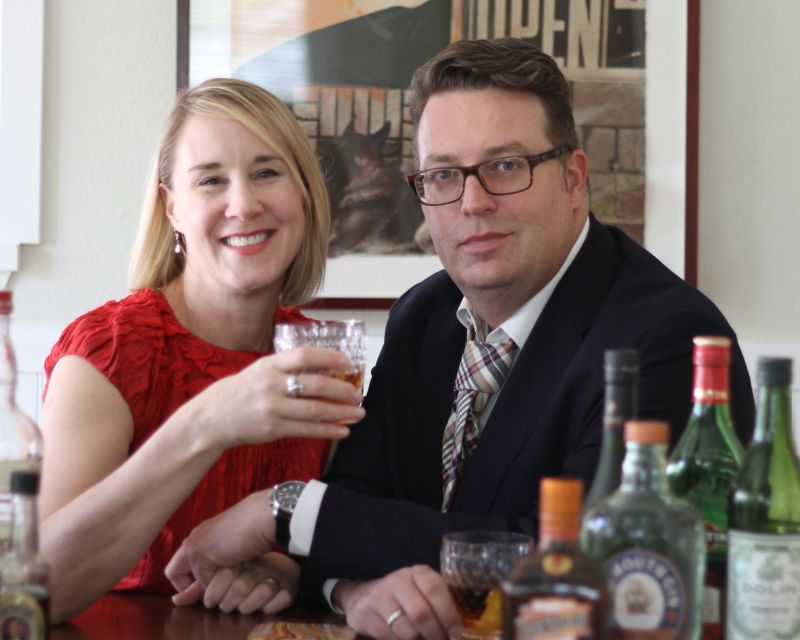 12bottlebar.com
The perfect holiday, Just Like That™. This holiday season we've partnered with some of our favorite bloggers who will be showing you new and inspirational ways to bring the holidays home.
Entertaining this holiday season? We've partnered with David and Lesley Jacobs Solmonson of 12 Bottle Bar to bring you 12 new cocktails, one each week from now until New Years. Cheers!
The name Charles Dickens will likely always bring the holiday season to mind. Sure, he wrote A Tale of Two Cities and Great Expectations, but come Christmastime, there is only one Dickens story that matters. And that is A Christmas Carol, the story of miserly Ebenezer Scrooge, who learns a thing or two about kindness and good will and Christmas spirit from some very insistent ghosts of past, present, and future. It's likely that a punch very much like this one would have been served at the festive holiday dance thrown by jolly, warm-hearted Fezziwig in Dickens's morality tale. And, if authenticity isn't your bailiwick, did we mention that you get to light it on fire? There, now we have your attention.
About Dickens's Punch
Charles Dickens's Own Punch from 1847 can be found in the pages of Convivial Dickens, a superb reference to a bygone era of, as the title suggests, convivial drinking. This was a time when people were yet to discover the allure of the cocktail. When folks gathered for an event, they did so around a punch bowl from which each person could serve themselves a small, but potent draught of the sipper in question.
Because the original measurements from this era can be a bit antiquated, our version here is courtesy of David Wondrich's adaptation found in his book Punch. Speaking of punch itself, there is a reason that it held sway over the party elite. As mentioned, the punch bowl served as a cozy gathering spot for all, giving everyone an immediate topic of conversation. ("Oh, I say, what a superb punch, don't you think?") More than that, punch has always functioned as a drink meant to be prepared ahead of time. Frankly, it's tough to be convivial, if you have to act as bartender instead of host all night.
In the case of this punch, it is served warm, so it's best to keep it on the stovetop after setting it aflame. And speaking of flames, we promised you fire and here it is. The allure of the Dickens punch lies not only in its lovely flavors, but the fact that you can set the punch afire, thus offering your guests a bit of kitchen magic to start out the evening. Doing so may take some practice; if your punch is too harsh or alcoholic, you didn't let the flame burn long enough. While eye catching, the flame serves a much more important purpose, which is to help the flavors meld into a more cohesive and gentle whole.
All in all, this is one of our favorite punches. The sweet, tart, and boozy elements — lemon, sugar, rum and Cognac plus water — create a greater than the sum of its parts drink that somehow perfectly encapsulates the warmth and festivity of the season.
We mixed our version in the Le Creuset Signature 7.25 qt. Round Cherry Red French Oven.
For any hot beverage, heat-proof glassware is must. The curvaceous Hot Drinks Glass succeeds elegantly, its delicate lines echoing the Victorian nature of the punch itself.
3

lemons

6

ounces

raw sugar cubes

roughly 18 equally sized cubes

2

cups

amber rum

plus extra for flaming

10

ounces

Cognac-style brandy

4

cups

boiling water
3

lemons

6

ounces

raw sugar cubes

roughly 18 equally sized cubes

2

cups

amber rum

plus extra for flaming

10

ounces

Cognac-style brandy

4

cups

boiling water
Peel away the lemon zest with a vegetable peeler, leaving behind as much of the white pitch as possible; juice the flesh into a small nonreactive bowl.

Combine the lemon peels, sugar, two cups of rum and brandy in a French oven or fireproof bowl.

Warm a spoon under hot running water and dry it thoroughly.

Pour rum into the spoon, hold it over the French oven and carefully light it on fire with a long match. Slowly, pour the flaming rum from the spoon into the French oven from just above the surface, igniting the contents. Let the liquid in the French oven burn for three to four minutes, gently stirring it occasionally with a long-handled bar spoon, and being careful not to over stir and put out the flame.

Cover the French oven with a heatproof lid or metal pan to extinguish the flame.

Add the reserved lemon juice and the boiling water to the mixture and stir to combine.

Cover the French oven with a heatproof lid until the flavors meld, about 5 minutes, then stir it again.

Simmer, partly covered over a medium-low heat until the flavors combine and bloom, 15 minutes.

Serve the drink in heatproof mugs.
Want more recipes from 12 Bottle Bar? Check out the Cocktail section of our blog, plus their new book!