Crate Road Trip: Midwest Chicago-Style Hot Dog
This summer, we're taking a foodie road trip to visit some of our favorite bloggers, so they can share a little about what makes the food in their corner of the United States special.

Next stop? Kim and Scott Vargo of Yellow Brick Home in Chicago.
This summer will be our ten-year anniversary of living in Chicago. We're here for the long haul! In our formative Windy City years, we took in as many sights as we could jam into a weekend. We rode our bikes along the lake, we sipped cocktails at the top of the Hancock Building, we splashed in Crown Fountain and we shopped along the famed Magnificent Mile. We went to ball games, debating the merits of each team, and we ate our weight in hot dogs as we, quite literally, chewed it over. Chicago dogs, actually, with nary a drop of ketchup in sight.
I've never been one to choose a dog over a burger – until the Chicago dog. It's a simple list of ingredients, and together, they make magic. Here's what you'll find on a true Chicago hot dog:
Poppy seed buns
Hot dog of choice
Mustard
Sweet relish
Diced onion
Tomato wedges
Dill pickle spear
Sport peppers
Sprinkle of celery salt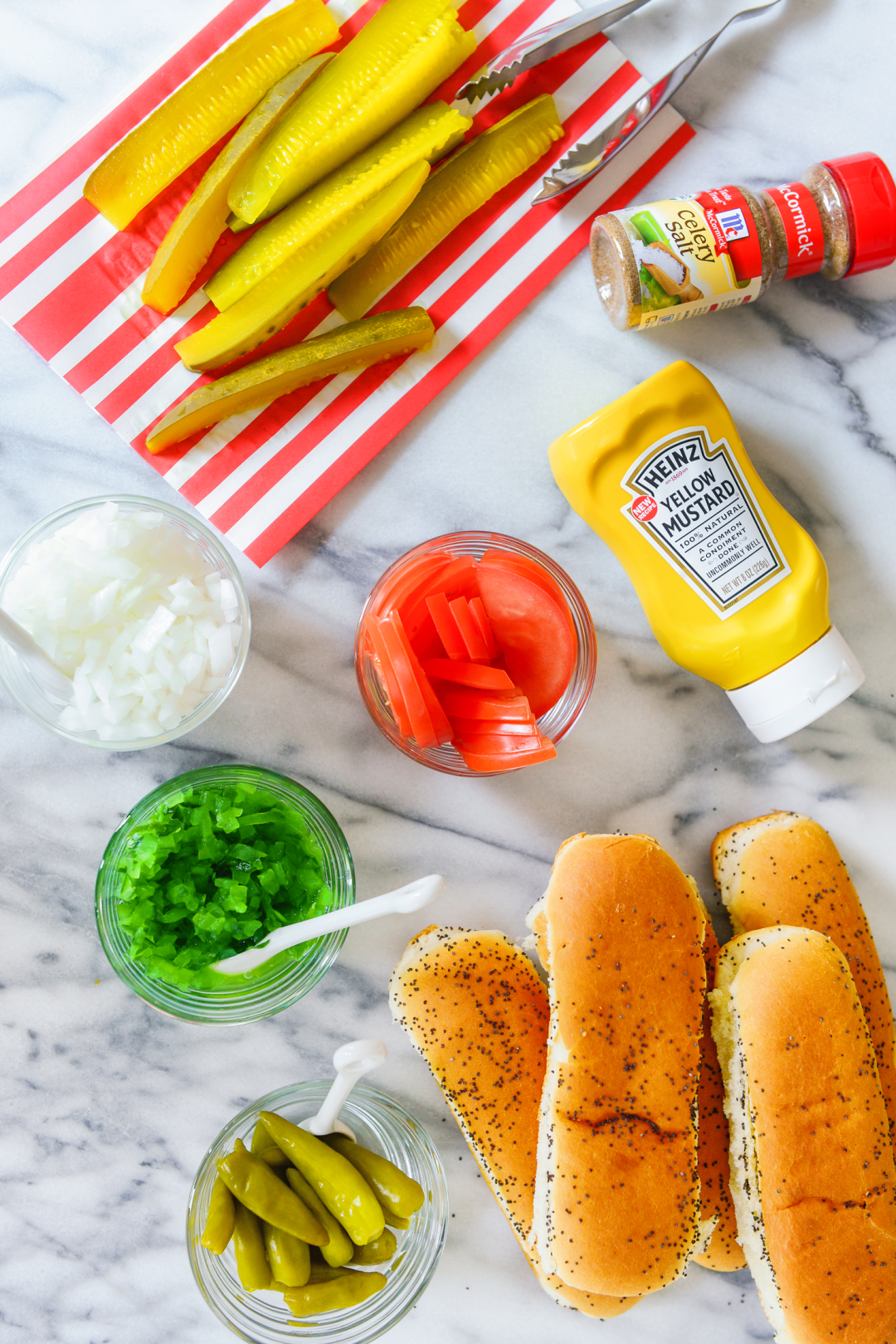 We picked up all the ingredients at our local grocery store to make them at home, and we invited our neighbors over to help us polish them off. While Scott chopped the onions and sliced up the tomatoes, I began pulling together the tray of all the condiments. I loaded most of the toppings into storage bowls (afterwards I sealed them with their lids and popped them in the fridge!), and I laid everything out on our marble slab.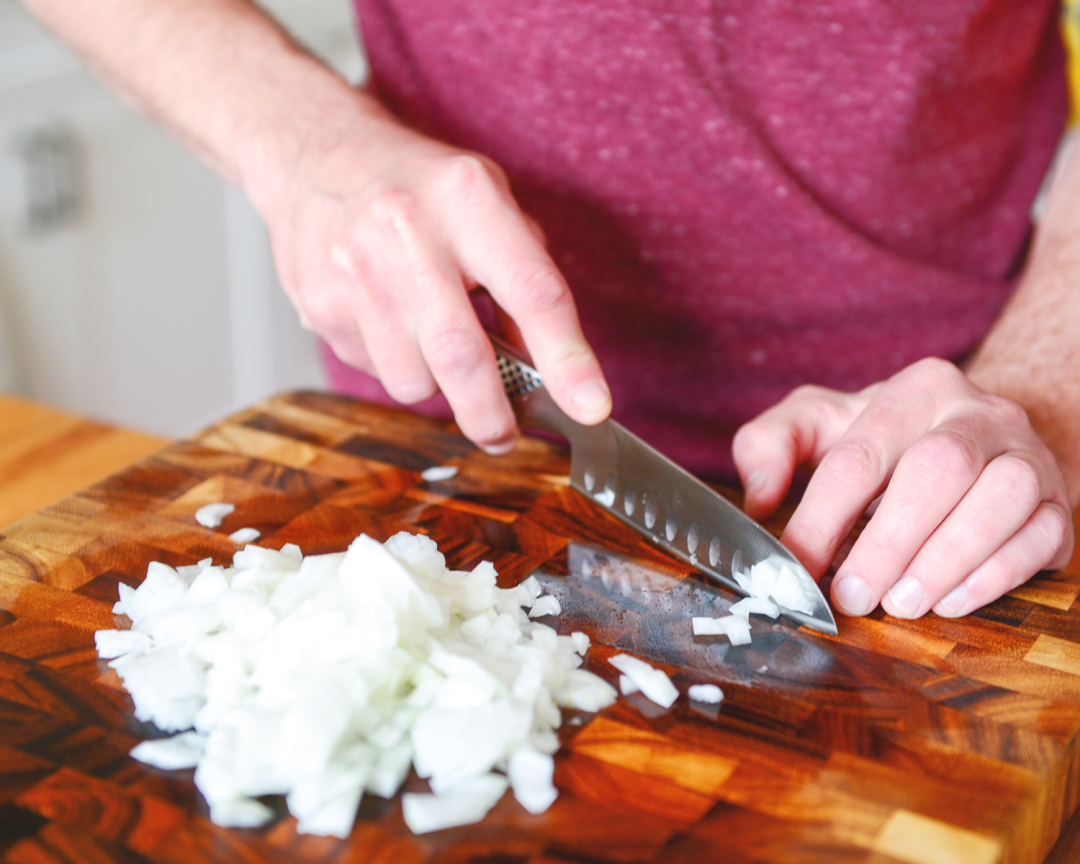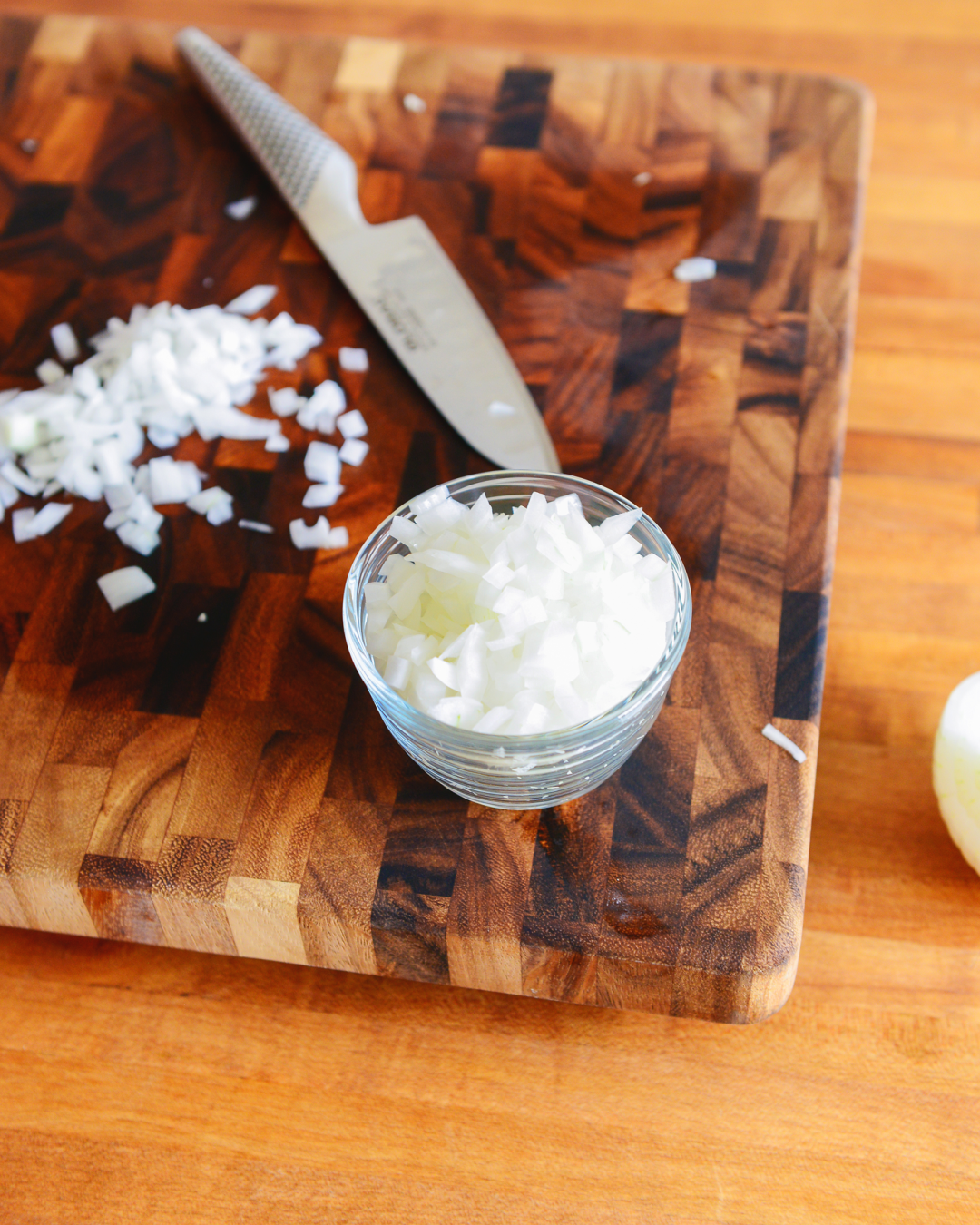 We wanted our friends to pick and choose the toppings they liked the best, and just like any other family style meal, no two plates looked the same. (Speaking of plates, we opted to use these baskets, and I lined them with festive striped paper. Cute and practical!) The only so-called rule to a true Chicago hot dog is what makes it no unique – no ketchup. While Scott is happy to indulge in a fully loaded dog – everything from the mustard to the celery salt – I nix the relish and add an extra tomato. If you're looking to get the full experience, you'll put an all beef hot dog in a poppy seed bun, and you'll add a squiggle of mustard, a heap of sweet relish, diced onion, two tomato wedges, a cold dill pickle spear, two spicy sport peppers and a touch of celery salt.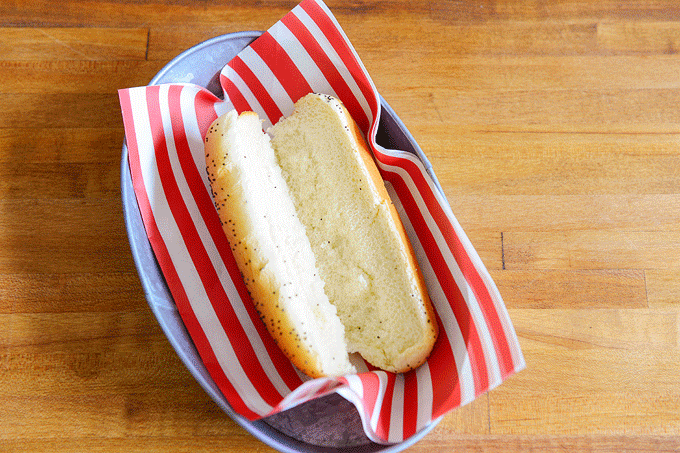 Not much else washes down a dog better than a cold one, and Scott has been enjoying his Spiegelau glasses. Although they're made just right for a hoppy IPA, I love them all the same with sparkling water or freshly brewed iced tea, too!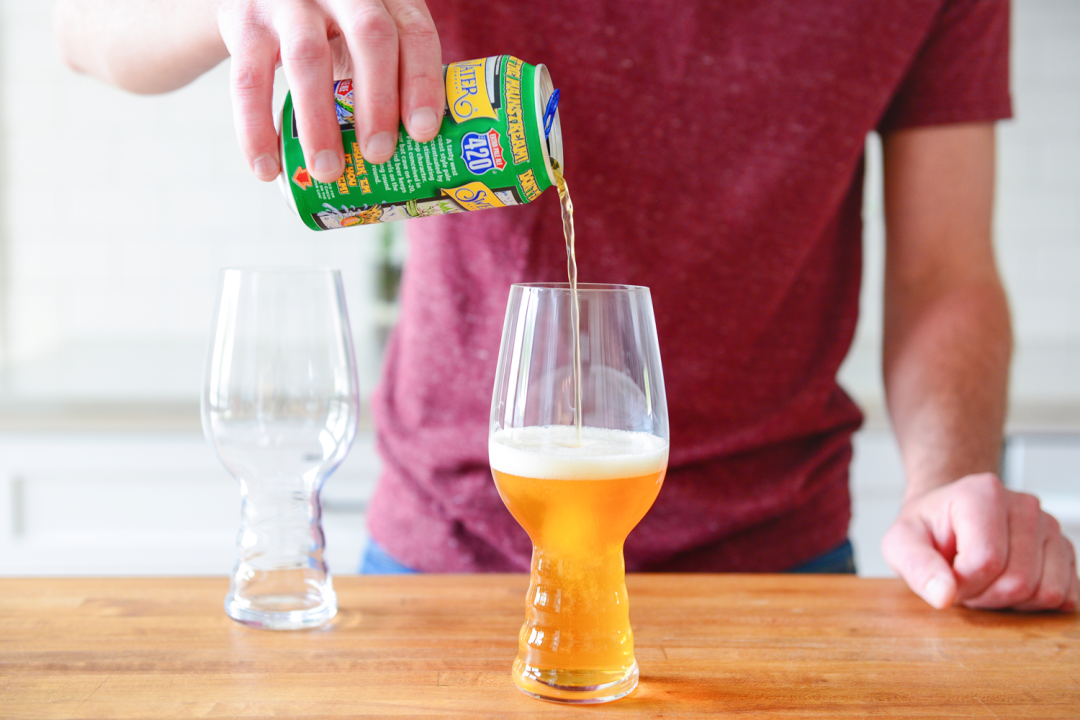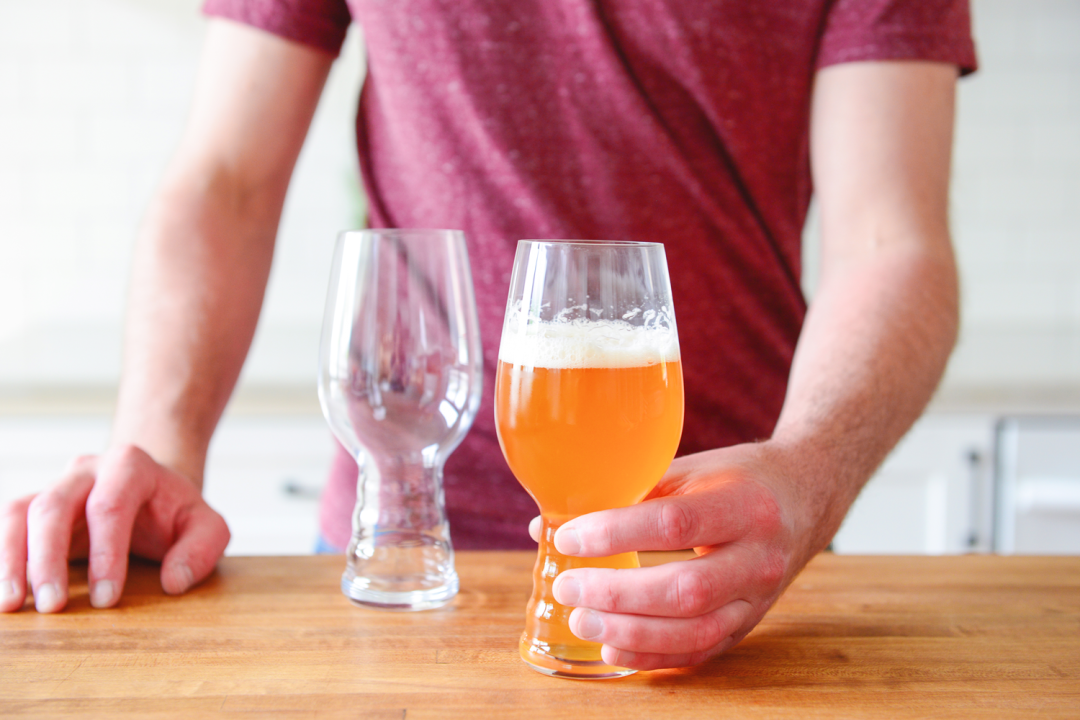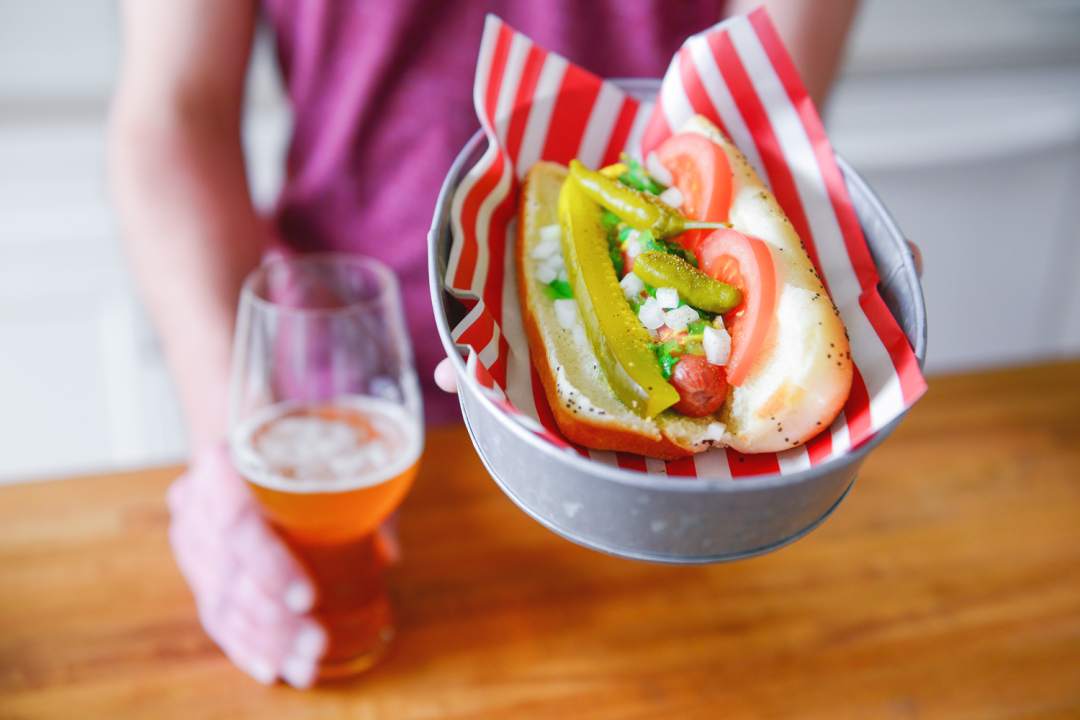 The next time you fire up the grill this summer, I promise you this: Adding Chicago dogs to the menu is a sure crowd pleaser! They're colorful, fun and extra yummy. Cheers!
Miss a stop on our road trip? Catch up.