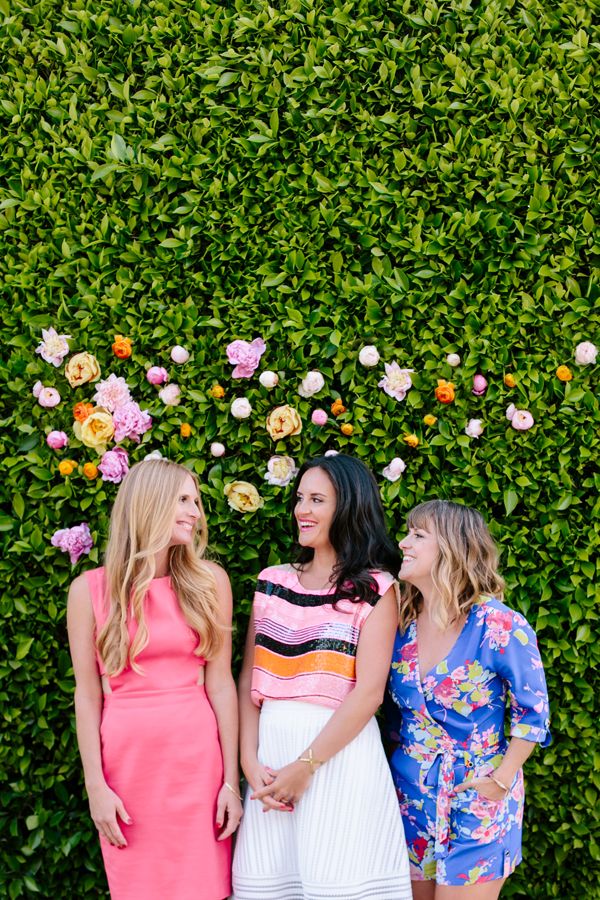 100layercake.com
We're happy to announce an exclusive partnership with 100 Layer Cake—a beautiful destination for wedding inspiration.
Every month, they'll show us the creative ways they celebrate life's special occasions with their favorite Crate and Barrel registry items.
Hey there! It's 100 Layer Cake, back again with our next installment of wedding related goodness over here on the Crate and Barrel blog. Since spring is prime time for bridal showers and other garden-y parties, and we LOVE the chance to include grooms in all festivities leading up to the wedding, we're sharing a classic backyard shower for couples today! To play up the co-ed nature of the wedding shower, we chose a "Whiskey & Wine" theme, highlighting our couple's celebratory beverages of choice. Signature drinks make planning the bar a bit easier and lend themselves well to adding a few cute decor elements.
It's so fun to get dressed up with your close friends for an intimate party that showers the couple with love, and Gift Registry pressies. *wink*
And we think the key to making the guys feel comfortable is creating a space that feels more like a lounge and less like a traditional shower gathering, with lots of delicious cocktail options of course. In fact, we love the idea of choosing a signature cocktail for him and her. A big bucket of luscious chilled wines for her, a solid selection of small batch whiskey for him. Everyone is happy!
Guarantee that he's going to love adding a few of these modern decanters to the Gift Registry, along with other cocktailing essentials like the Tour double old fashioned glasses, the Orb shaker, and even a minimal bar cart. Why not opt for one big ticket item?!
We're betting that if you happen to *have* this Luau Beverage Tub, you're way more likely to throw a fun summer party that requires you to fill it. Hint hint.
These wooden dessert pieces are a nice way to add warmth and guy-friendly style to a typically feminine party. Doesn't mean the cupcakes can't be girly!
Just because a wedding shower is traditionally the bride's domain doesn't mean you can't mix it up with a party that celebrates both guests of honor. Aren't they so cute together?!
To see more of the bright, beautiful tablescape from this party, incorporating both feminine and masculine touches, pop over to 100 Layer Cake today!
Crate and Barrel products: 1. Bar cart: Noir Bar Cart / 2. Tour Decanter / 3. Decanter: Corbin Decanter / 4. Whiskey glasses: Tour Double Old-Fashioned Glass  + Wine glasses: Tour White Wine Glass / 5. Wine tub: Luau Beverage Tub / 6. Appetizer plates: Hexa Appetizer Plate / 7. Wood cake plate: Acacia Cake Stand / 8. Wood cupcake stand: Acacia Wood 2-Tier Server / 9. Shag blanket: Sheepskin Ivory Throw / 10. Wood lantern: Crosby Small Teak Wood Lantern + Crosby Large Teak Wood Lantern / 11. Pillows: Celena Grey Stripe + Padilla Pillow + Michaela Dusk Pillow /  / 12. Brass lantern: Lillian Brass Metal Lantern / 13. Rug: Odelia Wool Rug / 14. Dundee Floor Planters
Concept & Styling: 100 Layer Cake / Photography: Brandon Kidd Photography / Location: Private Home / Florist: Brown Paper Design / Calligraphy: Anne Robin Calligraphy /  Wood signs & cocktail stir sticks: DeLovely Details / Dress: Rent the Runway / Suit: The Black Tux / Hair & Makeup: 1011 Hair & Makeup / Cake & Cupcakes: Shelia Mae