Go ahead, invite people over. Our ready-to-host soirées are wow-worthy and delicious—and easy to pull off, we promise. Read on for recipes, chef's tips, ta-da presentation tricks and shortcuts. Who's going to have fun at this party? You

crateandbarrel.com
All on Board
There's a magic hour at the start of every great party—a feeling of fun in the air as everyone catches up over sips and nibbles. What if that relaxed vibe carried through the night? Encourage guests to mix and mingle over this communal, grazing-style meal that features a trio of abundant boards—crudité, cheese and spring radish. Variety of color, texture and flavor are key, as is a stash of natural slate boards.
Bring on the vino.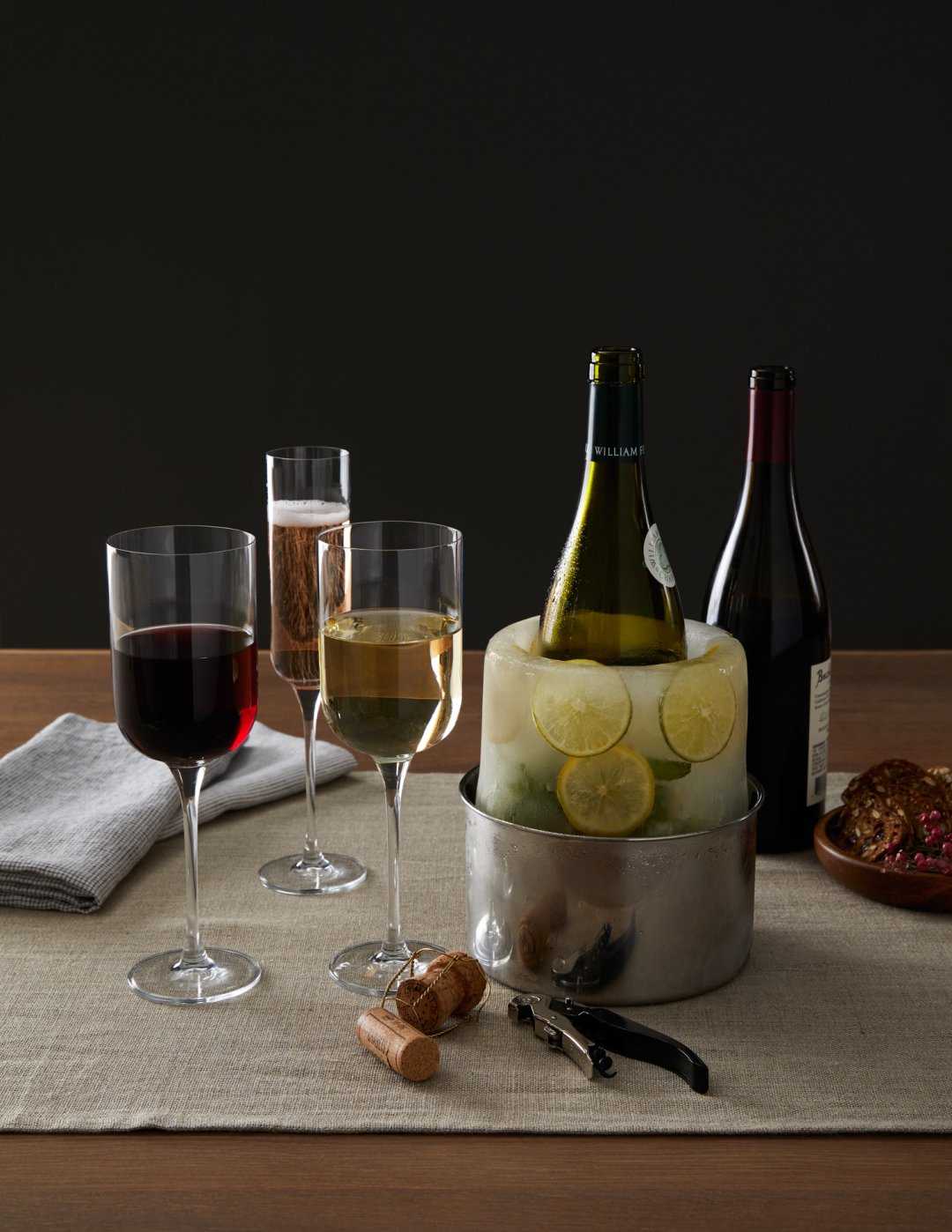 Rosé Champagne, Chablis, Pinot Noir
Crisp, lighter-bodied wines are the perfect accompaniment to fresh vegetables. The delicacy of rose Champagne, crisp acidity of Chablis, and balanced earthiness of Pinot Noir complement the flavors of these boards perfectly. Serve any or all of these wines as aperitifs to a meal or as the centerpiece of a cocktail hour.
Party Tip: Plan for 1.5 drinks per person/per hour for up to 3 hours.
Love your veggies.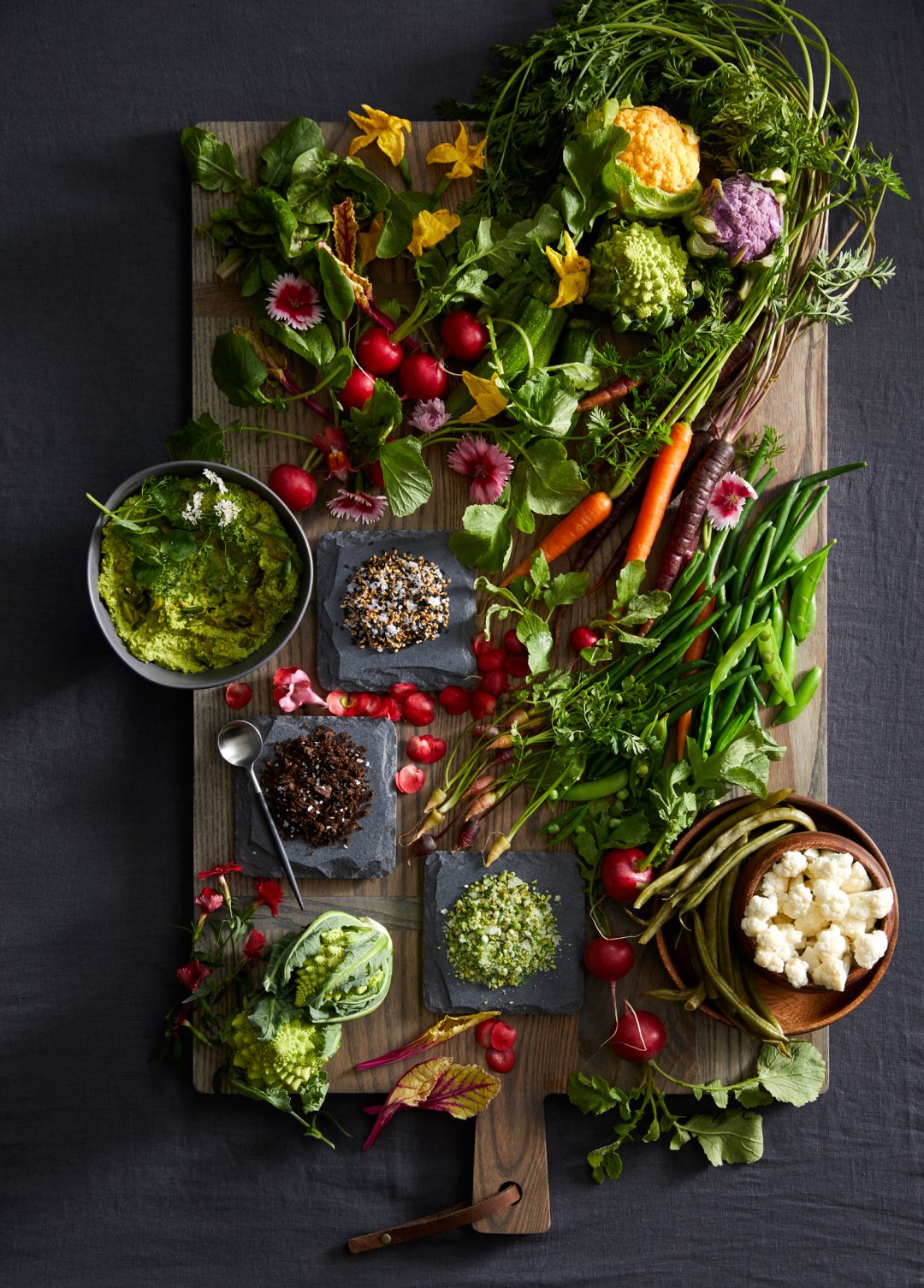 A big, bountiful crudité board is a prime chance to let spring vegetables shine. It celebrates raw ingredients and artisanal products (read: no cooking) and can easily be elevated with simple garnishes and condiments. Incorporate seasonal lettuces, herbs and edible flowers to add eye-popping variety to your presentation, and use clear jars filled with bright produce to literally put your veggies on another level–making for a striking display and an easy way for guests to grab what they want.
Party Tip: Leaving vegetable tops on has advantages: they give guests something to hold onto when eating, and they go a long way toward a rustic, natural look. Simply wash before serving.
Chef's Tip: A classic crudité platter consists of raw vegetables. Break with tradition and mix in blanched, grilled and pickled vegetables for a more dynamic spread.
Crudité board ideas:
Sugar snap peas, blanched
Green string beans, blanched
Heirloom carrots
Baby cauliflower
Spring lettuces
Micro watercress
Baby zucchini
Baby squash
Fennel, raw
Edible flowers (violets, marigolds or lavender)
Cucumber blossoms
Pickled haricot verts (see Quick Pickling Liquid)
Pickled cauliflower, cut into florets (see Quick Pickling Liquid)
Pickled fennel, cut into wedges ( see Quick Pickling Liquid)
Chef's Tip: Stash any leftover fresh vegetables in your refrigerator or freezer to be cooked at a later date.
Take a refreshing dip.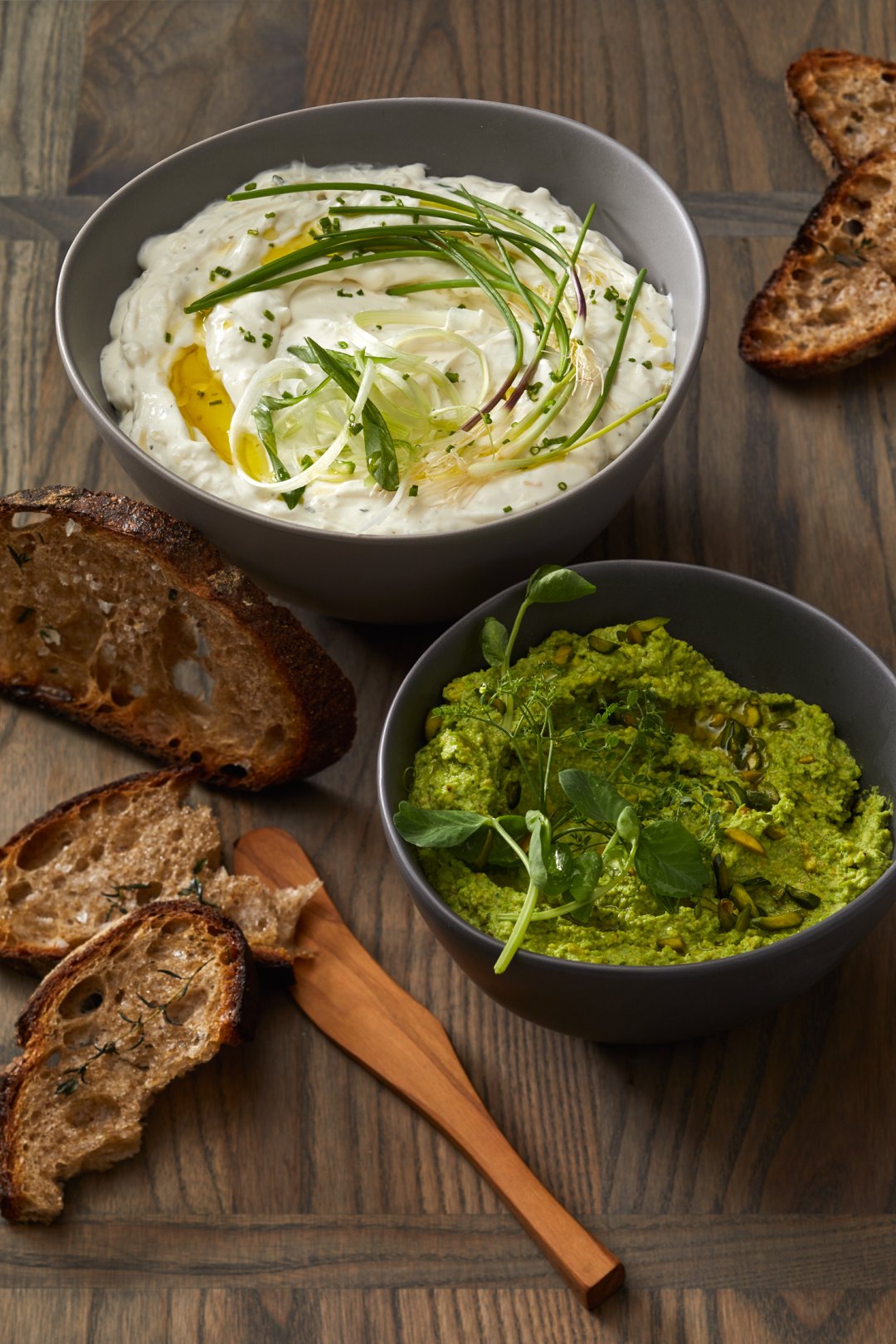 An interesting selection of dips rounds out the flavor profile of your crudité platter and gives your guests plenty of options. Even better, they're easy to prep and plan whether you choose to make them from scratch or take your favorite grocery store versions and enhance them with our chef's tips.
Chef's Tip: It's OK to be playful with food. Our pumpernickel breadcrumb "dirt" is a perfect example—it's a presentation idea that's sure to make your guests smile.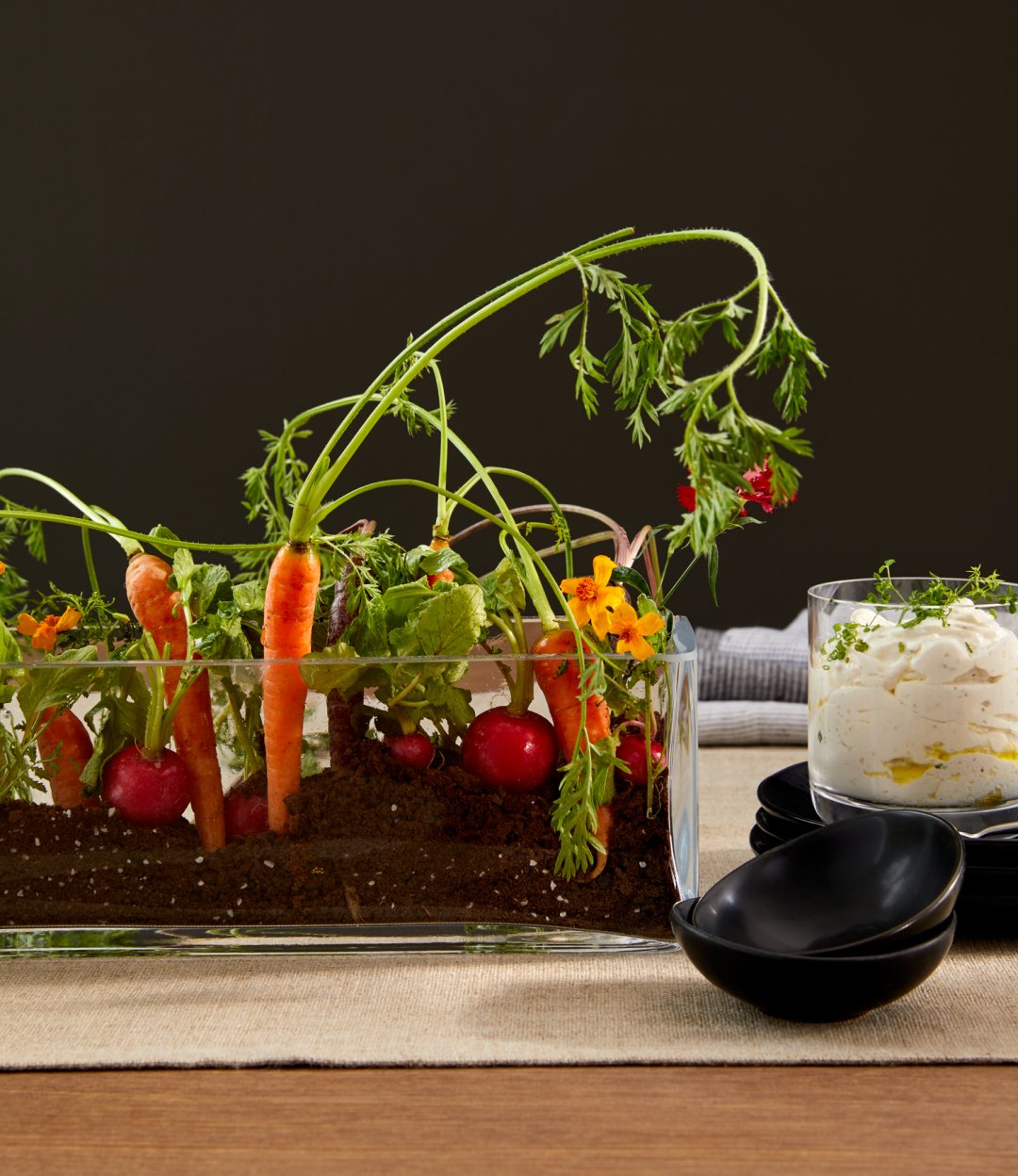 Dress up the cheese.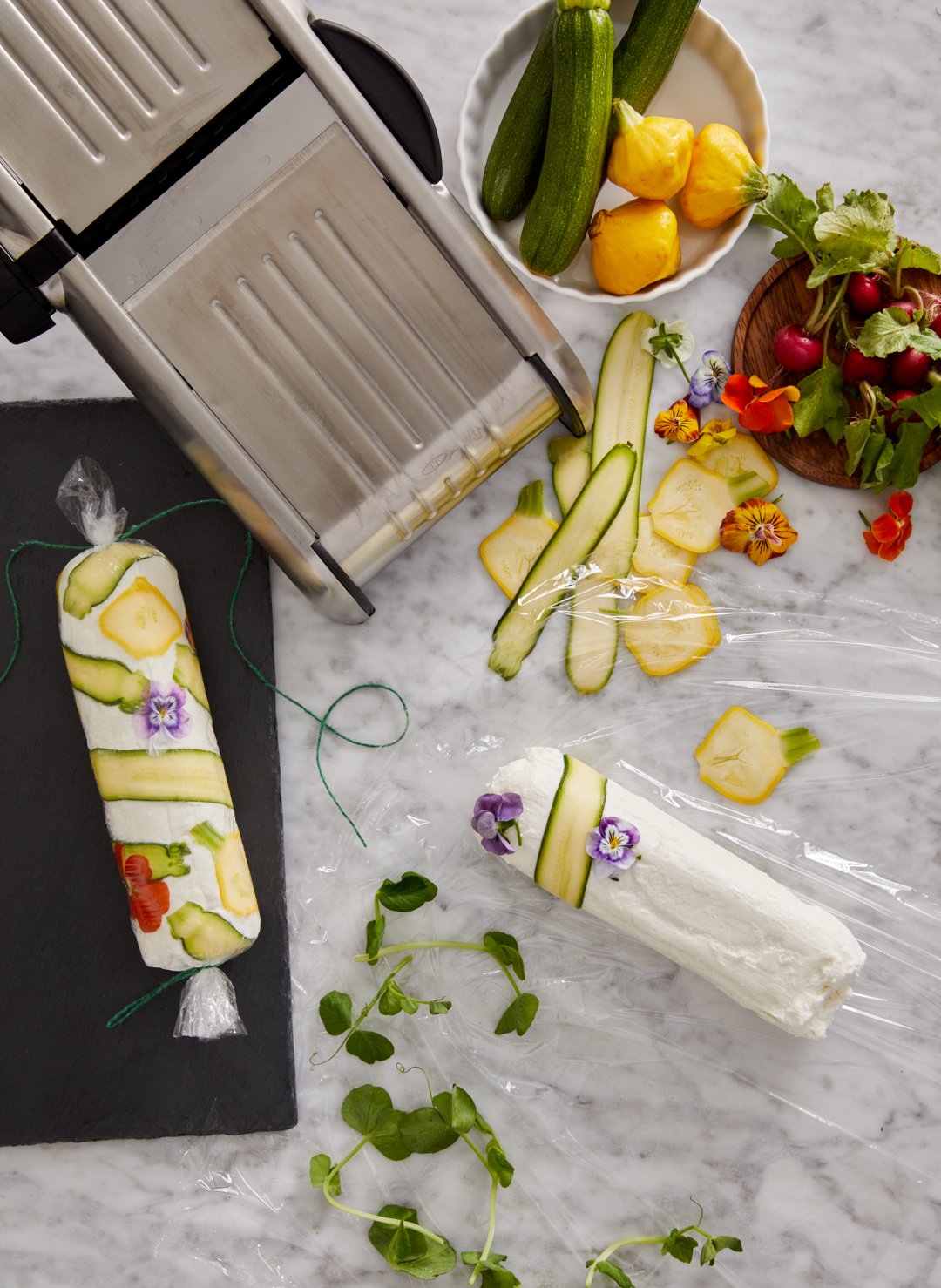 When creating a cheeseboard, think about seasonality and texture. Go for a mixture of fresh young cheese, aged hard cheese, soft spreadable cheese, blue cheese and bloomy rind. Plan for 4 to 6 ounces of cheese per person, and serve a minimum assortment of 4 cheese varieties.
Chef's Tip: Don't crowd the items on your cheeseboard. Leave plenty of space between cheeses and condiments for guests to see the options and navigate.
Party Tip: Use chalkboard or ceramic markers to identify each cheese's origin, description, milk type and whether it's raw or pasteurized—or add your own playful tasting notes.
Chef's Tip: Serve cheese at room temperature for the best flavor, setting it out at least two hours before guests arrive.
We recommend:
Camembert
Comte
Amsterdam Gouda
Party Tip: Short on time? Pick up imported Italian Stracciatella at your favorite cheese shop.
Be generous with condiments.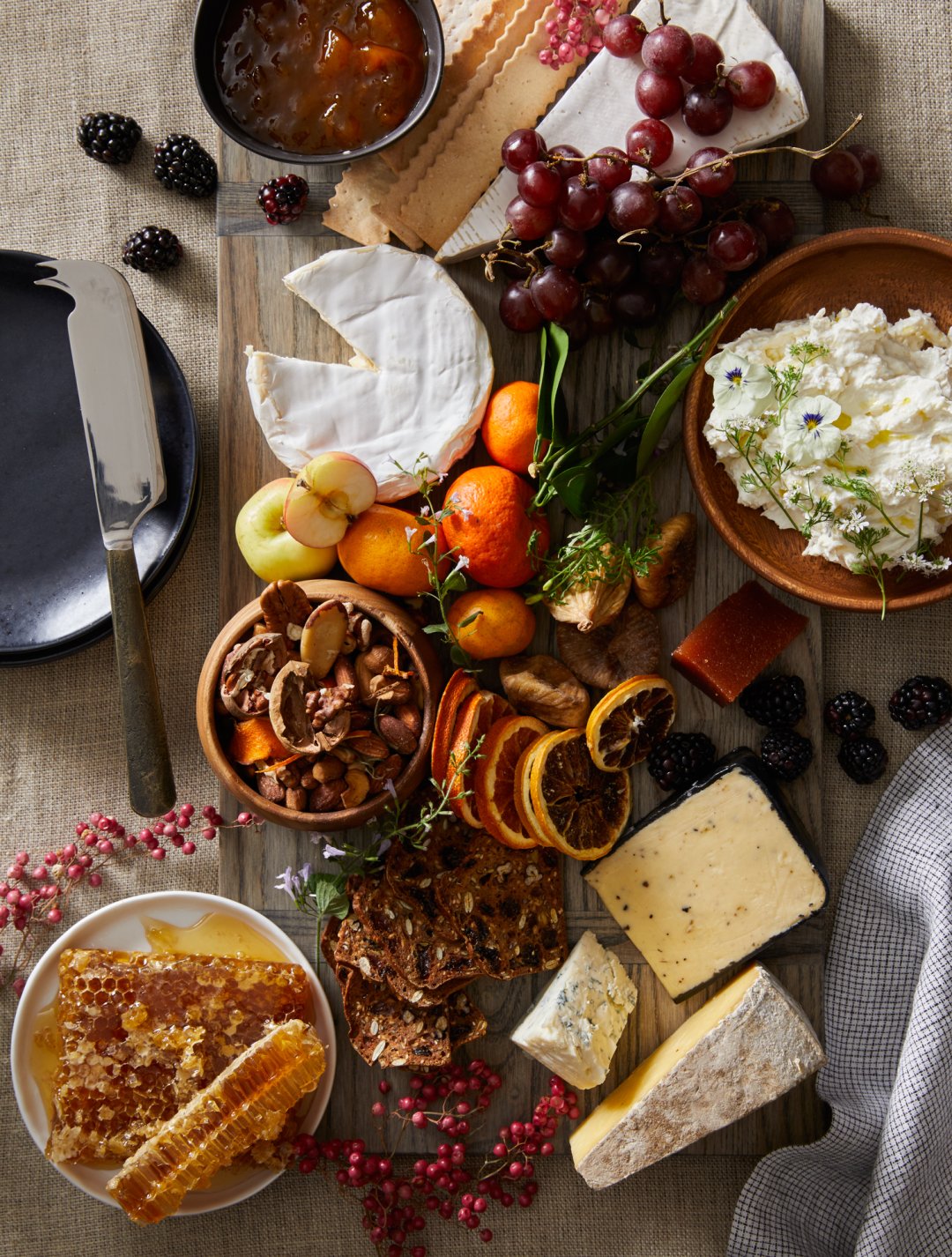 Aim for equal amounts of cheese and condiments on your board. A few staples we love are honeycomb, fruit, jam and salty nuts. But the more the merrier—this is your chance to use ingredients already in your refrigerator.
We recommend:
Red grapes
Strawberry or apple jam
Baby apples
Caramelized nuts
Honeycomb
Caramelized ginger
Mustard
Chef's Tip: Elevate your condiments with easy upgrades. Purchase nuts and sprinkle them with chopped rosemary, orange zest or fennel seed. Sprinkle chili over honey for a subtle spice.
Party Tip: Cut grapes into small clusters so that guests can take a few bunches rather than struggle to pull individual grapes off; this will also keep the display looking bountiful throughout the party.
We also recommend incorporating a selection of breads and crackers into your presentation, including:
Baguette
Crackers
Toasts
Raisin Walnut Bread
Breadsticks
Party Tip: Offer a variety of shapes, sizes, textures, toasted and non-toasted bread and cracker options. Breadsticks are great for adding height to the presentation.
Get to the root of springtime.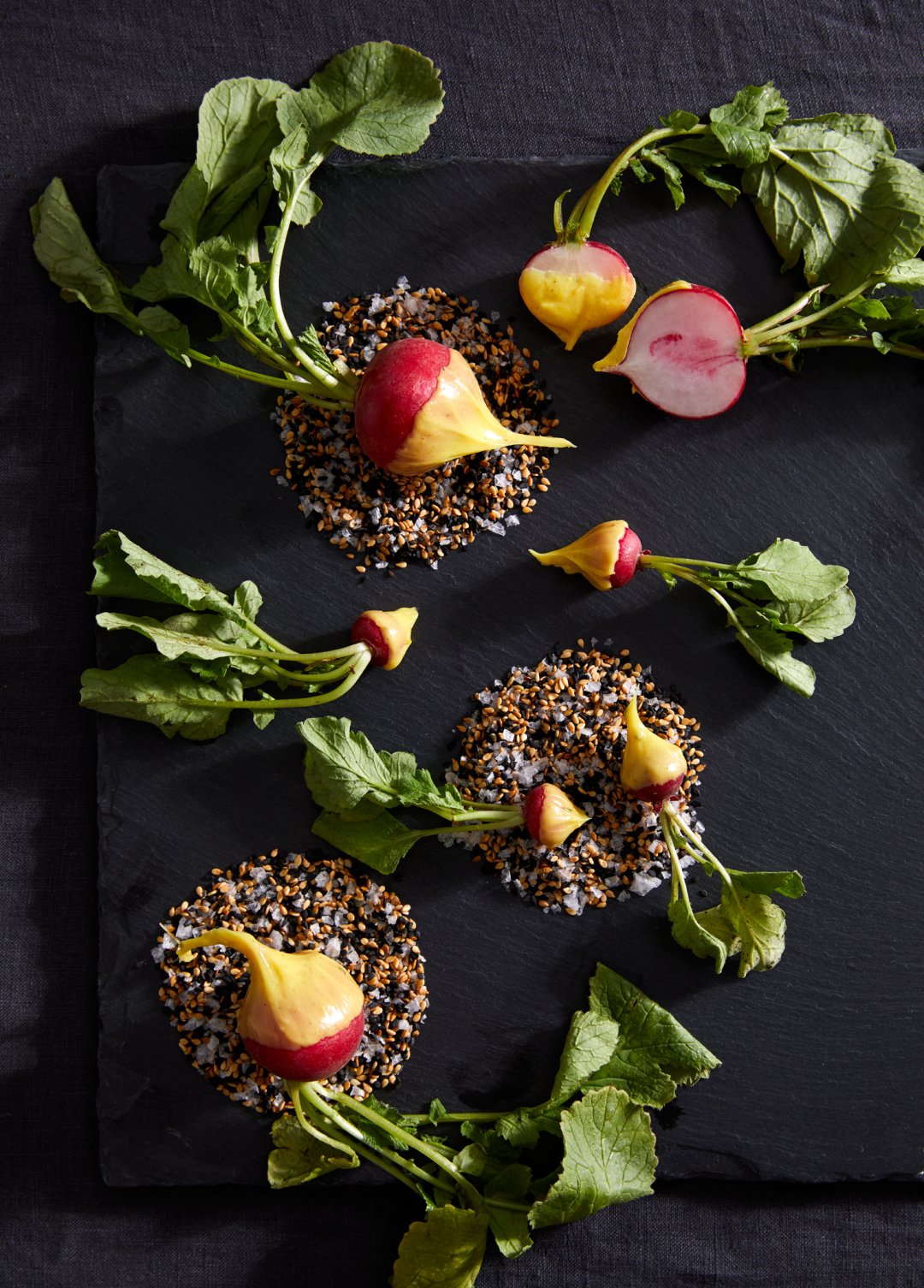 Radishes with butter and salt are a wonderful light alternative to bread and butter. It's an elegant French tradition that celebrates one of the first spring vegetables to sprout after a long winter. The crisp, peppery freshness of the radish pairs perfectly with the rich fat of the butter, and the salt marries them together.
Chef's Tip: To preserve their natural crispness, soak radishes with their tops on in cold water in your refrigerator, covered in a damp towel. Dry just before serving. Plan for 3 to 4 radishes per person.
Chef's Tip: Make your own flavored butter by whipping room-temperature butter in a mixing bowl with a wooden spoon and folding in various ingredients like homemade herb pesto, red bell pepper purée, honey, fruit preserve or salt. We love grey and Maldon salts for their brininess and flavor.
Chef's Tip: Make butter roses for a striking presentation. Freeze a one-pound block of butter and use a vegetable peeler to create butter roses. Arrange the roses upright in concentric circles on a bed of salt.
Find more CrateParty menus in the entertaining section of our blog, plus find everything you need to host on crateandbarrel.com.