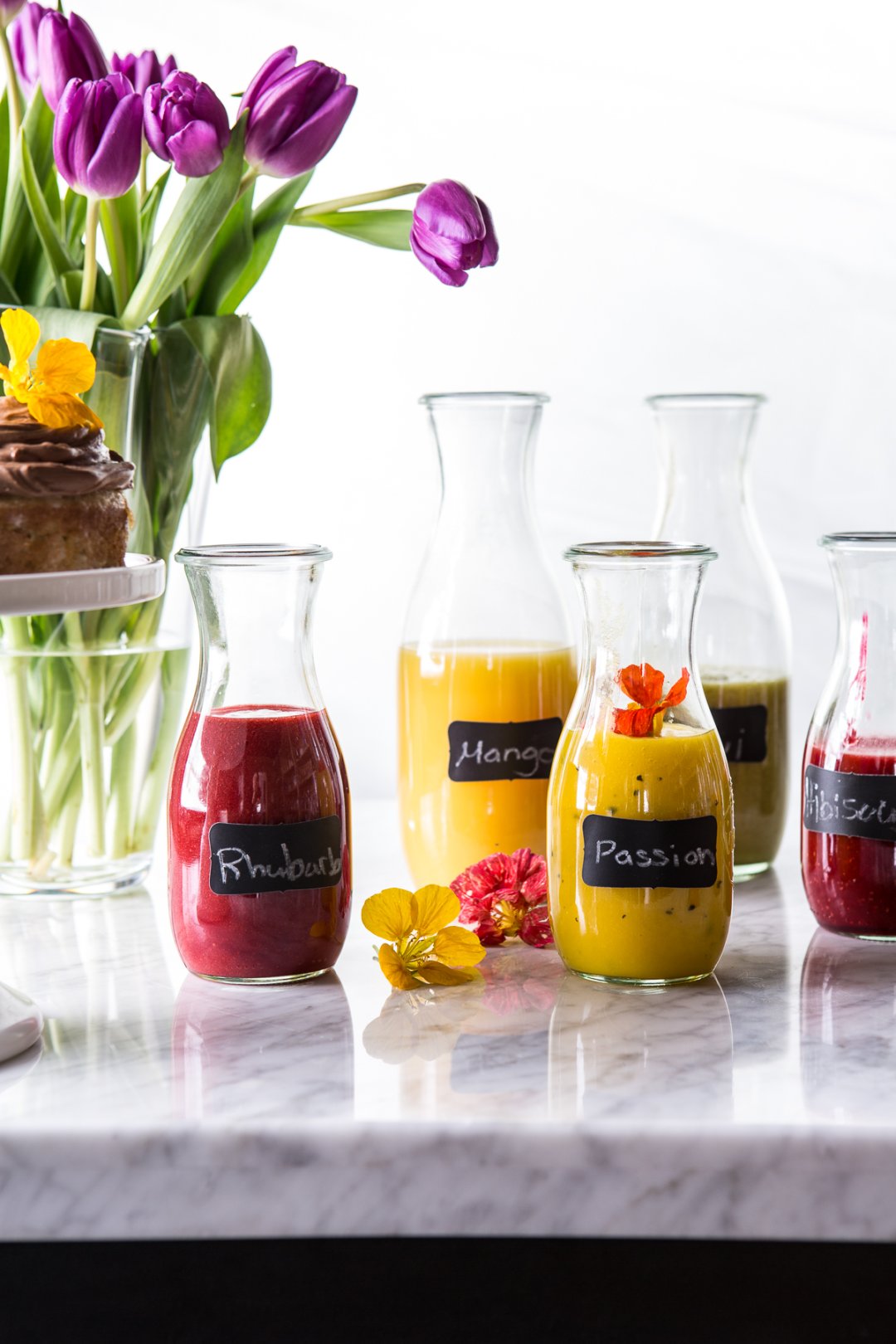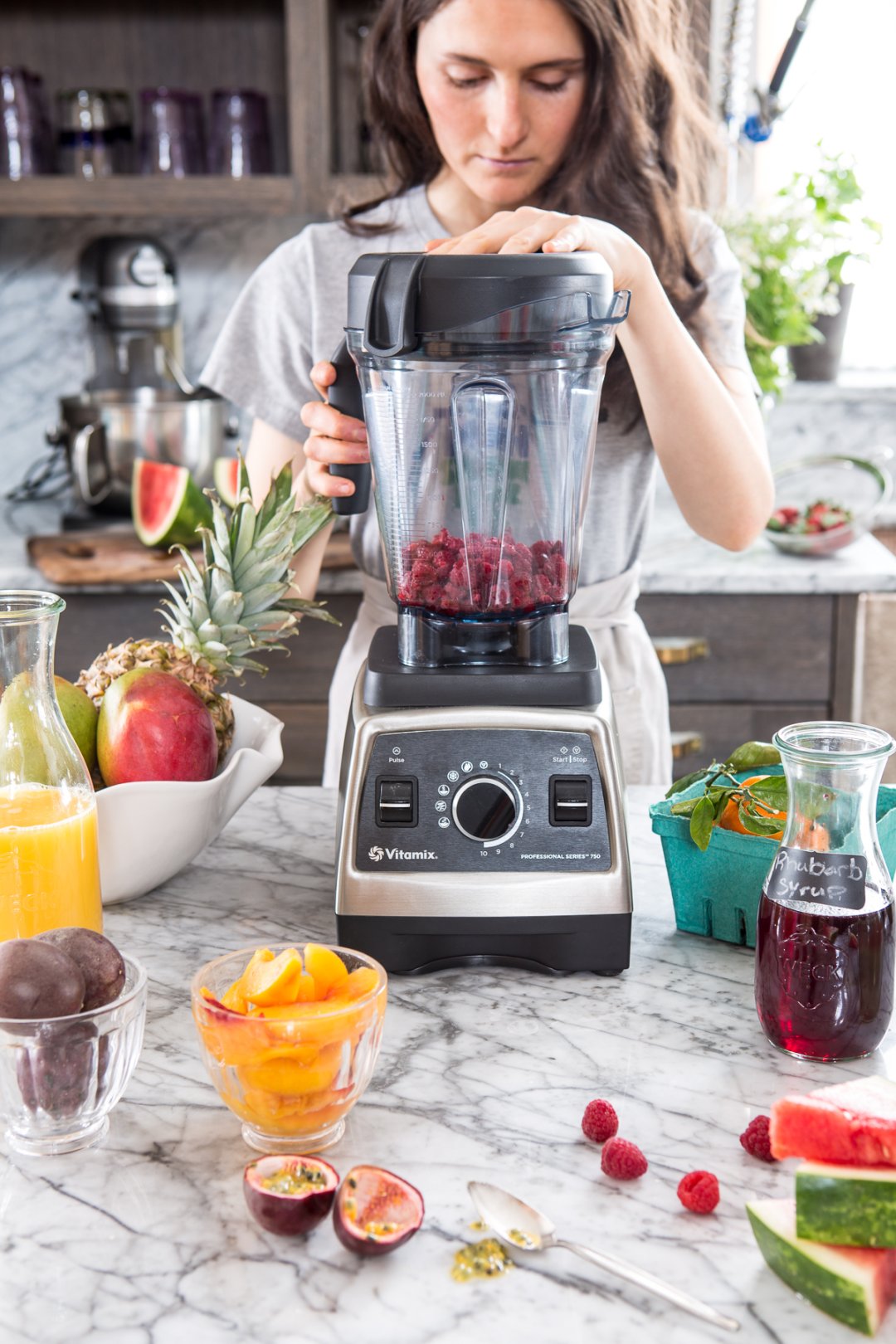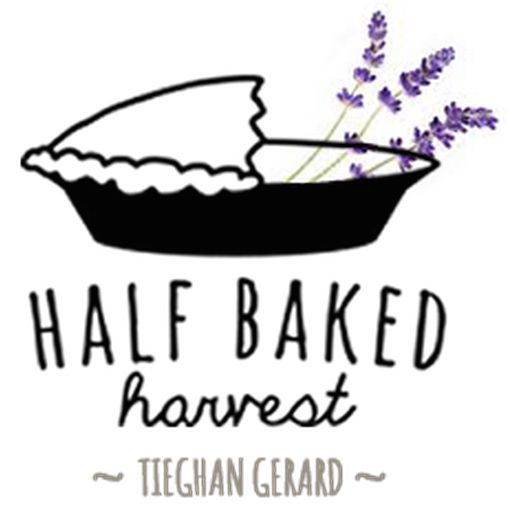 halfbakedharvest.com
While you can never go wrong with a warm stack of homemade pancakes on Mother's Day, we think a special drink is a great way to round out the brunch menu. We've partnered with Tieghan Gerard, founder of Half Baked Harvest, to see how to set up a beautiful Bellini bar.
Every May when Mother's Day rolls around, brunch is foremost on my mind. My dilemma… what to make mom for brunch this year?
You see, brunch is our thing.
Ever since I started cooking way back around the age of thirteen, mom and I have been doing brunch. Not just for Mother's Day, but basically any time we needed a little mother-daughter lunch situation to happen…aka all the cold and snowy (Colorado) or grey and rainy (back in Cleveland) days. When I was younger, this meant chocolate chip banana pancakes, but now? Now it means SO much more!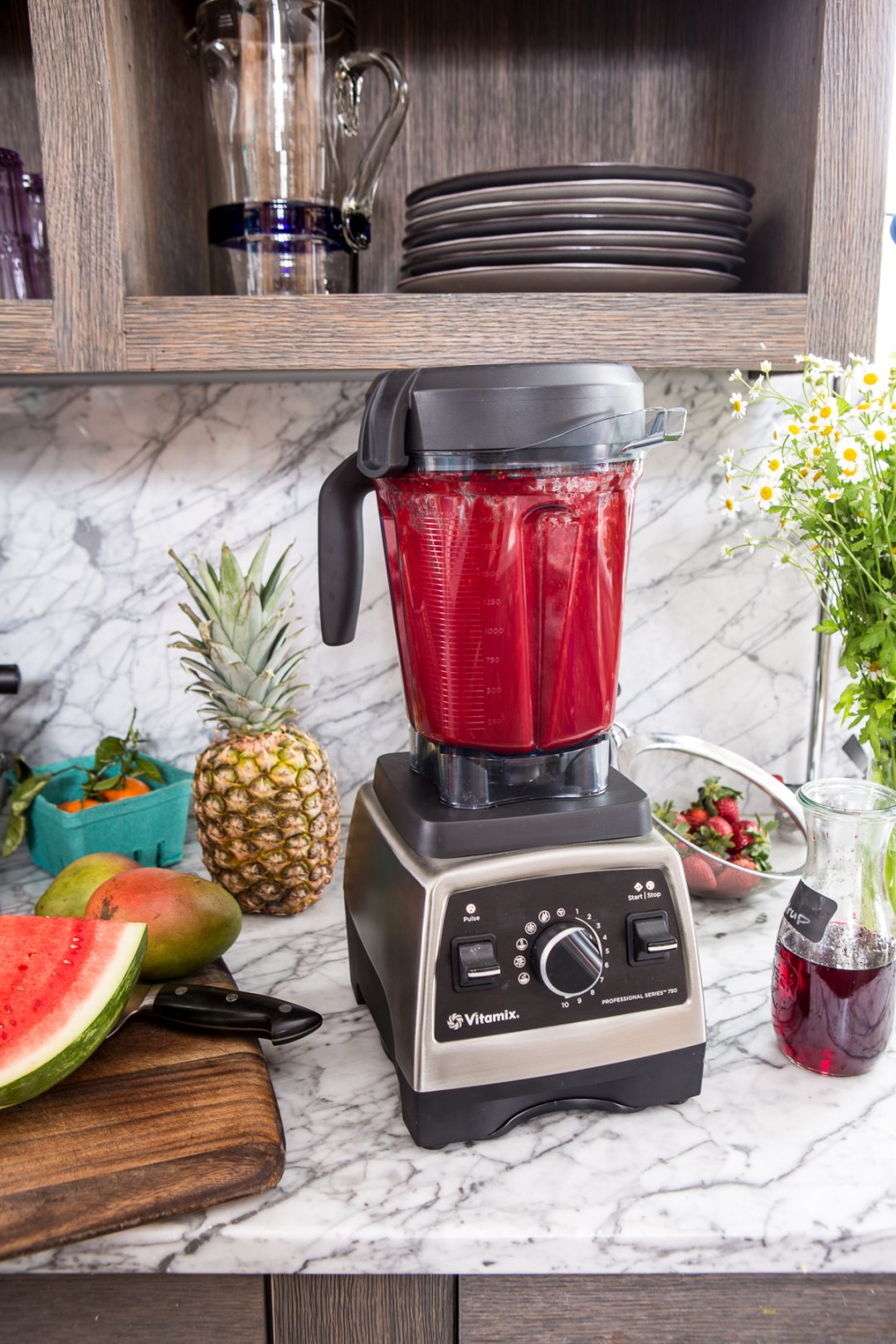 Fortunately for us both, I have expanded beyond my chocolate chip banana pancakes (not that they aren't simple and perfect as well). My repertoire now includes French toast, Dutch babies, crepes, blintzes, waffles and pancakes… of all kinds. Sometimes I'll throw in a savory dish like chilaquiles, Eggs Benedict or avocado toast, but I can't lie, we really dig the sweet stuff.
The one thing I have yet to create for our mother-daughter brunch spreads is a good drink. I know, I know, like what?!? How could I forget the drink? Trust me, I have been asking myself this question since I first thought of the idea to create one. The good news is..the drinks are here…and guys…they are on point.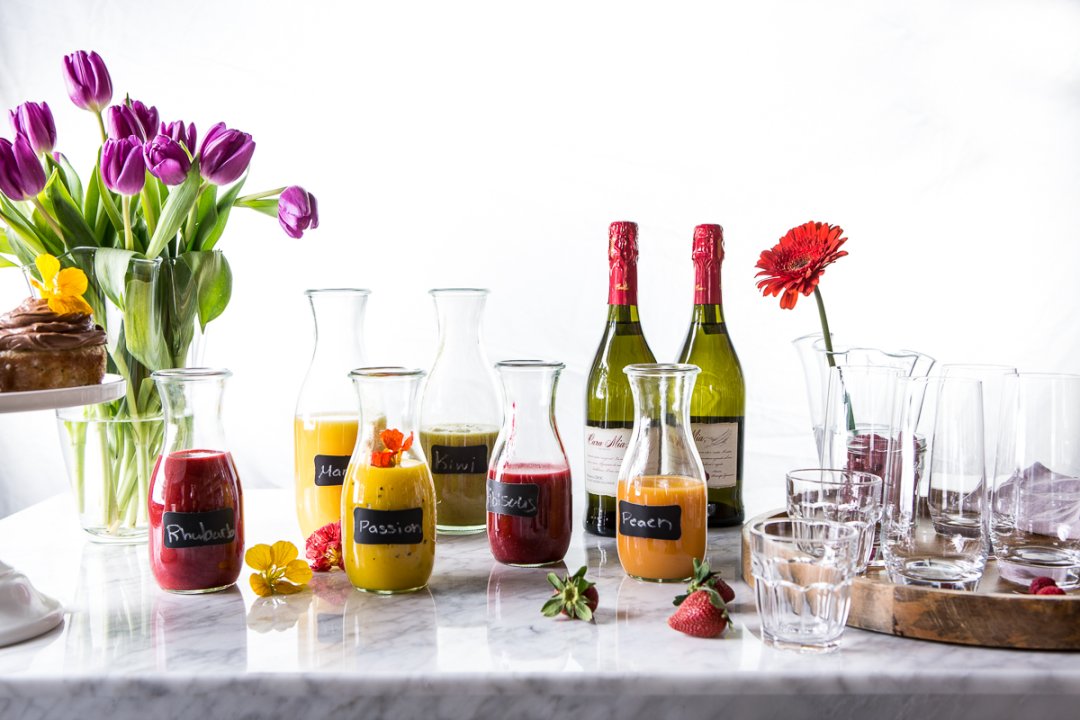 I mean, hello! Can we just talk about this Bellini Bar? Do you see all the fun fruity options for your Bellinis?? I am kind of excited about it, fruit drinks are my thing, and these Bellinis are nothing short of awesome.
Here's the deal, I know that this Bellini might look like it took a ton of time, but the truth is that it could not be easier to create. Basically you need a bunch of fresh or frozen fruit, simple syrup and Prosecco. For the simple syrup, I'm giving you three options. First up is a basic simple syrup that will work with any and all fruit. Second a hibiscus simple syrup and third a rhubarb simple syrup — perfect for this time of year! All three simple syrups work with pretty much any fruit combo. Although I highly recommend trying the combo of raspberry-rhubarb and watermelon-hibiscus…delish!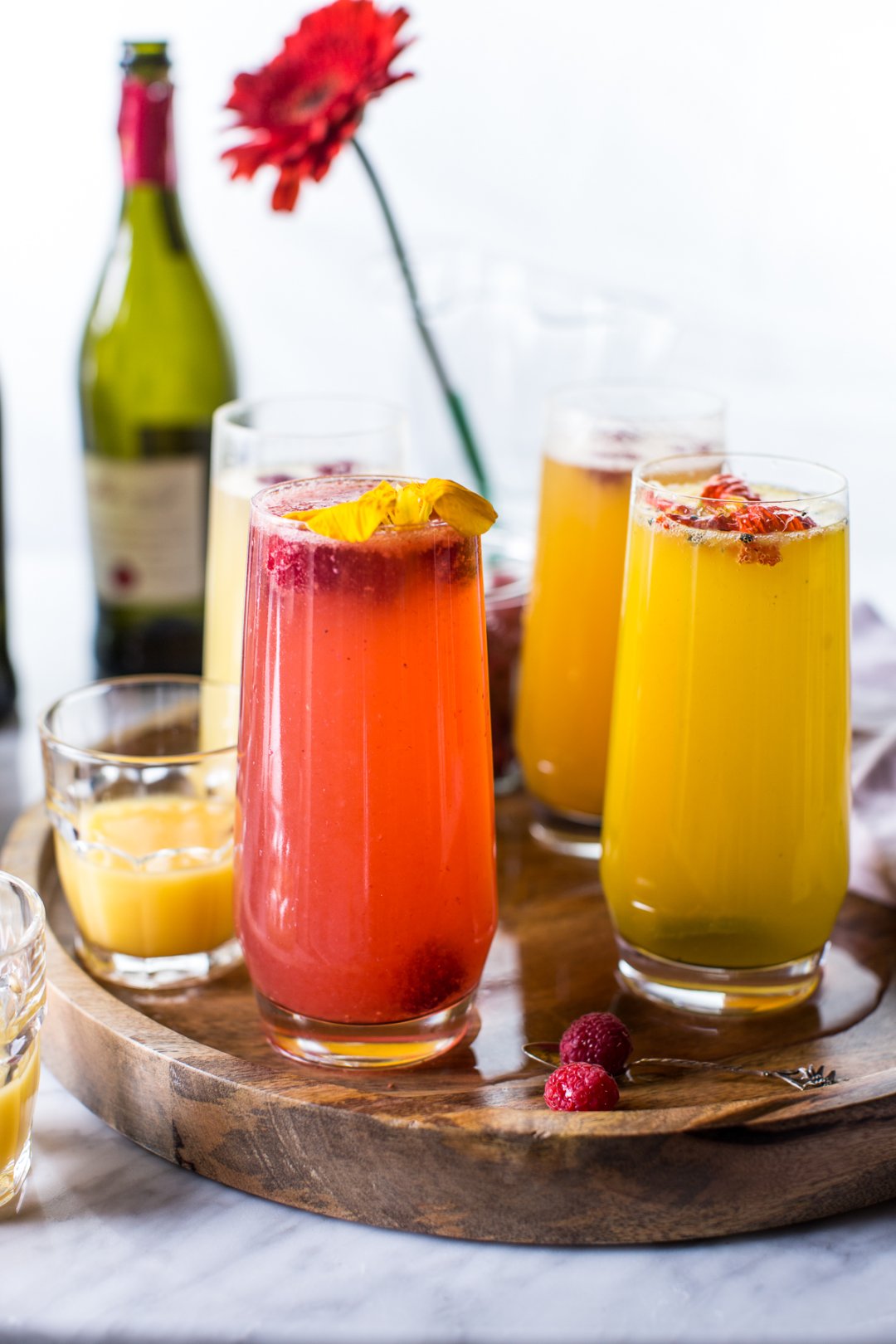 For the fruits, you can use all your favorites. You will need two cups of each fruit or fruit combo to make your purees. For example, two cups strawberries for a strawberry Bellini, or two cups mango + pineapple (1 cup each) for a mango-pineapple Bellini. You can mix and match or go with just one fruit. Whatever you are feeling!
Finish off with some Prosecco and…DONE. See, simple as that! And Bellinis are always so pretty and festive. Perfect for a Mother's Day brunch! Try pairing them with French toast, or a simple salad, or crepes… or hey, maybe even just a cupcake! Trust me, any mother will love this Bellini Bar!
Mother's Day Bellini Bar
Serves: 12
Simple Syrup
1 cup water
1 cup granulated Sugar
Rhubarb Simple Syrup
1 cup water
1 cup granulated sugar
1/2 cup rhubarb, diced
Hibiscus Simple Syrup
1 cup water
1 cup granulated sugar
1/2 cup dried hibiscus flowers
Bellinis
2 cups of your favorite fresh fruit (or thawed frozen fruit)
3-4 bottles prosecco or other sparkling wine, chilled
4-6 tablespoons simple syrup
fresh fruit + edible flowers, for garnish (optional)
The combos I used:
Diced mango + 2-3 passion fruits
Diced pineapple +2-3 peeled kiwis
Strawberry (with rhubarb simple syrup)
Raspberry (with hibiscus simple syrup)
Peach
Watermelon
Simple Syrups
In a small saucepan set over medium heat, combine the water and sugar. If making the hibiscus or rhubarb simple syrup add those in with the water and sugar. Cook, stirring constantly until the sugar dissolves and the mixture begins to boil. Reduce the heat to a low simmer and simmer for 1 to 2 minutes longer. Remove from the heat and cool completely. If you made the hibiscus or rhubarb syrup, strain the syrup through a fine mesh strainer and into a glass jar. You can prepare the simple syrup ahead of time and keep stored in the fridge until ready to use.
These syrups are also a great addition to coffee, mixed drinks and over ice cream too!
Bellinis
Add two cups of fresh fruit to a high powdered blender. Add anywhere from 4-6 tablespoons simple syrup and blend until completely pureed. Taste the puree and adjust the amount of simple syrup to your liking. The sweetness will vary from fruit to fruit and remember that prosecco is a dry wine and is not sweet, so make sure your fruit puree is sweet enough.
Pour each fruit puree into glass jars and label the jars accordingly. Keep stored in the fridge until ready to serve. If your fruit and simple syrup separate from each other, just stir the puree before serving.
To serve, add your desired amount of fruit puree to the bottom of your glass and top with prosecco. Add fresh fruit and edible flowers if desired.
Celebrating later in the day? This Mother's Day tea menu is full of ideas for afternoon treats.