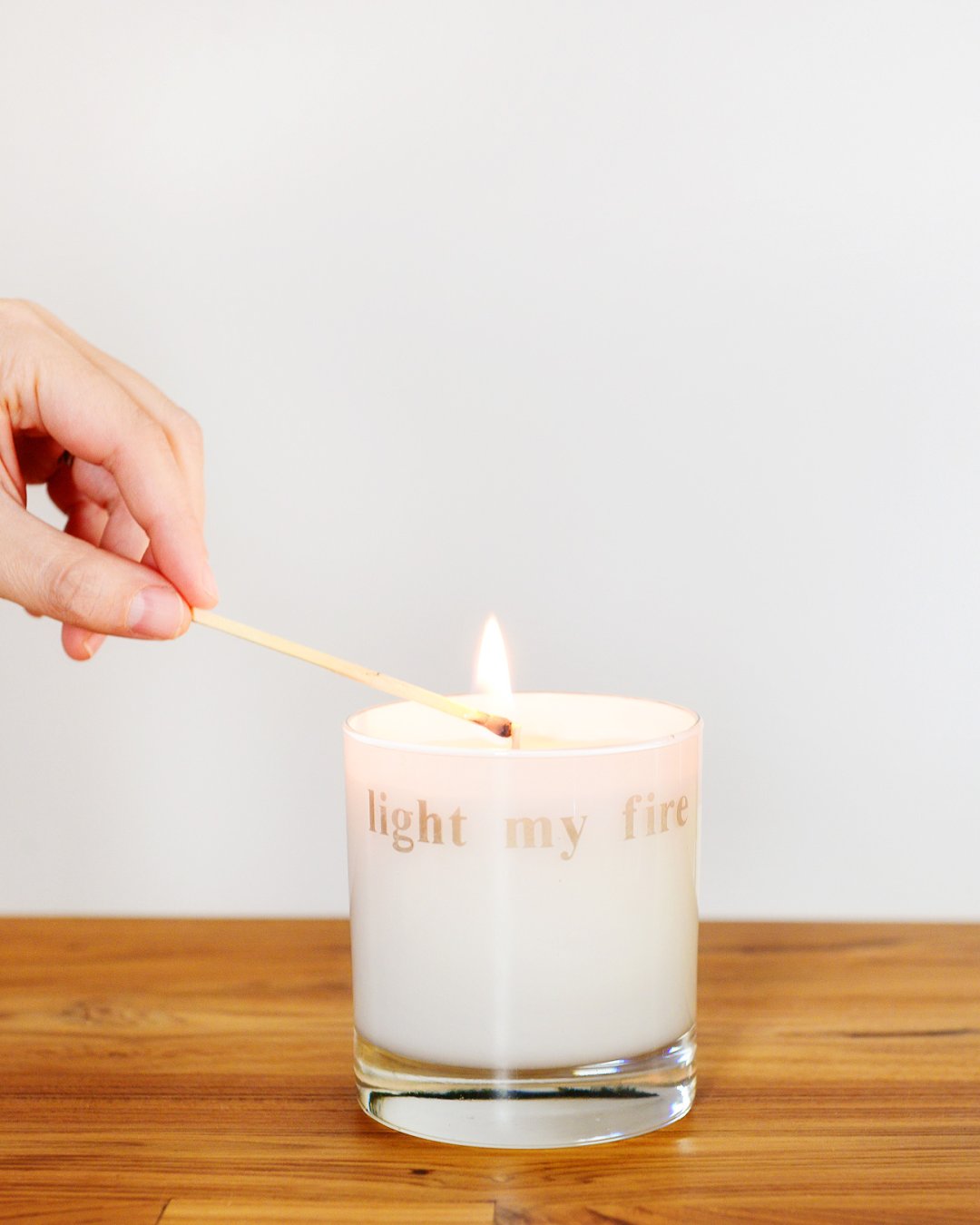 Love to add a personal touch to your holiday gifts? We're partnering with DIY experts Kim and Scott Vargo of Yellow Brick Home to create a quick and easy DIY using our scented candles.
The holiday season is here, and I couldn't be more excited! Rather than focus on any of the stress this time of year may bring, I prefer to revel in all the things that don't happen at any other time–twinkling lights, jingle bells and carols, the overabundance of sugar cookies and extra time with friends and family to name a few. And because of that time spent with loved ones, Scott and I like to have a few gifts on hand as a little token that says, "We love you!" The goal? Something that's non-fussy, but still personal. This year, I came up with the idea to take my favorite scents from the Crate and Barrel candle collection and make them one of a kind.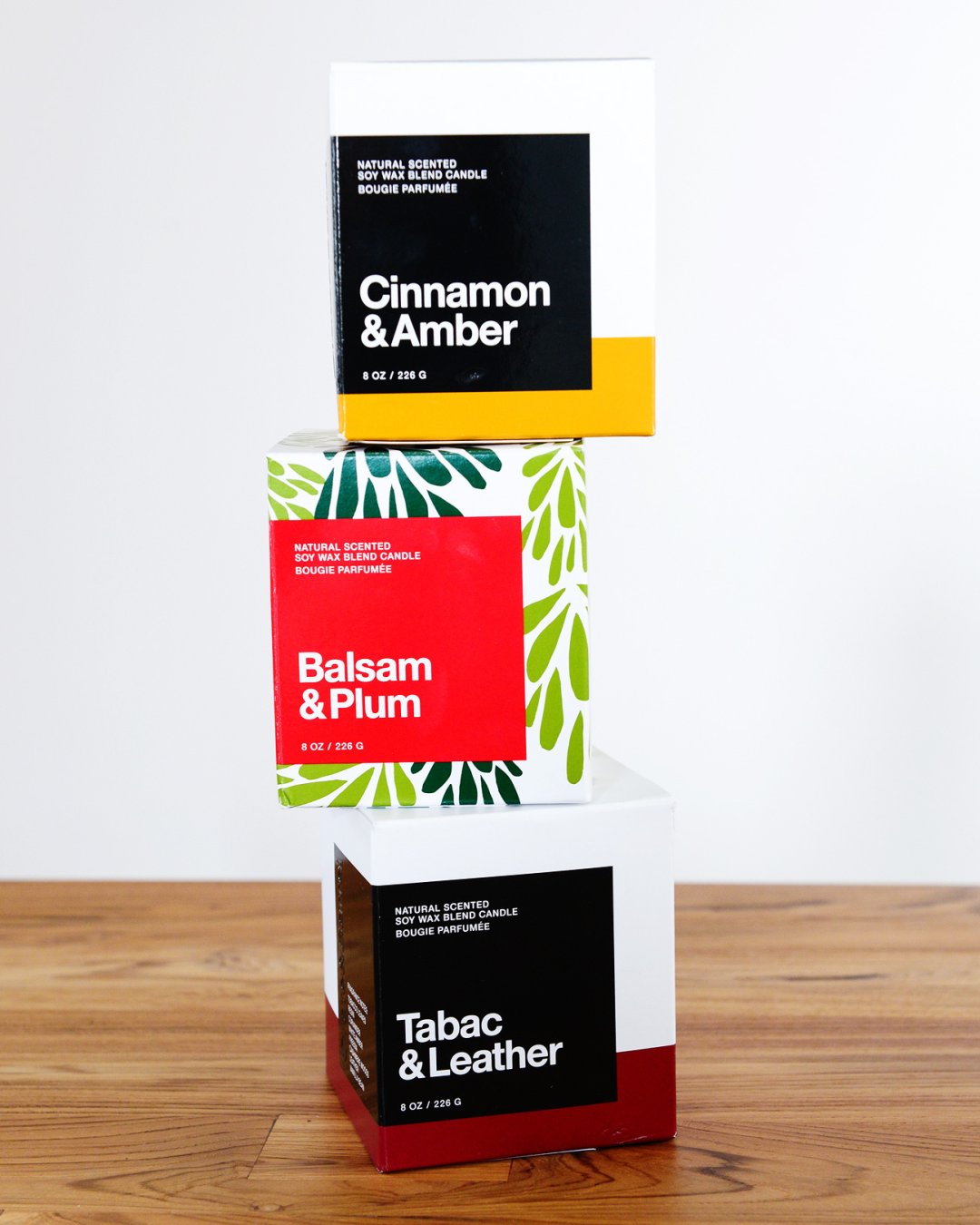 While the candles are great on their own, I decided to give glass etching a try and embellish them with a touch of gold, too. I love this DIY for the unique touch it lends to the gift, but the best part is that it couldn't be more simple—my favorite kind of craft during this busy time!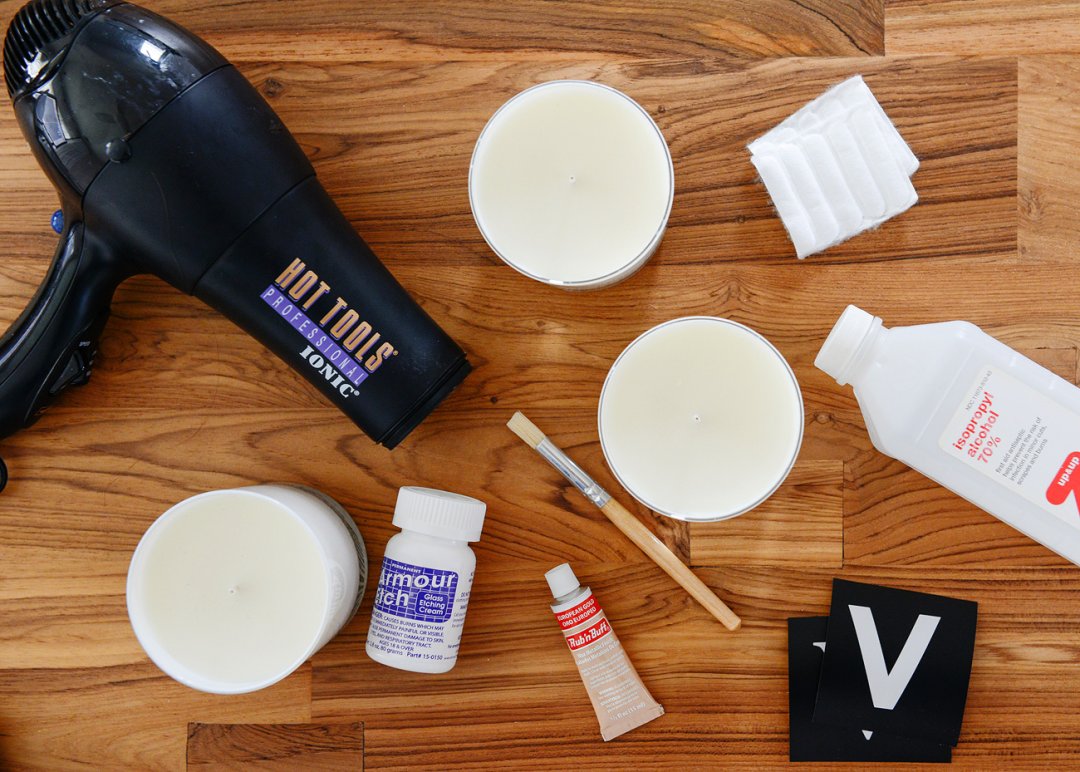 Here's what you'll need:
Your favorite Crate and Barrel candles
Etching cream
Wax metallic finish
Small craft paintbrush
Rubbing alcohol
Cotton ball/pad
Stencil or vinyl cutout
Soft cloth
Blow dryer (optional)
To start, I unboxed the candles and cleaned the glass with a cotton pad soaked in rubbing alcohol. I created stencils of various phrases on a vinyl cutter, but you can also use lettered vinyl stencils available in craft stores and online. I carefully applied my vinyl templates, and I used a blow dryer on high heat to seal it tightly to the glass.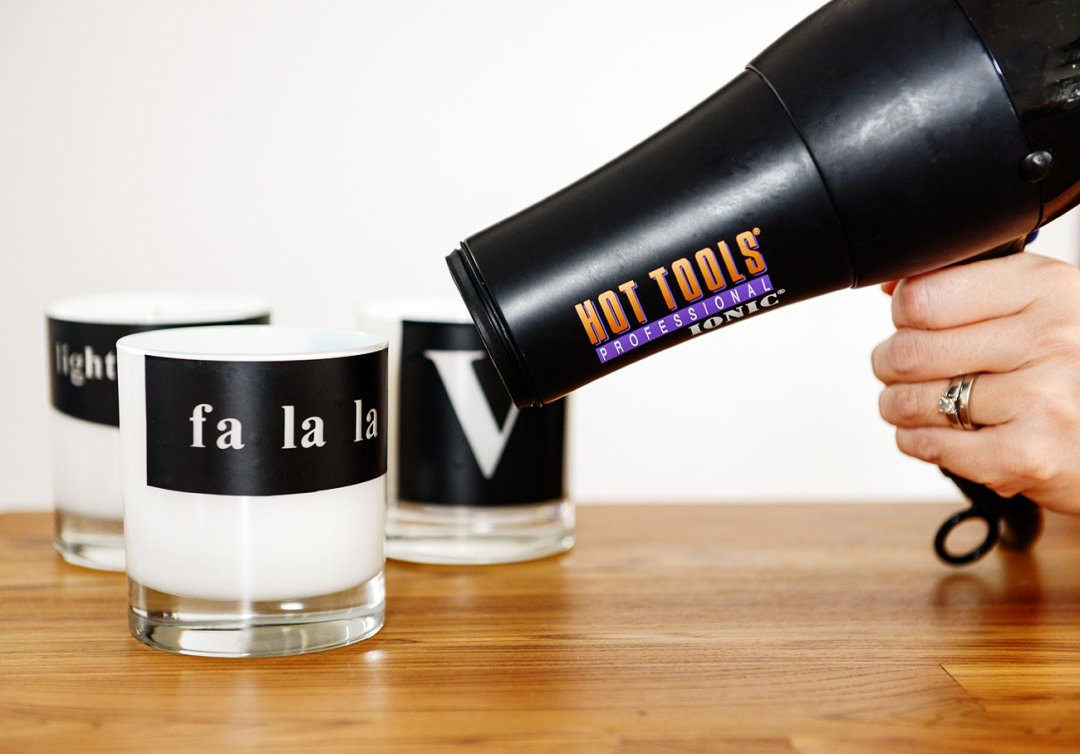 Next, it was time to etch the glass! I used a small craft brush to apply a thick layer of etching cream (make sure to shake it well!), being careful to fill the exposed glass in my vinyl cutout. After two to three minutes, the etching cream will have done its job. A quick warm water rinse is all that's needed to remove the cream, and I was able to peel off the vinyl to reveal my design.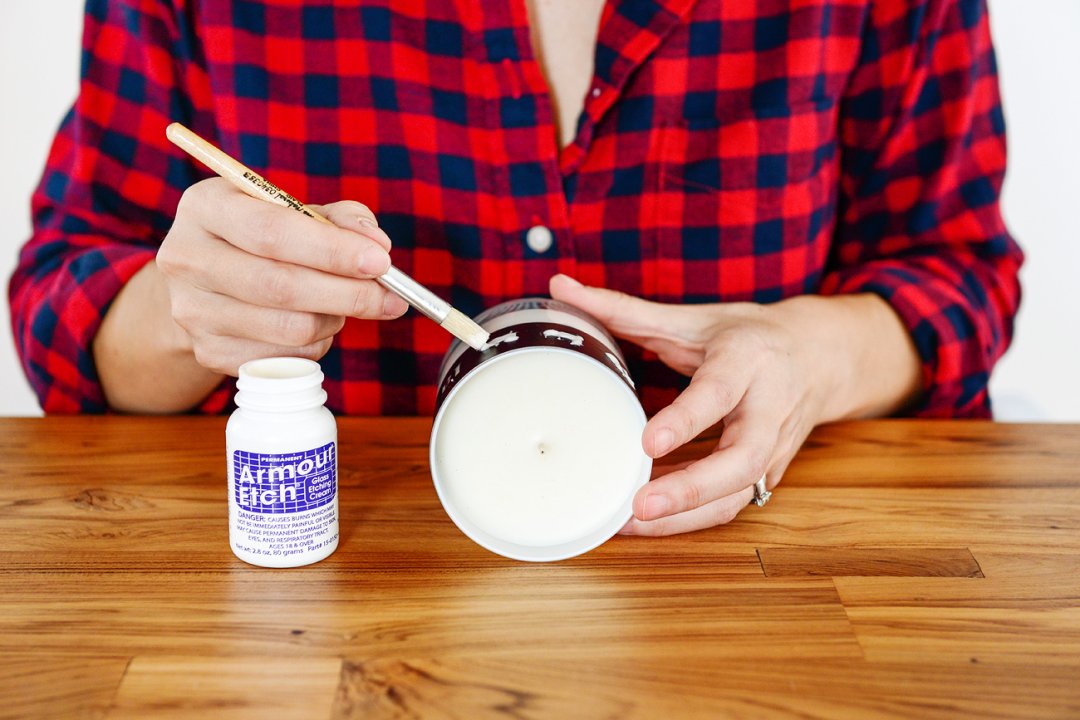 The etching will create a hazy, dull surface in the shape of the stencil, but because Crate candles are poured into a pretty milk glass, it's hard to make out the designs I chose. So to kick it up a notch, I squeezed a very small dab of gold Rub 'n Buff on my finger, and I smeared it over the etched portion of the glass.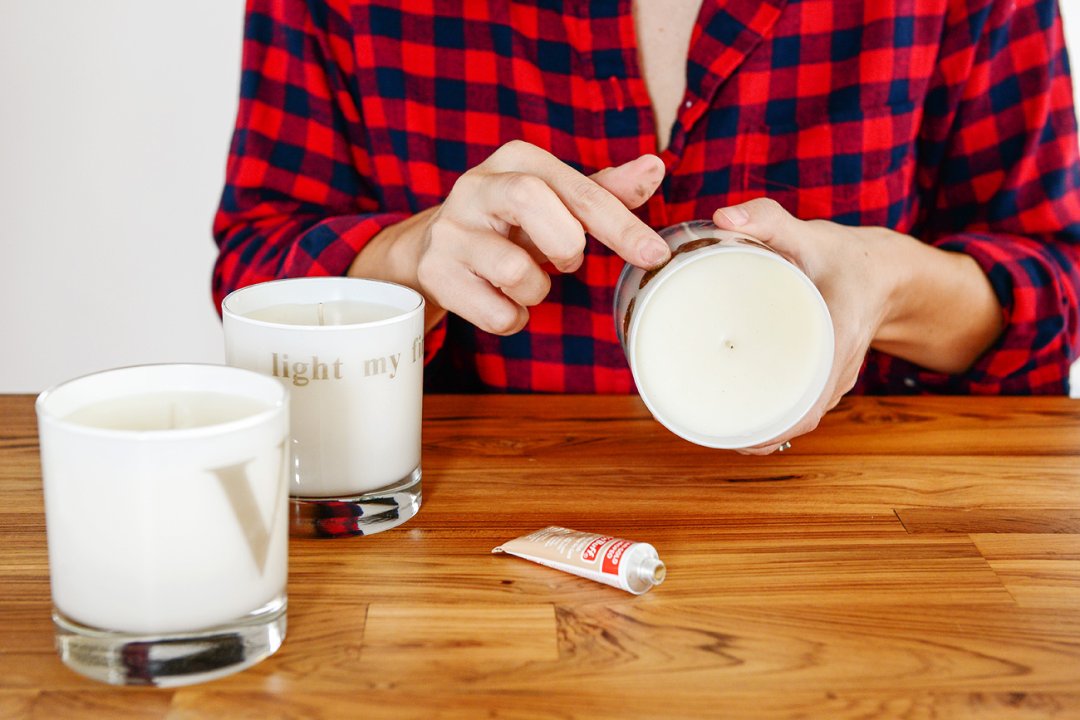 Using a soft cloth, I quickly wiped off the excess. The wax metallic finish sticks only to the etched portion of the candle, so all that remained was my gold lettering!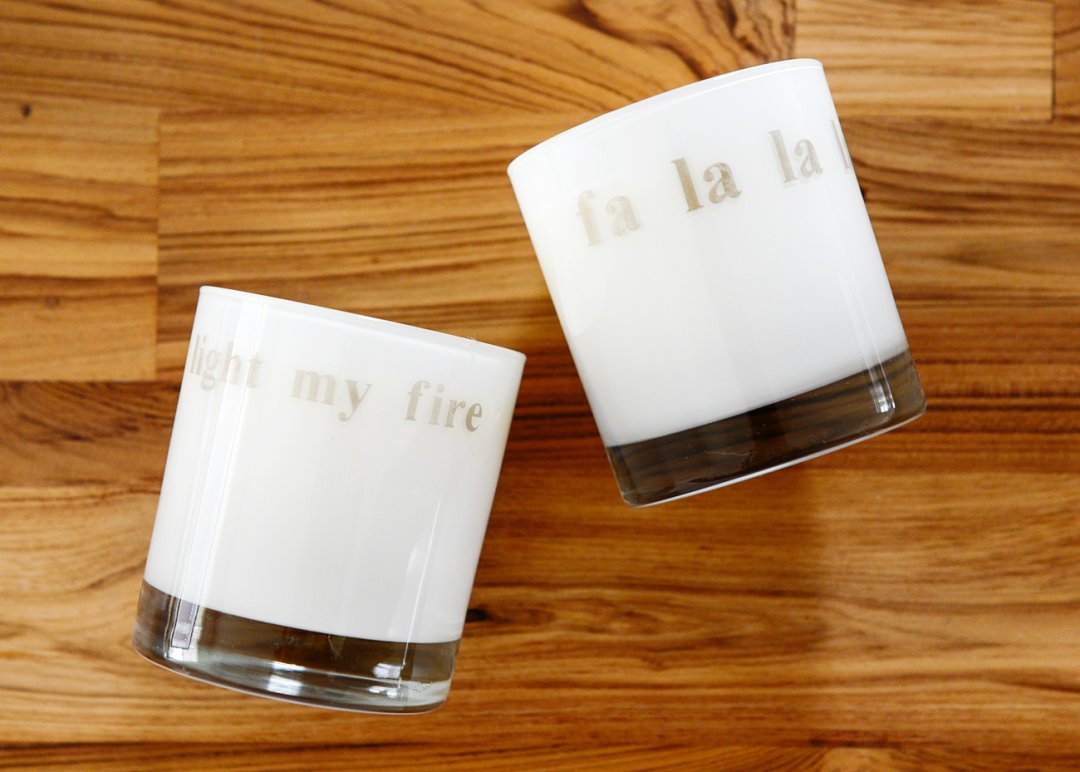 I put the candles back into their boxes, and I wrapped them with a sweet mouse-themed craft paper and tied them up with simple twine. Each gift got a mini Santa ornament, like icing on a cake.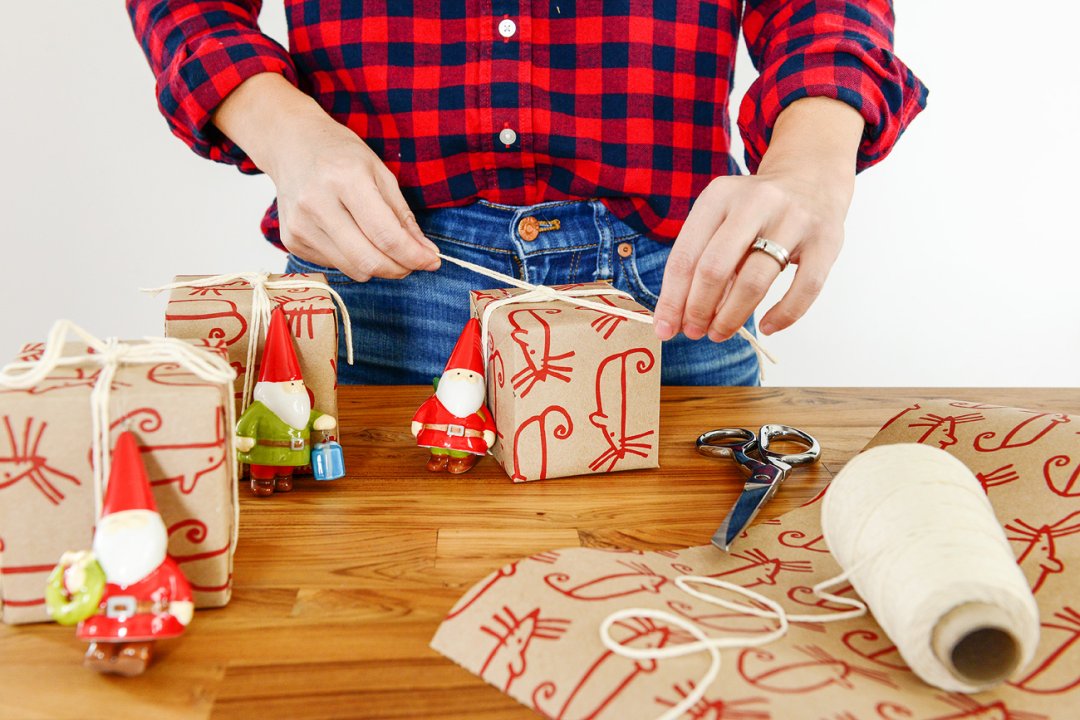 We can't wait to give these to some of our very favorite people. I plan to grab a few more and monogram them with the initials of our neighbors as well; a great solution for last minute, cheery pop bys. Happy holidays!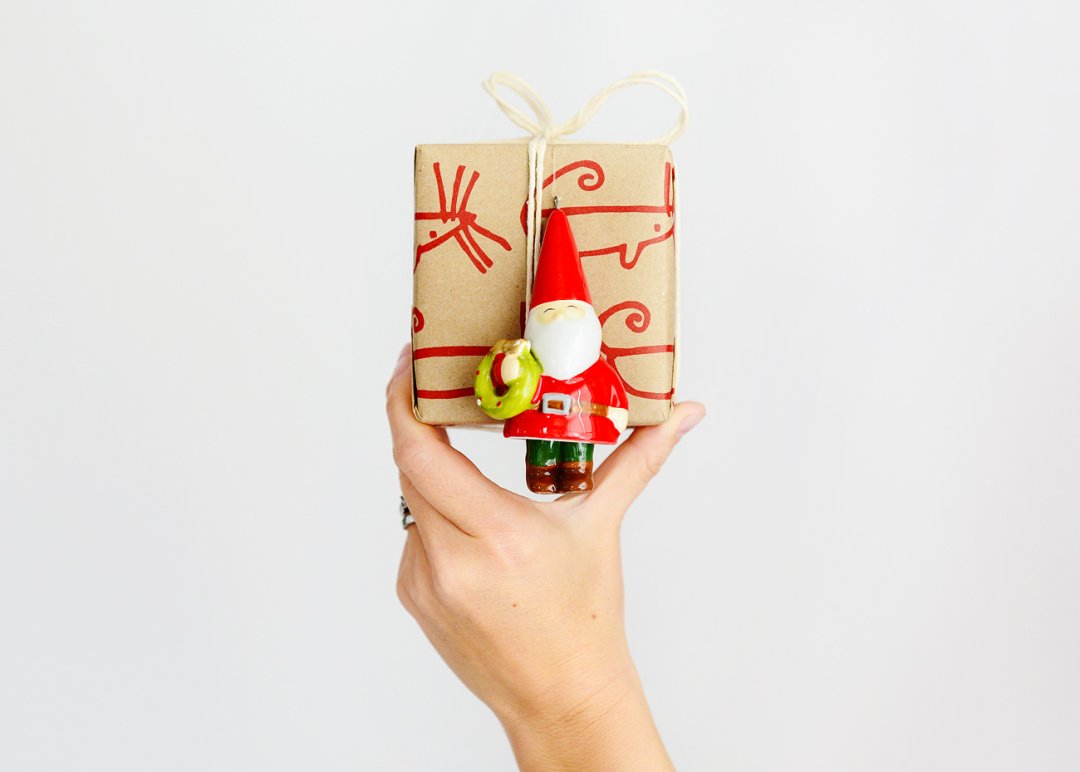 Want another DIY to try? See how to make a gorgeous jar of sugar scrub.