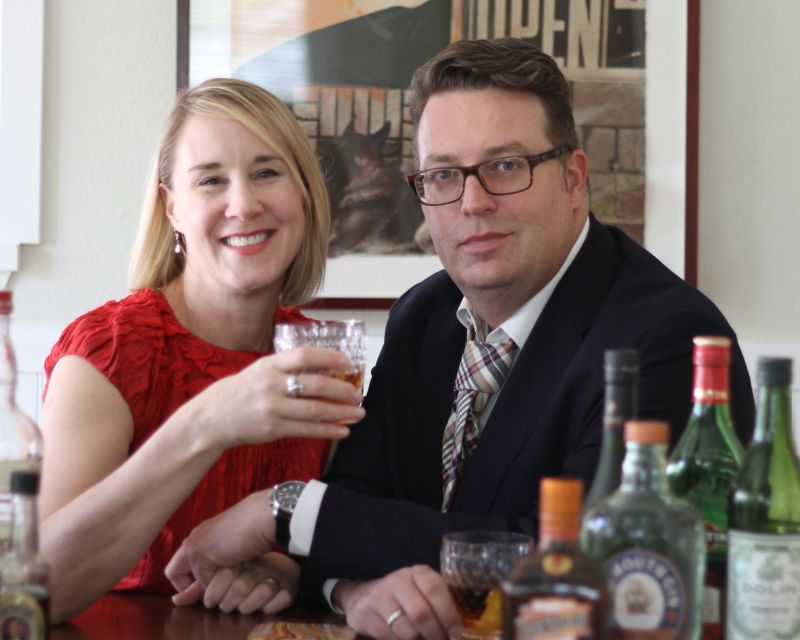 12bottlebar.com
The perfect holiday, Just Like That™. This holiday season we've partnered with some of our favorite bloggers who will be showing you new and inspirational ways to bring the holidays home.
Entertaining this holiday season? We've partnered with David and Lesley Jacobs Solmonson of 12 Bottle Bar to bring you 12 new cocktails, one each week from now until New Years. Cheers!
Let's talk about the Cosmopolitan. There are few cocktails that have attained such "cult" status. And there are few cocktails that have been so criticized. It's often said that the Cosmo is a cocktail for people who don't like to drink. And let's be honest, the typical version is nothing more than, as we once called it on the 12 Bottle Bar site, a boozy Hi-C with its combination of vodka, orange liqueur, lime juice and cranberry juice (usually too much of it). The Dutch Cosmo turns the drink on its head by switching out the vodka for genever, the precursor to modern gin, which adds a richer, more serious note to this drink.
About the Dutch Cosmo
Full disclosure here: We didn't invent the Dutch Cosmo. We discovered it some years back as the Double Dutch Cosmopolitan on the menu at Door 74, an award-winning cocktail bar in Amsterdam. Started by the inimitable spirits wizard Philip Duff, the bar had its tongue firmly in cheek when it created this drink, knowing that to put a Cosmo on a classic cocktail menu was almost sacrilegious. How could we not love it? To add respectability to the recipe, Duff featured all Dutch ingredients, including unsweetened Terschellinger cranberry juice, lemon genever and Dutch curaçao. Talk about drinking local.
Our version still uses the unsweetened cranberry juice and orange liqueur, but tinkers with the flavors a bit by going back to the lime juice in the original and adding some simple syrup. If you tend to prefer sweeter drinks, by all means, cut back on the lime and up the simple syrup and/or the cranberry juice. Regardless of how you make it, the goal is a balance of flavors, melding the sweet with the sour and the almost savory character of the genever.
Some genevers tend more toward a whiskey-like flavor; others are more floral and softer. The one you choose will, of course, affect the flavor profile. No matter how you mix it, the genever's richness and the vibrant reddish tone make this ideal for the colder, festive months ahead.
Our Cosmo is served in Crate and Barrel's Viv Martini Glass, which harkens back to this drink's original presentation. The End Grain Cutting Board offered a rugged surface for cutting the lime with our Wüsthof classic paring knife, while the stainless steel citrus juicer did its job without a hitch.
Dutch Cosmo Recipe
Ingredients
2 ounces genever
1 ounce orange liqueur
3/4 ounce strained, freshly squeezed lime juice
2 teaspoons unsweetened cranberry juice
1/2 to 1 teaspoon simple syrup (1:1 granulated sugar to water)
Lime wedge for garnish, if desired
Combine all the ingredients in a mixing glass, fill the glass three-quarters full with ice cubes, cover with a Boston shaker tin, and shake vigorously until thoroughly chilled, 15 seconds. Strain into a martini glass and garnish with a lime wedge, if desired.
Want another cocktail idea perfect for the Viv Martini Glass? Get the recipe for the Soother from 12 Bottle Bar.