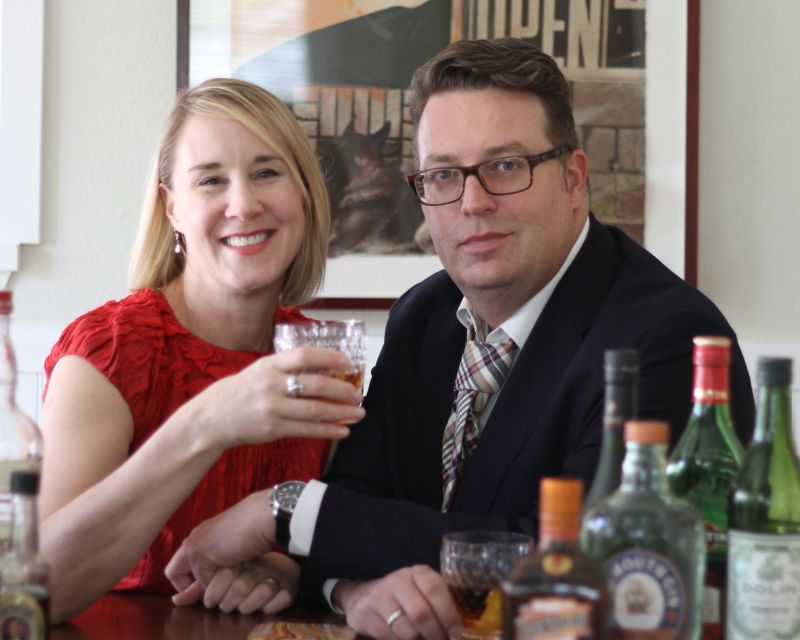 12bottlebar.com
The kids' table shouldn't be the only one with treats. We've partnered with David and Lesley Jacobs Solmonson of 12 Bottle Bar to put a grownup spin on a childhood favorite.
Adults, let's face it, Easter is often all about the kids. Religious celebrations aside for a moment, the best treat that most adults can hope to get out of Easter is to bite the ears off of a chocolate bunny and perhaps, should the stars align, a nice brunch. We don't think that's fair, so we've conjured up a brunch-time tipple that comes in both kiddy-pleasing and adults-only versions.
One of our favorite memories of childhood are those sherbet and lemon-lime soda punches served at birthday parties, school mixers, and holidays. Should you not recall them, the concept is simple: a scoop of fruity sherbet topped with a healthy pour of lemon-lime soda. As the sherbet melts, the flavors and temperature meld, creating a confectionary cocktail much yummier than the individual sum of the parts. If you've had the drink, feel free to ignore the last couple of sentences because you already know exactly what we mean.
One of our favorite challenges at 12 Bottle Bar is to take childhood favorites and simultaneously class and cocktail them up a bit; so, the sherbet-lemon-lime-soda punch has not escaped our crosshairs. In place of sherbet, we offer an easy-to-make sorbet inspired by the classic Bramble cocktail, created by the late legendary bartender Dick Bradsell. The Bramble is a gin sour with a splash of blackberry liqueur. The lemon perks up the blackberry, resulting in a mixture that is never too rich nor too sweet. Add gin for the adult version and leave it out for the little ones.
About Bramble Sorbet Cocktail Punch
Pouring all the ingredients into the right tool, such as a Cuisinart Ice Cream Maker, means that creating the perfect sorbet is a snap, so you should feel free to riff on your favorite flavor combinations. Once the sorbet is finished, we stored it in a convenient Tovolo Ice Cream Storage container.
Serving up the punch is as easy as scooping a dollop — we recommend using the everlasting and flawless Zeroll Anti-Freeze Ice Cream Scoop — into a Cocktail Coupe glass and topping it with a measure of sparkling wine or cider. Don't skip the cocktail-style presentation for the younger members of your group, as they will certainly enjoy feeling big enough to indulge in a "grownup" treat. With the addition of alcohol, the sorbet will be a bit less solid. Don't pay it any mind; just enjoy. We finished off our presentation with a classic Lawrence Serving Tray.
Two of the best things about a drink like the Bramble Sorbet Punch are how easy it is to make and what a crowd-pleaser it proves to be for adults and kids alike. Even better, however, is that a second serving is just a scoop and a pour away.
1

cup

blackberry juice

1

cup

2:1 simple syrup

1

cup

water

1

ounce

freshly squeezed lemon juice

6

ounces

dry gin

leave out to make a non-alcoholic version

Sparkling wine or sparkling cider
1

cup

blackberry juice

1

cup

2:1 simple syrup

1

cup

water

1

ounce

freshly squeezed lemon juice

6

ounces

dry gin

leave out to make a non-alcoholic version

Sparkling wine or sparkling cider
Freeze ice cream maker bowl overnight and chill all ingredients. Add all ingredients to ice cream maker following manufacturer's directions. Allow to chill until mostly set, approximately 20 minutes.

Slowly add in the gin in a thin drizzle. Allow to chill in the ice cream maker until combined. Skip this step for a non-alcoholic version.

Transfer mixture to freezer container and freeze until firm.

To serve, scoop a serving of the sorbet into a cocktail glass. Fill the glass approximately half way up the sorbet scoop with sparkling wine or cider.
Want more Easter entertaining ideas? Check out this delicious carrot cake by Modest Marce.