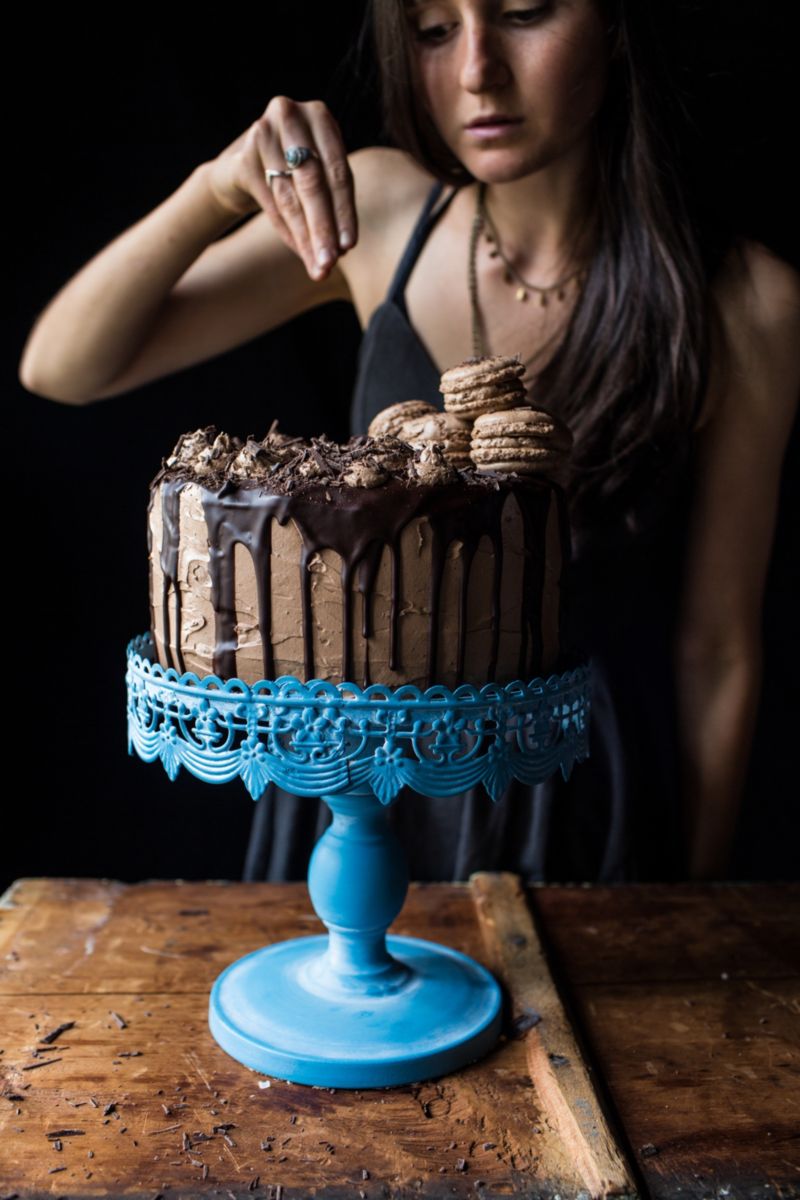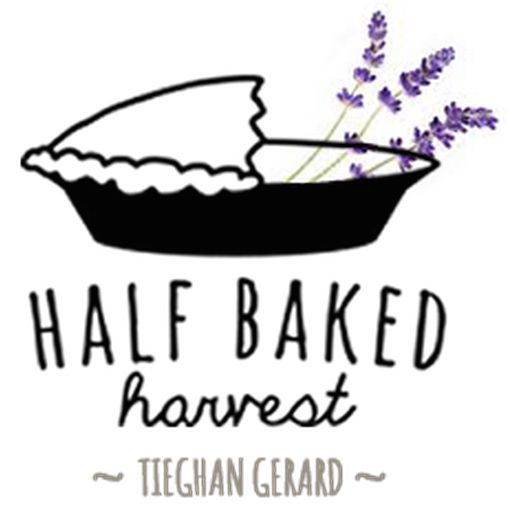 halfbakedharvest.com
Cabernet chocolate sauce. Need we say more? This year we've partnered with Tieghan Gerard, founder of Half Baked Harvest, and taken some inspiration from the movies to plan an Easter dinner that's big on decadence.
By the time Easter rolls around, I am so ready for a nice warm spring break. Growing up, Easter was always spent with my grandparents in Florida. We wouldn't do anything fancy, but we would always have a big Easter egg hunt and then complete the day with a scrumptious meal.
I'm not yet sure of my Easter plans for this year, but since food is my livelihood, I do know what my Easter dinner recipes will be. This year I was inspired by a beautiful dinner party scene in one of my favorite movies.
The menu for the dinner is centered around chocolate. Yes, chocolate for dinner! I know it may sound odd, but chocolate can be used in a savory way and it can be delicious. I swear!! Obviously you would not want, say mac and cheese, with some melted milk chocolate, BUT you would want a slow roasted lamb drizzled with a savory Chocolate Cabernet Sauce. No really, you would! It is a delicious sweet and savory sauce.
Chocolate and slow cooked meats are perfect for pairing. They are a rich and indulgent combo, yet not overly sweet. It's a great way to put an unexpected but delicious twist on a traditional recipe. The lamb leg is slow roasted with garlic, lemon and rosemary. I added some potatoes to the bottom of my roasting pan for an easy side. The potatoes acquire a delicious flavor from all of luscious drippings of the lamb and create an effortless side dish. The savory flavors of the lamb pair really well with the slightly sweet and tangy flavors of the Cabernet Sauce. It's definitely a little fancy, but give it a try! Promise, it is so good!
For a simple veggie side dish, I made citrus butter roasted asparagus. This is my GO-TO asparagus recipe. It's simple, quick and a huge crowd pleaser!
OKAY and now for dessert? In sticking with my chocolate theme, I made rich chocolate bunny cakes with a little chocolate ganache and sweetened coconut. Oh these cute little cakes are perfection in so many ways… moist, chocolaty and worth every sinful bite. I used the new Crate and Barrel bunny molds to make these bunnies extra super cute. I personally am no cake decorator, so using these molds took all the stress out of making a festive Easter dessert. Thank you Crate and Barrel!!
And there you have it. That is my chocolate-inspired Easter dinner menu. The only thing possibly missing from this menu would be either a chocolate martini or a spiked chocolate shake! Hehe, chocolate cocktails, yes, I highly recommend them too!
Slow Roasted Lamb with Lemon and Rosemary with Cabernet Chocolate Sauce Recipe
1 (4-5 pound) bone-in leg of lamb
2 pounds baby potatoes
8 cloves garlic, grated or finely minced
zest of 1 lemon
1 tablespoon fresh rosemary
1/4 cup olive oil
Salt and pepper, for sprinkling 
Savory Cabernet Chocolate Sauce
1 cup cabernet wine
1/4 cup balsamic vinegar
2 teaspoons brown sugar
2 tablespoons butter
2 ounces dark chocolate, chopped
Remove the lamb from the fridge and allow it to sit at room temperature for 1 hour before roasting.
Preheat the oven to 400 degrees F. Position an oven rack in the lower third of the oven. Place the lamb on a cutting board and, using a sharp chef's knife, make 1 inch slits all over the lamb. Making these slits will allow the seasoning to penetrate the lamb. Next, sprinkle the lamb generously with salt and pepper.
Add the potatoes to the bottom of your roasting pan and season with salt and pepper. Toss with 1 tablespoon olive oil.
In a bowl, combine, the garlic, lemon zest and rosemary. Place the lamb into the roasting pan (preferably on a roasting rack) and rub all over with olive oil. Now rub the seasoning mix onto the lamb, making sure some of the seasoning goes into the slits you made.
TIP: if you do not have a roasting pan fitted with a roasting rack, any large pan with sides will still work great for this!
Place the lamb in the oven and roast for 1 1/2 to 2 hours, or until the lamb is cooked to your desired doneness. For a rare lamb roast, roast the lamb for 1 hour and 15 minutes or until the internal temperature reaches 125 degrees F. For a medium rare roast, roast for 1 1/2 hours or until the internal temperature reaches 130-135 degrees F. For a medium to well done roast, roast for 2 hours or until the internal temperature reaches 135-155 degrees F.
Once the lamb has cooked to your desired doneness, remove the lamb form the oven and cover with foil. Allow the lamb to rest for 15 minutes before slicing. Do not carve the lamb without letting the lamb rest first. Allowing the lamb to sit before carving keeps in all the juices and enables the lamb to stay succulent, tender and moist!
Meanwhile, make the Cabernet Chocolate Sauce. Combine the cabernet, balsamic and brown sugar in a medium size saucepan and bring to a boil. Gently boil for 10-15 minutes or until reduced by half. Remove from the heat and let cool 5 minutes. Stir in the butter and chocolate until melted and smooth. Keep the sauce over very low heat until ready to serve or gently rewarm over low heat before serving.
Place the lamb on a cutting board and carve into slices. Serve drizzled with the Cabernet Chocolate Sauce and along side the potatoes.
TIP: if you are not a fan of the idea of the Cabernet Chocolate Sauce, lamb is really delicious when served with minty sauces like a mint pesto or a minted greek yogurt.  
Citrus Butter Roasted Asparagus Recipe
2 bunches asparagus, ends trimmed
1 lemon, sliced thinly
1 blood orange, cara cara orange or clementine, sliced thinly
4 tablespoons butter, sliced
2 tablespoons olive oil
1/2 cup parmesan cheese, grated
Salt and pepper to taste
Preheat the oven to 400 degrees F.
Add the asparagus, lemon slices and orange slices to a sheet pan. Add the pats of butter and drizzle with olive oil. Sprinkle with parmesan, salt and pepper.
Place in the oven and roast for 20 to 25 minutes, tossing once or twice throughout cooking until the asparagus is tender and lightly charred. Serve.
Rich Chocolate Covered Bunnies Recipe
1 1/2 cups all-purpose flour
1 1/2 cups granulated sugar
1 cup unsweetened cocoa powder
1 1/2 teaspoons baking soda
1 1/2 teaspoons baking powder
1 teaspoon salt
2 eggs, at room temperature
3/4 cup buttermilk
1/4 cup plain greek yogurt
1/2 cup canola oil
1 tablespoon vanilla extract
3/4 cup strong brewed coffee, hot
1 cup canned full fat coconut milk OR heavy cream
8 ounces semi-sweet chocolate, chopped
1/2 teaspoon salt
1 teaspoon vanilla
2 cups sweetened coconut, shredded
Preheat the oven to 350 degrees F. Grease the sides of your bunny mold with butter or cooking spray.
In a medium size bowl combine the flour, sugar, unsweetened cocoa powder, baking soda, baking powder and salt. Set aside.
In the bowl of a stand mixer (or use a hand held mixer) beat together the eggs, buttermilk, greek yogurt, canola oil and vanilla until smooth. Slowly add the dry ingredients to the wet ingredients with the mixer on low until there are no longer any clumps of flour. Add the hot coffee and mix until combined. Batter should be pourable, but not super thin.
Pour the batter among the individual bunnies in the mold, filling them just a little more than half way full. Place the mold on a cookie sheet and bake for 15 minutes, until the tops are just set and no longer wiggly in the center. Remove and let cool five minutes, then run a knife around the edges of each bunny. Grab a large flat plate, line it with wax or parchment paper and invert the cakes onto the paper-lined plate. Cover and let the cakes cool.
To make the ganache, add the coconut milk or cream to a small saucepan and bring to a low boil. Remove from the heat and stir in the chocolate and salt. Stir until smooth and melted. Stir in the vanilla. Allow the ganache to cool 15 minutes. Spread a little ganache onto the tail of each bunny and cover the tail in shredded coconut. Drizzle the rest of the bunny with ganache. Repeat on remaining bunnies. Serve or store covered for 1 to 2 days.
Want more dishes perfect for your Easter table? Check out this Carrot Cake by Modest Marce.