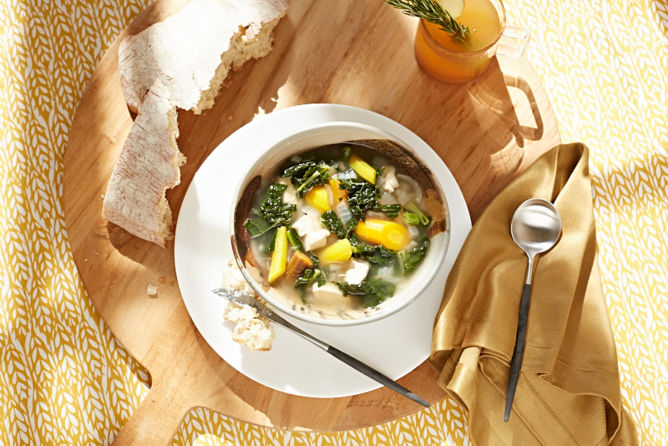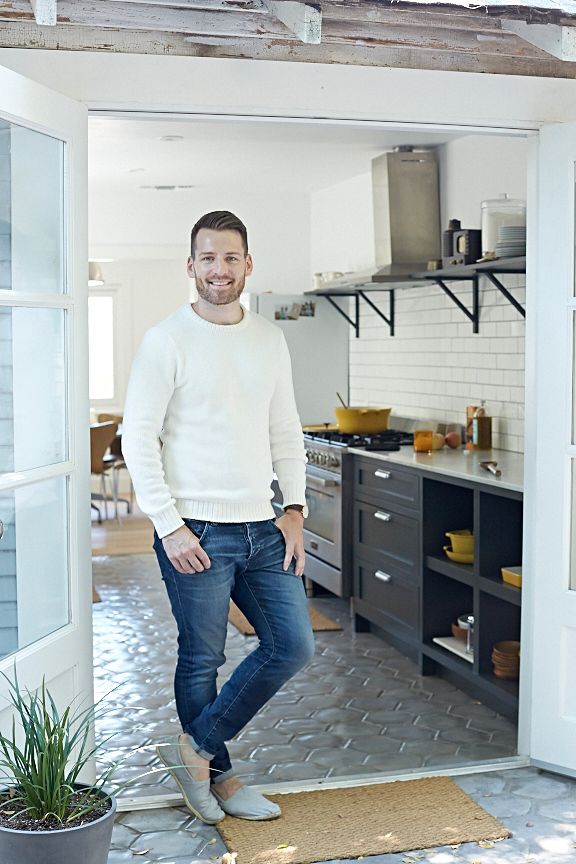 hommemaker.com
Ready to celebrate fall's arrival? We've partnered with Orlando Soria, founder of Hommemaker and creative director for Homepolish, to create an easy autumn stew and spiced apple cider perfect for warming up a cool evening.
I love living in LA, but the one thing that always kinda bums me out about being here is that our summers often linger long past their welcome. By the time a cool, refreshing autumn day comes around I'm fiending for some sweater weather. I relish these days and find them cause for celebration, including a nice meal and a cocktail—namely, a chicken stew and apple cider cocktail. See how I made these delicious and easy fall recipes.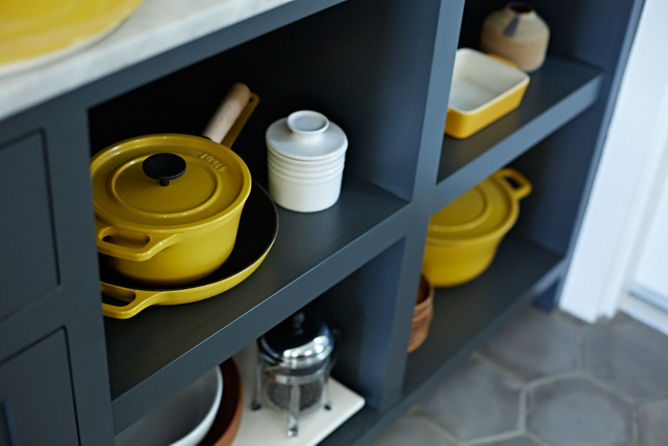 I recently acquired some beautiful Dutch ovens and was excited to use them. And what better way than a simple fall stew to warm everyone up and get them excited for the season? I chose this lovely "hollandaise" color because of its warmth and vibrancy. Colorful cast iron cookware not only makes cooking more exciting, it also can add visual interest to shelving when not in use. I just loved how they contrast with this beautiful slate blue shelving.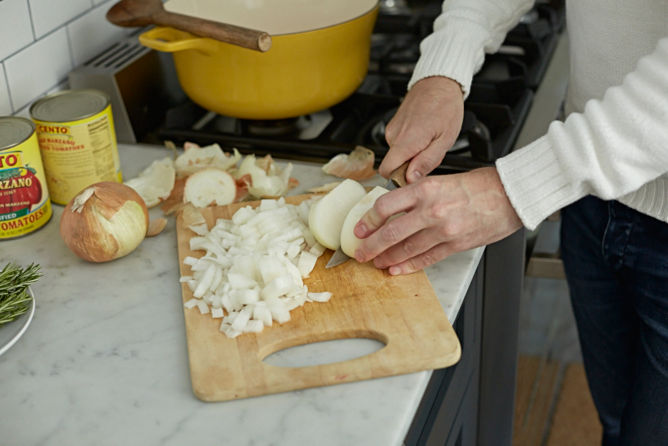 If you ever want to trick someone into thinking you're making them the best home-cooked meal they've ever had, just sauté some onions. People will be like, "What are you making?! It smells delicious!"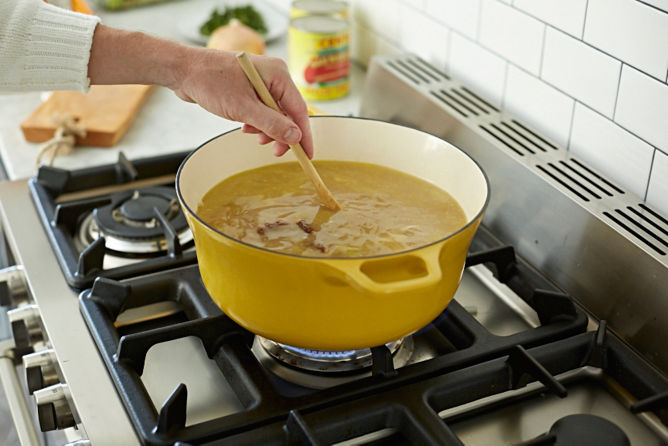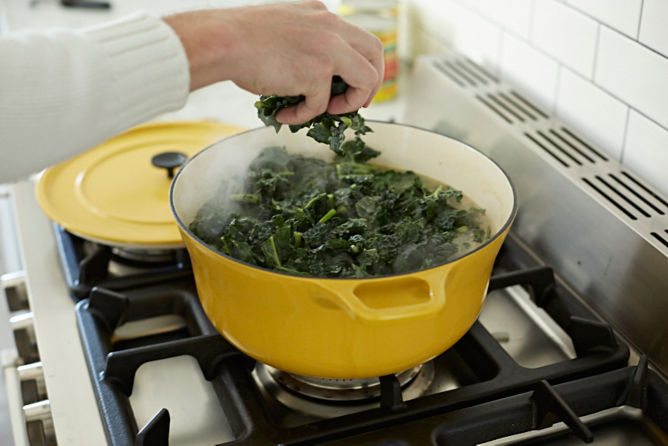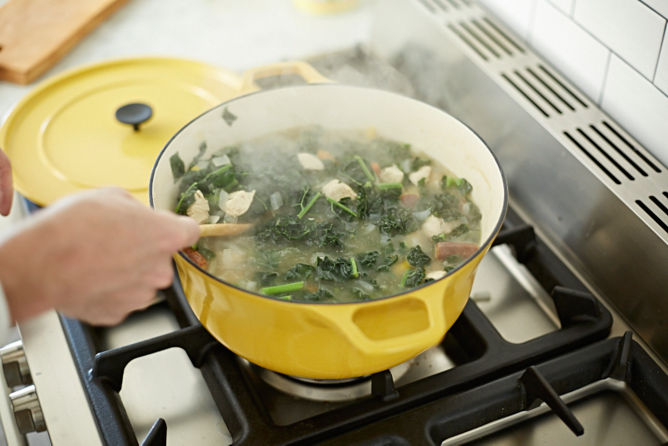 This recipe is pretty healthy so if you have any crazy paleo friends or people who just hate carbs, they'll be totally into this. It's also easy because you just have to throw everything into a pot and stir it. If you're making it while hosting a dinner party and there are people over who you don't feel like talking to, you can always use the stew as an excuse to run into the kitchen and avoid them. "I'm sorry, I have to go stir the stew. Please excuse me." But really you can just leave it alone and it'll cook by itself, becoming more and more delicious by the moment.
Super Simple Chicken Stew Recipe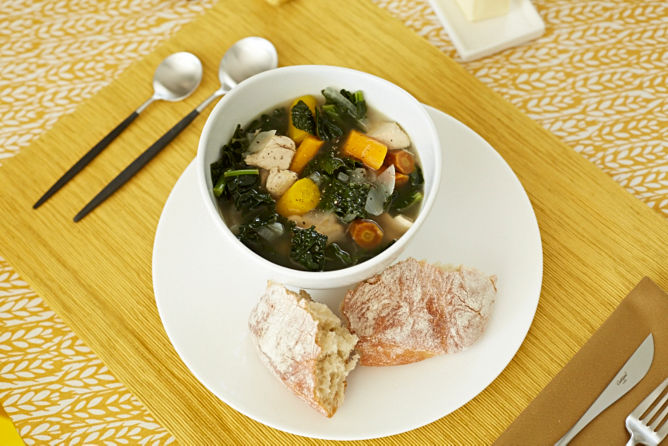 Ingredients
3 tablespoons olive oil
2 yellow onions, chopped
3 quarts chicken broth
1/2 pound rainbow carrots, peeled and chopped in 1 inch long chunks
2.5 pounds chicken, cooked
10 ounces kale, torn
1 teaspoon salt
1 teaspoon pepper
Directions
Sautée onions in olive oil over medium-high heat until browned. Add chicken broth and carrots, simmering for 5 minutes. Add chicken and kale, and simmer for 15 minutes. Add salt and pepper to taste, turn off heat and let sit for 10 minutes before serving.
To make this soup a bit more exciting, I paired it with ciabatta bread from a local bakery, slathered in slightly chilled butter. The stew seems light, but because it's filled with chicken it's pretty hearty.
Spiked Spiced Apple Cider Recipe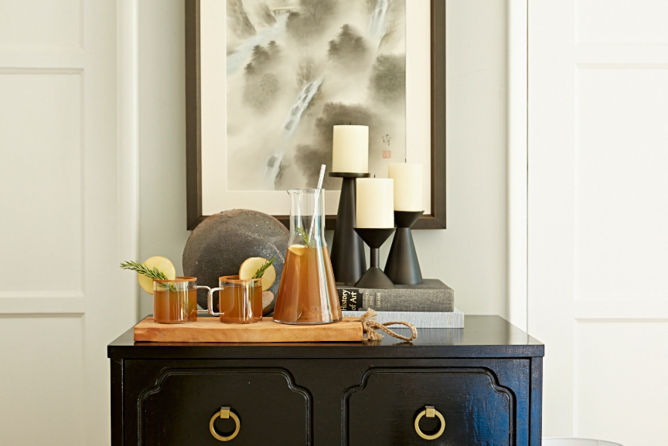 Because no fall fête is complete without a heartwarming beverage, I opted to serve a spiced, spiked cider. This is a super simple recipe. I've learned over the years that adding freshly squeezed lemon makes anything taste fresher and more homemade, so I added it to a store-bought spiced cider, garnishing with apple slices and fresh rosemary.
Makes one cocktail
Ingredients
6 ounces spiced apple cider
1 tablespoon fresh lemon juice, plus a little extra for apple peels
1.5 to 3 ounces whiskey
Fresh rosemary sprig, 3 to 5 inches long
Fuji apple, thinly sliced
Directions
Simmer spiced cider in a saucepan. Add in lemon juice and whiskey. Garnish with rosemary and apple slices. Rub your apple slices with lemon juice to avoid browning. Serve in a glass rimmed with a sugar and cinnamon mixture for an added sparkle.
Enjoy your autumn!
Want another easy fall recipe perfect for crisp autumn nights? Get the recipe for Roasted Carrot and Garlic Soup from Adventures in Cooking.