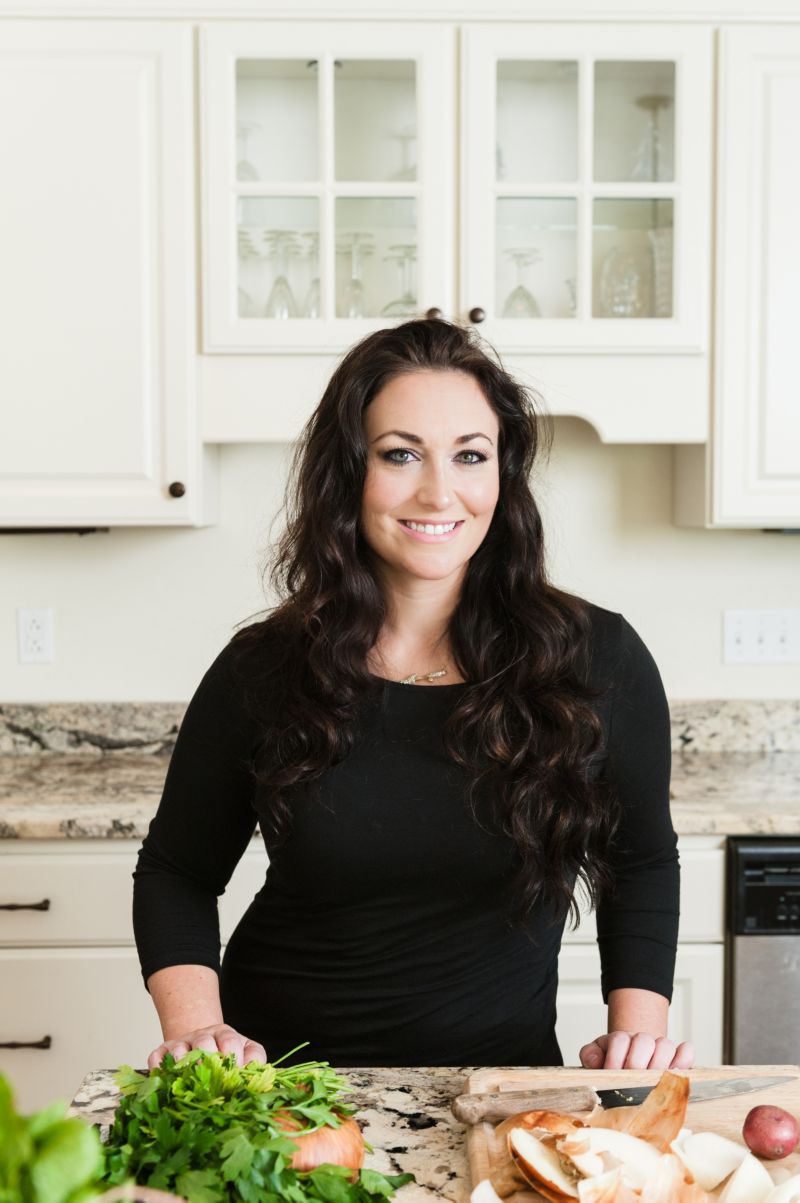 howsweeteats.com
When you're on-the-go, creating lunches that are both healthy and delicious can prove a challenge. We've partnered with Jessica Merchant, founder of How Sweet It Is, to create a few easy lunch recipes that will have you looking forward to lunch all morning long.
Up until about nine months ago, I could make the most extravagant lunches during the day while working from home—that is, if I had the time and the desire. Then I had an adorable little lovebug and my world was totally turned upside down.
Like majorly upside down. I've accidentally eaten cheese and crackers for lunch and dinner on more than one occasion.
Oops.
The last few months have been complete doozies. More often than not, I found myself just grabbing something from the pantry midday when starvation hits or just devouring fruit, only to be left starving later. Or I'd eat eggs and avocado toast for four weeks straight, an obviously awesome choice but not so awesome after 32 days in a row. You know?
So I've come up with some of my very favorite healthy lunch recipes that almost seem fancy but don't take forever to prepare. Yes, they take a few more minutes than the whole cheese and cracker thing. And many days I still find myself in that position because, hello working mom. But when I can find just a few minutes to prepare something delicious and somewhat healthy, these are a few of my faves.
Ideas for Healthy Lunches

I know that kale salad seems to be very 2009, but this simple version packs so much flavor. It's great alone or as a base for chicken, salmon or steak.

Plus, oh hi croutons. And not just any croutons. Five minute croutons!
They take the cake. Err, the salad.
The combo of greens, toasty bread, homemade vinaigrette and an obnoxious amount of shaved parmesan just gets me.

If I'm over salads (which, let's be real, many times I am) and craving something that feels more substantial, I'll make some chicken salad and prep enough for two or three days worth. I use Greek yogurt because I absolutely love it and can't really tell the different between it and mayo, and also because it means I can eat a few chips on the side. YES.

This chicken salad is just divine especially when stuffed inside an avocado. I'll eat it with a few crackers on the side or even a whole wheat pita pocket. Nothing is better than scooping out avocado meat with a spoon. Nothing!

And finally, if all I really want in life is pizza, I'll try to make a tiny cheater's version until I can get the real thing. Whole wheat tortillas (or pita bread, or even naan!) can be crisped in a skillet and loaded with toppings in a few minutes. If you have some extra time, you can even toss it in the oven on a pizza stone for a crispier crust.

Since we're nearing late summer and most gardens overfloweth, I'll use a bunch of different veggies. Or I'll take my favorite seasonal fruits and combine them with goat cheese, a sprinkle of herbs and a ton of honey or a drizzle of balsamic glaze.

It's almost like eating dessert. Seriously.

Finally, I always try to cook a bit extra at dinner so we have some leftovers for lunch. In addition I'll also prepare some chicken or some quinoa or something similar to make meals and snacks during the day easier. It doesn't always happen but when I'm prepared, life is oh-so-much easier. Like I'm-not-even-grasping-for-wine easier.
And that's the real goal, right? Well that, plus delicious food. Always.
Kale Salad with Five Minute Croutons
Serves 2
6 cups shredded curly green or lacinato kale
1/3 cup sliced toasted almonds
¼ cup freshly shaved parmagiano-reggiano cheese
Dressing:
1/4 cup champagne vinegar
1/2 lemon, juiced
2 tablespoons honey
1 teaspoon dijon mustard
1 garlic clove, freshly grated
1/4 teaspoon salt
1/4 teaspoon pepper
1/8 teaspoon crushed red pepper
1/3 cup olive oil
Croutons:
2/3 cup torn small bread pieces and crumbs
2 tablespoons unsalted butter
¼ teaspoon salt
½ teaspoon pepper
¼ teaspoon garlic powder
Add dressing ingredients to a bowl and whisk until thoroughly combined.
Place the kale in a large bowl and add a few tablespoons of the dressing. Massage the kale for 1 to 2 minutes with your hands, coating every piece. Set aside while you make the croutons.
Heat a skillet over medium heat and add the butter. Once it melts, add in the bread pieces and stir to coat. Season with the salt, pepper and garlic powder. Stir the crumbs until toasted and golden, 4 to 5 minutes. Remove from the heat.
Assemble the salad by adding the toasted almonds and cheese shavings on top. Cover in the croutons. Add more dressing if desired.
Greek Yogurt Chicken Salad in Avocados
Serves 4
2 boneless skinless chicken breasts, cooked and shredded
1/2 cup sliced almonds
4 green onions, sliced
1/4 cup chopped fresh Italian parsley
1/2 cup plain greek yogurt (I recommend whole or 2%, but do what ya want!)
2 tablespoons mayonnaise
1 teaspoon Dijon mustard
¼ teaspoon salt
¼ teaspoon pepper
1 avocado, cut into chunks
Cherry tomatoes, for garnish
For serving: 2 ripe avocados
Place the chicken, almonds, green onions and parsley in a bowl. Stir to combine. Fold in the yogurt, mayo and mustard, stirring until the entire bowl of chicken is moistened. Stir in the salt and pepper. Taste and season additionally if needed. Stir in the avocado chunks. (I do not like a very "wet" chicken salad, so if you'd like it to be wetter, feel free to add in more yogurt!)
Slice the avocados in half and remove the pits. Fill the centers with chicken salad and top with a cherry tomato. Serve immediately.
Tortilla Pizzas, 2 ways
Makes 2 pizzas
Veggie pizza:
1 whole wheat tortilla (You can also use pita bread or naan.)
1/3 cup tomato sauce
1/3 cup freshly grated provolone cheese
1/3 cup cherry tomatoes, quartered
3 mini bell peppers, sliced
2 tablespoons fresh mozzarella pearls
Fresh basil for topping
Heat a skillet over medium heat and add the tortilla. Cook until crisp on one side, then flip the tortilla and reduce the heat to low. Add the toppings: tomato sauce, provolone, the veggies and fresh mozzarella. Cover the skillet, increase the heat to medium and cook just until the cheese melts and the pizza is warmed through. Topped with fresh basil and serve.
Fruit pizza:
1 whole wheat tortilla (You can also use pita bread or naan.)
1 peach, sliced
6 fresh figs, quartered
4 ounces goat cheese, crumbled
2 tablespoons fresh mozzarella pearls
1 tablespoon honey
Fresh herbs for topping
Drizzle of balsamic glaze
Heat a skillet over medium heat and add the tortilla. Cook until crisp on one side, then flip the tortilla and reduce the heat to low. Add the peaches, figs, goat cheese mozzarella and honey. Cover the skillet, increase the heat to medium and cook until the cheese melts and the pizza is warmed through. Top with the fresh herbs (I like basil and thyme with the fruit) and a drizzle of balsamic glaze. Serve.
Looking for more easy, healthy recipes? Check out this autumn stew recipe from Hommemaker.