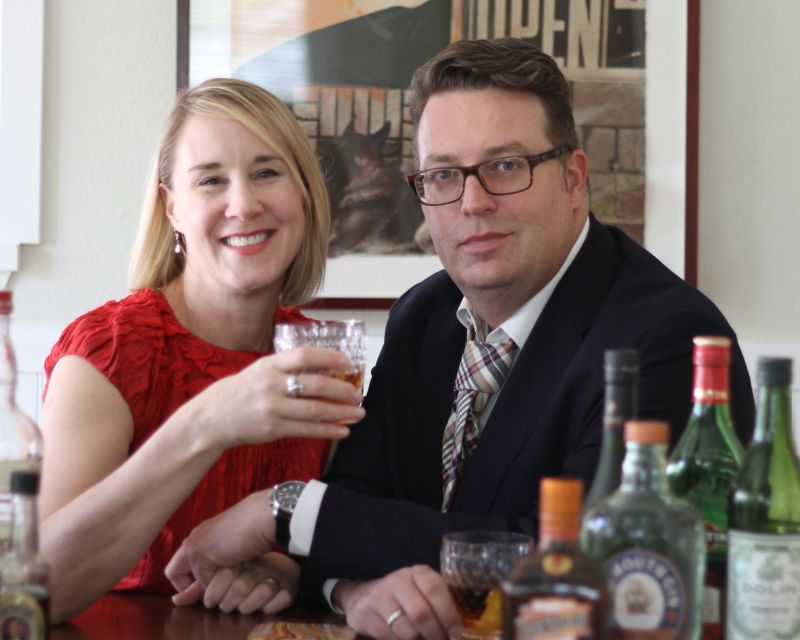 12bottlebar.com
This holiday season we've partnered with some of our favorite bloggers who will be showing you new and inspirational ways to bring the holidays home.
Entertaining this holiday season? We've partnered with David and Lesley Jacobs Solmonson of 12 Bottle Bar to bring you 12 new cocktails, one each week from now until New Years. Cheers!
Imagine, if you will, a world without Santa Claus.  No workshop, no sleigh, no reindeer, no elves, no pictures at the mall, no cameos on Coca-Cola cans.  No Santa.  Period.  Despite being a relatively modern character, at least in his present form, Santa Claus and Christmas are inseparable.  Sure, had he never existed in the first place, then we could probably convince ourselves that life would have gone on in some parallel capacity, but to erase him tomorrow? Again, impossible.  So, you can probably imagine how a pair of roustabouts by the names of Jerry Hawthorn, Esq. and Corinthian Tom (not to forget companion Bob Logic, of course) must feel about the forgotten nature of their eponymous beverage: the Tom and Jerry.
About the Tom and Jerry Cocktail
Once upon a time — and not that long ago, mind you — Tom and Jerry and Christmas were inseparable. Don't believe us? Then take this quote from newspaperman and author Damon Runyon:  "This hot Tom and Jerry is an old time drink that is once used by one and all in this country to celebrate Christmas with, and in fact it is once so popular that many people think Christmas is invented only to furnish an excuse for hot Tom and Jerry."
So, who were these guys? First, they were decidedly not a cat and a mouse. The invention of sports reporter Pierce Egan, Tom and Jerry were the protagonists in Egan's 1821 smash hit work, Life in London or, the Day and Night Scenes of Jerry Hawthorn, Esq., and his elegant friend, Corinthian Tom, accompanied by Bob Logic, the Oxonian, in their rambles and Sprees through the Metropolis. Life in London was an exposé of all the shenanigans of the young gentlemen of the English "sporting set".
Over the course of their misadventure, the trio (including Bob) go from dancing with royalty to betting in the dog pits and everywhere in between. And while the characters and the narrative may have been fictitious, the exploits were all too common among the wrong sort of gentlemen.
As the success of Life in London grew, so did the fame of Tom and Jerry. Copycat works appeared everywhere, and in London during the height of the T&J craze, ten separate productions based on the book were running simultaneously. By 1830, the drink had been invented. In purpose, it's akin to a hot eggnog cocktail. The batter takes a bit of prep work and should be made not long before use, but the final assembly is quite easy — easy enough to let your guest self-serve.
Given the yield of the batter, we opted for the perfectly-scaled Orb Aqua Ice Bucket as our punch bowl, complemented by the ladle from the Chill Acrylic Punch Bowl. To contrast the richness of the drink, we used the delicate Mallorca Cup. As always, the Square End Grain Cutting Board provides a perfect combination work/presentation space.
Tom and Jerry Cocktail Recipe
Ingredients
Tom and Jerry batter
1/2 ounce cognac-style brandy (per drink)
1/2 ounce amber rum (per drink)
boiling water or hot milk to top
Directions
Fill a heat-proof mug halfway with batter. Add the spirits, then the boiling water or milk, stirring to combine. Garnish with freshly grated nutmeg.
Batter Ingredients
4 eggs
Pinch, cream of tartar
3/4 cup powdered sugar
Ground allspice
Ground cinnamon
Ground cloves
Directions
Separate four eggs into white and yolks. Whip the egg whites with a pinch of cream of tartar until stiff.
Beat egg yolks until thin. Fold the powdered sugar into egg yolks. Add a pinch of allspice, cinnamon and cloves as desired. Fold in egg whites. Mix until light and frothy. Stir batter before each use.
Looking for another holiday drink? Try this Cranberry Moscow Mule by Half Baked Harvest.