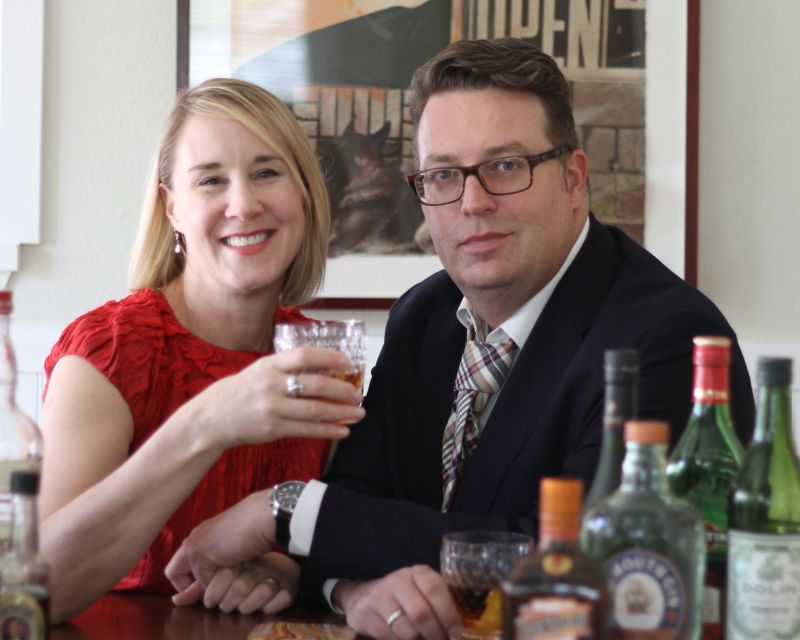 12bottlebar.com
This holiday season we've partnered with some of our favorite bloggers who will be showing you new and inspirational ways to bring the holidays home.
Entertaining this holiday season? We've partnered with David and Lesley Jacobs Solmonson of 12 Bottle Bar to bring you 12 new cocktails, one each week from now until New Years. Cheers!
"As American as apple pie," so goes the saying. The problem is, of course, that apple pie is hardly an American invention. And neither is eggnog.
At Christmas time, one of the great drinking pleasures is to look beyond the traditional eggnog (or eggnog latte, which seems to have become its most common form) and explore historical drinks or traditional drinks from other cultures. One of our favorites is the rich, tropical variation on eggnog called Coquito. Recipes for this Puerto Rican holiday staple are wide and varied. While the basis for all Coquitos is coconut and rum, some recipes employ eggs, as with eggnog, producing a version also known as "Ponche." Some call for the candy-like sweetness of cream of coconut, producing a drink that's way too sugary for our palates.
About Coquito
What we like is an adult drink with the right balance of flavors — not too strong nor sweet. The sweetness in our recipe comes solely from the condensed milk. It's just right, especially when you go easy on the booze, as we do here. This is a subtle but very well-rounded treat, and too much alcohol would upset the balance. Should you feel inclined to spike yours further, do so in small increments, say an ounce at a time, in order to prevent the whole batch from getting out of whack.
One of the great benefits of Coquito is the simplicity with which it can be make. Simply blend the ingredients together, chill, and you're done. Even if you don't consider yourself a handy bartender, it's hard to mess this one up. Throwing a party? Coquito scales beautifully — just up the proportions as you see fit — and offers an unexpected twist on the usual.
We skipped the traditional punch glass in favor of an elegant Hatch Rocks Glass and Aspen saucer, which elevates the simple drink and sense of occasion, but Coquito can be easily dressed up or down depending upon your occasion. At the very least, it's a wonderfully easy and tasty spin on eggnog that will bring a little island sunshine to your holiday.
Coquito Recipe
Ingredients
8 ounces amber rum
30 ounces coconut milk
14 ounces sweetened condensed milk
4 ounces water
1 teaspoon ground cinnamon
Pinch salt
Whole nutmeg
Directions
Combine all ingredients together in a blender. Refrigerate overnight. Grate fresh nutmeg over each glass (a little cinnamon may be nice too).
Want more ideas from 12 Bottle Bar? Check out the book!