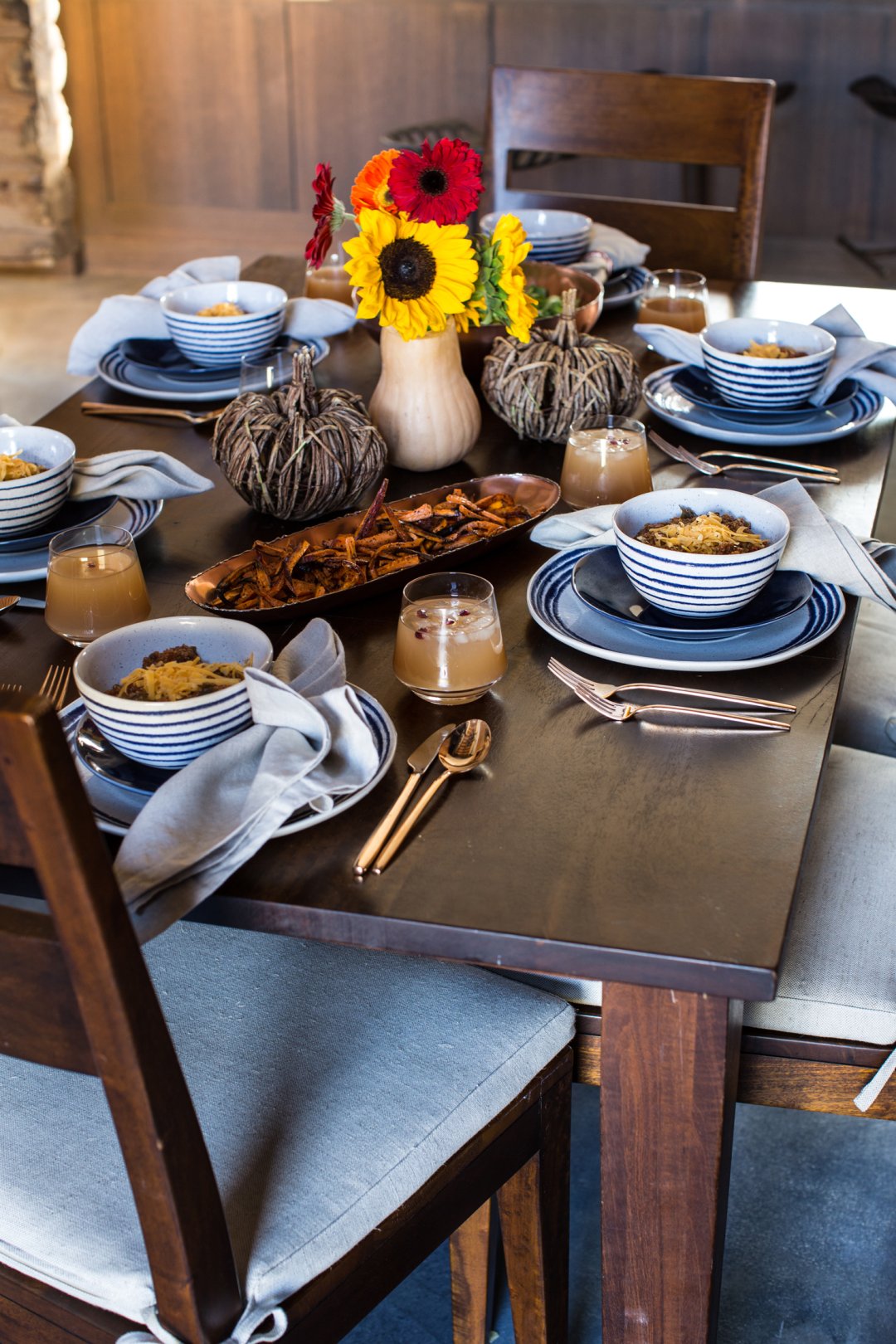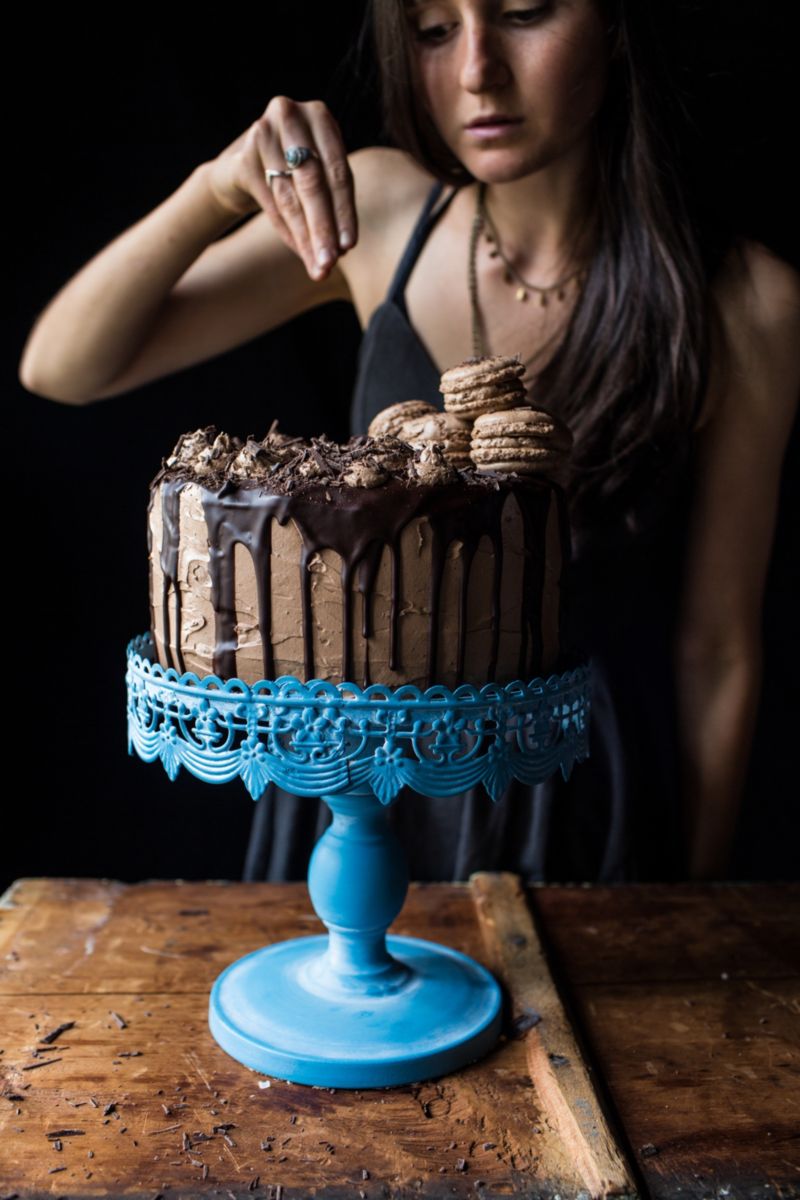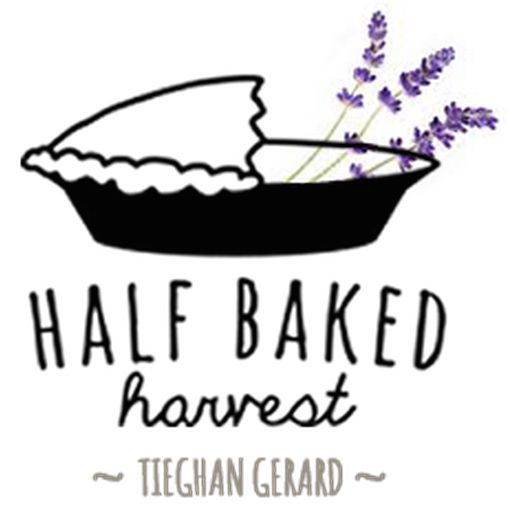 halfbakedharvest.com
As summer days begin to draw to a close, we find ourselves looking forward to cool nights and warm meals with friends. We've partnered with Tieghan Gerard, founder of Half Baked Harvest, to set our table (and our shopping list) for fall.
I'm sure it's not hard to figure out, but I really love fall. The beginning of fall is also the commencement of all my favorites. The cool crisp air, leaves changing colors, pumpkin and gourds galore, HALLOWEEN! Following closely on Halloween's tail comes succulent turkey, sweet and savory dishes, pies, pies and more pies. Autumn's harvest brings the joys of comfort food… that is Thanksgiving. And then of course, along with the snowflakes comes my all time favorite, Christmas! So many fun things to look forward to, and this little dinner party is just the start!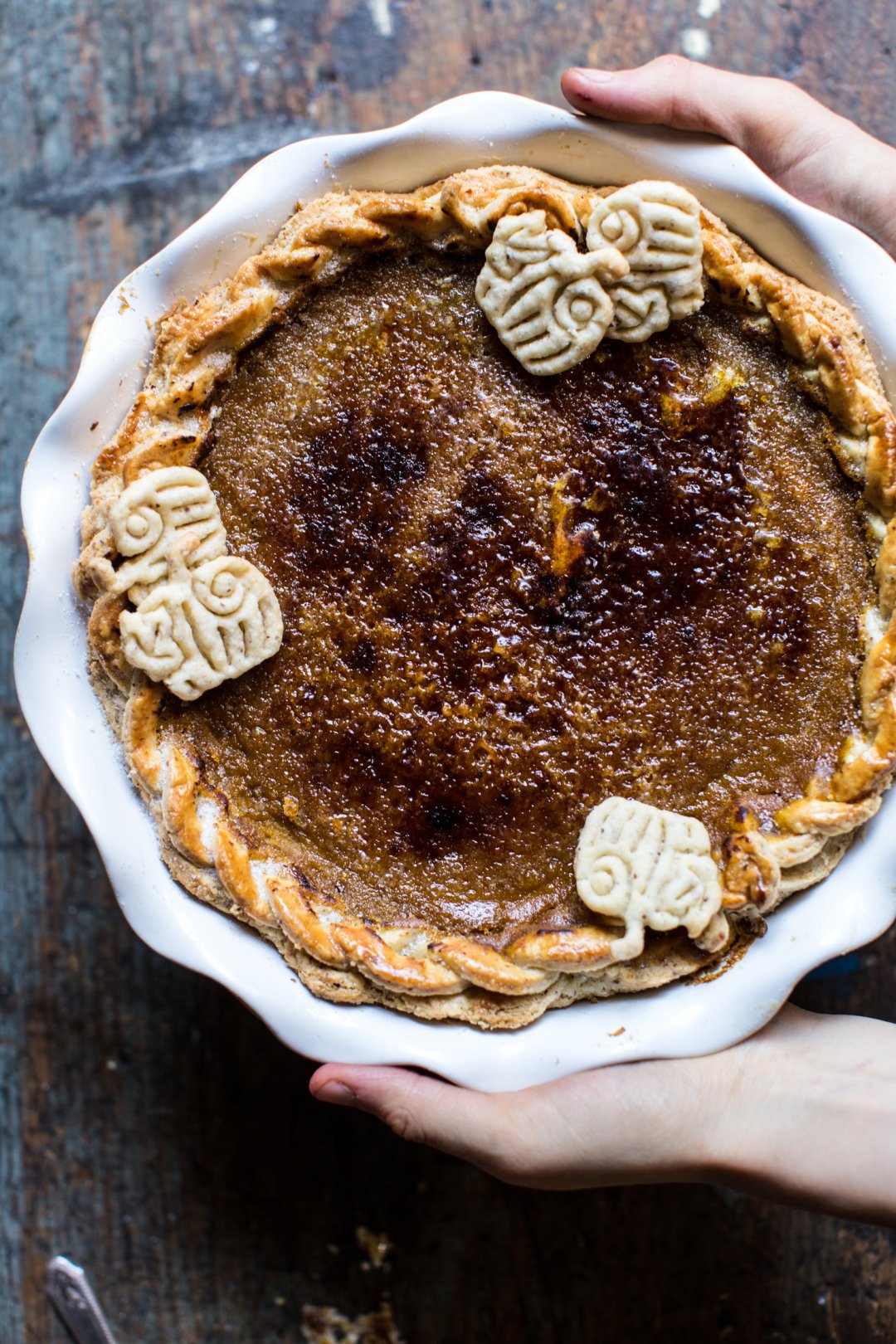 Don't get me wrong, I love summer entertaining, but there's something about a small autumn dinner party that's just so fun. The nights are a bit chillier, cozier food is welcomed and pumpkin pie… well obviously it's something to look forward to throughout the year!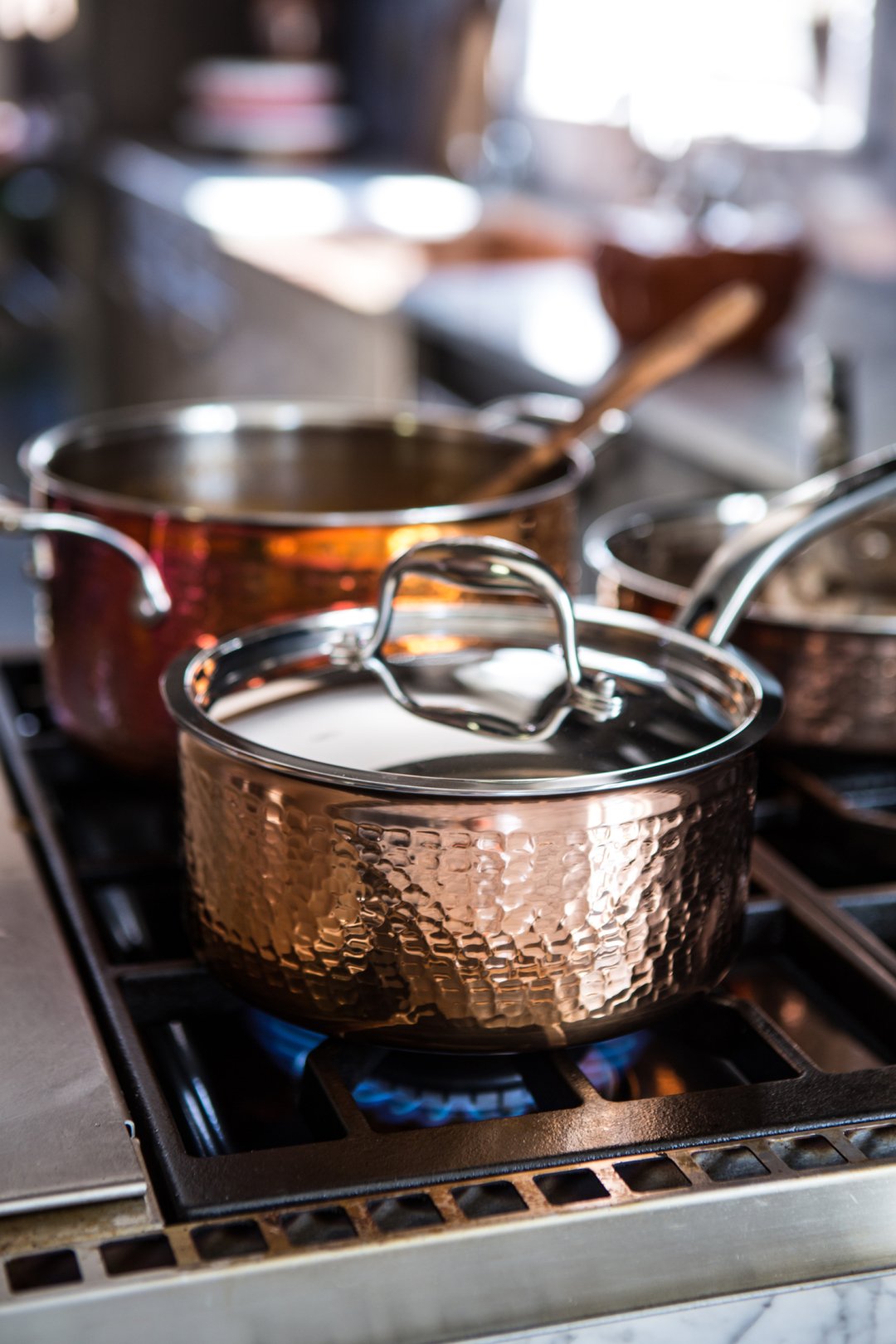 When it comes to entertaining, I generally like to keep things fairly simple and try to plan menus that can be mostly made in advance. This allots for the greatest enjoyment for both hostess and guests!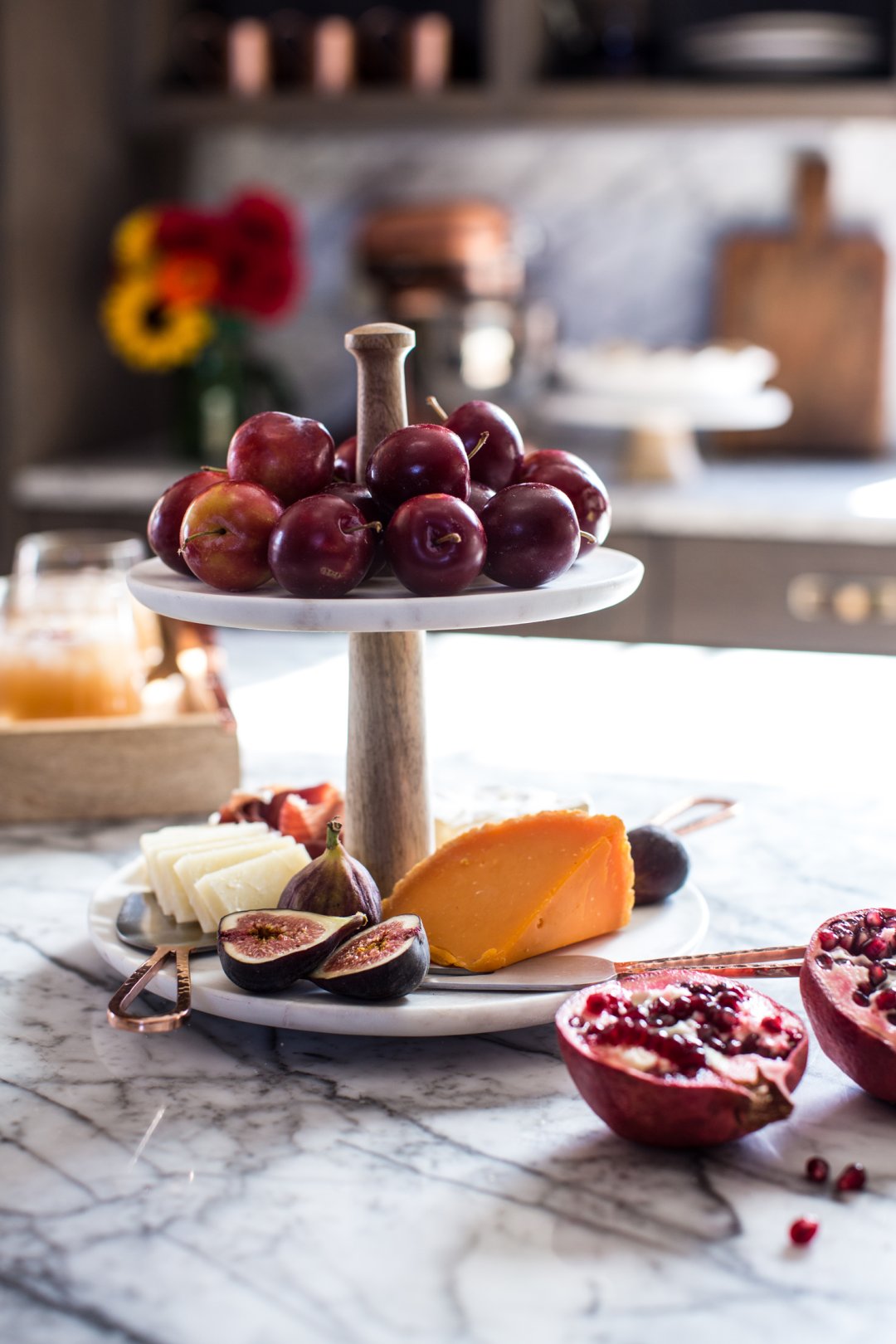 Any good dinner party starts with appetizers and drinks. My go-to appetizer these days is a simple cheese board. I pick out 3 to 5 cheeses, find some fancy crackers, add a little prosciutto or salami and finish with seasonal fruits. DONE. Keep drinks simple with either a bottle of wine or a simple seasonal cocktail such as an autumn sangria, spiked cider, apple mojitos or spritzers.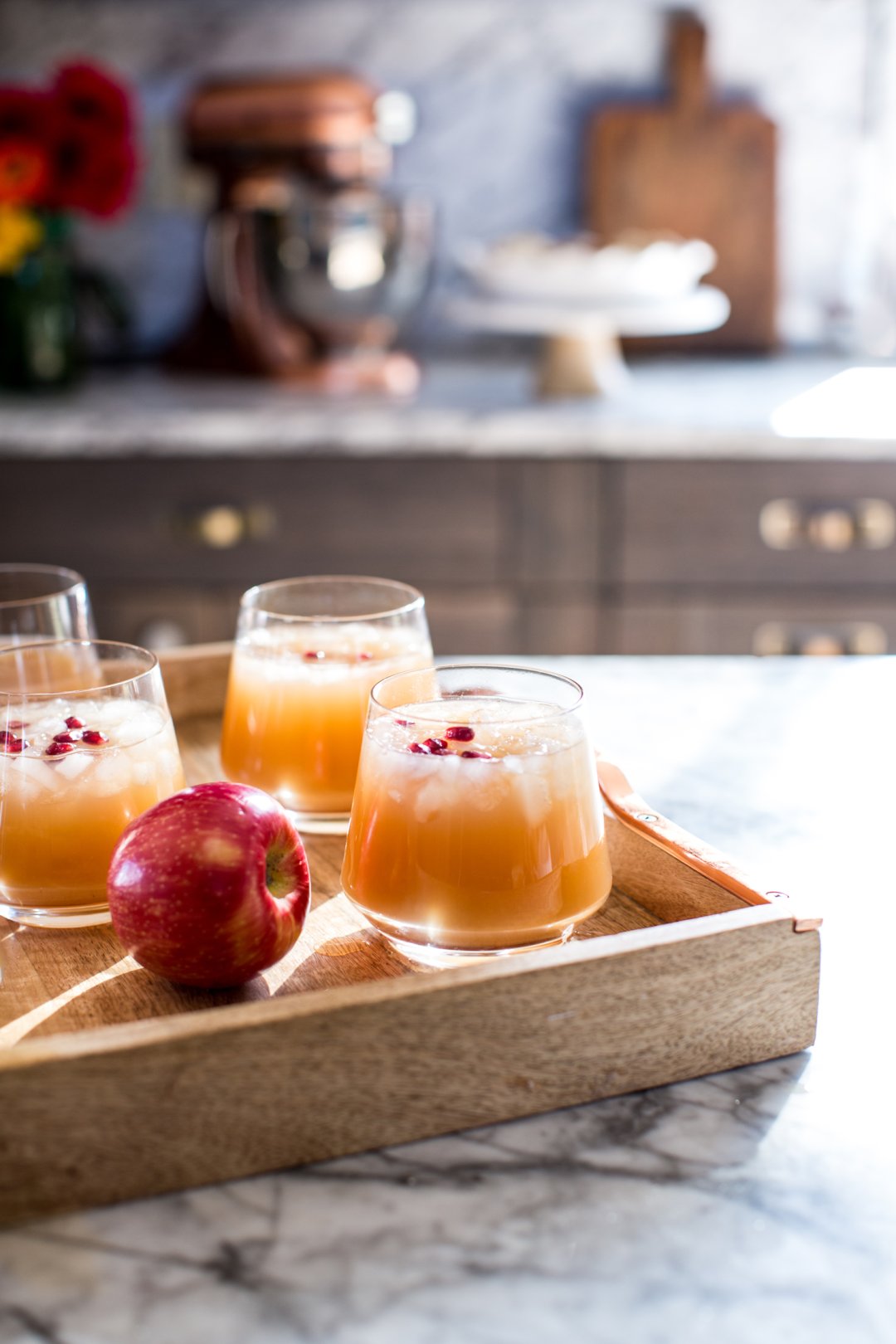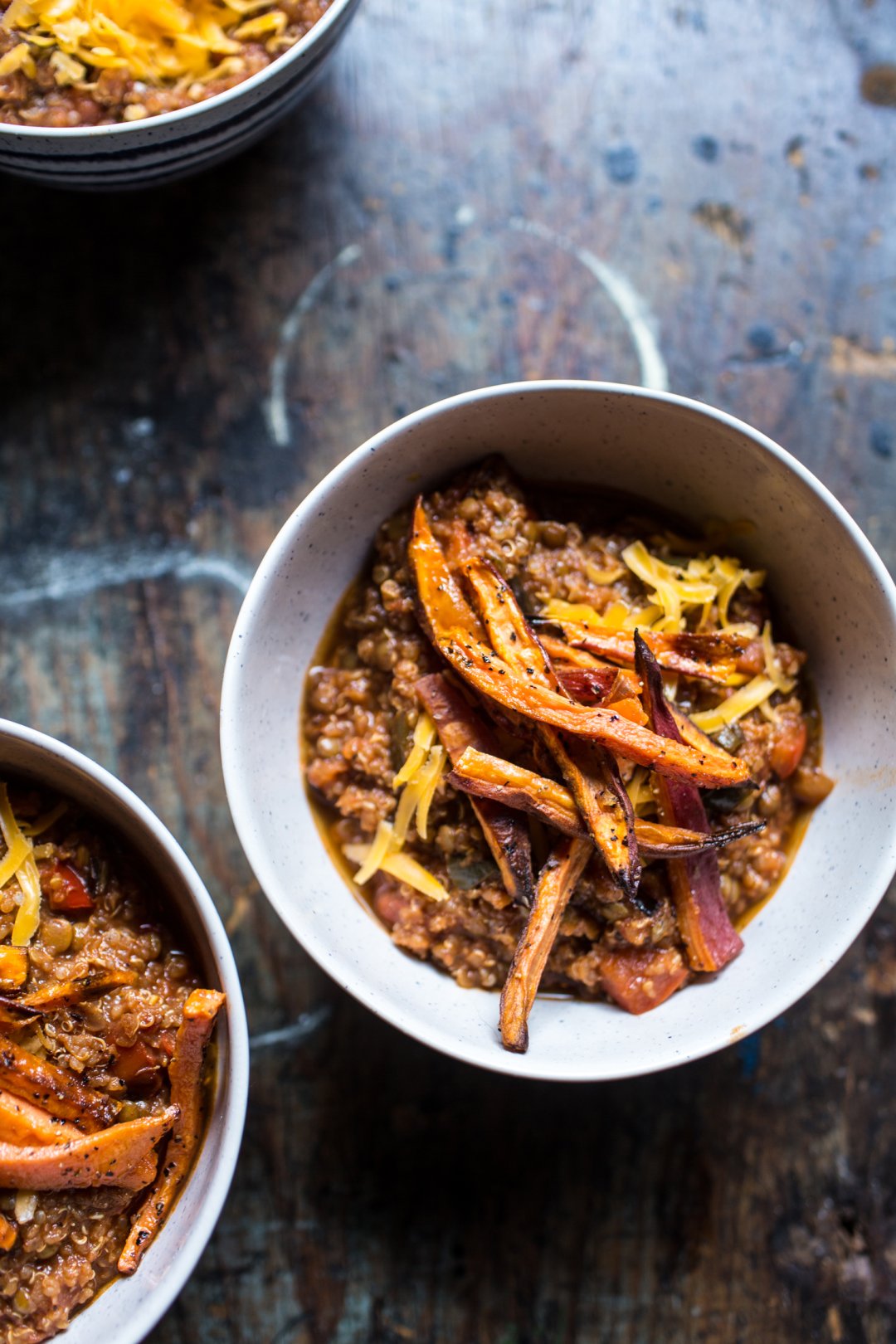 For the main course, I went with a lighter, but totally delicious Quinoa and Lentil Chili. Promise; even die-hard meat eaters will still love this chili. It's satisfying and feels so very cozy, but yet is still completely healthy. Instead of the classic bread and chili combo, I topped this chili off with homemade sweet potatoes fries. YES, I did say sweet potato fries, and yes, it's incredibly delish. Especially when a large hand full of sharp cheddar cheese is added on top. Like all chili's, the longer it has to sit and stew, the better it's going to taste. Meaning, making this in advance is perfect. You can make it the day before and let it sit in the fridge overnight. The next day just place it back on the stove to warm through before serving. Perfection.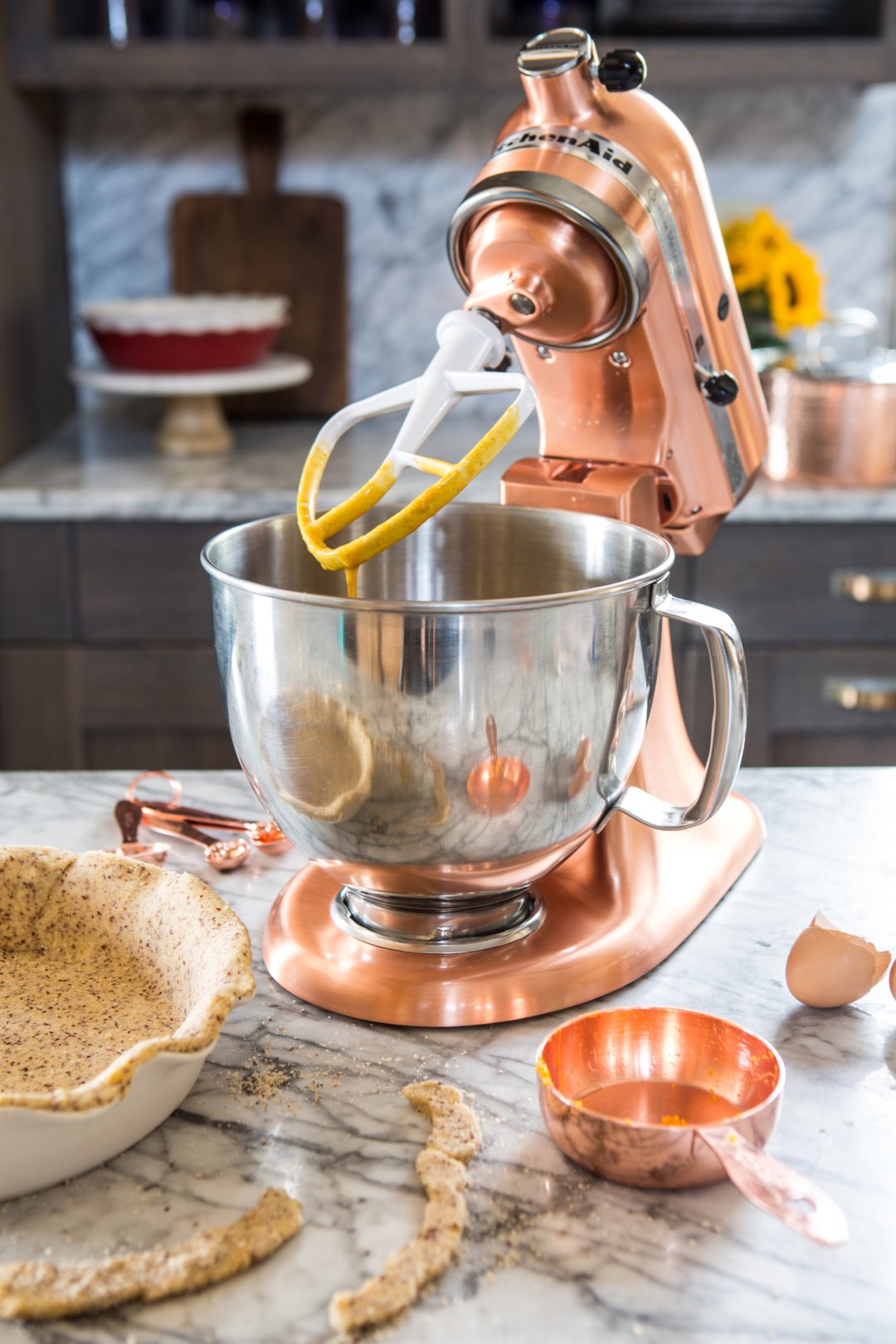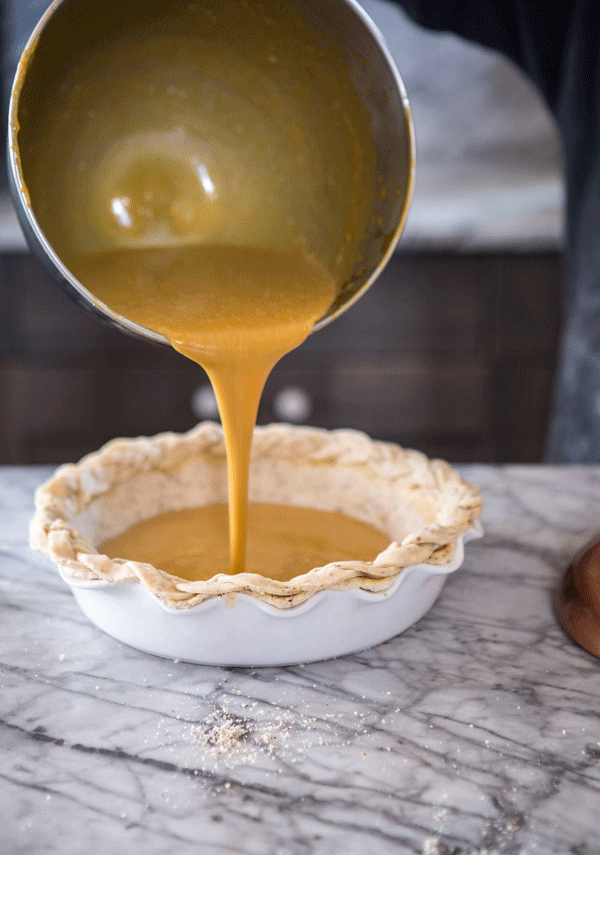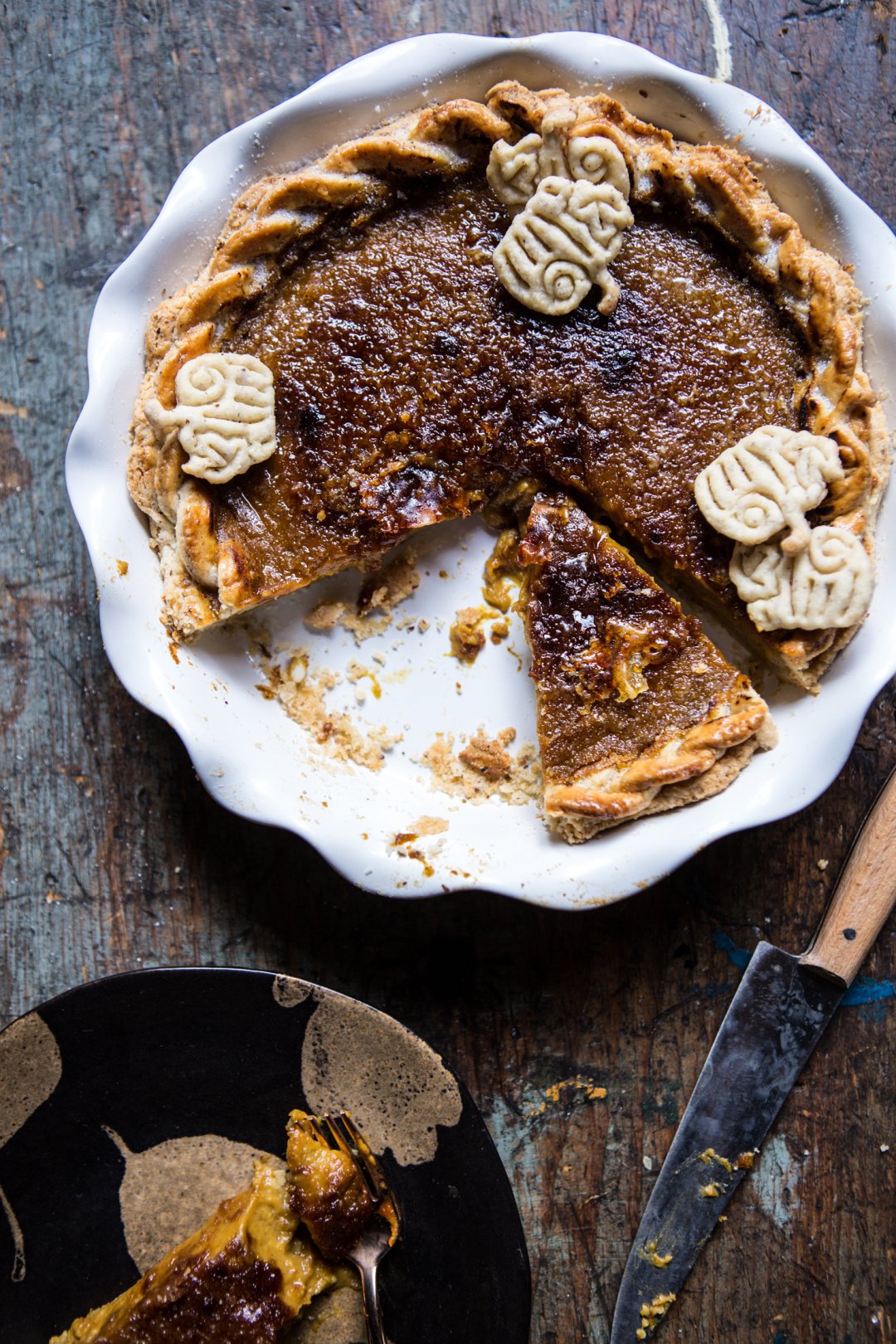 For dessert… pumpkin pie!! Not just any pumpkin pie though, a maple bourbon pumpkin pie with a brûléed topping. So incredibly good!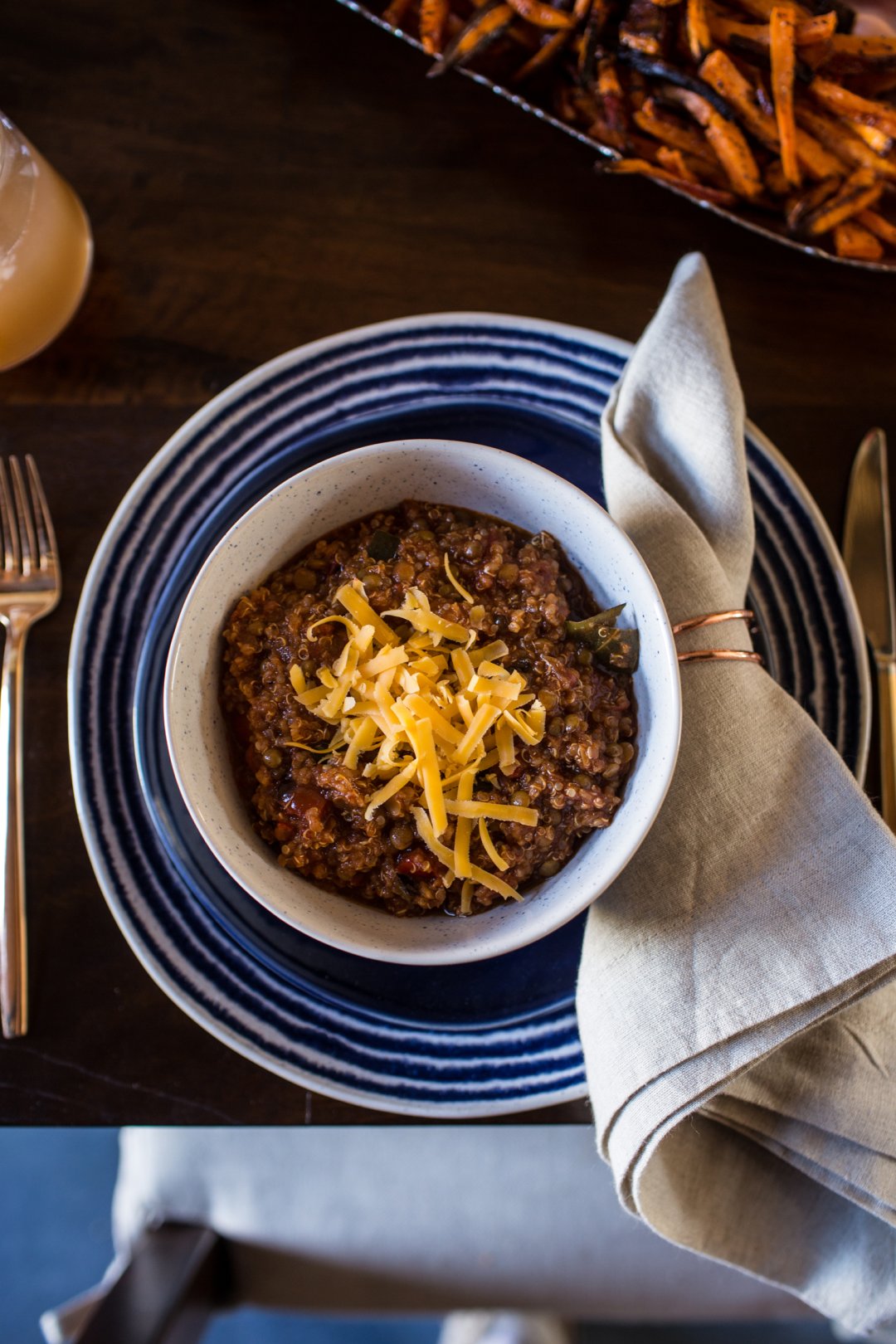 OK and lastly, let's talk about the colors of autumn and working them into your dinner. When the leaves begin to change, I'm all about copper, wood and marble. Cozy classics. I also love to throw in pops of dark blue to set things off a bit and create a moodier scene. It's all about the little touches, right? So is everyone ready for fall? Cool, let's do this!
Quinoa and Lentil Chili Recipe
Prep Time: 20 minutes
Cook Time: 1 hour
Total Time: 1 hour 20 minutes
Serves: 4-6
3 tablespoons olive oil
1 small sweet onion, diced
2 red bell peppers, chopped
1 poblano pepper, chopped
2 cloves garlic, minced or grated
2 tablespoons chili powder
2 teaspoons cumin
2 teaspoons smoked paprika
¼ teaspoon cayenne pepper
kosher salt + pepper
5 cups low sodium veggie or chicken broth + 1 cup more if needed to thin the chili
1 (28 ounce) can diced fire roasted tomatoes
1 (6 ounce) can tomato paste
1 cup dry quinoa
½ cup green lentils
Shredded cheddar cheese, for serving
Fresh cilantro, for serving
In a large heavy pot, over medium high heat, add the olive oil, then add the onion. Cook until the onions have softened, about 10 minutes. Add the bell peppers, poblano pepper and garlic and continue to cook for about another 5 minutes. Add the chili powder, paprika, cumin, cayenne and salt + pepper. Cook for about two more minutes or until everything is fragrant.
Add the broth, fire roasted tomatoes and tomato paste. Stir in the quinoa and lentils. Crank up the heat to high, bringing the broth to a boil. Once it boils, reduce the heat to low, cover and simmer for about 20-30 minutes or until the lentils are tender and the quinoa has fluffed. Add an extra cup of broth, if needed to thin the chili.
Serve the chili warm, topped with cheddar cheese, cilantro and sweet potato fries (see below).
Sweet Potato Fries Recipe
2 large sweet potatoes, cut into 1/4 inch wide strips
2 tablespoons olive oil
1 clove garlic, grated
2 teaspoons chipotle chili powder
salt and pepper, to taste
Preheat the oven to 425 degrees F.
Place the sweet potatoes on a large baking sheet and drizzle with olive oil, chipotle chili powder, garlic, salt + pepper. Gently toss with your hands or two spatulas to evenly coat. Bake for 15-20 minutes, then flip and bake for 15-20 minutes more. You want the sweet potatoes to be tender, but crisp.
Brûléed Pumpkin Pie Recipe
Prep Time: 20 minutes
Cook Time: 1 hour
Total Time: 1 hour 20 minutes + 1 hour for the dough to chill
Makes: 1 (8-inch) pie
Crust
1 3/4 cups all-purpose flour, plus more for rolling
3/4 cup finely ground, toasted pecans (see notes) (or more flour)
1 teaspoon kosher salt
1 cup (2 sticks) chilled unsalted butter, cut into pieces
1 large egg yolk
1/3 cup cold buttermilk, plus more if needed
Filling
1 (15 ounce) can pumpkin puree
½ cup heavy cream
½ cup maple syrup
2 eggs
2 tablespoons bourbon (optional)
2 teaspoons vanilla extract
1 teaspoon cinnamon
¼ teaspoon ginger
¼ teaspoon nutmeg
½ teaspoon salt
¼ cup granulated sugar
Crust
Place the all-purpose flour, finely ground pecans and salt in a large bowl. Add butter and use your fingers to break the butter into the flour until mixture resembles small peas. Whisk the egg yolk with 1/4 cup cold buttermilk in a small bowl and then add the egg mixture to the flour mixture. Mix with a wooden spoon, drizzle in more buttermilk as needed (no more than 1 tablespoon at a time), until dough just comes together (a few dry spots are ok). Gently knead the dough on a lightly floured surface until no dry spots remain, about 1 minute. Divide the dough in half. Shape each piece into a circular disk. At this point you can cover the dough and place it in the fridge for up to one week, or place in a freezer bag and freeze for use later.
Grease an 8-inch pie plate.
Roll out 1 disk of dough onto a lightly floured surface to a 12-inch round (reserve the other round of dough for another use, you do not need it for this recipe). Carefully transfer the crust to the prepared pie plate. Lift up the edges and allow the dough to sink down into the dish. If needed, trim the edges to even out crust, then prick the bottom of the dough with a fork a few times. Cover the pie plate and place in the fridge for at least 1 hour or up to two days.
Filling
Preheat the oven to 350 degrees F.
Beat together the pumpkin, heavy cream, maple syrup, bourbon, vanilla, eggs, cinnamon, ginger, nutmeg and salt in a mixing bowl until combined. Pour the mixture into the bottom of your chilled pie crust.
Place the pie in the middle rack of the oven and bake for 50-55 minutes or until the center has just a little jiggle left to it. If the top of the pie is burning before the center is done, cover with foil. Allow the pie to cool completely, about 30 minutes and then chill until ready to serve. Just before serving, sprinkle the pie with sugar. Using a kitchen torch, brûlée the top of the pie until the sugar has melted and caramelized. Slice and serve!