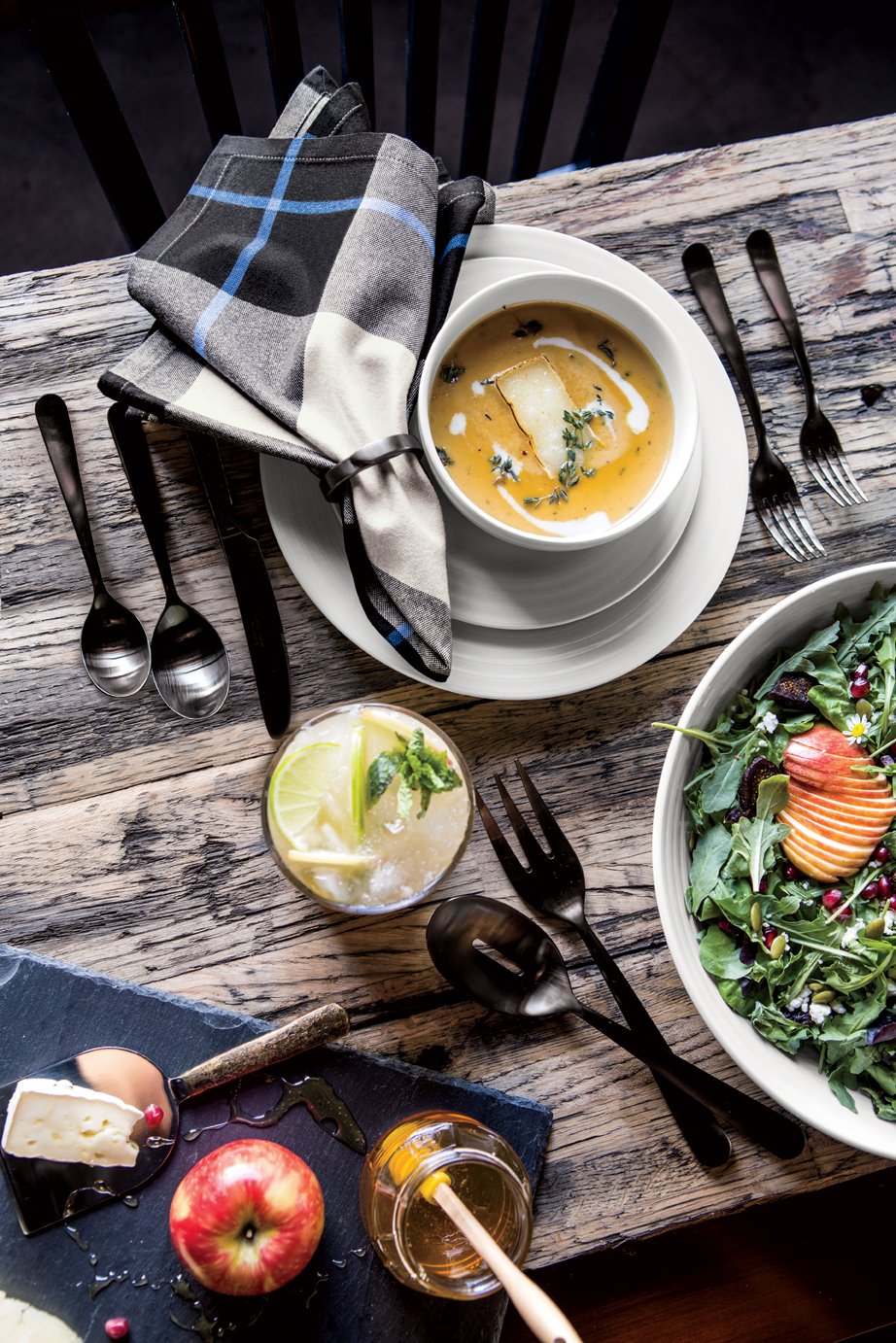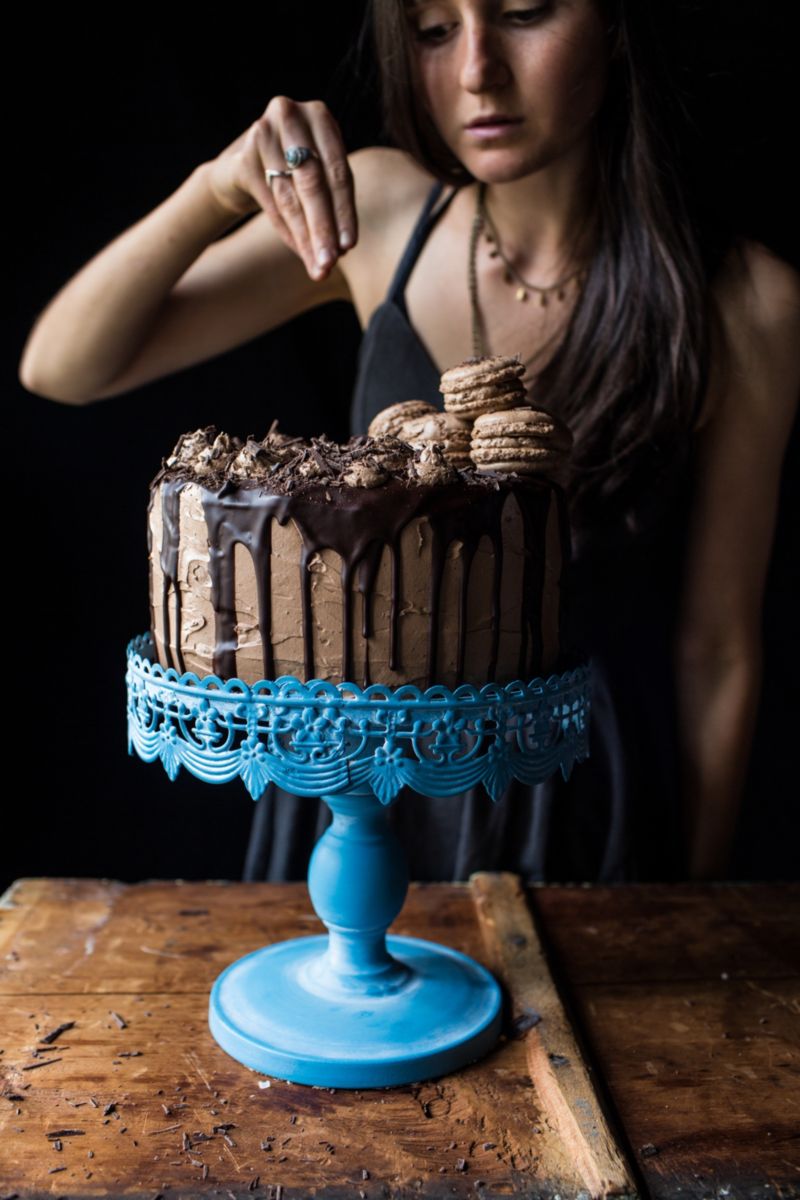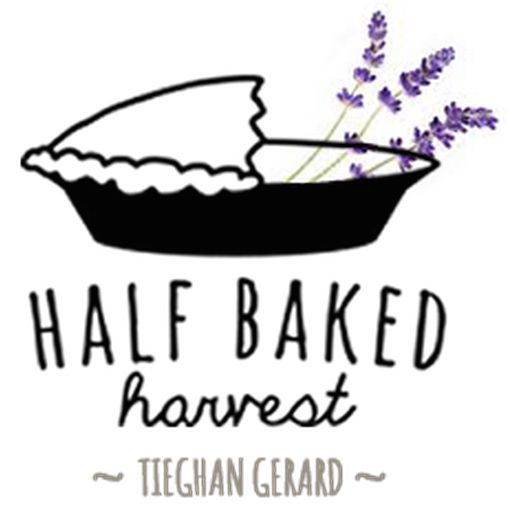 halfbakedharvest.com
Tangy cider Mojitos, warm butternut squash soup and a dash of Crate and Barrel style. We've partnered with Tieghan Gerard of Half Baked Harvest to see how she entertains at the turn of the season.
Hey Guys!
With the end of summer rapidly approaching, it's time to start thinking about all things autumn. The air is becoming crisper, days will be soon getting shorter and before long the leaves will be changing. Fall apples are beginning to arrive, mums are in full force and it won't be long before pumpkins abound.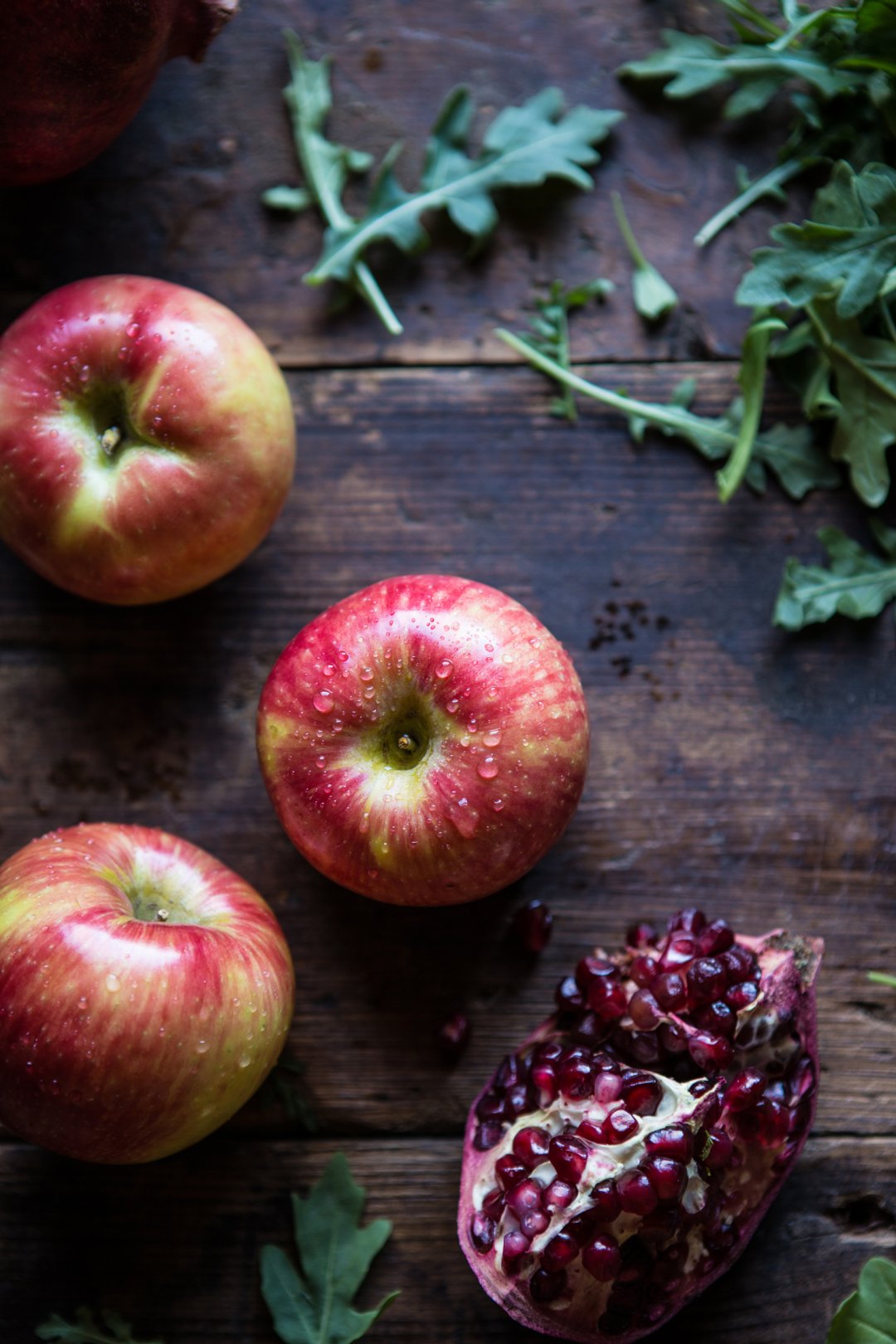 Fall is my absolute favorite time of year. There is so much to look forward to in the coming months. Hello apple picking, corn roasts, pumpkin carving and obviously Halloween, Thanksgiving and Christmas. I could not be more excited. In the sprit of all things autumn, I put together this simple spread that's just right for creating the perfect autumn dinner party.
I cannot lie, summer produce is some of the greatest, but it's the fall harvest that really gets me exited (hence the name of my blog, Half Baked Harvest). When developing this menu, I kept all of my favorite fall produce in mind…apples, pumpkins, fresh figs, butternut squash and pomegranates.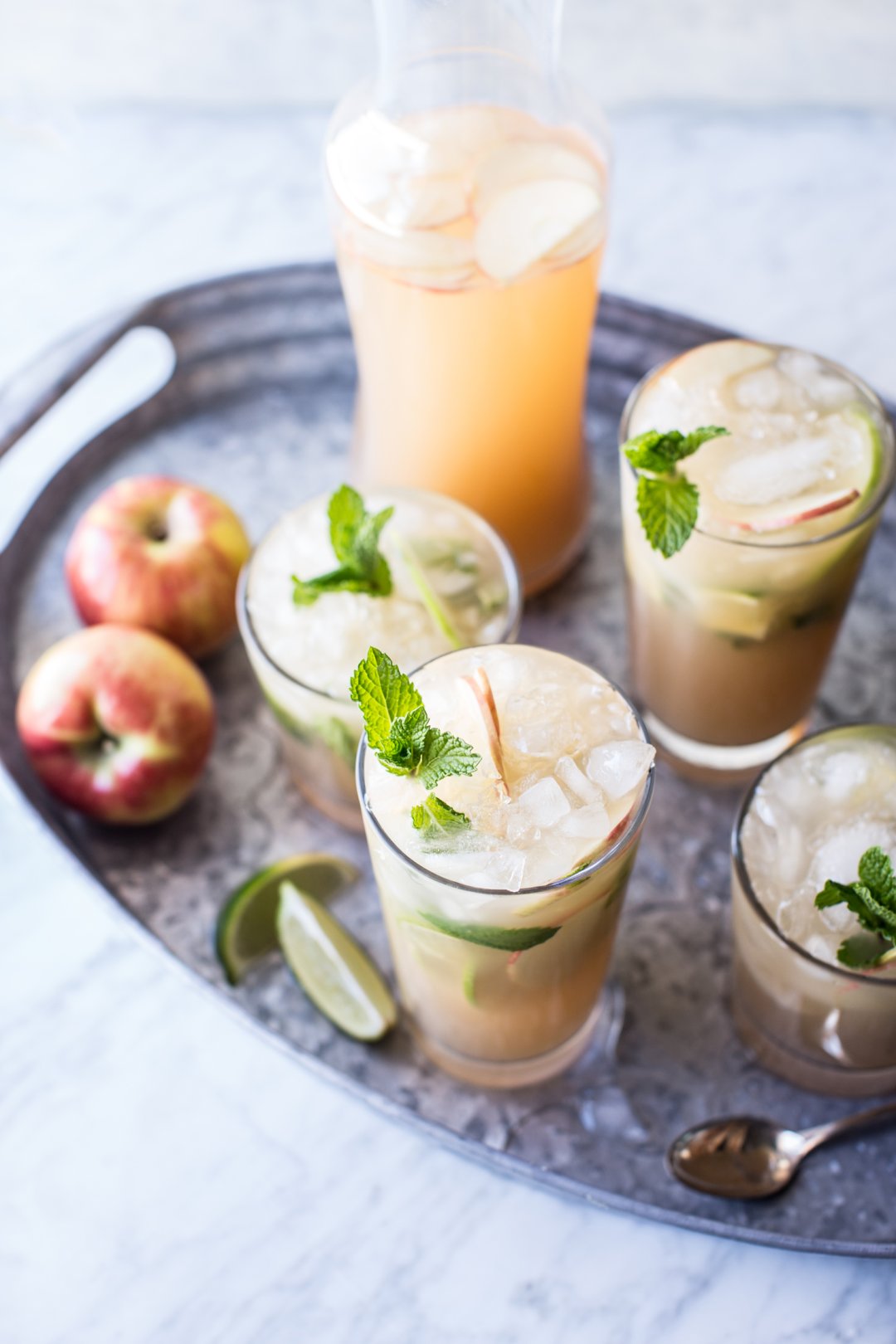 So let's break down the menu piece by piece. To start, we have apple cider mojitos. YES. I mean, how good do these sound…and look! They are the perfect drink for this time of year. While they highlight the flavors of fall, they are still light and refreshing for these late summer days that can sometimes remain on the warmer side. What I love most about mojitos is that they are such a quick and simple drink to throw together…which obviously makes them perfect for easy entertaining.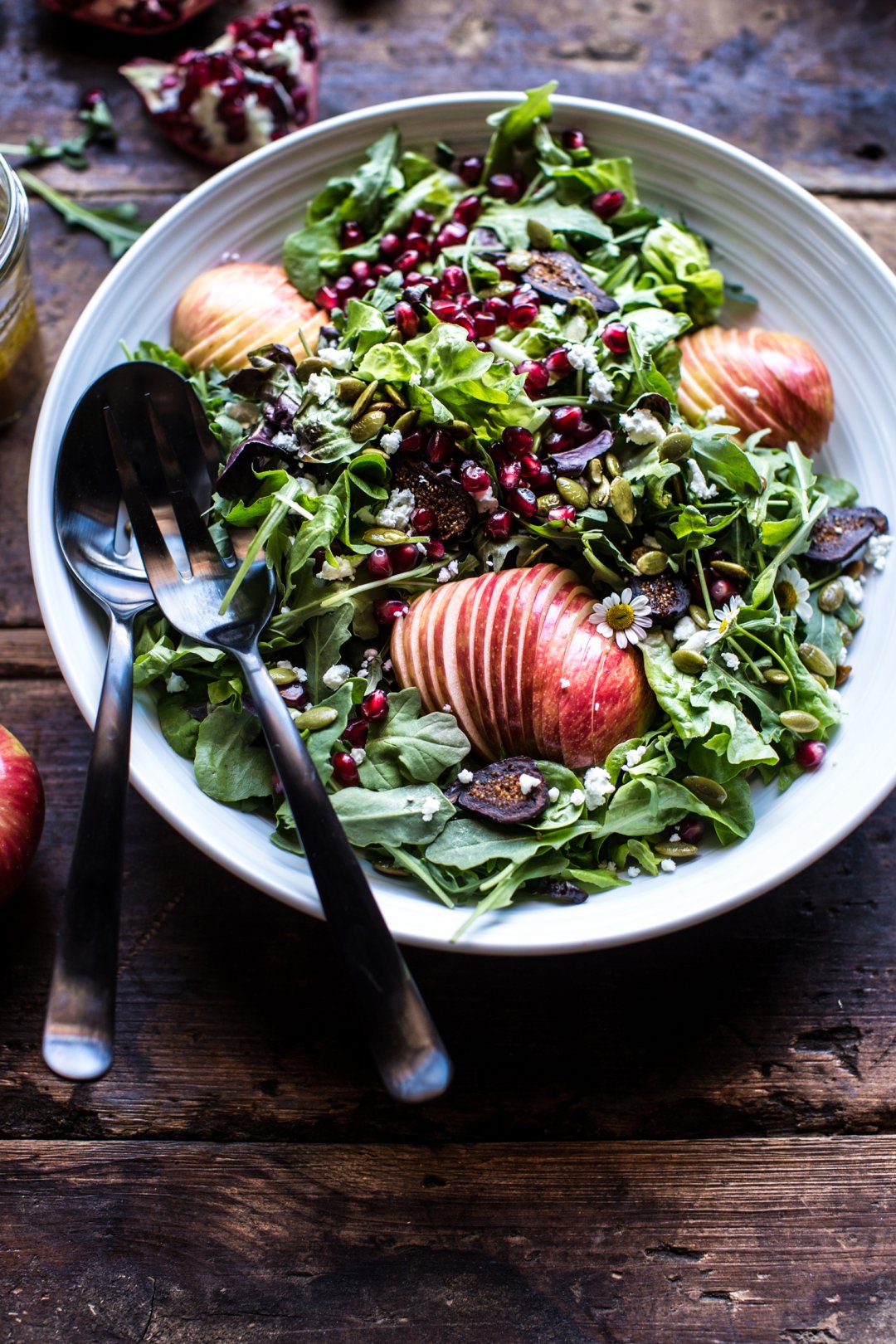 For our salad, I kept things simple and decided on a baby arugula and goat cheese salad with apples, pomegranates and a cider vinaigrette. It's light, fresh and great way to incorporate all the autumn apples into your meal!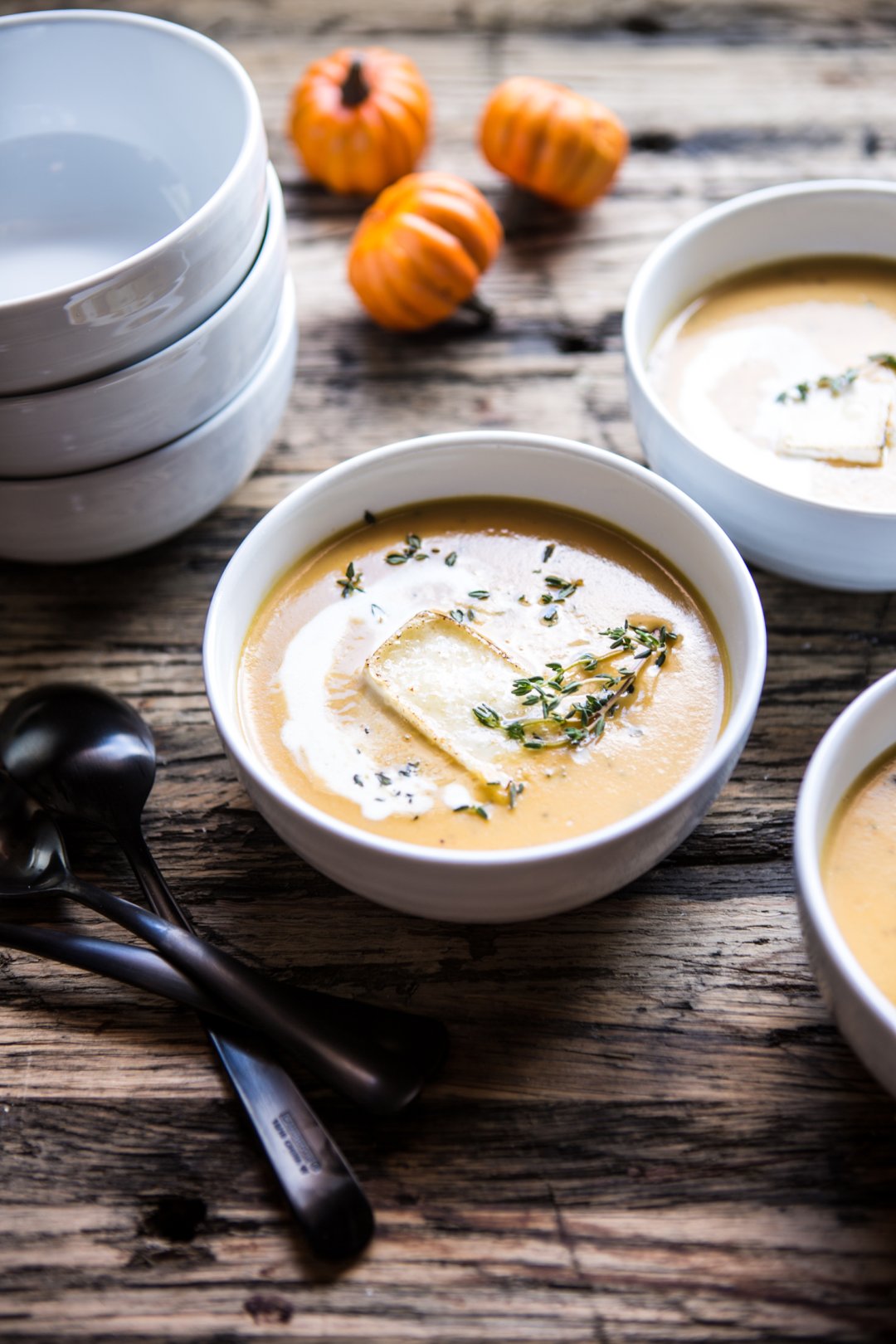 Okay, now for possibly my favorite recipe of the meal, the butternut squash and Brie soup. Oh this soup, it's sweet and savory and buttery and so super cheesy…basically it's everything! I have no doubt in my mind this will be your go-to soup this fall. I mean, I'm already planning on making this soup for Thanksgiving this year, it's that good.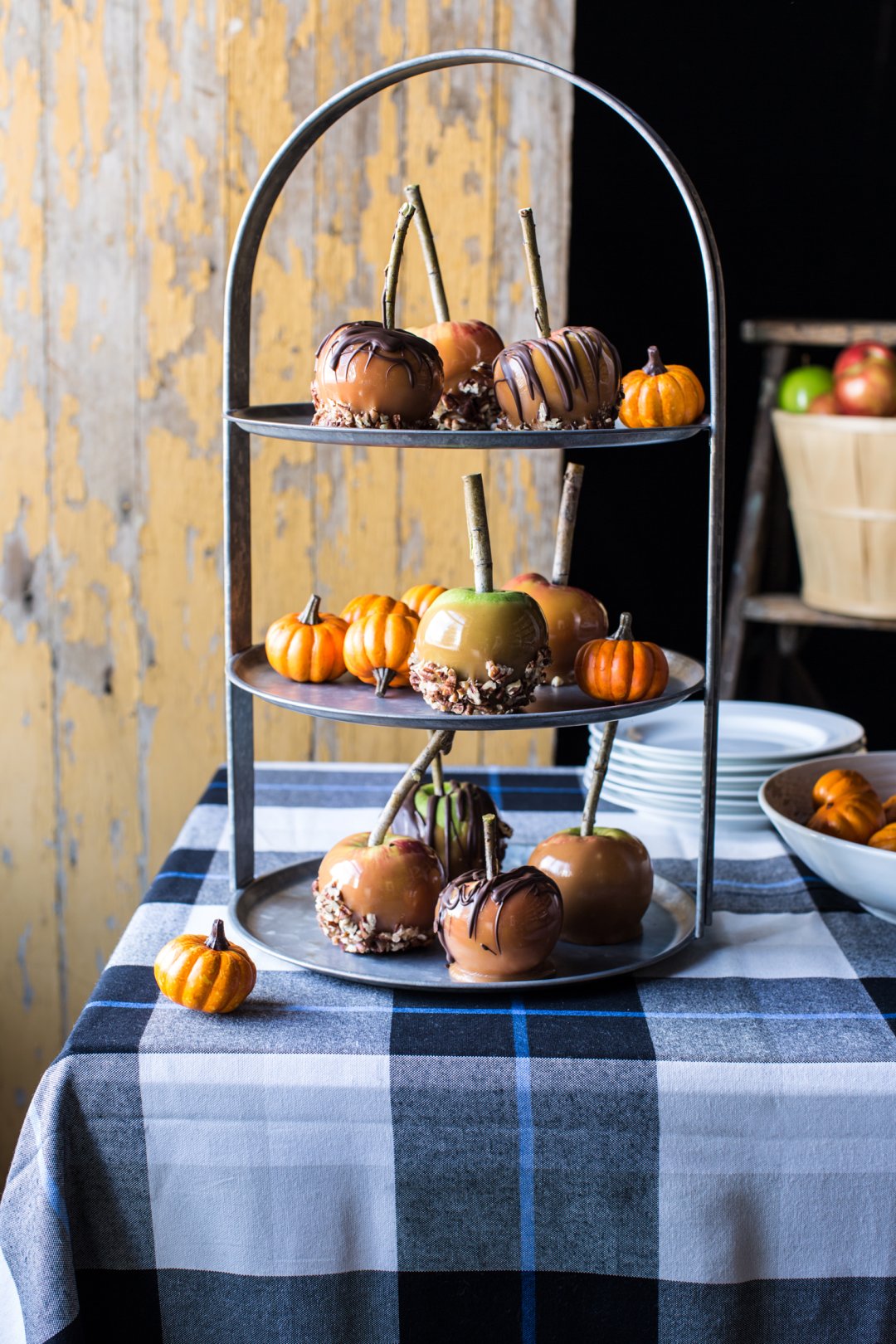 Alright, and last but not least, a fall classic…Bourbon Caramel Apples! Need I say more? A must make.
Other must-haves for an autumn dinner party? A table arranged with cozy plaid napkins and/or tablecloth, a nice dark flatware that sets the mood for an intimate evening and looks perfectly polished, fresh cut flowers (mums are my all time favorite during the autumn months), and pumpkins for decoration.
Once you have all that in place, the only thing left to do is sit back, savor a mojito, eat and enjoy the party!
Apple Cider Mojitos Recipe
Prep Time: 5 minutes
Total Time: 5 minutes
Makes: 1 drink
1 lime, cut into wedges
8-12 fresh mint leaves
1-3 teaspoons sugar, to your taste
2 ounces rum
1/3 cup apple cider
sparkling water, for topping
crushed iced
1 red or green apple, thinly sliced
To the bottom of your glass, add 4 lime wedges, the mint and the sugar (add the sugar to your taste, I only use 1 teaspoon), using a muddler or even the end of a rolling pin or other kitchen tool. Muddle the lime, mint + sugar together (squish everything together) to release the juices.
Fill about half the glass with ice and then add the rum, stirring until the sugar is fully dissolved. Top the glass with a little more ice and then pour apple cider over and gently stir to combine. Top with chilled sparkling water. Garnish with apple slices and fresh mint. DRINK! 🙂
Goat Cheese and Arugula Salad Recipe with Apples and Figs
Prep Time: 15 minutes
Cook Time: 5 minutes
Total Time: 20 minutes
Serves: 4-6 as a side
1 cup raw shelled pumpkin seeds (pepitas)
2 tablespoons olive oil
Kosher salt
 4 cups baby arugula
2 small heads romaine or butter lettuce, torn
6 fresh or dried figs, halved
2 honeycrisp or pink lady apples, thinly sliced
arils from 1 pomegranate
4 ounces goat cheese, crumbled  
Cider Vinaigrette Recipe
1/4 cup olive oil
1/4 cup balsamic vinegar
2 tablespoons apple cider vinegar
1 tablespoon Dijon mustard
1 tablespoon honey
juice of half a lemon
Kosher salt + pepper
Heat a skillet over medium heat and add the olive oil and pumpkin seeds. Toast the seeds until caramelized and fragrant, about 3-5 minutes. Remove from the heat and add a pinch of salt. Scrape the mixture out onto a plate and let cool.
In a large salad bowl, combine the arugula lettuce, figs, apples and pomegranate. Gently toss to combine. Drizzle a little vinaigrette (see below) over the salad and again gently toss to combine. Add the goat cheese and cooled pumpkin seeds. Serve any remaining vinaigrette along side the salad.
Cider Vinaigrette 
Whisk together all the ingredients in a small bowl. Taste and adjust salt + pepper as needed. Vinaigrette can be made up to 2 days in advance and kept in the fridge. 
Butternut Squash and Brie Soup Recipe
Prep Time: 20 minutes
Cook Time: 50 minutes
Total Time: 1 hour 10 minutes
Serves: 4
3 cups peeled + cubed butternut squash (about 1 small squash)
1 tablespoon olive oil
Kosher salt + pepper
1/2 cup pure maple syrup
2 cinnamon sticks OR 1 teaspoon cinnamon
2 1/2 cups low-sodium chicken or veggie broth
1 cup apple cider
1 tablespoon fresh thyme, chopped
1/4 teaspoon nutmeg
pinch of cayenne (to your taste)
salt + pepper, to your taste
2 tablespoons bourbon (optional)
1 cup heavy cream or full-fat canned coconut milk
8 ounces Brie, divided
2 tablespoons butter
Preheat your oven to 400 degrees F.
Place the squash on a roasting pan and toss with olive, salt + pepper. Roasted for 25-30 minutes or until the squash is tender and beginning to brown on the edges.
Meanwhile, add the maple syrup and cinnamon to a large soup pot, bring to a boil and then reduce the heat to a simmer, simmer for 10-15 minutes or until the maple has thickened and reduced to a syrup. Be careful not to let it get too thick, you just want it to thicken to a honey consistency.
Add the roasted butternut squash to the bowl of a food processor or high-powered blender. Add 1 cup of broth and puree until smooth. Slowly stir the butternut squash mixture into the thickened maple syrup. Add the remaining 1 1/2 cups broth, the apple cider, thyme, nutmeg, cayenne and a pinch of salt + pepper. Cook over medium heat until warmed through, about 10 minutes. Stir in the bourbon (if using) and cream. Continue to cook another 5 minutes.
Cut the Brie into thirds. Reserve one third of the Brie for serving and cut the remaining Brie into cubes and remove the rind. Add the cubed Brie + butter to the soup, cook until the cheese is melted and the soup is silky smooth. If the soup seems too thick, add more broth to thin. Keep over low heat until ready to serve.
To serve, divide the soup among bowls. Cut the reserved Brie into wedges and top each bowl with a wedge. Garnish with fresh thyme and a drizzle of cream if desired. Serve warm.
Bourbon Caramel Apples Recipe
Prep Time: 15 minutes
Cook Time: 30 minutes
Total Time: 45 minutes
Makes: 6 apples
6-8 small granny smith or honeycrisp apples
6-8 popsicles sticks or other wooden sticks
1 cup granulated sugar
1/2 cup light corn syrup
1/2 cup bourbon (alternately you can use water)
1 cup heavy cream
4 tablespoons unsalted butter, softened
1 tablespoon vanilla
1/2 teaspoon flaky sea salt
1/2 cup semi sweet chocolate chips, melted (optional)
assorted candies, toasted nuts and or seeds, for coating (optional)
Push the popsicle sticks or wooden sticks into the top of the apples. Line a baking sheet with wax paper.
Place sugar, corn syrup, and bourbon in a large saucepan (be sure to use a large pot with high sides). Bring to a boil, boil, without stirring for 9 minutes or until light golden. Add the heavy cream, butter, vanilla, and salt, slowly stirring into pan. Boil until candy thermometer reaches 235 degree F, stirring frequently. This took me a total of about 25 minutes.
If you are coating your apples in nuts and or candies, have them ready to go in prep bowls.
Dip each apple in caramel, allowing the excess caramel to drip off and then roll the bottom half of your apple through the nuts if desired. Place on baking sheet lined with wax paper. Repeat with remaining apples.
Let the caramel apples set for about 15-30 minutes (in the fridge or on the counter), then drizzle each apple with melted chocolate if desired. Let the chocolate harden. Apples can be stored in the fridge for up to 2 days.
Want more fall inspired recipes? Get the recipe for these pumpkin cinnamon rolls.