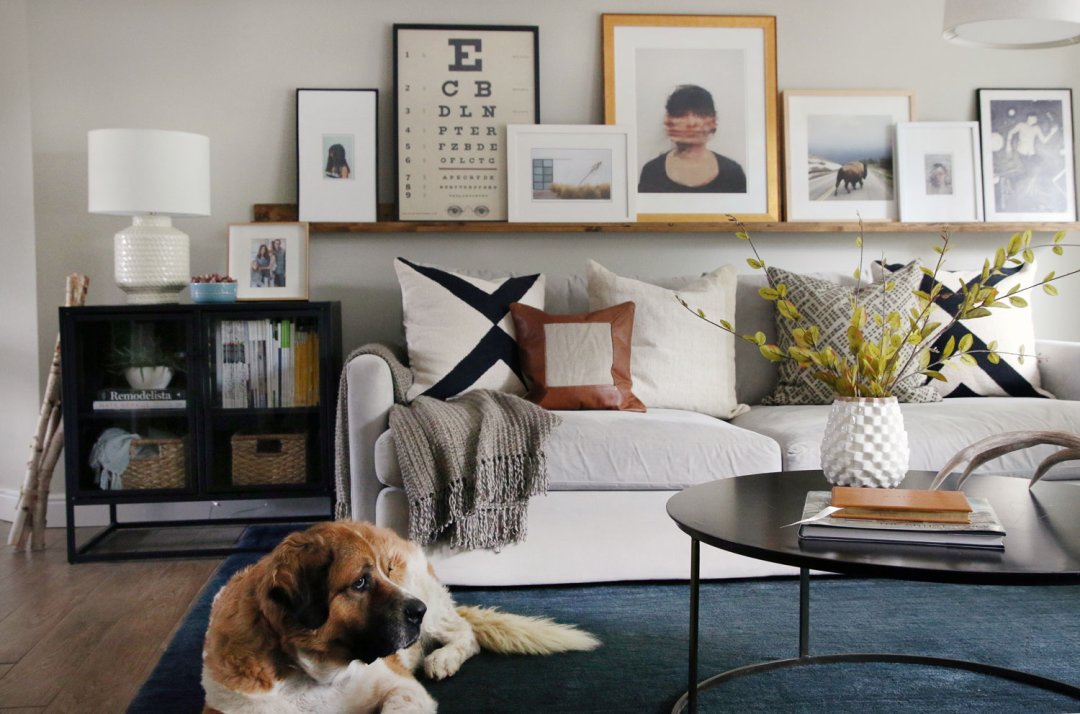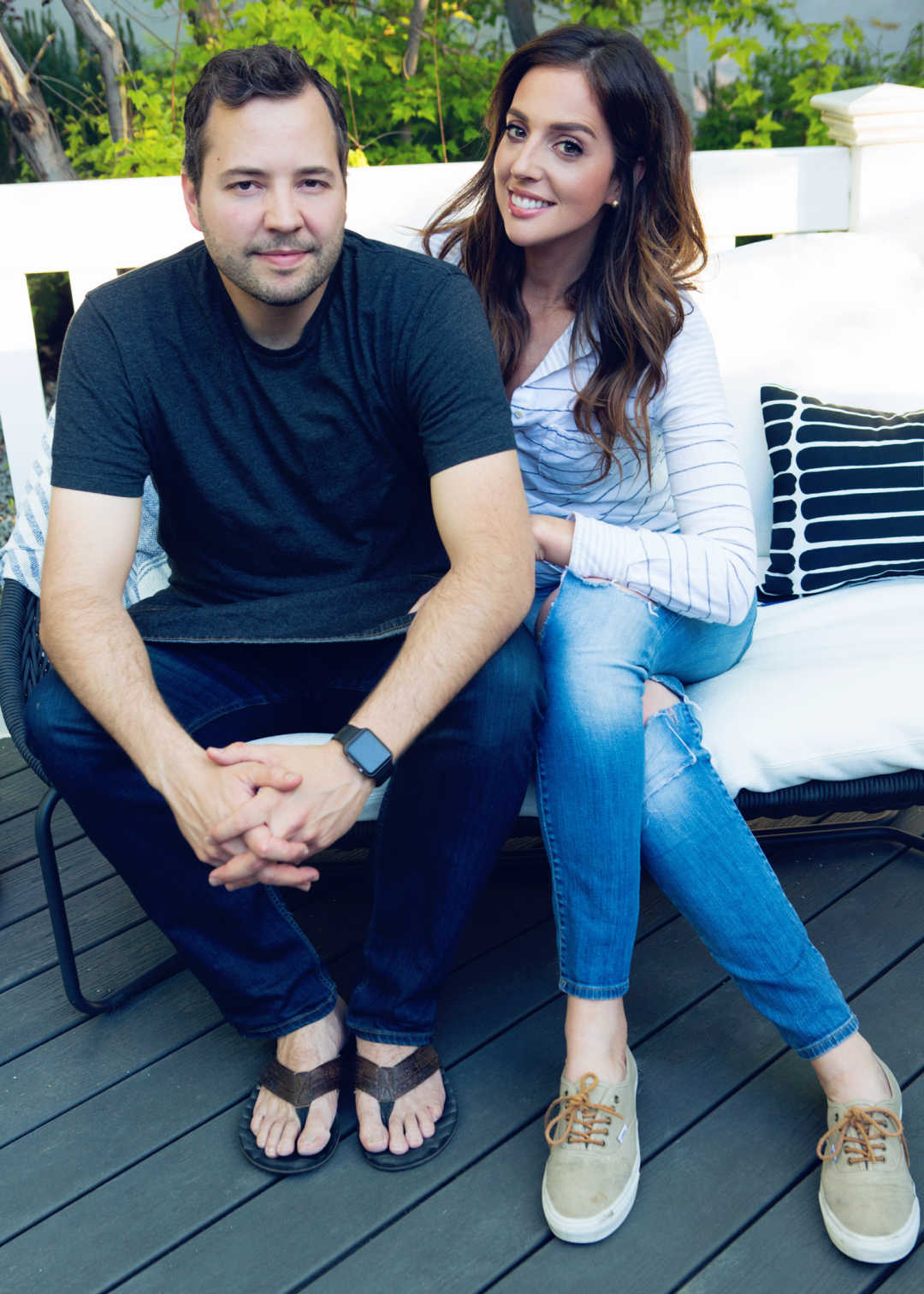 chrislovesjulia.com
Make your home cozy for the cool weather ahead with a few updates. We've partnered with Chris and Julia Marcum, founders of Chris Loves Julia, for their tips on finishing touches.
As the season transitions from summer to fall, I instinctively want to add layers. Layers of clothes on me and layers of pillows and throws and art and light and textures and furnishings in our home. Everything feels cozier and more welcoming.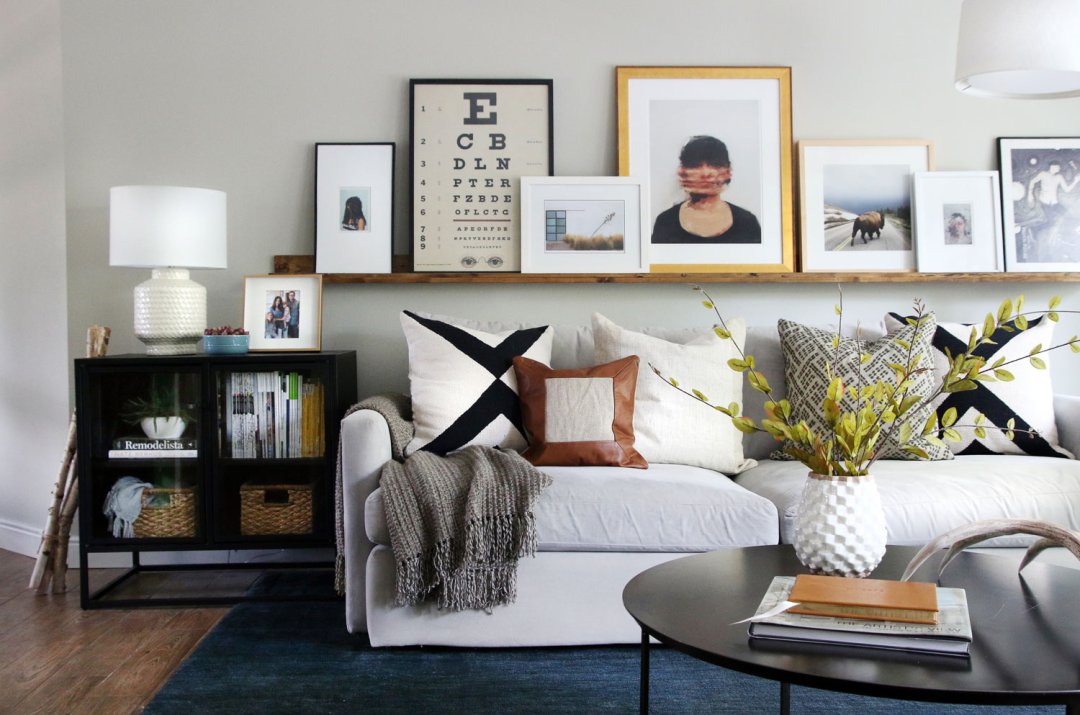 We've had our Lounge sofa for over four years now, and it's still the comfiest seat in the house. For fall, I love switching up pillows for an easy refresh. Layering in a warm leather pillow with a nubby textured throw and neutral accent pillows mimic the rich fading colors outside.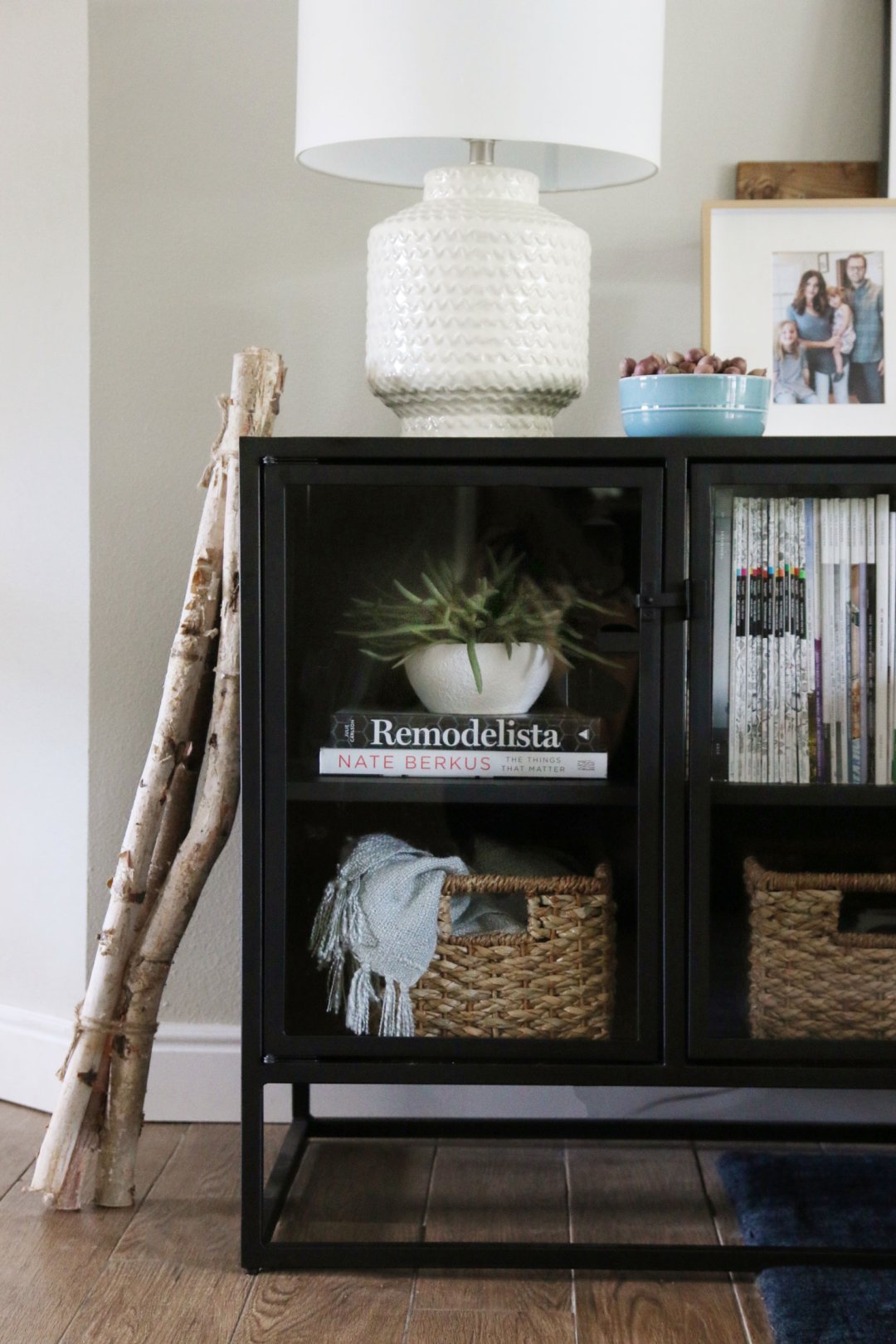 For a long time, there was a bare section to the left of our sofa. We've swapped numerous end tables over the years but none filled the area or provided the extra storage we wanted until I found this sideboard. Although it's designed with a dining room in mind (it's deep enough for large dishes and trays!) it's proven to be the perfect addition to our living room. It stores our magazine subscriptions—two rows deep!—baskets for extra throws and my fall candle collection. The modern shape is so slick, but it's such a practical piece of furniture, too. I can imagine it as shoe storage, the perfect display for a collection, a small library, or definitely a place to show off your favorite dinnerware.
As the weather gets colder, the extra storage is perfect for hats and gloves, too! On top I placed a little bowl of acorns and leaned some small birch logs against it for an added seasonal touch that feels like autumn but doesn't scream it, which is right where we like to sit.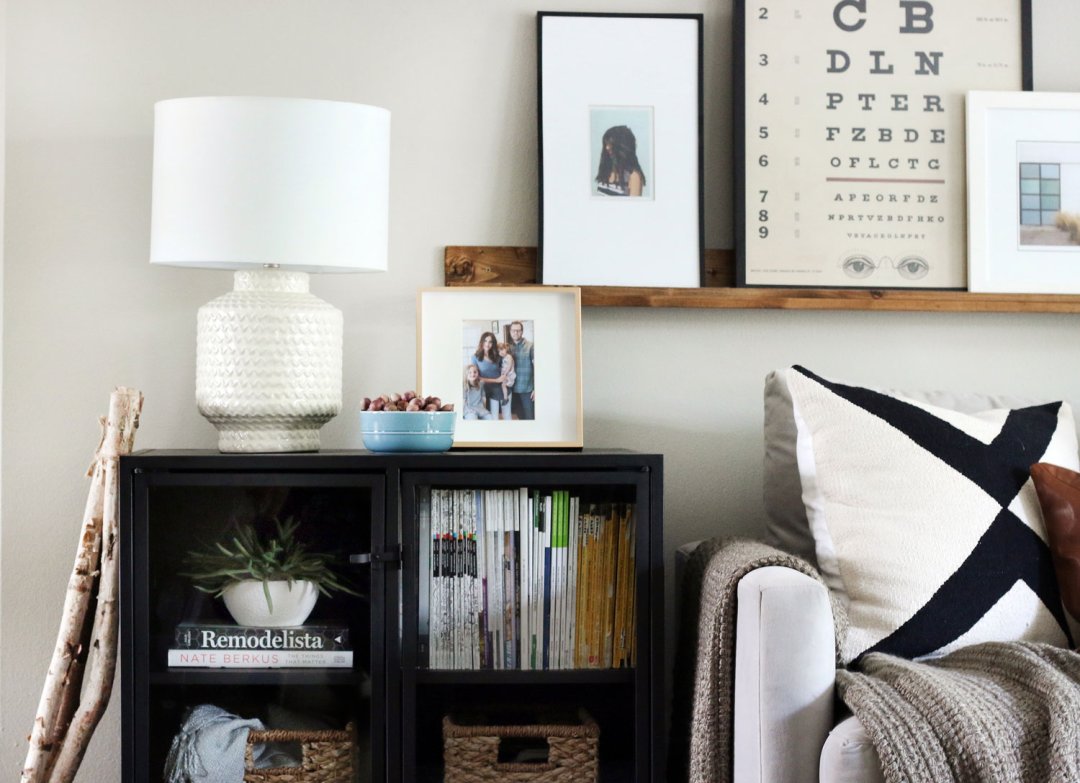 The massive art ledge is one we DIYed on the cheap a couple years ago, but it never seems to get old. Leaning layered art in mis-matched frames has a casual coolness to it. And (bonus!) changing your art doesn't equate any extra holes in the wall.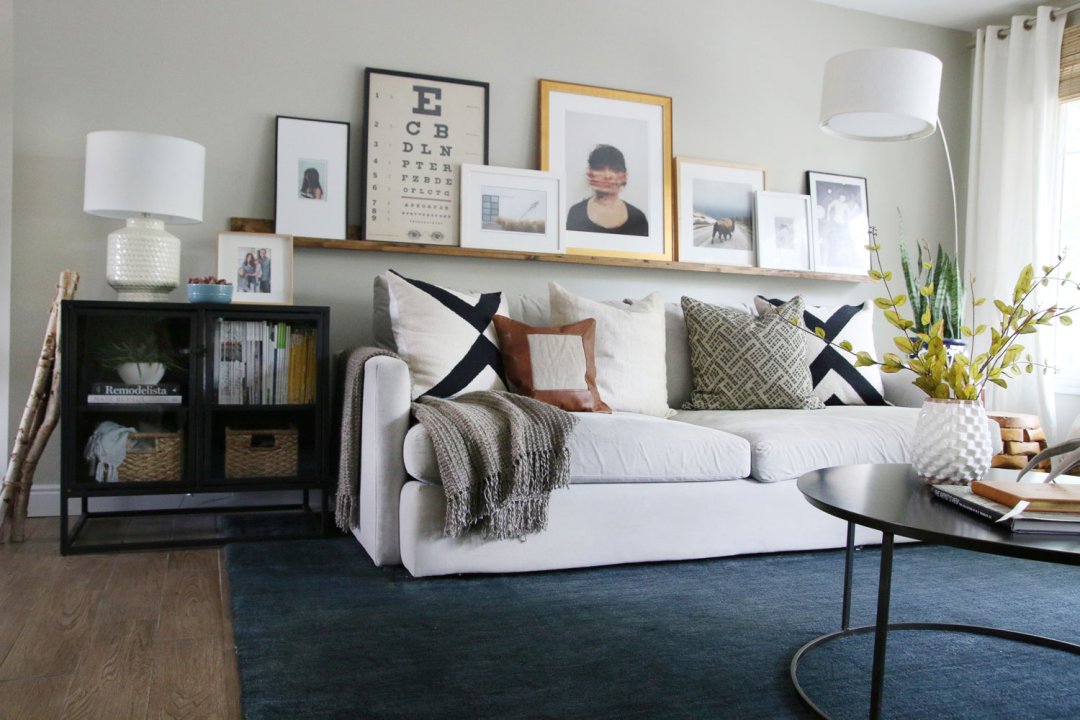 Here are 5 tips if you're ready to transition your space for the fall season:
Mimic the colors outside by sprinkling warm, rich, neutral accessories throughout the room.
Injecting texture will keep things interesting. A faceted vase, a knit throw, a nubby lamp, leather and linen pillows and woven baskets all quietly work together to add a bunch of interest to the space.
Layers add depth to a room so layer on the pillows and throws and even try leaning some art for a more collected look.
Seasonal decor doesn't have to be literal. Natural accents like branches, acorns and leaves can go as far as a pumpkin on display.
You can never have too much storage. Whether the cooler months bring about more gloves and hats you'll want to stow away, blankets to cuddle in, or you just want an extra place to store all the books you're going to curl up and read this fall/winter, good looking furniture that provides storage is always money well spent.
Here's to cozier living rooms all season long!
Don't forget the mantle! Our tips for transitioning from summer to fall!