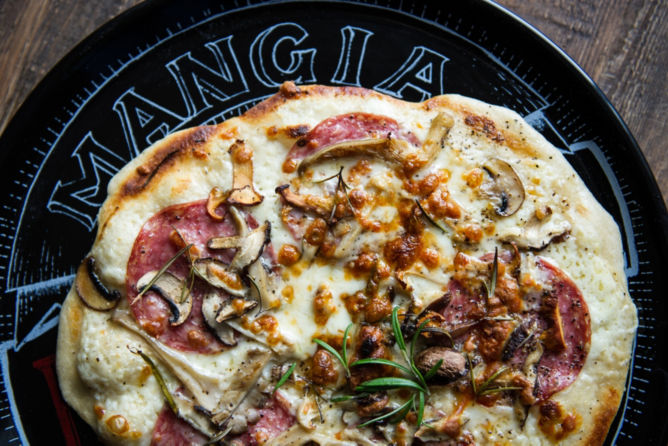 Taking in a movie at the local drive-in is a great way to slow down and enjoy a summer evening as a family, especially when the theater is your own backyard. We've partnered with Nikki Baxendale, founder of Literally Life, to see how to create our own drive-in at home, complete with box cars, pizza and popcorn.
Leaving Chicago in June and moving to beautiful British Columbia meant 13 weeks of summer vacation for my children Hudson, Chloe and Lily. It also meant a house full of moving boxes, so we decided to spend a warm summer day making pretend cars and pizzas for a homemade spin on a classic drive-in family movie night.
Drive-In Movie Night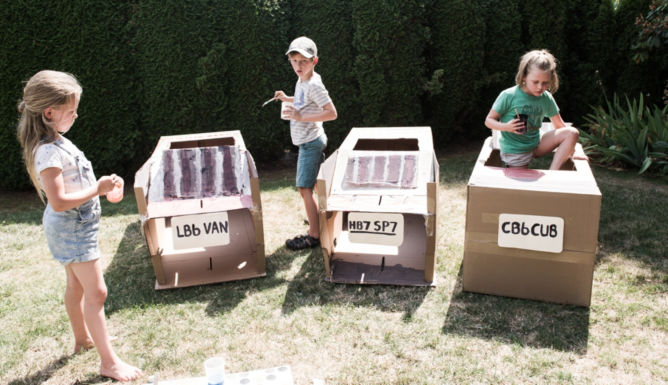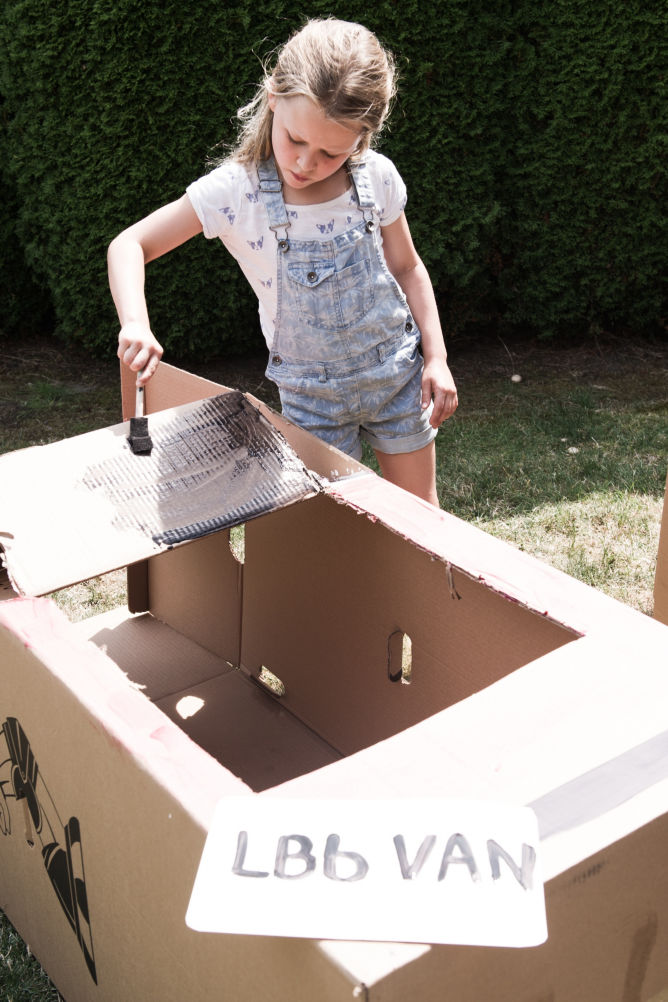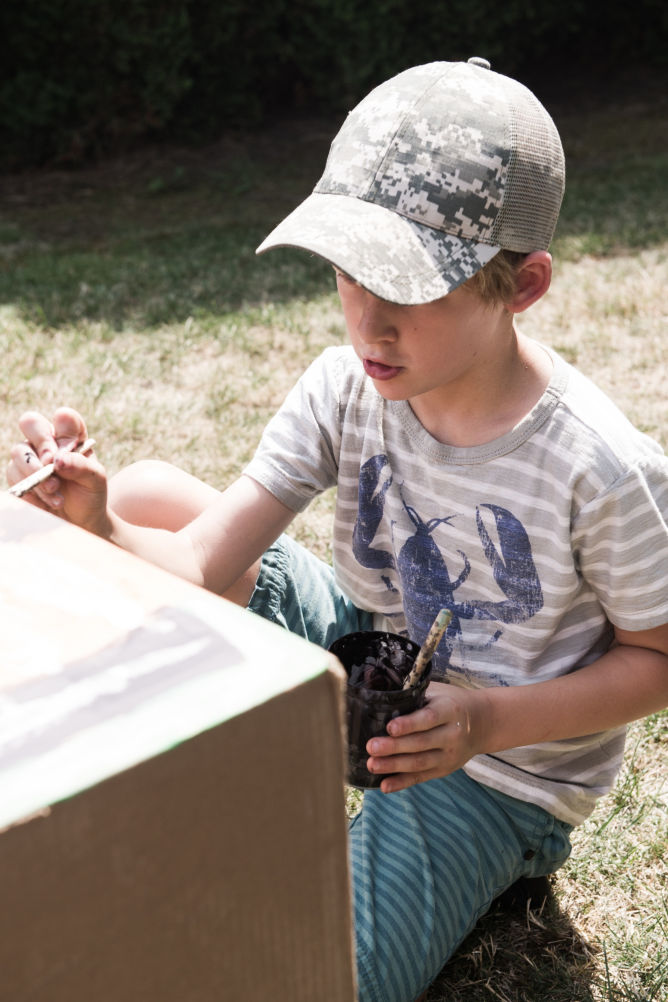 Using our largest wardrobe boxes, we spent the afternoon cutting, gluing, painting and molding a car for each to call their own.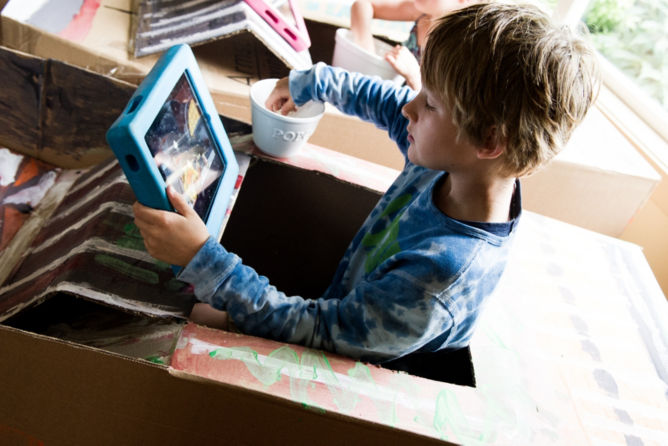 It's these moments when you realize the simplest things, such as turning a box into a car, can bring true joy to a child.
Homemade Pizza Dough Recipe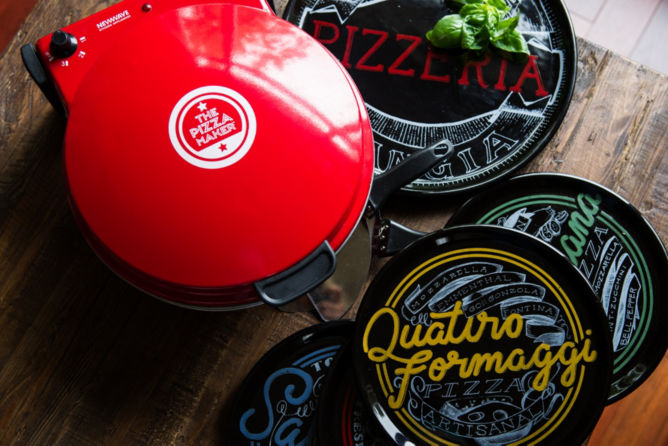 I would say pizza is probably my kids' favorite food, so you can imagine the delight when I brought out our pizza oven. We all love making homemade pizza and, of course, playing with the dough.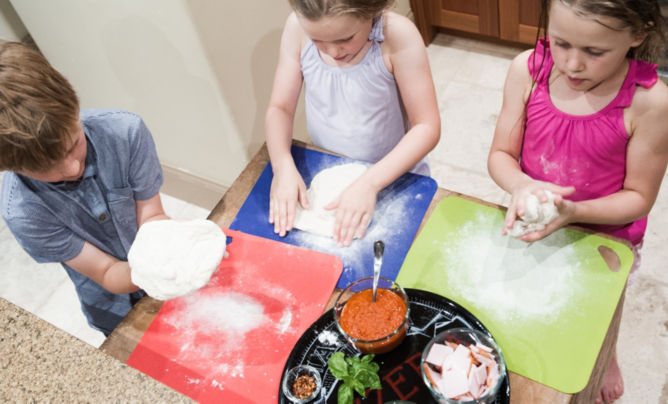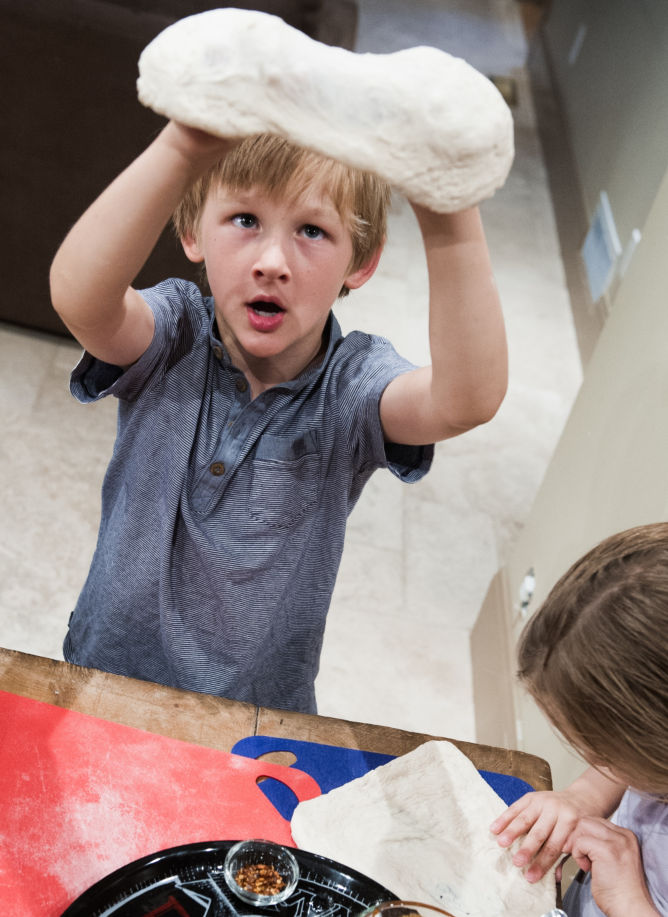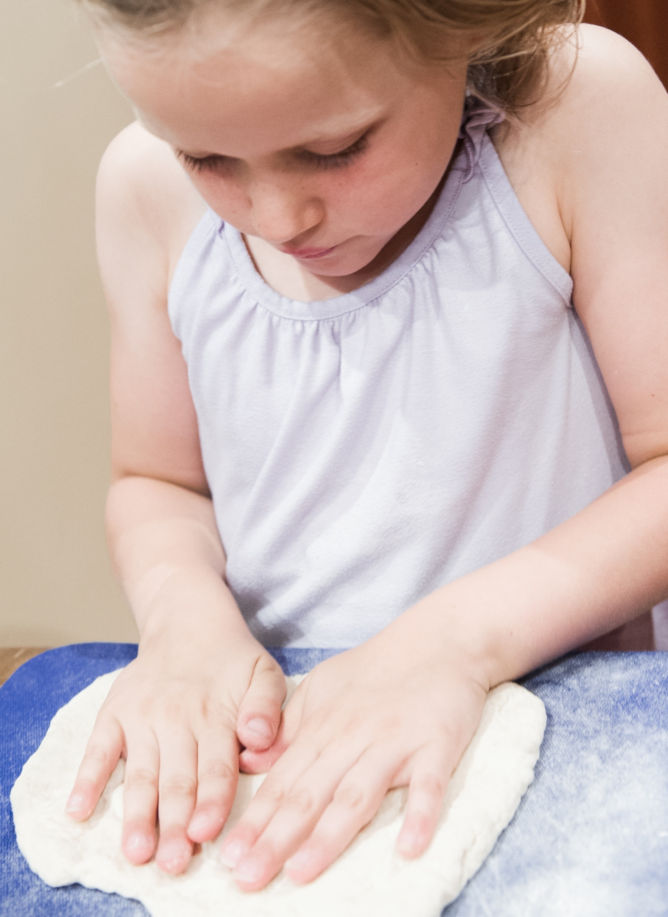 I make dough by hand and in the bread maker. Both are effective and easy, but my preference is to make it by hand. So simple to make.
Serves 6
Ingredients
7 1/2 cups all purpose flour
1/2 teaspoons active dry yeast
4 teaspoons salt (I use smoked Canadian sea salt)
3 cups of water
Directions
Combine the flour, yeast and salt in a medium-sized mixing bowl. Using your hands to mix, add water and work together until the dough has formed to one large ball. Cover with a damp dish cloth and rest at room temperature for 24 hours or until it doubles in size.
Separate into six round dough balls. On a well-floured surface, take each ball and knead gently until the dough is smooth. Pat any sticky spots with a little flour. If you don't want to use your dough immediately, you can wrap it in shrink wrap and store in the fridge for up to three days.
Flatten the ball and begin rolling the dough to desired size. Sprinkle with a little flour if the dough appears tacky, and be careful not to stretch to the point of creating holes. To create a nice round shape, keep turning the dough as you roll it. I personally love a more rustic presentation, so I tend to give the dough an uneven pull all over to finish.
You are now ready to top your pizza and bake.
Rosemary, Mushroom and Salami Pizza with Garlic Béchamel Sauce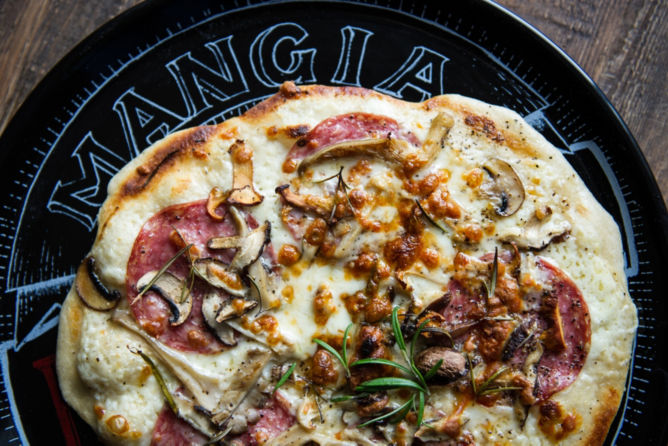 This recipe was an instant hit with the grown ups.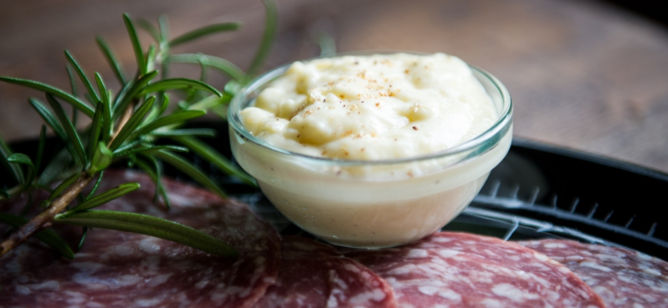 Ingredients — Garlic Béchamel
3 cups of milk
1 1/2 sticks of butter, cut into small chunks
3 1/2 tablespoons of flour
1 tablespoon crushed garlic
Directions — Garlic Béchamel
Heat one cup of milk and the butter over a low heat until the butter is just melting. Be careful not to let the milk boil.
In a medium bowl, combine flour and two cups of milk. Then add a quarter of the warm milk and butter mixture and stir. This will raise the temperature. Tip the mix back into the saucepan with the remaining milk and butter.
Continue heating the mixture over low heat until it reaches about 180 degrees. You don't want it to boil, so stir only until it becomes fairly warm and thick. Remove from the heat.
Add crushed garlic and stir until combined. Set aside to cool. Use immediately or refrigerate for up to four days in an airtight container.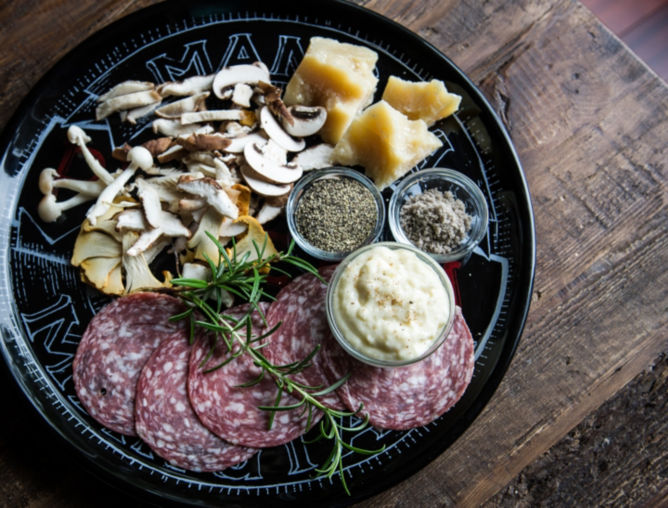 Ingredients — Pizza
1/2 cup of garlic béchamel sauce
Finely chopped mushrooms of your choice. I used about 12 mixed mushrooms including Shiitake, Oyster, Chanterelle, Bunapi and Royal Trumpet.
Five slices of large diameter salami
1 sprig of rosemary
A small sprinkle of mozzarella cheese
Sprinkle of coarse black pepper and coarse sea salt
Sprinkle of coarse shredded aged parmesan cheese for garnish
Directions — Pizza
Spread the béchamel sauce over your pizza dough. Top with salami and sprinkle with rosemary, mozzarella, a little coarse sea salt and coarse black pepper.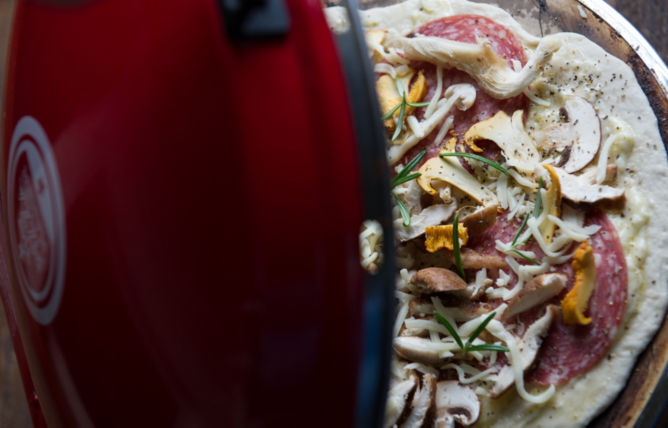 Turn your pizza oven on three minutes before using so it has time to heat up. Using floured peels, scoop up the pizza from both sides and place on your pizza stone. Close lid and allow to cook for approximately eight minutes. This part takes a little practice to perfect the level of browning you prefer. My family likes their pizza steaming hot, bubbling and well-browned. Garnish with a sprinkle of parmesan cheese.
I recommend lifting the lid after five to six minutes to obtain the perfect pizza for your family. Be careful when lifting the lid, as the oven is extremely hot and steam will be released. Keep your arm behind the opening to avoid the heat.
Tarte Tatin Pizza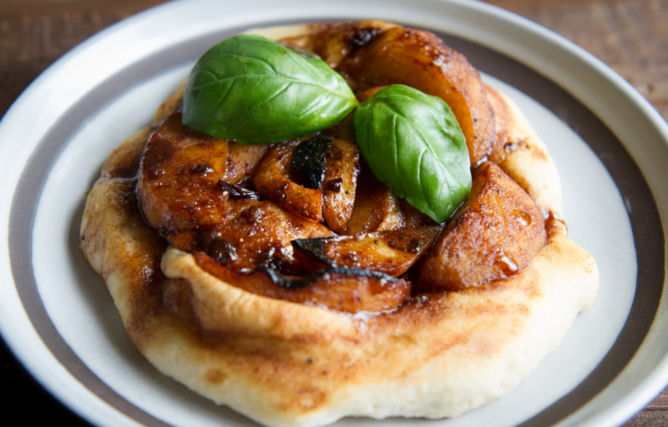 This rustic treat is a spin on the sophisticated and delicious French tart or galette. Its buttery goodness can be enjoyed for breakfast, lunch or dinner. Sometimes I pair mine with a homemade almond milk latte and get up an hour before anyone else, so I can indulge in a little peace and eat it all by myself!
Ingredients
1/2 cup butter
1/2 cup brown sugar
1 tablespoon ground cinnamon
1 tablespoon of ginger juice
2 Gala apples, peeled and sliced into thin wedges
Sprinkle of brown sugar
Sprinkle of coarse black pepper
Sprinkle of coarse shredded aged parmesan cheese
Directions
Melt butter in a pan on low heat, then add brown sugar. As the sugar melts, add ground cinnamon and ginger juice to create a caramel sauce.
Add in apples and allow to simmer in the mixture for about five minutes.
While the apples are softening in the caramel, shape a piece of dough to approximately six inches in diameter for an individual portion.
Remove apples from the heat, separating them from the liquid. Turn off heat and set caramel aside for later use.
Starting from the outside of your dough, place slices in a circular pattern, slightly overlapping, until you reach the center. Sprinkle with a little brown sugar and coarse black pepper (optional).
Turn your pizza oven on three minutes before using so it has time to heat up. Using floured peels, place onto the pizza stone. Close lid and cook for approximately five minutes or until the dough looks done. I personally like my apples to darken a little on the edges, so I leave mine in for a minute or two longer.
While your pie is cooking, reduce your caramel liquid by returning it to low heat for a couple of minutes until it thickens.
Plate your tart and drizzle with caramel. Top with a basil leaf and serve with your favorite cream or ice cream.
Popcorn on the Beach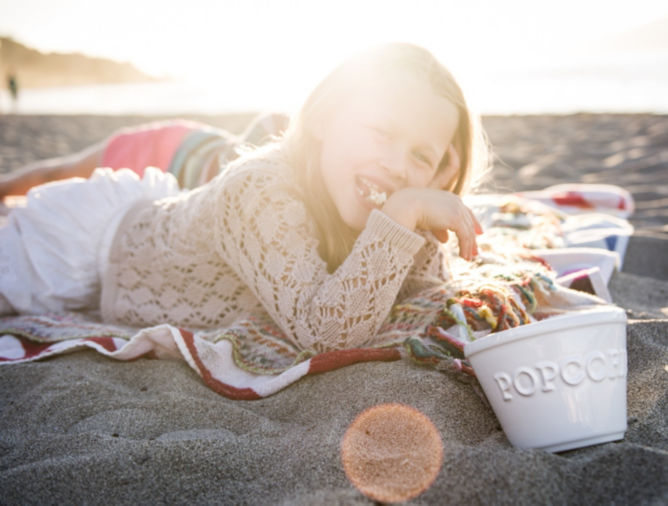 What better way to end a summer evening than with a walk down to the beach. Hudson, Chloe and Lily had a dear old friend visit this week, and while he is twice their age, kids of all ages can't help but love digging into a bowl of popcorn.
While our new flavors might have involved the odd sprinkling of sand, Chloe still managed to devour the crunchy bits with glee! A perfect end to a perfect summer day.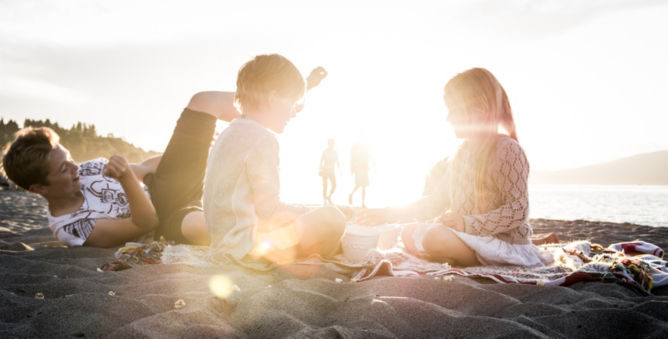 For more tasty pizza recipes perfect for family movie night, check out the Crate and Barrel Pinterest board.