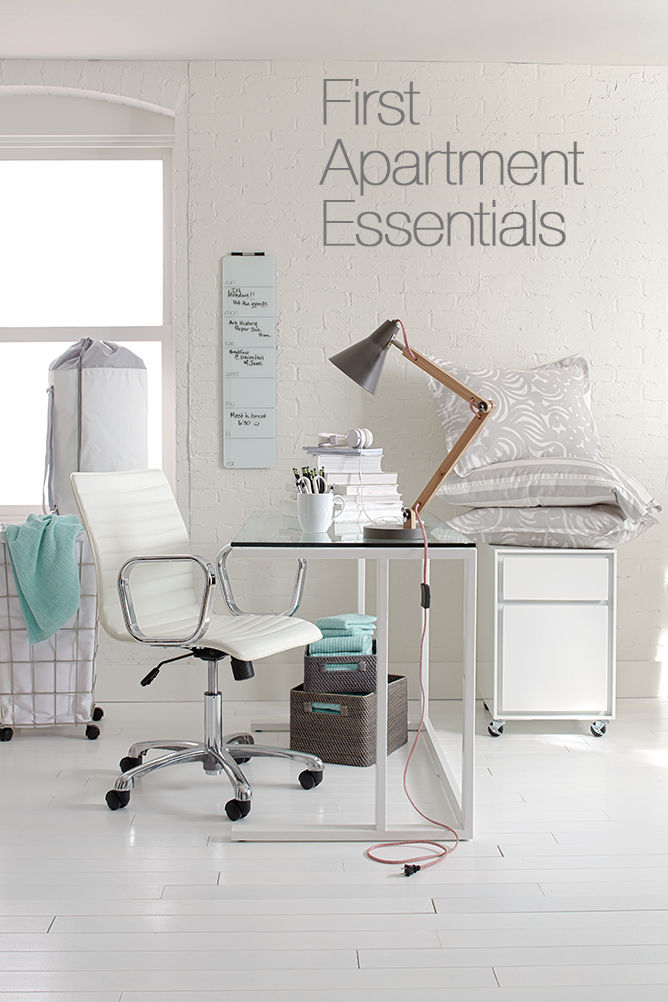 crateandbarrel.com
So you're moving into your first apartment, and the excitement of turning your place into a home is taking over. But as you start to get settled in, you begin to realize you might be missing some must-haves you never needed before now.
Learn about all the essentials you need for your new space.
Kitchen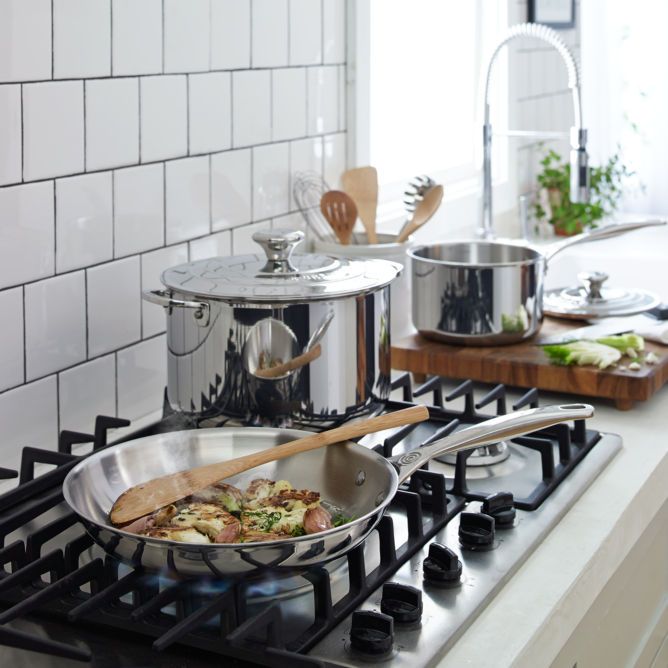 Let's start in the kitchen. Whether you want your first meal to be a steak dinner or something a little more simple, such as a grilled cheese sandwich, you'll need a few great cooking tools. Start with an aptly named starter cookware set (a frypan, a saucepan and a stock pot will take you a long way), and add to your collection as you build your skill level in the kitchen. Getting a utensil set to use is also a good idea to save both your pans and your fingers.
Once dinner is made, you're going to need something to serve it on whether it's just you or several of your closest friends. This is another place where getting a set will simplify things. You'll thank yourself later when you aren't repeatedly washing the same dish. Not to mention the fact that having enough forks for all of your friends will certainly make entertaining easier.
Don't have a lot of space for dining? Try a table that adapts. For example, a gateleg table allows you to have seating for up to four when you have guests but easily folds down after they leave. For the same reason, a few folding chairs are a perfect add to your list of  first apartment essentials. Just stash the extra chairs when not in use.
Living Room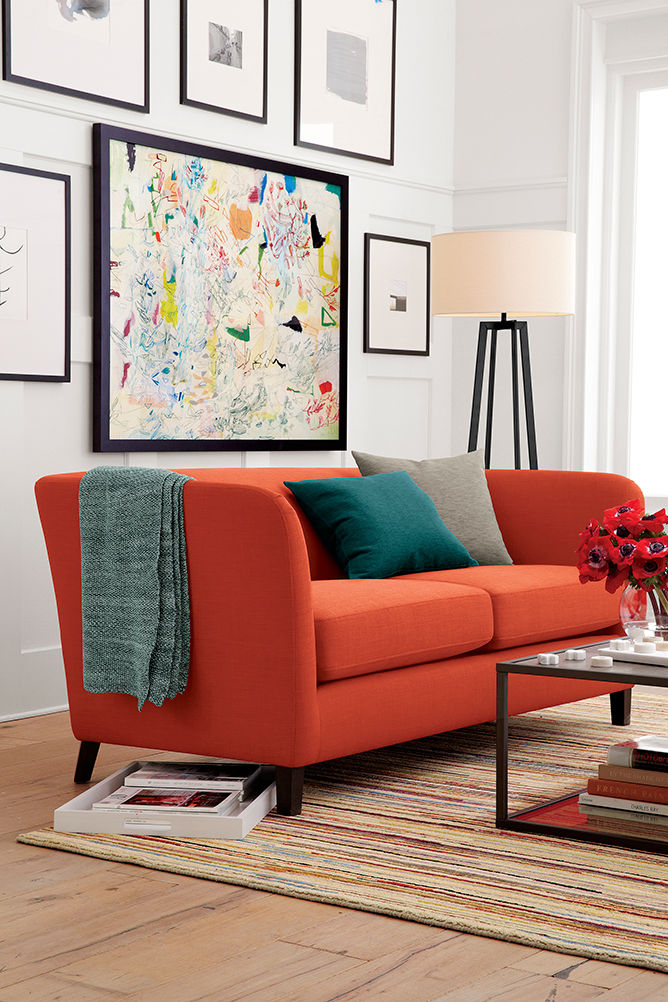 Whether you're marathoning your favorite TV show, answering a few emails or hanging out with your friends, you're likely to spend a lot of time in your living room, so make sure the pieces you choose are a fit for your space and for you. An apartment-sized sofa (such as Ollie pictured above) can save space while adding lots of comfort.
When if comes to storage look for items that do double-duty. For example, pick up one or two ottomans that provides extra seating as well as hidden storage. Need a desk? Choose one that comes with built-in bookcases to keep valuables and occasional (or not so occasional) clutter off the floor.
Finally, maximize your lighting. If your new place comes with a good number of windows, take advantage with sheer curtains that add some privacy while still letting in the sun's rays. For when the sun goes down or just for apartments that are light on windows, a floor lamp is a great option as you can easily move it anywhere without relying on a table.
Bathroom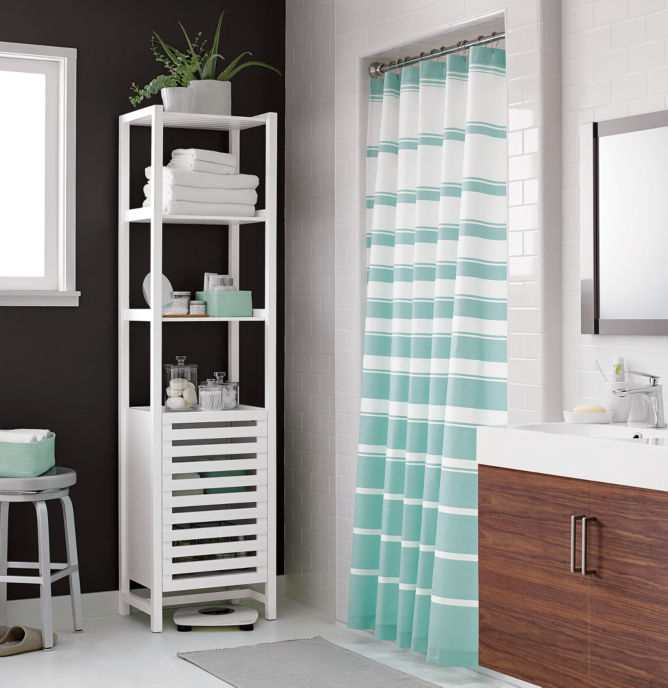 If you're renting, you are likely restricted from performing any major renovations after your move-in date. So while that deluxe shower head may have to wait, there are a lot of quick and easy ways to upgrade your bathroom. A shower curtain and/or some fluffy bath towels that add a pop of color and personality will brighten up your space and your morning routine.
Bedroom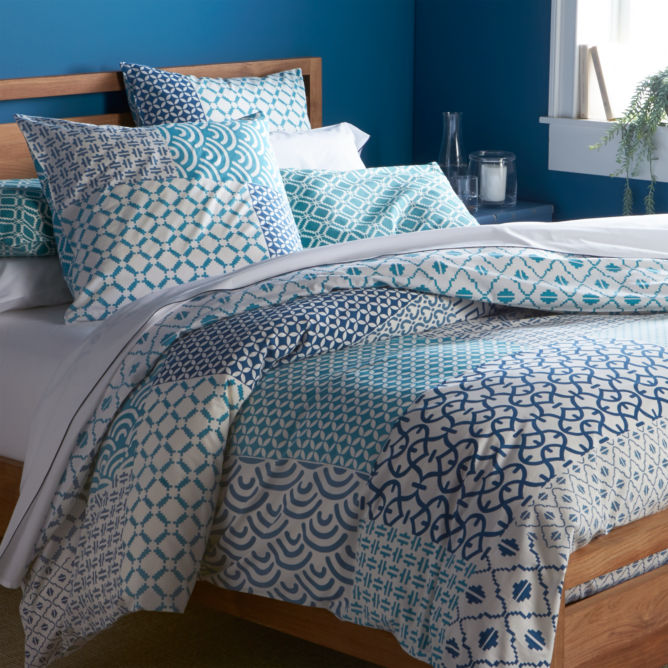 Last but certainly not least is your bedroom. Comfort is key in this room, so choose items that will create a space for you to relax and retreat. Don't be afraid to mix and match your bedding with pattern and color. It's your place. Let your personality show. Plus, won't your bed seem all the more inviting at the end of the day when you know soft sheets and a luxurious duvet are waiting to wrap yourself up in?
To keep your closet in check, space savers and organizers are must-haves to make the most of limited space. However, if you find yourself needing more space for your wardrobe than your closet provides, use a narrow three-drawer dresser for your bedside lamp instead of a nightstand. Keep a journal there as well. Perfect for writing down late night ideas on how you will make a new place yours.
Looking for even more first apartment essentials? Check out Crate and Barrel's Everyday Basics Pinterest board.