Go ahead, invite people over. Our ready-to-host soirées are wow-worthy and delicious—and easy to pull off, we promise. Read on for recipes, chef's tips, ta-da presentation tricks and shortcuts. Who's going to have fun at this party? You.

crateandbarrel.com
Parisian Picnic
Like so many French things, the simple baguette never goes out of style. That's why it's the star of this moveable feast of pâtés, salads, cheese and charcuterie sandwiches wrapped, ever so romantically, in butcher paper and twine. Prep this menu in advance and package it in real wicker picnic baskets for full effect—even if you're channeling a sunny outing by hosting your party indoors.
Sip a sweet classic.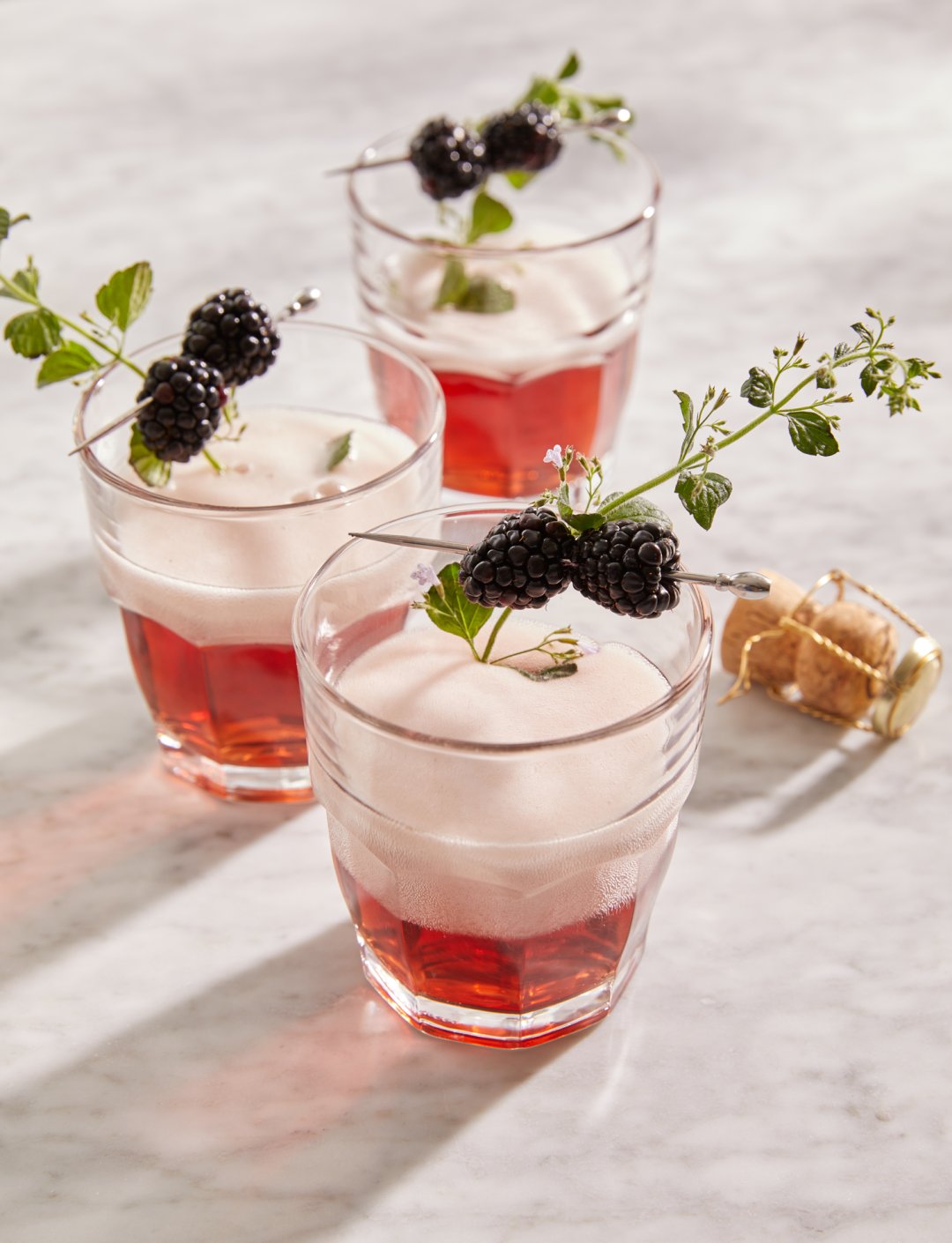 Kir Royale
The Kir Royale is a classic French cocktail that sets a sparkling mood for your Parisian-style party. Simply pour a small spoonful of crème de cassis into a champagne flute and top with champagne or sparkling wine.
Don't have champagne? Swap it out for other wines, such as a Chardonnay for the classic Kir. Or try using peach liqueur to make the fruity Kir Pêche. Plan on 1.5 drinks per person per hour.
Chef's Tip: Want to include a nonalcoholic option? Imported French soda is a festive touch for your picnic. Check your local specialty market for brightly colored sodas in pretty glass bottles with French labels.
Hosting Tip: Serve French wines in retro canning jars for a fun way to stay on-theme. You can lid the jars for transport home to prevent spills and stains.
Make an epic sandwich.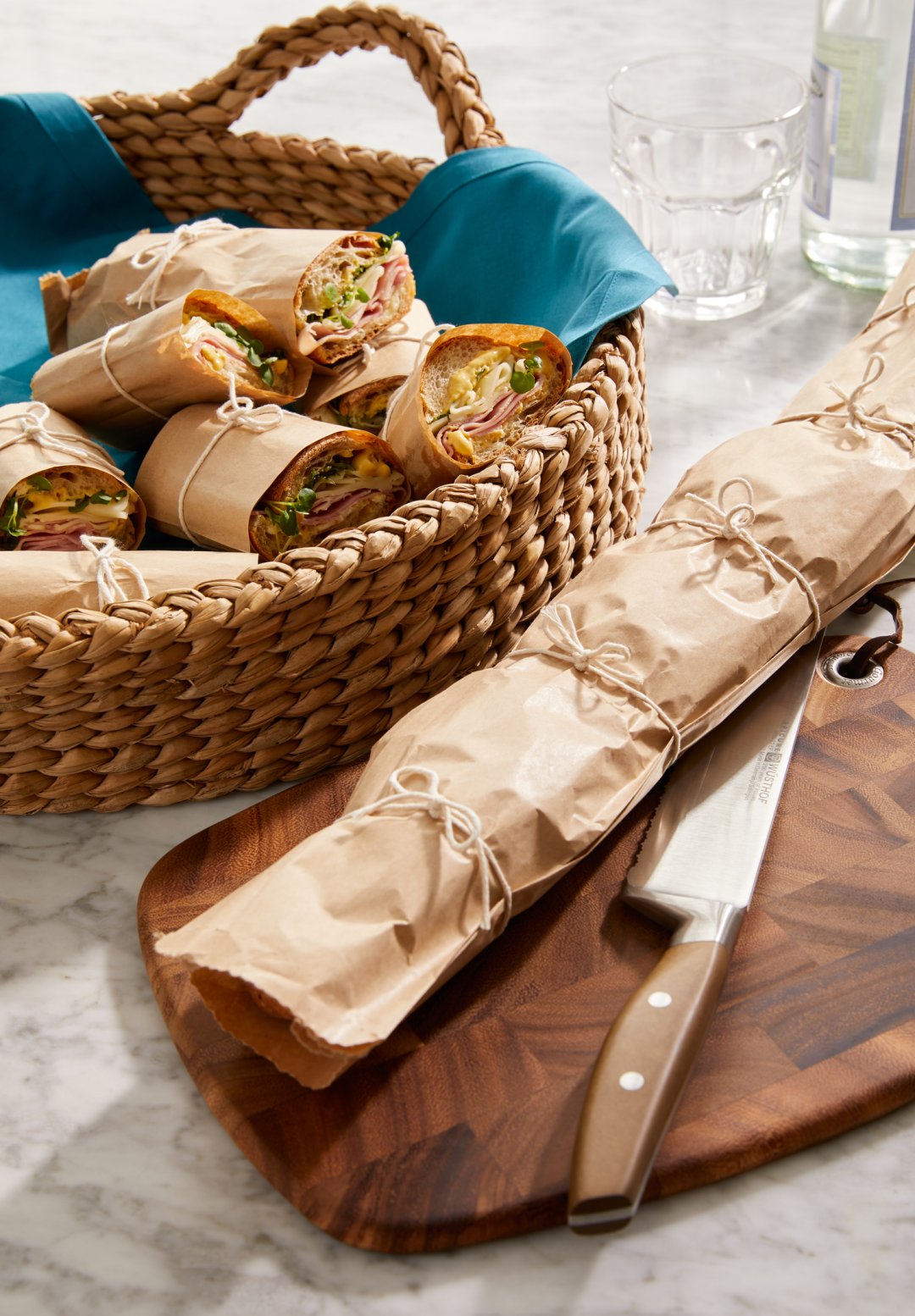 Depending on the number of party attendees, use long baguettes to make one or more large sandwiches that can be sliced in front of guests with dramatic flair.
Party Tip: Repurpose the baguette's paper sleeve to transport the sandwich for an effortless and festive presentation. No sleeve? Wrap baguettes in butcher paper and tie with twine.
Chef's Tip: To make your baguette sandwiches more customizable for guests, serve a deconstructed version: a platter of buttered baguette slices, meats and toppings, and mustard for dipping.
Toss in two side salads.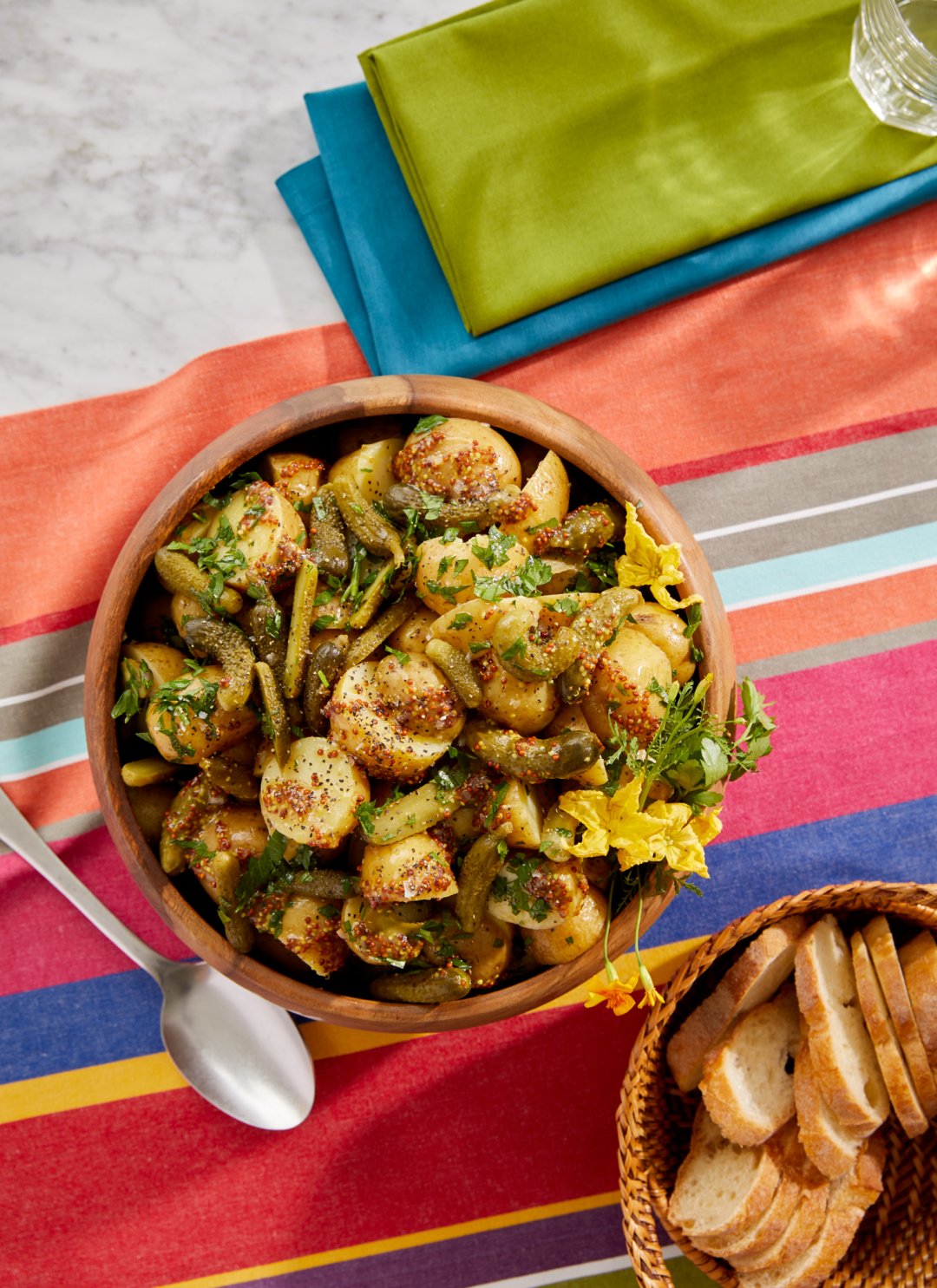 Chips are a bit lacking in the ooh-la-la department, and that's why we're rounding out this picnic with two easy, elegant salads that look impressive and travel well.
Party Tip: Serve salads in retro jars to play up the rustic, handcrafted feel of your picnic menu.
Chef's Tip: When buying ingredients for this dish at the grocery store, look for vegetables that have a similar circumference so that they all cook evenly and have a uniform appearance.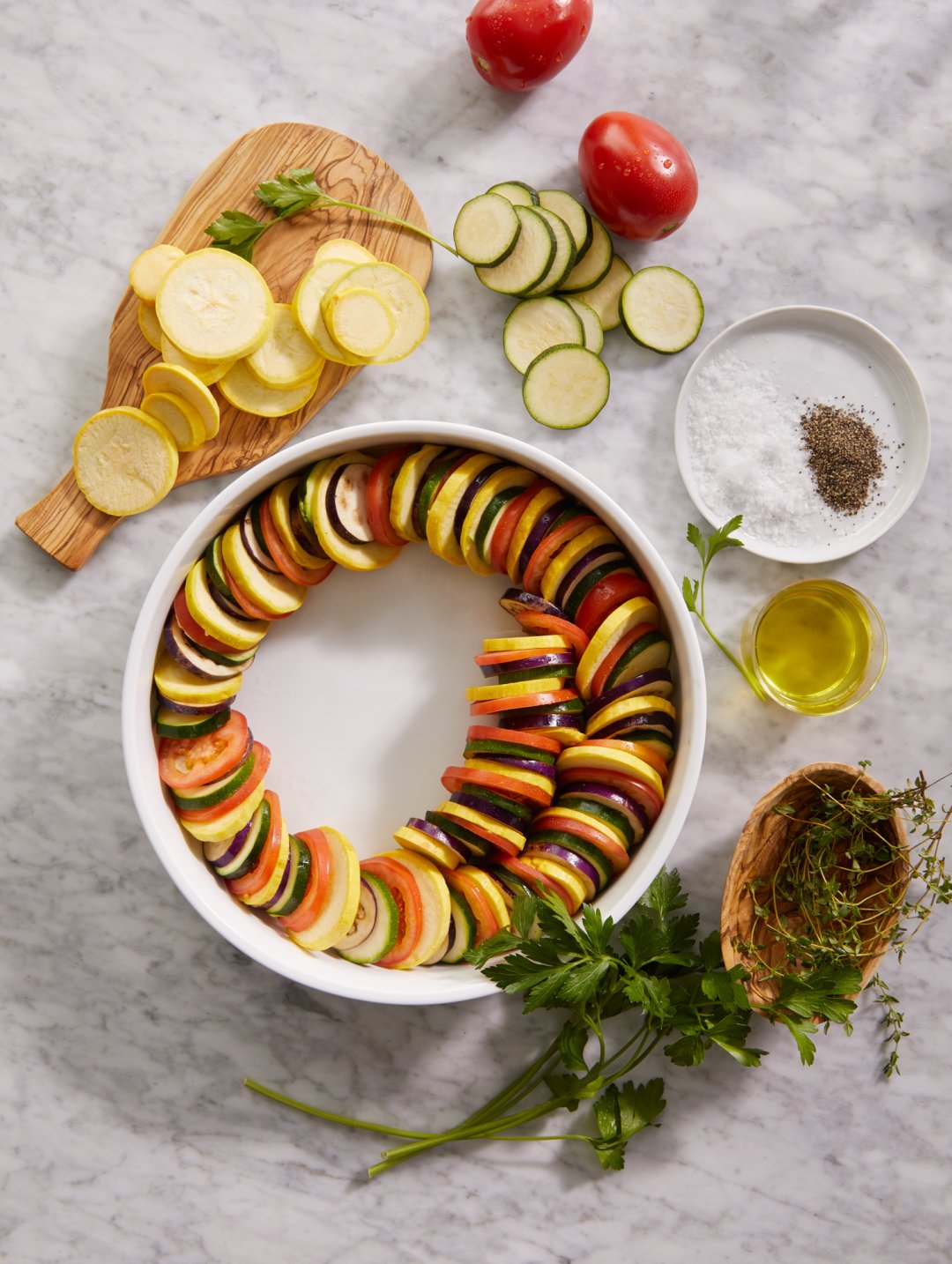 Go overboard on nibbles.
Every great picnic needs nibbles—this time, in the form of classic cheese and charcuterie boards. This totally store-bought part of the meal is all about variety: set out hard and soft cheeses, pâtés, different types of cured meats, fruits, mustards, pickles and spreads–use up condiments you have in the fridge or buy specialty imports for added French flair.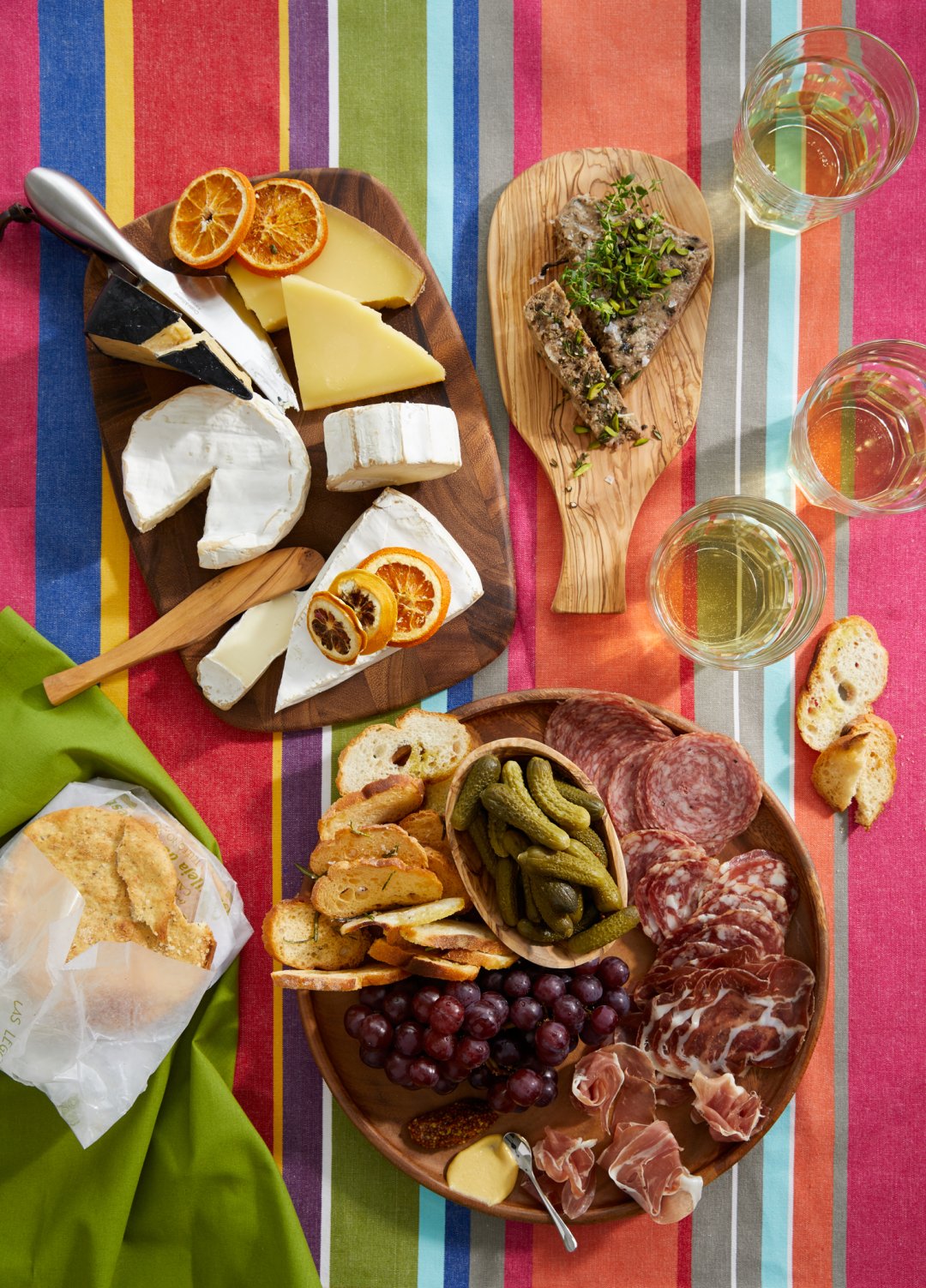 Chef's Tip: Pâtés come in a variety of flavors and can be found at your local grocery store near the specialty cheeses. Serve on a board with breads, crackers and stemmed grapes.
Simple classics for a sweet finish.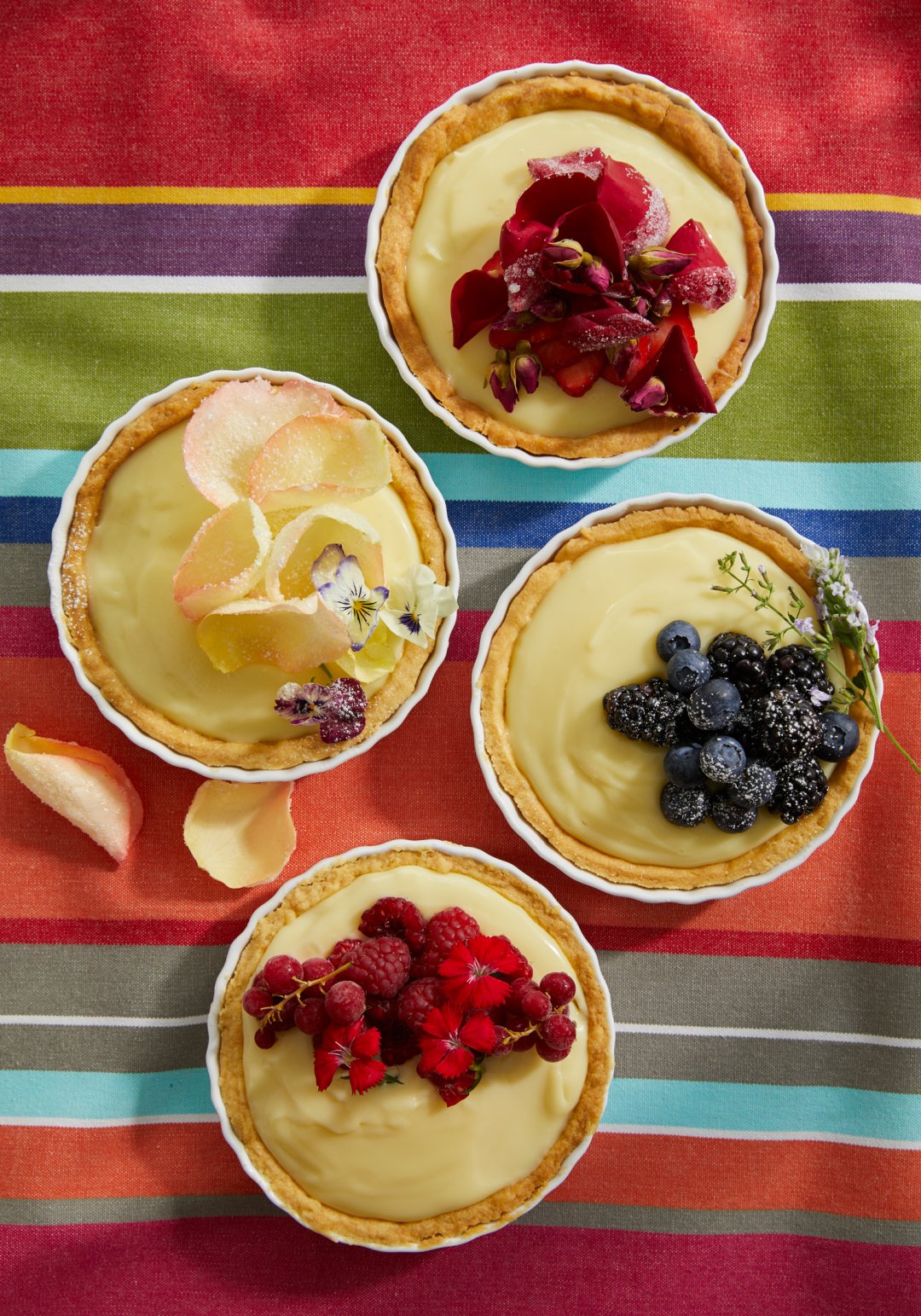 A simple tartelette makes for a delightful end to your picnic–just a few bites of silky cream, fresh fruit and buttery crust to cleanse the palate and satisfy your sweet tooth.
Running out of time? Head to your favorite grocery or bakery for pretty macarons in a rainbow colors and flavors.
Find more CrateParty menus in the entertaining section of our blog, plus find everything you need to host on crateandbarrel.com.