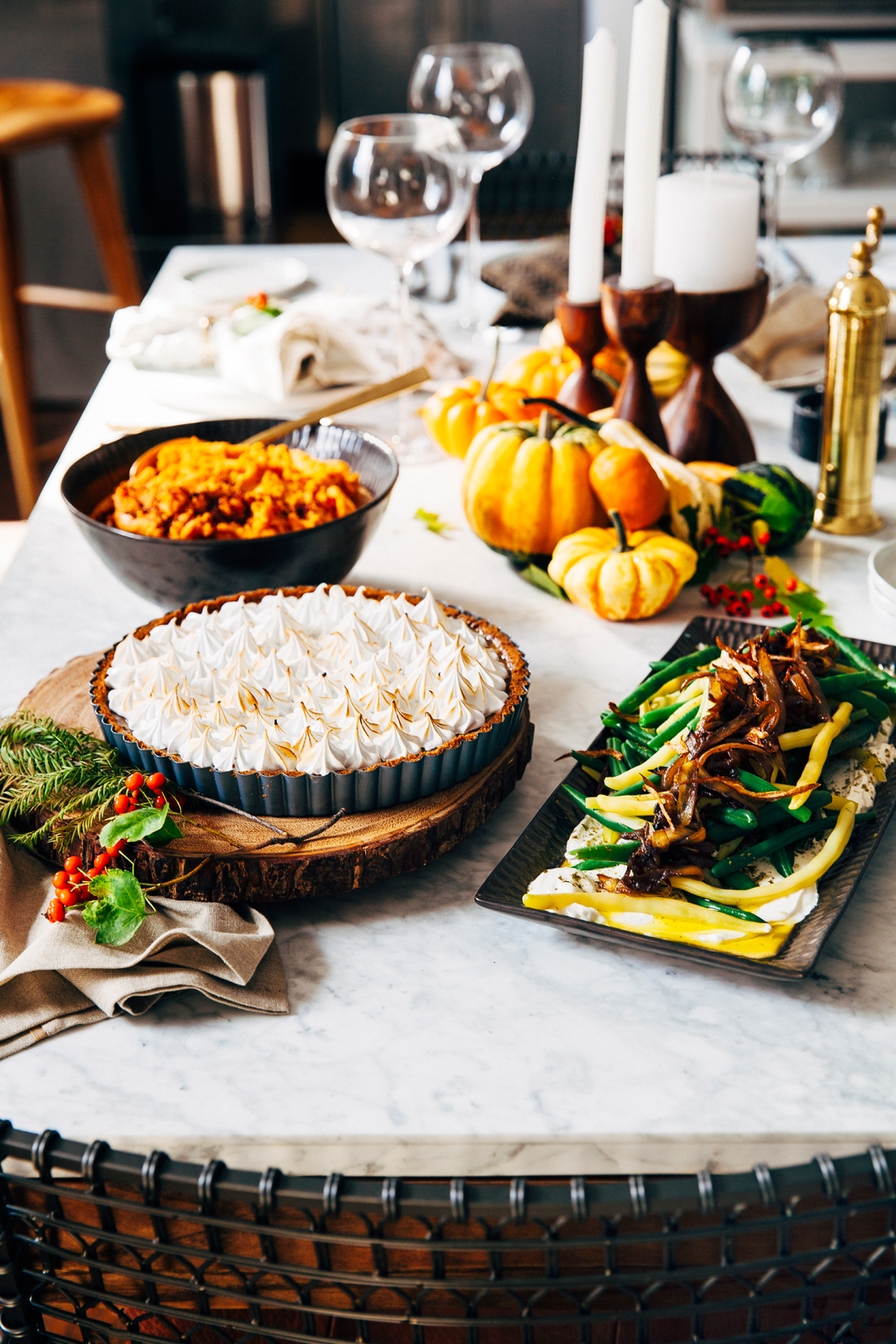 hummingbirdhigh.com
The first Thanksgiving in a new home is a special milestone worth celebrating. Michelle Lopez, founder of Hummingbird High, talks about how she's toasting the occasion with her New York family of friends.
My boyfriend Erlend and I move a lot. We've moved about 11 times in the last seven years, between 12 different apartments/houses, four different states, and even two different countries. Often times, we move to places and big cities where we don't have too much family, and it can be lonely and hard being somewhere new without the support from parents and siblings.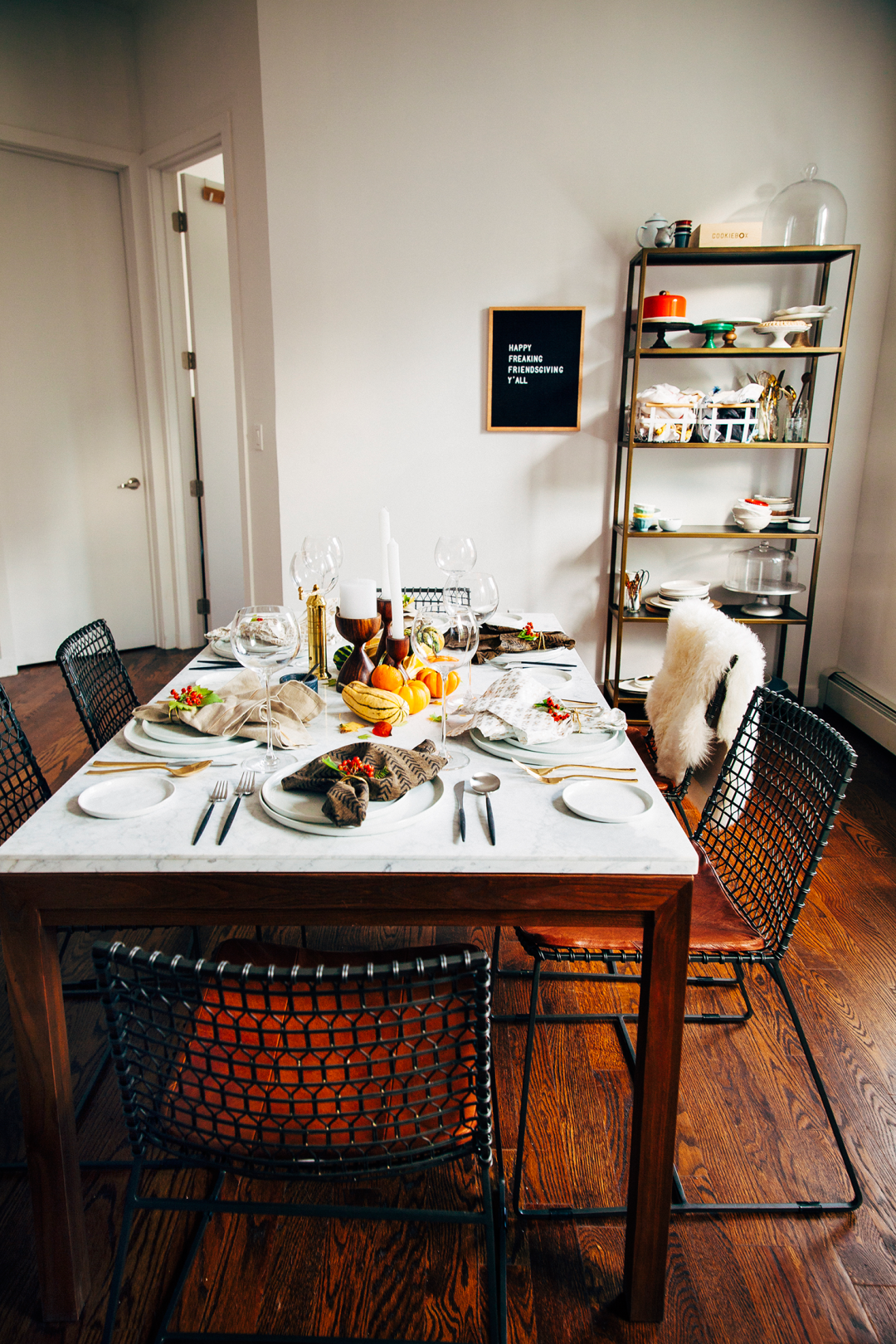 But it seems like in a city like New York, that's the case for everybody. There are a ton of young, millennial somethings just like Erlend and myself trying to make it in this big, thriving (and sometimes scary) metropolis. So we've all got each others' backs. Because since arriving here in July, we've had friends — old ones from high school and college and new ones whom we've met since — help us out in every way possible. From driving a U-haul of our stuff from the Upper West Side to our new place in Brooklyn, guiding us through choosing a neighborhood in our new borough, and even helping us hang up shelves, mirrors, and picture frames, they've made the past few months a lot easier.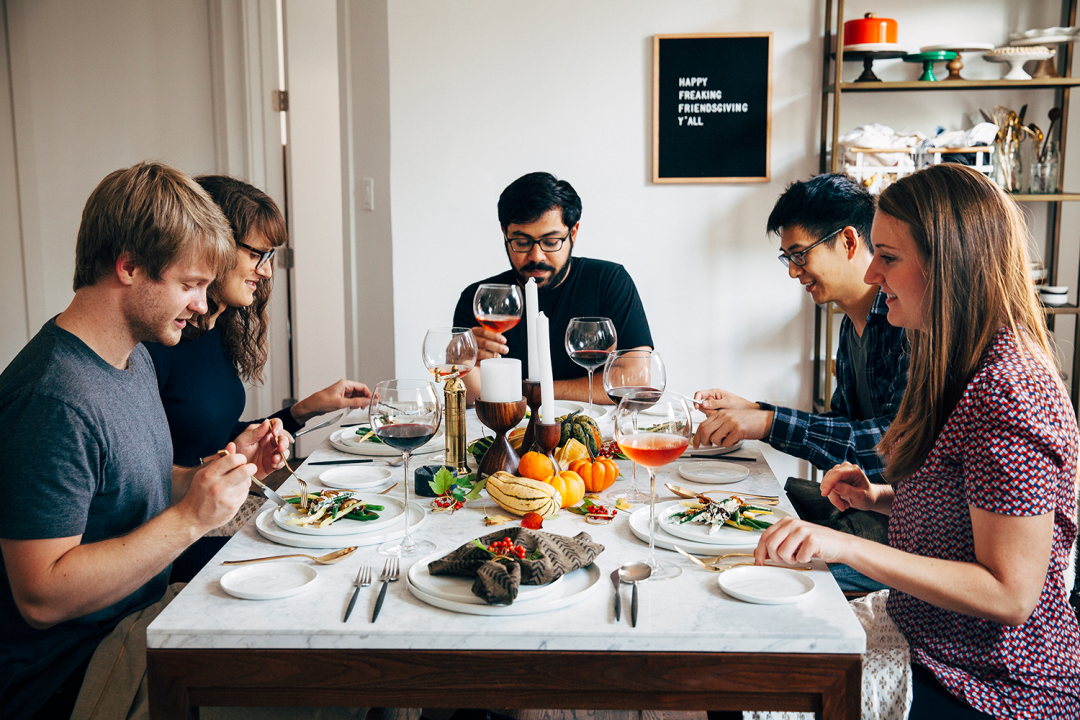 You know those expressions and cliches, about how "friends are the family you choose?" I've never known that to be more true than in New York.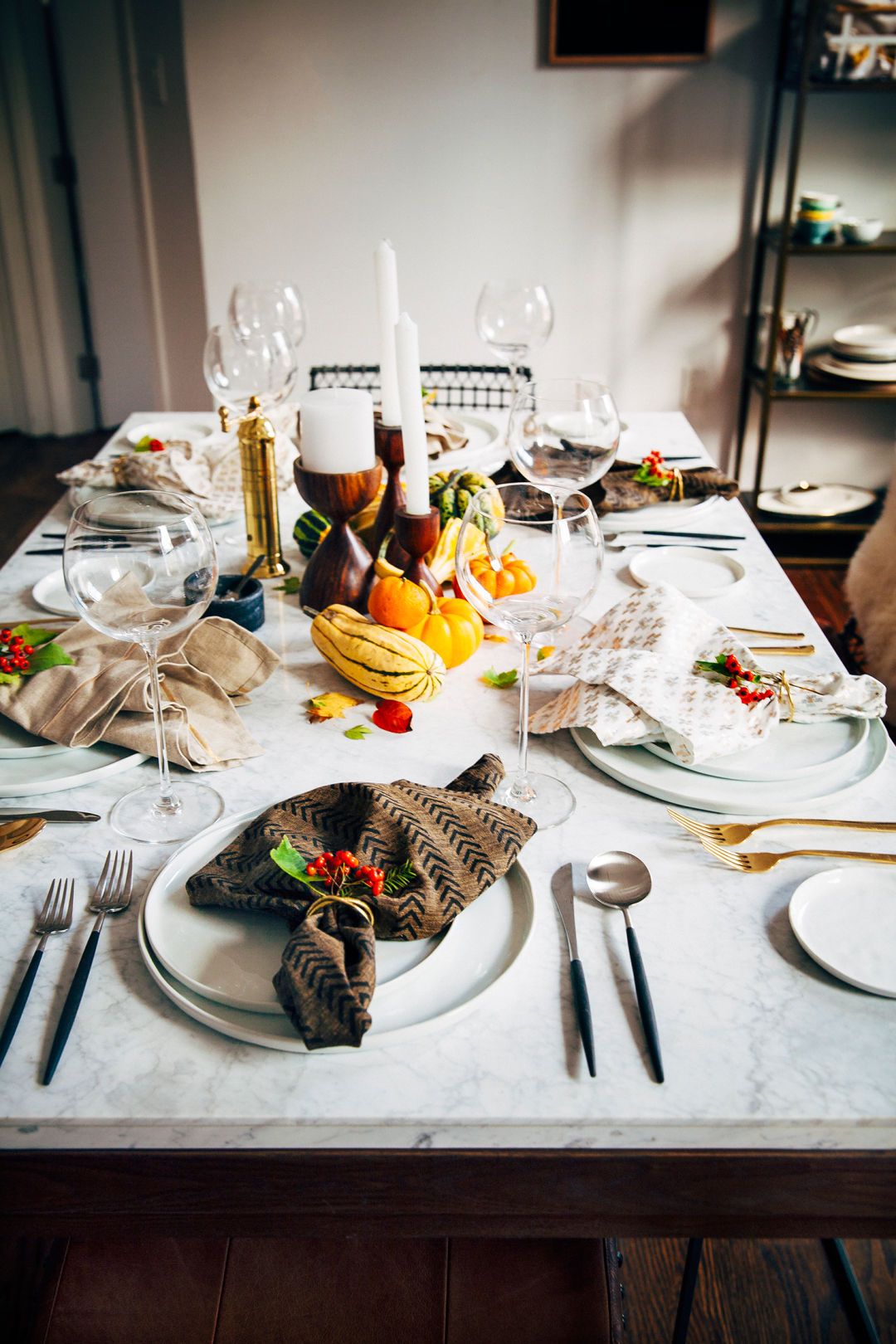 So for our first Thanksgiving in New York, we decided to throw an early Friendsgiving as a way to celebrate all our friends. The party was not without its flaws; in true New York fashion, our small oven could not fit a turkey, leading us to settle for a simple roasted chicken instead. But with seasonal sides taking full advantage of fall's beautiful vegetables and a tasty dessert of pumpkin meringue pie, not one of our friends had any complaints.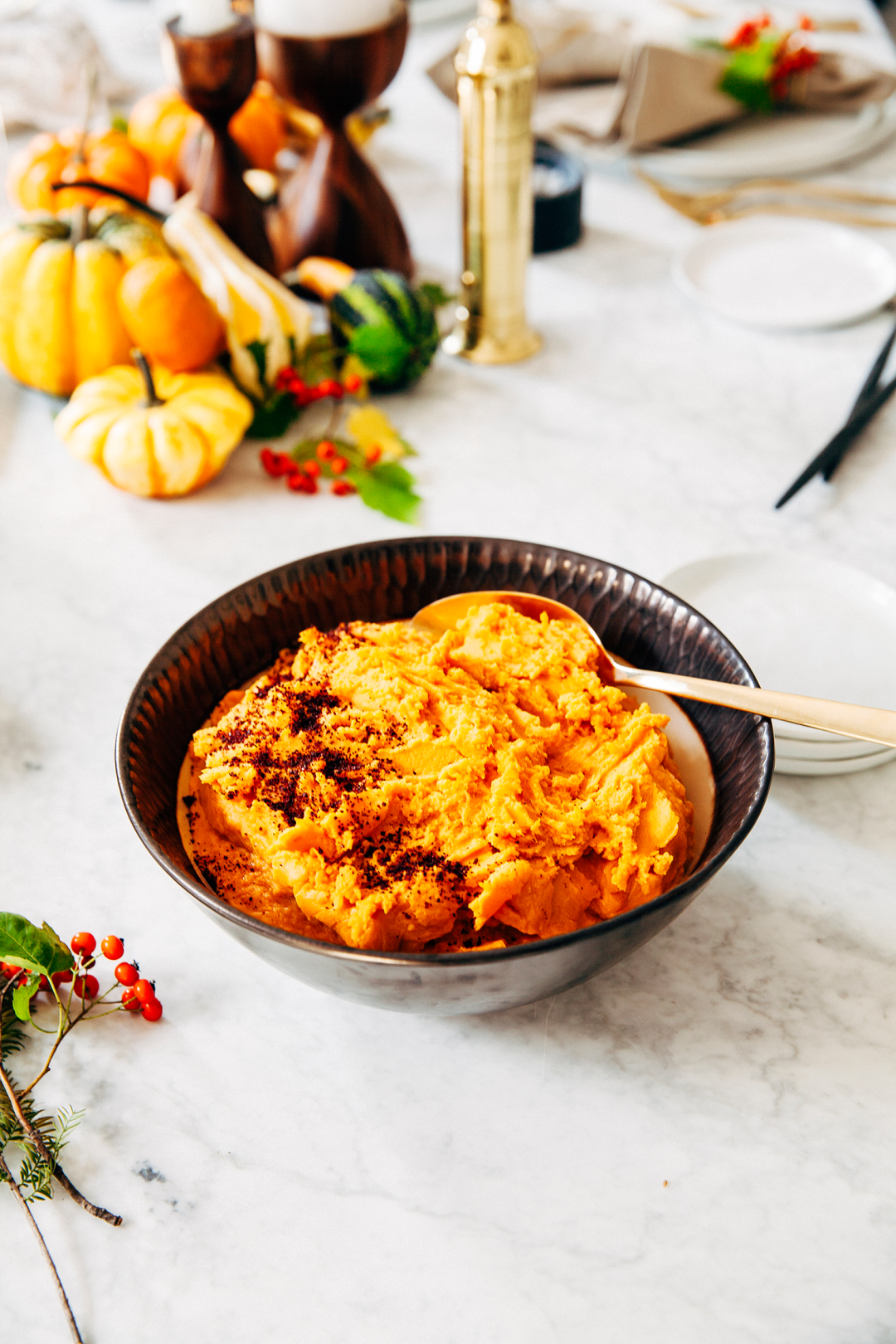 I once spent Thanksgiving dinner with Katherine, my childhood best friend, and her family. Katherine and I were both in eighth grade at the time, and since her mom didn't trust us to make anything too complicated, she tasked us with making mashed potatoes. Throughout the years, I've made a ton of mashed potato recipes, but Katherine's mom's recipe for brown sugar mashed sweet potatoes remains my favorite. Her secret? Lots of butter and brown sugar. These are definitely on the sweeter side, with a fresh brightness from the orange zest.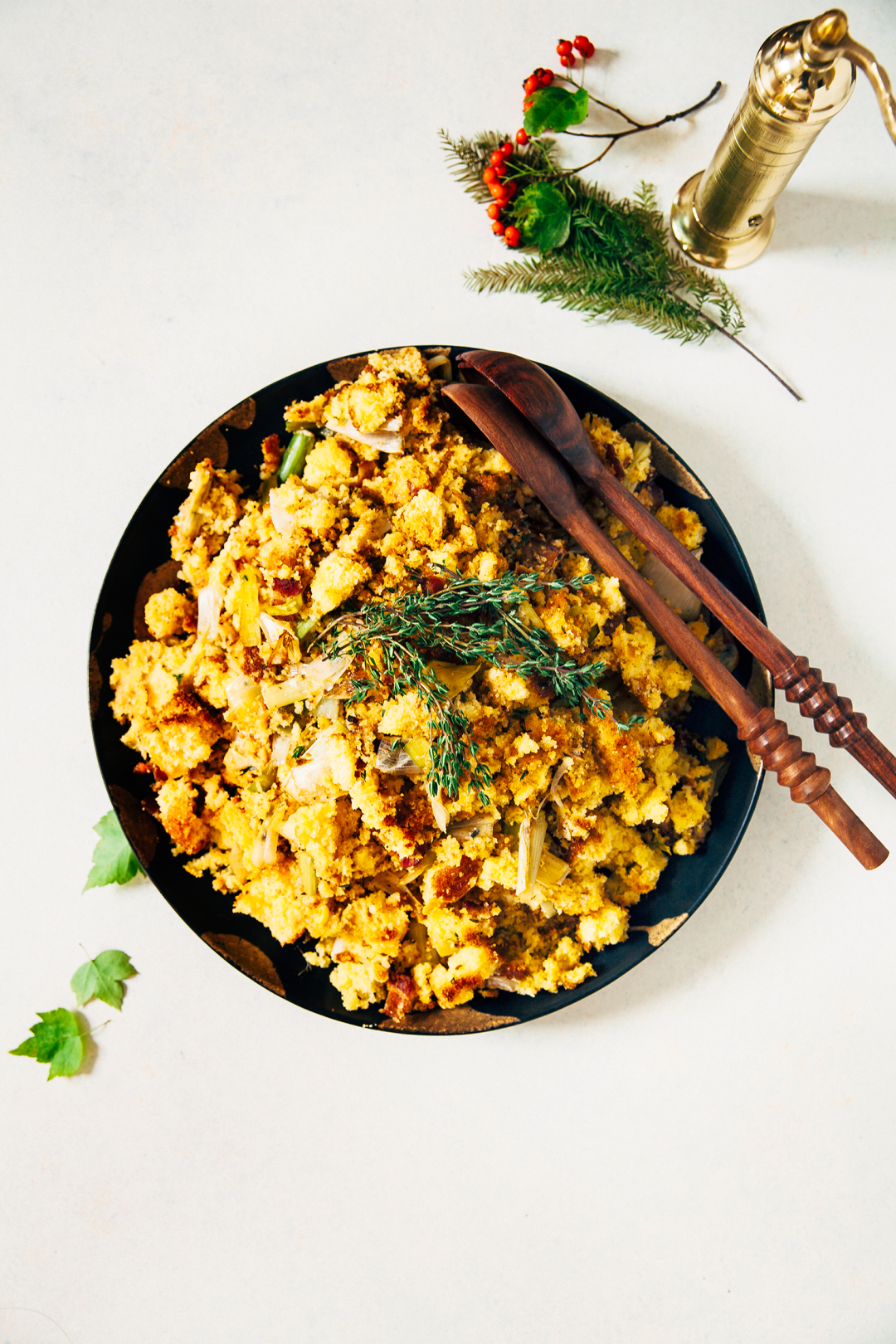 No Thanksgiving is complete without a serious stuffing recipe, and this one comes from Julie, one of this year's Friendsgiving attendees! Sweet, honey-flavored cornbread is mixed with smokey bacon, caramelized leeks, and corn to give the bread a savory, umami flavor.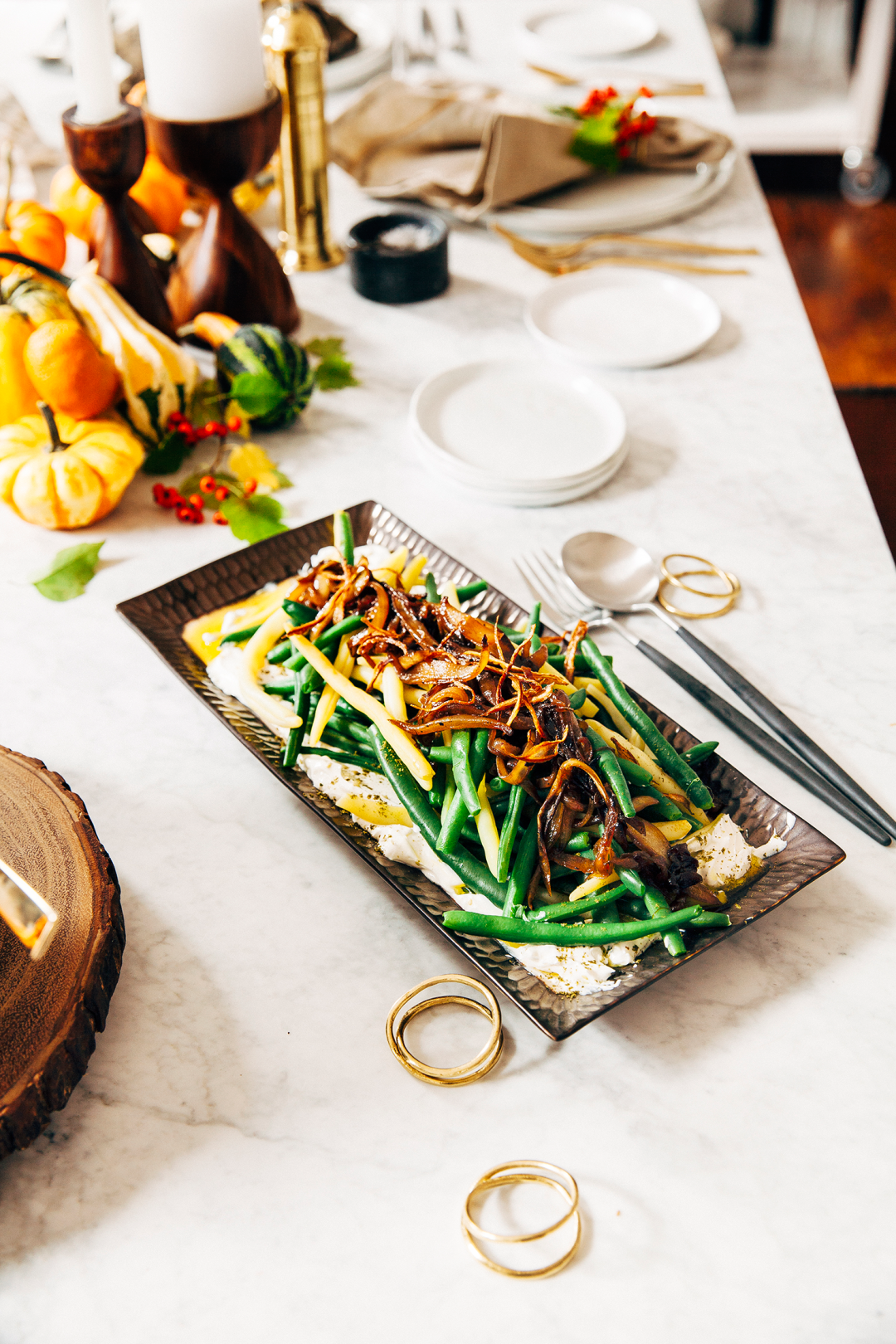 Green beans are a part of every traditional Thanksgiving menu, but usually in the form of a casserole or hot dish. This green bean recipe is more akin to a salad and is served at room temperature. Its Middle Eastern flavors are inspired by my friend Molly, who really encouraged me to explore more Middle Eastern flavors in my cooking! Crème fraîche (a milder, silkier form of sour cream) is mixed with za'atar for a bolder flavor. Za'atar is available online or easily made at home! To save time, you can trim the green beans up to a day and caramelize the onions up to a week in advance.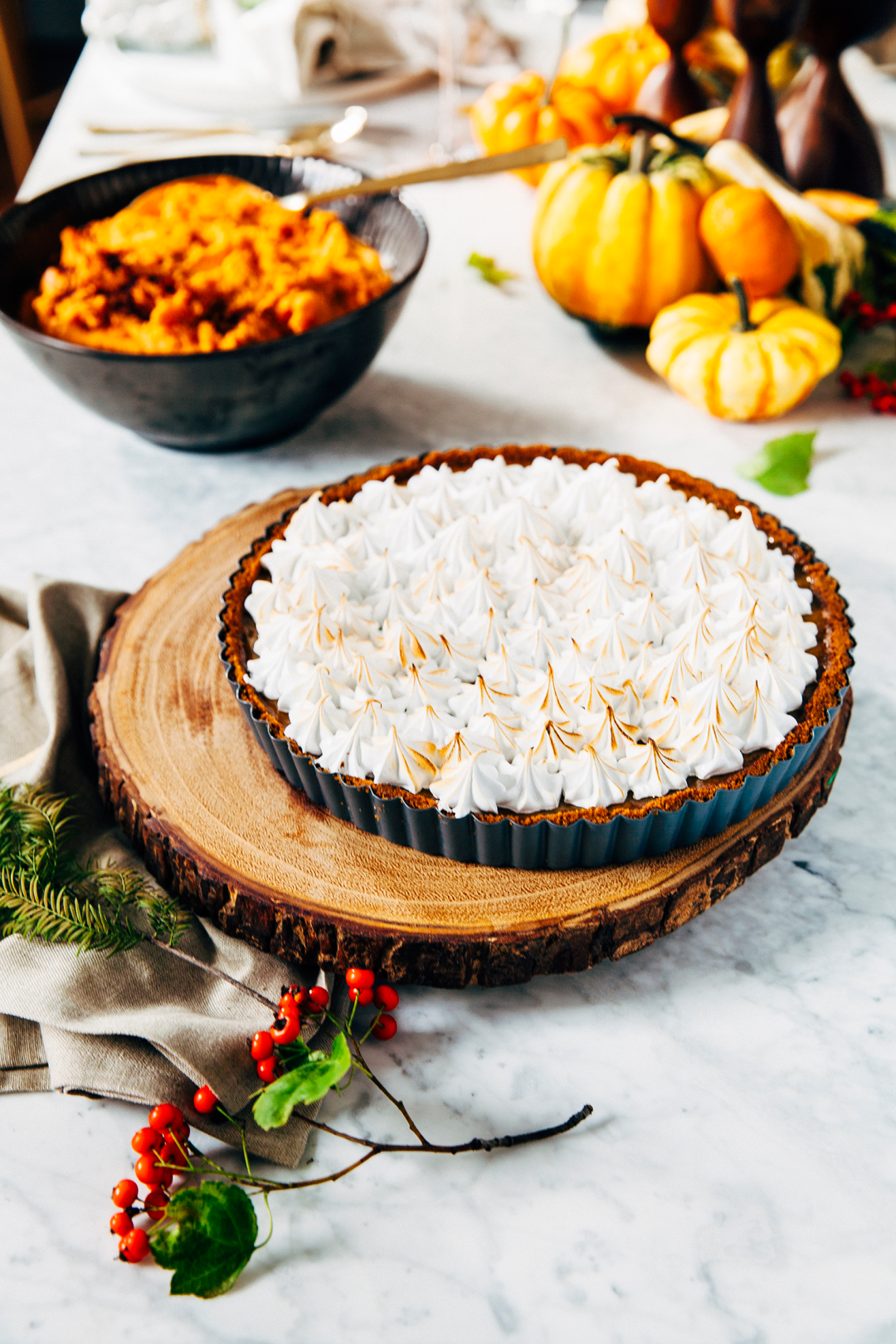 Erlend and I made this pie for the first time last year, and it was so good that we've decided to make it a part of our annual Thanksgiving tradition. For the crust, I use speculoos cookies, which are Dutch in origin and unique in their spicy, gingery flavor. I reduced the sugar in the pumpkin base so I could top the pie with meringue, which I gently toasted for a marshmallowy flavor.
Happy Thanksgiving!
Recipes
Brown Sugar and Orange Zest Mashed Sweet Potatoes
Cornbread, Bacon, and Leek Stuffing
Green Beans with Caramelized Onions, Crème Fraîche, and Za'atar
Pumpkin Meringue Pie with a Speculoos Crust
Brown Sugar and Orange Zest Mashed Sweet Potatoes
(makes around 8 servings)
Ingredients
1/4 cup plus 2 tablespoons (2.15 ounces) dark brown sugar, tightly packed
fresh zest from 2 medium-large oranges
6 large yams (around 4 pounds), peeled and cut into 1 1/2 to 2-inch chunks
3/4 cup (1 1/2 sticks // 6 ounces) unsalted butter, cut into 1-inch cubes
3 tablespoons whole milk
1 tablespoon kosher salt
Recipe
In a small bowl, combine 1/4 cup plus 2 tablespoons dark brown sugar and the fresh zest from 2 medium-large oranges. Use your fingers to rub the zest into the sugar; this will help release oils from the zest that will infuse your sugar with flavor. Set aside.
Bring a large stock pot of water to boil over medium-high heat. Add the yams, and let boil for 12 minutes or until a fork can easily pierce through one of the chunks. Drain immediately using a colander, and let stand undisturbed in the colander for 15 minutes.
Meanwhile, brown the butter. Place 3/4 cup unsalted butter in a medium, light-colored heavy-bottomed pan over medium heat. Whisk gently, as it continues to melt — the butter will become foamy and bubbly. After about 4 to 5 minutes, you should see brown bits start to appear at the bottom of the pan. The butter should be a golden color and emit a delicious, nutty aroma. Remove from heat immediately, and whisk for another 30 seconds before setting on a wire rack to cool.
Transfer the sweet potatoes (from the 2nd step) into a large bowl. Pour the browned butter (from the 3rd step) over the potatoes, along with 3 tablespoons whole milk, and 1 tablespoon kosher salt. Sprinkle the orange zest and sugar mixture (from the 1st step) over the potatoes. Toss the ingredients with a rubber spatula to ensure that the sugar is spread evenly throughout the potatoes, and finish by beating the potatoes with a handheld electric mixer or an immersion blender until smooth and creamy. Serve warm, with a sprinkling of salt and pepper. Enjoy!
Cornbread, Bacon, and Leek Stuffing
(makes around 8 servings)
Ingredients
8 slices smoked bacon, chopped into 1/2-inch pieces
4 leeks (white and green parts only), rinsed well and chopped into 1/2-inch pieces
1 cup (8.5 ounces) corn, fresh or canned (if canned, drained and patted dry)
2 tablespoons fresh thyme leaves
salt and pepper, to taste
16 cups sweet cornbread chunks, roughly cut into 2-inch pieces
2 1/2 cups low-sodium chicken stock
4 large eggs, lightly beaten
3 tablespoons butter, cut into small pieces
Recipe
Center a rack in the oven and preheat to 350 (F). Spray a 9 x 13-inch baking dish with a generous amount of cooking spray and set aside.
Meanwhile, cook 8 slices bacon in a large, high-sided skillet over medium heat until almost crisp, about 3 minutes. Remove from the pan with tongs and transfer to a plate lined with paper towels, reserving the bacon fat to cook the vegetables in. With the pan still over medium heat, add leeks to the pan. Cook until tender, stirring occasionally, about 10 minutes. Remove from pan and set aside. Next, cook the corn in the remaining bacon grease, cooking for about 5 minutes until you get a nice char on the kernels.
Transfer the bacon, leeks, and corn to a large bowl and season with 2 tablespoons fresh thyme leaves and salt and pepper. Add 16 cups cornbread and use a rubber spatula to toss the ingredients until well combined. In a large liquid measuring cup, combine 2 1/12 cups chicken stock and 4 large eggs. Drizzle the mixture over the cornbread and vegetables, tossing until combined and all the cornbread pieces are moistened.
Transfer the entire mixture to the prepared baking dish (from the 1st step). Dot with 3 tablespoons butter pieces and bake until golden brown, about 35 minutes. Enjoy!
Green Beans with Caramelized Onions, Crème Fraîche, and Za'atar
(makes around 8 servings)
Ingredients
1 tablespoon extra-virgin olive oil
2 large (around 1.5 pounds) sweet onions, peeled and thinly sliced
Coarse salt and pepper
2 pounds green beans, trimmed
1 cup (8 ounces) vegetable oil
3 large shallots, peeled and sliced lengthwise about 1/8-inch thick
3/4 cup (6 ounces) crème fraîche
2 heaping tablespoon za'atar, plus more for garnish
Lemon juice, for drizzling
Extra-virgin olive oil, for drizzling
Coarse salt and pepper, for serving
Recipe
First, begin by caramelizing the onions. This is probably the most time-intensive part of the recipe, so I recommend that you make the onions beforehand — they'll keep for a week or more in the fridge in a tupperware container. Start by heating 1 tablespoon extra-virgin olive oil in a 10- or 12-inch cast iron skillet over medium-high until the oil is very, very hot but not smoking. Add 2 large thinly sliced sweet onions and season to taste with coarse salt and pepper. The onions will be piled up high, probably to the rim, but let them cook undisturbed for 2 to 3 minutes.
Carefully toss the onions, and while doing so, season them with more salt. Now you've got 50 or so minutes of onion cookery ahead of you. For the first 15 minutes, you want the onions at the bottom of the pan to be slowly but steadily taking on color. Do NOT press down on the onions with a spatula to try and speed up this process — be patient! Just keep turning the whole pile of onions over on itself every 3 to 4 minutes.
After the mass of onions in the pan has significantly reduced in volume, turn the heat to medium-low and stir. Turn the onions every 10 minutes or so to make sure that they don't start to stick or burn at any point. Slow and steady wins the race — you want the onions to soften and sweeten, but not to dry out. This should take around 50 minutes. The onions will be ready when they are sweet, with a deep roasted flavor that's almost mushy, but not quite.
Meanwhile, in a large pot of boiling salted water, cook green beans for about 6 minutes, or until crisp-tender and bright green. Drain immediately using a colander, and set aside.
Next, it's time to crisp up the shallots. Place 1 cup vegetable oil in a small saucepan. Add 3 large, thinly sliced shallots and place pot over medium heat. Cook gently, stirring occasionally, for about 15 minutes or until the shallots become golden brown. Don't be afraid to turn down the heat if they seem to be coloring too quickly!
Place a fine-meshed sieve over a bowl. Transfer shallots to the sieve and drain well, saving the oil for another purpose. Blot the shallots on paper towels — they will become crisp as they cook. Sprinkle lightly with salt.
In a medium bowl, gently whisk together 3/4 cup (6 ounces) crème fraîche and 2 tablespoons za'atar until the crème fraîche gets studded with herbs.
Transfer to a serving plate, spreading evenly across the plate's surface. Top with the green beans, caramelized onions, and crispy shallots. Drizzle with lemon juice and olive oil; garnish with salt, pepper, and additional za'atar to taste. Enjoy!
Pumpkin Meringue Pie with a Speculoos Crust
(makes one 9-inch pie)
Ingredients
For the Speculoos Crust:
10 ounces speculoos cookies
1 tablespoon dark brown sugar, tightly packed
1 teaspoon kosher salt
1/2 cup (4 ounces) unsalted butter, melted and cooled
For the Pumpkin Filling:
1 can (15 ounces) pumpkin puree
1/3 cup (2.35 ounces) granulated sugar
2 tablespoons dark brown sugar, tightly packed
2 teaspoons ground cardamom
1 teaspoon ground cinnamon
1/2 teaspoon kosher salt
1 can (14 ounces) sweetened condensed milk
2 large eggs, at room temperature
For the Meringue Topping:
3 large egg whites
1 teaspoon pure vanilla extract
1 1/2 cups (10.5 ounces) granulated sugar
1/4 cup (2 fluid ounces) water
1/4 teaspoon cream of tartar
Recipe
First, make the crust. Center a rack in the oven and preheat to 350 (F).
In a food processor, combine 10 ounces speculoos cookies, 1 tablespoon dark brown sugar, and 1 teaspoon kosher salt. Pulse together until coarse and well combined. While continuing to pulse, stream in 1/2 cup melted unsalted butter and continue pulsing until the crumbs come together in giant clumps.
Use a rubber spatula to transfer the crumbs into an ungreased 9-pinch tart pan with high sides and a removable bottom. Use your fingers and the back of your hands to press the crumbs onto the bottom and sides of the pan, creating an even layer. The bottom and sides of the crust should be around 1/4-inch thick.
Bake in the preheated oven for 8 minutes, then transfer to a wire rack to cool slightly while you make the filling. Be sure to keep the oven on!
Next, make the filling. In a large, heavy-bottomed pot over medium heat, combine 1 can pumpkin puree, 1/3 cup granulated sugar, 2 tablespoons dark brown sugar, 2 teaspoons ground cardamom, 1 teaspoon ground cinnamon, and 1/2 teaspoon kosher salt. Cook for 5 minutes, using a heatproof rubber spatula to scrape the bottom and sides of the pan frequently. The mixture should start to sputter around 2 to 3 minutes in — don't be afraid, this is what you want! You're trying to cook off as much water from the pumpkin as possible to prevent your pie from being full of holes and pockmarked with bubbles. By 5 minutes, the mixture should become thick and glossy.
Remove from heat and slowly stream in 1 can sweetened condensed milk while continuing to whisk the mixture. Continue whisking until the sweetened condensed milk is fully incorporated, before whisking in 2 large eggs one at a time, only adding the second egg when the first has fully incorporated into the mixture.
Once the eggs are fully incorporated, carefully pour the mixture into the prepared cookie crust shell. Bake for 35 to 40 minutes in the preheated oven, or until the edges of the filling have set. The filling may have bubbled and puffed slightly in the oven, but don't worry — it settles down as it cools. You can use a knife to tap on the sides of the tart pan to test the filling; the middle should wobble slightly, but the edges should stay in the same place. Be careful not to overcook — it's better to pull it out of the oven earlier than later, as the filling will continue to cook after it's pulled out the oven. Transfer to a wire rack and cool completely until fully set.
Once the pie has completely cooled, it's time to make the meringue topping. Once the cupcakes have cooled to room temperature completely, make the icing. In the bowl of a freestanding electric mixer fitted with a whisk attachment, combine 3 large egg whites and 1 teaspoon pure vanilla extract. Set aside.
Combine 1 1/2 cups granulated sugar, 1/4 cup water, and 1/4 teaspoon cream of tartar in a medium, heavy-bottomed sauce pot. Stir to combine and fit a candy thermometer to the side of the pot. Place over medium heat and cook until the mixture boils, thickens, and reaches 240 (F). Once the mixture reaches 240 (F), immediately pour it into a liquid measuring cup to prevent it from getting hotter.
Return to the egg whites and turn the mixer to medium speed. With the mixer on medium speed, slowly pour the sugar syrup into the egg whites, aiming for the side of the bowl rather than the whisk and egg whites. When all the syrup is added, turn the mixer to medium-high and whisk until the icing becomes shiny, thick, and holds a firm peak. This should take around 10 minutes — don't whisk any longer than that, or the icing will become too thick to spread and pipe!
Transfer to a piping bag with a start tip and use immediately, piping a meringue pattern on top of the pie. Gently torch the meringue with a chef's torch; be careful at this point, the meringue burns very, very quickly! Enjoy immediately.
Want to be everyone's favorite hostess? Check out the Holiday section of our blog for even more recipes!