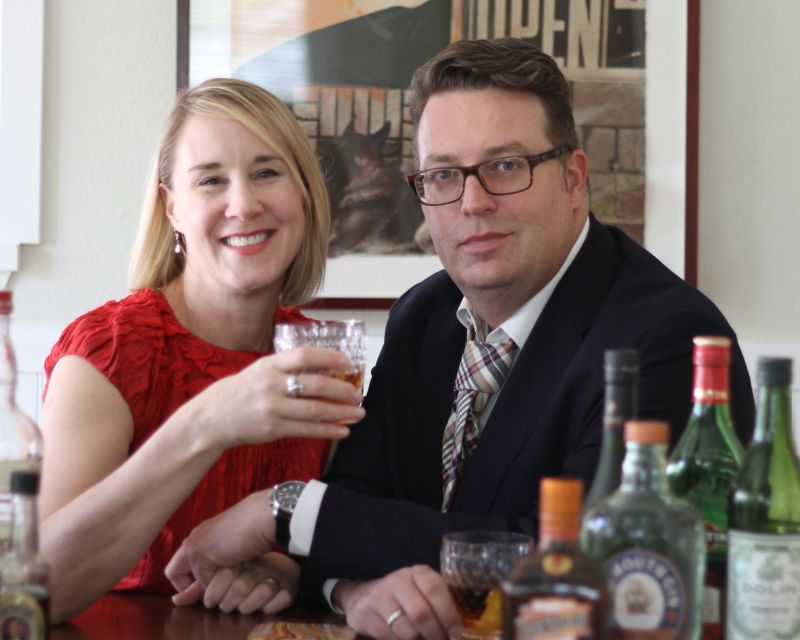 12bottlebar.com
Awards season has officially arrived. We've partnered with David and Lesley Jacobs Solmonson of 12 Bottle Bar to bring you a cocktail truly fitting of the occasion.
In 1902, the Hollywood Hotel claimed the northwest corner of the intersection of Highland Avenue and a rural street then known as Prospect, later to become Hollywood Boulevard. Originally designed as a place for visitors to the growing bucolic town of Hollywood, the hotel soon became a haven for the worst kind of person in those days — actors. As studios began to spring up around central Los Angeles and downtown LA was an hour away, the Hollywood Hotel played host to a rotating roster of future movie stars and workaday thespians. And, of course, where there are actors, there's a party.
Well into the 1930s, the hotel attracted the crème de la crème of the Hollywood elite, all of whom wanted to be at the center of the action. And, despite both local and national bans on the hard stuff, "action" meant booze and booze meant nightclubs. In the 1920s and 1930s, the four corners of Hollywood and Highland were hopping. One corner was home to a posh private venue called the Hi-Ho Club, whose signature drink was, as you might have guessed, the eponymously named Hi-Ho Cocktail.
There are so many reasons that this martini riff is apropos of the current awards season. First, of course, it is a classic Hollywood cocktail, once sipped by the stars. Second, it originated at a golden era Hollywood night spot where every actor went to see and be seen.
About the Hi-Ho Cocktail
The Hi-Ho is a martini in slightly less herbaceous clothing. Rather than relying on the usual vermouth, the drink invites white port and Old Tom Gin to the party. Without descending into further technicalities, vermouth has added botanicals, while port does not. So, where the vermouth would add a more pronounced herbal note to a drink, the white port imparts a less vegetal, slightly fruitier character. White ports range from dry to semi-sweet; the one you choose will noticeably affect the final product. We tend to favor those on the drier side.
Old Tom Gin, meanwhile, is a style that bridges the gap between genever (a more whiskey-like spirit) and dry gin (which is, by definition, unsweetened.) Over the last roughly five years, a number of Old Toms have appeared on the market, each offering a distinctive iteration of this slightly sweeter, botanical style of gin. Some are clear in color and subtle in spice and sweetness; others can be bold and dark in color. Your choice will, of course, influence the final cocktail.
So, here we are, in the midst of awards show season. We think the Hi-Ho is the ideal match for this glamorous, star-studded time of year. It offers what so many stars hope to achieve: being classic with a twist. One glance at any year's red carpet (or the following week's tabloid magazines) will tell you that how you dress up your craft is as important as the craft itself. For our Hi-Hos, we prefer the minimalistic yet very noir Orb Silver Tray bedecked with a pair of timeless Callaway Martini Glasses. Stirring up two drinks on the spot is a snap with a large Cocktail Mixing Glass, a Bar Spoon with Muddler, and a Carter Spring Strainer. Of course, be sure to complete the job and present your popcorn in true silver screen style with the Easton 2-Part Stainless Steel Server. After all, no star worth their Walk of Fame star would be caught dead with a greasy paper bucket.
Granted, we might have offered up a more tongue in cheek cocktail inspired by a movie. But if we did that, you would have been mixing something far more prosaic than a martini riff.
2

ounces

Old Tom Gin

1

ounce

white port

1

dash orange bitters

Lemon twist
2

ounces

Old Tom Gin

1

ounce

white port

1

dash orange bitters

Lemon twist
Combine all ingredients in a mixing glass.

Fill with cubed ice and stir vigorously for 30 seconds.

Strain into a chilled martini glass or coupe.

Twist a section of thin lemon peel over the glass to express the oils, then use to garnish the glass.
Want more cocktail ideas from 12 Bottle Bar? Check out the Cocktails section of our blog!