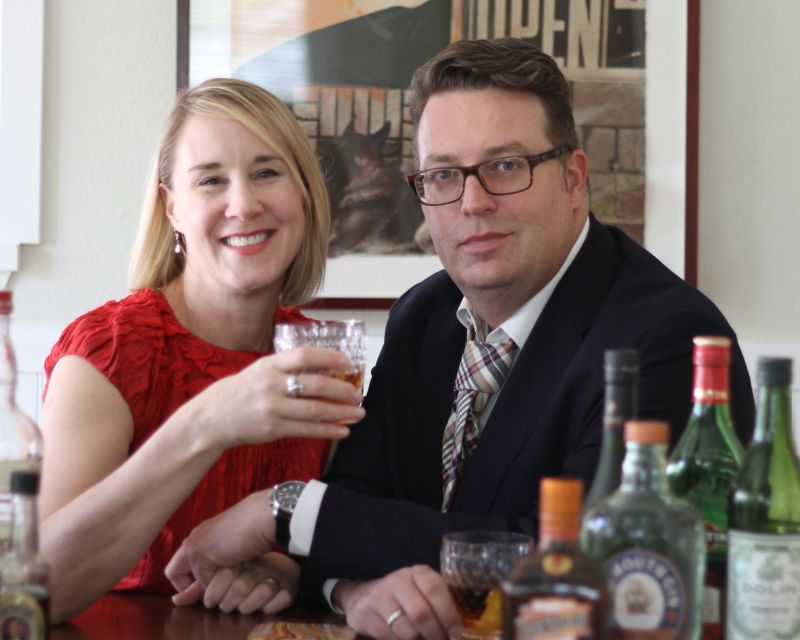 12bottlebar.com
This holiday season we've partnered with some of our favorite bloggers who will be showing you new and inspirational ways to bring the holidays home.
Entertaining this holiday season? We've partnered with David and Lesley Jacobs Solmonson of 12 Bottle Bar to bring you 12 new cocktails, one each week from now until New Years. Cheers!
The original Gin Punch was called a Holland Gin Punch. Holland, of course meant Dutch and Dutch meant genever. As the more whiskey-like grandpappy to modern dry and artisan gins, genever adds a deeper, more malted (because of the malted barley in the grain base) character. For this version, we've chosen to use dry gin, which gives the drink a lighter, brighter profile.
About Gin Punch
The basis of punch is simple, but each of the ingredients is essential. As the old recipe rhyme went, "One part sour, two parts sweet, three parts strong, four parts weak." Take a quick glance at the recipe below and you can see the proportions in working form. Lemon is your sour, sugar your sweet, gin your strong, and water your weak. Once you master these proportions, you will be king or queen of your holiday entertaining domain.
You see, punch is the ultimate chameleon. You can alter it to your whims switching out ingredients, as long as the core remains. With this punch, we substituted dry gin for the genever. Depending on the gin you choose, you will further customize the drink. We chose a more juniper-forward gin for its affinity to the scents and flavors of the season; there are plenty of artisan gins whose profiles range from floral to fruity with the juniper being less prominent. And by all means, if you aren't a gin lover, turn to whiskey or rum as your tipple of choice.
On to the citrus. Lemon is the natural choice, but you can choose the citrus that you feel accentuates the punch best, as long as it has a sour tang to it. Same goes for sugar. The choices are vast from standard granulated to demerara (which we favor a good deal of the time for its light caramel quality) to the more robust muscavado.
This punch can be scaled up or down for a crowd or a smaller gathering and is a breeze to make. It's warming without being overpowering; while it has the same amount of alcohol as a cocktail, it doesn't have the same boozy kick as many spirit-forward drinks. Punch has been drunk since the 1700s and there's a reason it has managed to hang around. Its four basic ingredients aptly display how less can be so much more.
As for the cooking method, we were graced with a rich red La Creueset French Oven. At 7.25 quarts, it will handle a batch of punch with ease and its bright, festive color will call out to your guests to help themselves. A heat proof glass is essential and the clear Mallorca cup (with or without its white saucer) fits the bill.
To peel the lemon in one smooth motion, we used the Wüsthof Classic 3.5 inch Paring Knife. The end wood cutting board was the ideal spot to rest the french oven when it was removed from the stove.
1 750

ml

bottle dry gin

Peel of 1 Lemon

2

ounces

of demerara sugar

by weight

8

ounces

plus 40 ounces boiling water

1 750

ml

bottle dry gin

Peel of 1 Lemon

2

ounces

of demerara sugar

by weight

8

ounces

plus 40 ounces boiling water

Peel lemon, removing as little of the pith as possible.

Combine lemon peel and sugar in heatproof bowl or pot; set aside for one hour.

Add eight ounces boiling water to lemon and sugar. Stir to dissolve sugar.

Add gin, then add 32 ounces of the remaining water (plus more to taste).

Keep punch warm on stove, by fire, or in a crock pot.
Looking for more cocktail ideas? See what else we're mixing up.