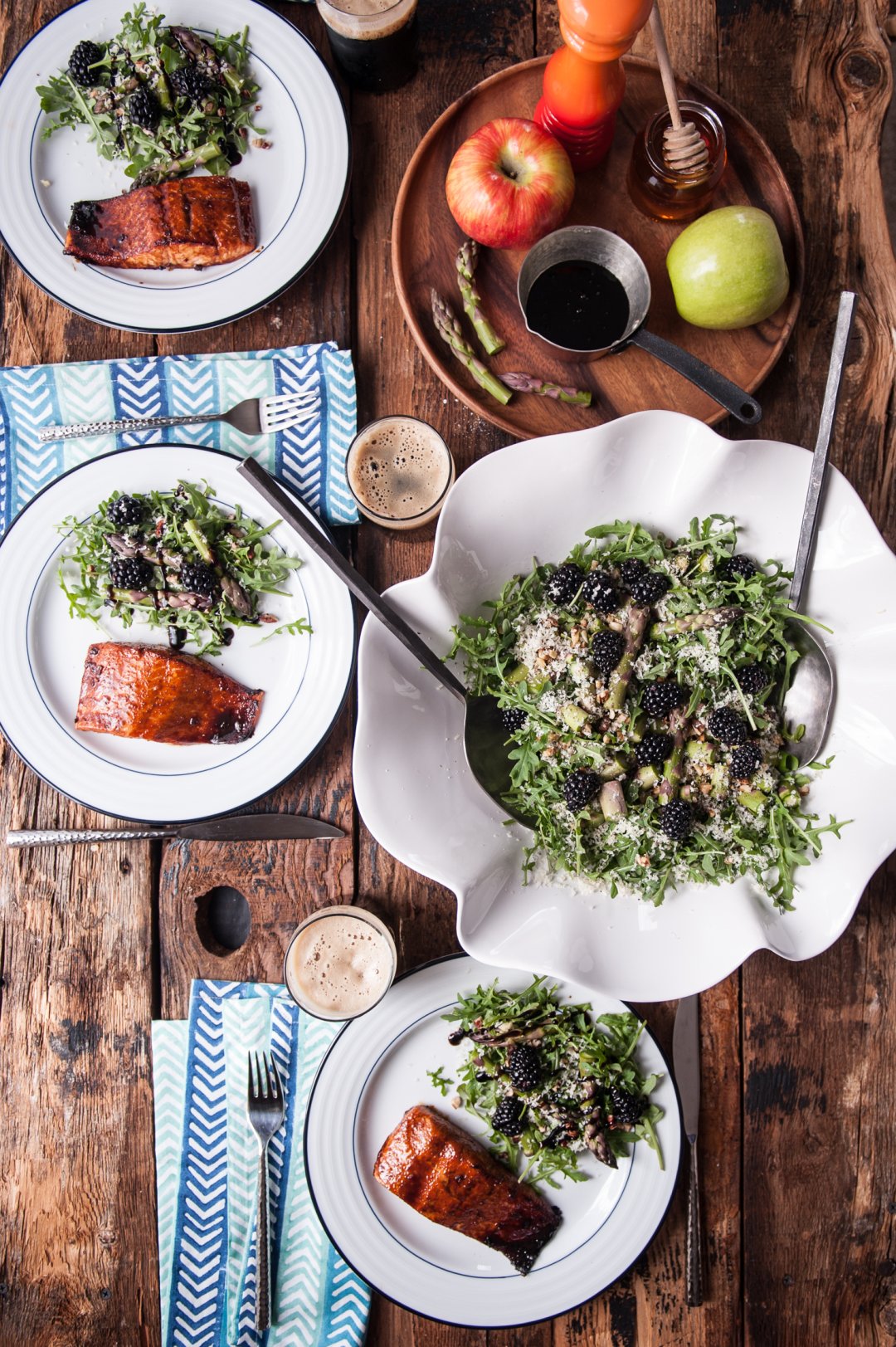 thebeeroness.com
This summer, we're taking a foodie road trip to visit some of our favorite bloggers, so they can share a little about what makes the food in their corner of the United States special. First stop? Jackie Dodd, founder of the Beeroness, in Seattle, WA.
I moved to Seattle two years ago from the abundant landscape of California. I was worried at first, as everything is always in season in California and the produce is world class. Would I miss it? The strawberries-are-always-ripe world I was leaving behind? The state that grows 50% of the produce for the entire United States? What am I going to do?!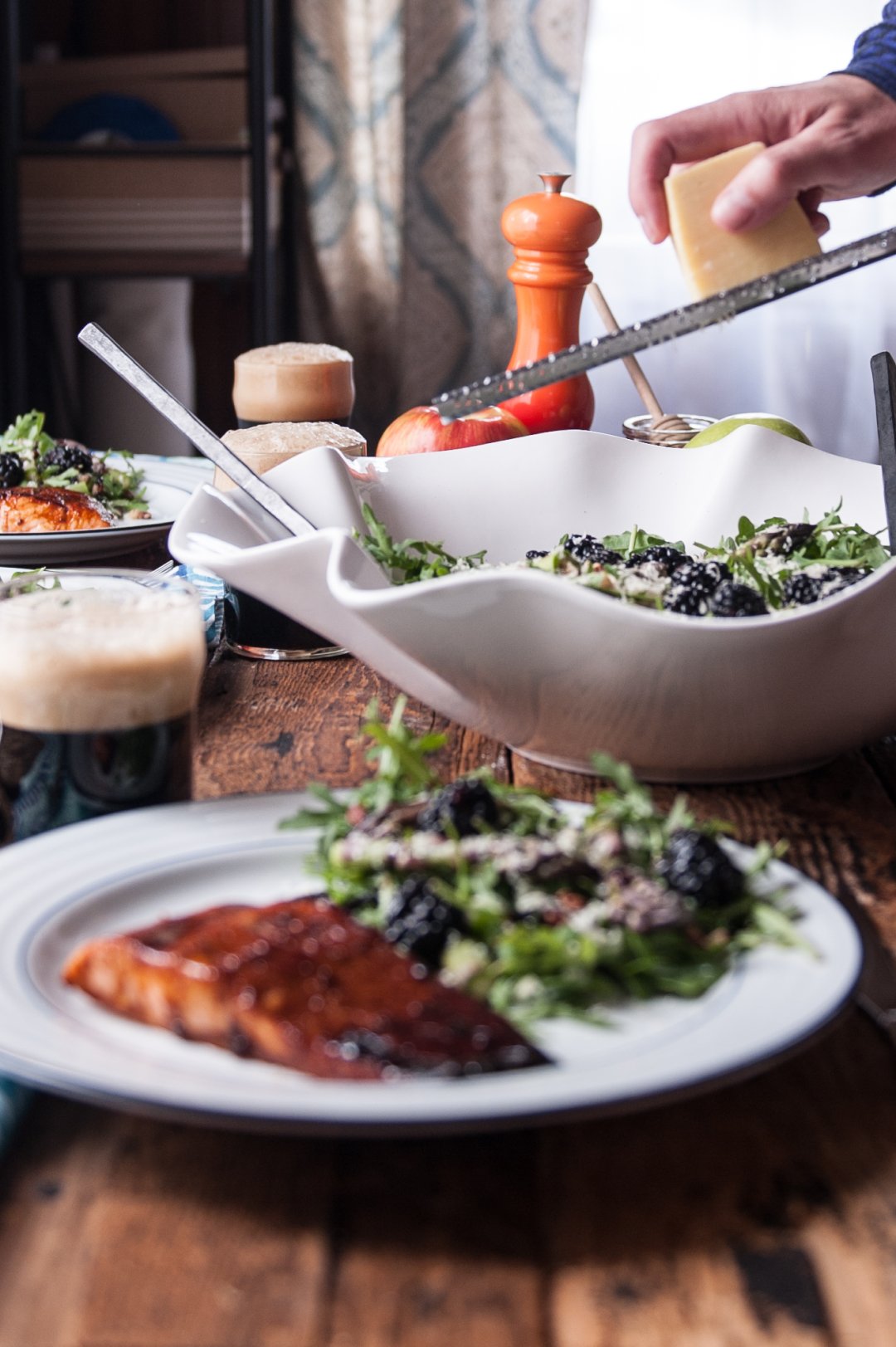 Seattle always has a way of surprising me. A way of showing up to the table with more than it had promised. The weather (I hate to break it to the rest of the world) is beautiful. The fall is unspeakably gorgeous, the winter is mild and the summer is warm and beautiful. The rain doesn't come nearly as often as you've been told. And the food… Oh my, the food!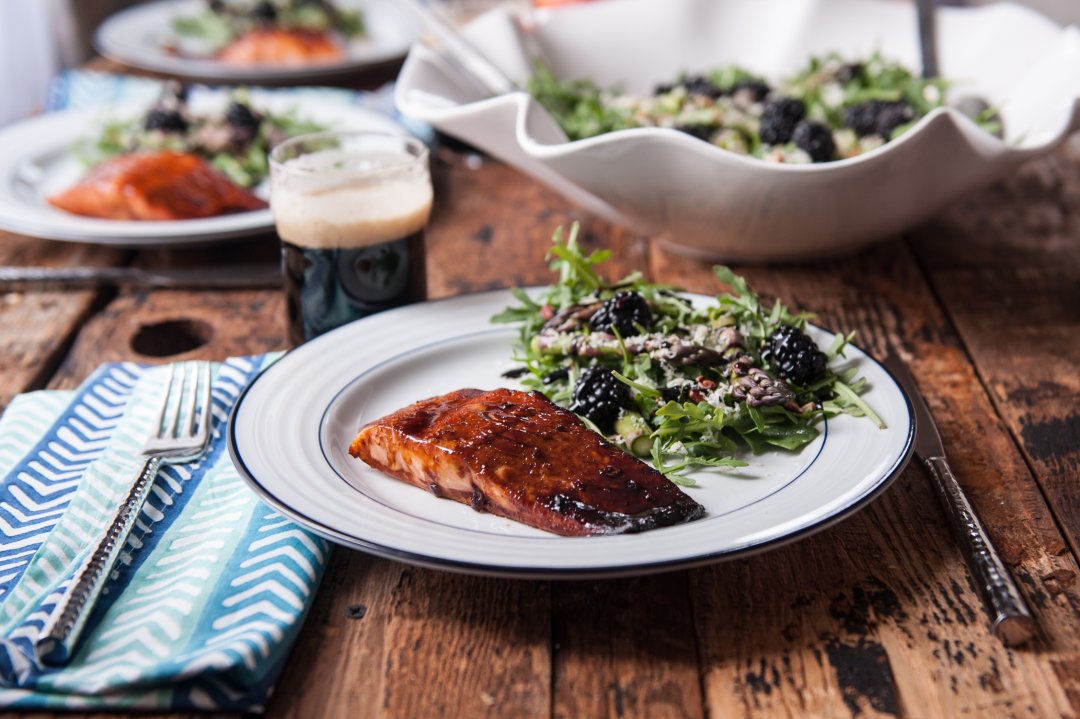 The seafood is world class. The Puget Sound fills our plates with crab, salmon and oysters in such abundance it's hard to even think about living anywhere else. The first summer I lived in the Pacific Northwest I watched the thicket in my backyard slowly produce blackberries. The vines crisscross the city like out-of-control weeds and give up plump delicious little berries as if to offer an apology for their intrusion. I wandered around my yard collecting as many as I could carry, bringing back three pounds of perfectly ripe and juicy blackberries.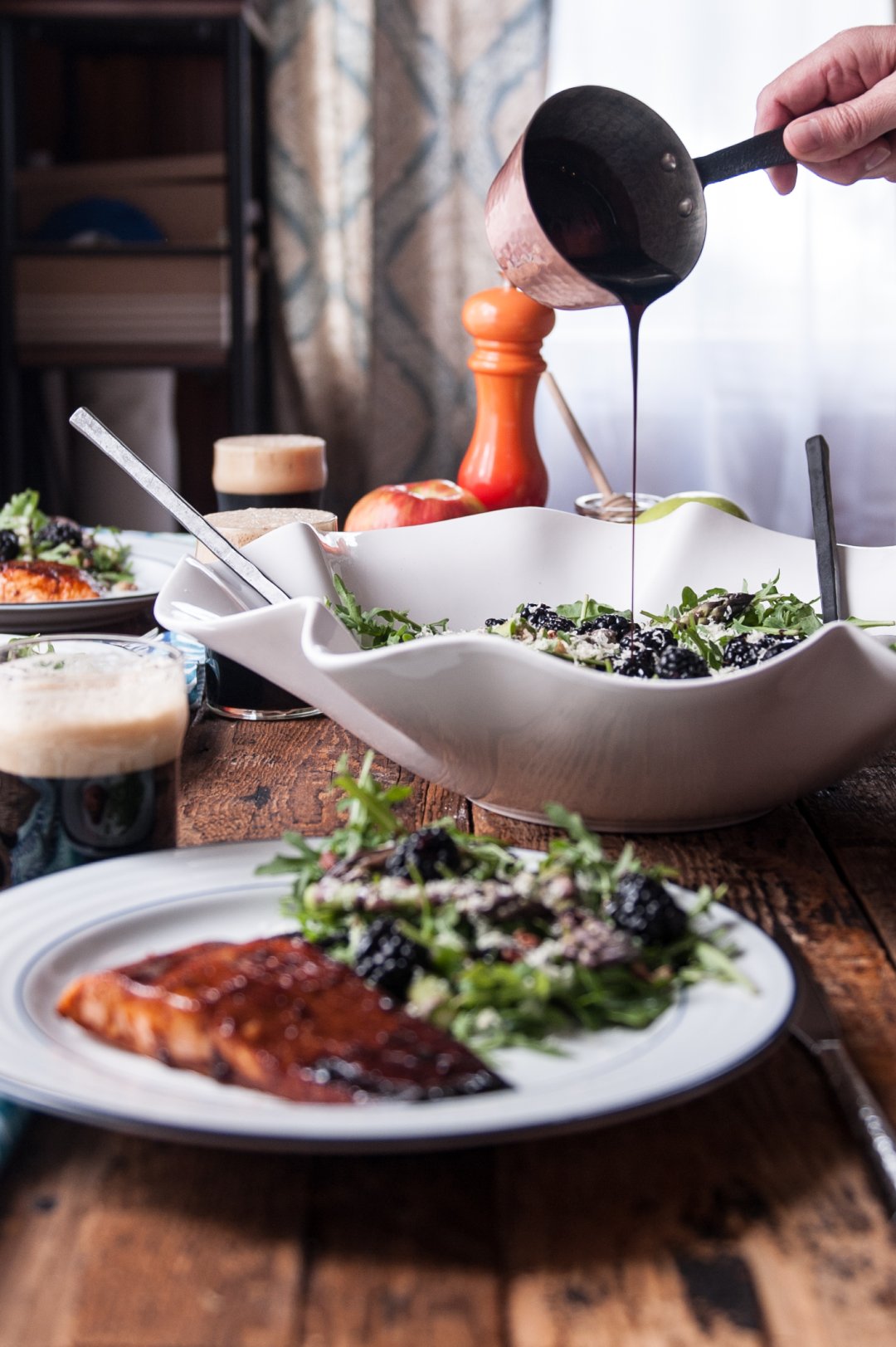 I felt at home right away. Of course I knew the beer scene was incredible, the hops grow better in this region than anywhere else in the world. But even with my expectations so high, Seattle had a way of impressing me once again. The beer was even better than I'd hope. So I'll stay here a little longer. Surrounded by incredible beer, wild blackberries and world-class seafood. You'd be hard pressed to find a better place to end up.
Honey Stout Glazed Salmon Recipe with Asparagus Blackberry Salad
For the salmon
1 tablespoon olive oil
¼ cup shallots
2 tablespoons balsamic vinegar
½ cup stout
3 tablespoons honey
¼ teaspoon smoked paprika
¼ teaspoon chili powder
¼ teaspoon onion powder
1 teaspoon cornstarch
4 (4-6 ounce) Salmon fillets
½ teaspoon salt
For the salad
2 cups baby arugula
1 pound asparagus, trimmed and cut into ½ inch pieces
1 cup fresh blackberries
1/3 cup fresh shaved parmesan
¼ cup candied pecans, chopped
¼ cup balsamic glaze
Fresh cracked pepper
Heat the olive oil in a saucepan over medium high heat. Add the shallots and cook until just starting to brown, about 5 minutes.
Whisk in the balsamic vinegar, stout, honey, paprika, chili powder, onion powder and cornstarch.
Simmer until thickened, about 8 minutes.
Preheat oven broiler. Cover a baking sheet with aluminum foil. Add the salmon to prepared pan, sprinkle with salt.
Brush salmon with glaze, place under the broiler for two minutes. Remove salmon from the oven, re-brush with glaze, broil for two additional minutes. Repeat until salmon is cooked through and flakes easily with a fork.
In a large bowl toss together the arugula, asparagus, blackberries, shaved parmesan and pecans. Drizzle with balsamic glaze, sprinkle with pepper to taste.
Divide salad between four plates alongside the salmon.
Miss a stop on our road trip? Catch up.