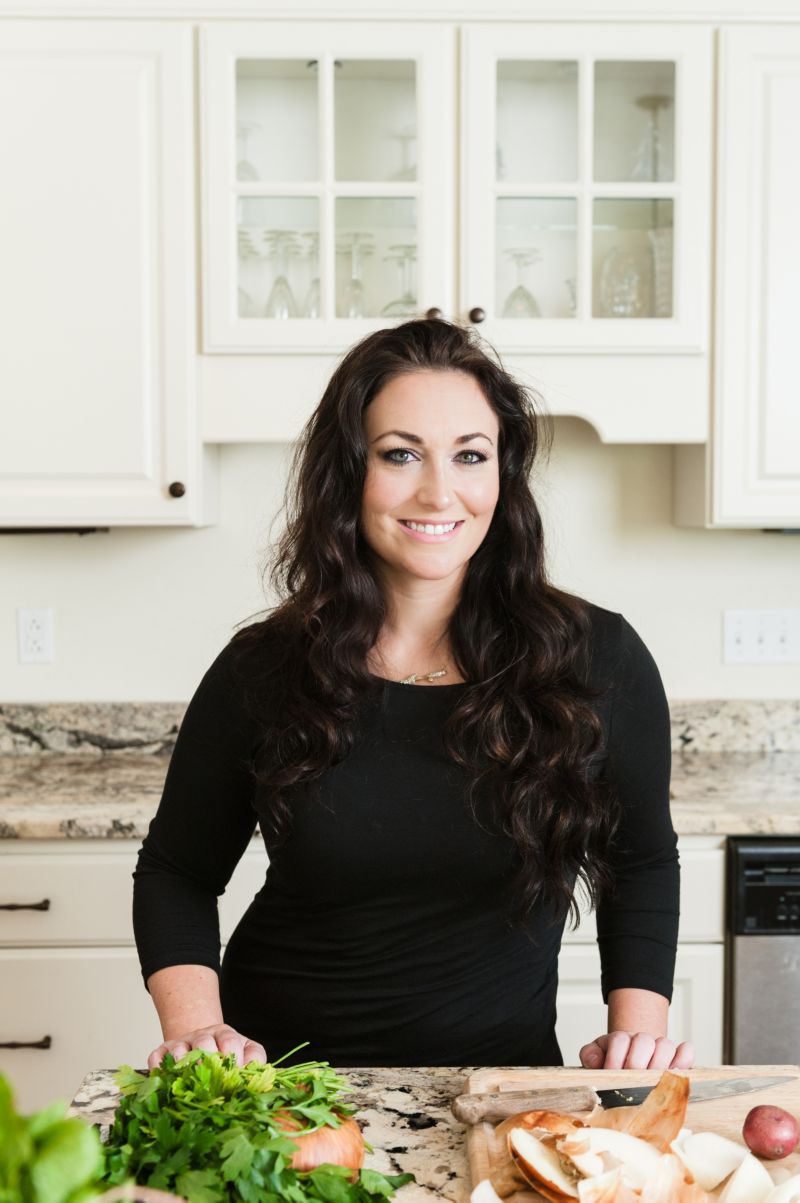 howsweeteats.com
This holiday season we've partnered with some of our favorite bloggers who will be showing you new and inspirational ways to bring the holidays home.
A little luck never hurts, especially at the start of a new year. We've partnered with Jessica Merchant, founder of How Sweet It Is, to make a feast of foods that are said to bring good luck to those that eat them. Fingers crossed!
Are you superstitious?
I'm not entirely, perhaps not at all, but that doesn't mean I won't follow a couple fun traditions that MIGHT bring me some luck, such as good luck foods. Especially when it means luck for the entire year? That sounds like something I can get behind.
One thing that has stuck in my mind for years is the luck of odd and even years – and I have to say that I'm looking forward to that even numbered 2016 year a whole bunch.
My family always has some sort of pork on New Year's Day, usually a pulled pork roast that we make into sandwiches or eat with leftovers from the previous night's party. I'm not really a sauerkraut girl, so I'm always looking for different way to serve the meat. Pork is probably my favorite meat…so finding ways to love it isn't very difficult.
This year, enter: a pulled pork panini! GAH. I hardly can stand it. Using a panini maker is easier than prepping your own grilled cheese and having to flip it without losing all the delicious contents. And do you know what else it means? You can stuff even MORE flavor into the sandwich!
More, more, more. We want more!
In this case we have a super easy chipotle apple butter spread. Seriously, so easy. It's just apple butter whipped with some chipotle peppers and seasoning. It's sweet but also has a kick and is exactly what the pork needs.
I know that collards and more fibrous greens are supposed to bring you luck the entire year (think, dollar signs!), but I figured that spinach was close enough for this one and added some to said panini. Finished off with some grated sharp white cheddar cheese, this is just a dream. The perfect food for good luck, but also for…lunch?
Next up, noodles! In many Asian countries, people eat long noodles at the New Year in hopes of a long life. We have some cold sesame soba noodles that are to die for – and can easily be made ahead of time. In fact, they taste best when made ahead of time so that the flavors have time to marry. And you can totally serve them warm, but cold – yes yes. They remind you of late night takeout, eaten in the dark kitchen over the sink.
The noodles are tossed with soy sauce and rice vinegar and garlic and drizzled with toasted sesame oil, which is one of my favorites. (Side note: I love using the sesame oil on salads and in soups too. It adds a ridiculous amount of flavor.) I love using a mandolin to add thinly sliced cucumber to the salad too, along with sliced scallions. And if you're feeling it, you could even add chicken or pork! This pork recipe below will leave you with some leftovers, so get to it.
To get our REAL greens in, I made a big batch of warm cheesy polenta and topped it with double the luck: lentils and sautéed rainbow chard. Both are thought to bring wealth and abundance. Plus, this is like comfort in a bowl and, well, if this comfort will make me have a killer 2016, I may just eat it every night.
Pulled Pork Panini Recipe
Serves 4
Pulled Pork Ingredients
3 pound pork shoulder
2 teaspoons brown sugar
1 teaspoon salt
1 teaspoon pepper
1 teaspoon smoked paprika
1 teaspoon garlic powder
1 teaspoon onion powder
2 tablespoons vegetable oil
¼ cup beer
Directions
Season the pork with the sugar, salt, pepper, paprika, garlic and onion powder. Heat a large skillet over medium-high heat and add the oil. Sear the pork shoulder on all sides, until deeply golden brown. Place the pork in a slow cooker and pour the beer over top. Cook on low for 8 to 10 hours.
Once the pork is cooked, shred it with a fork. This recipe will leave you with leftovers!
Panini Ingredients
2/3 cup apple butter
1 chipotle pepper in adobo sauce, minced
1 teaspoon adobo sauce (from the can of peppers)
8 slices rustic Italian bread
4 cups baby spinach
8 ounces white cheddar cheese, freshly grated
softened butter for spreading
Directions
Stir the apple butter, chipotle pepper and adobo sauce in a bowl until combined. To make the panini, spread both insides of bread with the apple butter mixture. Top with cheese (I like cheese on both sides to act as "glue") and fresh spinach, then top with a few handfuls of pork. Finish with more cheese and spinach. Butter the outsides of the bread and place them on the panini maker. Cook until the outsides are golden brown and the cheese is melty!
Cold Sesame Soba Noodles Recipe
Serves 4
Ingredients
1 (9-ounce) package soba noodles
3 tablespoons toasted sesame oil, plus extra for drizzling
2 tablespoons soy sauce
2 tablespoons rice vinegar
1 tablespoon chili garlic paste
1 tablespoon honey
1 garlic clove, minced
1 teaspoon freshly grated ginger
4 scallions, thinly sliced
1 seedless cucumber, thinly sliced
1/3 cup toasted sesame seeds
Directions
Cook the soba noodles according to the package directions and drain. Rinse with cold water then toss with a drizzle of toasted sesame oil.
In a bowl, whisk together the toasted sesame oil, soy sauce, vinegar, chili garlic paste, honey, garlic and ginger. Pour the mixture over the noodles and toss. Toss in the scallions, cucumber and sesame seeds. Refrigerate for an hour or so before serving. If needed, drizzle extra sesame oil on before serving.
Cheesy Polenta with Lentils and Rainbow Chard Recipe
Serves 4
Ingredients
4 cups low-sodium chicken stock
3/4 cup polenta (coarse grind cornmeal)
2 tablespoons unsalted butter
6 ounces fontina cheese, freshly grated
¼ teaspoon salt
¼ teaspoon freshly ground black pepper
2 tablespoons olive oil
2 bunches rainbow chard, thick stems removed and chopped
2 garlic cloves, minced
1 cup cooked lentils
Directions
Bring the chicken stock to a boil in a saucepan. Slowly whisk in the polenta. Turn the heat down to medium low and continue to stir until the mixture thickens. Once the mixture has come together and the cornmeal is thoroughly combined, reduce the heat to low and cover. Cook until the polenta is creamy and resembles the consistency of oatmeal, stirring occasionally, for about 30 minutes. If at any time the polenta looks parched, dry or too thick, add in some extra chicken stock ¼ cup at a time. After 30 minutes, stir in the butter, cheese, salt and pepper.
While the polenta is cooking, heat a large skillet over medium-low heat. Add the olive oil then stir in the chard and garlic, cooking until it is wilted down. Sprinkle with salt and pepper.
To serve the polenta, spoon it into a bowl and top with the rainbow chard. Cover with the lentils and serve immediately.
Hosting a New Year's celebration? Now that you have the menu, get 7 Essentials for New Year's Eve Party from Hommemaker