Go ahead, invite people over. Our ready-to-host menus are impressive and delicious—and easy to pull off, we promise. Read on for recipes, chef's tips, presentation tricks and shortcuts. Who's going to have fun at this party? You.

crateandbarrel.com
Harvest Gathering
The best chef wisdom we've heard all year? "If it grows together, it goes together." Sure, it's a bit unexpected to layer a salad with late-summer tomatoes and early fall squash, but as it turns out, they're a natural pair. Our bountiful, soup-and-salad spread dishes up all the best flavors of the season, and it makes a perfect late lunch or family-style dinner at dusk. The harvest party menu requires little prep and cook time, so kick back and let the just-picked ingredients shine.
Gewürztraminer: say it three times fast.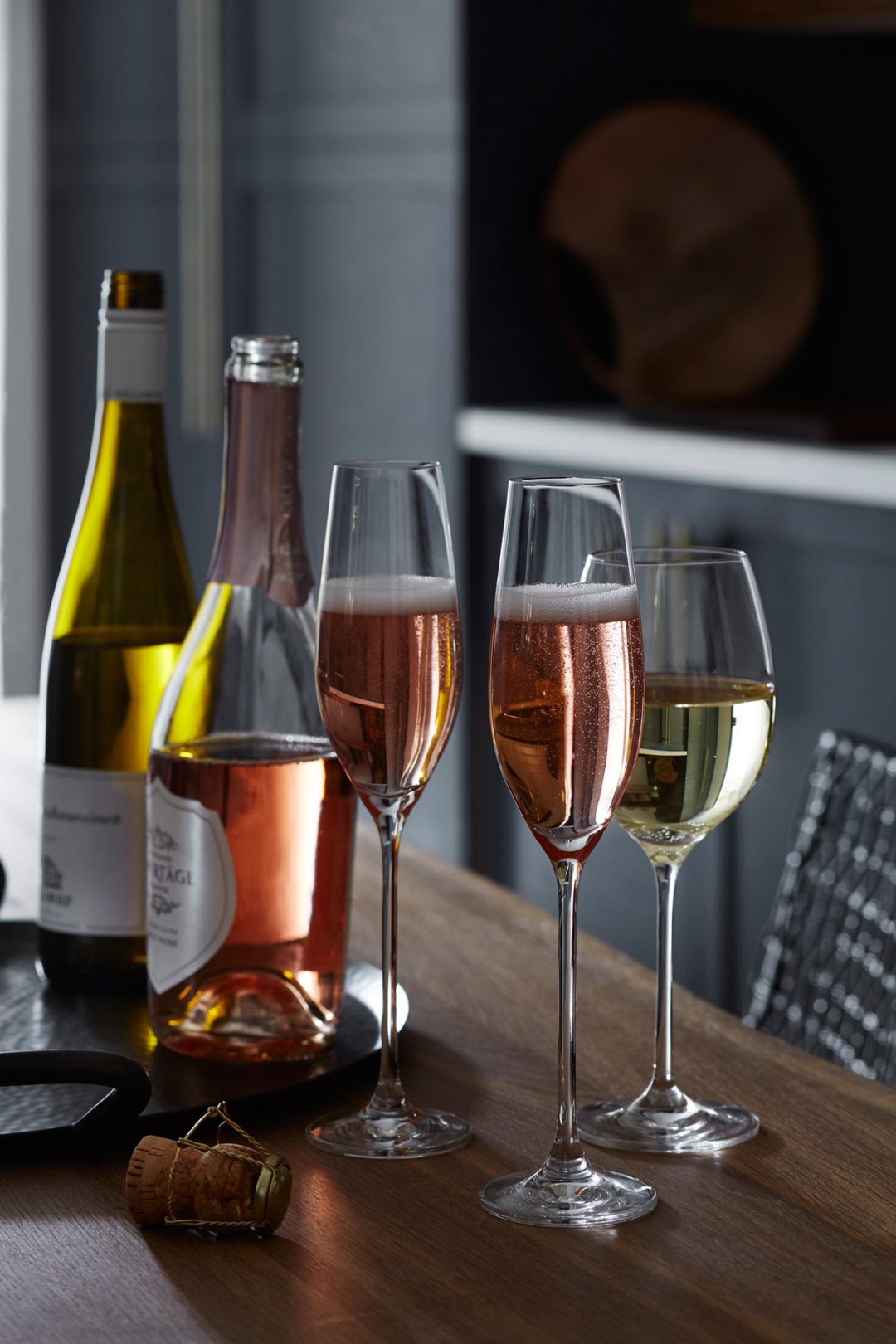 Sparkling whites and dry rosés are easy picks for our menu of ripe garden flavors. To surprise your guests--and maybe introduce them to something new--try adding the lesser-known Gewürztraminer varietal to your lineup. Its sweet and spicy aromas will fit right in on a warm August evening.
The salad they'll keep talking about.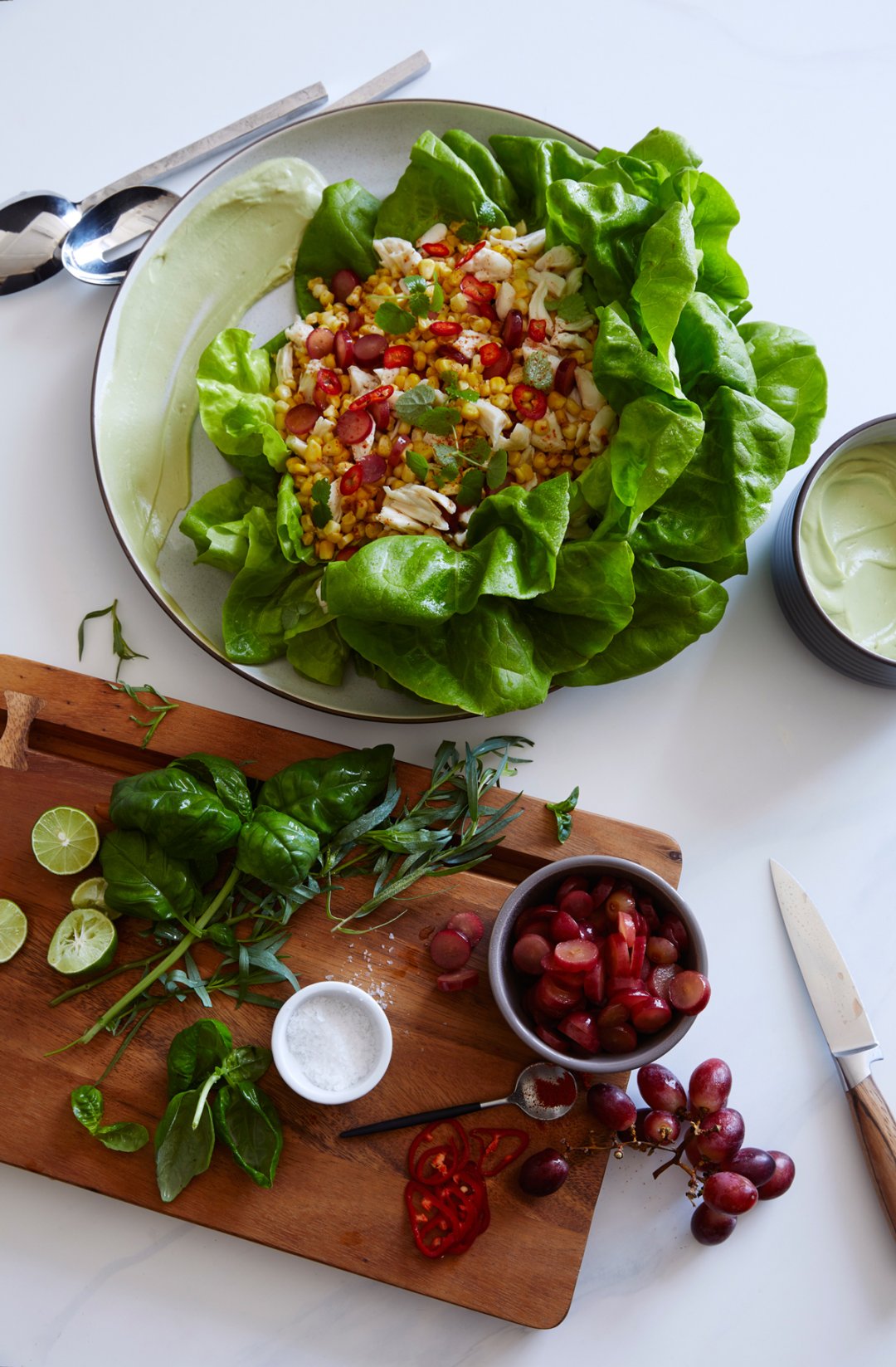 Salads are the perfect "shoulder season" dish to celebrate the harvest: not too heavy, plenty of creative freedom and an easy way to show off a little bit of everything. You can prep the ingredients for all of the salads on this menu ahead of time--just mix in the dressings right before serving. This corn and crab beauty adds an indulgent note to our menu with its tender bites of fresh seafood and creamy avocado buttermilk dressing.
Chef's Tip: To save time, buy your favorite buttermilk-based dressing and combine with a ripe avocado in a Vitamix. And to save on the tab, chat with your local fish monger about fresh, less expensive alternatives to jumbo lump crab—in a pinch, you can substitute fresh-cooked large diced shrimp.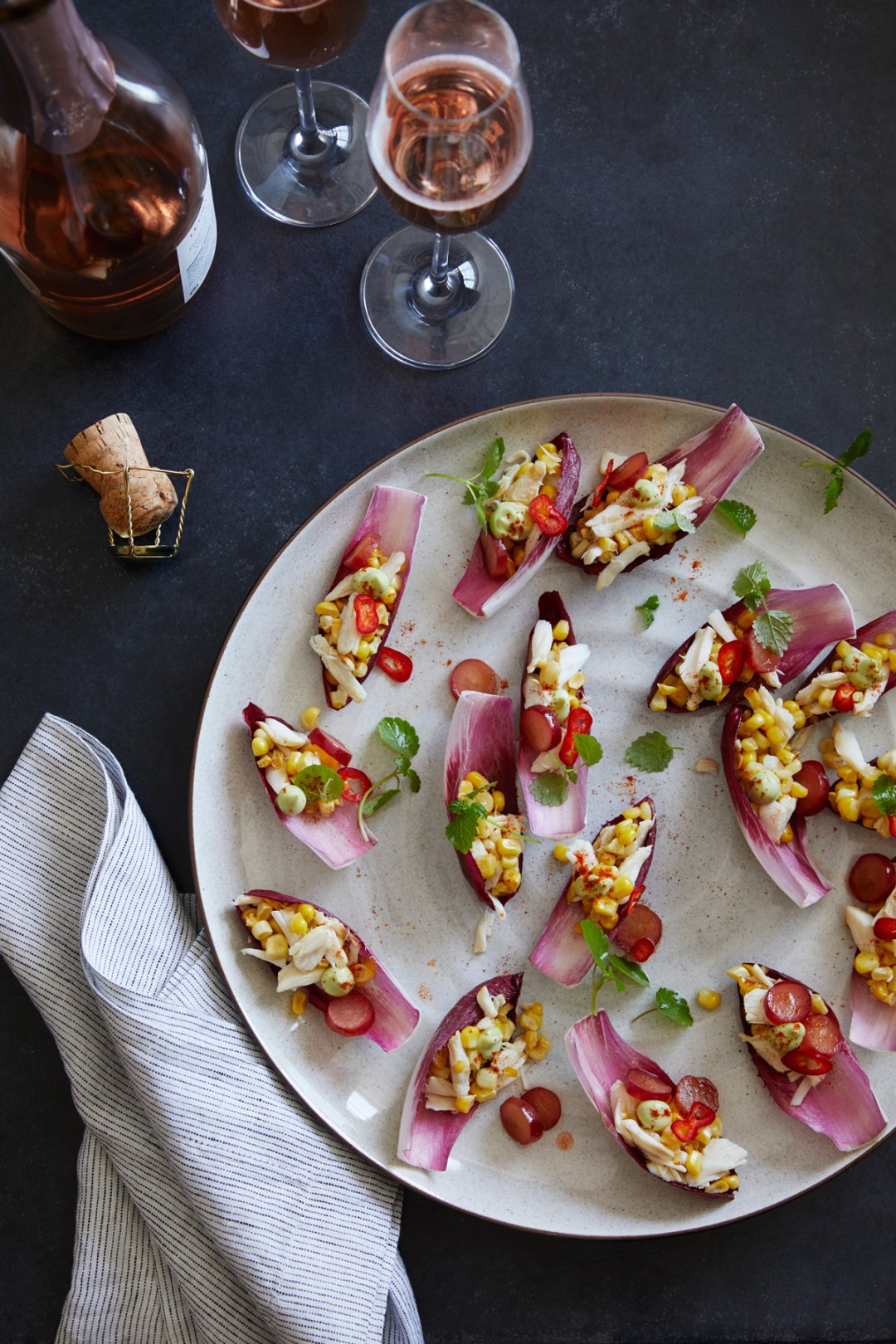 Hosting Tip: Create a nest of tender butter lettuce to bring vibrancy to a family-style presentation of this dish, or spoon bite-sized portions of salad into endive leaves and present them as an appetizer.
Tomato season is the best season.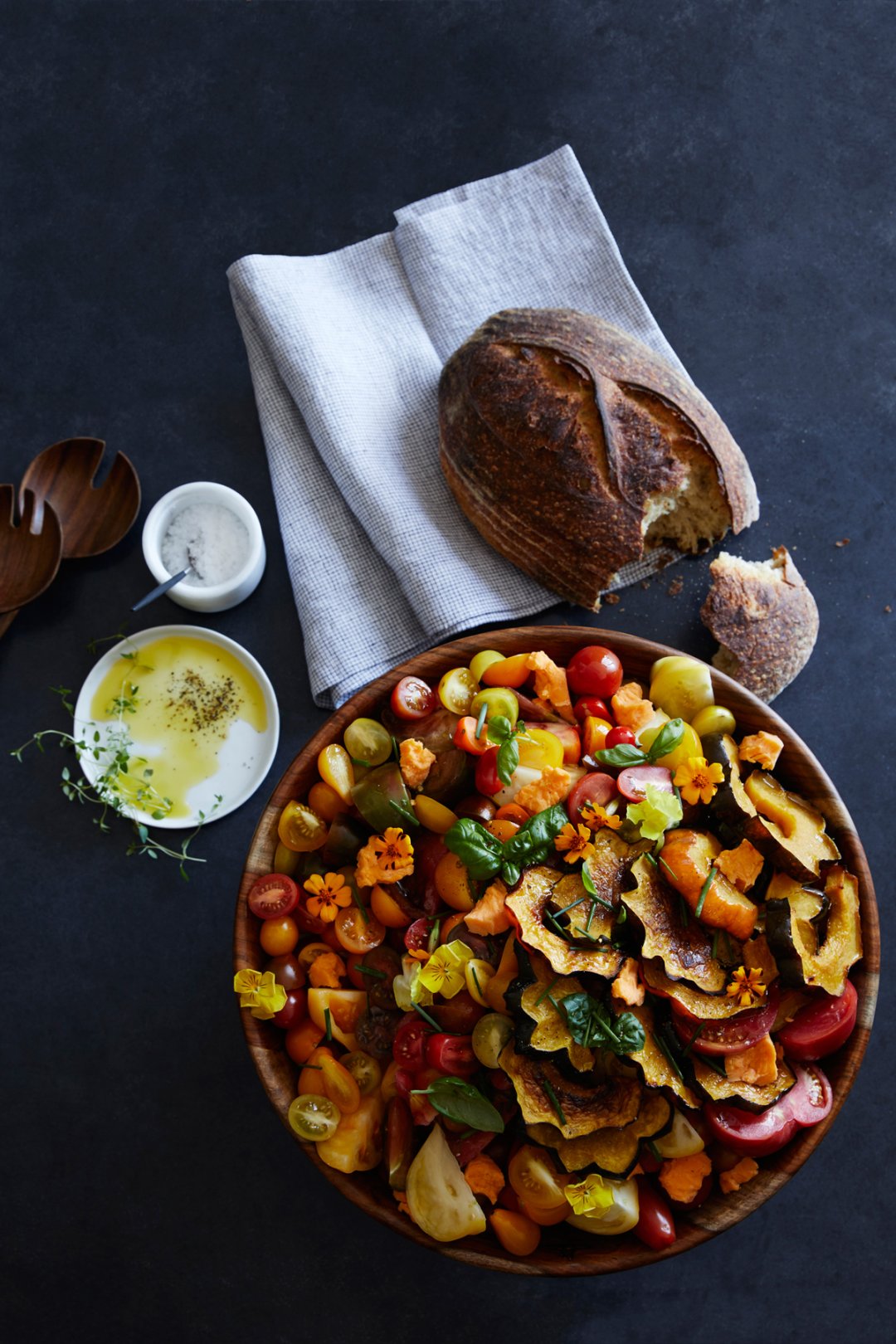 Two tomato dishes on the table? Three? Why not? They're ripe for showcasing, and the fabulous summertime yield will be a memory all too soon. Our dueling odes to tomatoes—a smoky, chilled soup with pasta and a light salad of layered tomatoes and squash—are so different they don't compete.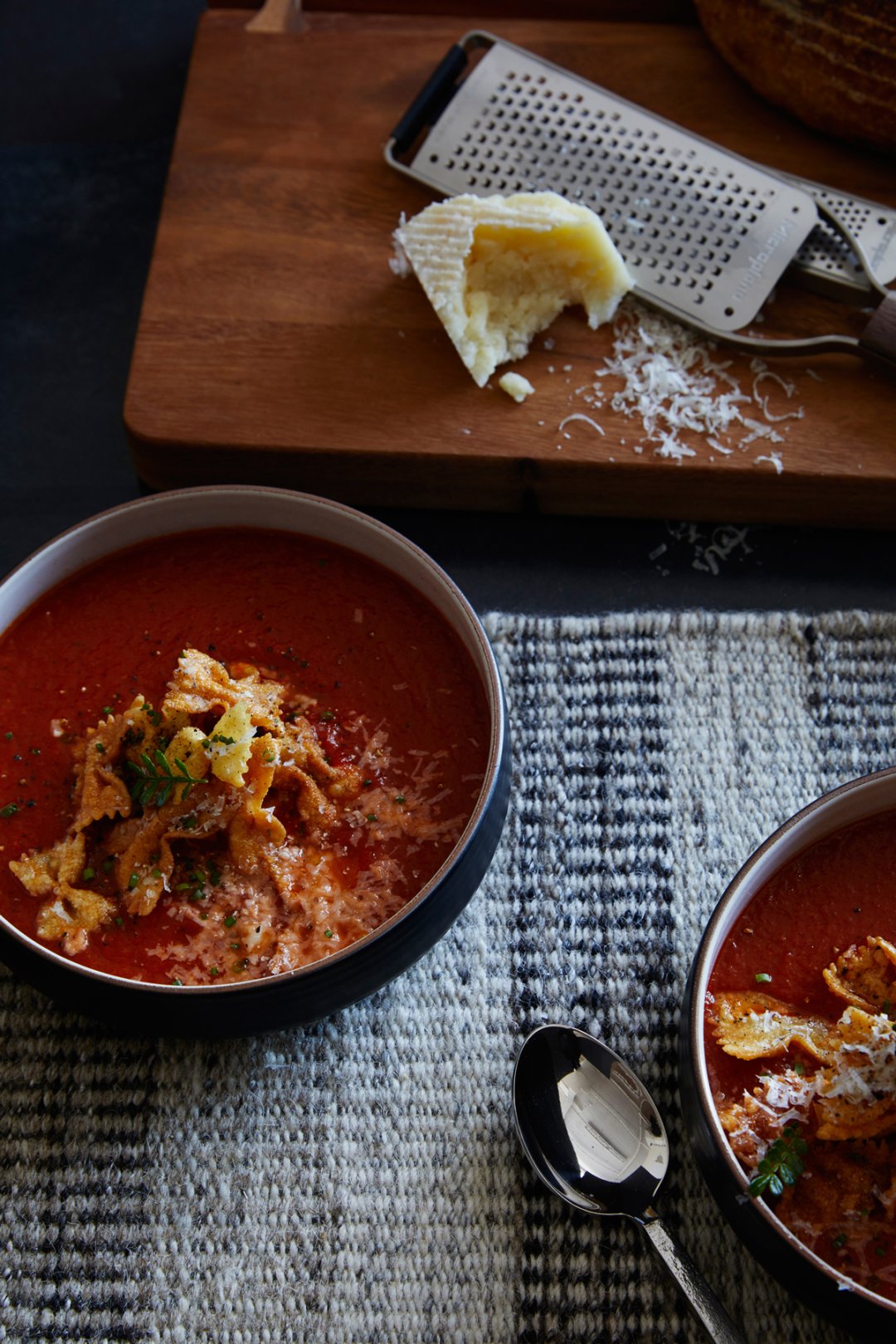 Chef's Tip: Clean and boil leftover squash seeds, then roast with cinnamon, chili powder, salt and pepper. They're a great garnish for soups and salads.
Hosting Tip: If your gathering falls on a cool night, serve the soup warm rather than cold.
Add earthy grains to round it out.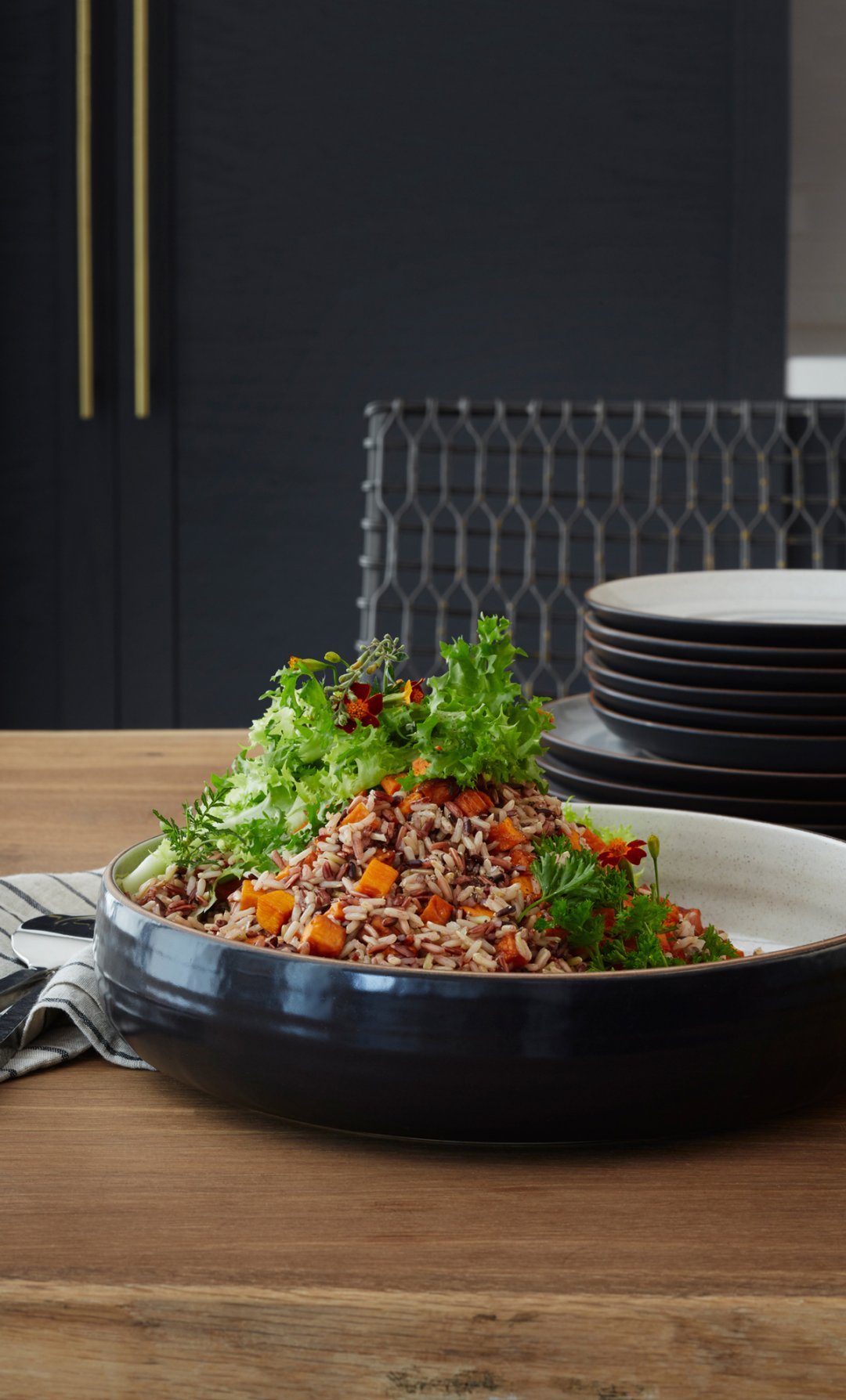 <
Include a grain dish to balance your produce-centric spread. Our wild rice version with sweet potatoes is a sweet-and-savory nod to autumn flavors that's great served at room temp.
Chef's Tip: This dish is best when you give the rice time to absorb some of the dressing, so mix those two components together up to a day or at least an hour before serving.
Sundaes get the grown-up treatment.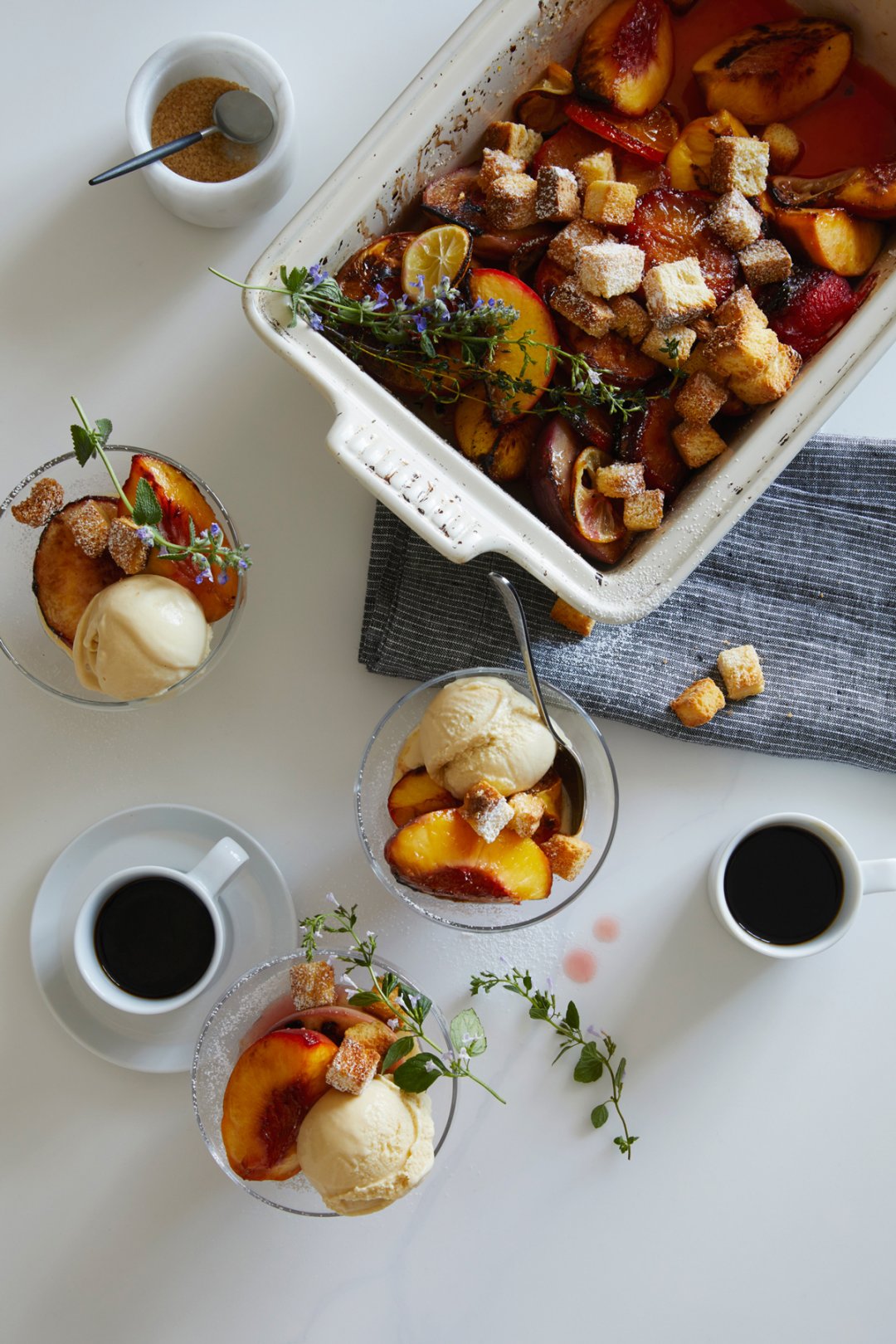 Serve a dessert that's sweet enough to satisfy your guests' cravings but rustic enough to fit the harvest theme. Individual sundaes made with ripe, caramelized stone fruit and homemade salted maple ice cream bring the meal to a close with a nostalgic nod to simpler times.
Find more CrateParty menus in the entertaining section of our blog, plus everything you need to host at crateandbarrel.com.