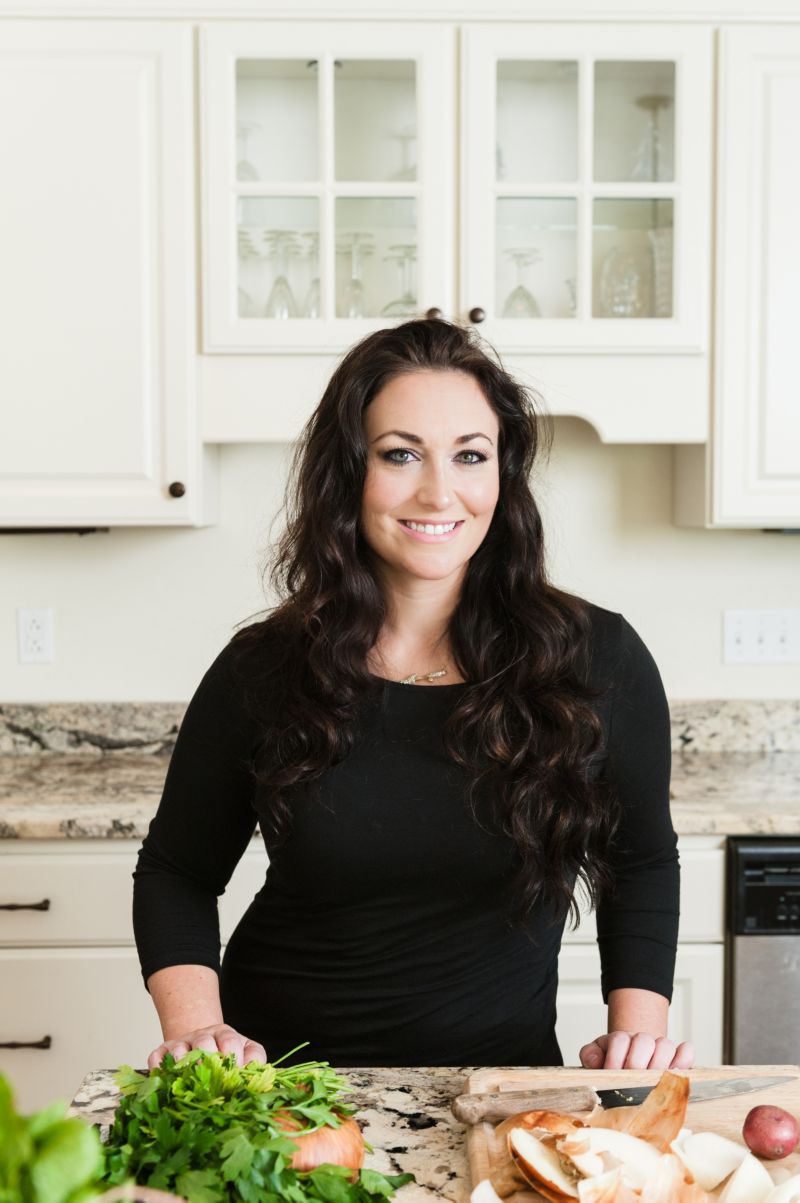 howsweeteats.com
Whether scrambled, boiled or poached, eggs are a staple when it comes to a well-rounded breakfast (or dinner). We've partnered with Jessica Merchant, founder of How Sweet It Is, to whip up a few healthy egg recipes that will fill you up and keep you going.
For many years, I've been able to easily rattle off my favorite foods. Bacon, avocado, any type of bean, chocolate in most forms. It's always right at the tip of my tongue, but lately, I've realized that I've left out a HUGE favorite that I consume pretty much every day: eggs. Good old eggs. I've always loved eggs but in the last year or two, they have become such a major staple of my diet. I share two scrambled eggs for breakfast with my son, and a couple times a week, we find ourselves have breakfast for dinner.
Hard boiled egg and hummus toasts are one of my life lines, as well as avocado toast with a poached egg. Who cares about being basic?! You cannot beat an egg. Well… you can and SHOULD, but you get the idea.
I love them scrambled, over easy, over hard, poached, soft boiled, hard boiled, deviled – you name it. I love all the ways. And I am one of those people who annoyingly thinks an egg makes everything better: a burger, pasta, grilled cheese, salads, roasted asparagus, fried rice and even pizza.
Not to mention, they kind of make me feel amazing. I feel so super satisfied after eating one.
Right now my life is made about 100 times easier with this Dash Rapid Egg Cooker because I can soft boil a whole bunch of eggs for a family brunch or dinner QUICKLY without having to keep an eye on the water. Is it boiling? Is it not? Is it overflowing? It doesn't even matter now because I can use this lovely little device to get my eggs going. Absolutely obsessed.
So here, I'm sharing three ways that I am currently adoring those little yolks of love. First up, a garlickly greens skillet with fried eggs right on top. Kind of like a healthier version of a breakfast hash, but with greens. Serve it with lots of buttery toast and maybe a slice (or three) or bacon. And a mimosa. Of course!
Next – have you tried savory oatmeal? For years the idea totally freaked me out (and honestly, it still does if not done right), but as soon as I tried it this way, I was hooked. I love it with a bit of soy sauce, toasted sesame oil, scallions and herbs. Bacon and eggs find their way on top and it might be the best thing you've tasted ever. The only thing that I'm thinking could make it better is…hollandaise. Oh my word.
And finally, a good old fashioned omelet, made with this awesome omelet pan, which is the coolest thing ever. Eggs in both sides, toppings on one, then flip it! Perfect omelet every time. This version is studded with baby portobello mushrooms, bacon and melty fontina cheese. It's a dream.
How could you not love these incredibly easy and healthy egg recipes?
Garlicky Greens Skillet Recipe
Serves 2 to 4
Ingredients
3 tablespoons unsalted butter
1 shallot, diced
4 cups chopped kale
2 cups baby spinach
4 garlic cloves, minced
½ teaspoon smoked paprika
¼ teaspoon salt
¼ teaspoon pepper
2 to 4 large eggs
Pinch of crushed red pepper
Toast for serving and dipping
Directions
Heat a large skillet over medium heat and add the butter. Add the shallot and cook until slightly softened, while stirring, about 2 to 3 minutes. Add the greens and stir, cooking until they are wilted. Stir in the garlic cloves, paprika, salt, pepper and cook for another minute. Make somewhat of a well in the center of the greens and crack the eggs into the skillet. Cover slightly until the eggs are cooked to your liking. Season the eggs with a pinch of salt and pepper and the crushed red pepper. Serve immediately with toast for yolk dipping.
Bacon, Mushroom and Fontina Omelet Recipe
Serves 1
Ingredients
2 slices bacon, chopped
½ cup sliced portobello mushrooms
1 tablespoon butter
3 large eggs
1 tablespoon water
¼ teaspoon salt
¼ teaspoon pepper
1/3 cup freshly grated fontina cheese
Fresh herbs, like basil and parsley, for topping
Directions
Heat the skillet over medium heat and add the bacon to both sides. Cook until the fat is rendered and the bacon is crispy, then remove with a slotted spoon and place on a paper towel to drain. Add the mushrooms to the bacon fat and cook until softened, about 3 to 4 minutes. Remove and place with the bacon.
Add the butter to the skillet on both sides. Whisk the eggs with the water and pour into both sides of the skillet. As soon as the eggs set, put the bacon, mushrooms and cheese on the side of the skillet that flips over. Gently flip the skillet and cook until the eggs are firm, about 2 to 3 minutes. Serve immediately, topped with fresh herbs.
Savory Oatmeal with Soft Boiled Eggs Recipe
Serves 2
Ingredients
1 cup old fashioned oats
2 cups water
1 tablespoon unsalted butter
1 tablespoon low-sodium soy sauce
2 teaspoons sriracha
2 slices cooked bacon, crumbled
2 scallions, sliced
1 tablespoon chopped fresh basil
2 tablespoons toasted sesame oil
2 eggs, poached or soft boiled
Directions
Bring the oats, water and butter to a boil in a saucepan. Reduce the heat to a simmer and cook until the water is absorbed, about 10 to 15 minutes. Stir in the soy sauce, sriracha, bacon, scallions and basil. Separate into two equal servings, then top each with a drizzle of toasted sesame oil. Add the egg on top and serve immediately!
Want more breakfast ideas? Check out these brunch recipes from Sweet Paul.