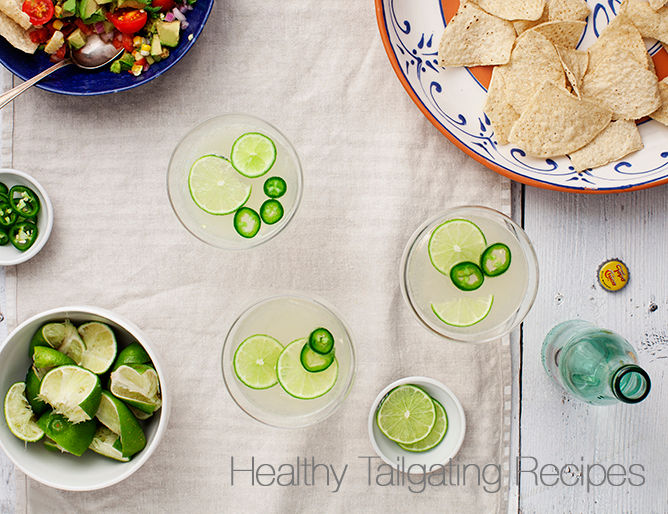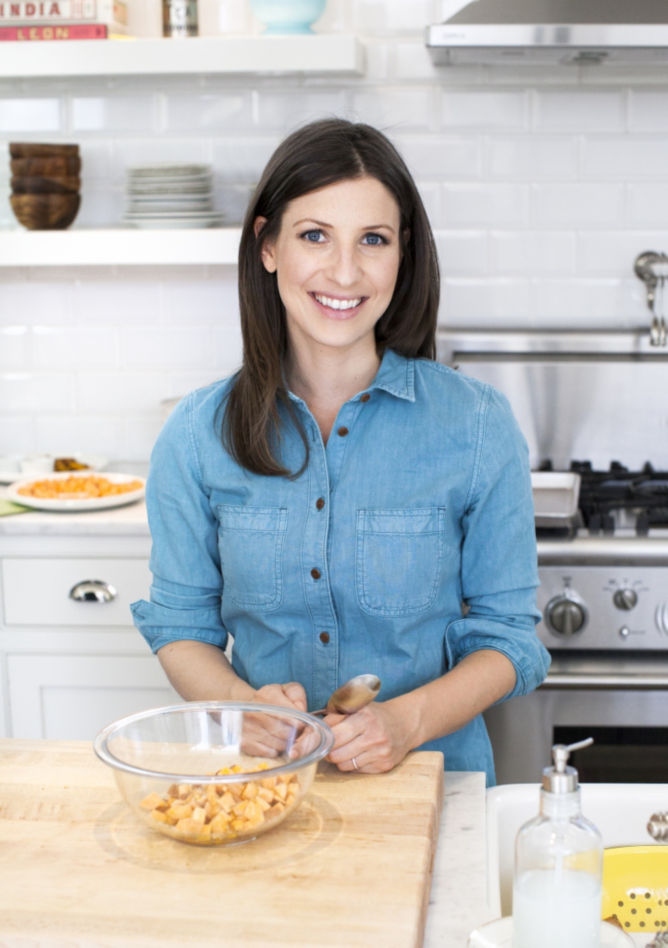 Ready to get back to game day? We've partnered with Jeanine Donofrio of Love and Lemons to see how to cook up some tailgating MVPs that are as delicious as they are healthy.
'Tis the season for tailgates and game day get-togethers. While I'm not a fan of any particular football team, I am a fan of good food and any reason to gather around it.
Today I'm changing things up from the typical game-day-grease-bombs with a lighter "game plan" of healthy tailgating recipes that includes many things I love that just happen to be on the healthier side. Although no one will know because it's all so delicious… and hello, there are spicy jalapeño margaritas! Diet food, this is not!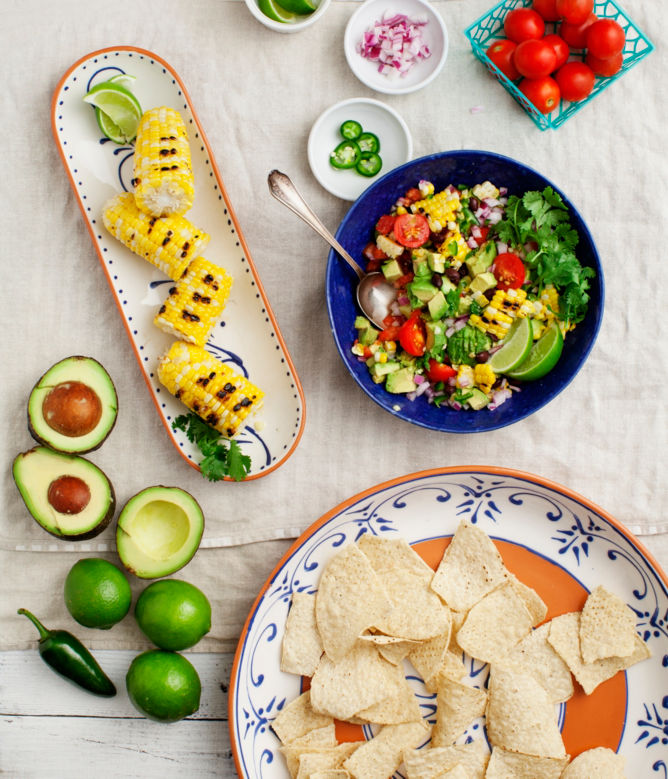 First up—what's a party without salsa! Here's a fresh and hearty avocado salsa with black beans and grilled corn. Scoop it up with chips or serve it on the side of your marinated mushroom veggie kabobs. Don't you love how all of the vibrant colors really pop in this blue low bowl?
Here's a healthy tip: don't stand right next to this one or before you know it you'll eat the whole thing. Not that I've done that before, I'm just sayin'…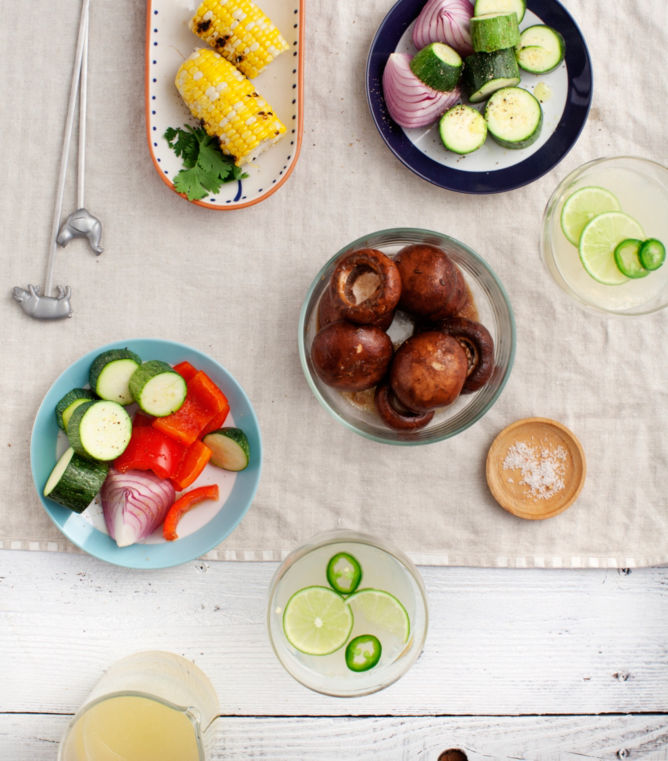 My secret (well, not so secret anymore) mushroom marinade is made of four easy ingredients: olive oil, soy sauce, balsamic vinegar and black pepper. You can go crazy and add dijon mustard or other spices as you like, but this basic marinade makes grilled mushrooms that are, in my opinion, the perfect balance of rich, savory and tangy.
I also love making vegetable kabobs using these adorable barnyard skewers. No one said animals weren't invited to the party!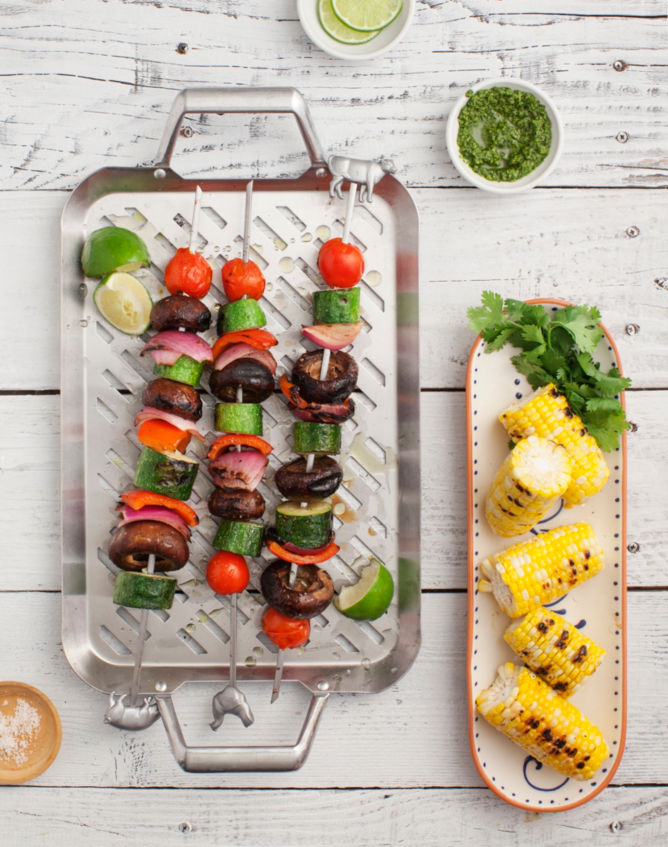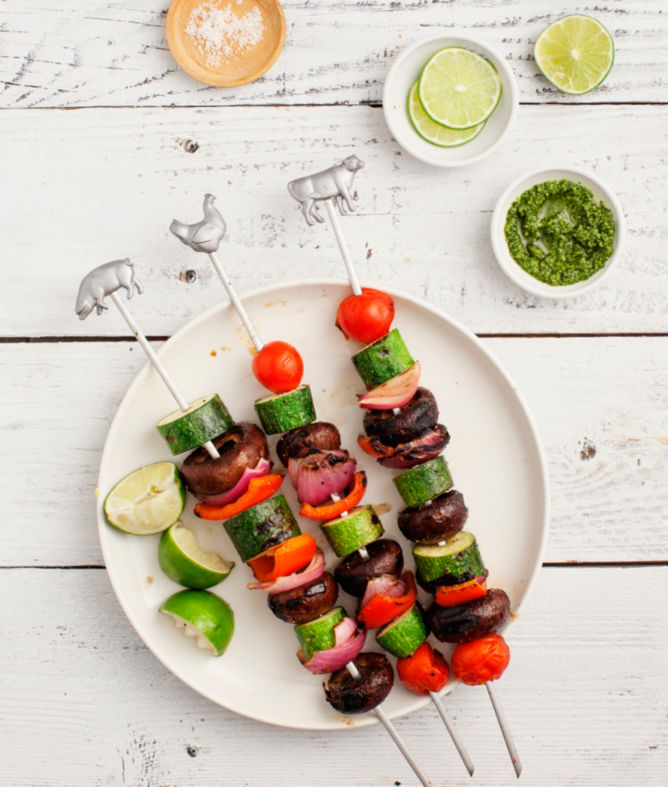 Kick up your corn on the cob. I like to season mine with olive oil, salt and a squeeze of lime then spice it up with a little smoked paprika. Add a little cotija cheese if you like.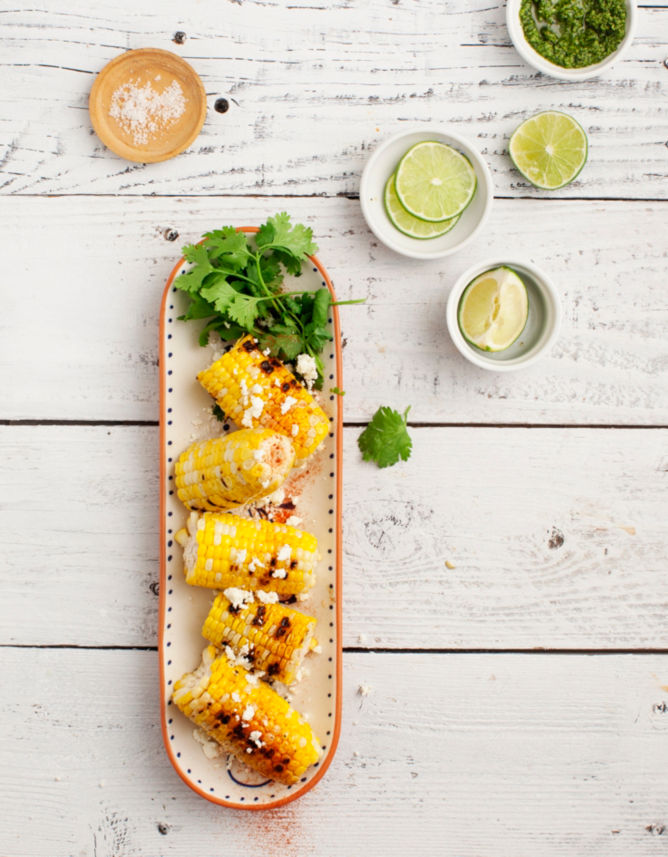 Jalapeño Margaritas
Ingredients for Margarita
3/4 cup good tequila
1/4 to 1/2 jalapeño pepper, sliced, plus extra slices for garnish
1/4 cup orange-flavored cognac liqueur
Scant 1/2 cup fresh squeezed lime juice
1/4 cup simple syrup, or to taste)
Lime slices for garnish
Sparkling water, optional
Ingredients for Simple Syrup
1 part water
1 part sugar
Directions
Pour the tequila into a mixing glass or small pitcher. Add the sliced jalapeño, 1/4 to 1/2 of it, depending on how spicy you want your margaritas. Set aside at room temp for 15 minutes (the longer you let the jalapeños infuse, the spicier it will be).
Make the simple syrup. In a small saucepan, combine equal parts of sugar and water. Bring to a boil, stirring until the sugar has dissolved. Chill in the fridge until ready to use. You can store any extra in the fridge for up to a few weeks.
Make the margaritas by mixing together the jalapeño-infused tequila, orange-flavored cognac liqueur, lime juice and 1/4 cup simple syrup. Taste. If you'd like a spicier margarita, add more jalapeño and let it it sit a little longer. Pour into glasses and add lime slices and jalapeños for garnish. For a lighter margarita, fill the glasses 1/2 full and add sparkling water.
Avocado Salsa with Black Beans and Grilled Corn
Serves 3-4 as an appetizer
Ingredients
2 large avocados, pitted and diced
1/4 cup diced red onion
1 plum tomato, diced or ½ cup sliced cherry tomatoes
1/2 cup cooked black beans
Juice of 1-2 limes
1 ear grilled corn (from recipe above)
Generous amounts of coarse sea salt
Tortilla chips, for serving
1/2 teaspoon smoked paprika, optional
Directions
In medium bowl, mix together the avocado, red onion, tomatoes and black beans. Add a few generous squeezes of lime, a few pinches of salt and a dusting of smoked paprika, if using.
Slice the kernels off of the grilled corn cob and stir into the salsa. Season with more lime juice and salt, to taste. Serve with tortilla chips.
Baby Bella Vegetable Kabobs
Makes 4 large kabobs
Ingredients
8-10 whole cremini mushrooms
1 tablespoon olive oil
1/2 tablespoon balsamic
1/2 tablespoon soy sauce
generous amount of freshly ground black pepper
1 red bell pepper, deseeded and sliced into 1-inch pieces
1/2 red onion, quartered and sliced into 1-inch pieces
2 small zucchini, sliced into 3/4 inch pieces
8-10 cherry tomatoes
Extra-virgin olive oil, for drizzling
1/2 teaspoon dried oregano
Sea salt and freshly ground black pepper
Directions
Remove the mushroom stems and gently clean each mushroom by wiping the tops with a damp cloth.
In a medium bowl, mix together the olive oil, balsamic vinegar, soy sauce, and a generous amount of freshly ground black pepper. Add the mushrooms and toss, using your hands to coat the mushrooms in the marinade. Set aside at room temp for at least 30 minutes.
Make the kabobs by threading the skewers with mushrooms, red pepper, red onion, zucchini and cherry tomatoes. Drizzle with olive oil and sprinkle with salt, pepper and dried oregano.
Heat a grill or grill pan over medium heat. Add the kabobs to the grill and cook, rotating, until char marks form on each side and the mushrooms are tender (12-15 minutes total).
Remove from the grill and serve with Grilled Corn on the Cob and Avocado Salsa with Black Beans.
Grilled Corn on the Cob
Ingredients
3 ears fresh corn, husked
Extra-virgin olive oil, for drizzling
Squeeze of lime
Sea salt
Dust of smoked paprika
Sprinkle with cotija cheese (optional)
Directions
Heat a grill or grill pan to medium. Drizzle the corn with olive oil and sprinkle with a pinch of salt. Place the corn on the grill and rotate it every few minutes, until char marks form on all sides. Remove the corn from the grill and add a squeeze of lime juice and a dusting of paprika. Sprinkle with cotija cheese, if using.
Want more healthy tailgating recipes? Check out the Crate and Barrel Party Appetizers and Salads Pinterest board!