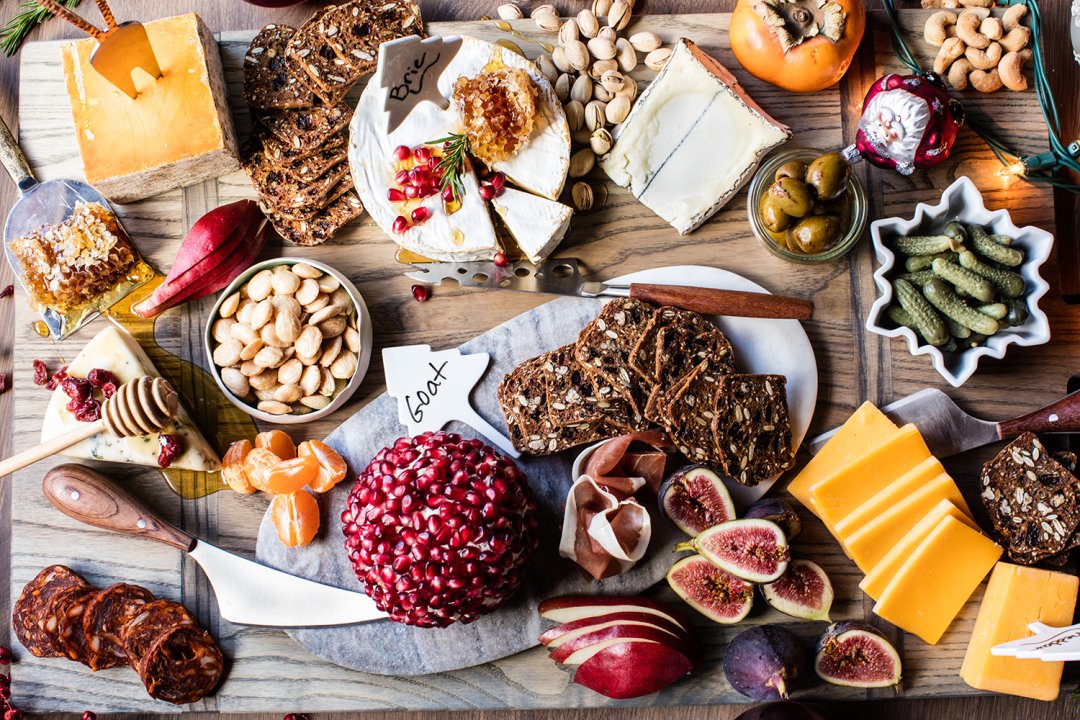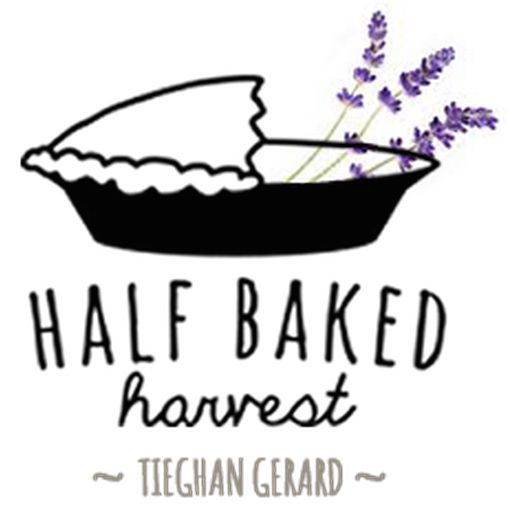 halfbakedharvest.com
A well executed cheese board is always a crowd pleaser. We've partnered with Tieghan Gerard of Half Baked Harvest to create this holiday appetizer that might just outshine the main course.
When it comes to holiday appetizers, there's honestly nothing I love more than a festive cheese board. For one they please just about everyone, I mean, who doesn't enjoy cheese? Two, cheeseboards can be made to look simply stunning. A huge spread (which I love) can deliver a big wow factor. Lastly, cheeseboards are about as easy as it gets. All you need is really good cheese, crackers and fruit. With just those simple ingredients you can make an impressive holiday appetizer.
This is not so much of a recipe, but more of a guide to help you build your perfect holiday cheese board. So ready to talk cheese?! Me too!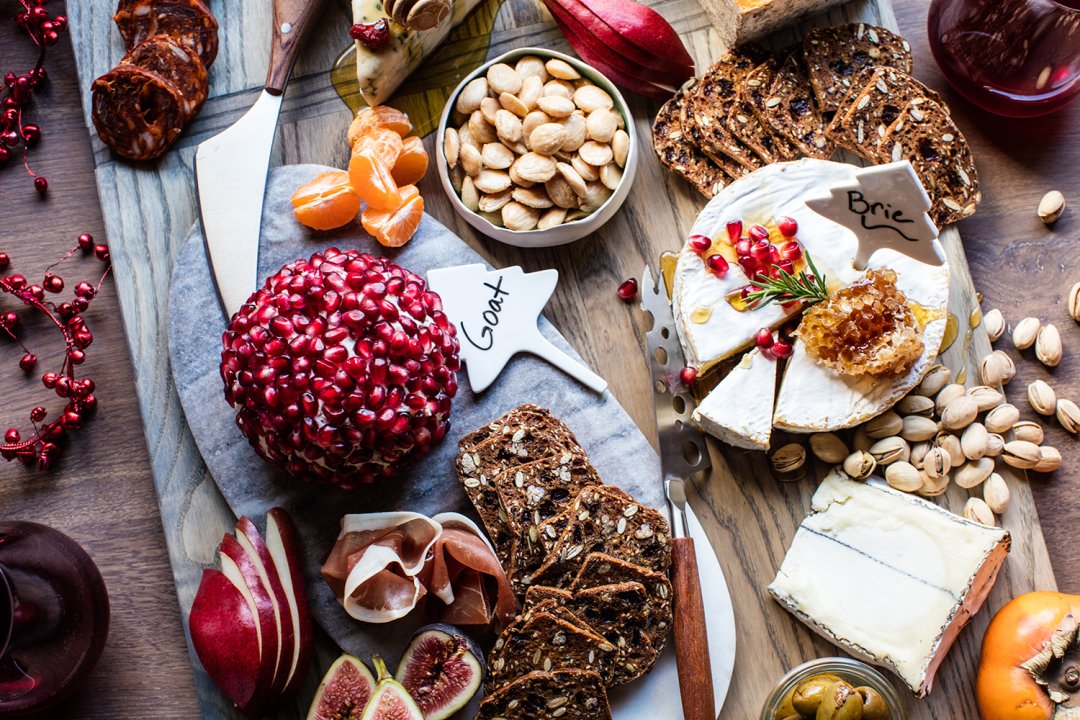 Alright, first up, how many different cheese options to include? I like to use anywhere from three to five different cheeses, but I find that more than five creates too many flavors and overwhelms your board. My five go-to cheese varieties are a good aged cheese, such as aged cheddar or parmesan, a soft cheese, such as creamy Brie or goat, a firm cheese like Mimolette, a funky cheese (Say hello to those blues!) and a fresh cheese like burrata.
I typically always have at least one cheddar, one blue and one Brie. Then I like to throw in two fun cheeses, like my favorite Humboldt Fog Goat Cheese, and a wedge of Merlot. Don't be afraid to have some fun with a few of these cheese, but be sure to include a couple of the classics, like cheddar and Brie, so that there will for sure be a cheese for everyone! I also recommend choosing a mellow blue cheese, just ask your cheesemonger for a blue that's slightly mellow. Typically a Danish style blue is most popular.
Tip: Be sure to remove your cheese from the fridge at least one hour before serving. It's important to bring your cheese to room temperature before serving.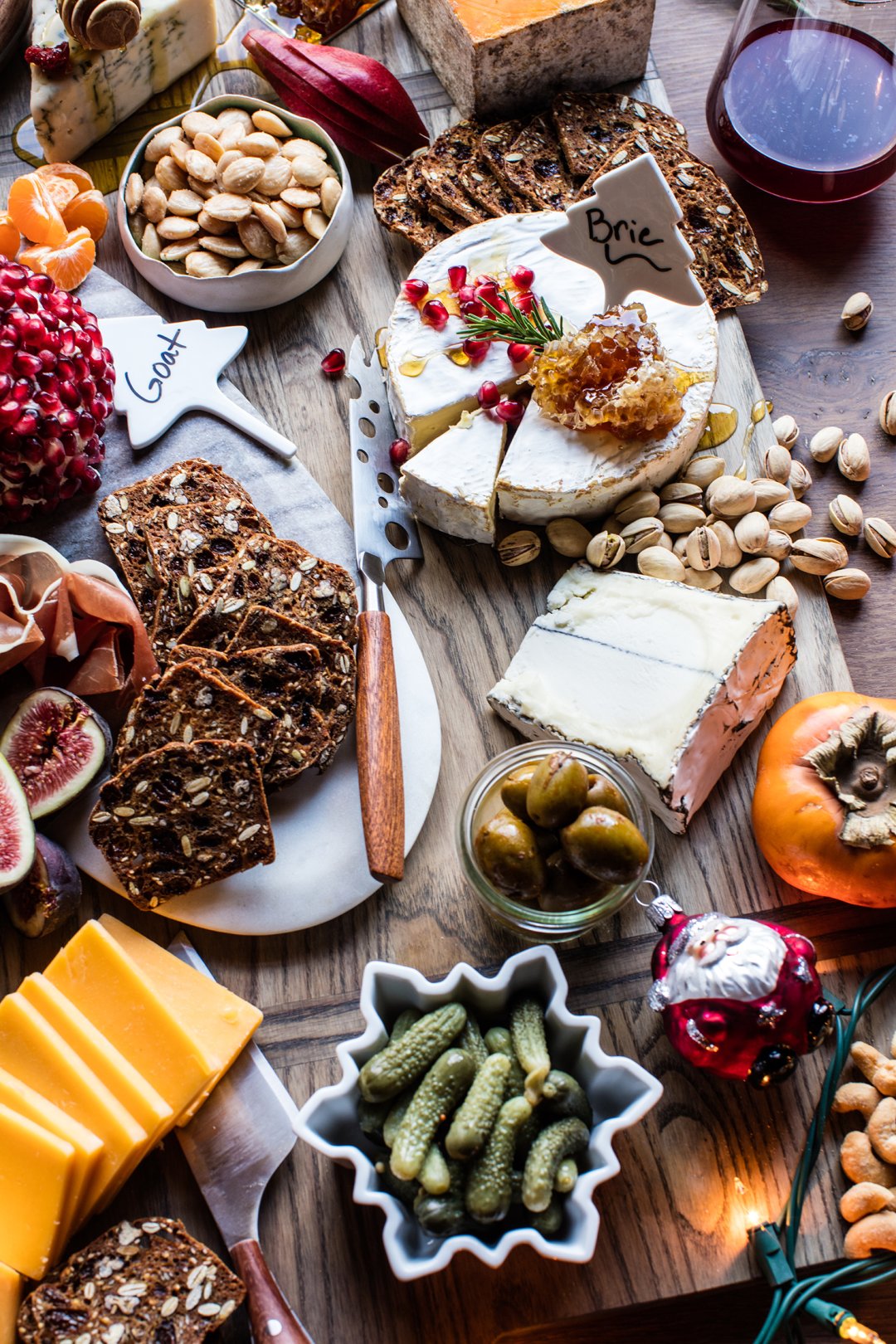 Once you have your cheeses picked out comes the fun part: the extras! These can include, but are not limited to seasonal fruits, spreads, olives, nuts, seeds, cured meats and assorted crackers. Really, the sky is the limit here, so choose things that you love to pair with cheese. For me that includes pomegranates, persimmons, fresh figs, dried cranberries, honey and honeycomb, fresh prosciutto, salami, assorted nuts, olives (of any kind really), Marcona almonds, pistachios, and roasted cashews. Then I of course, finish off the board with some really good seeded crackers!
Tip: Go for a variety of shapes when choosing your cheese. I find it's always nice to have at least one wedge, one block, and one round of cheese.
If you're feeling a little fancy, you can throw on a holiday cheese ball like this pomegranate goat cheese ball you see here. It's not a must, but it's super fun and perfect for a festive cheese board! Ok, and it's obviously pretty delicious too!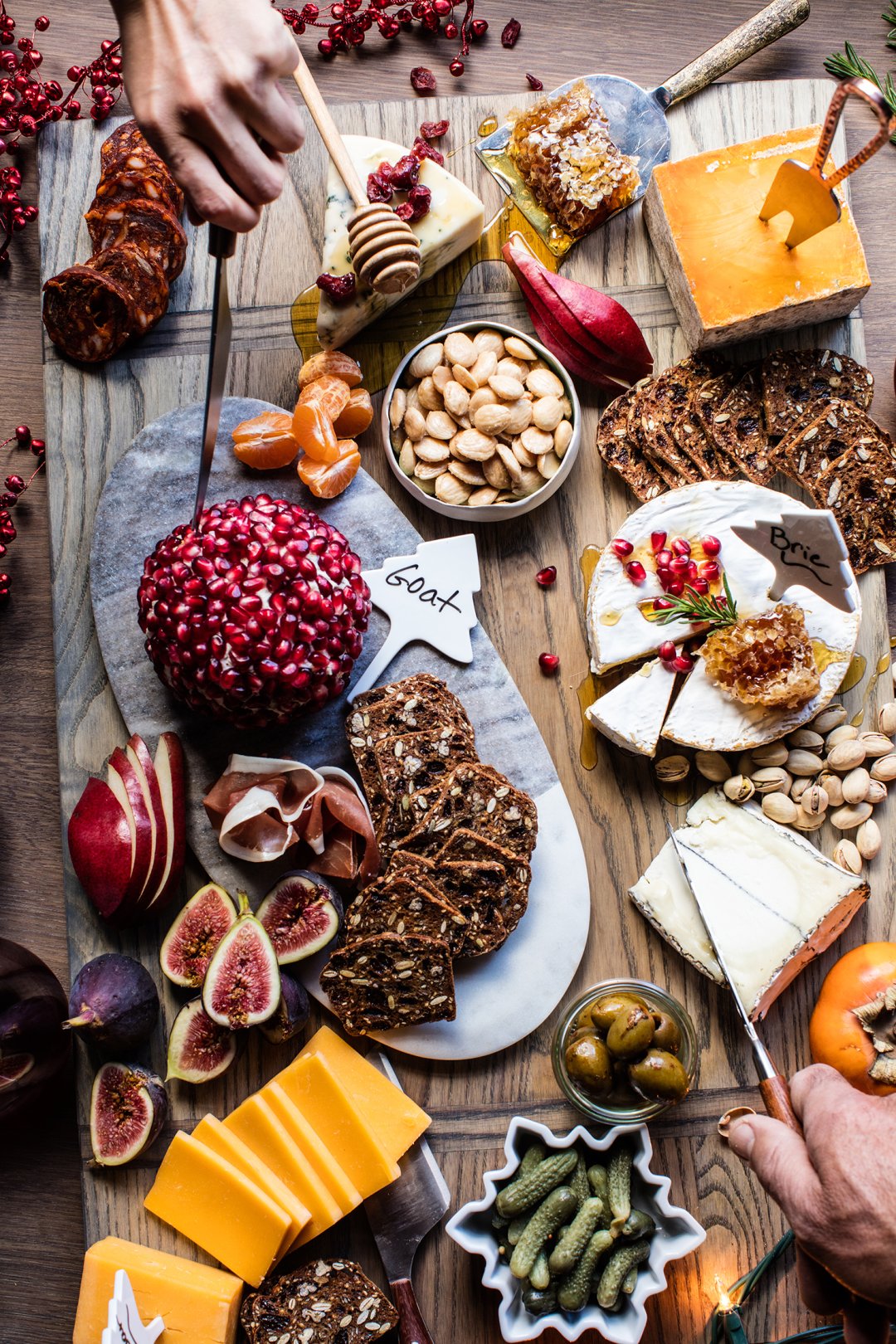 Now, all that's left to do is grab yourself a large good-looking cheese board, some pretty serving pieces and assemble. Then grab a glass of wine and serve!

Get more ideas for you cheese board with these charcuterie tips.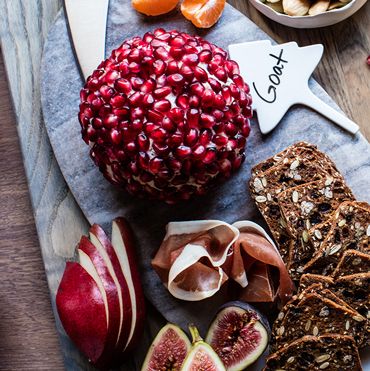 1.
Pomegranate Goat Cheese Ball Recipe
2 tablespoon butter
1 tablespoon chopped fresh sage
8 ounces goat cheese
2 ounces cream cheese
pinch of black pepper
1/4 cup chopped pistachios
arils from 1 pomegranate
Heat a medium-sized skillet over medium heat and add the butter. Once melted, add the sage and cook 2 minutes or until the butter is lightly browned and toasted. Remove from the heat and let cool.
In the bowl of an electric stand mixer (or using a handheld mixer) beat together the goat cheese, cream cheese, and and pepper until combined. Add in the sage butter and pistachios, beat to combine.
Lay a large sheet of plastic wrap on the counter and scoop the cheese mixture out of the bowl and onto the counter. Wrap the cheese in plastic wrap, forming a rough ball. Place in the fridge for 1 hour to chill and stiffen.
Once the cheese is well-chilled remove from the fridge and reshape into a ball. Place the pomegranate arils in a shallow bowl and roll the ball in the arils, using your hand to gently push the arils into the cheese ball to adhere. Place on a serving plate.
Serve or store in the fridge until ready to use.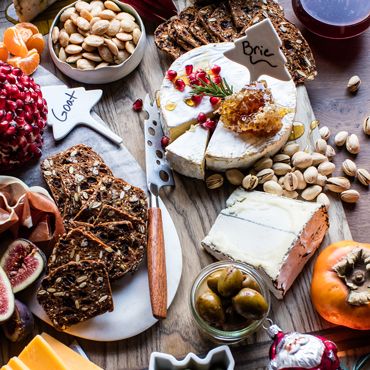 2.
Cheese Board Assembly
3-5 cheese wedges or blocks
honey and or honeycomb
fig preserves, bacon jam, pumpkin butter and or apple chutney
cured meat
sliced apples, sliced persimmons, figs, pomegranates and grapes
roasted or candied nuts
assorted olives
assorted crackers
Remove the cheese from the fridge 1 hour prior to serving. Room temperature is always best for a cheese board. While the cheese is still cold, slice the hard cheese into slices and crumble some of the blue cheese.
Arrange the cheese on a large platter or wood cheese board and arrange everything else around the cheese.