Ready to celebrate National Ice Cream Month? We've partnered with Kim and Scott Vargo of Yellow Brick Home to see how to whip up some delicious frozen treats for every member of the family, including those on four legs!
Did you know that July is National Ice Cream Month? It seemed only fair that we celebrate appropriately by treating our whole family–pets included! While we enjoy walking with our two pups down to the local frozen yogurt stand and watching the hilarity ensue as we give them kiddie cones, we've been itching to give homemade dog ice cream a try. We kept it easy and experimented with minimal ingredients, and the results were extra tasty (although we can't speak for the frozen dog cupcakes).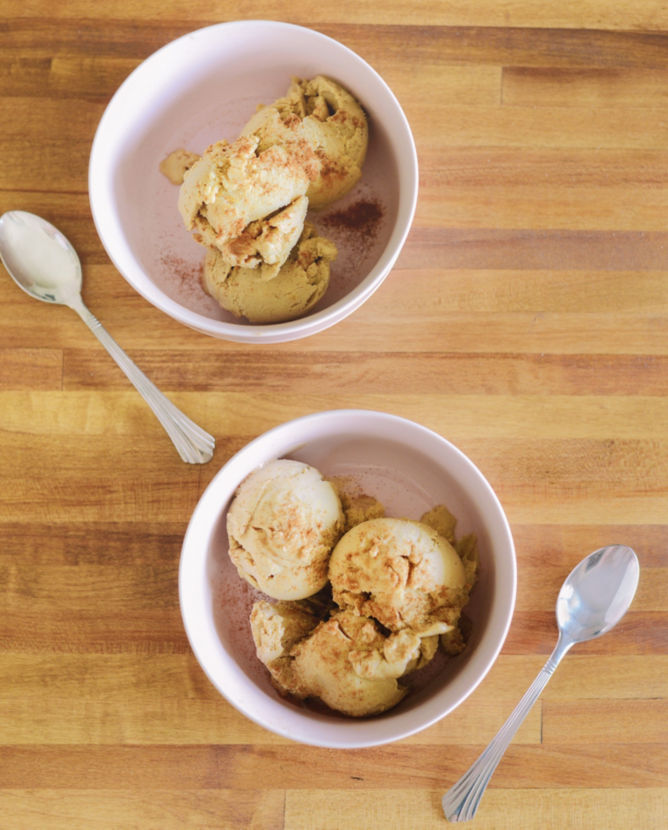 Two-Ingredient Ice Cream Recipe
For the humans, we had been hearing a lot of interesting things about the one-ingredient banana recipe, although we kicked it up a notch and added peanut butter, too. To start preparing this treat, I sliced up four sweet, ripe bananas and allowed them to freeze for a couple hours. I added the slightly frozen bananas and a heaping tablespoon of natural peanut butter to our blender: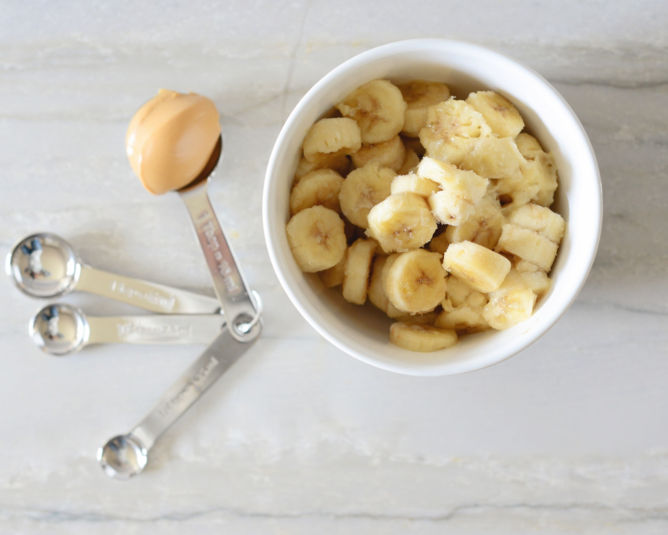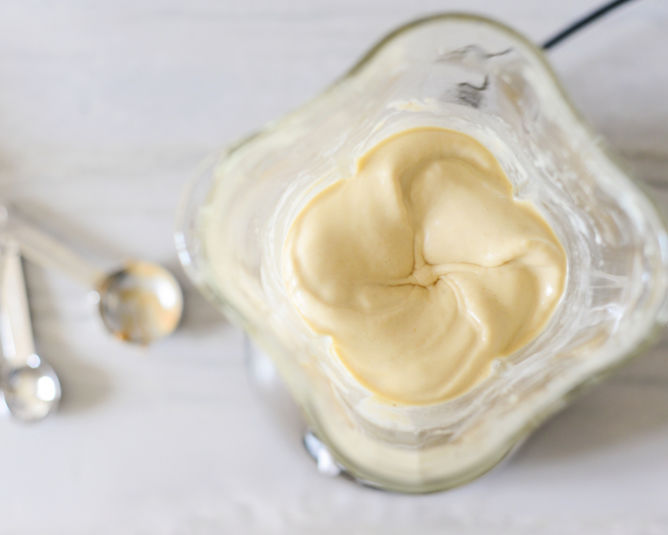 After five minutes, the texture became smooth and creamy with a yogurt consistency, but it wasn't as solid as we would have liked. I transferred the mixture over to our Cuisinart ice cream maker, which churned our soft yogurt into a thick, frozen ice cream treat in under 15 minutes!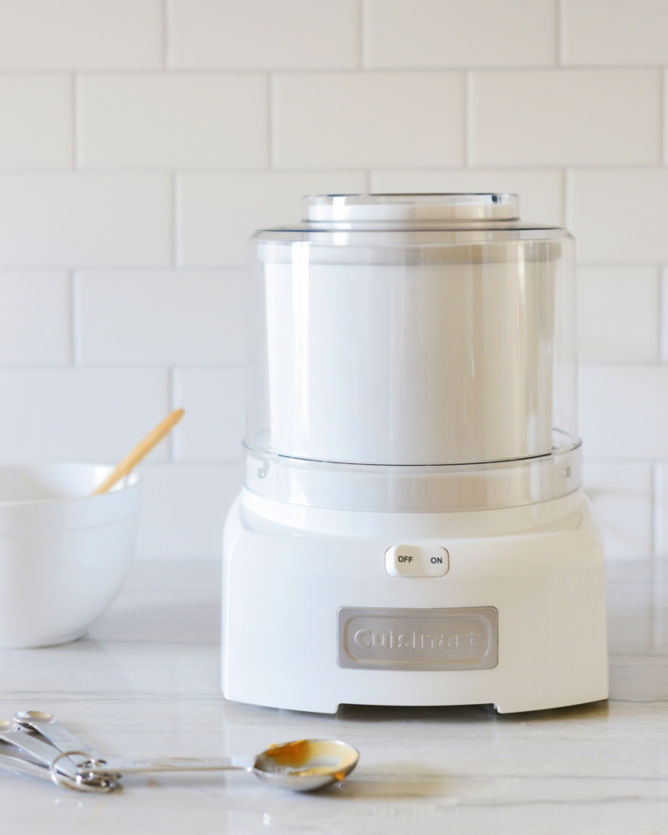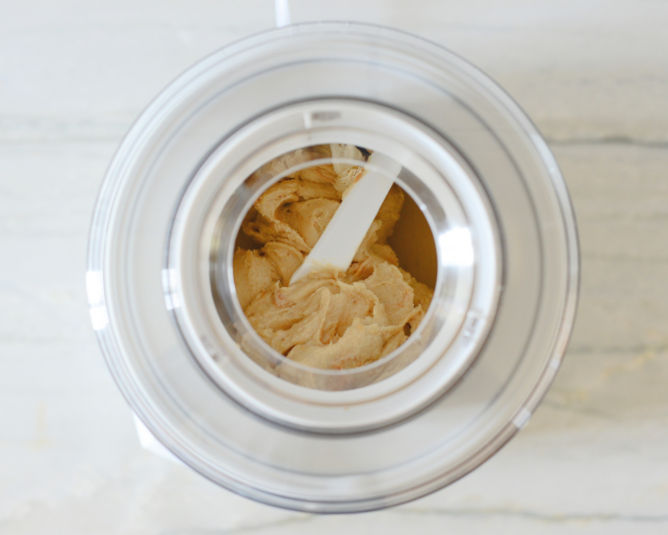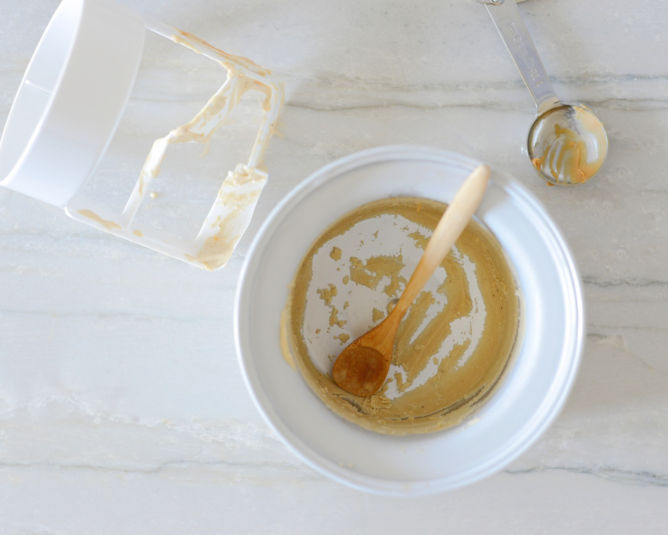 Four bananas made the equivalent of about four small servings (or in our case, two overindulgent desserts!). I scooped the treats into our pretty pink blush bowls and sprinkled cinnamon on top for good measure.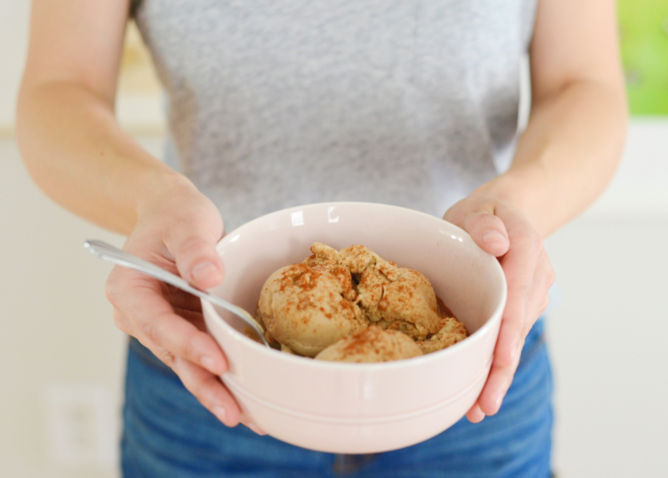 Dog Ice Cream Ingredients
But of course we can't forget about the dogs! Our ever-helpful buddies, Jack and CC, approved of the ingredient list beforehand, making sure I picked up only all-natural and no-sugar-added supplies. Here's what you'll need:
32 ounces plain Greek yogurt
2 tablespoons all-natural peanut butter
Single serving sweet potato baby food
12 dog treats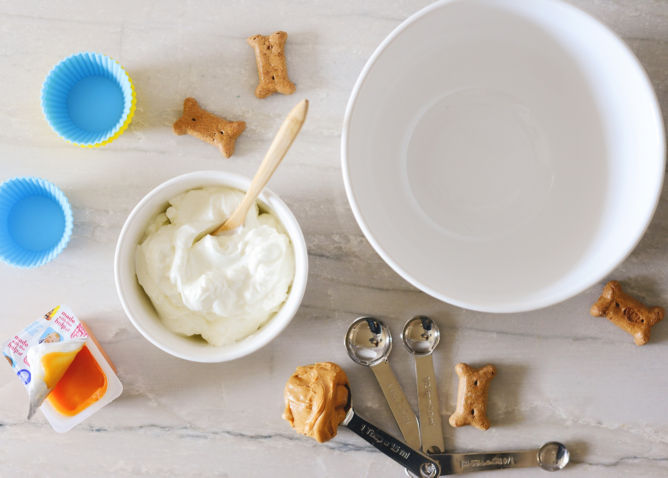 Preparing the Treats
This recipe is adapted from First Home Love Life, although I swapped in an ingredient that I knew our pooches go crazy for (in this case, sweet potatoes!) and added the puppy treats.
The steps for creating the dog ice cream couldn't be more simple. I used a whisk to combine the yogurt, peanut butter and baby food together—while my two test subjects begged at my feet.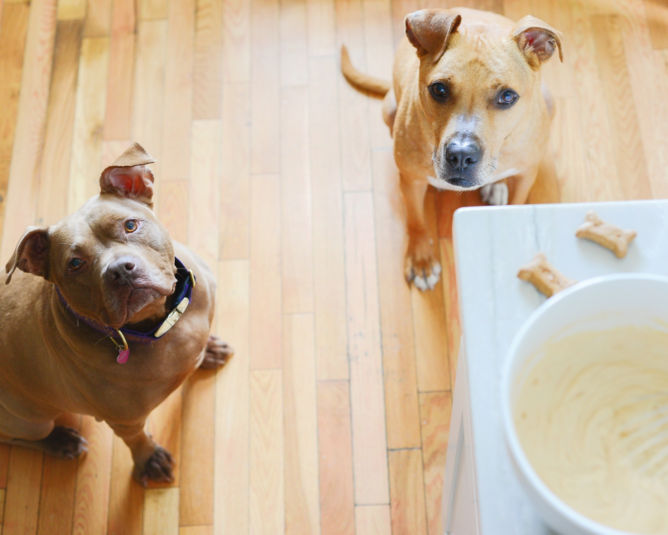 Lucky for them, they got to lick the bowl!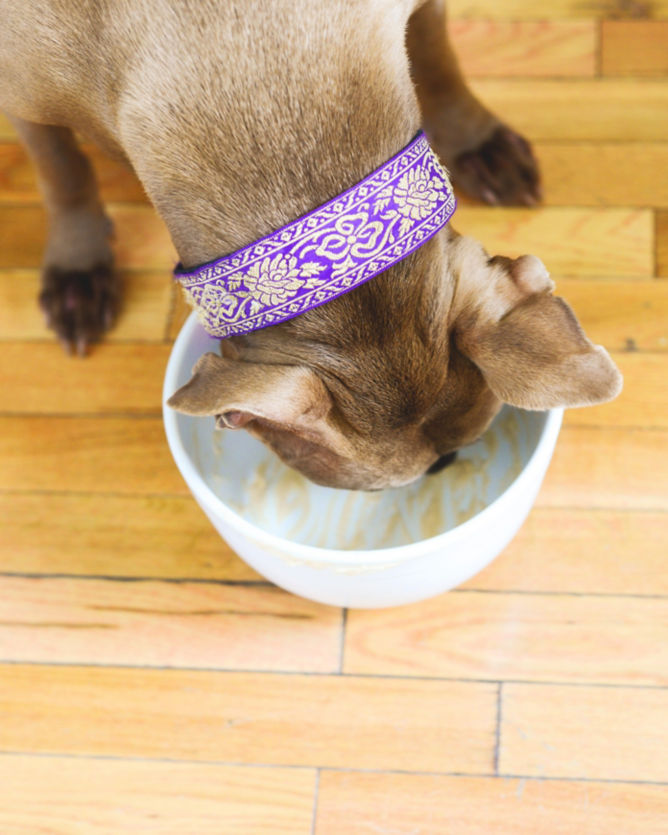 I filled up these colorful silicone baking cups with the creamy mix, and I pushed a treat into each one.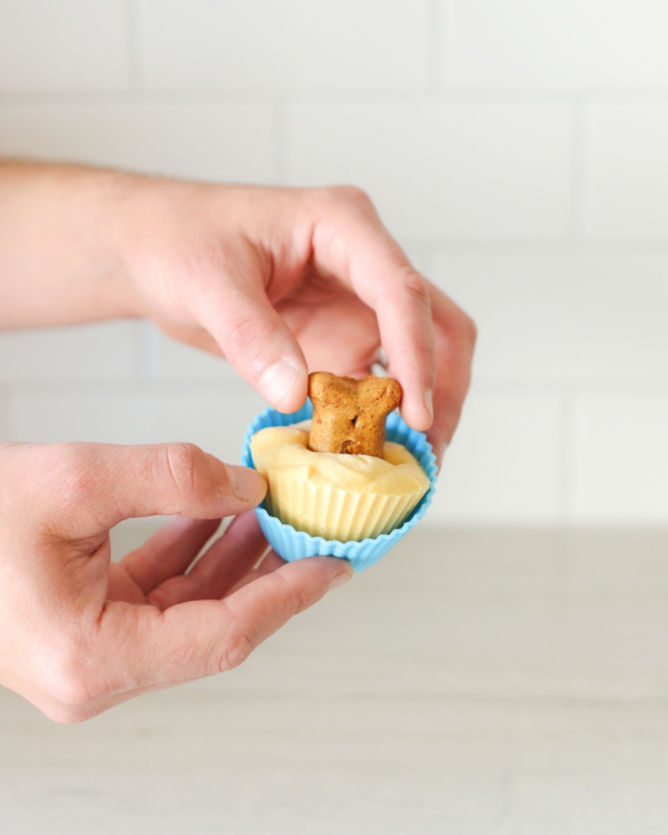 In total, the recipe made twelve dessert cups for our BFFs.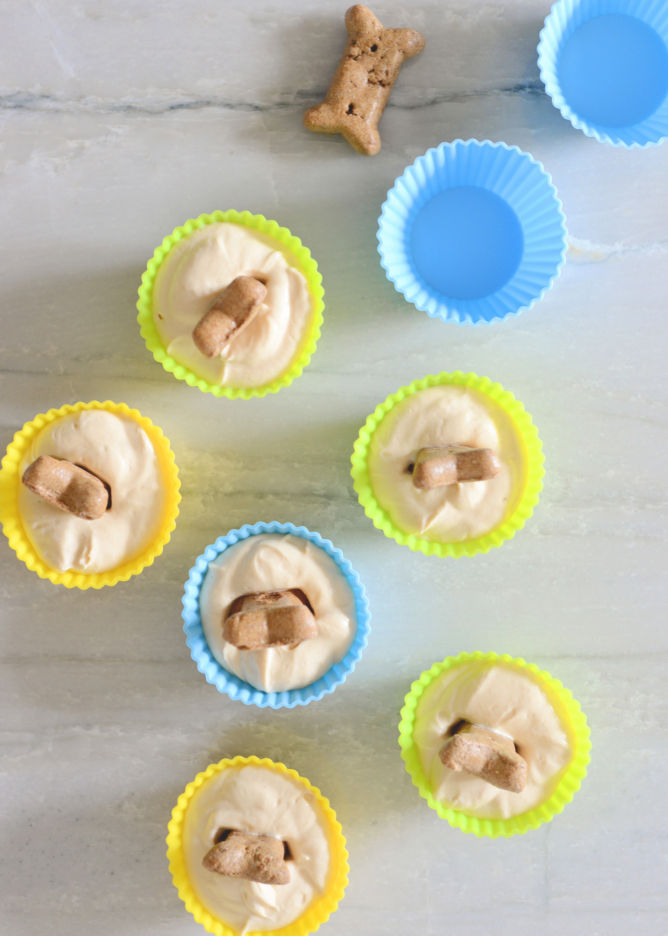 I allowed them to freeze overnight, and the flexible silicone helped each frosty cake to pop right out. Because we love these two to a ridiculous degree (and to prevent a big, gooey mess), we served the treats up in the same blush bowls and let them have at it!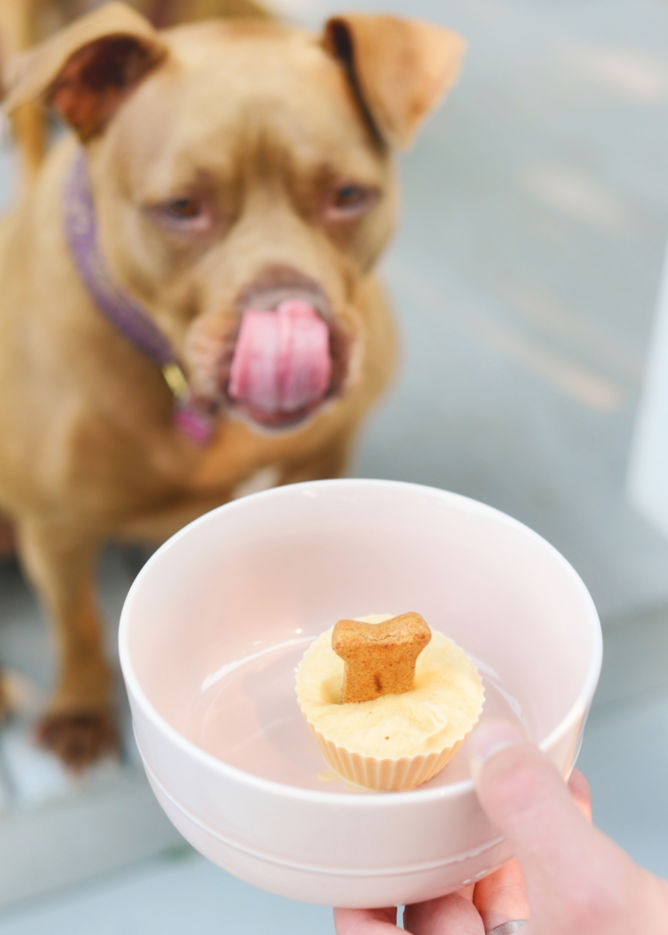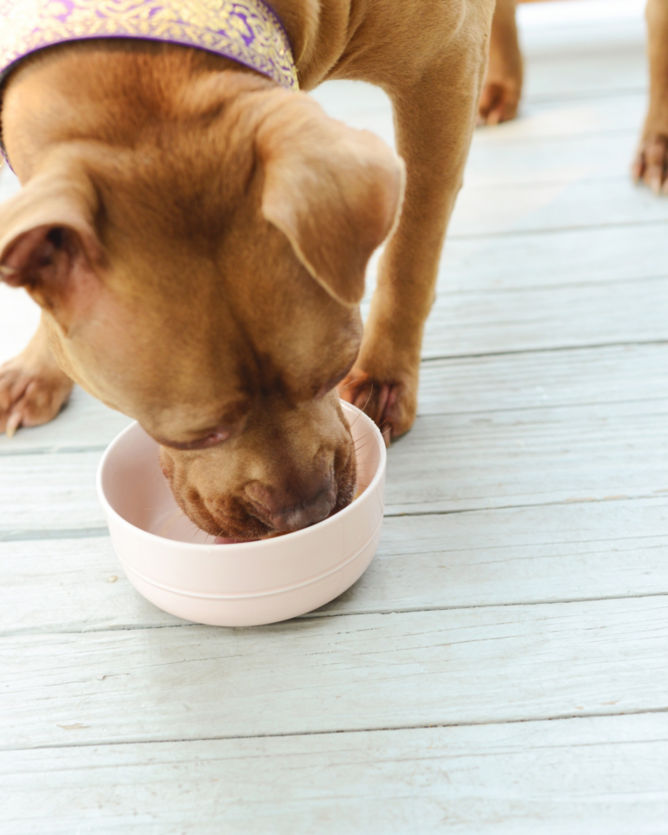 Jack inhaled his dog ice cream dessert before I could catch the cuteness on my camera, and he patiently waited to see if CC would finish hers (spoiler: she absolutely did). Patience, Jack.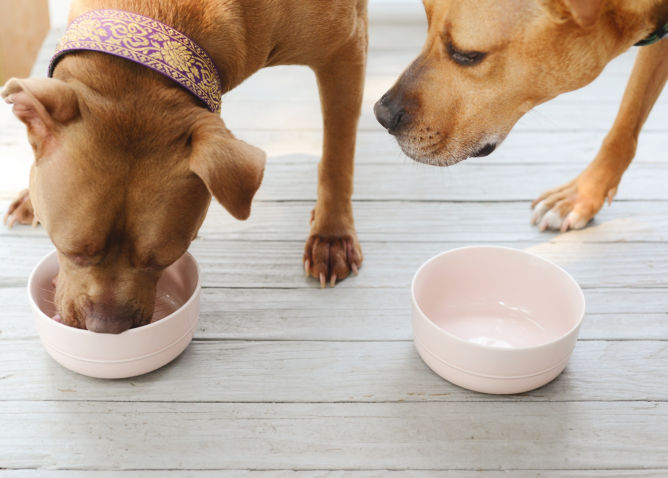 We'll be making more to keep the celebration going, but I'm thinking we'll continue the tradition for the rest of the summer. We don't need National Ice Cream month as an excuse, now do we?
Want even more ice cream recipes to try this summer? Check out this Lemon Shandy Ice Cream.