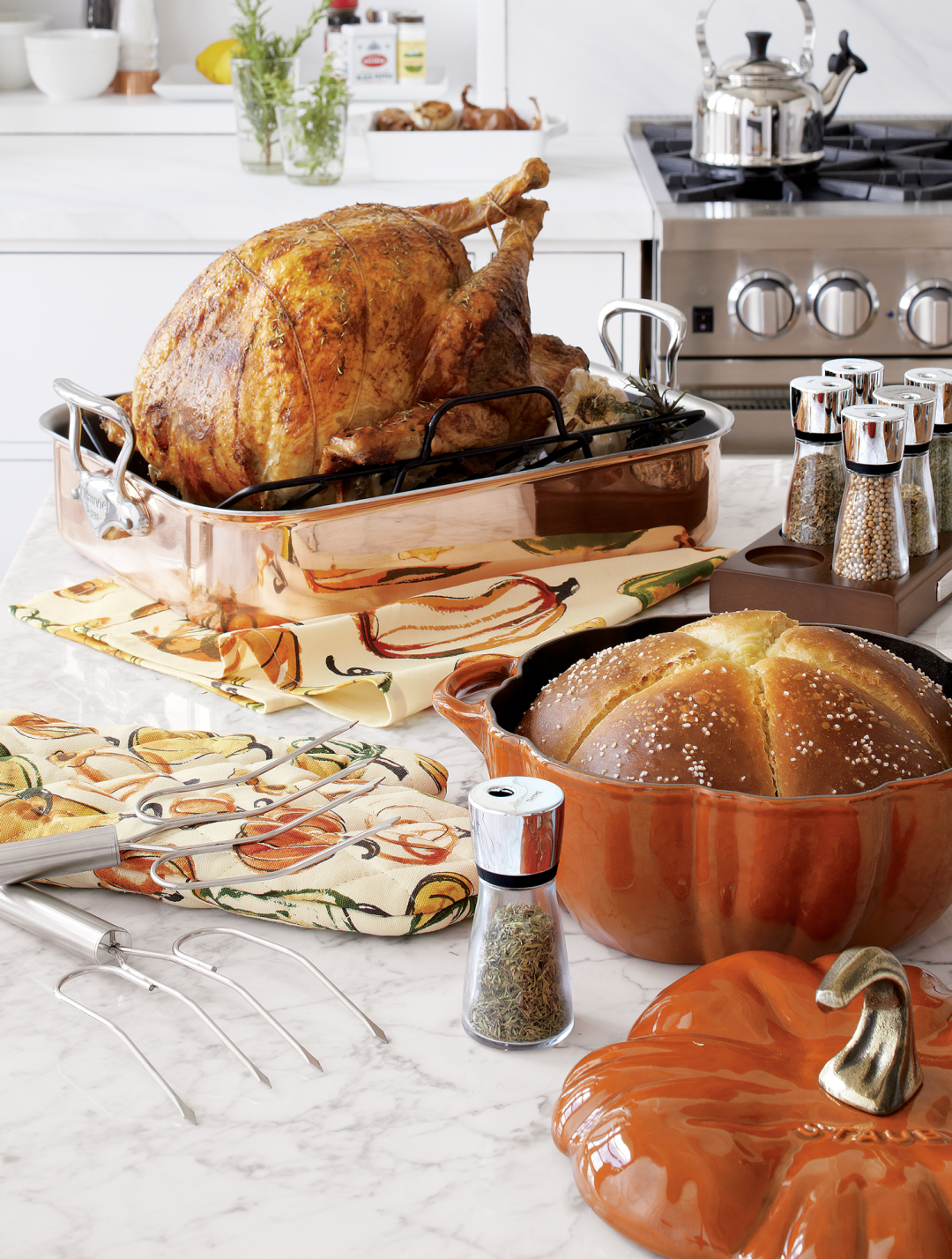 Researching your holiday recipes? We've partnered with cookbook author, food writer and food stylist Jeanne Kelley to make this light and easy-to-make bread that will complement any holiday table.
Honey-Butter Bread Recipe
Makes 1 large loaf, about 12-14 servings
Ingredients
1 cup lukewarm water
1 package (2 1/4 teaspoons) active dry yeast
2 eggs
1 egg, separated, egg white reserved
8 tablespoons (1 stick) unsalted butter, melted, cooled to room temperature, divided
1/4 cup honey
4 1/2 cups unbleached all-purpose flour
2 teaspoons fine sea salt
Flaked sea salt (optional)
Directions
Sprinkle yeast over the water in the bowl of a stand mixer and let stand until the yeast dissolves, about 5 minutes. Fit the mixer with the dough hook attachment. Add the eggs, egg yolk, honey and 4 tablespoons butter to the yeast mixture in the bowl and beat until blended and frothy.
Add half of the flour and the salt to the yeast mixture and stir on medium speed until just blended. Add the remaining flour and mix until blended, stopping the machine once or twice to scrape down the sides of the bowl. Increase the speed to medium-high and beat until the dough is smooth and forms a ball that pulls away from the sides of the mixing bowl, about 7 minutes.
Transfer the dough to a lightly floured surface. Brush a large bowl with the melted butter. Add the dough and turn gently to coat with butter. Cover the bowl with a clean dishtowel and let the dough rise in a warm, draft-free area until doubled in volume, about 2 hours.
Transfer the dough to a lightly floured surface and cut into 5 even pieces. Form each piece into a smooth ball. Brush a 3.5-quart enameled cast iron pan generously with the melted butter. Arrange dough balls, spacing evenly, in the pan. Cover the dough with a clean dishtowel and let stand in a warm draft-free area until almost doubled in volume, about 1 hour.
Meanwhile, position the rack in the center of the oven and preheat to 350°F. Re-melt the remaining butter if necessary and drizzle over the bread. Beat the egg white to blend. Gently and thoroughly brush the dough with the egg white and sprinkle with salt if desired. Bake until golden brown and an instant-read thermometer inserted into center of bread registers 190°F to 200°F, about 1 hour. Cool the bread in the cocotte on a rack. (Bread can be baked one day ahead. Cover with the lid and keep at room temperature.)
Love warm bread fresh from the oven. Try this Irish Soda Bread.