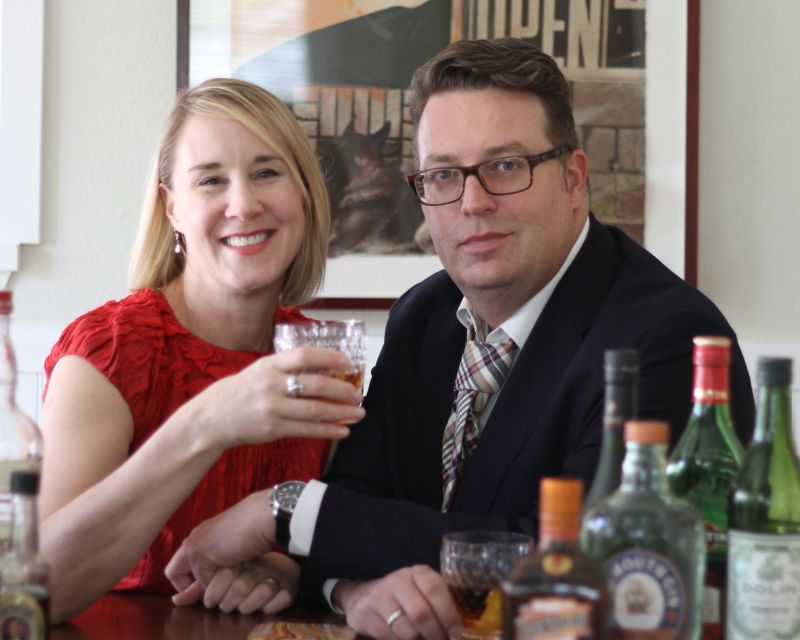 12bottlebar.com
This holiday season we've partnered with some of our favorite bloggers who will be showing you new and inspirational ways to bring the holidays home.
Entertaining this holiday season? We've partnered with David and Lesley Jacobs Solmonson of 12 Bottle Bar to bring you 12 new cocktails, one each week from now until New Years. Cheers!
What can we say about Hot Buttered Rum? It's hot. It has butter. It's made with rum. It is the ultimate, sit-by-the-fire sipper. Completely old school (and by that we mean so old school that the way they used to heat it was by plunging a red hot poker into the cup.) These days, you don't need a hot poker to make this satisfying cold weather drink. Just hot water combined with sugar cane spirit and spiced butter, which dissolves into the rum/water mixture and adds a velvety texture to boot.
About Hot Buttered Rum
Lest you think butter in your booze is just a little bit weird, ask yourself why? We eat chocolate with bacon in it and think nothing of it. So rather than focus on the butter, focus on what it tastes like. Think cinnamon cookie dough. Add that to the rum and you have a liquid confection in a handy single serving size.
More than that, Hot Buttered Rum, like all basic punches, is supremely easy. The spiced butter can be made the night before a party, it keeps for up to a week and can be frozen for up to a month. There will never again be an excuse for you not to have a festive drink at the ready for friends or just for yourself.
Think of this as your holiday rum cake, minus the ugly sweater and the thank you note to Aunt Nancy.
Hot Buttered Rum requires a heat proof vessel for serving and the Crate and Barrel Irish coffee mug fits the bill. The olive wood coasters add a suitable resting place for this buttery hot toddy. We chose to feature the spices on the Mallorca saucer.
Hot Buttered Rum Recipe
Drink Ingredients
2 tablespoons Spiced Butter (recipe follows)
2 ounces amber rum
4 ounces boiling water
1 pat unsalted butter, for serving
Heat the mug by running it under very hot water; dry it thoroughly. Place the Spiced Butter in the bottom of the mug. Add the rum, then the boiling water, and stir to dissolve the sugar that's in the butter. Float the pat of unsalted butter on the surface of the drink.
Spiced Butter Ingredients
Makes 1 ½ cup butter, enough for 10 to 12 drinks
½ cup (1 stick) unsalted butter, at room temperature
2 cups light brown sugar or raw sugar, such as demerara
1 teaspoon ground cinnamon
½ teaspoon freshly grated nutmeg
Pinch of ground cloves
Pinch of salt
Combine all of the ingredients in a small bowl and cream together with a wooden spoon. Cover and refrigerate until firm, 8 hours or overnight. The butter will keep, stored in an airtight container and refrigerated, for up to 1 week, or frozen for up to 1 month.
Looking for more delicious drink ideas? Check out these cocktail recipes.