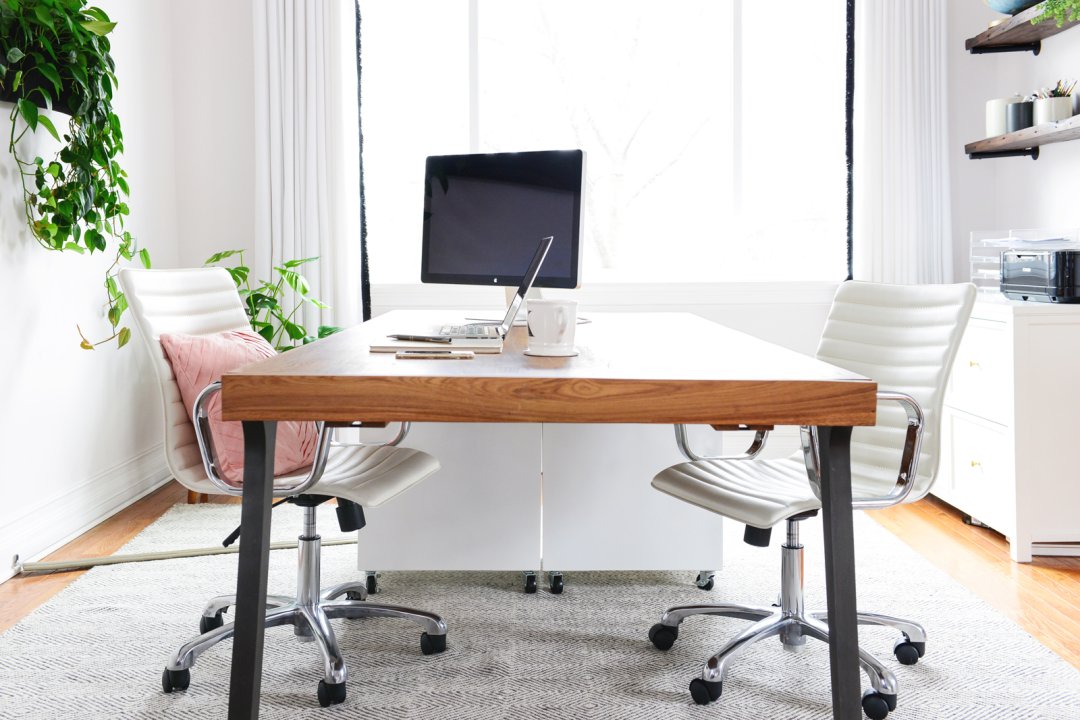 Start the new year with a clean slate—and desk! We're partnering with DIY experts Kim and Scott Vargo of Yellow Brick Home to share their tips for getting organized.
You've seen over the last few months how we've taken two connecting rooms and turned them into our home studio and lounge. Dare I say, these are our favorite rooms in the house? Since completion, we've been finding it easier to find our groove every morning, and we owe so much of it to the way we sneakily organized our space. I'm going to dive a little deeper into our makeover, and I'll share how we stow away our office supplies!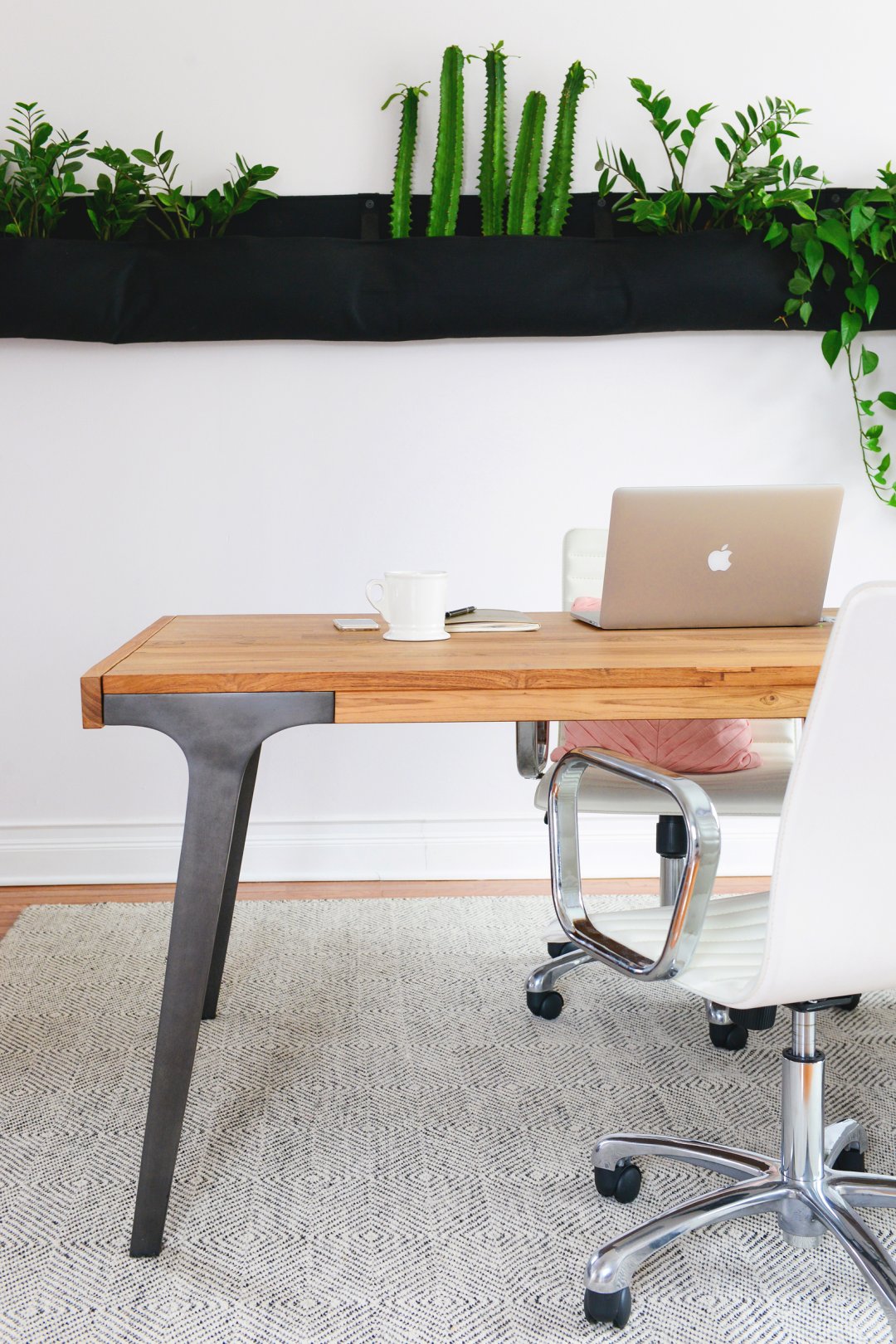 During the day, I wear a couple of hats – blogger and artist. As a blogger, I don't need much else besides my laptop and camera, but as an artist, I have a lot more stuff that needs to be tucked away. Specifically, I paint mini pet portraits, and with this comes endless tubes of paint, mixing jars, tangles of brushes and a drop cloth to keep my surroundings clean and neat.
You may have noticed that underneath our large Lakin table-turned-desk, each of us has our own filing cabinet. They sit back-to-back, and together, they're the perfect depth to hide completely under the tabletop!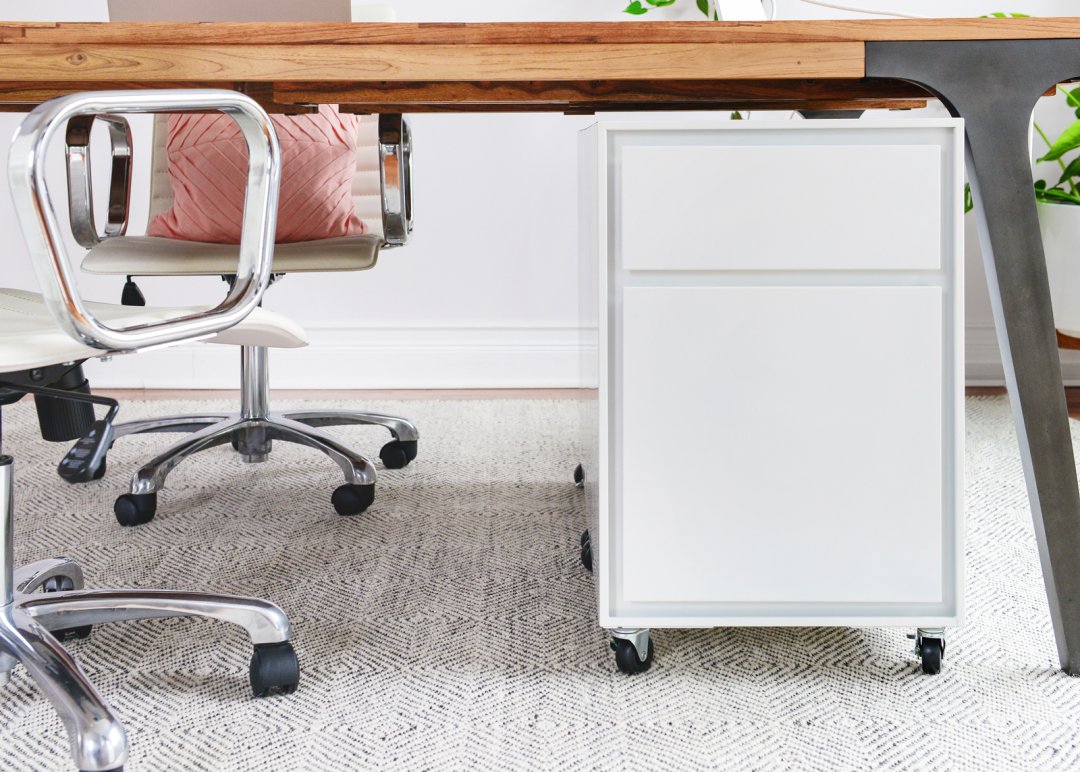 We both keep the typical office items in our top drawers – everything from pens, pencils and rolls of tape – and I'll fully admit to hoarding sticky notes. I use them to color code my tasks for the month, and I adhere them to my paper calendar. Yes, I'm still keeping my appointments in a physical book!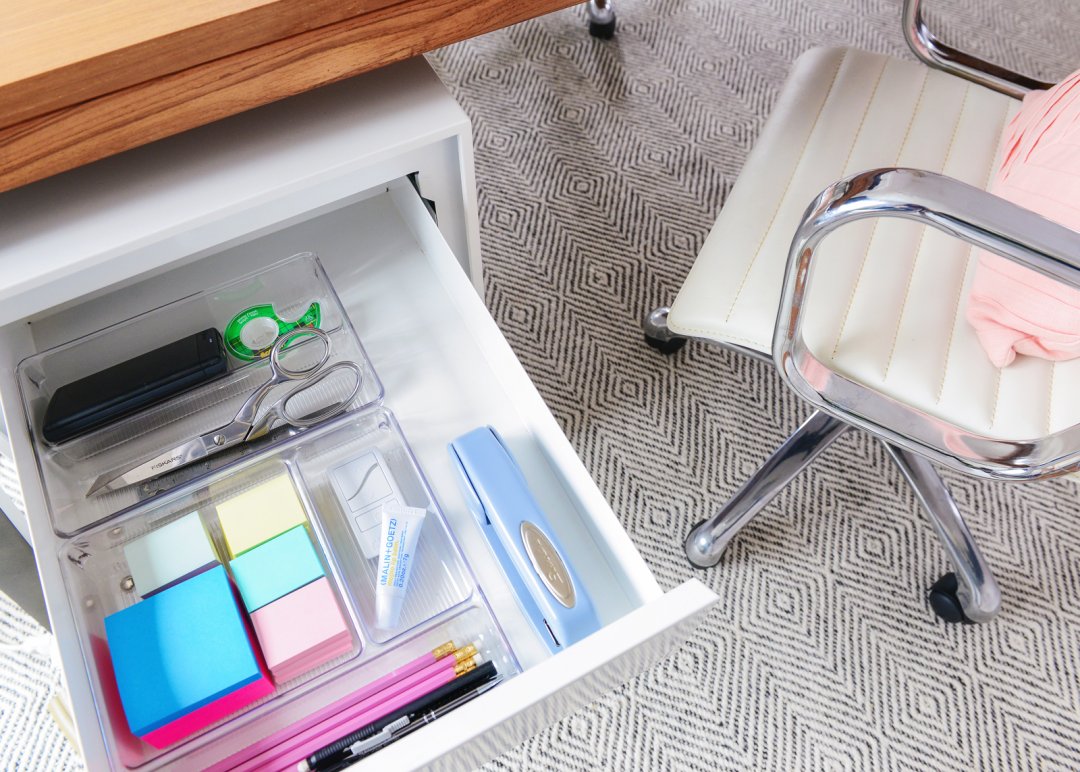 The bottom drawer is the 'filing' part of the cabinet, but Scott and I use this deep section for different reasons. In my case, I use stacking Binz to house my variety of mixed paint colors, and any extra space is taken up with trays, a water dish and my drop cloth to protect our desk. On the opposite side, Scott uses this drawer to stash his laptop bag.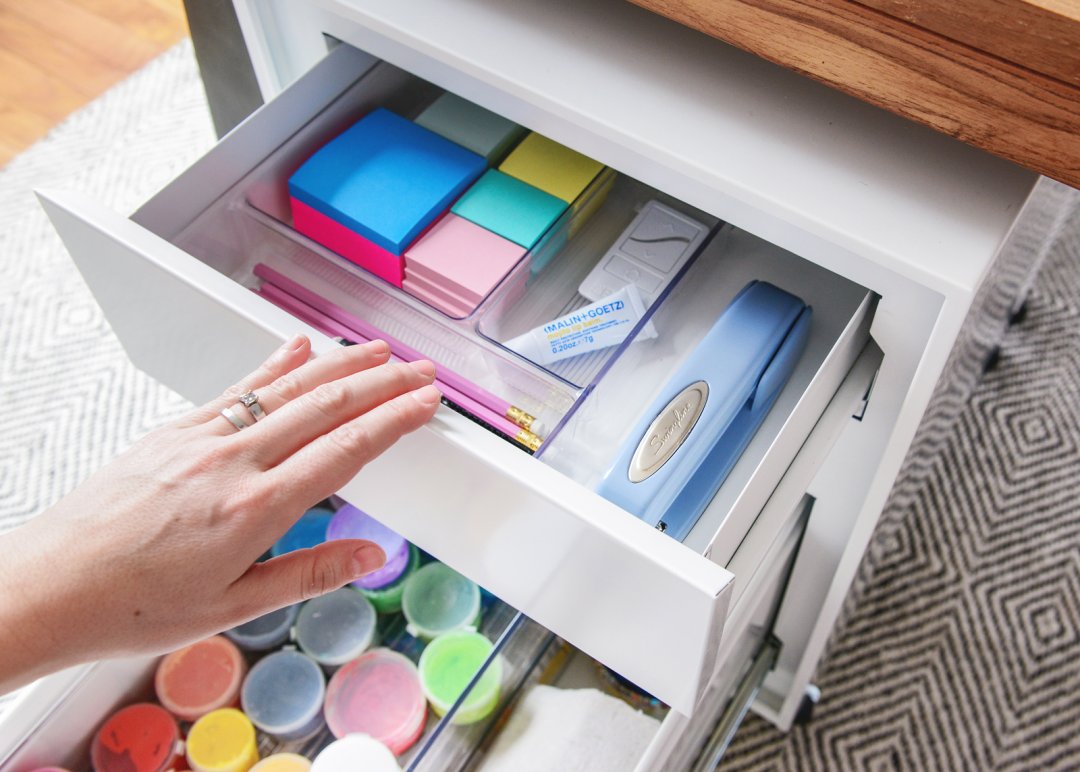 We recently made salvaged wood shelves to hang on our office wall, just beyond our desk. While we display favorite photos, prints and plants, it has a practical use, too.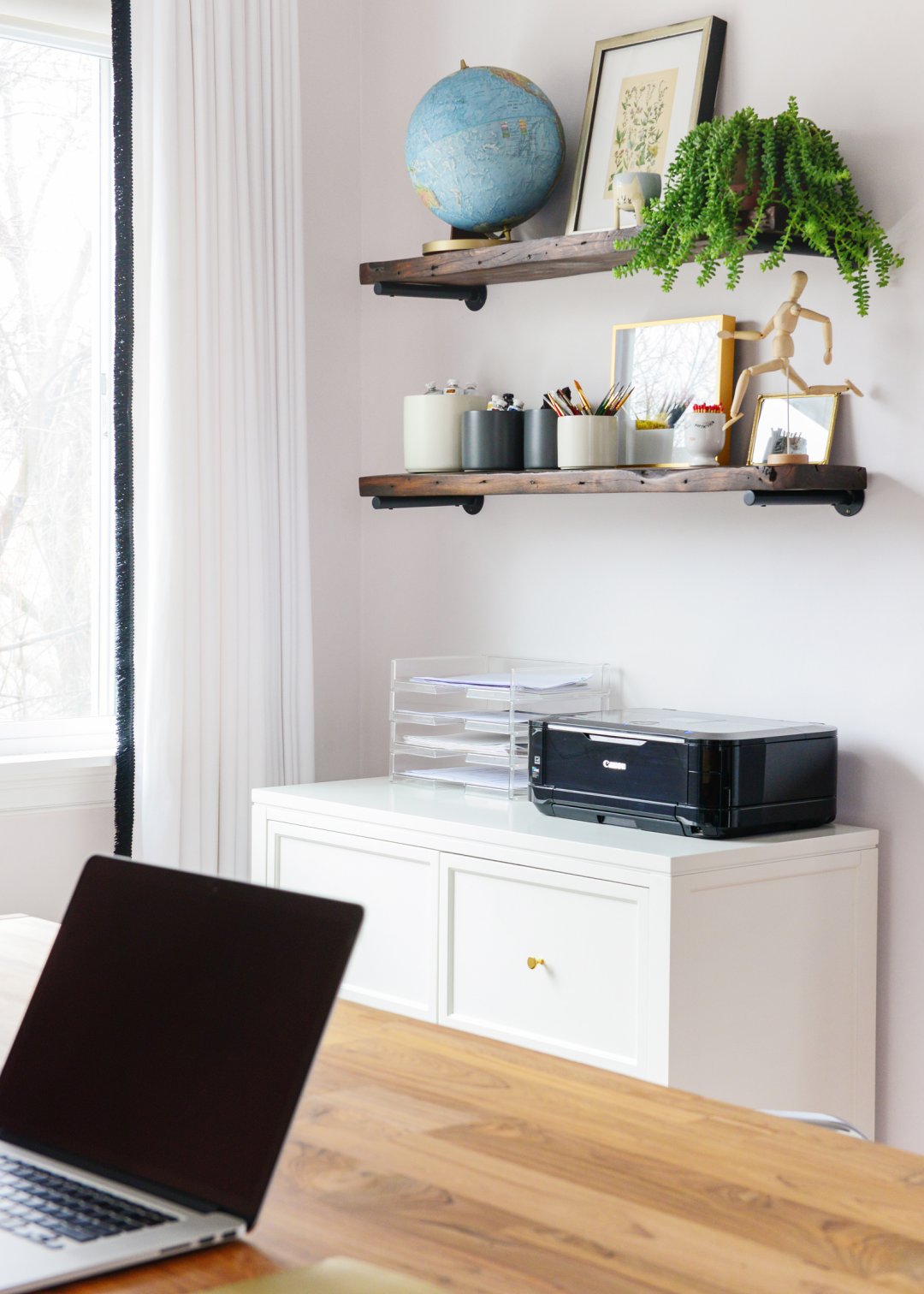 These Silo canisters might be my favorite purchase from the last several months. (The uses for these vessels are endless – think: food storage, a home for dog treats or cotton balls and swabs.) The satin finish is so pretty, and the neutral colors allow my art supplies to be the star of the show! My larger tubes of paint, bristle and foam brushes are stored in the canisters, and I keep them on the lower shelf for easy access.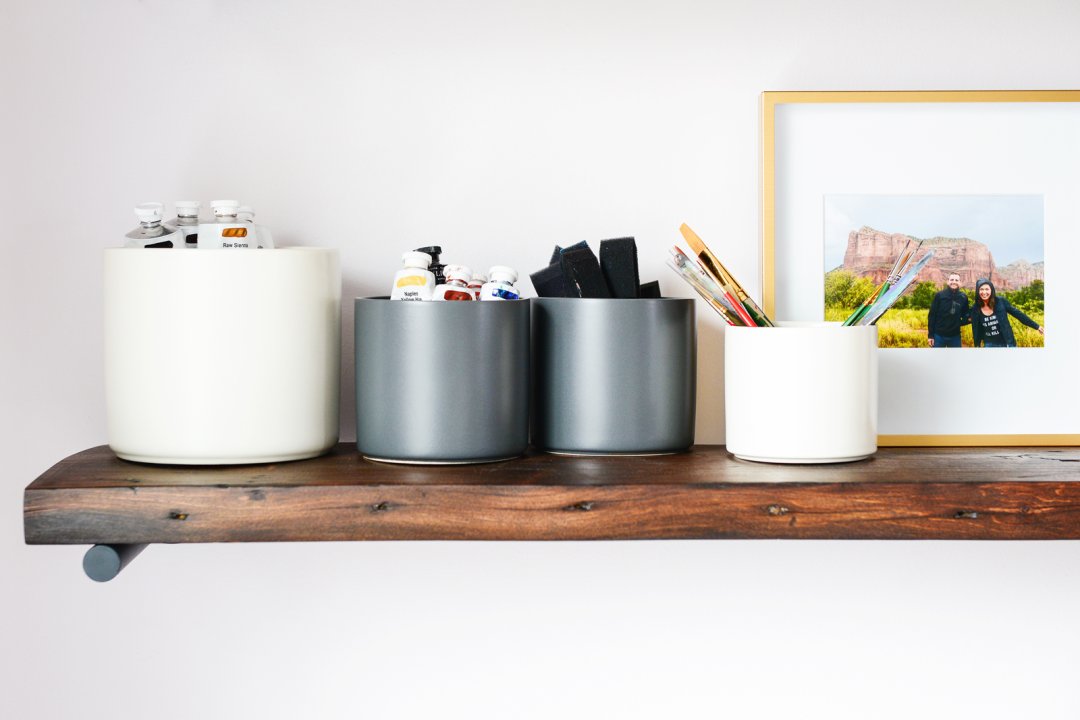 The deep desk allows us to work simultaneously without encroaching on each other's space, and both filing cabinets keep the peace. (No more, Can you pass the scissors/tape/markers/insert-any-item-here, please?) We couldn't be happier with the functionality of the room, with some features hidden while others are on display.
I hope you enjoyed taking a peek inside our office!