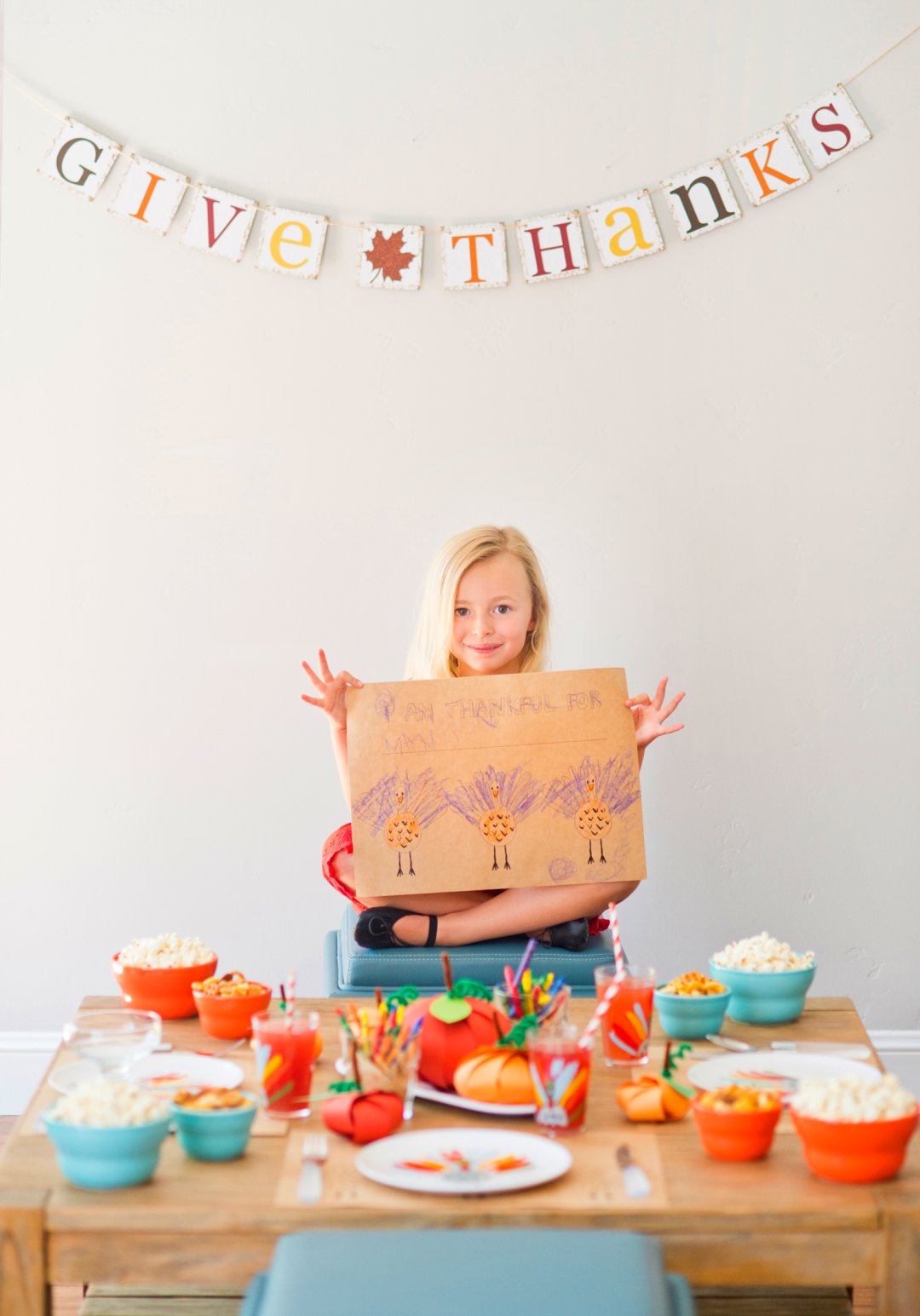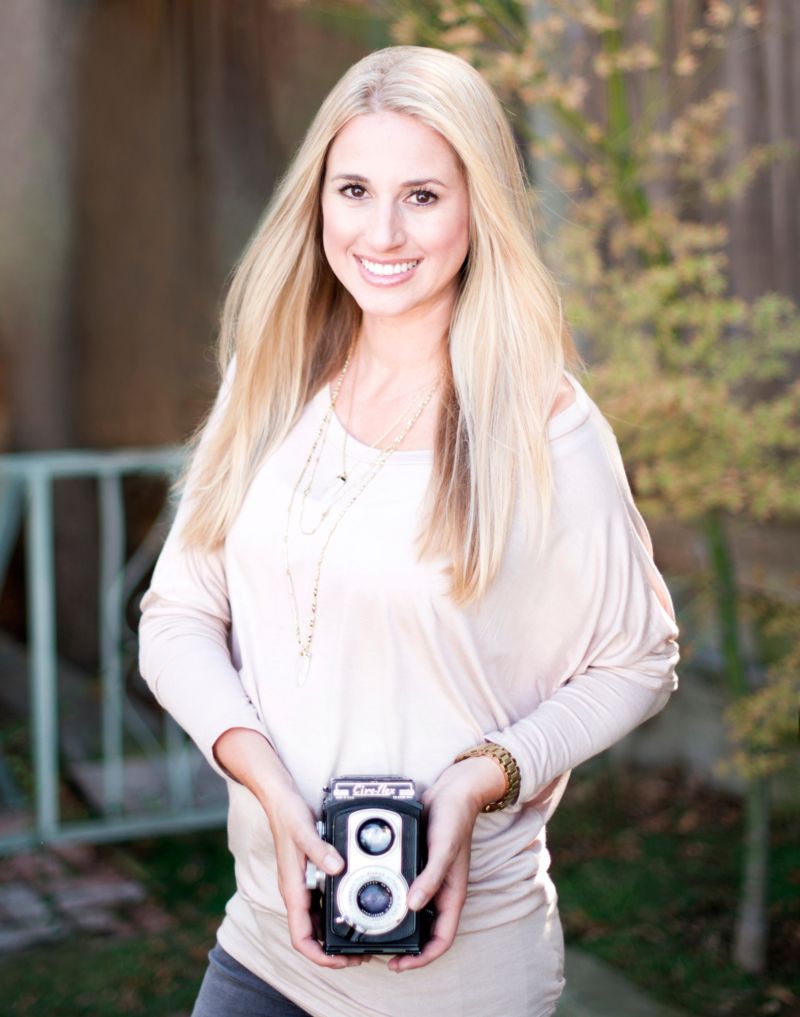 mysplendidliving.com
The kids' table is about to be the envy of all the adults. We partnered with Brie Matulich, founder of My Splendid Living, to style a bright and cheerful kids' table full of coloring crafts and treats your youngest guests will love.
This Thanksgiving we all wish we could sit at the kids' table! After all my 5-year old niece Maddison gave me some great advice, "Just make it fun!!!!"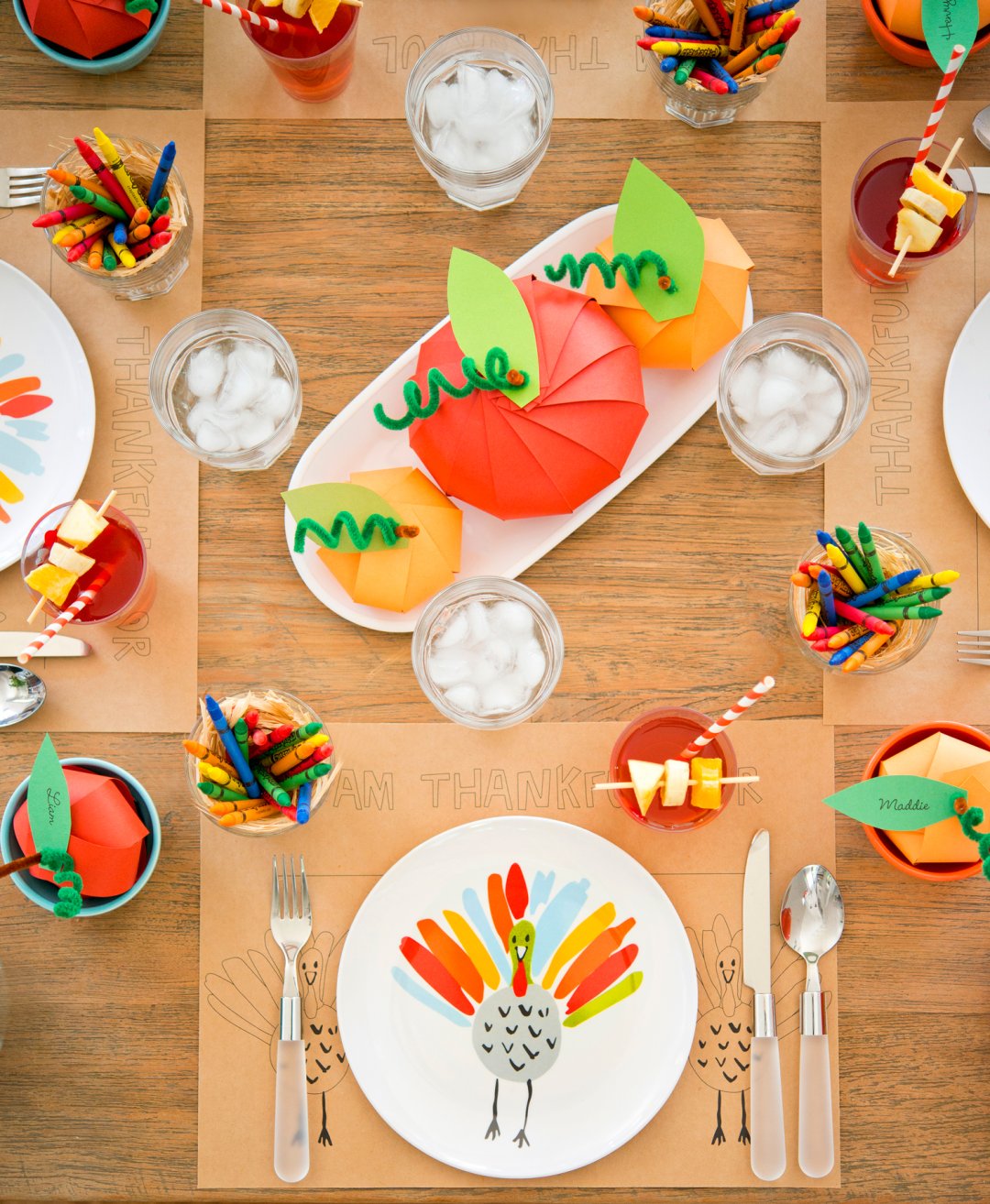 So channeling my inner child, I sought out to meet her expectations with bright cheerful colors, paper pumpkins and turkey coloring placemats. Providing crafts and activities for the kids will make your job easier while entertaining your guests and cooking the Thanksgiving turkey, and the kids can color just about anything on this table from the placemats to the handmade paper pumpkin centerpiece.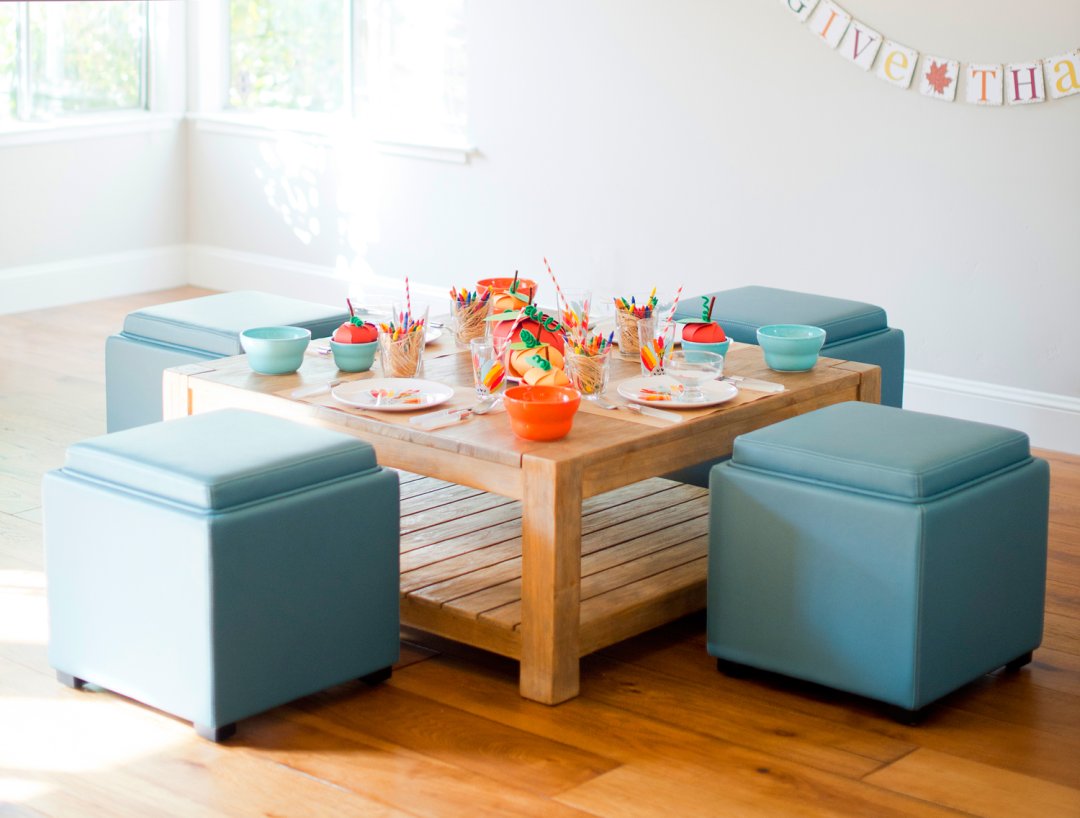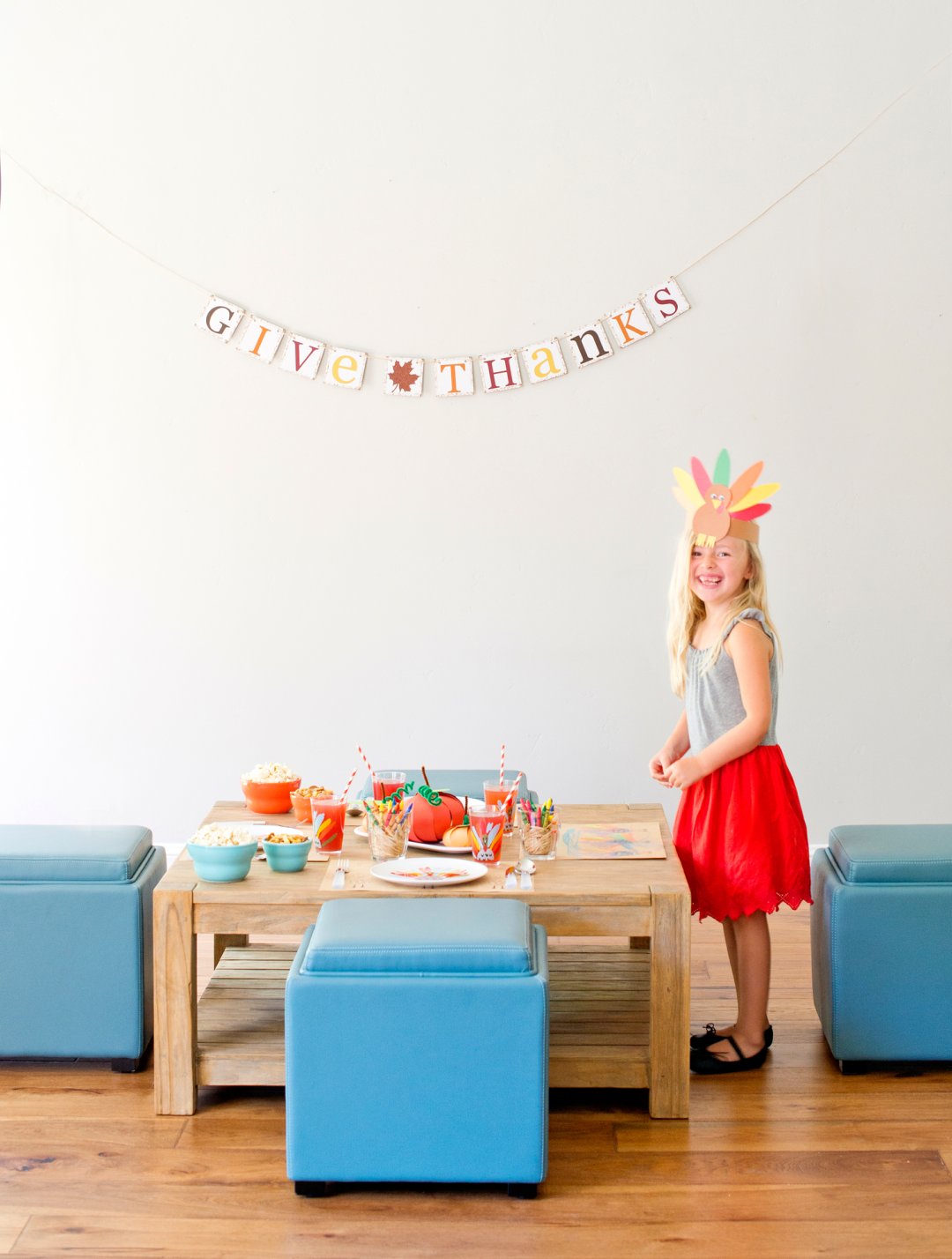 So they would have lots of open space to play, I set up the kids' table in my living room on Crate and Barrel's Edgewood Coffee Table with four Stow Ocean Leather Storage Ottomans.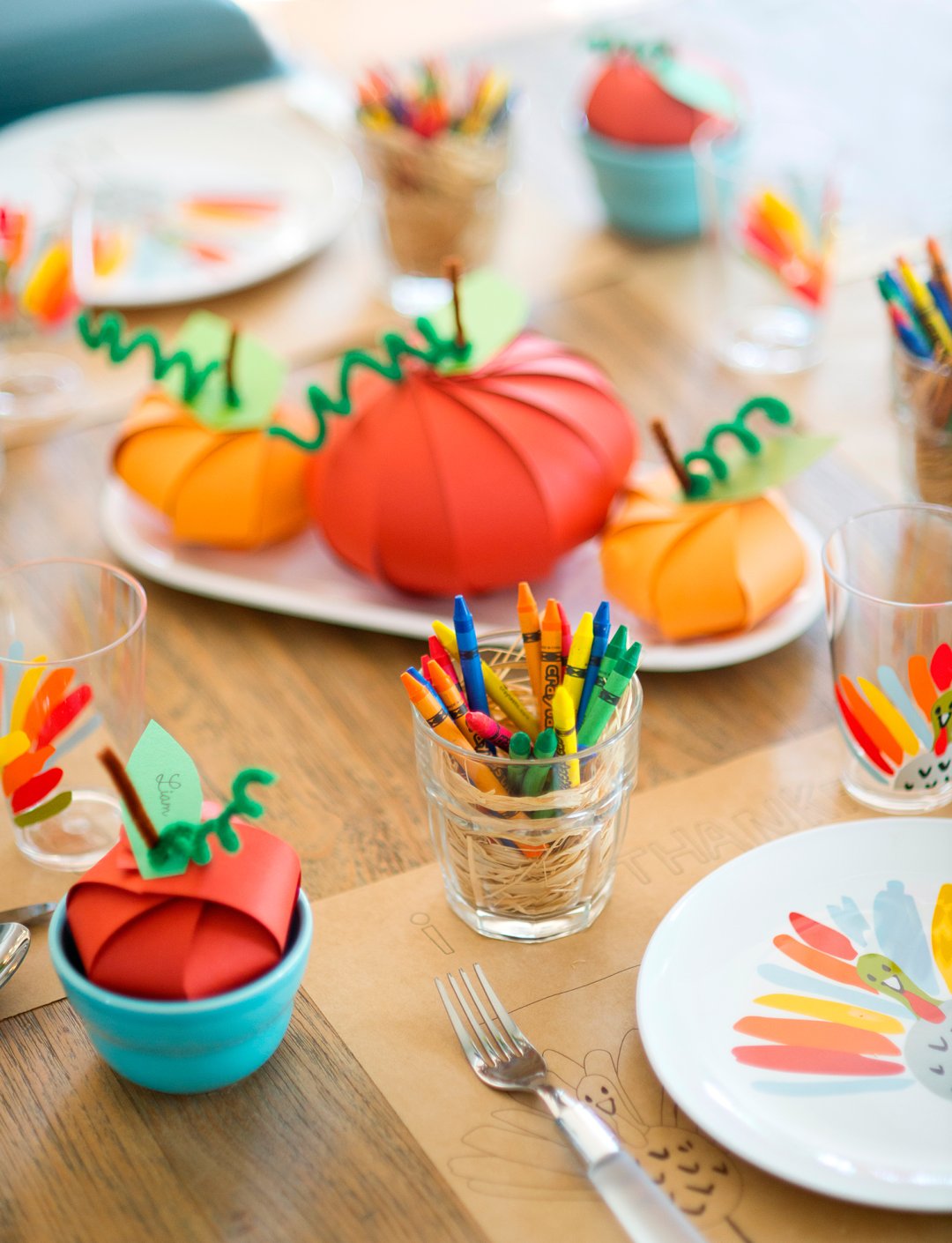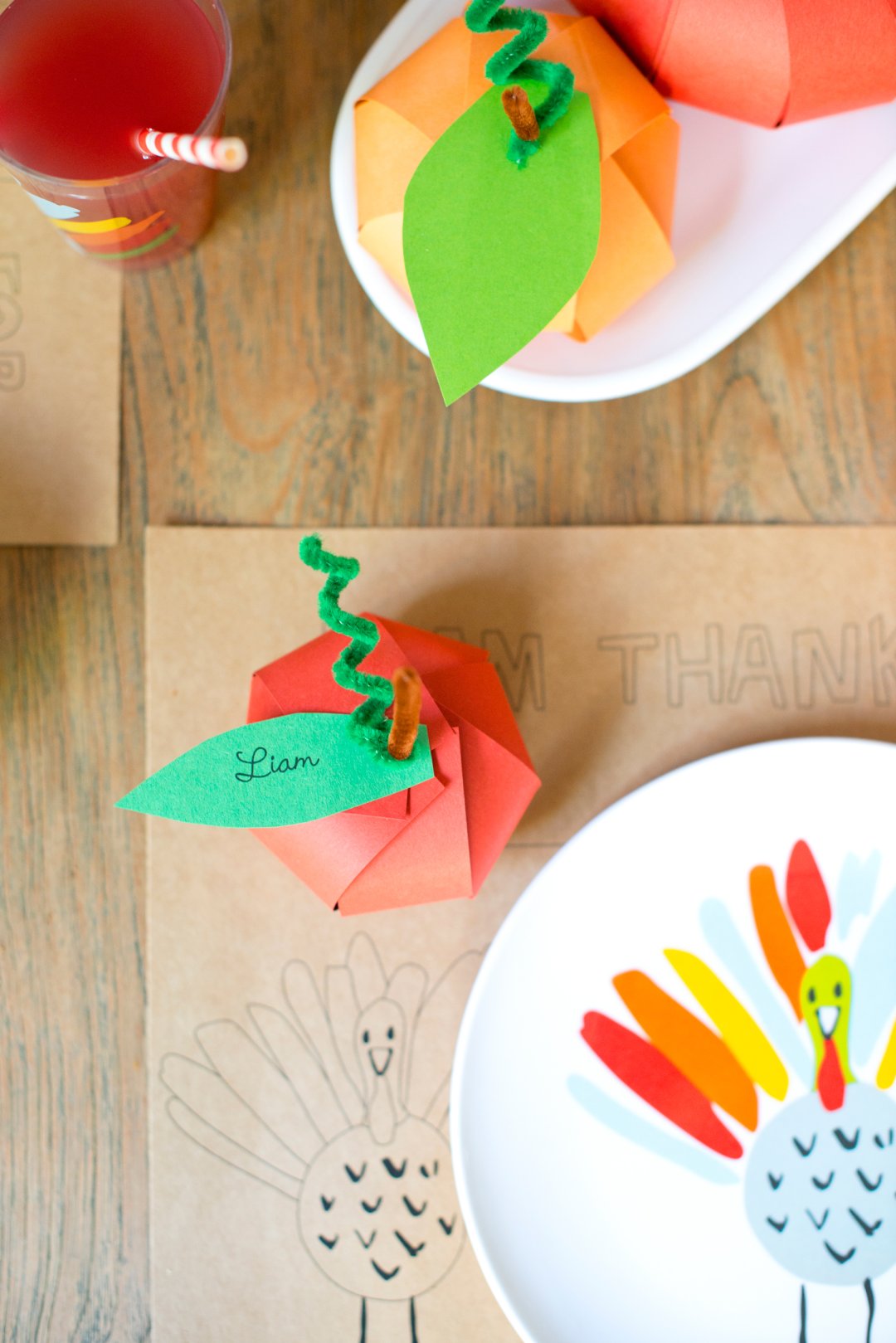 I made several paper pumpkins to use as centerpieces on Crate and Barrel's White Oval Melamine Serving Platter, making the table truly kid-proof. I also used smaller handmade paper pumpkins as placecards and placed crayons for coloring inside Carley Clear Glasses at each place setting.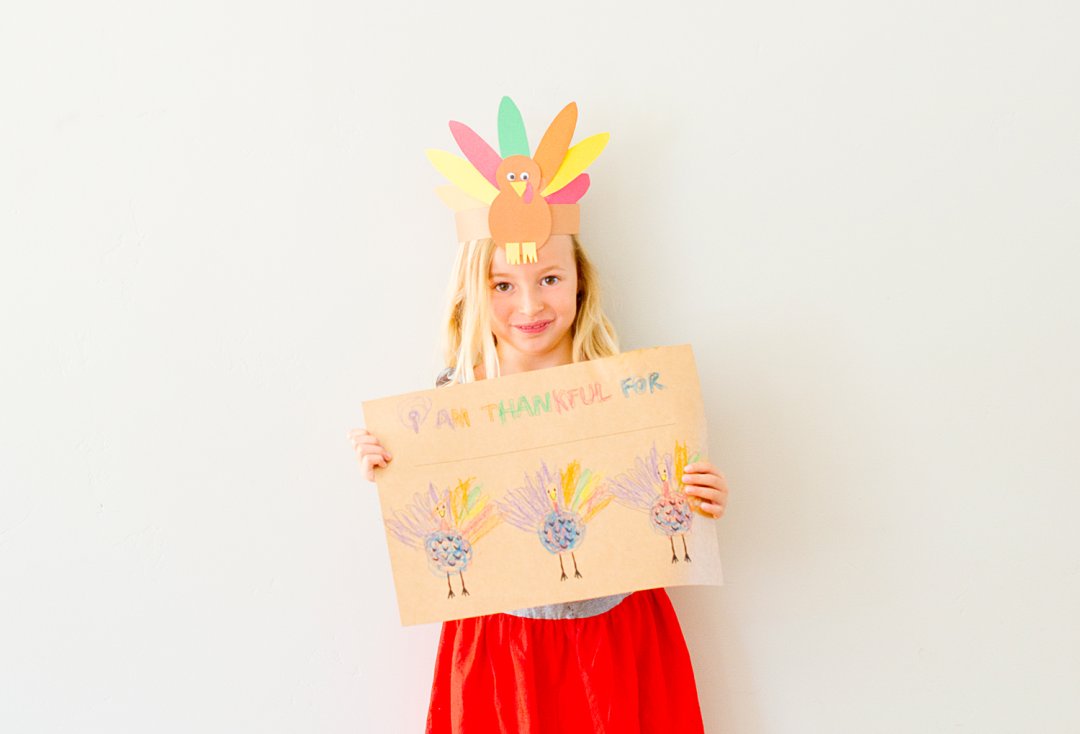 Having some yummy food and drinks on the table while the arts and crafts begin will also keep the kiddos entertained and fed while the adults wine and dine.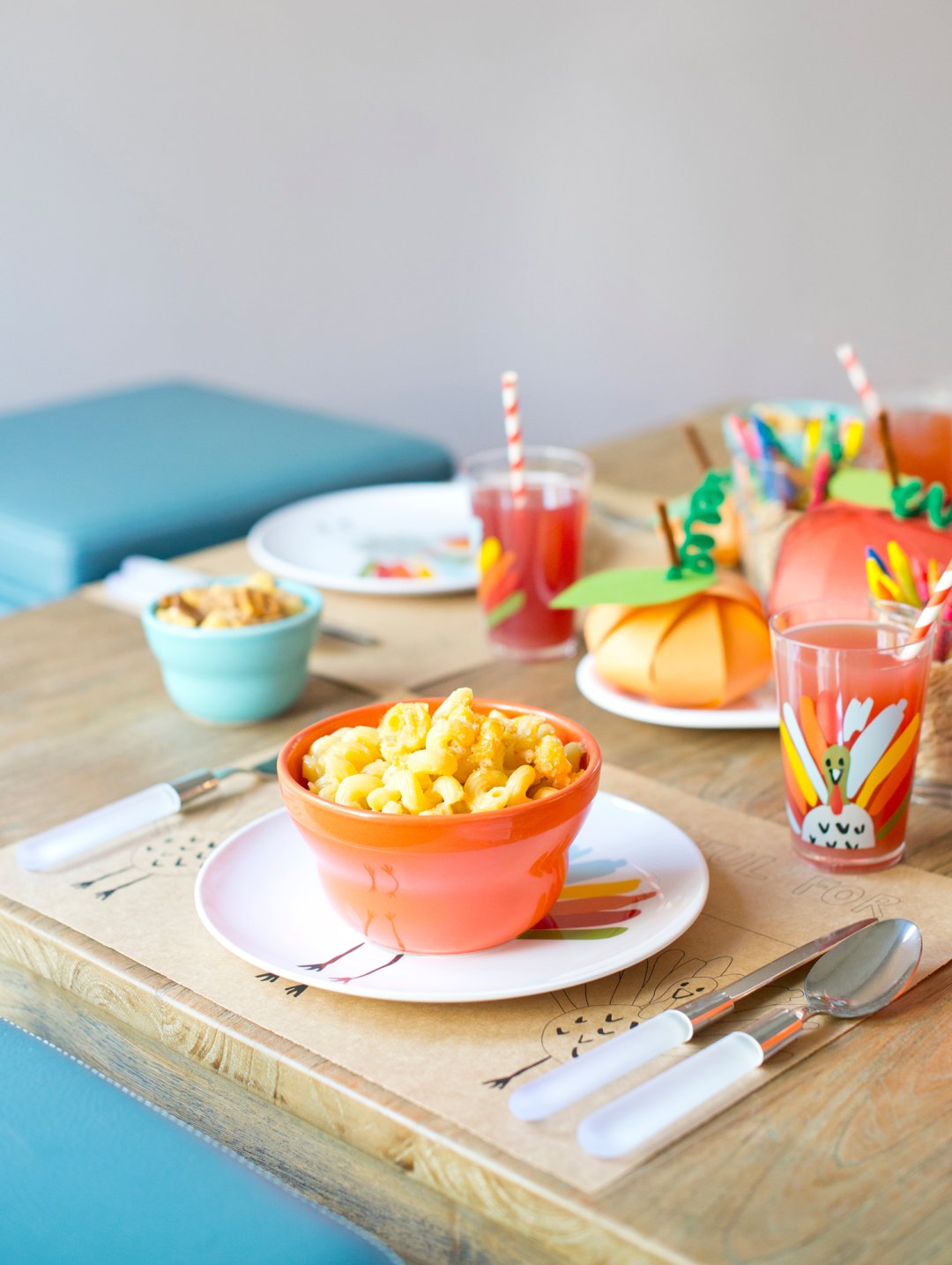 Maddison was truly delighted. She spent over an hour playing dress up with the handmade turkey crown, coloring several placemats and snacking on my Squeekies Mac and Cheese served in the brightly colored Aqua and Coral Bowls.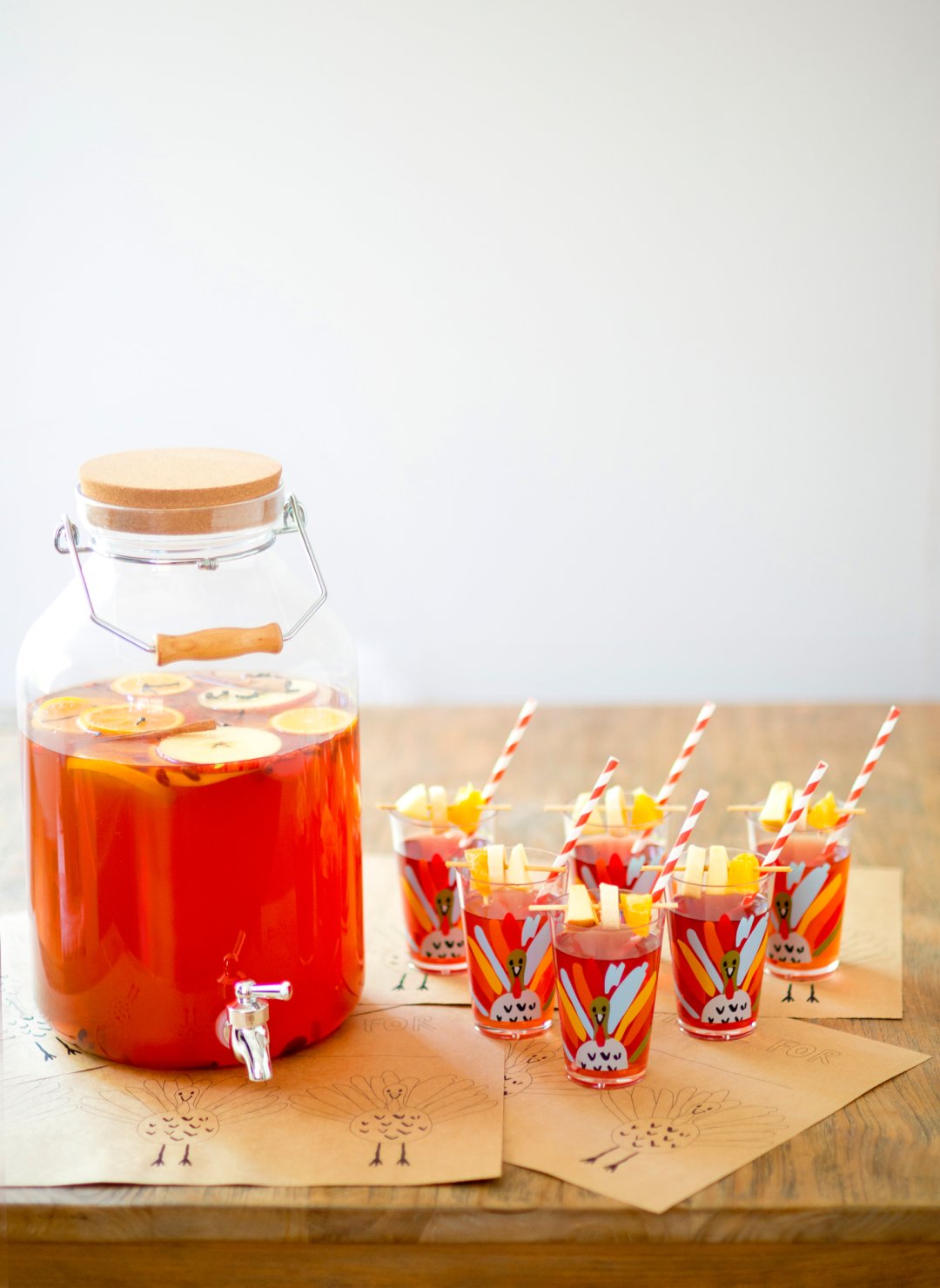 She especially loved the turkey characters on Crate and Barrel's Happy Turkey Plates and Tumblers, which we used to serve up the Kids' Cranberry Cider with stripped straws and a fruit garnish. Hope you have as much fun as we did!
Kids' Cranberry Cider Recipe
Ingredients
1 liter apple juice
2 cups orange juice
1 liter cranberry juice
½ cup sugar (to taste)
5 cinnamon sticks
½ teaspoon ground cloves
Instructions
Add all ingredients into a crockpot. Set the crockpot to high until the juice gets hot, then turn crockpot to warm and let it sit for three hours occasionally stirring. Refrigerate until cold and serve in a beverage dispenser along with thinly sliced apples, oranges and cranberries for décor and added flavor.
Serve and garnish with orange, banana and apple slices on a stick. This Thanksgiving recipe is great for the entire family and can be served hot for your adult guests too.
Squeekies Mac and Cheese Recipe
(So named because they squeak in your mouth with every bite!)
Ingredients
16 oz (1 box) cavatappi shells or traditional elbow noodles
1 stick of butter
3 cups cheddar cheese, grated
3 cups milk
4 tablespoons dry bread crumbs
Pinch of salt and pepper to taste
1/3 cup flour
Instructions
Cook cavatappi shells using instructions on box. Pre-heat oven to 375 degrees. In a saucepan, melt butter on medium heat. Add flour to sauce pan and mix until combined. Slowly add the milk to the saucepan while stirring. Bring to a boil and stir for about a minute, then reduce heat to low. Once thickened remove saucepan from the heat and stir in grated cheese, salt and pepper. Stir until cheese is completely melted.
Once the cavatappi shells are finished cooking, add the shells to the melted cheese and butter mixture. Mix into a 9×13 casserole dish and sprinkle breadcrumbs over the top. Bake in the oven for about 30 minutes and until breadcrumbs have browned. Allow to cool and serve.
My tip: Kids love then you keep it simple, so cheddar cheese is always a good choice. For adult Squeekies, I love to add other types of cheeses and even truffle oil.
Thanksgiving is all about the turkey. Get a recipe your guests will be asking you for all night.