Go ahead, invite people over. Our ready-to-host soirées are wow-worthy and delicious—and easy to pull off, we promise. Read on for recipes, chef's tips, ta-da presentation tricks and shortcuts. Who's going to have fun at this party? You.

crateandbarrel.com
Mezze Spread
This Mediterranean-style feast sounds exotic, but really it's just a casual way to graze. You can make the spreads from scratch or buy them ahead of time and garnish with fresh herbs and spices right before serving for a wow-worthy presentation. Pick your favorite platters and bowls to create a vibrant tablescape and showcase the spreads, finger foods and breads, then watch your guests mix and match flavors. Yes, this is meant to be a full meal—one that keeps the party interesting and fun.
Strike a cool note.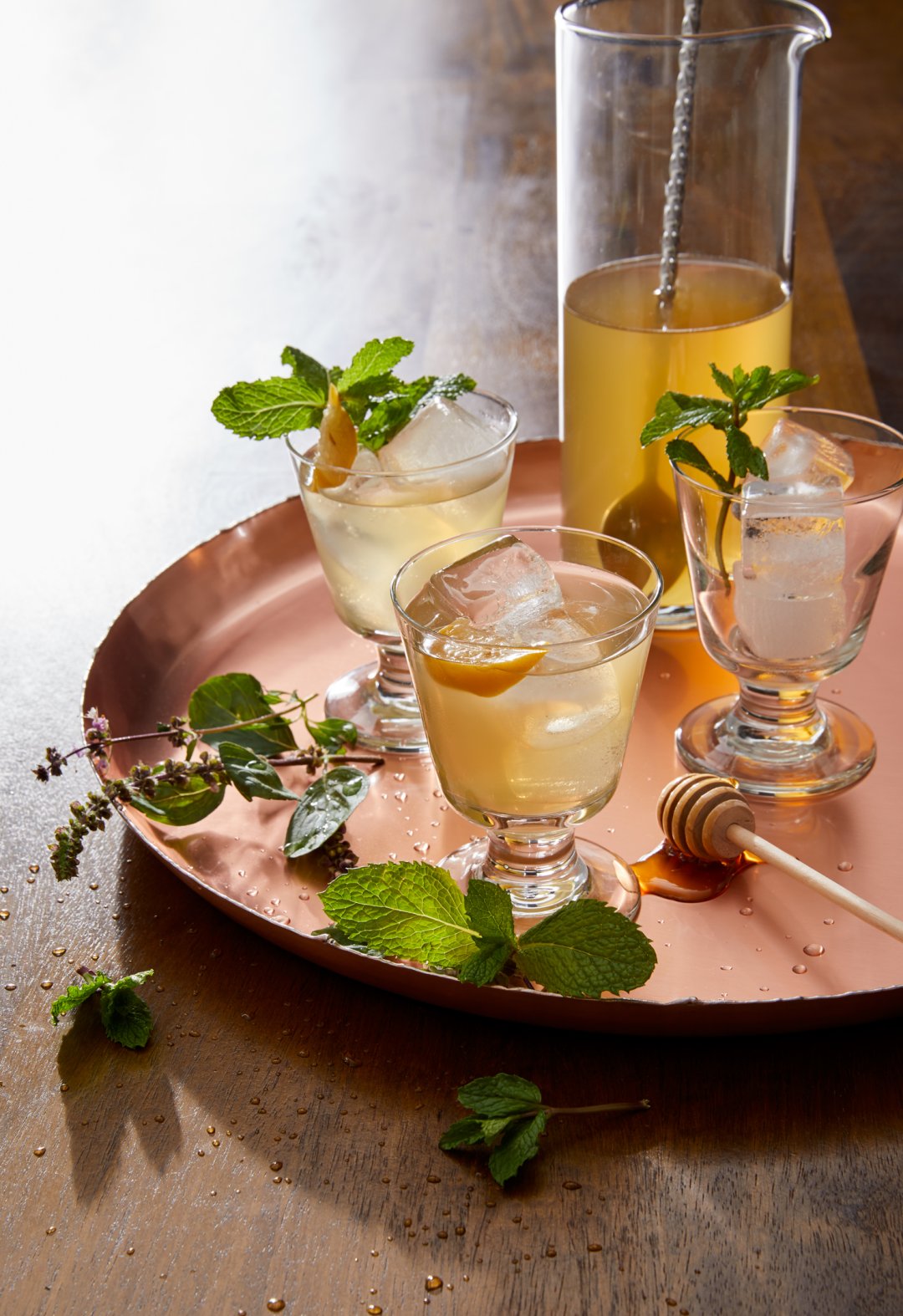 Minted Green Tea Cocktail
Not only is mint a popular ingredient in Middle Eastern cooking, but the cooling sensation of this cocktail perfectly balances the complex flavors and spices of our mezze menu.
Put out a colorful spread.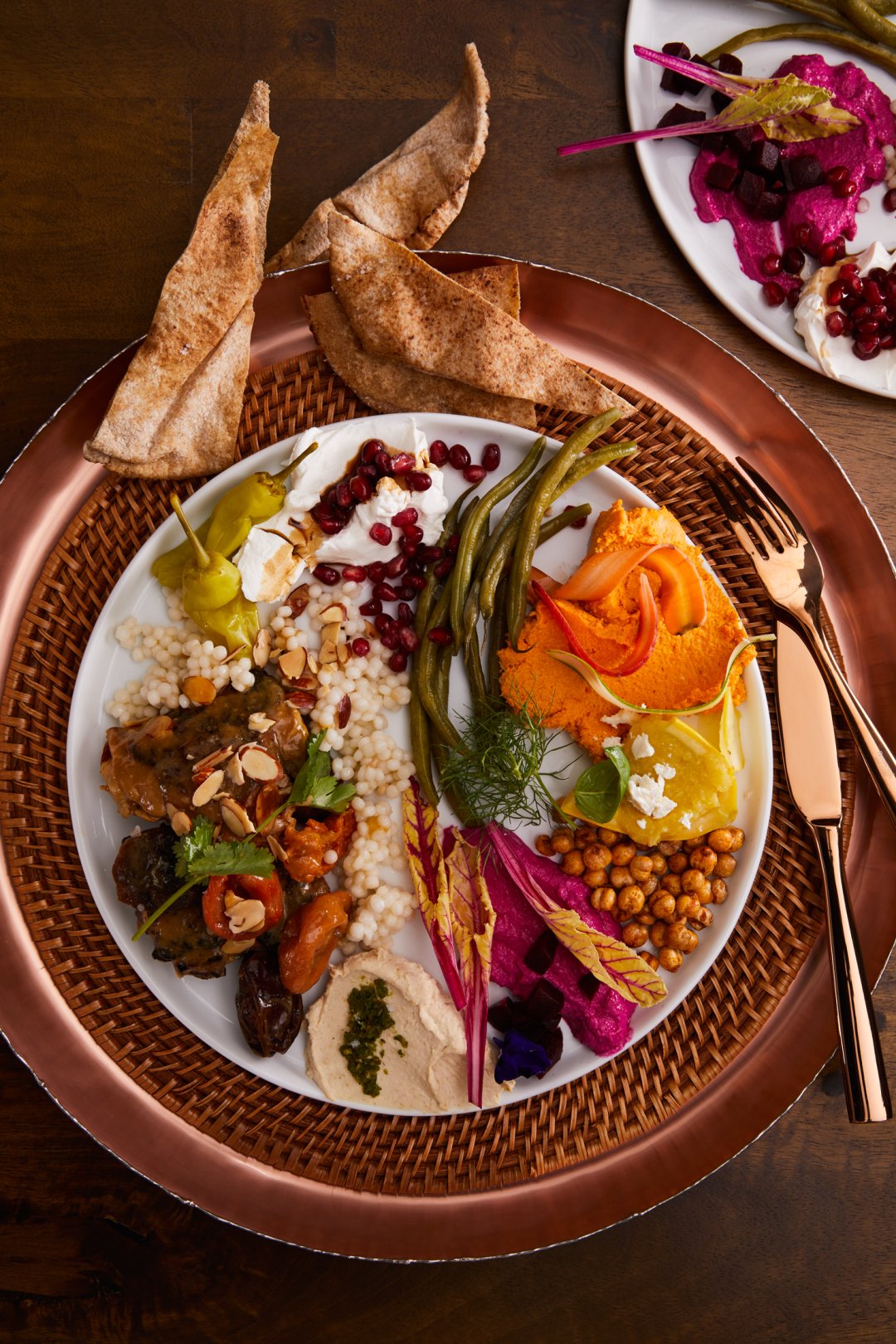 Party Tip: Use a variety of dish sizes to present the food. It's fine to mix and match colors and styles of dishes, too—it'll up the visual interest of your table.
Mezze is all about wowing your guests with the sheer variety of colors, flavors and textures on the table. You can arrange the food on multiple large platters for bigger parties, or even display the entire menu on one large platter for a smaller group. Either way, it's best to use ramekins and pinch bowls to separate the dips from one another and keep things tidy. See our suggestions.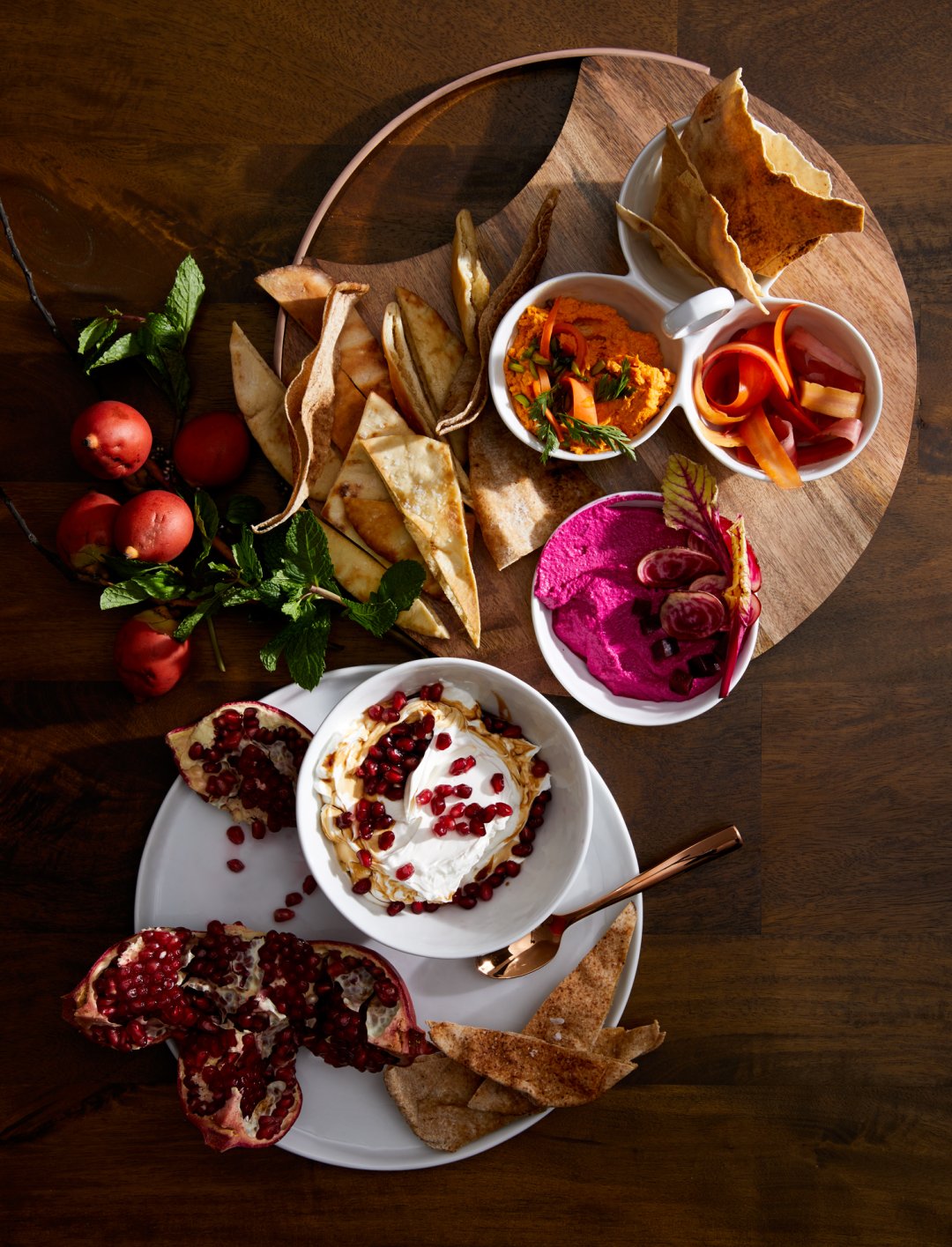 Party Tip: All five of our dips can be made up to two days in advance. Prep early to avoid a pre-party scramble.
Traditional smearing around a bowl is a familiar and lively presentation of spreads. Drizzle some extra virgin olive oil in the center along with sprinkles of sea salt and cayenne pepper.
Chef's Tip: Hold a bowl in the palm of your hand and add a dollop of spread. Rotate the bowl while using the back of a large spoon to smear the dip around the side of the bowl.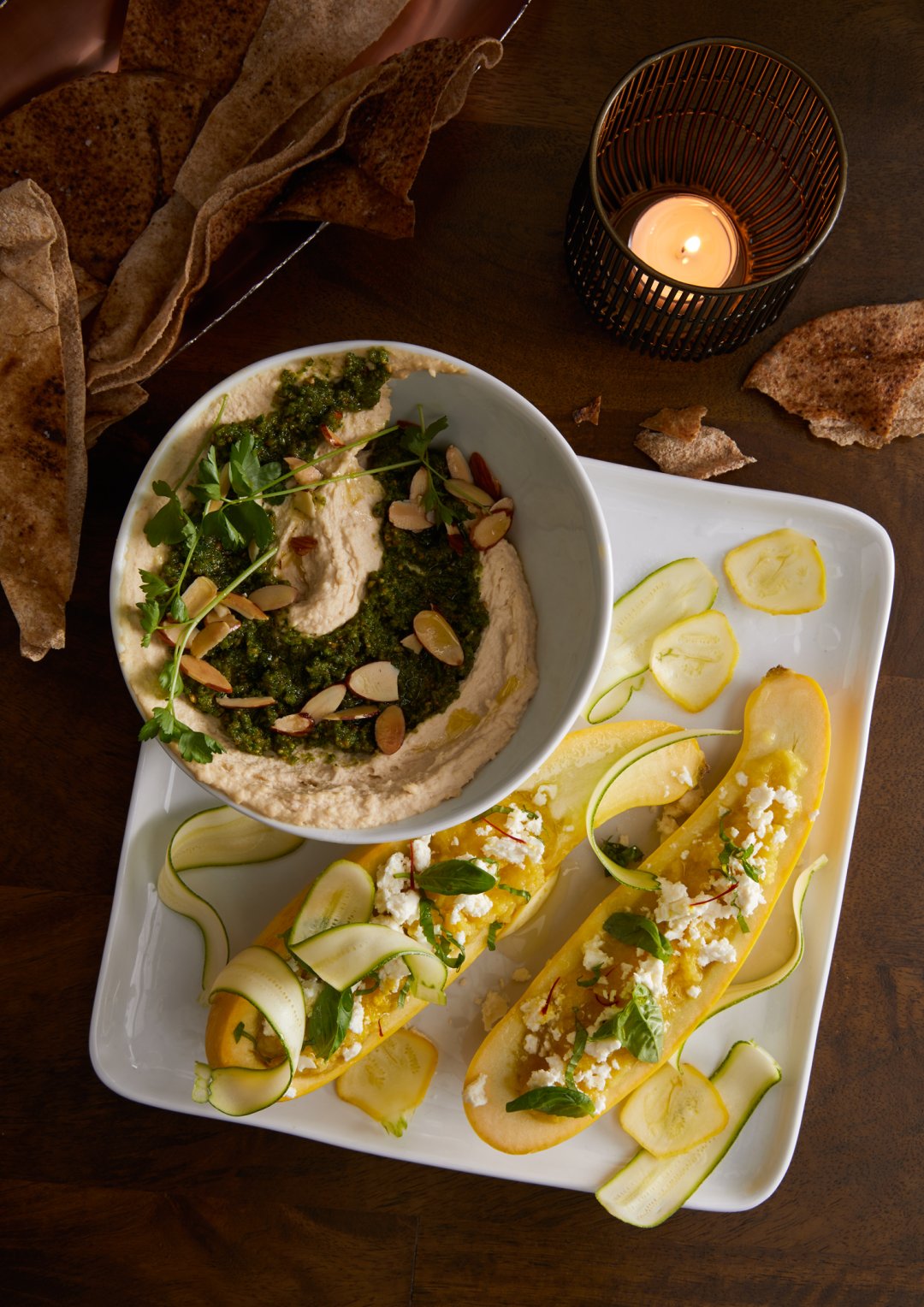 Garnish dips with items that show off the ingredients in each recipe—not only does it look pretty, it gives guests a clue about what they're about to eat. For example, serve the Yellow Squash and Feta Dip inside a hollowed-out yellow squash for a fun pop of color.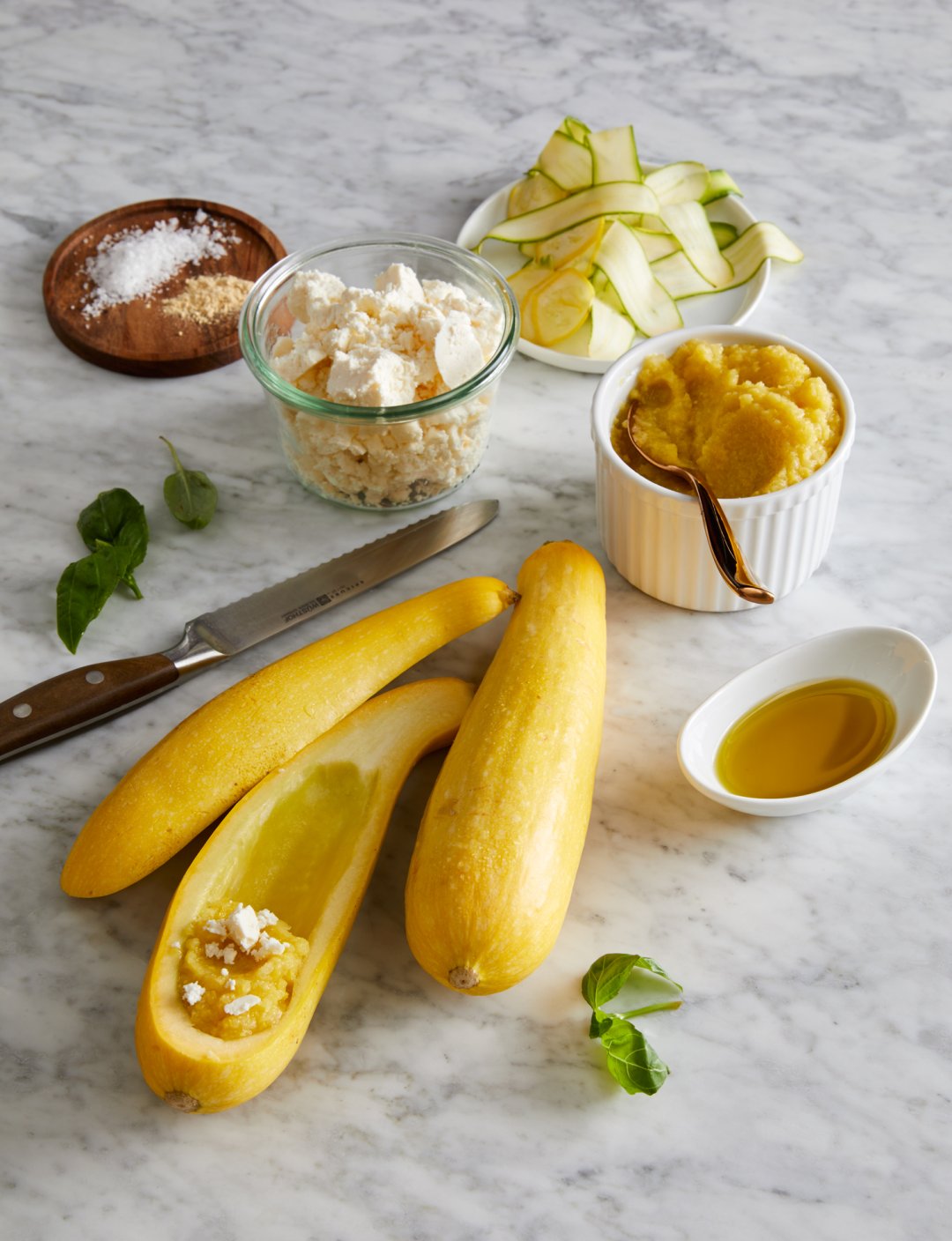 Place vegetable accompaniments and breads directly on platters between the various dips.
Mix it up with sides.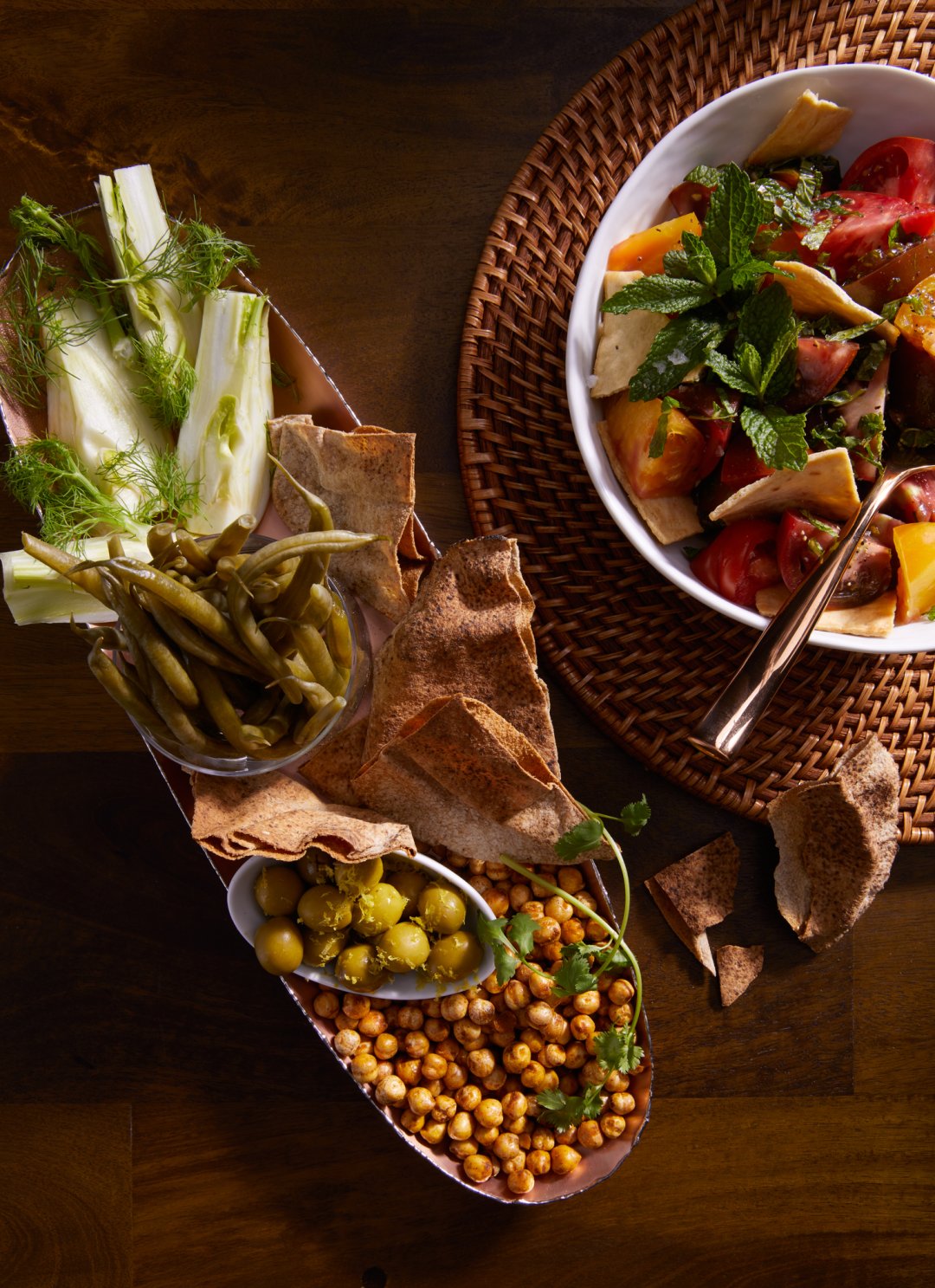 Crispy chickpeas, tomatoes paired with mint, olive oil and marinated olives all bring unexpected flavors and bright pops of color to this menu. Our recommendations for other sides include:
Crispy chickpeas
Pickled cauliflower
Pickled green string beans
Toasted pita bread
Marinated olives
Sliced fennel and fennel fronds
Pickled peppers
Chef's Tip: Pickled string beans and other vegetables can be store-bought and combined with tomatoes, nuts, cheese and spices to create an unexpected salad.
Tempt them with something hot.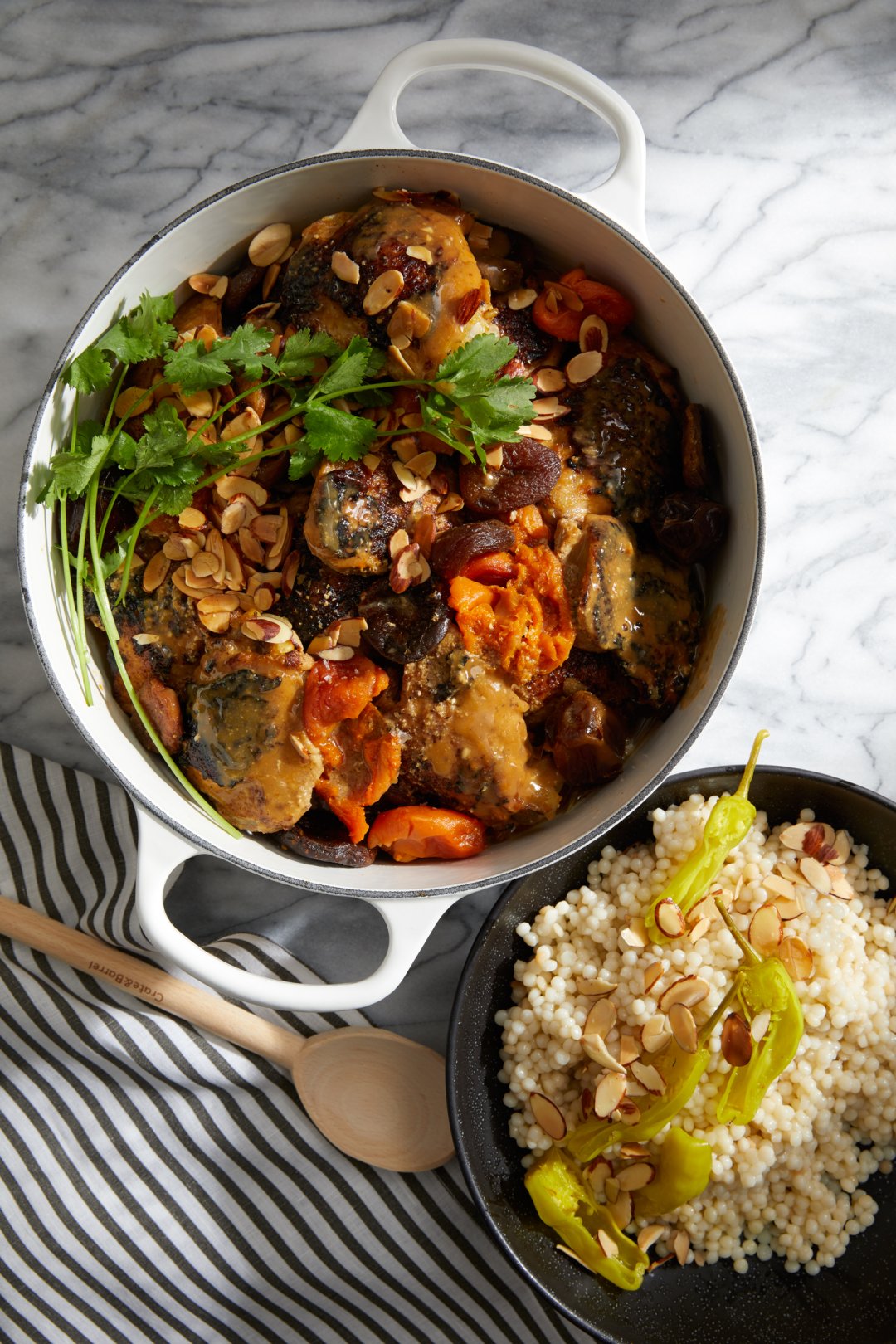 When serving a mezze menu, we like to include a hot dish so guests don't feel like they've missed the "entree." The sweet-and-savory flavors of this braised chicken with dates, apricots, almonds and pickled peppers are cozy and satisfying without feeling heavy.
Keep dessert simply sweet.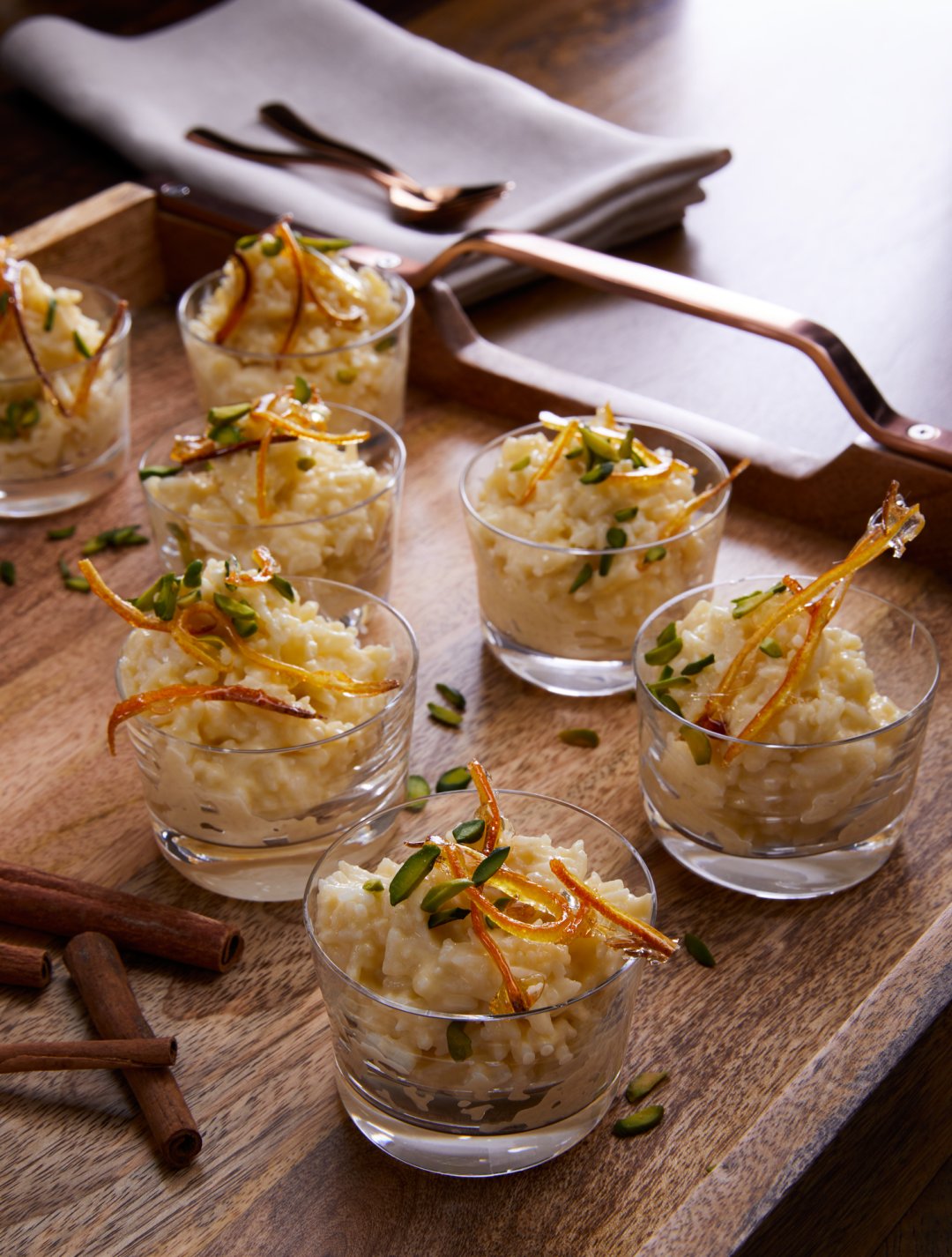 This comforting Basmati Rice Pudding is just right for winding down an exciting night of flavors. Make it up to two days in advance, just like the dips, and store in your refrigerator until you're ready to serve. Spoon small portions into individual bowls for a charming presentation.
Find more CrateParty menus in the entertaining section of our blog, plus find everything you need to host on crateandbarrel.com.