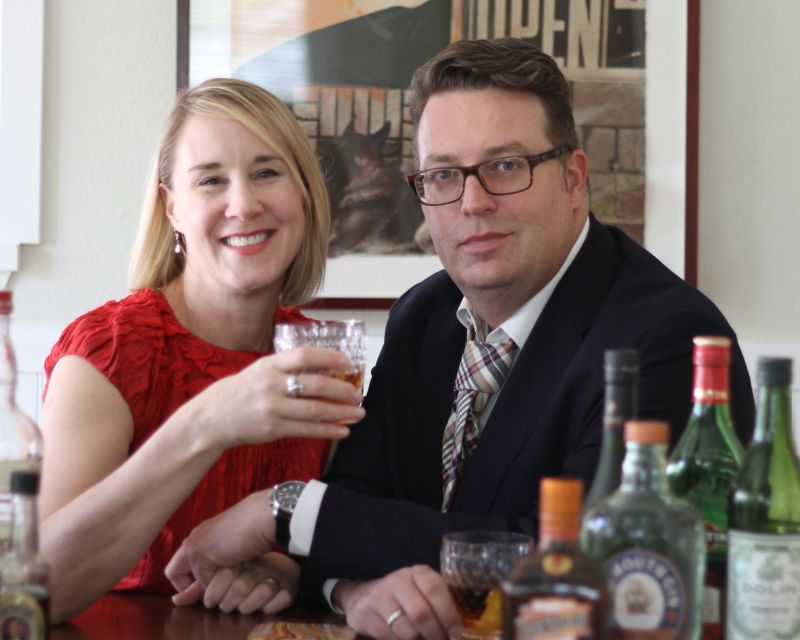 12bottlebar.com
When you're at the races, only one drink will do. We've partnered with David and Lesley Jacobs Solmonson of 12 Bottle Bar for a twist on the traditional mint julep.
Years ago, when we sipped our first juleps, they were overly sweet theme park concoctions that never saw the inside of a silver cup. Unless you've had a true Southern julep — a lot of whiskey, a little sugar and mint — the super sugary version may be your only reference point too.
In the pantheon of cocktails, it doesn't get much more iconic than the mint julep, which was declared the official drink of a certain famous derby back in 1938. For many, there's only one way to make a proper Mint Julep. Joshua Soule Smith chronicled his version in "Ode to the Mint Julep," and humorist Irvin S. Cobb (who was firmly in the Bourbon camp for choice of spirit) admonished "Any guy who'd put rye in a mint julep and crush the leaves would put scorpions in a baby's bed."
Of course, none of that stopped us from offering up a playfully pleasing riff on the classic.
How, we wondered, could we bridge the gap between childhood pleasures and grownup seriousness? Historically, juleps are simply herbs macerated in sweetened syrup, and here, we employ a very easy-to-come-by version of that basic concept: root beer. Root beer brings essences of mint, anise, orange, and cinnamon – among others – to the drink. It provides a magical binder that makes our julep young at heart, while still complementing the more adult flavors of a proper cocktail — the essential whiskey and mint, as well as some peach bitters in a nod to the drink's Southern roots.
About the Mint Julep Cocktail
In terms of the spirit, many figurative fights have broken out about which kind of whiskey to use in a julep. Early recipes used either rum or brandy or both. Modern versions tend toward Bourbon. At 12 Bottle Bar, though, we make no bones about our love affair with rye whiskey. The spiciness seems to work in every whiskey cocktail we make; with the root beer syrup, its spice notes strike a Goldilocks balance of just right.
Now, let's talk about mint. It goes without saying that your mint should be the freshest possible – we love the ease of use and the handy presentation of the Herb Planter with Scissors. Your mint is both serviceable for drinks – you can just snip and go – as well as a cheerful centerpiece.
Juleps call for muddled mint, which means you gently mash them to release their oils. But, before you grab your muddler and have at those freshly cut mint leaves, we'd like to remind you to be kind to them. Your mint leaves don't need to be pounded into submission; a few gentle, but firm presses of the muddler will convince them to release their aroma, which is part of the joy of making a julep.
If you need to get out your aggression, take it out on the ice, which is far more forgiving, not to mention more fun, to demolish. Even better, invite your friends over and offer up the Ice Crusher Mallet and Bag as part of the fun. You'll have mounds of crushed ice before you know it, as well as a lot of relaxed guests.
While most people tend to think of the julep as a race day staple, it's so refreshing that we break out the Mint Julep Cups the minute the thermometer reaches 75 degrees and keep on sipping through the heat of summer. With that hint of root beer, we guarantee it will bring out the kid in you.
Handful of mint leaves

plus a spring for garnish

1

ounce

root beer syrup

1 part sugar dissolved in 1 part your preferred root beer

2

ounces

rye whiskey
Handful of mint leaves

plus a spring for garnish

1

ounce

root beer syrup

1 part sugar dissolved in 1 part your preferred root beer

2

ounces

rye whiskey
Place mint in a mint julep cup or rocks glass and muddle it gently. Add the syrup and bitters.

Fill the cup with crushed ice. Add the rye. Stir gently but quickly to frost the cup or glass, at least 30 seconds.

Add more ice to mound on top. Add a full spring of mint. Sprinkle the mint leaves with powdered sugar and top with a star anise pod, if desired.
Ready to mix up more? Check out the cocktails section of our blog.