A Garden-Inspired Mother's Day Brunch
Start mom's day off the right way with a delicious brunch and time spent with family around the table. We've partnered with Tieghan Gerard of Half Baked Harvest to create this beautiful and easy-to-make spread.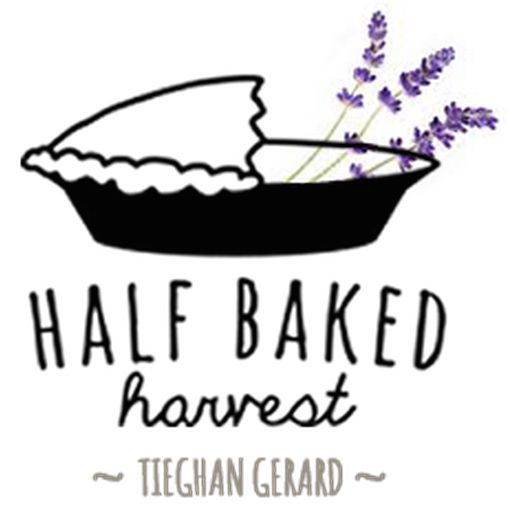 halfbakedharvest.com
Mother's Day is such a special holiday. It's a time to shower one of the most important women in our lives with all the love we possibly can. While gifts are great, I've found the best way to show my mom how special she is to me is to create a meal she is going to love with the entire family there to enjoy it with her. That's honestly one of the best gifts I think I could give my mom. Good food, family, and friends.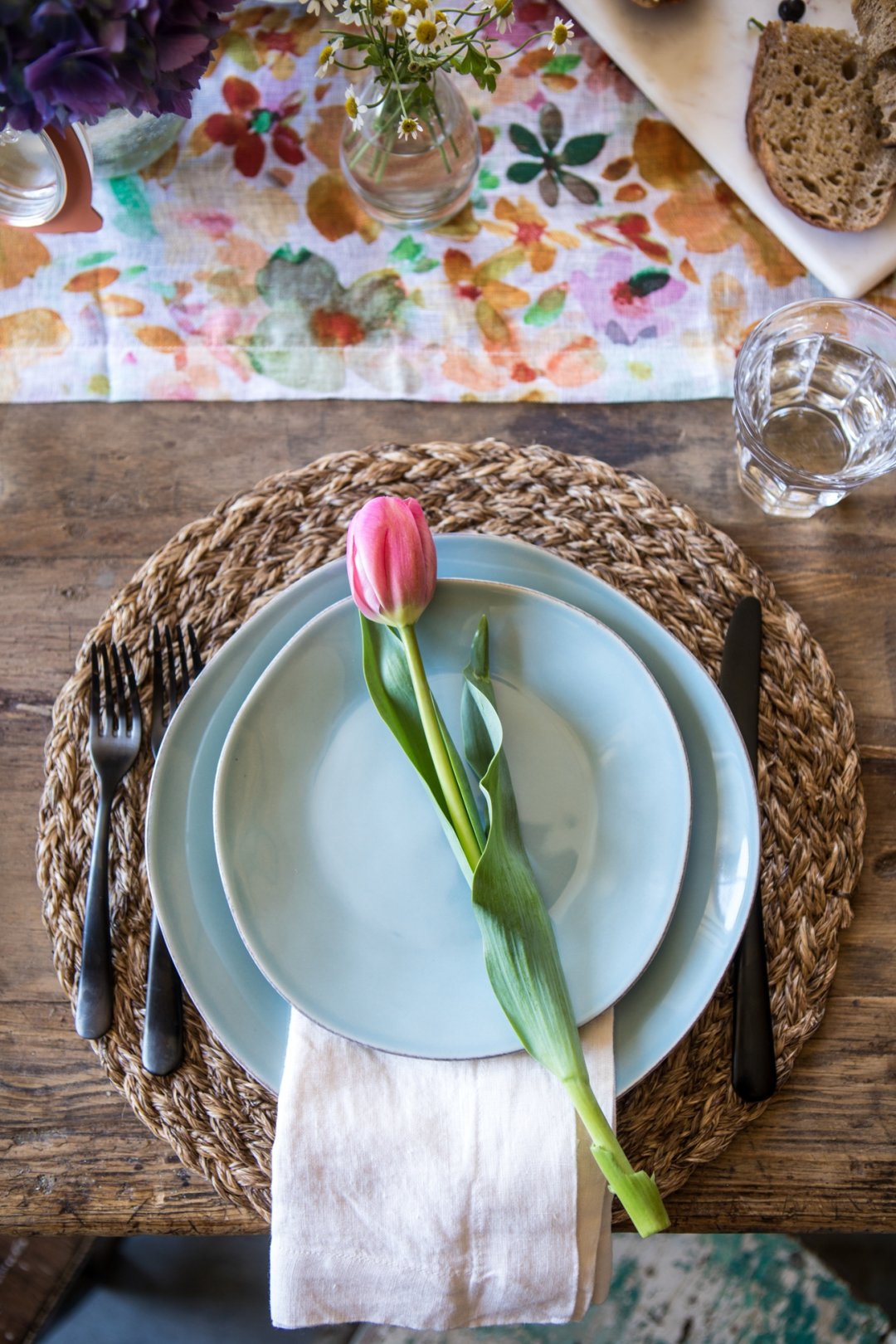 This year, I wanted to create a Mother's Day brunch spread inspired by the foods my mom loves most. So, jumping right in…let me introduce my line up! For a drink, we have a refreshing strawberry ginger paloma...the perfect cocktail to get your gathering rolling. Having a cocktail in hand at family get-togethers, especially with a family as large as mine, is often a great way to get the party started. These palomas really are so delicious.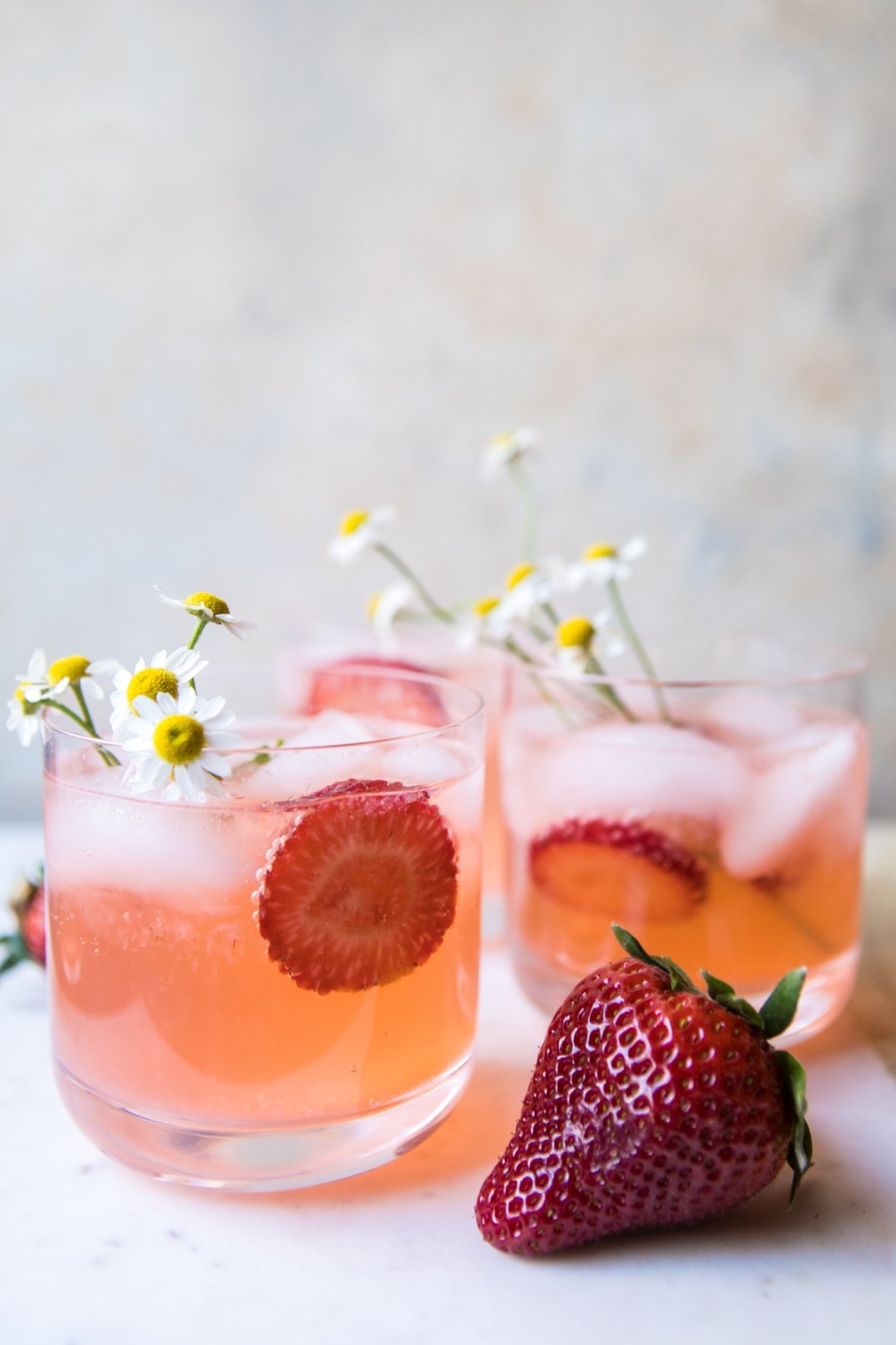 Tip: If you don't drink alcohol, omit the tequila and make a mocktail version!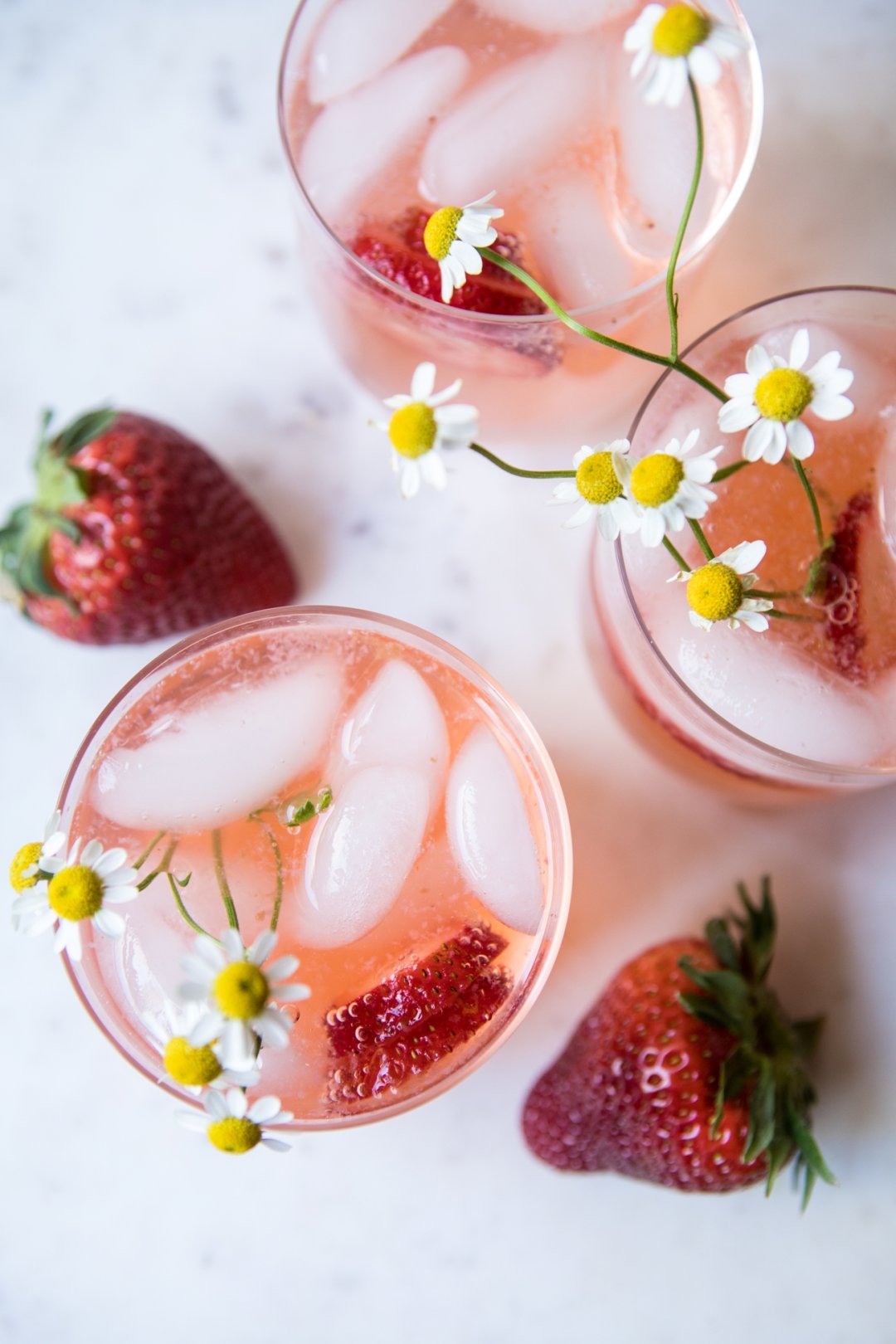 Up next is the ricotta toast with blackberry smash salsa. Two of my mom's favorite things are toasted bread and ricotta cheese, and blackberries are one of her favorite fruits. Combining the three together to make one epic toast just made total sense. Finish this recipe off with a drizzle of honey and you'll have the perfect appetizer for your Mother's Day brunch that everyone will truly enjoy.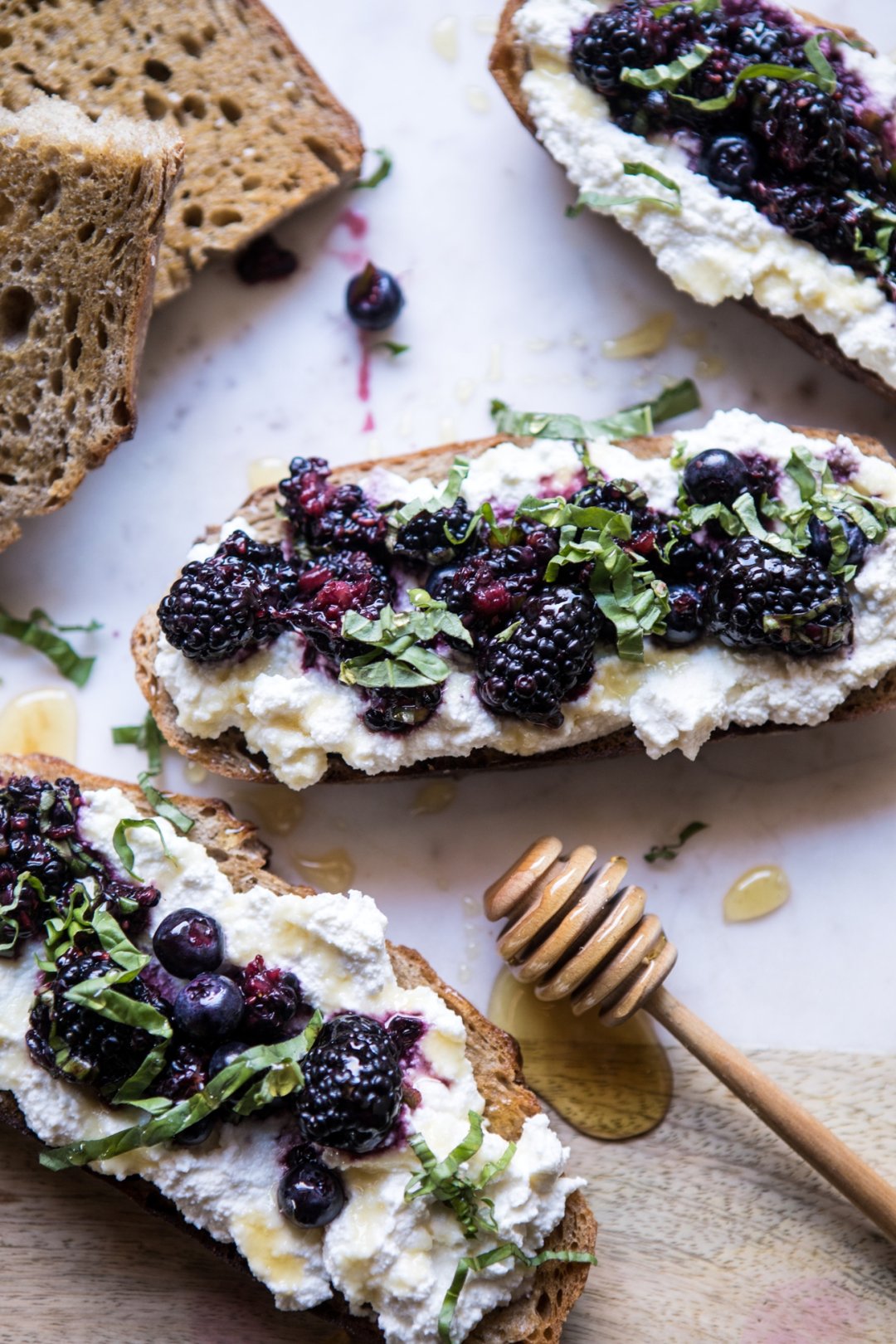 Tip: The salsa for the ricotta toast can be made up to one day in advance and kept in the fridge until ready to serve.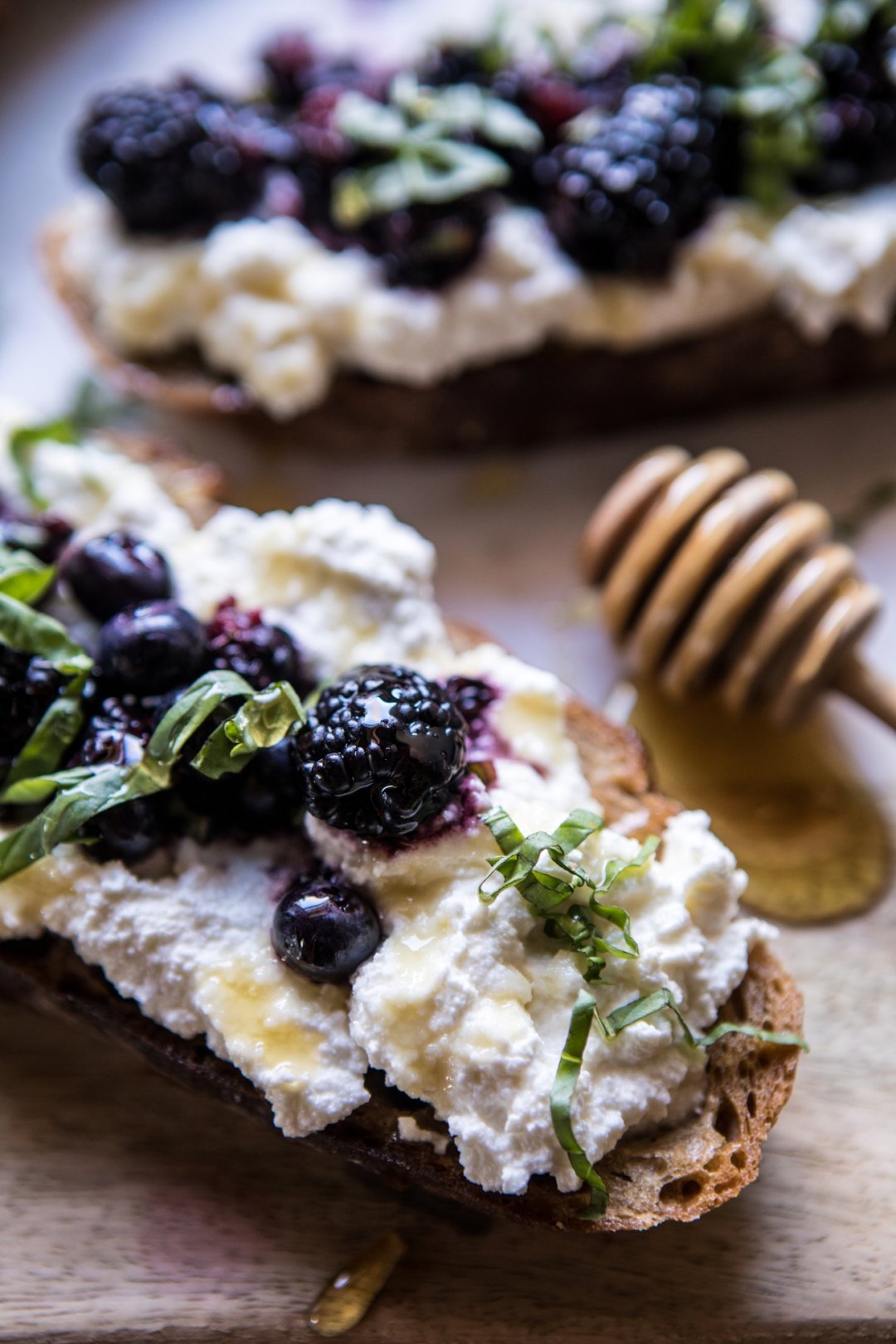 Moving right along and onto the main course! I went with savory caprese fried eggs, and for something sweet...the perfect french toast with fresh blueberries. Oh, how much I love both of these recipes. I'm going to be honest, my mom is much more a sweet breakfast person, but since my whole family and then some will be attending brunch this year, I wanted to provide a savory option as well. When the idea for caprese fried eggs came to mind, I knew they would be such a great option. And yes, so very simple, just fried eggs with fresh mozzarella, heirloom tomatoes and basil. The mozzarella melts over the eggs creating the perfect cheesy egg with so much delicious tomato and basil flavor. Yum.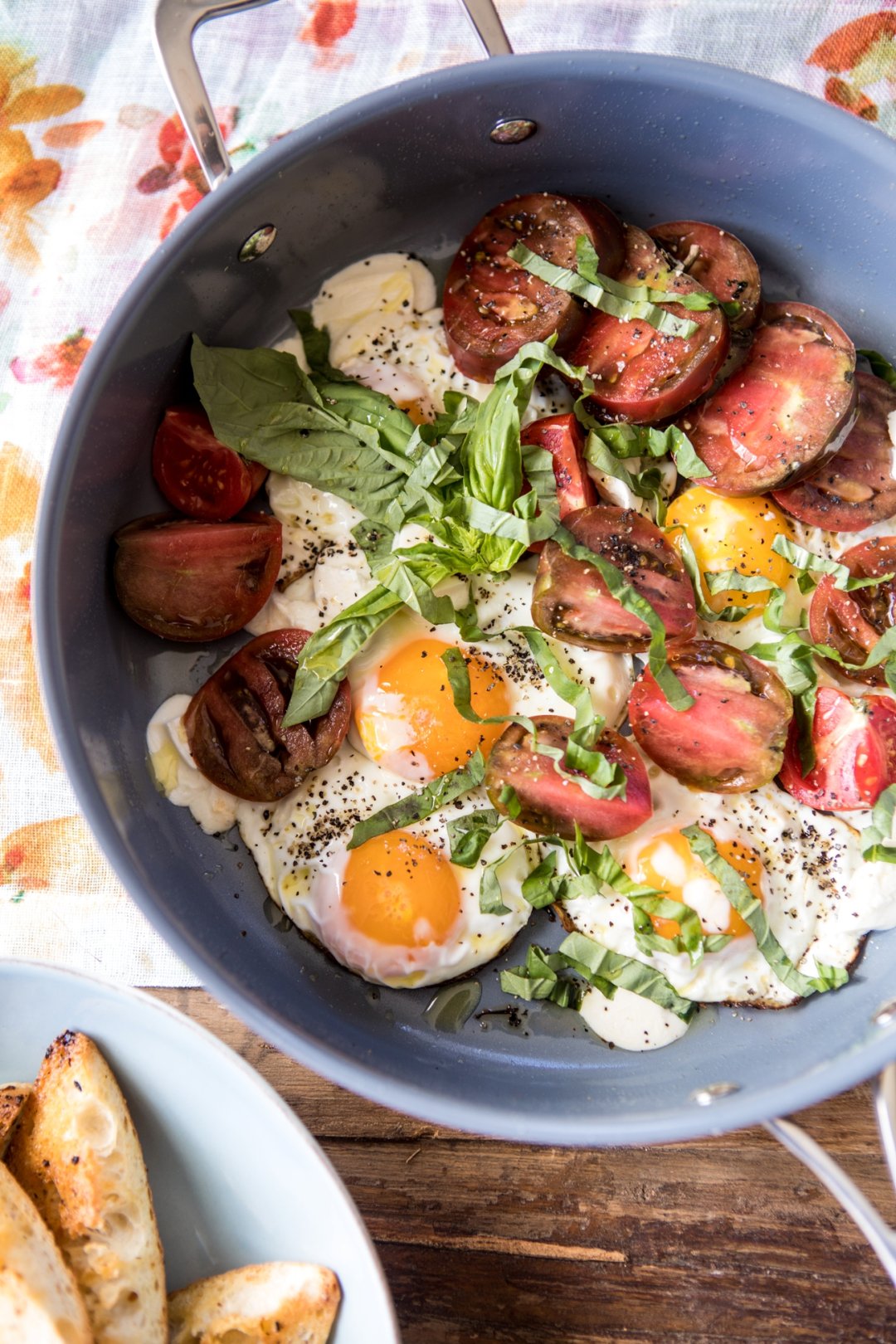 The french toast is just as the title says, perfect. This is my go-to, no fail french toast recipe. It's doughy, sweet, and when topped with a handful of fresh blueberries makes for the perfect dish for just about any brunch table. It's quick, easy, and one that leaves everyone asking for more. And okay, it's also one of my mom's favorite breakfast recipes, so I obviously had to include it.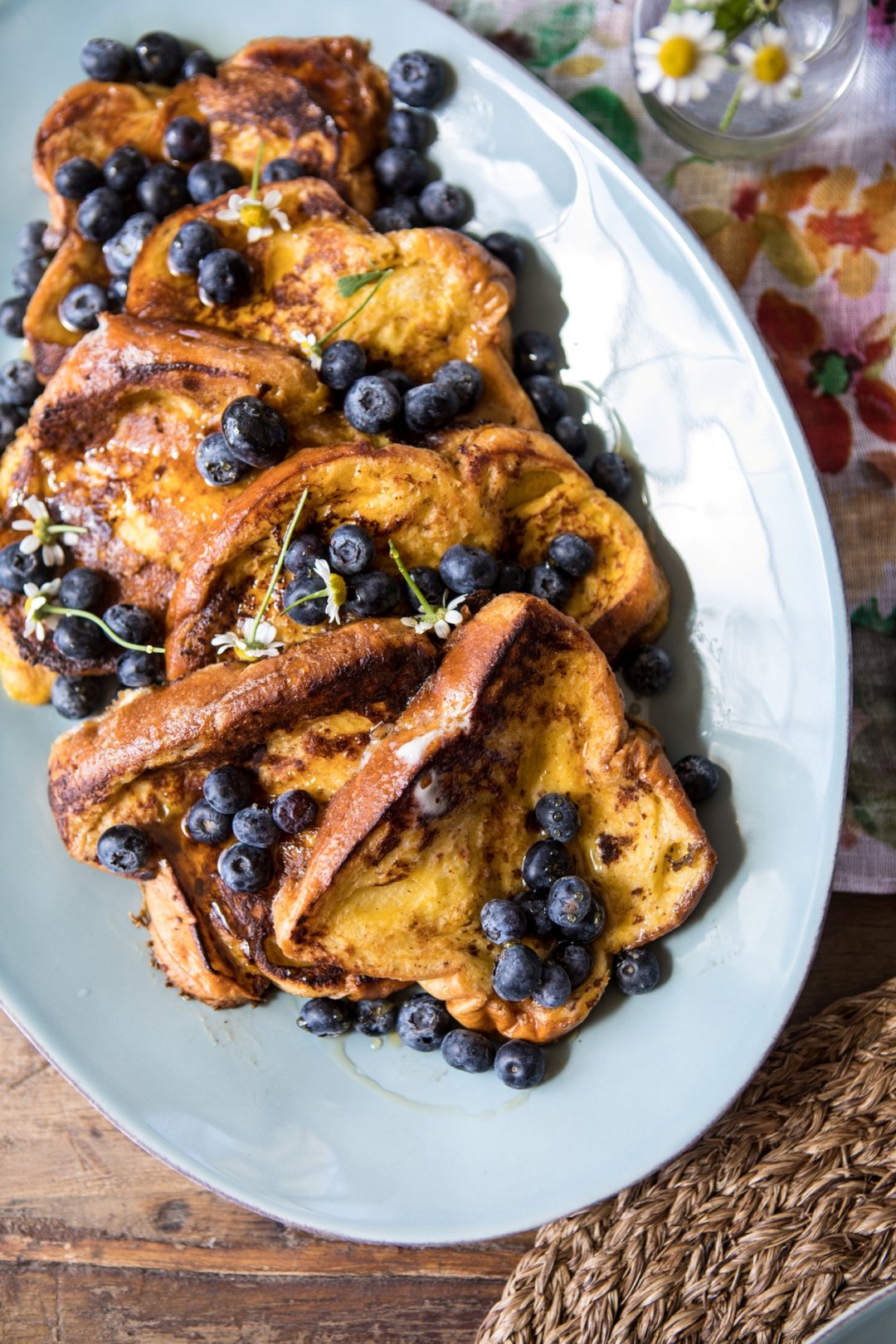 Tip: The french toast can be made ahead and kept warm in a 200 degree oven until the rest of the meal is ready. Don't let the french toast sit in the oven longer than 25-30 minutes however or it will dry out.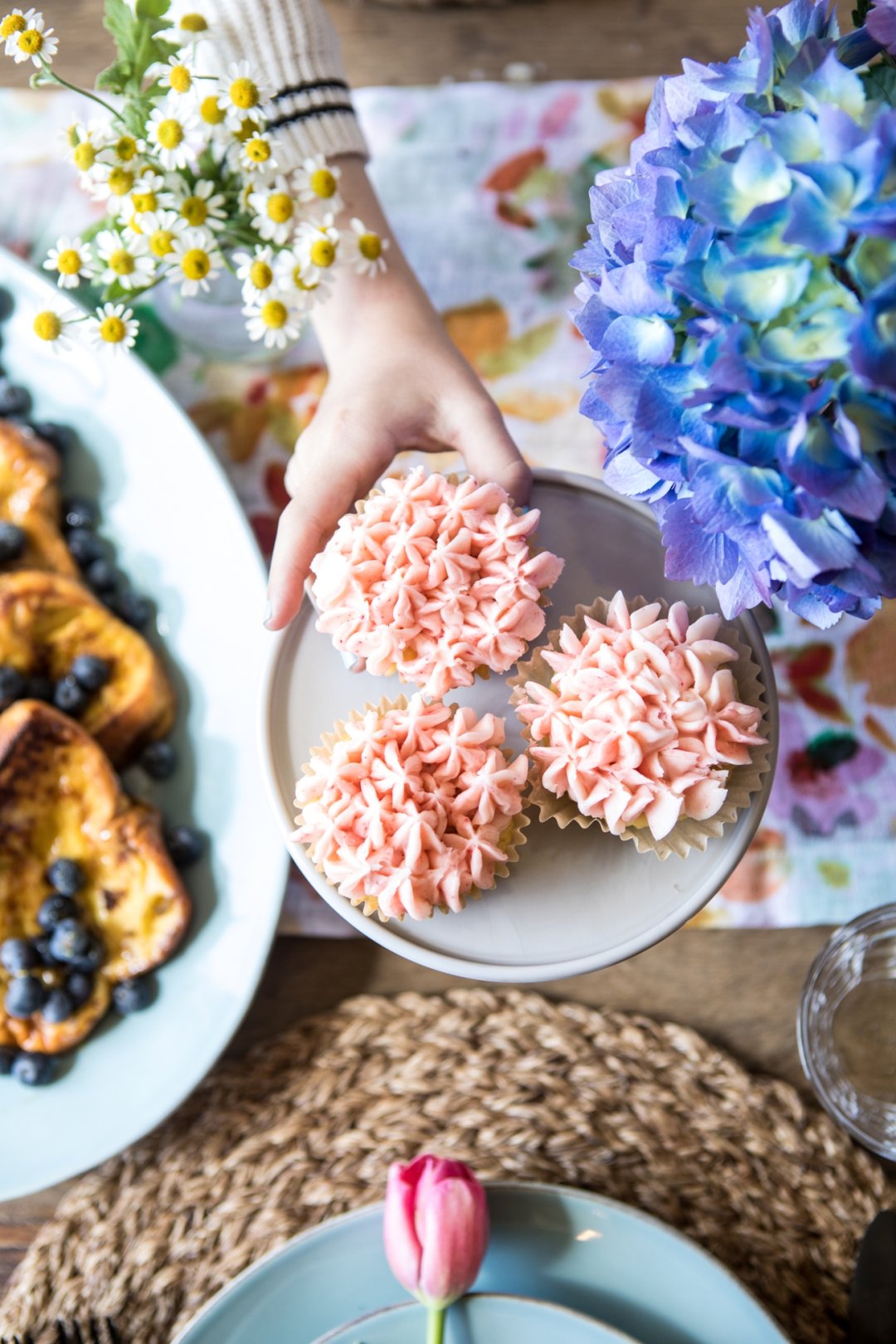 Last, but not least, dessert! I kept things simple and easy with some vanilla and chocolate cupcakes decorated like hydrangea flowers. To do this, I used freeze-dried strawberries to get a pretty pink buttercream and then piped star shapes all around my cupcakes, so fun and they make for a perfect edible centerpiece for your Mother's Day table.
Tip: Make extra cupcakes and cluster them together as added decoration for your gathering.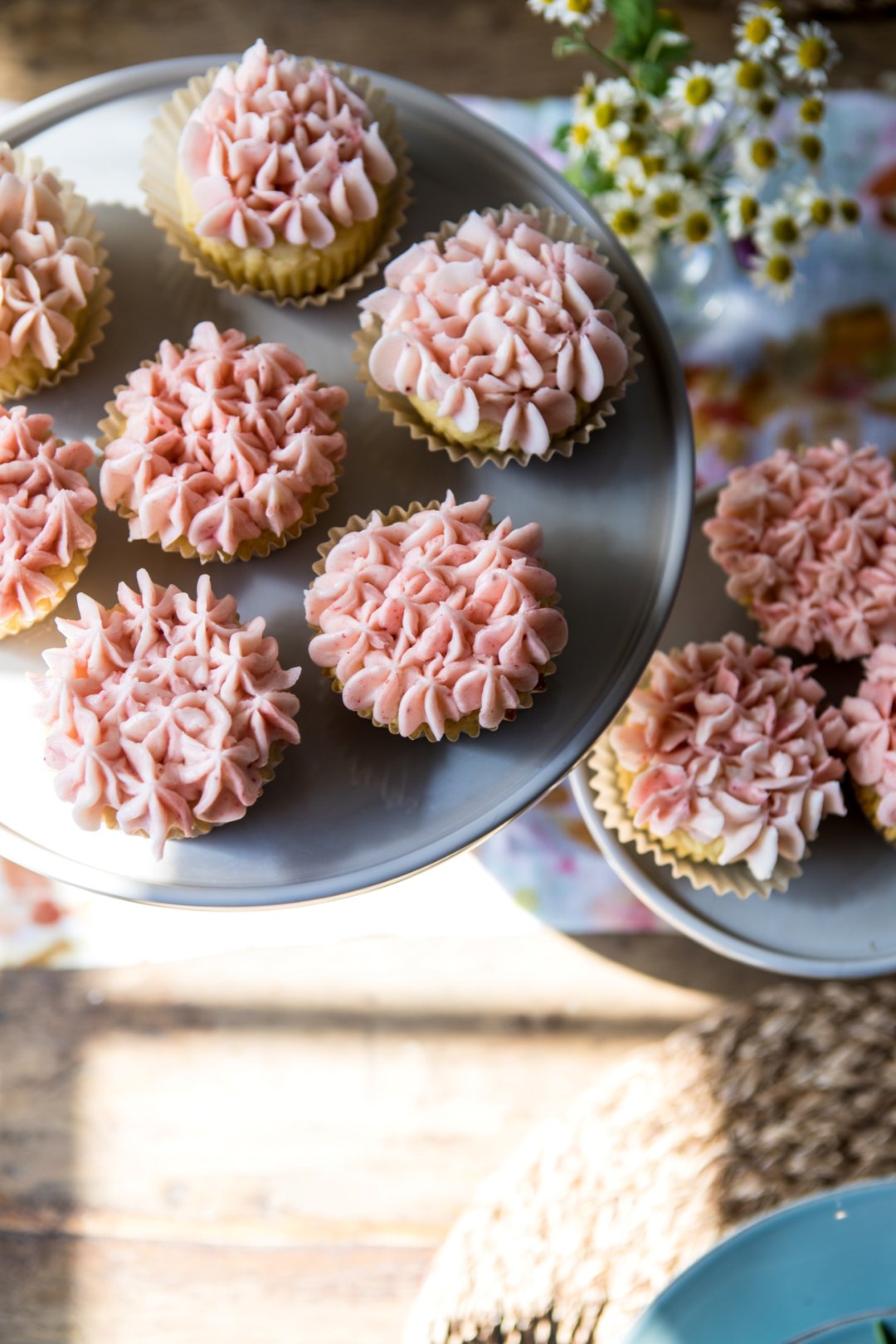 Speaking of the table, I really wanted mine to feel very spring with a southern country style, so I went with a mix of light blue dishes, wood/marble serving pieces, and a floral runner that really just made the table, with color. I decided to use fresh cut flowers to bring in pops of spring color and then used the food as added centerpieces. Each are beautiful and make the table look gorgeous and complete.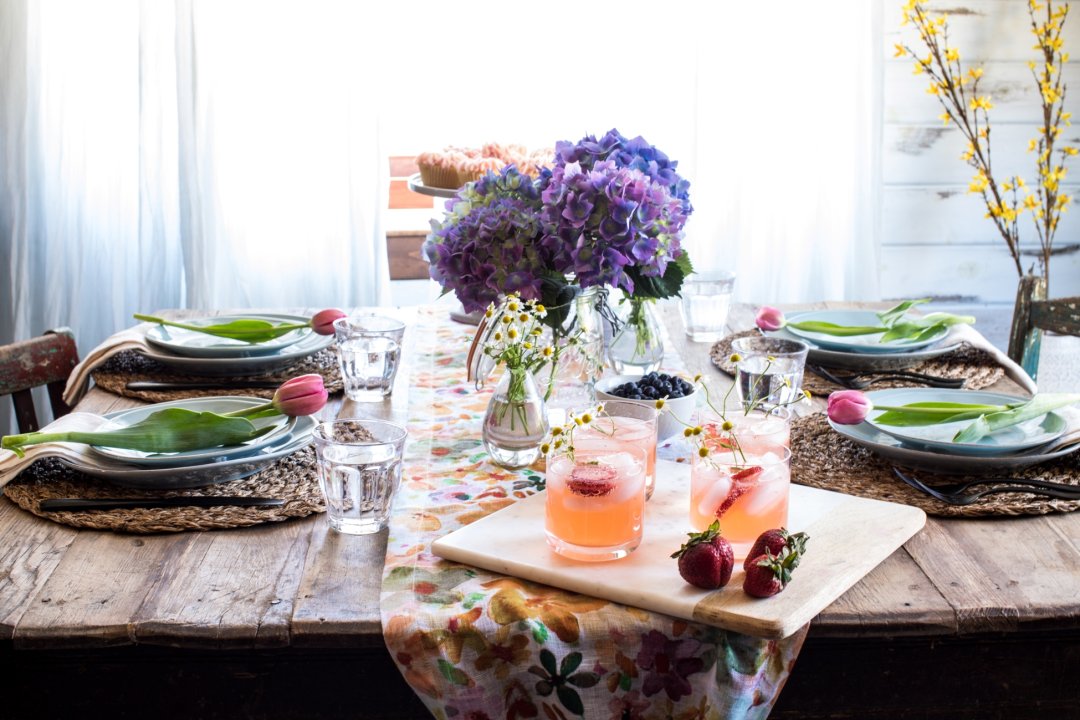 If you are stumped as to what to get mom this Mother's Day, I hope you've found your answer. Whether it's your mom, mother-in-law, or wife, everyone appreciates a good home cooked meal, and this easy brunch is the perfect affair to impress!
Check out our gift guide for more thoughtful ideas!