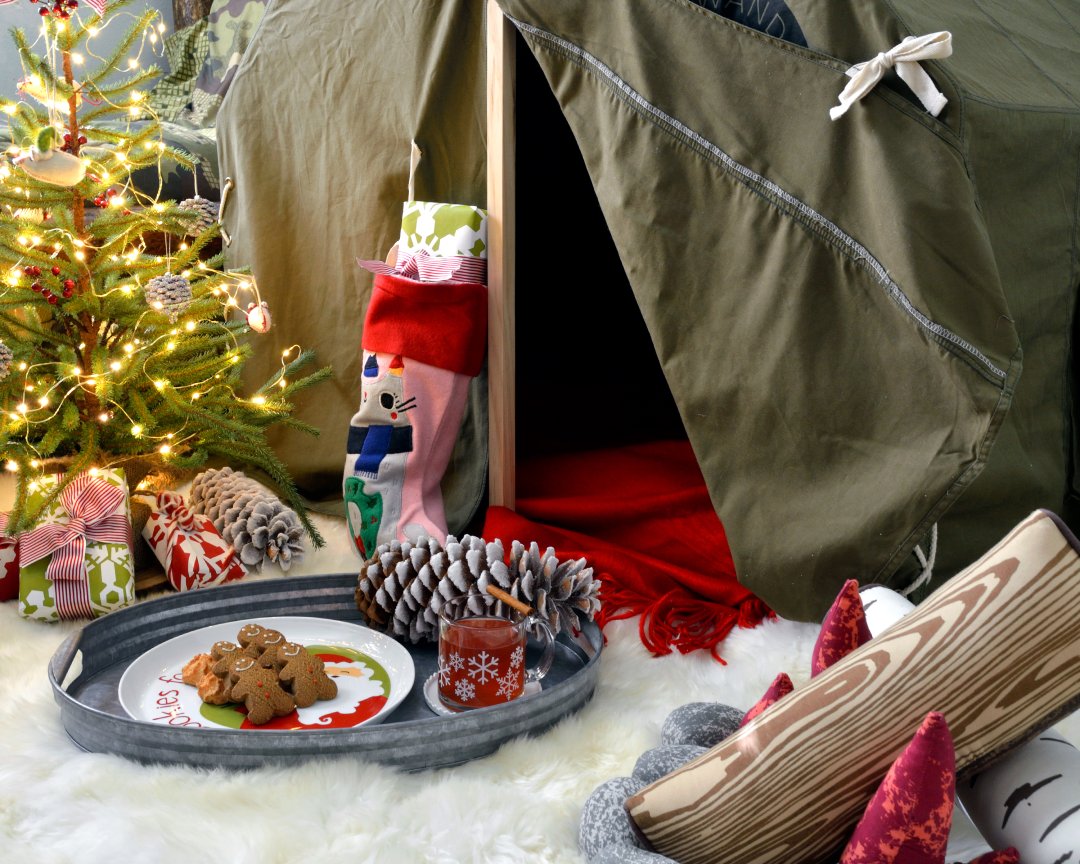 12bottlebar.com
Give Santa a pass on the milk this year. We partnered with David and Lesley Jacobs Solmonson of 12 Bottle Bar to create this kid-friendly Candy Apple Cider that Santa and your littlest guests will love.
When it comes to the vast majority of the drinks we make and the things we write, Lesley and I are simply "Mr. and Mrs. 12 Bottle Bar." The behind-the-scenes reality, however, is that we are just two members of a family of six—us, three cats, and an ever-growing creature we choose to call "the boy." As he's gotten older (just about to make the leap from seven to eight), the boy has become increasingly skilled in the art of creating mocktails, or non-alcoholic mixed drinks, using some of the same ingredients and all of the tools the adults use. So, at a kid-centric time of the year like Christmas, we thought it only fair to let junior help create a winter warmer targeted at the smaller elves in the family.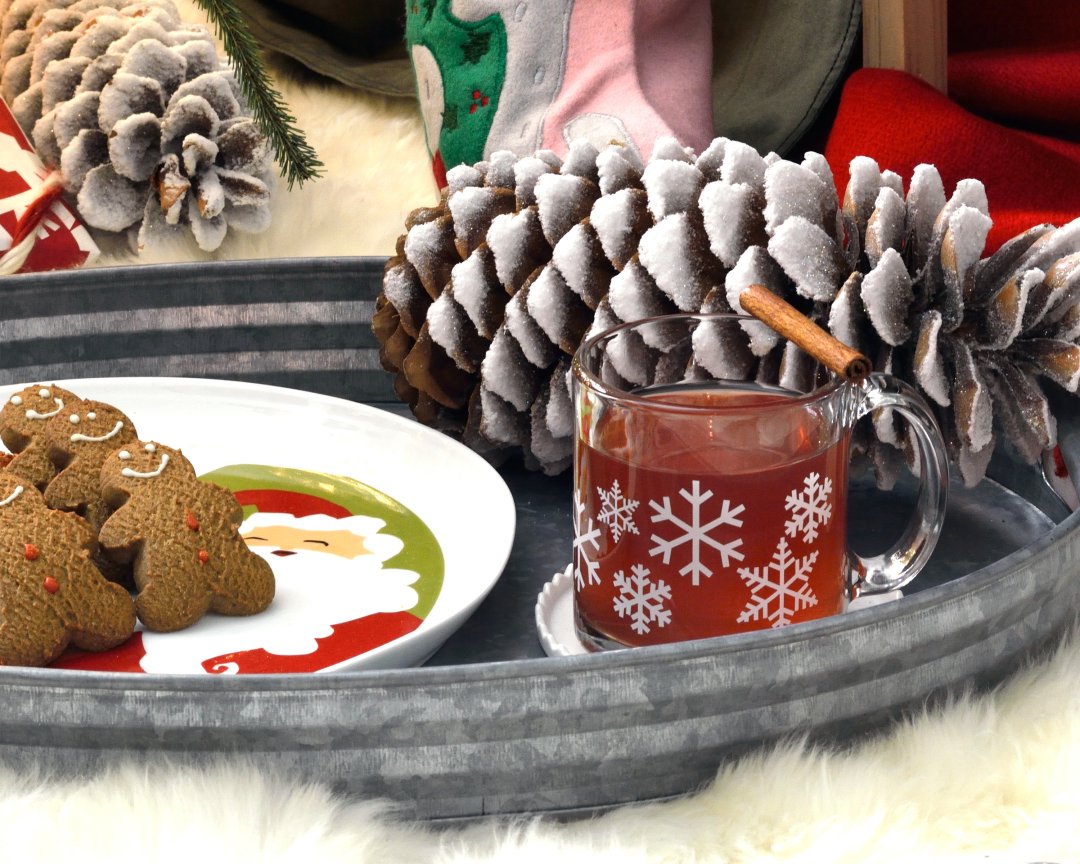 Together, the three of us set our sights on creating a warm spiced cider drink, one of the boy's favorites. Spiced or mulled cider is an obvious winter staple, but it can sometimes be a little too heavy on spice and tannins—and too darned cloudy—for younger palates. Our first step was to replace cider with standard apple juice and kiss the clouds goodbye. We also controlled the spice by adding our own in a very measured amount, and then took off the edge by adding in a sweetening agent from our bar stock—good, old, reliable grenadine—which also brings a pink blush to the affair. Of the drink, the boy says very observantly that it "tastes like cinnamon with a little bit of spice. It's sweet but not too sweet and tastes best served warm."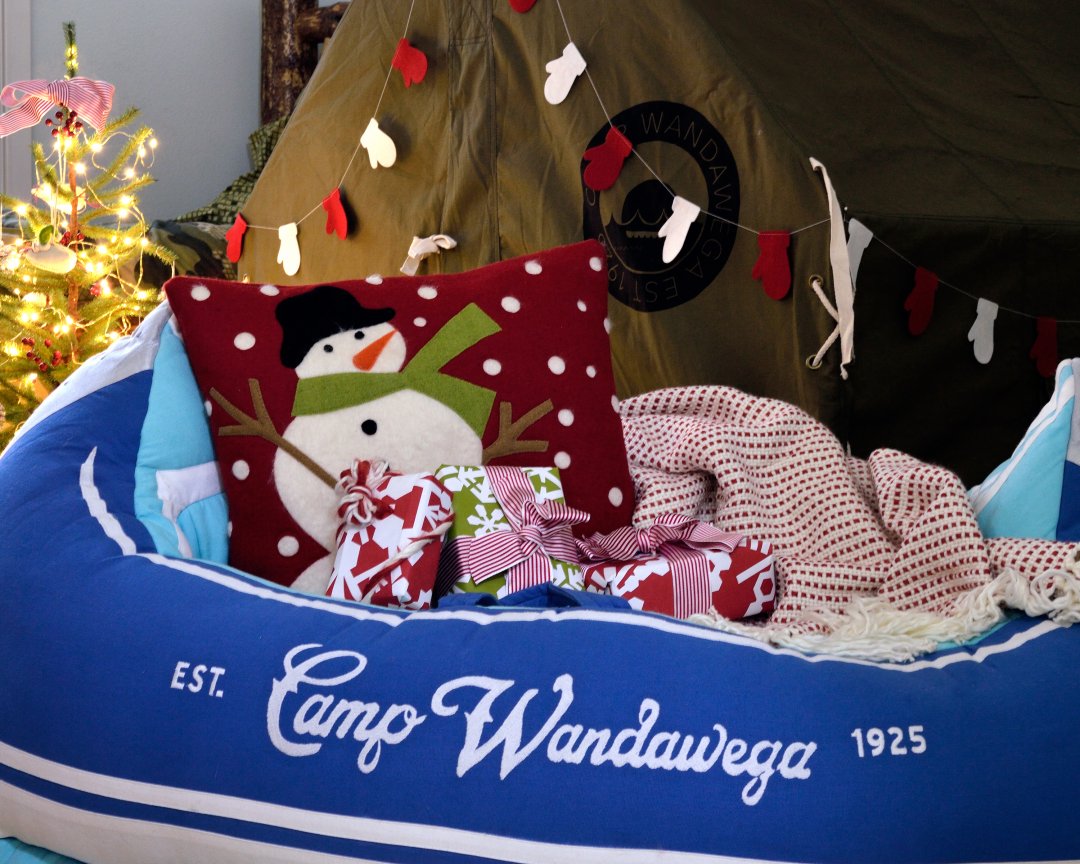 Since we don't know much about a proper winter here in Los Angeles, we started by raiding the Land of Nod catalog to recreate a snowy campout for our backdrop. An Explorer Playhouse provided the appropriately outdoorsy feel, and to really capture a Christmas vibe, we added a Cozy Mitten Garland and a Merry Mascot Kitty Stocking (the boy loves his cats). With these, we paired Crate's Pine Tree Medium – bedecked with Twinkle Gold String Lights, Mr. and Mrs. Mouse Felt Ornaments, and Mini Beaded Pinecone Ornaments. A Sheepskin Throw/Rug and a couple of throws—the Tidings Red Throw and Peppermint Throw—offered warmth and, to top off the holiday cheer, we brought in a Snow Day Snowman Pillow and some White Flocked Sugar Pine Cones.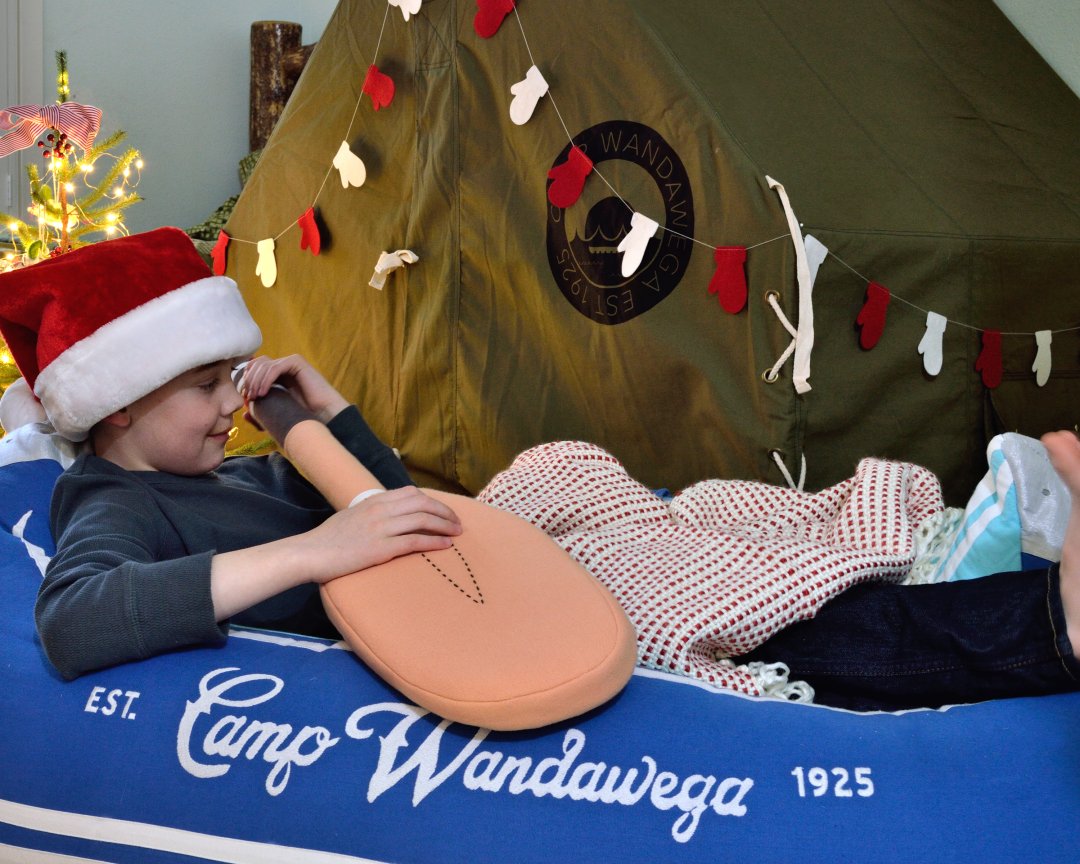 Scene set, our little elf cozied up to the Plush Campfire to roast a marshmallow before setting out a cup of Candy Apple Cider in a Snowflake Glass Coffee Mug and a Cookies for Santa platter (with cookies, of course!) for the big man in the red suit. All of the latter rested nicely on the Decker Galvanized Tray.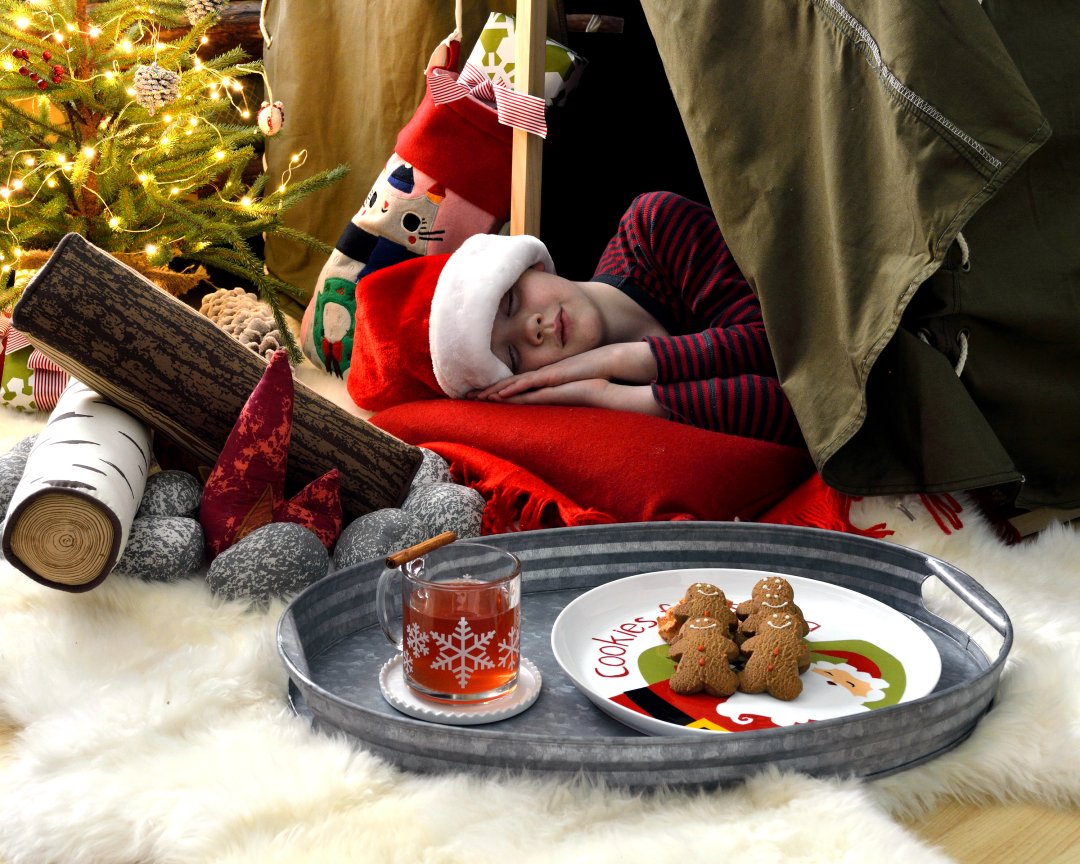 While sugar plums may dance is some kids' heads, the boy's dreams found him setting sail in his Day Trip Plush Canoe, until he tuckered himself out completely. A full day of winter wonderland adventures in his room and a mug of warm Candy Apple Cider in his belly, he fell sound asleep with all the makings for sweet holiday dreams.
1

part unsweetened pomegranate juice

2

parts white sugar

Orange flower water

to taste

Rose water

to taste
1

part unsweetened pomegranate juice

2

parts white sugar

Orange flower water

to taste

Rose water

to taste
Dissolve the sugar in the pomegranate juice over a low flame.

When cooled, add 1+ teaspoon of each orange flower water and rose water until they provide subtle but noticeable (not overpowering) back notes.
64

ounce

Apple Juice

bottle

2-3

Cinnamon sticks

1

tsp

Whole cloves
64

ounce

Apple Juice

bottle

2-3

Cinnamon sticks

1

tsp

Whole cloves
Add the entire bottle of apple juice to a heavy pot. Add 2-3 cinnamon sticks and approximately one teaspoon of whole cloves.

Bring juice to a boil, then immediately cover and remove from heat. When cool, strain out the spices.