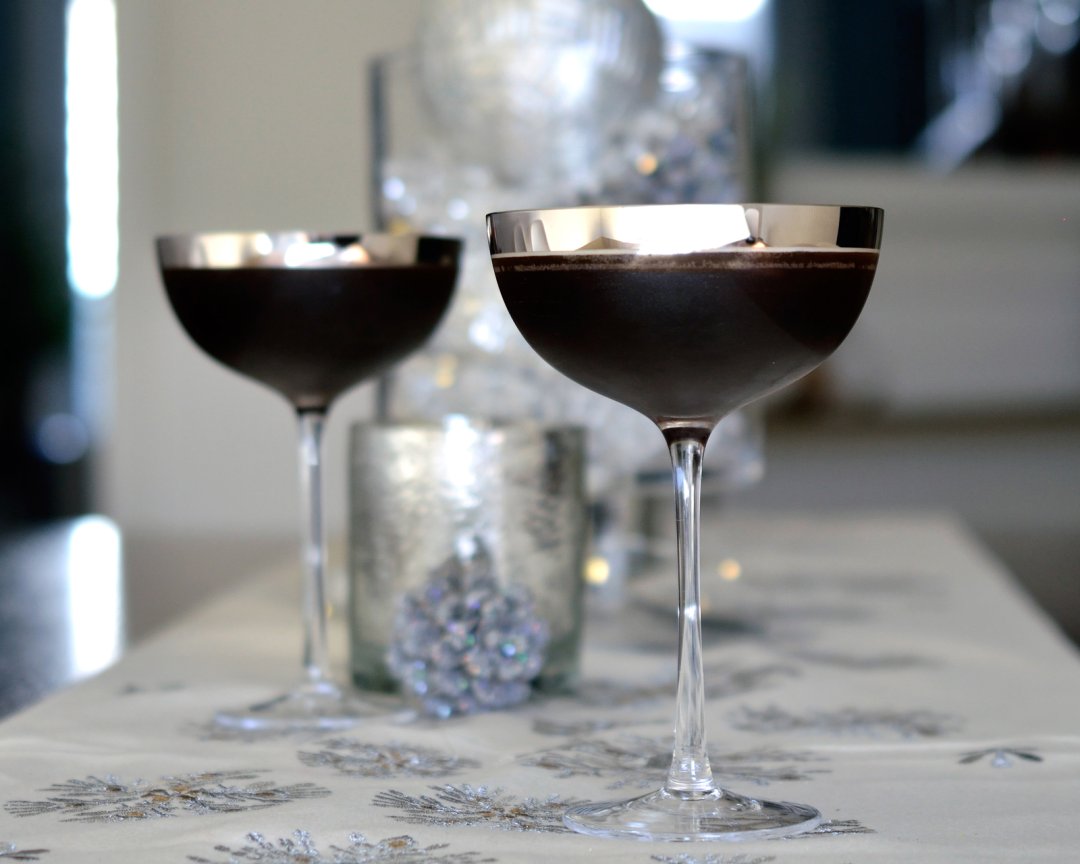 12bottlebar.com
Here's the perfect cocktail to help you ring in the New Year. We partnered with David and Lesley Jacobs Solmonson of 12 Bottle Bar to create this Espresso Martini that you can sip to stay awake until midnight.
If you are planning to attend a party on New Year's Eve or simply want to ring in the new year with your loved ones, you most likely have two goals. One – to enjoy some alcoholic beverages that add to the festive mood. And two – to stay awake. We have the answer to both goals. Enter the Espresso Martini.
Not truly a martini, although served like one, this caffeinated cocktail was originally created by a London bartender named Dick Bradsell. The story – now cocktailian legend – is that a supermodel of the day (Bradsell has never named her) asked Bradsell to make her something that would "wake her up and [mess] her up." She apparently was a bit more graphic in her word choice, however.
Bradsell, whose genius also gave birth to a now-classic cocktail called the Bramble, came up with the Espresso Martini, which was also known as the Pharmaceutical Stimulant. The combination of ingredients is simple but inspired; it requires a light hand, lest it become too syrupy sweet. While there are some opinions that suggest ditching the coffee liqueur – after all, vodka, sugar, and espresso essentially make coffee liqueur – we find that a small amount adds a smoother mouthfeel and rounds out the flavors.
For a time, the Espresso Martini was frowned upon in classic cocktail circles, perhaps because of its non-martini status or its sweet profile. However, bartenders are now playing with once-maligned drinks like the Appletini, improving on them with premium ingredients and a deft touch. This is certainly the case with the Espresso Martini, which when mixed properly is a stimulating balance of sweet and bitter, boozy and caffeinated.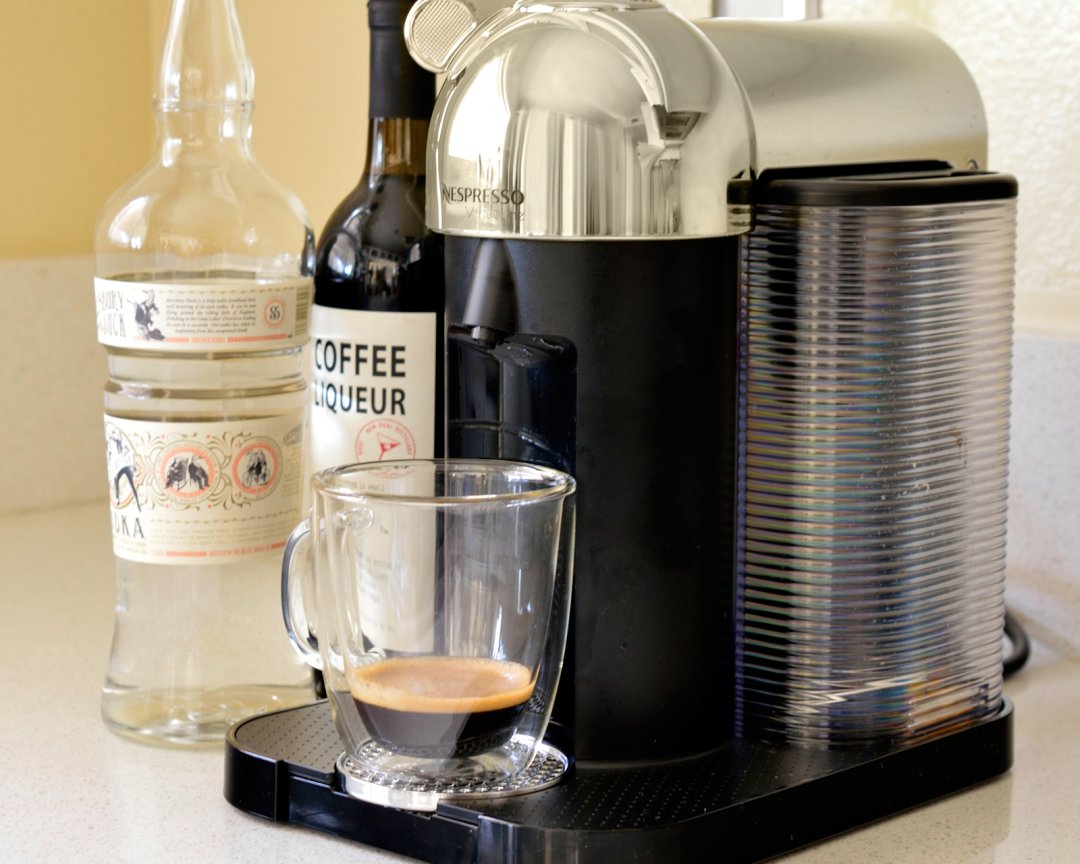 About the Espresso Martini
For ours, we turned to the Nespresso VertuoLine Chrome Coffee—Espresso Maker, which produces a perfect shot of espresso with a lovely crema on top. This crema increases atop the cocktail thanks to a good, hard shake of the ingredients with ice. As to your choice of espresso, we recommend something on the stronger side. While "smooth" beans may produce a delightful shot for sipping, they get a bit lost in the drink. So, a powerful grind like the Nespresso Diavolitto, plus a high-quality coffee liqueur (opt for an Italian brand or something that sources premium beans) are called for. The quality of your vodka will also affect the balance. With vodkas today again embracing flavor, make sure that the flavor isn't intrusive. Wheat-based vodkas are likely to be the best fit here.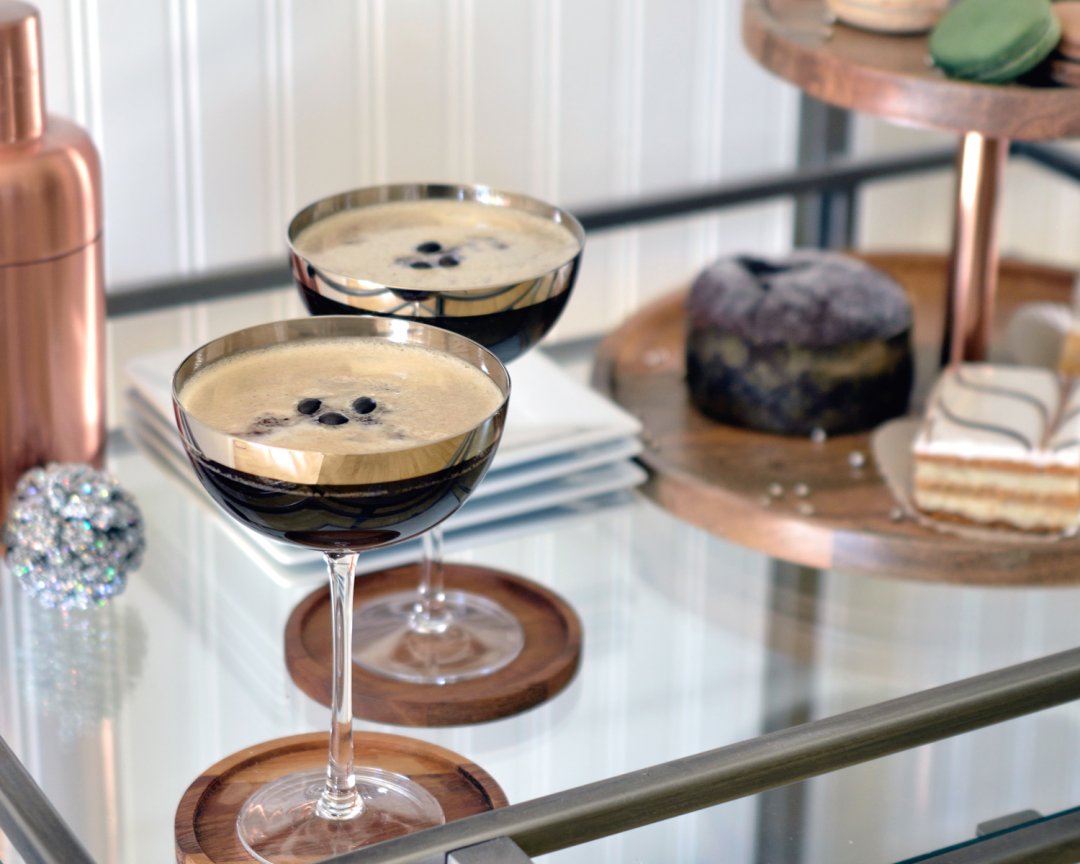 To create a party vibe, we served our martinis in Pryce Coupes atop our Renee Bar Cart. After-dinner sippers call for after-dinner treats, which found a cozy home on the Beck Tiered Server and the Square Rim 8.25-inch Plates.
As we welcome 2017, we wish everyone a healthy, happy, and prosperous new year. And, with an Espresso Martini in hand, you will be wide awake and ready to enjoy it. Cheers!
2

ounces

espresso

strong

2

tablespoons

sugar

preferably raw

2

ounces

vodka

1/2

ounce

coffee liqueur

3

espresso beans

to garnish
2

ounces

espresso

strong

2

tablespoons

sugar

preferably raw

2

ounces

vodka

1/2

ounce

coffee liqueur

3

espresso beans

to garnish
Add the sugar to the small cup or mug into which you'll draw the espresso.

Pull the espresso shot into the cup, then stir to dissolve the sugar.

Add the espresso to a cocktail mixing glass.

Add the vodka first to the espresso cup to capture any residual espresso crema, then to the mixing glass. Add the liqueur to the mixing glass.

Fill the cocktail with cubed ice and top with a shaker tin. Shake vigorously for 15 seconds.

Strain the drink into a coupe or martini glass. Garnish with three espresso beans.