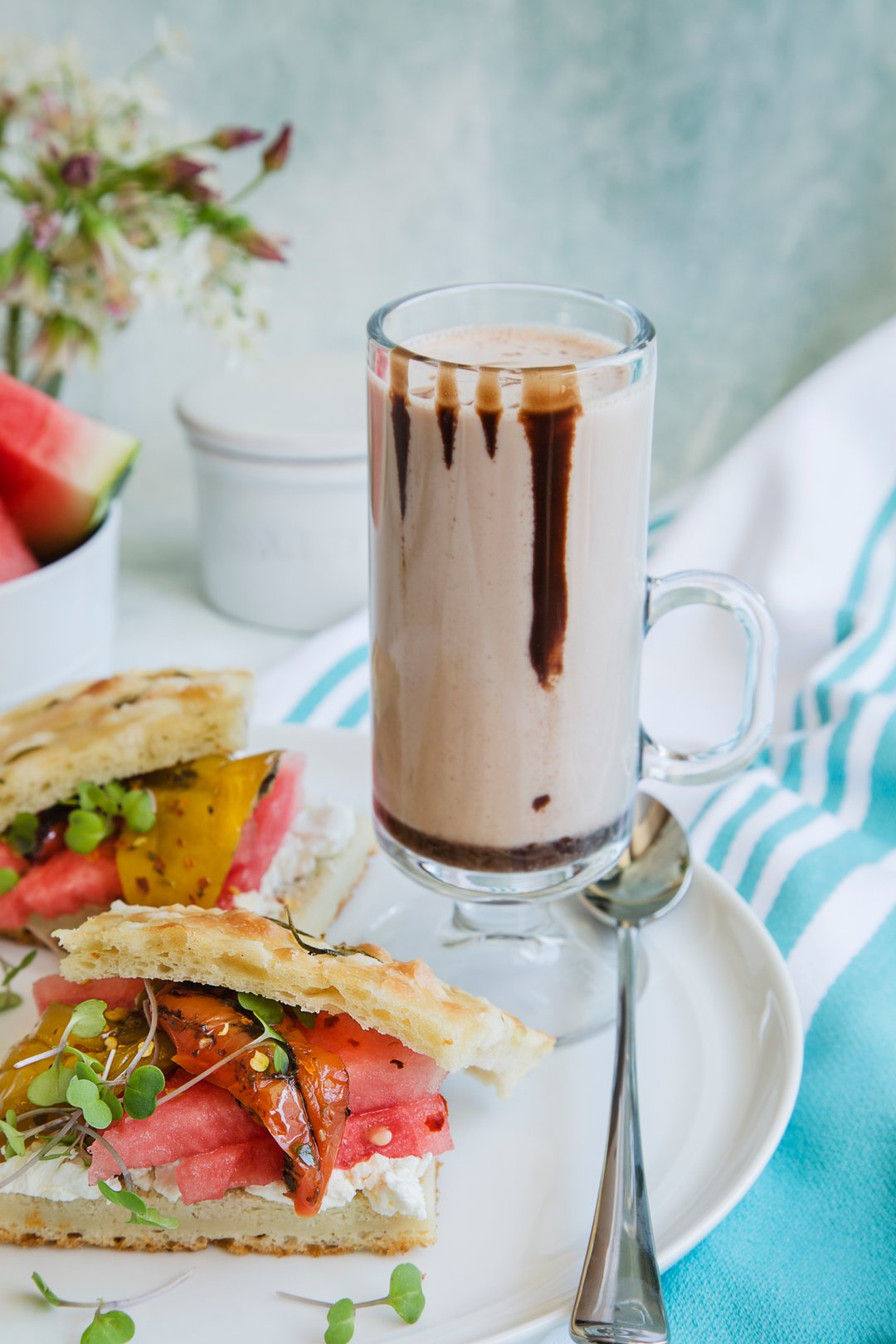 sweetpaulmag.com
This summer, we're taking a foodie road trip to visit some of our favorite bloggers, so they can share a little about what makes the food in their corner of the United States special.
Last stop? Paul Lowe, the man behind lifestyle mag Sweet Paul, in New York City.
I LOVE NEW YORK! I know it's a cliche to say, but I really do love it here! When I was a boy growing up in Oslo, Norway I always dreamed of moving to New York City. I'd watch movies that took place in New York and memorize all the famous landmarks. I wanted to window shop at Tiffany's and have a tryst at the top of the Empire State Building. I guess I was a romantic at heart even when I was a boy!
I'm sure you won't be surprised to hear that I just love exploring classic New York City foods. I love it all, everything from hot dogs from a cart downtown to the fanciest of prix fixe meals in New York's most famous restaurants.
New York is known for so many specialties. There are bagels, slices of pizza, knishes, black and white cookies, and so many more classics, but my favorite food always comes from a classic delicatessen. I love a great deli sandwich! My knees go weak for a good pastrami (or corned beef or brisket) sandwich stacked mile-high with meat on rye. Everyone has their favorite deli—a quick online search will give you a list to choose from, and I recommend you try as many as possible to find your very own favorite!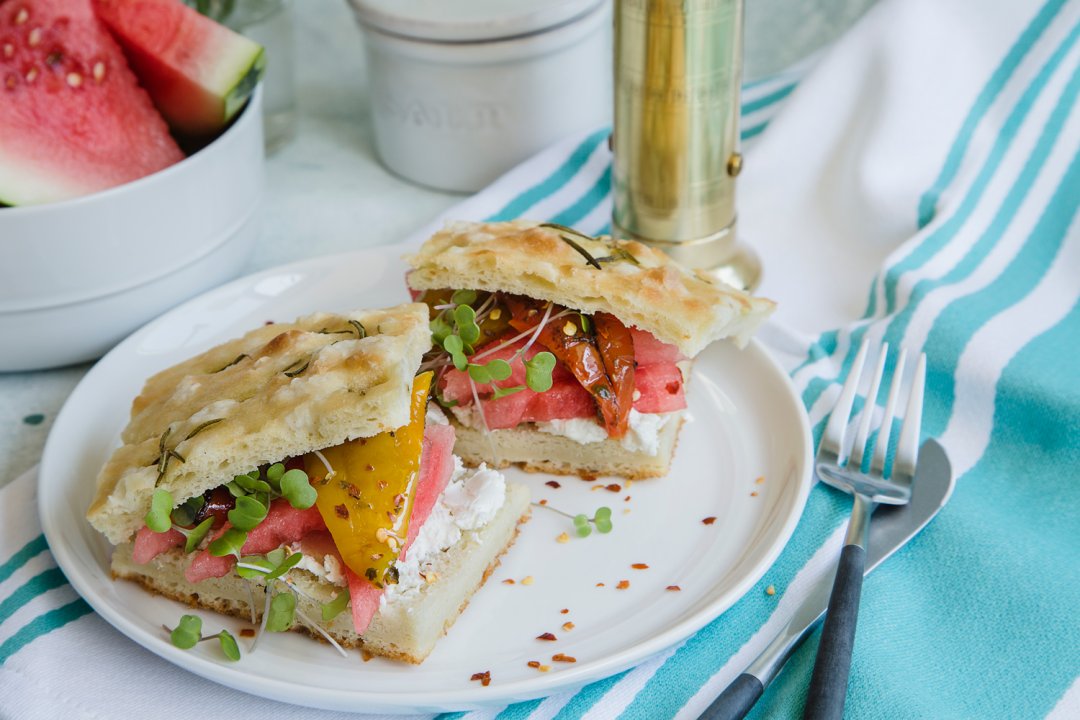 When my friends at Crate and Barrel asked me to share a classic New York City recipe I knew I wanted to do a fresh take on a deli sandwich. My updated sandwich starts with easy homemade bread, and I lighten things up by substituting watermelon and roasted peppers for all the meat. Let me tell you… it's still SO DELISH!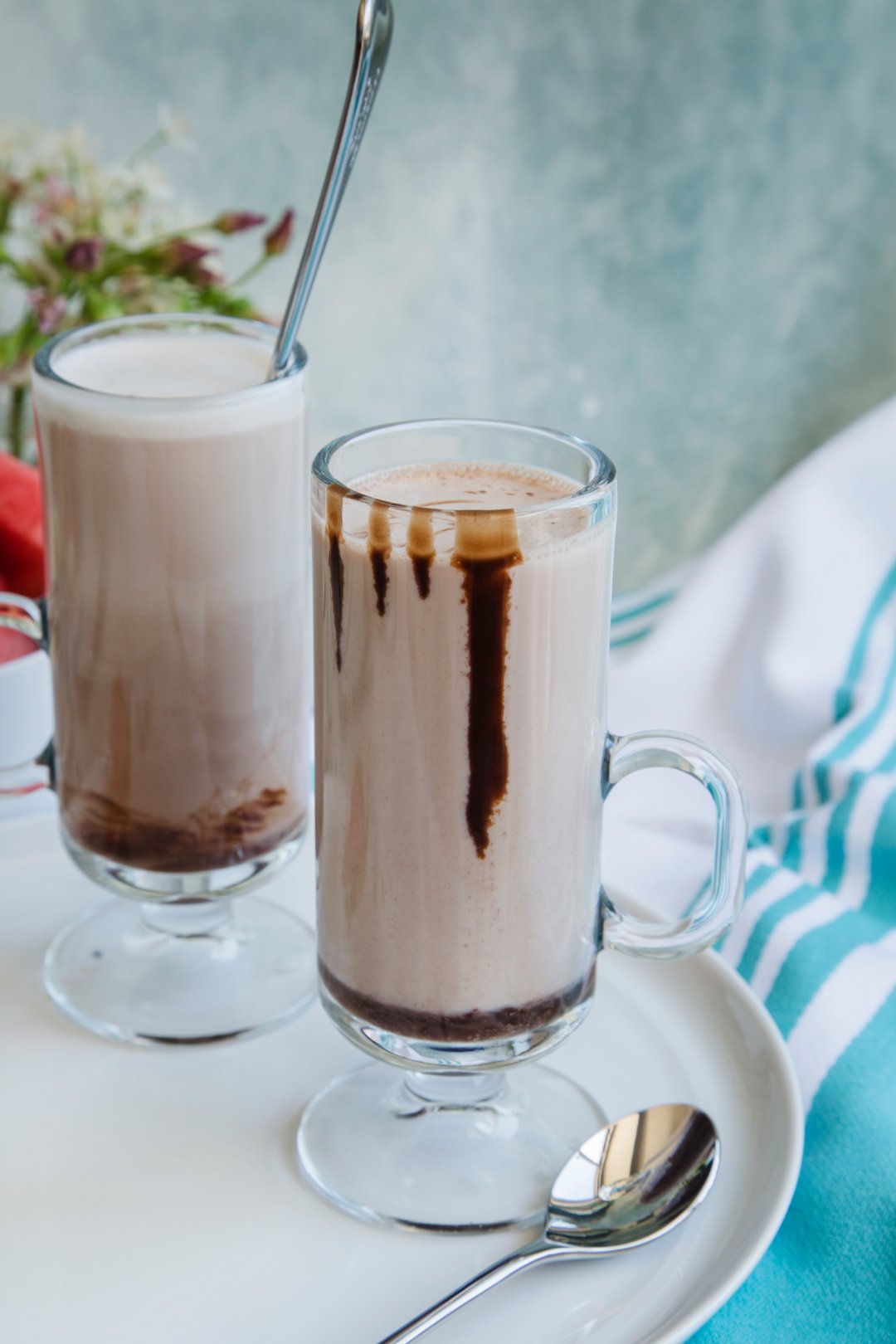 A NYC deli sandwich needs to be served with a classic egg cream. Now, don't let the weird name fool you, there are no eggs in an egg cream! It's a mixture of milk, seltzer water and chocolate syrup and is incredibly and addictively yummy! You'll just need to try it for yourself!
Happy Summer from New York City! Xoxo Sweet Paul
Rosemary Focaccia Recipe with Watermelon, Goat Cheese and Peppers
Serves 6
For the bread:
2 teaspoons dry yeast
1 1/3 cup lukewarm water
1 tablespoon honey
1 teaspoon salt
2 tablespoons olive oil+extra for baking
3 1/2 cups plain flour
Flaky sea salt
1 tablespoon fresh rosemary
For the sandwich:
1 cup goat cheese
1/4 small watermelon, sliced
1 small jar roasted peppers
Greens, I used micro greens
Pinch of red chili flakes
Mix yeast and water in a bowl. Leave for 5 minutes and add honey, salt, oil and flour. Mix until you have a smooth dough. Cover with plastic wrap and let it rise for at least 1 hour.
Preheat oven to 400°F. Press the dough into a greased 12×12 baking pan. Drizzle with some olive oil and top with salt and rosemary. Bake until golden, about 20­-25 minutes. Cool on a wire rack.
Cut the bread into square pieces, then cut the bread again through the middle to create slices. Fill with goat cheese, watermelon, pepper and greens. Finish off with some red chili flakes and serve.
Chocolate Egg Cream Recipe
Serves 2
1 cup whole milk
Seltzer
Chocolate syrup
Divide the milk into 2 glasses. Gently top with seltzer and add chocolate syrup to taste. Stir vigorously with a spoon to give it a frothy head and serve!
Miss a stop on our road trip? Catch up.