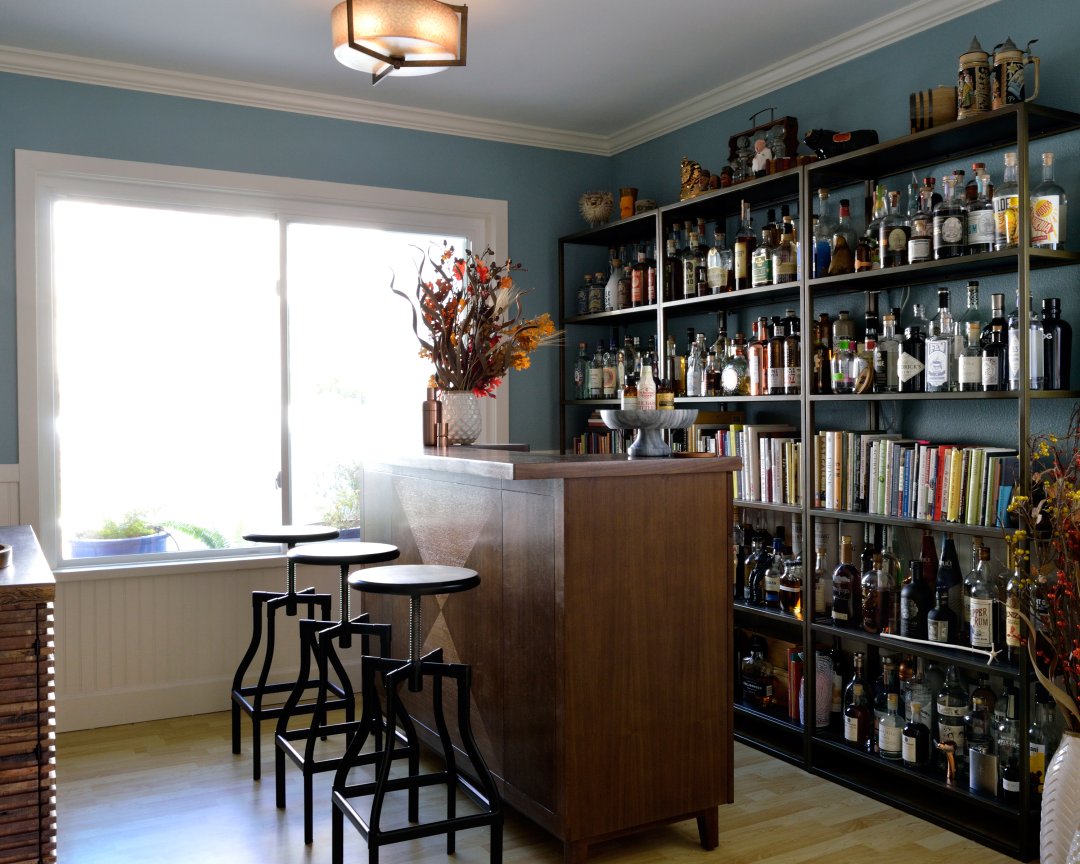 12bottlebar.com
David and Lesley Jacobs Solmonson of 12 Bottle Bar are giving their home bar a makeover. And while the end result certainly makes a home DIY project worth the time and effort, there's nothing quite like a cocktail to toast progress.
If you've been following these posts—our path to the perfect home bar—you've no doubt caught the overriding theme. We've taken the main work efforts—painting, build-out, and now, furnishing—and crafted three corresponding cocktails—the Top Coat, Rusty Nail, and Screwdriver—replete with a DIY liqueur for each. We thought it all quite clever. That is, until we realized the fundamental flaw with our Screwdriver concept, but we'll get to that later.
Our journey began with a simple enough question: "Tell us about your home bar." There was also a clear goal in mind: "It should feel like us—like it's always been part of the house." We knew that we needed a space that welcomed us as if it was an old friend, providing a repository for all the boozy artifacts we have gathered in our cocktailing adventures.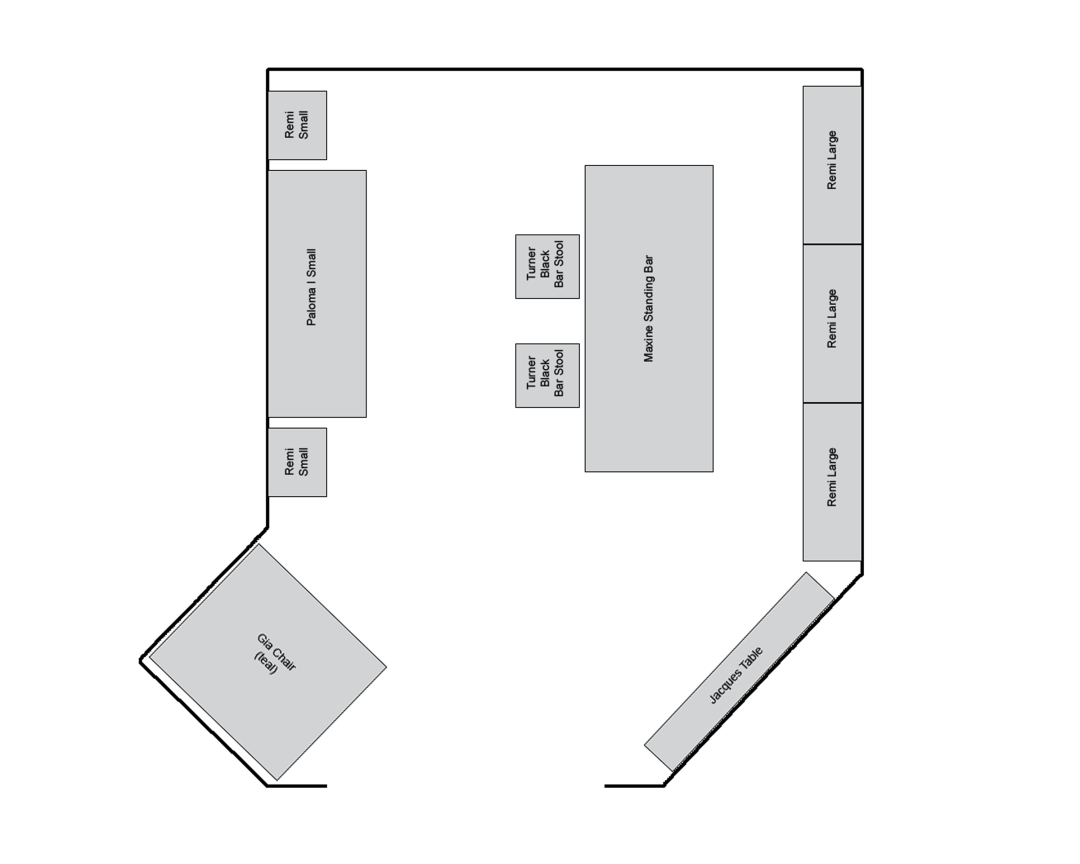 After parting ways with our old furniture and storing what amounted to almost 200 bottles of booze, we embarked on half a dozen weekends of patching, painting, and hammering. With each marathon of manual labor, we knew we were getting closer to the day when the foundation would be in place – the walls blue, the wainscoting and crown molding finished, the lighting fixtures hung. And indeed, finally, that day came.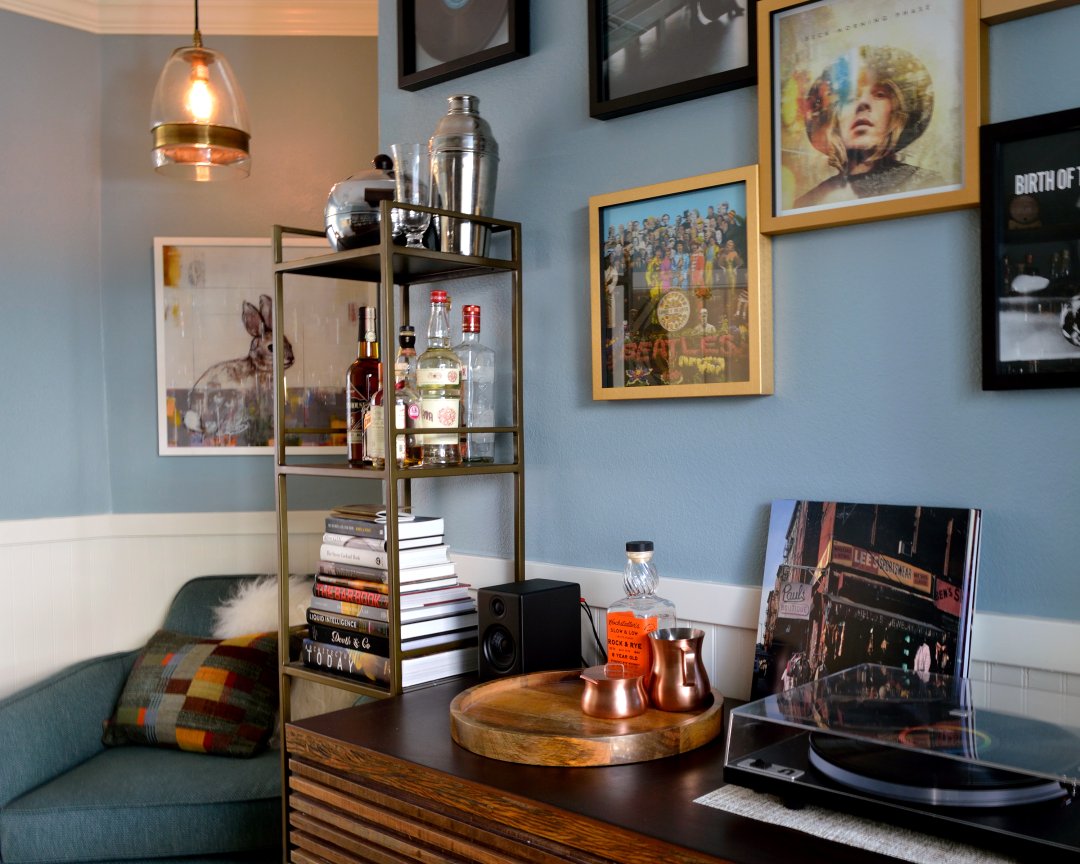 Well before we kicked off the construction, we had made careful measurements and worked through the Crate and Barrel catalog to find just the right pieces. The centerpiece of the room would be the Maxine Walnut Standing Home Bar. The Maxine perfectly complemented our existing vintage mid-century modern pieces elsewhere in the house. To add a bit of visual interest while still matching the tone of the Maxine, we paired it with the Palmona I Reclaimed Wood Sideboard. Both instantly felt like they had always been part of the room.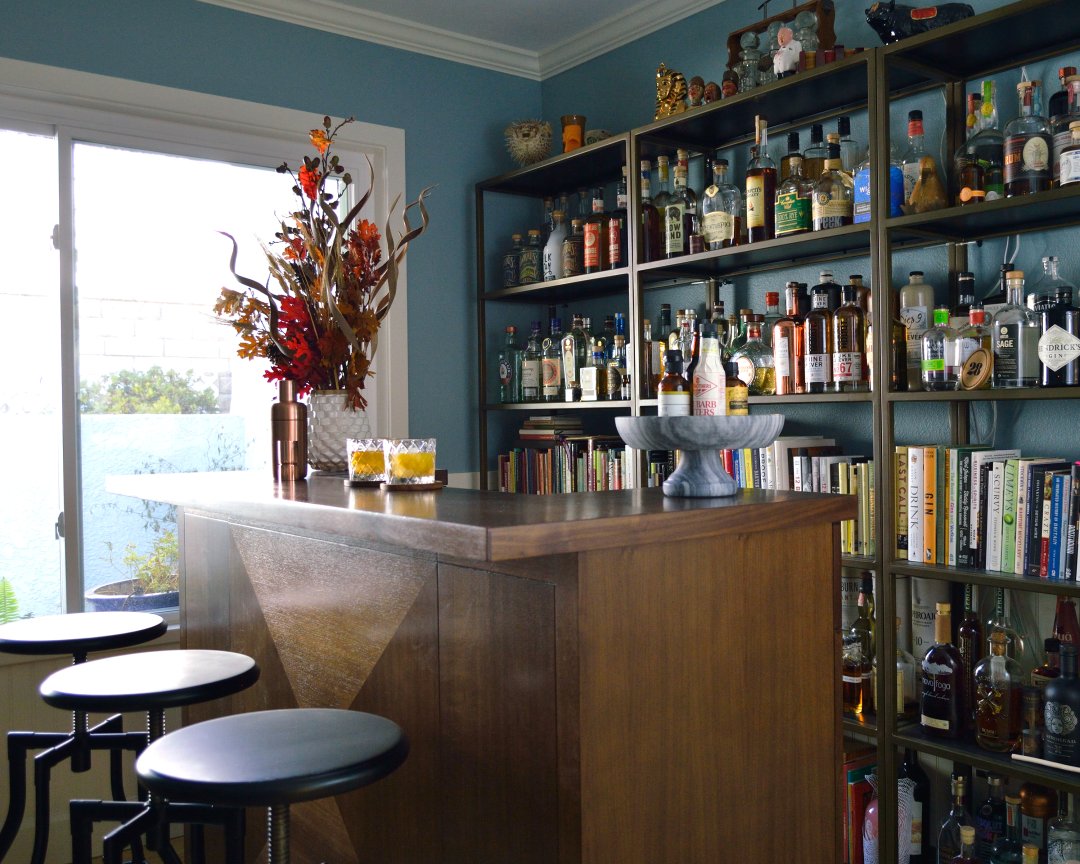 One of the challenges that we had with our previous shelving was that it was so dark and heavy that it overpowered both the room and our liquor collection. This time, we needed shelving which not only accommodated hundreds of bottles and books, but also provided a solid, yet unobtrusive, backdrop. We added three large Remi shelves behind the bar and two small Remi Bookcases opposite them, flanking the Paloma. The antique brass and black metal shelves brought a Hollywood Regency-meets-industrial layer to the room, as did the Turner Bar Stools, and the Morela Glass Pendant Light. Completing the mid-century vibe was a Gia chair in stunning teal.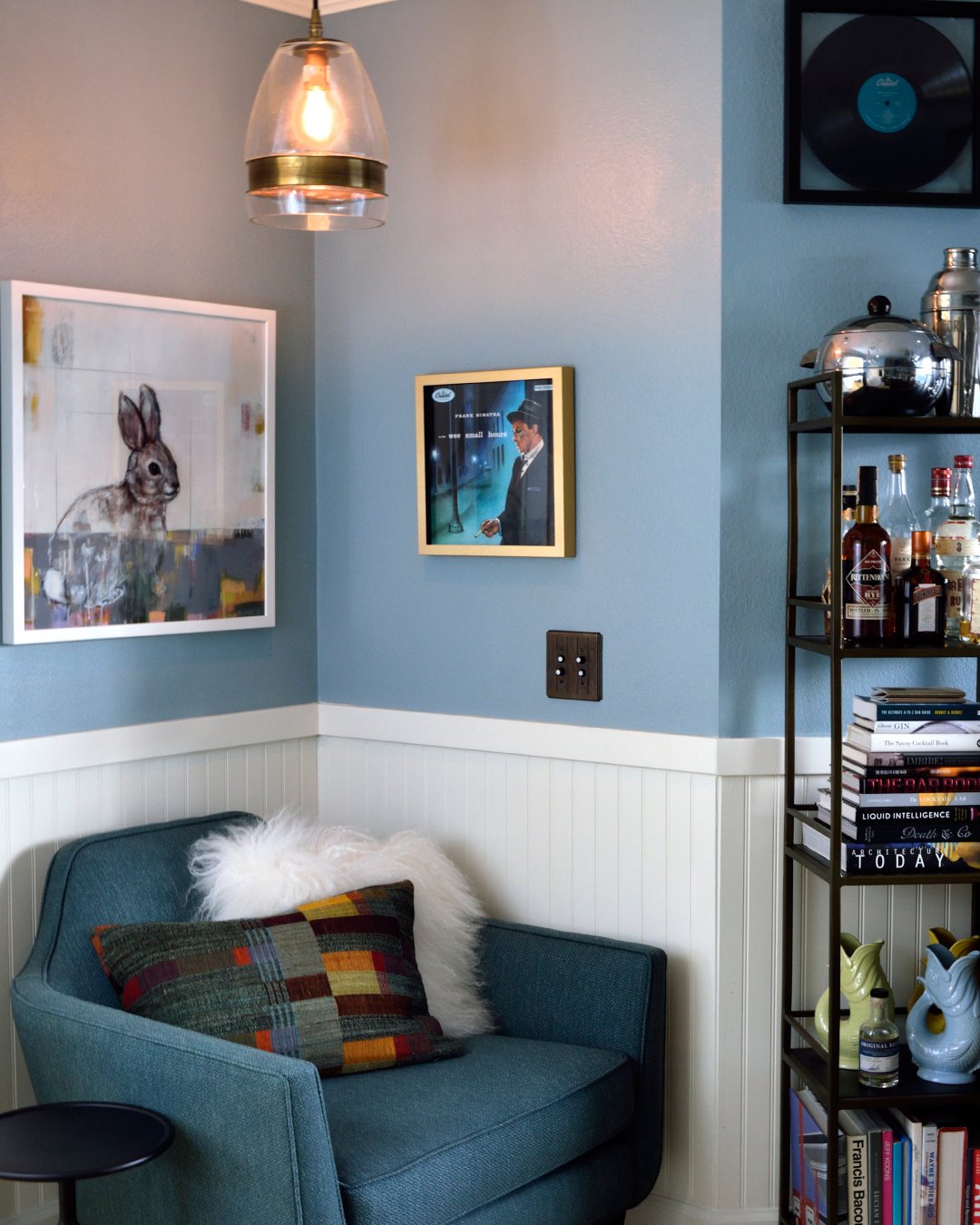 All along, our goal was to build up layers which both complemented and contrasted each other. We picked Blue .03 for the walls chiefly based on how it complemented the Gia chair. The wainscoting was to provide a neutral backdrop for both the Gia and the other furniture pieces. The crown molding allowed us to layer tones and finishes of white—eggshell White .01 and semi-gloss White .02. Metal and reclaimed wood were used alongside rich fabrics. As we have no one, single style, neither would the bar. Actually, let me take that back; it would have a single style—us.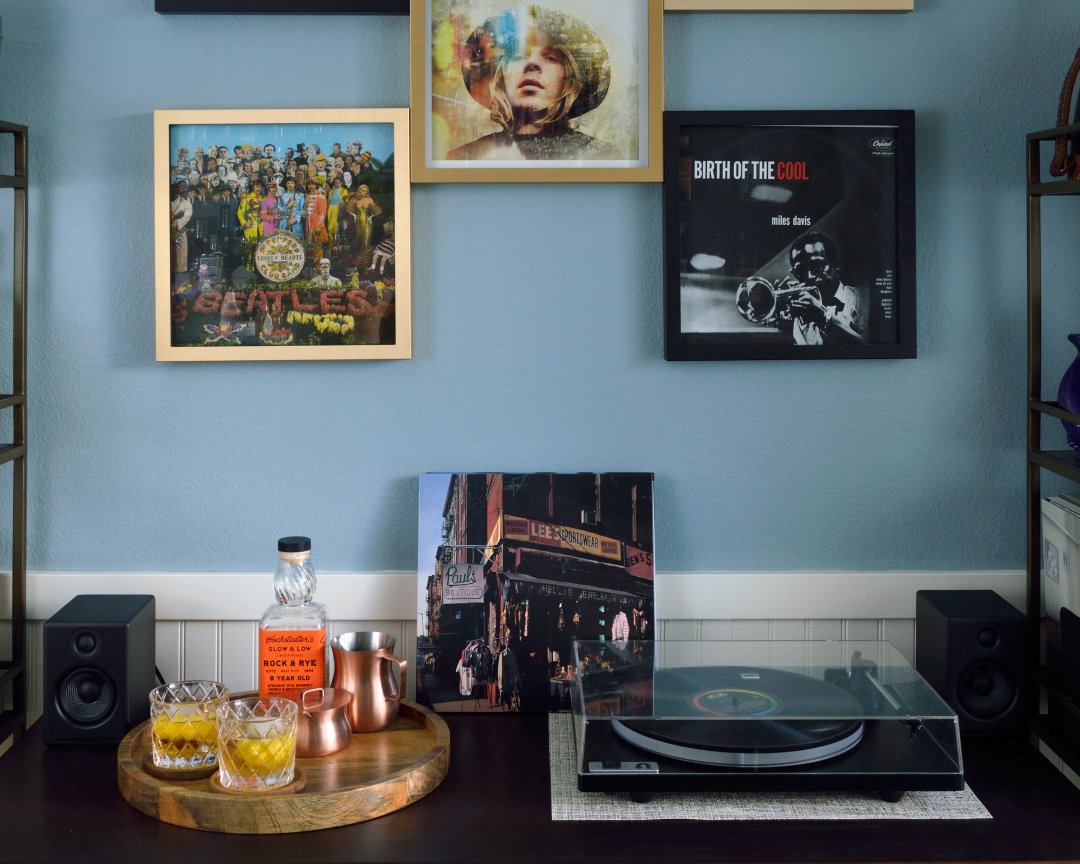 One of the key things about our house prior to building out the bar was that we have no television downstairs. Where many people might have a large flatscreen in the living room, we have a turntable and all the records we've each collected over the years (not an enviable collection, mind you, but ours all the same). It was in no small part due to this that our friends at Crate asked us to design drinks for the media event launching The Listening Room in conjunction with Capitol Records.
Sure, our bar contained places to mix and imbibe drinks, but isn't a real bar something more than that? I mean, what's a true bar without music? An Orbit Plus Turntable and a set of Audioengine 2+Desktop Speakers took up very little space atop the Paloma, but filled the room with such warm, rich sound that there's no place in the house we prefer at the end of a long day than at the bar, sharing a drink, and listening to a little Beck or Miles Davis. Framing some of our favorite album covers from the Capitol Records 75th Anniversary collection was also a nice way to bring another unexpected layer to the room—and a wonderful conversation piece to boot.
About the Screwdriver
In the end, did we build the prefect bar? Absolutely. Except for that issue with the Screwdriver. There's a small issue with the Screwdriver—it's not a good drink. Vodka and orange juice may be just the thing if you want to get blitzed on OJ, but beyond that, it has nothing to offer. So, if we were going to serve up a Screwdriver, it had to be an improved Screwdriver and one that continued with our theme of DIY liqueurs. The orange liqueur we make here is fundamentally the same as the blue curaçao we made for our Top Coat in Part One of this series.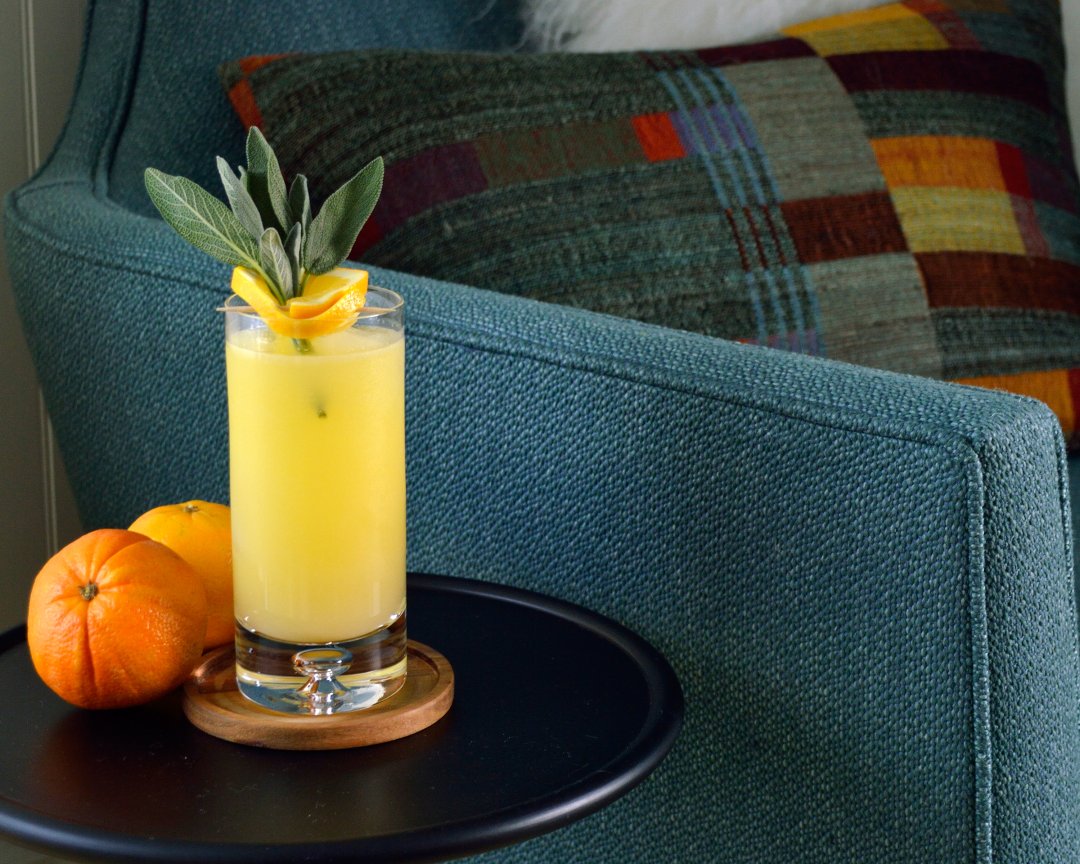 Part of the problem with a traditional Screwdriver is that plain orange juice is more often than not a horrible cocktail mixer. Neither tart enough nor sweet enough, orange juice-based drinks tend to be thin and somewhat mealy. Here, we overcome that problem by adding sugar to the juice and making an orange syrup. With a bit of orange liqueur and, we recommend, a vodka with distinctive flavor, you get a drink that not only fulfills the brunch-time promise of a solid kick, it does so in a most quaffable manner, especially when served in a big, tall glass like a Direction Highball.
Now, about that big problem with the Screwdriver. When we created the Top Coat, it was to complement our painting post. The Rusty Nail went with the woodworking. And the Screwdriver…well, when it came to the furniture, we never needed a screwdriver. Crate delivered it all and set it all up exactly where we wanted it. No assembly needed. If Screwdrivers were involved at all, they were the ones we were drinking as we enjoyed the beauty of our perfect home bar.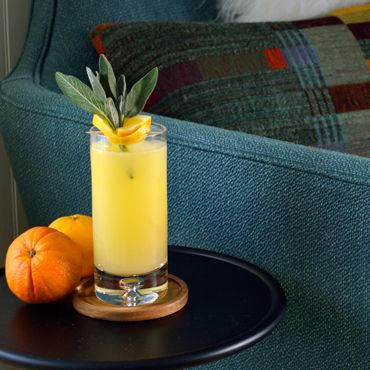 1.
The Screwdriver Recipe
2 ounces vodka
1 ounce orange liqueur
4 ounces orange syrup
3 ounces sparkling water
Combine all ingredients in a tall glass over ice.
Garnish with an orange slice and something pretty.
2.
Orange Syrup Recipe
2 cups orange juice
1 cup white sugar
Warm the orange juice. Add the sugar and stir to dissolve.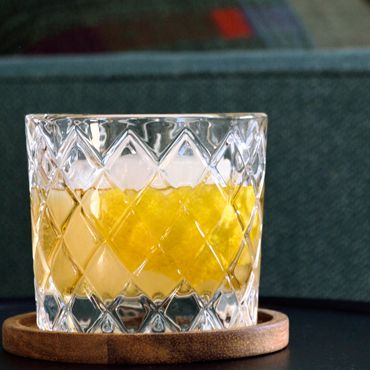 3.
Orange Liqueur Recipe
3 oranges, peeled
6 tangerines, peeled
1 cup white sugar
1 bottle vodka, preferably 100 proof
Peel the oranges and tangerines. Place on a baking sheet and dehydrate in a 140 degree oven (or a dehydrator), approximately 5 – 6 hours.
Place the dried peels in the vodka and allow to infuse for approximately 12 hours, until the vodka had taken on a distinctively bright orange flavor and vibrant hue without too much bitterness. Strain out the peels and discard them, saving the liquid. (Our Orb Glass Ice Bucket worked perfectly for this).
Dissolve the sugar in an equal (1 cup) amount of warm water.
Add 1 cup of the sugar syrup to 2 cups of the infused vodka.
Keep in a covered container or bottle.