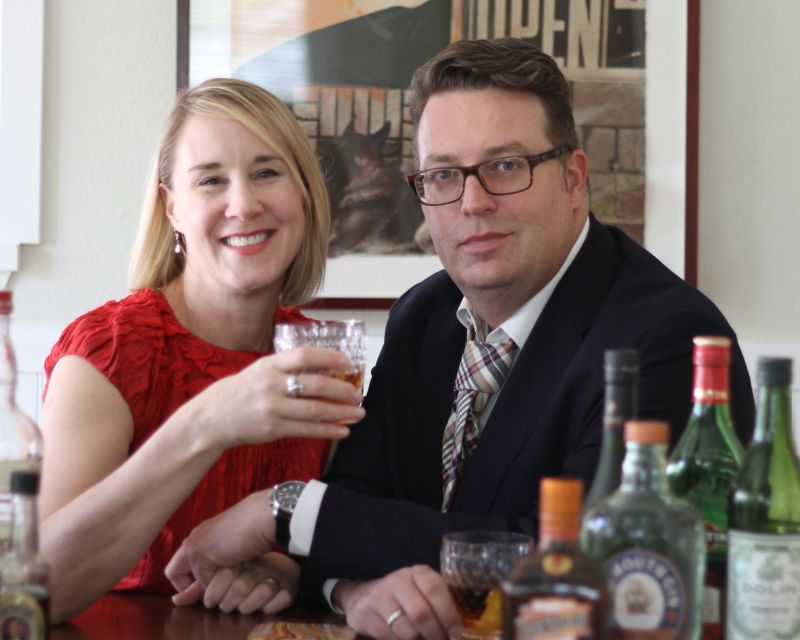 12bottlebar.com
Need to get away? We've partnered with David and Lesley Jacobs Solmonson of 12 Bottle Bar to create a tiki drink that will put you in a sunny state of mind.
Tropical drinks are the LOL cats of the cocktail world.  No matter how hardened you might claim to be, odds are you still enjoy a good one now and again. The reason is simple: tropical drinks and their older sibling, tiki drinks, are South Seas vacations in a glass. Whether by a sunny poolside or on a rainy afternoon – just pretend its monsoon season – tropical drinks are welcome and somewhat magical all year round.
If you happen to be speaking to a purist – someone identifiable by the converted garage/tiki bar in their home – tiki drinks are tropical drinks, but tropical drinks aren't all tiki.  The differences might seem minor, but important both historically and in terms of the flavors.  Whereas tropical drinks typically are a mixture of tropical and citrus fruits, plus sugar, and a healthy dose of booze, "tiki" means the drink has a little something extra.  In addition to embracing the specific tiki culture, tiki drinks traditionally contain complex, spiced syrups (most of the famous tiki joints had proprietary blends) and layers of flavors – multiple fruit juices, multiple rums.
For our money, all stripes of tropical drinks are easy to love, especially when served in a traditional tiki-style mug, such as the Jane Dixon stoneware piece we feature here, with a red and white paper straw for easy sipping, of course. Add some Asian-themed nibbles on Dixon's whimsical appetizer plates plus some tiki paper beverage napkins and the island life will seem that much more tangible.
Island drinks are often served over a mound of crushed ice and ours is no different. While you could easily fill a glass with refrigerator ice, it's a lot more fun to use the Rabbit Manual Ice Crusher. This retro, 50's-style tool is an efficient way to make perfectly-sized ice pellets, not to mention a great conversation piece at your next tiki party.
About Planter's Punch
So, let's get tropical. Hailing from Jamaica, the Planter's Punch is more a "collection" of drinks rather than a single recipe. Variations can include pineapple juice and orange juice, multiple rums and bitters. The sweetening agent can be granulated sugar, simple syrup, or grenadine. Feel free to experiment. As long as the drink doesn't get sucked down the overly sweet and fruity rabbit hole, it's pretty foolproof.
Our version comes by way of Victor Bergeron of Trader Vic's fame. If we can offer only one suggestion, it's that you make the grenadine for the drink yourself. While many bottled versions are on the market, none of them can replicate the depth of flavor in the homemade version. One recipe makes three cups and will keep for a good while in the refrigerator.
Whether it's hot and sultry outside (when you need something slightly tart and refreshing) or the rain clouds are rolling in (and you are desperate for a dose of sunshine), Planter's Punch will satisfy.
Planter's Punch Recipe
3 ounces amber rum
1 ounce strained, freshly squeezed lime juice
1/2 ounce strained, freshly squeezed lemon juice
1/2 ounce Grenadine, homemade (See below) or store bought
1/4 teaspoon granulated sugar
Seltzer (optional)
Combine all the ingredients in a mixing glass, fill the glass three-quarters full with ice cubes and stir rapidly until thoroughly chilled, about 30 seconds.
Fill a tiki-style mug (or collins or rocks glass) with crushed ice and strain the drink into the glass. (Top with seltzer if desired, but we prefer not.) Serve with a straw. Garnish with something suitably island-like, such as the pineapple leaf and orchid as we did.
Grenadine
Makes: 3 Cups
2 cups unsweetened pomegranate juice
4 cups granulated sugar
Food-grade orange flower water
Food-grade rose water
Heat the pomegranate juice in a medium saucepan over very low heat until just warm, 2 minutes. Add the sugar in batches, stirring until it is dissolved and the syrup is clear.
Pour about three-quarters of the syrup into a heatproof container, and heat the remaining one-forth over medium heat until it is reduced by half. Add the reduced syrup to the reserved syrup.
Add about 6 drops each of the orange flower water and rose water — just enough to accent the syrup subtly. Allow the grenadine to cool to room temperature, transfer it to an airtight container, and refrigerate. The grenadine will keep, covered for several months.
Ready to mix up more? Check out the cocktails section of our blog.