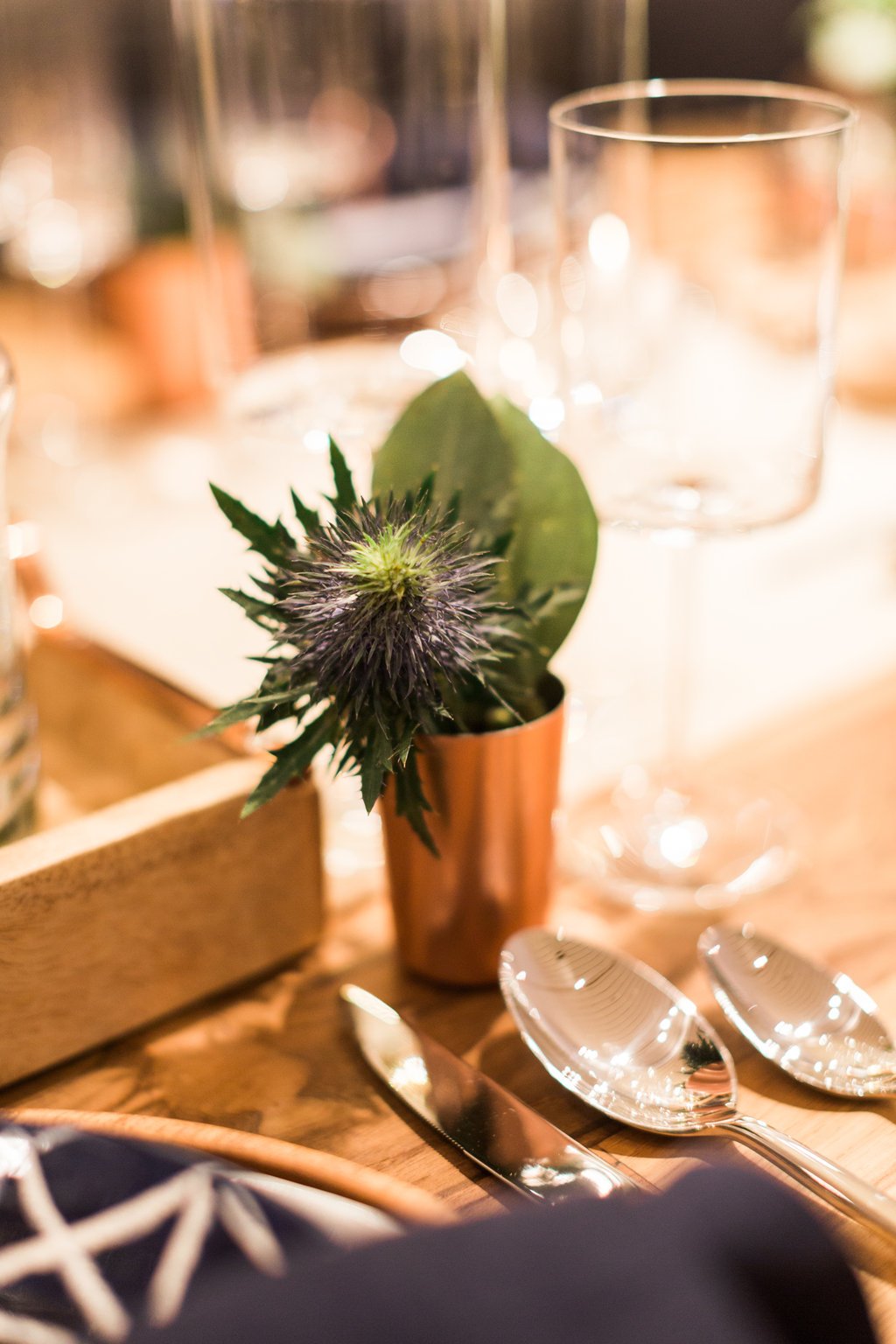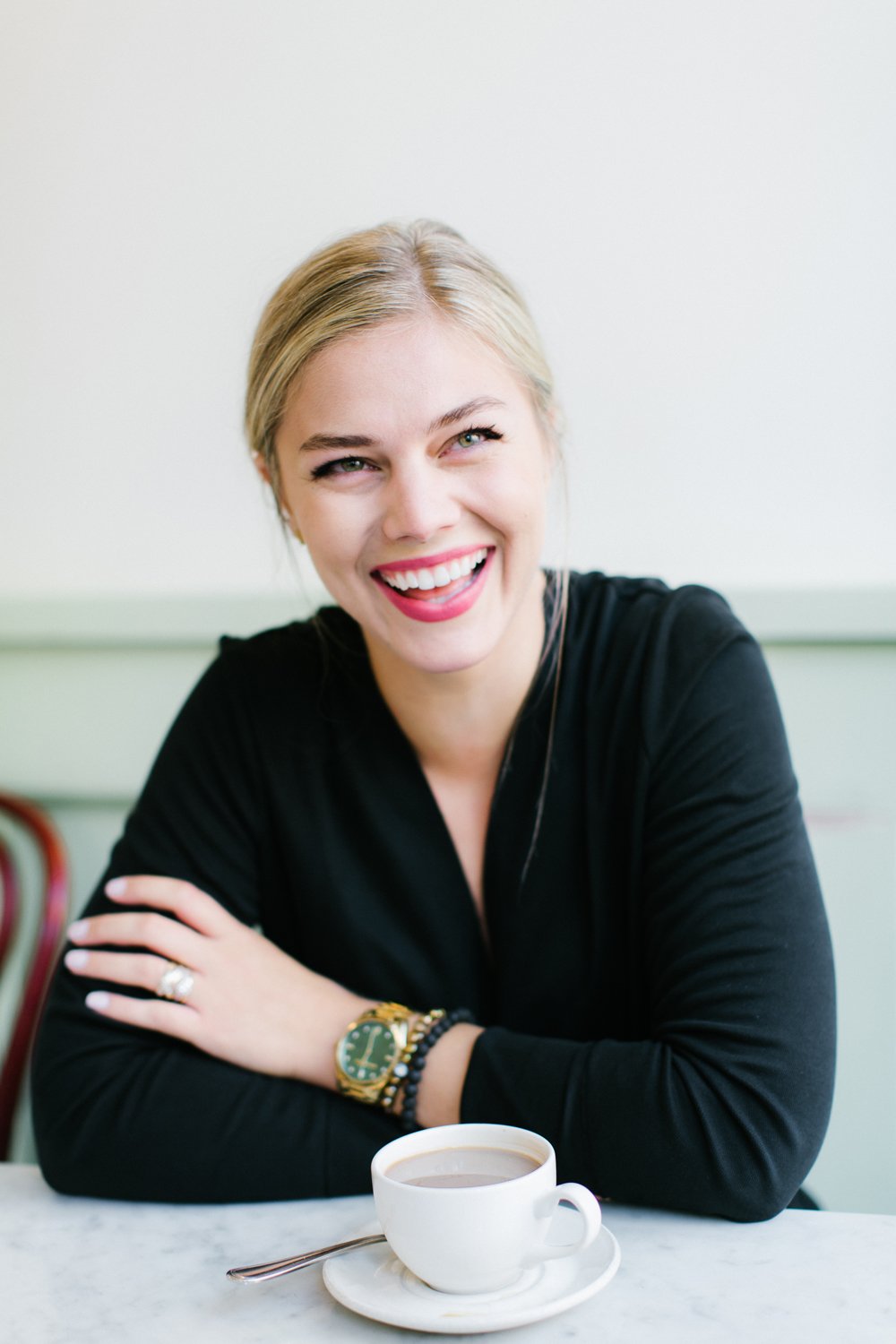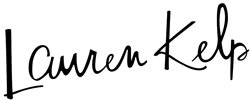 laurenkelp.com
In August, we invited a group of 30 influencers to a special Sunday dinner after hours, right in middle our North and Clybourn store. The theme? Once a Blue Room, inspired by our gorgeous blue entertaining product. Learn how we partnered with Lauren Kelp of Tablemakers to style the inspired night in.
To us, entertaining doesn't have to be perfect; it just has to be honest. We believe that entertaining is supposed to be a celebration—a beautiful gathering of friendship and community. It is not about making things flawless or perfect; it's about inviting others in your space to break bread and build community.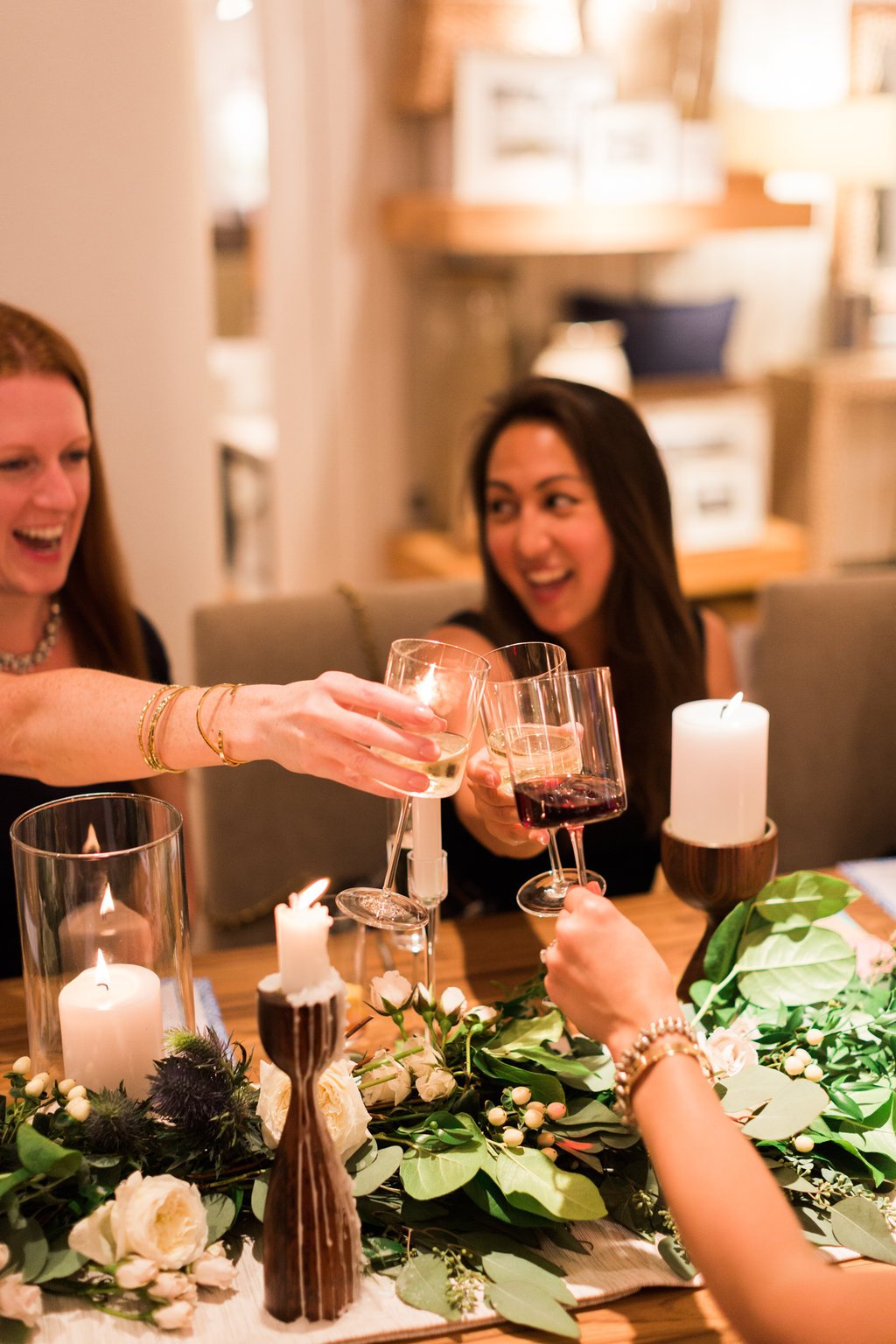 In fact, we believe in the importance of entertaining well so much, we started a little dinner party series around this belief. Meet Tablemakers, the pop-up dinner party series that travels all around the country, inviting people doing interesting things in their community to come hang out, have a meal, and create a whole new community. No frills, no weirdness, just good ol' fashion supper clubbing.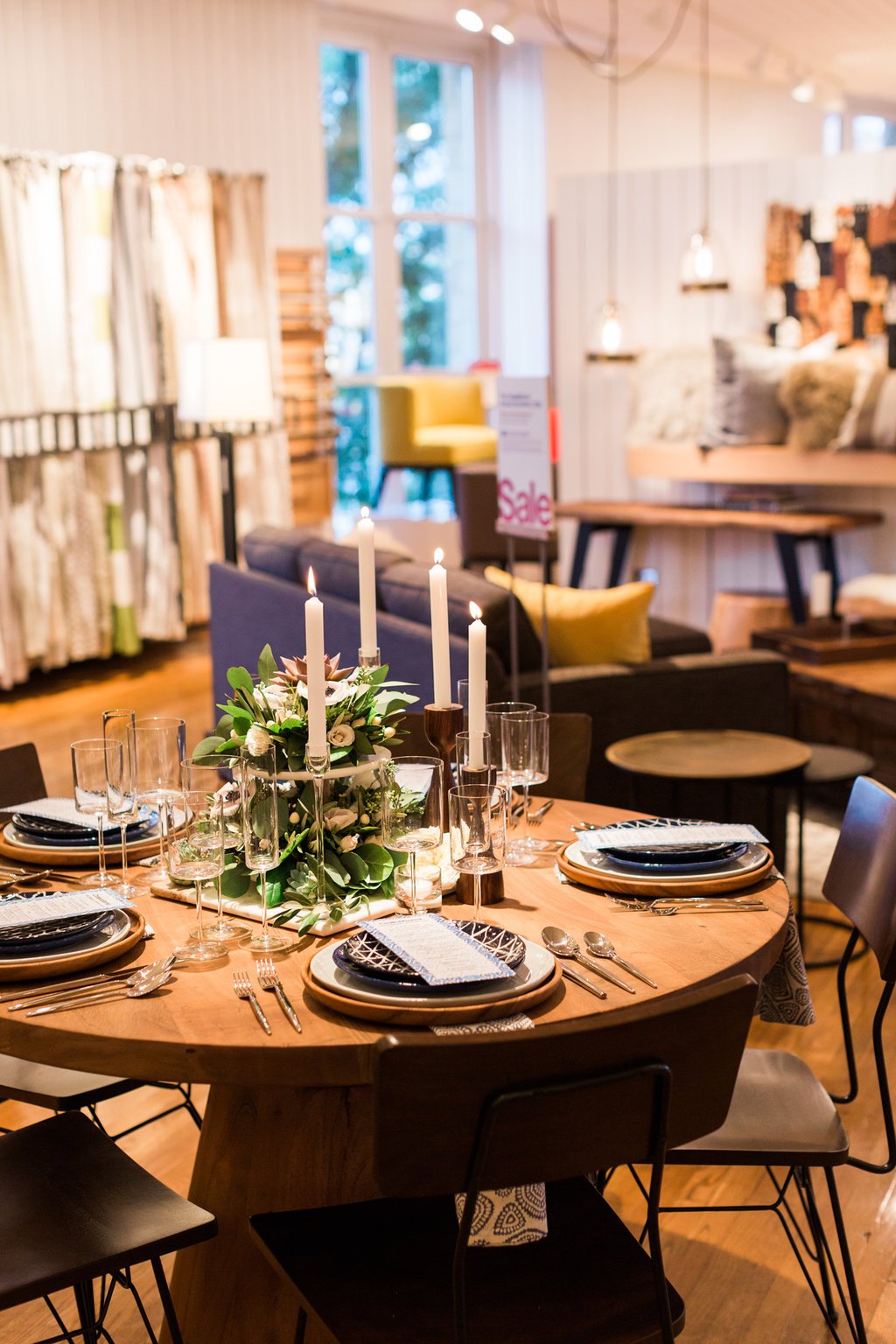 At the start of fall, we got to throw a dinner party with our favorite everyday entertaining essentials company Crate and Barrel. We rounded up 30 creative innovators, bloggers, designers, makers, and entertainers around the Chicago area and threw one heck of a dinner party at their North and Clybourn store. The theme was "Once in a Blue Room" and to say it was nothing short of magical would be an understatement.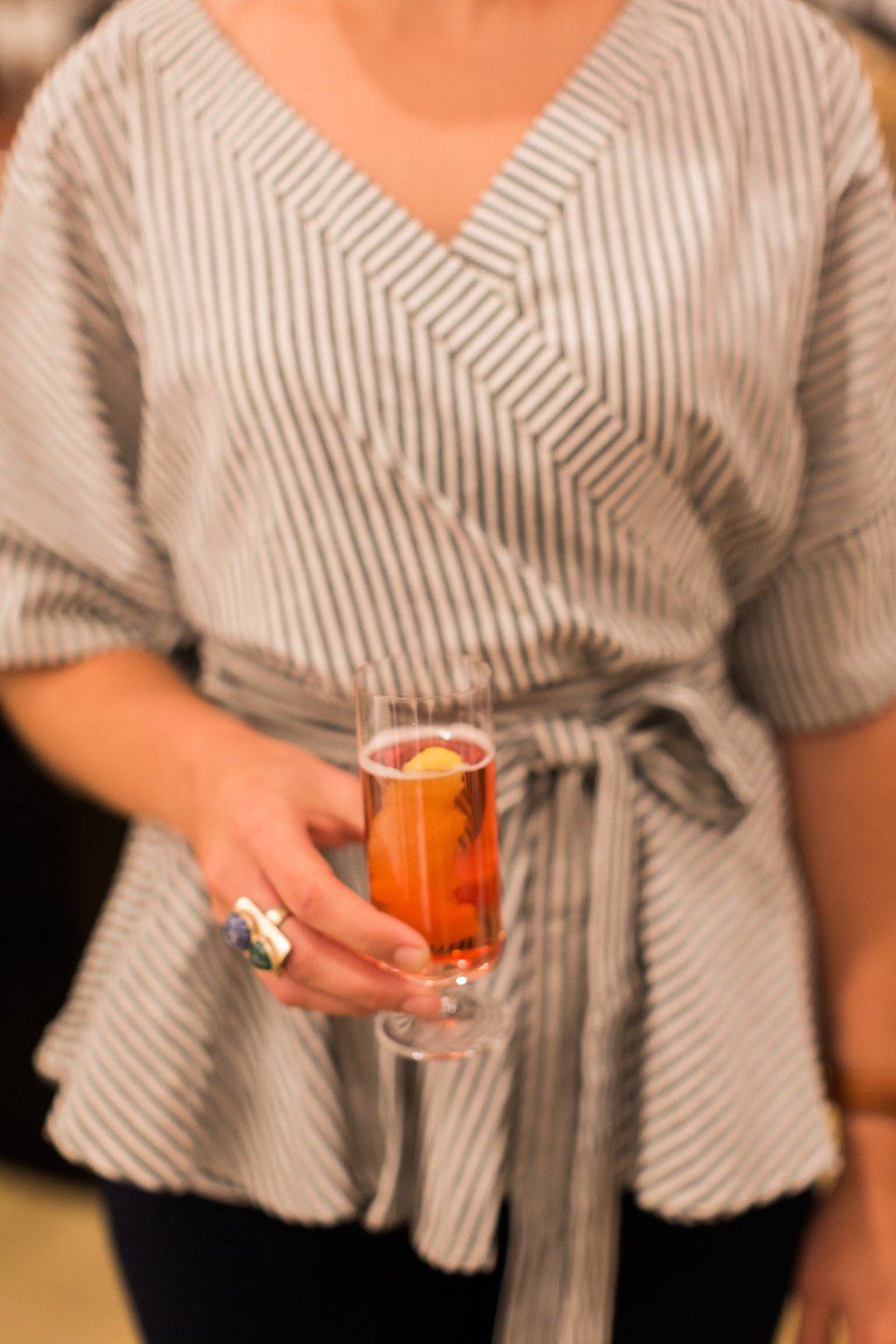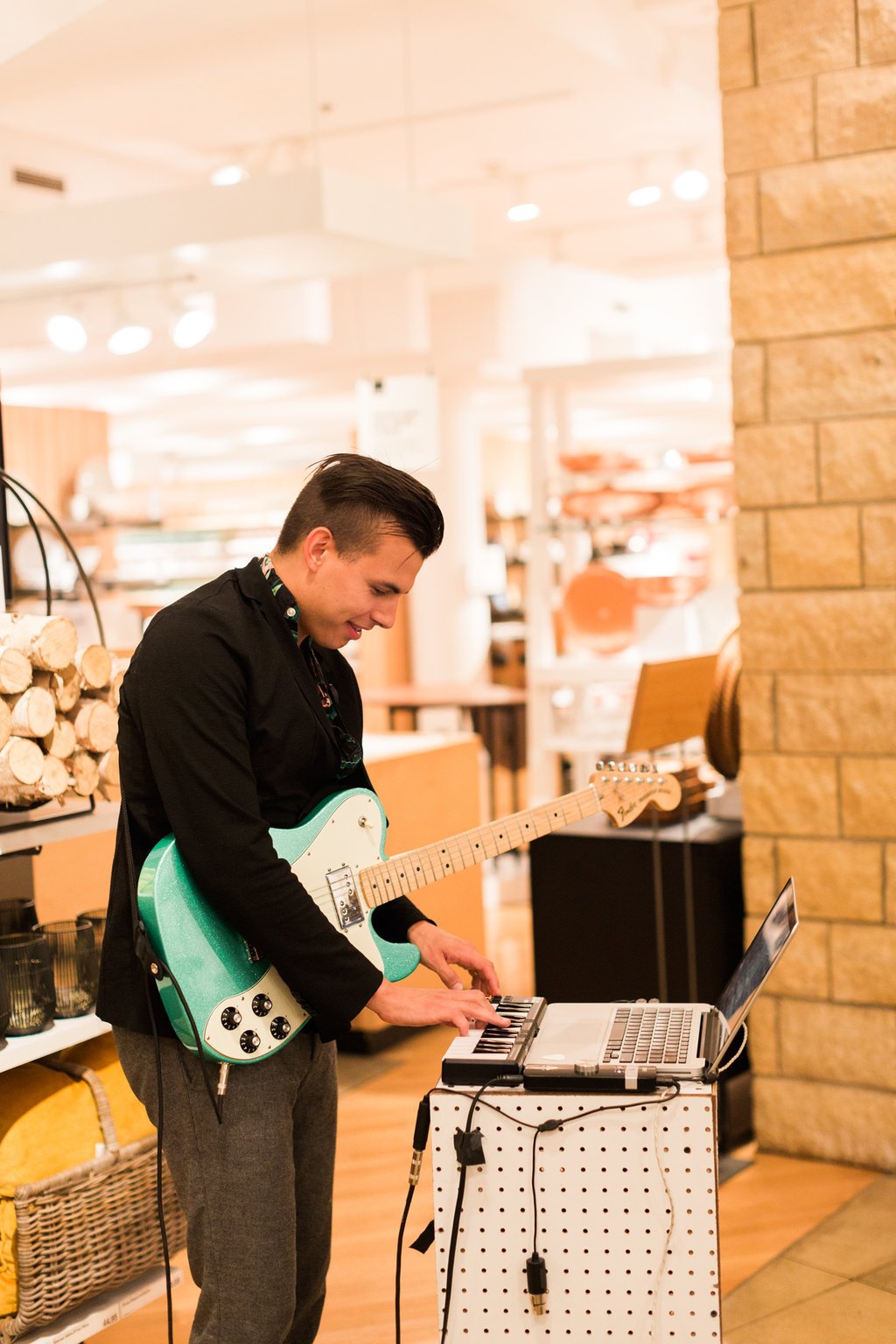 Guests were met with a bubbling Elderflower cocktail when they walked into the store and Chicago musician, Jonny Mendez, filled the space with perfect house music. The cocktail hour was spent meandering around the store, viewing the latest collection, meeting fellow guests and catching up with friends.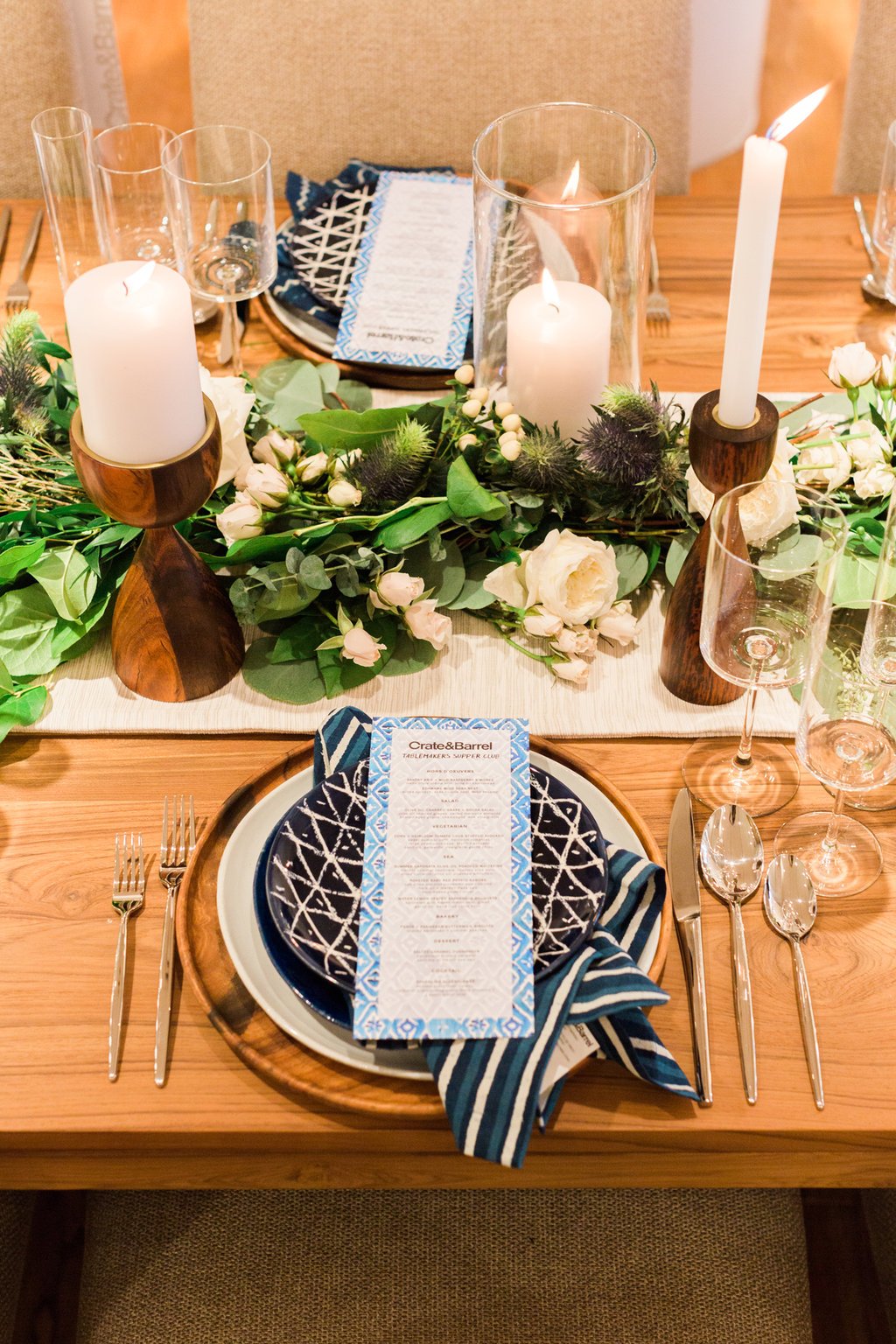 When it was time for dinner, we met everyone upstairs where four separate tables were set to showcase the versatility of Crate and Barrel's entertaining pieces. Each place setting had the most beautiful combination of Welcome Dinner Plates, Baltic Salad Plates and Indigo Blue Batik Plates, giving each place a unique composition and texture—talk about mixing and matching! Centered by the Uptown Flatware set (stunning!) and (my favorite) Edge Stemware. We played with shapes, sizes, hues of blue and tones, and everything worked remarkably well together to create a really unique setting.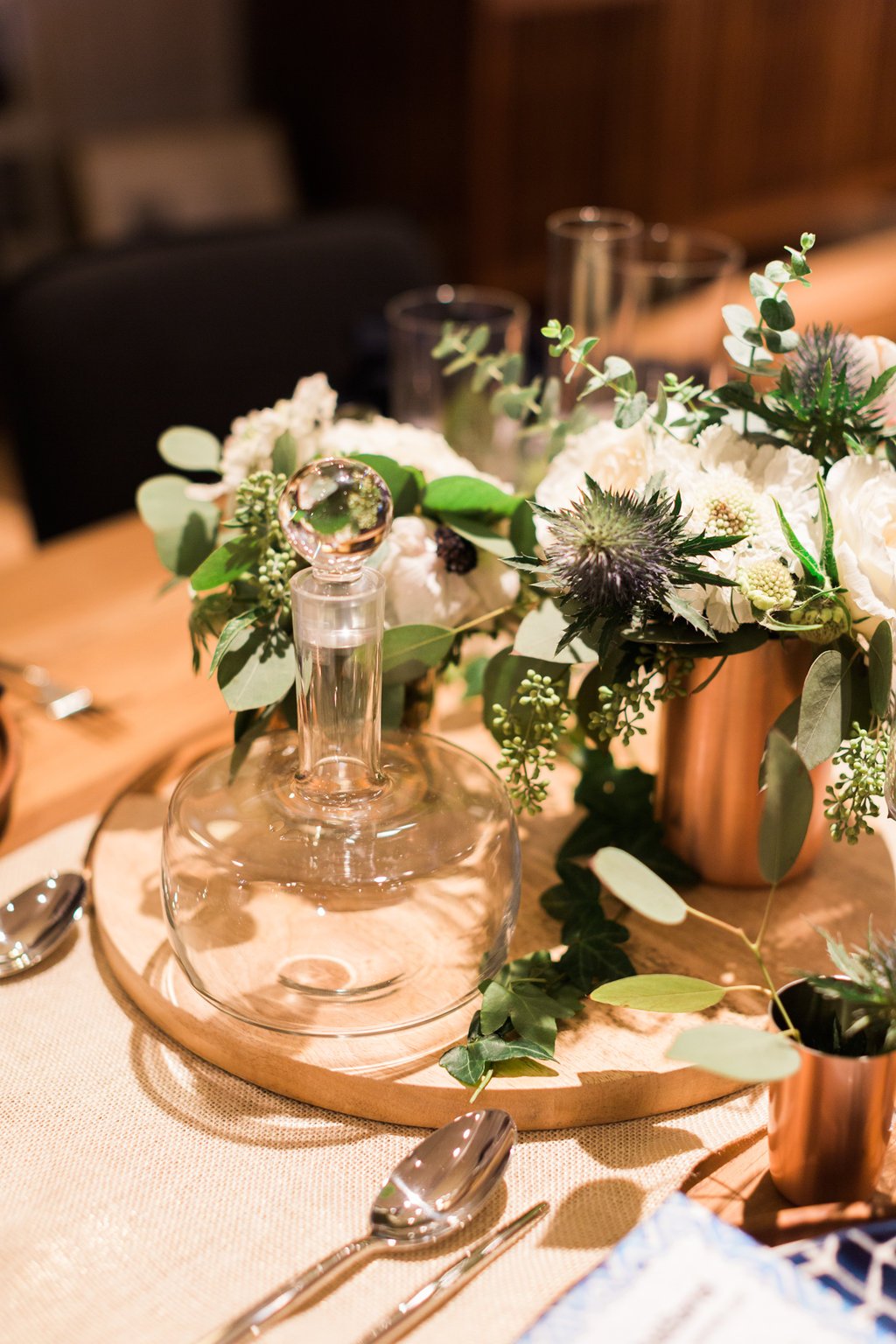 The stunning Lakin Table was peppered with copper cocktail shakers and shot glasses as the vases, and we used the Beck Tray and serving board to display the most amazing decanters—Tino, Corbin and Wells.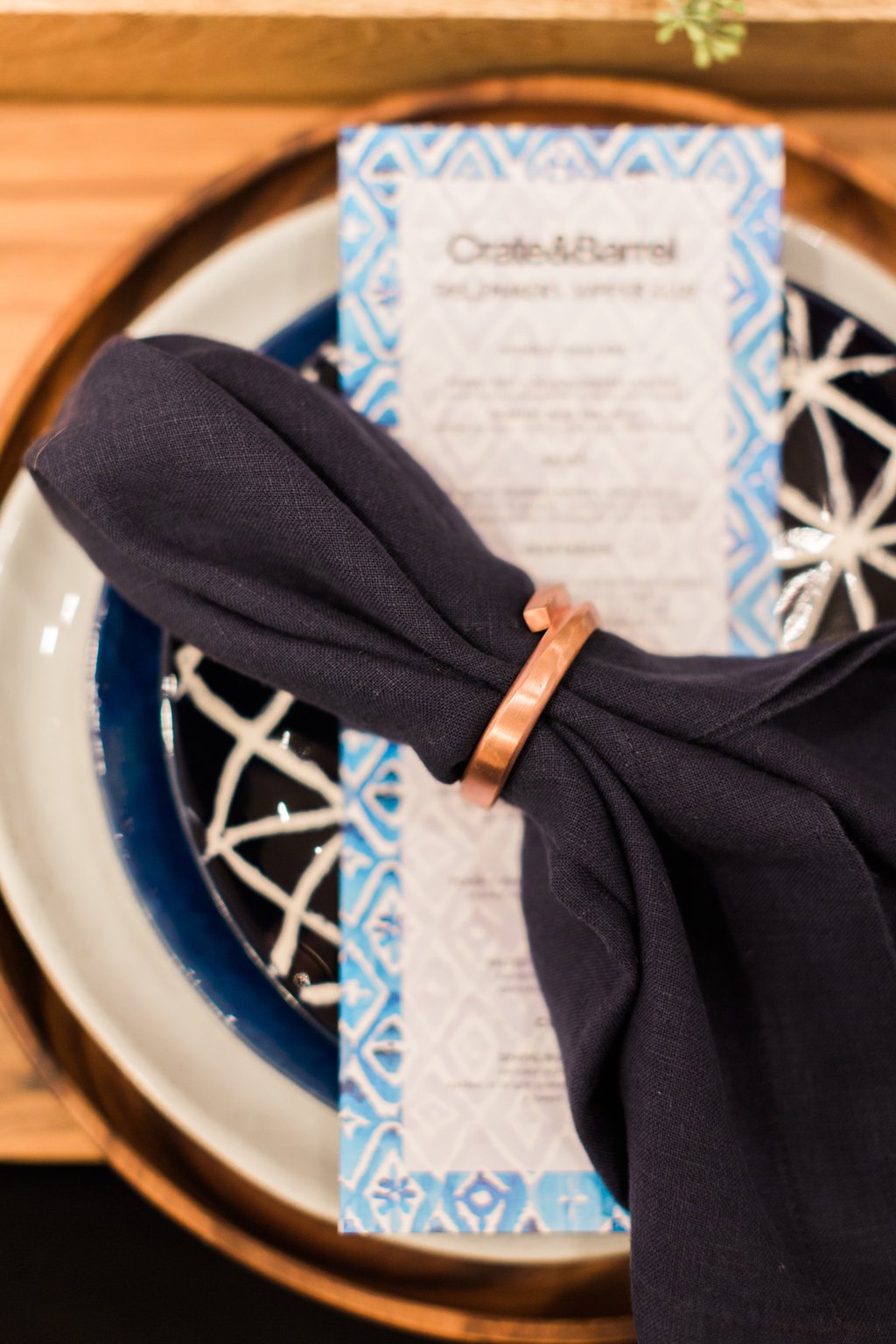 We snuck in a little glam with the gold jute table runner and wrapped the Helena Indigo Dinner Napkins in the Wrap Copper Napkin Ring for a fun metallic and blue combo.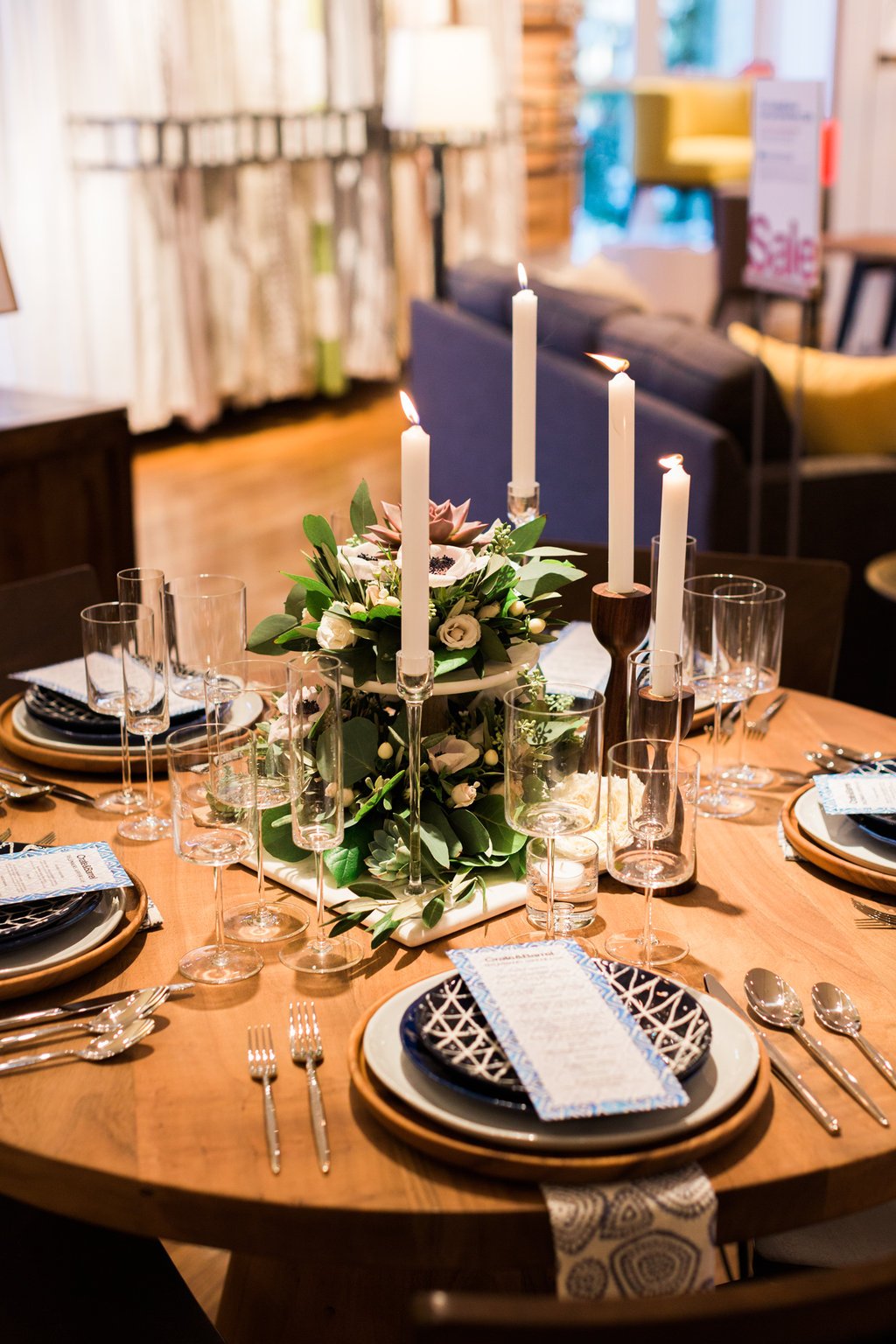 The Revolve Table was a play on wood tones and marble—has there ever been a better combo?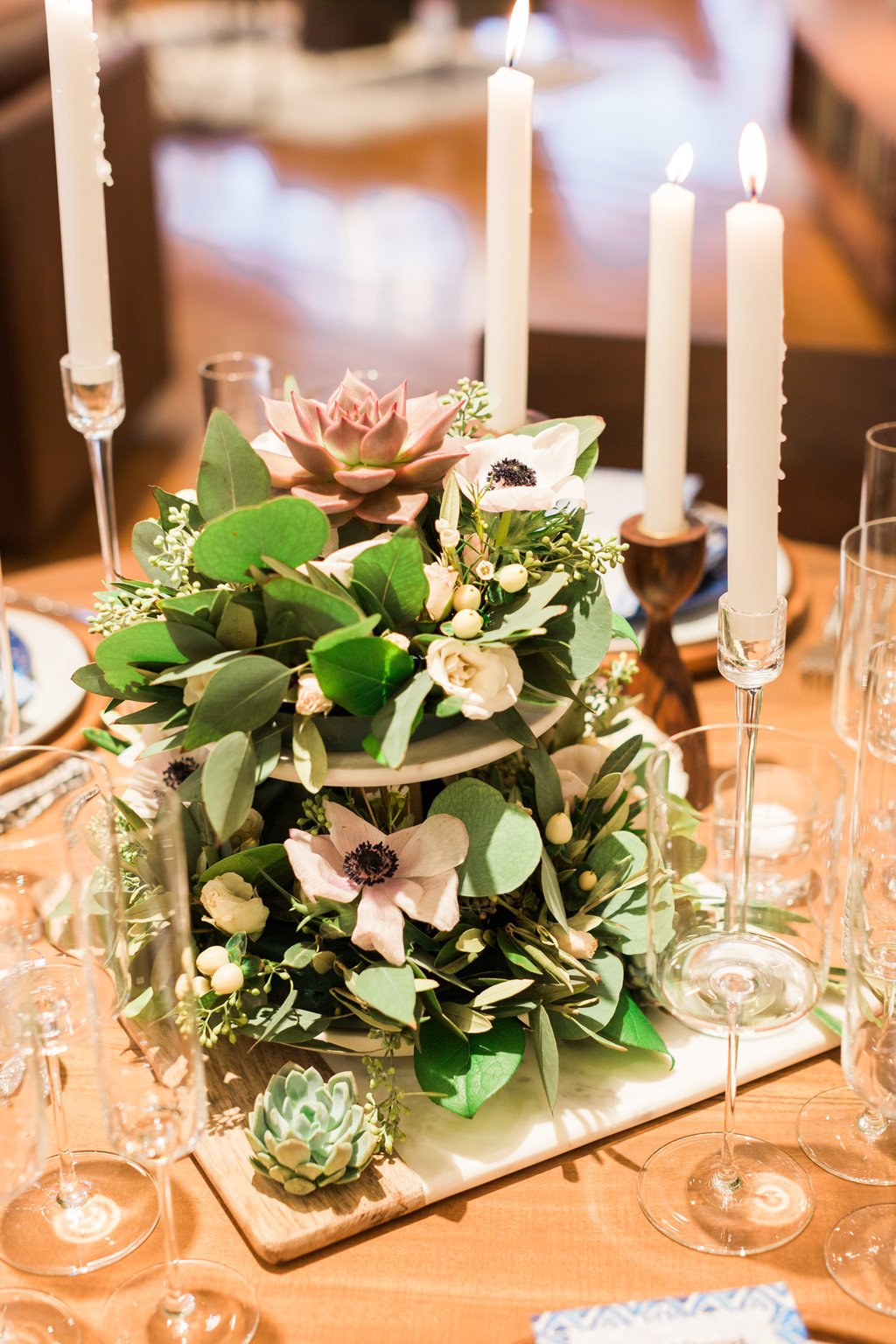 We also used a covered server, 2-tier server and square platter as a tiered centerpiece displaying florals and greenery to play with levels and to give the table a fun pop of color and texture.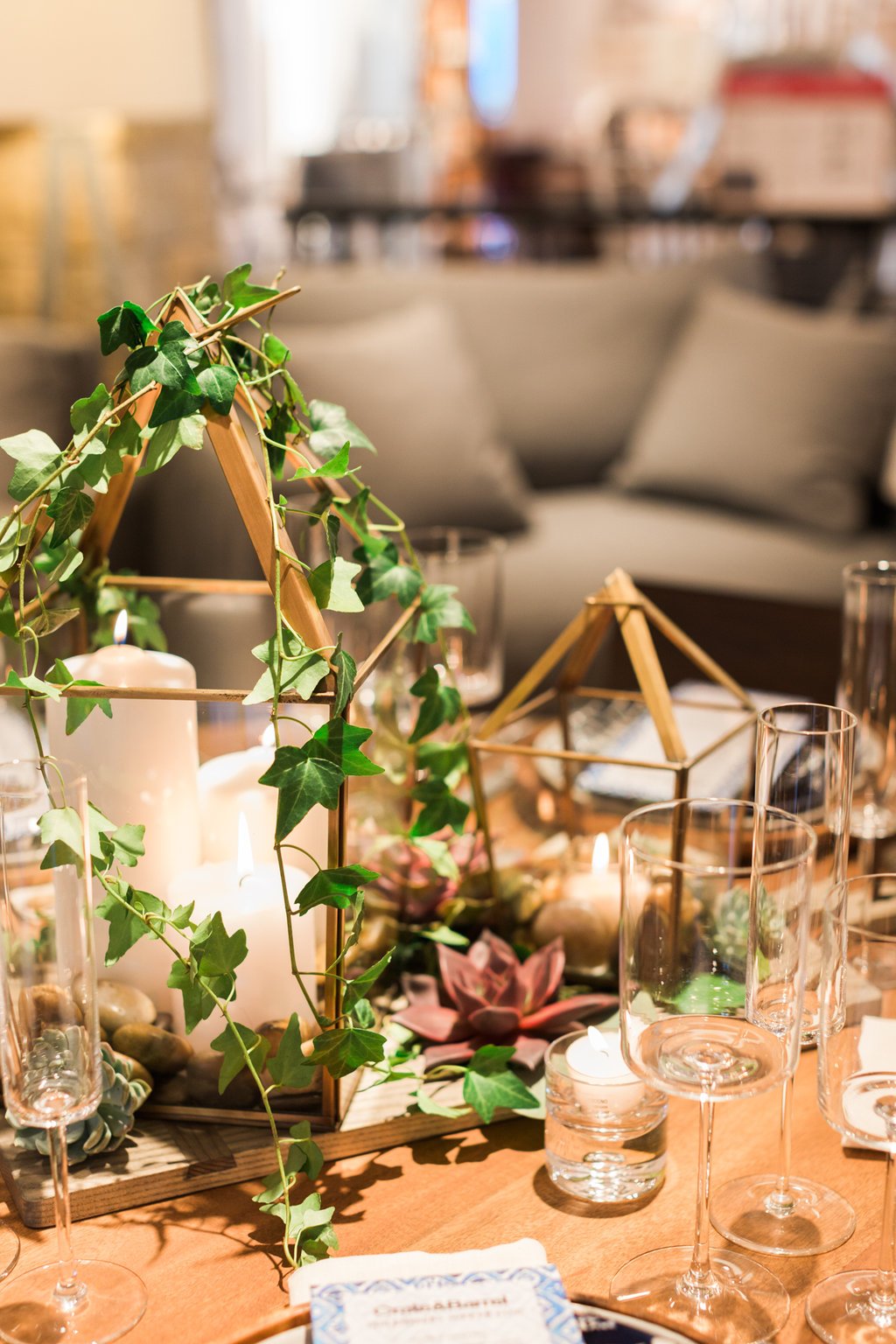 We had a blast playing with brass tones on the second Revolve Table. Fall is about all things metallic toned and the Lillian Brass Lanterns did not disappoint! Playing with levels, we mixed small, medium, and large Lillian Brass Lanterns all throughout the table; interweaving greenery from Christine Janda to give it a fun indoor meets outdoor vibe.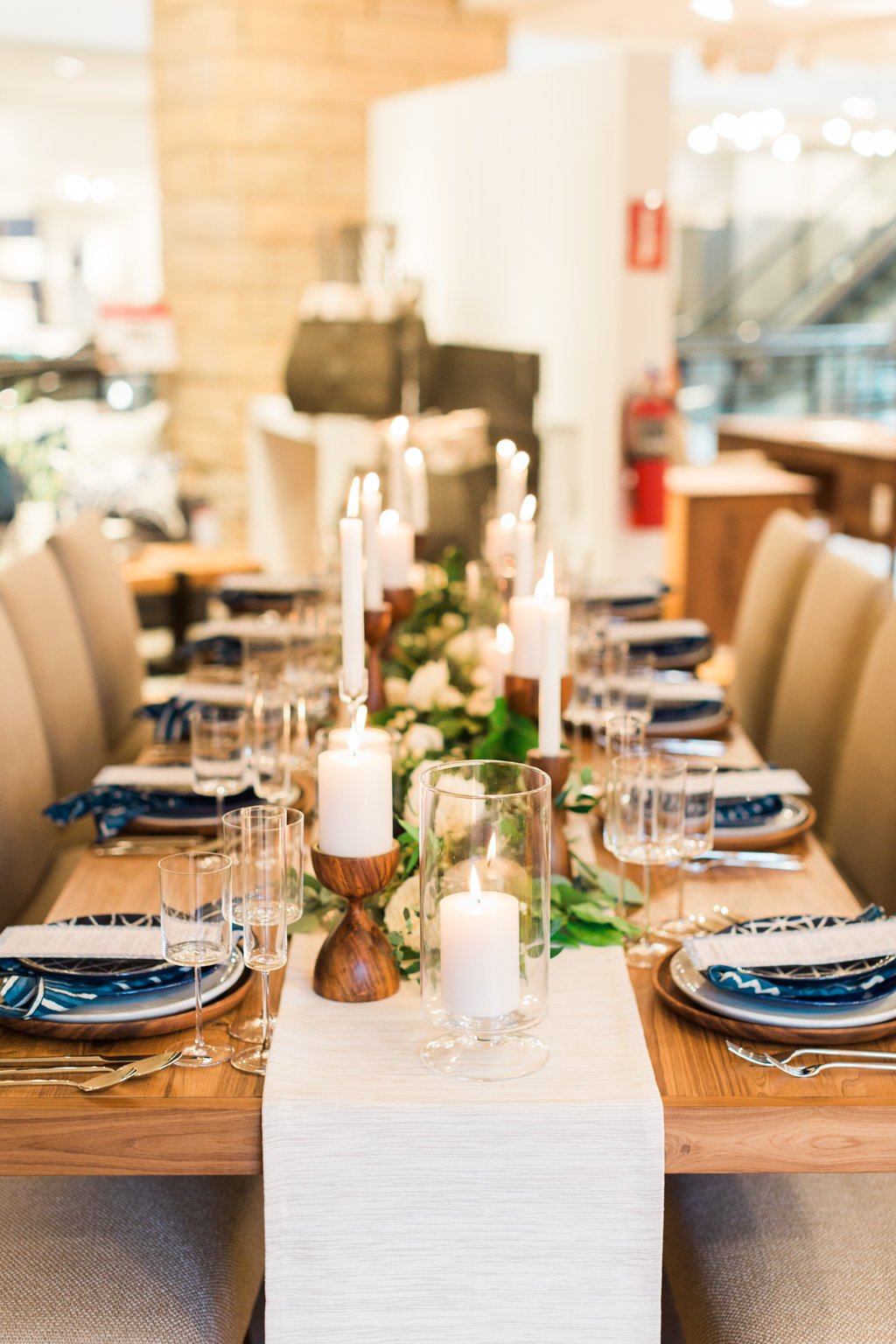 Now the second Lakin Table was something altogether magical. Mixing the London Taper Candle Holders and the Merritt Candle Holders illuminated the table and helped set the mood for a delightful evening.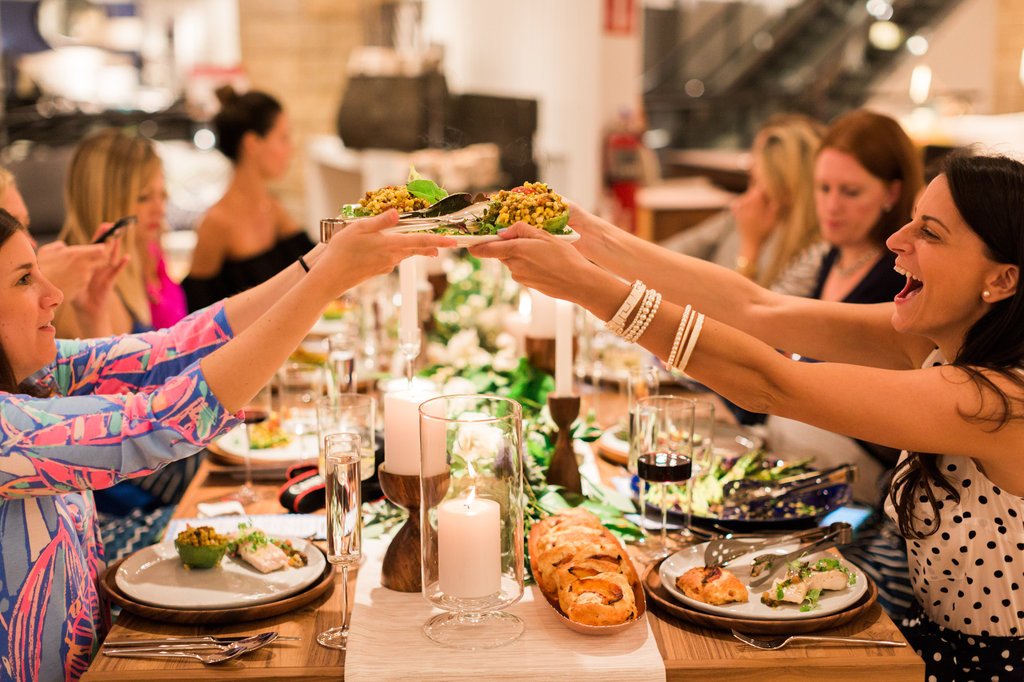 The menu by Truffleberry Market incorporated flavors of the season and local fares, which came together perfectly in the most stunning family-style presentation. If this spread doesn't inspire you to invite the gang over for a fun dinner party, I don't know what will!
Get recipe for your own supper club with friends in the Entertaining Section of our blog!
Photography by Aimée Mazzenga