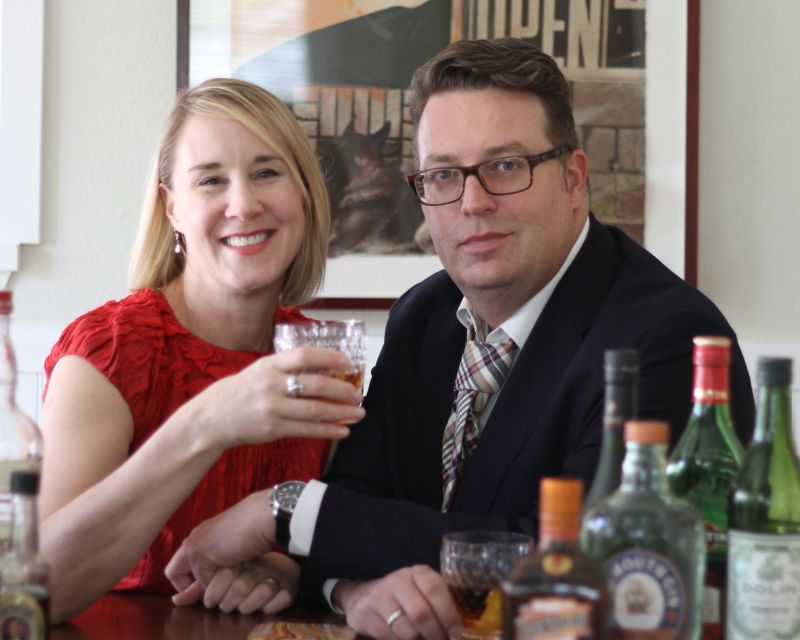 12bottlebar.com
This holiday season we've partnered with some of our favorite bloggers who will be showing you new and inspirational ways to bring the holidays home.
Entertaining this holiday season? We've partnered with David and Lesley Jacobs Solmonson of 12 Bottle Bar to bring you 12 new cocktails, one each week from now until New Years. Cheers!
The Snowball is a weird and wonderful drink that comes to us from across the pond in jolly old England. For decades, the drink endured the unfortunate classification as "the stuff my grandmother drinks" and, as such, was relegated to the back of the proverbial recipe book as it were. Then, Nigella Lawson, the luscious English gourmet with her own TV show, told the world to wake up and taste the eggnog.
About the Snowball Cocktail
Yes, another eggnog drink. Well, pseudo-eggnog. The eggy component is Advocaat, a rich, boozy, custard liqueur that hails from Holland. This Dutch 'nog topped with effervescent, sweet-sour lemonade is what we know as a Snowball. Nigella loved it, and once she told her viewers, so did the rest of the foodie world. Advocaat sales went up 40 percent; the Snowball had returned.
The Advocaat base is a traditional liqueur, but extremely boozy and, when made at home, thick enough to eat like pudding, which we tend to do frequently. We can't help ourselves. But Advocaat shines when combined with other ingredients. In this case, the lemonade tempers the sweetness of the eggnog, while the boozy 'nog elevates the everyday nature of the lemonade.
You certainly can buy bottled Advocaat, but the homemade version is both easy and infinitely superior. Basically, we're talking eggs, sugar and brandy. So simple, so decadent. The truth is that Nigella really did know a thing or two about good taste. The Snowball cocktail is far lighter and more refreshing than you would expect. And, the little burst of lime squeezed over the top adds a final zing that is surprising. Make sure to use a nice, fizzy mineral water and, of course, feel free to make the lemonade as sweet or tart as you desire.
This simple drink can be embellished as much or as little as you like. We chose the Alegre clear beverage glass for its delicate pattern work, which shows beautifully against the pale yellow background of the drink. For the lemonade, we commandeered the Cocktail Mixing Glass (pictured above), turning it into a handy, compact pitcher.
Snowball Cocktail Recipe
Ingredients
1 part Advocaat
3 parts Lemonade
Directions
Add ingredients to Collins glass filled with ice and stir to combine.
Add a squeeze of lime, if desired.
Advocaat Ingredients
Makes about 3 cups
10 large egg yolks
1/2 teaspoon salt
1 1/3 cups granulated sugar
1 1/2 cups Cognac-style brandy
2 teaspoons pure vanilla extract
Combine the egg yolks, salt, and sugar in a medium bowl and beat with an electric mixer until glossy and thickened to the consistency of custard, about 90 seconds
Slowly trickle in the brandy, beating constantly. (The mixture will become thin again.)
Pour the mixture into a medium saucepan over low heat, or the top of a double boiler set over simmering water. Warm the mixture, whisking constantly to prevent scorching, until the Advocaat thickens and coast the back of a spoon, 5 minutes.
Remove from the heat and whisk in the vanilla extract. Allow to cool, then transfer to an airtight glass container and refrigerate. The Advocaat will keep for up to 1 week.
Lemonade Ingredients
Makes 5 cups
1 1/2 cups strained, freshly squeezed lemon juice (about 8 medium size lemons), plus extras as needed
1 cup simple syrup, plus extra as needed
2 1/2 cups sparkling or flat water
In a pitcher or large airtight container, stir together the lemon juice and simple syrup to combine.
Add the water and stir to combine. Adjust the sweetness or tartness by adding more syrup or lemon juice to taste.
Want another eggnog drink to try? Check out the Coquito by 12 Bottle Bar!