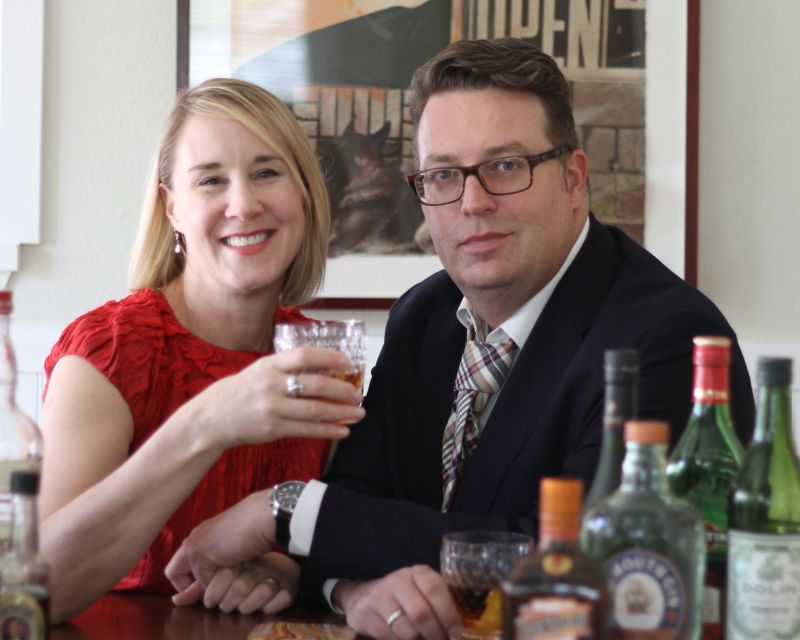 12bottlebar.com
For this week's cocktail, we're taking a few pointers from mixologists in Spain while testing out our new Gin Goblets. We've partnered with David and Lesley Jacobs Solmonson of 12 Bottle Bar to create a customizable Spanish Gin-Tonic that is a summer must-try.
Like the Italians and the French, the Spanish know a thing or two about relaxing. After all, the Spanish invented the concept of the siesta, which allows them to crash in the heat of the afternoon, only to get up a few hours later and party into the night. So, it shouldn't come as a surprise that the Spanish invented their own iconic twist on the British classic — the Gin & Tonic. The Spanish Gin-Tonic (they skip the unwieldy ampersand) blends the Spanish love of gin with personal touches in the form of citrus, spices, fruits and herbs. As summer looms, we're willing to bet that you will fall under this drink's refreshing spell.
About the Spanish Gin-Tonic
The Gin-Tonic craze began quietly enough in the kitchens of Spain's Michelin-starred restaurants. Few cocktails can be quaffed so easily as a G-T. Soon enough, the tradition of chefs sipping their G-Ts exploded as people began to customize their drinks with all sorts of garnishes, adding additional complexity to gin's already exciting botanicals.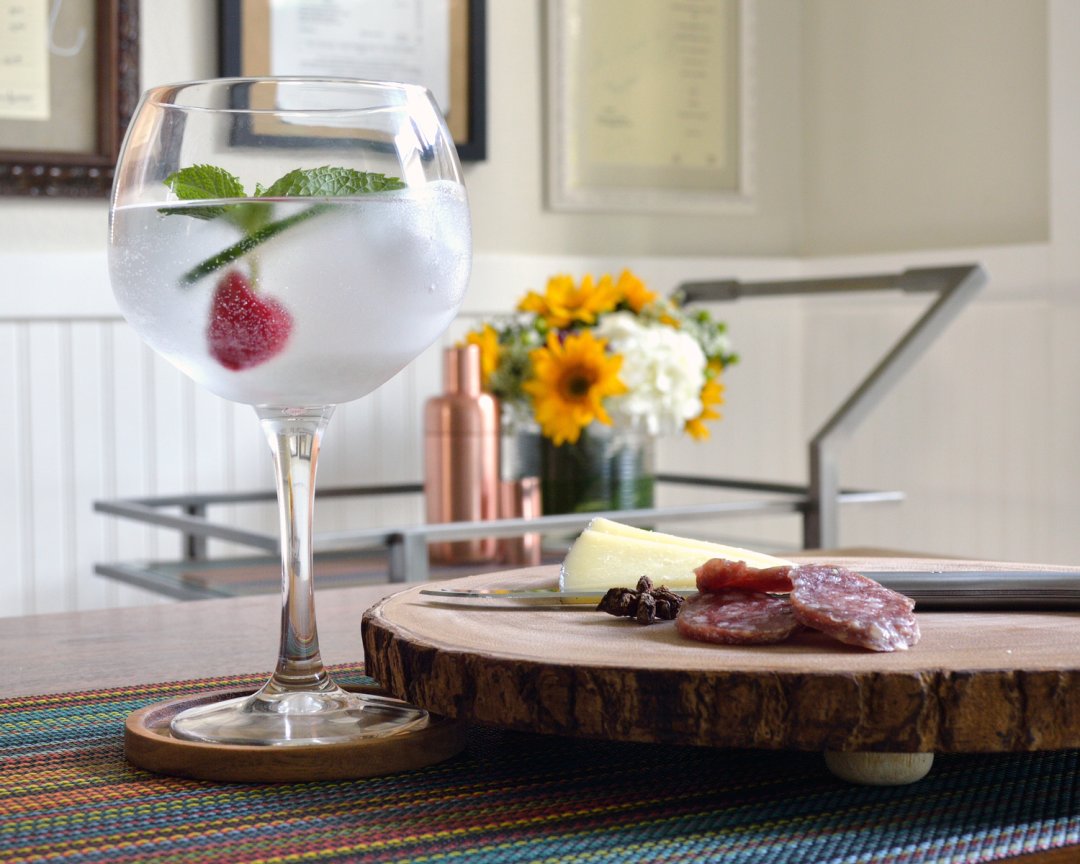 Whether you want to make one drink or throw an entire Gin-Tonic party, we've got you covered:
Start with Crate and Barrel's Gin Goblets. In Spain, this glass style is known as a copa de balon. The balloon-like shape helps deliver the bouquet of the flavors in the glass right to your nose.
Choose your gin. The Spanish tend to choose the London Dry style, which traditionally has a strong juniper flavor. If juniper isn't your style, choose a gin that has distinct character. Today, gins can be found in styles ranging from citrus-focused to those with predominant floral notes.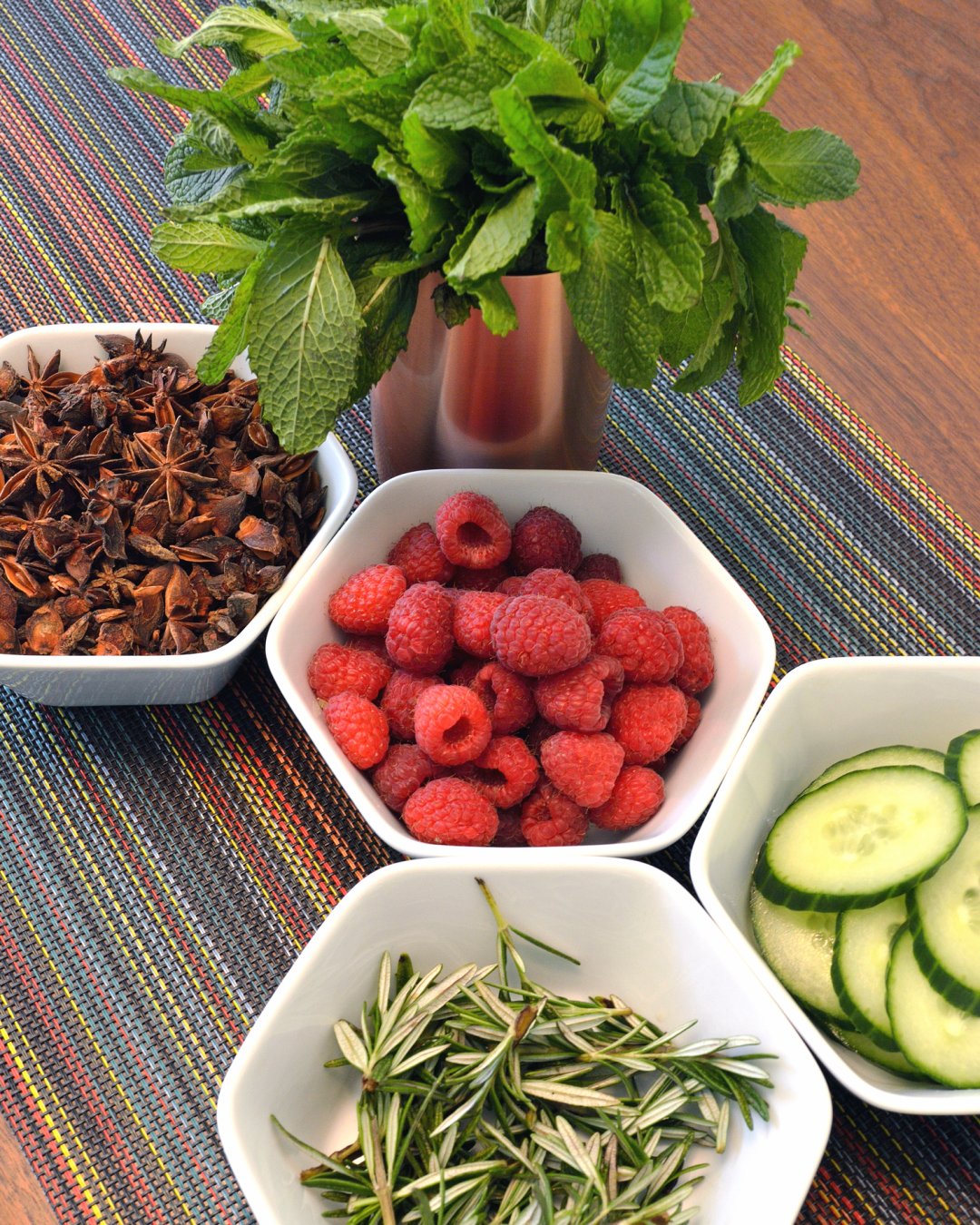 Pick complementary garnishes. We offered ours in a grouping of Hexa Small Bowls. Here are some suggestions; feel free to mix and match.
Cucumber Slice, Mint Spring, and Raspberry
Orange Peel, Thyme Sprig, and Star Anise
Lemon Peel and Rosemary Sprig
Strawberries and Black Peppercorns
Grapefruit and Lavender Sprigs
Ice. You'll want big chunks not pellets or crushed ice. The idea is for the drink to dilute slowly. In Spain, the natives tend to like their G-Ts strong, often at a ratio of 3 to 2, tonic to gin. Large ice cubes — we keep ours handy in the Orb Aqua Ice Bucket — serve the same purpose as they do in an Old Fashioned, slowly diluting the spirit without making the drink watery. If you plan to sip these throughout the day, you might make your ratio more like 5 ounces tonic to 2 ounces gin.
Tonic Water. Traditionally, tonic water was simply a quinine-based fizzy water, the traditional addition to the Gin & Tonic. Today, there are variations that range from elderflower to lavender; many bars even make their own. Use a tonic water made with real sugar, not high fructose corn syrup, and free of additives or artificial flavorings.
Practice making it like a Spaniard. A lot of Spanish bartenders pour the tonic water down the stem of a bar spoon, which allows it to aerate the tonic, as well as preventing the tonic water from splattering as it pours into the glass. It's not easy, but it makes for a heck of a presentation.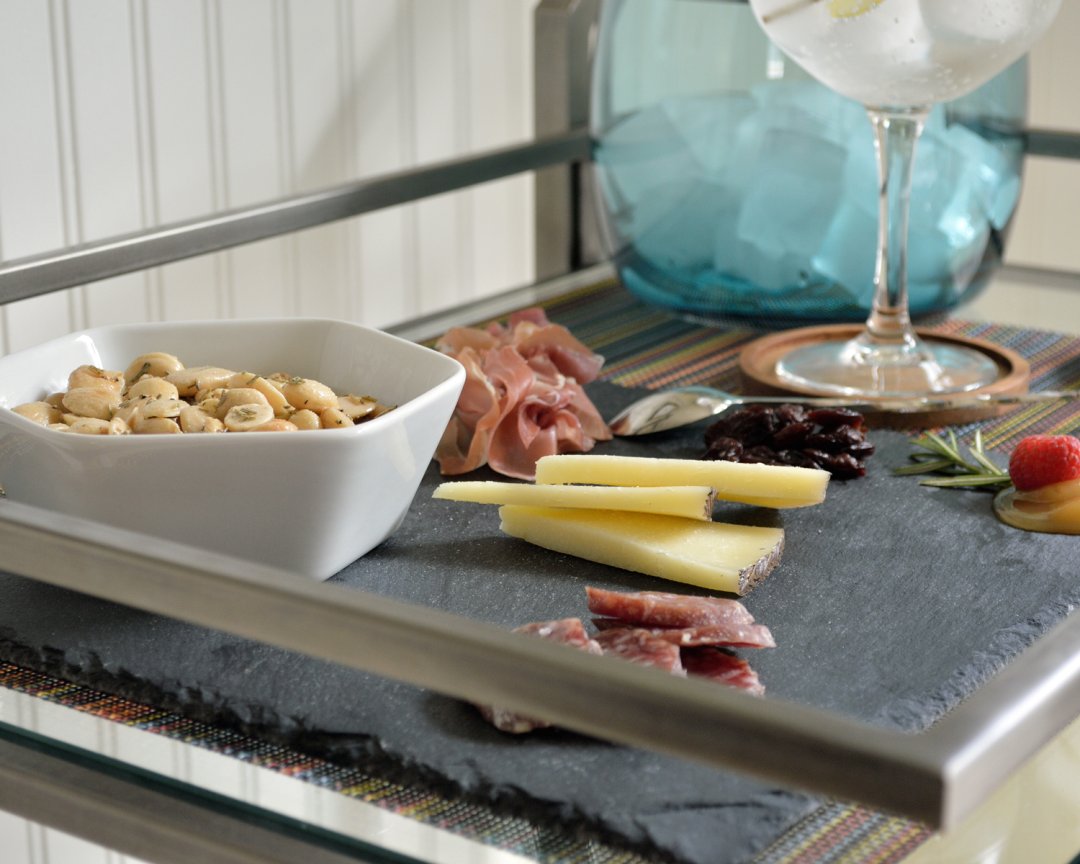 Don't forget the nibbles! Meats, cheeses, olives and nuts all compliment the botanical elements of the G-T and ensure that the drink doesn't go to your head too quickly. Serve them casually atop a Slate Cheese Board.
2

ounces

London Dry Gin

3

ounces

High-Quality Tonic Water

Large Ice Cubes

Garnishes: Fruit, Veggies, Herbs, Spices of Your Choice
2

ounces

London Dry Gin

3

ounces

High-Quality Tonic Water

Large Ice Cubes

Garnishes: Fruit, Veggies, Herbs, Spices of Your Choice
Pour gin into the glass, preferably a copa de balon. Add your garnishes to lightly infuse the gin. Add ice.

Gently pour tonic water into the glass. Or, if you feel like adding some Spanish flair, pour the tonic water from the bottle down a bar spoon. Add additional garnish if desired.
Want another fruit-infused drink to try? Take a sip of one of these aquas frescas.