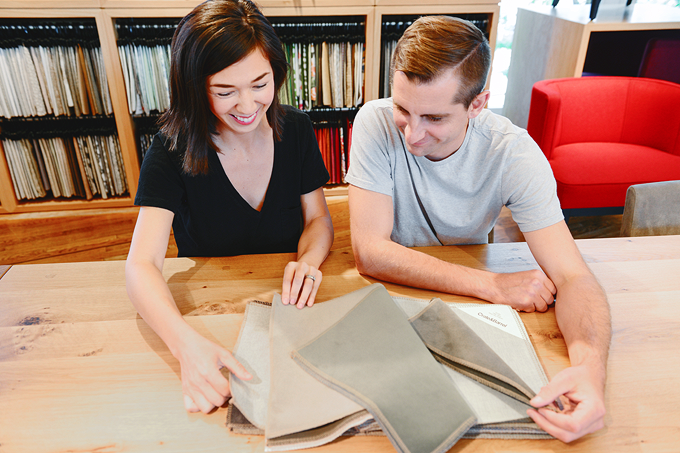 The home office can be easy to neglect, even if you spend a lot of time there. We're partnering with DIY experts Kim and Scott Vargo of Yellow Brick Home to give their home studio a makeover. First stop, their local Crate and Barrel store.
This summer kicked off a very exciting project for us – our home studio makeover! I work from home, and on our wish list when we started house hunting all those years ago was a dedicated workspace. After an exhaustive search, we lucked out and found a home with a second floor identical to the first floor; essentially, it was two separate apartments. The second floor has since become my dedicated studio space, and after a round of renovation, we have arrived at the room's starting point. By the time our makeover is complete, we'll have an area for a large desk and a lounge – essentially, a separate area for a couch and television. As you can imagine, I'm especially excited about the lounge!
After weeks of shopping online and bookmarking favorite furniture and accents, Scott and I went to our local Crate and Barrel to start seeing and feeling the products! Being guilty of purchasing most of our home goods online, it's always such a game changer to touch, hold and run my hands over items in-store.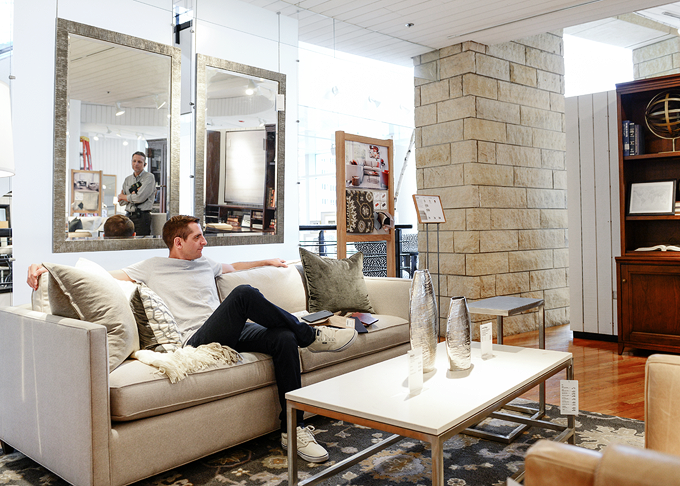 The Dryden sofa was at the top of our list. We were on the hunt for something classic and clean-lined for the lounge, something that would make a statement but also allow accessories and family photos be the shining star. Being able to sink into the seat sealed the deal! We ended up choosing the 2-piece sectional in Diamond Fog fabric with Flannel wood legs. The 'Fog' color was a good mid-range grey; it wasn't too warm or cool. Just right!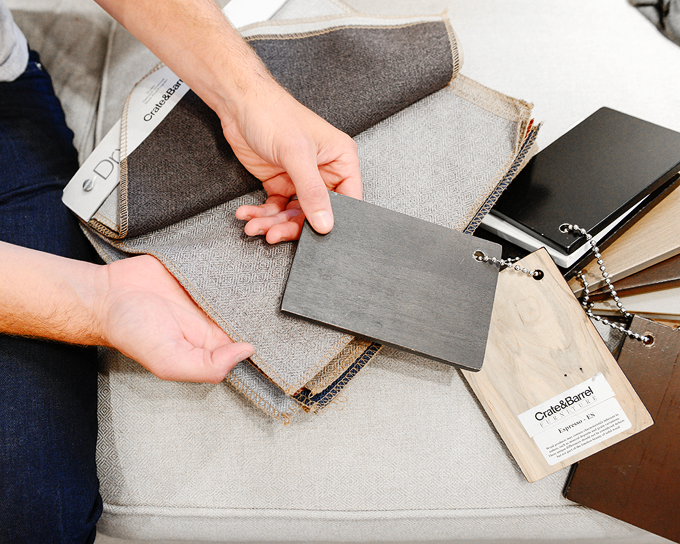 With our fabric decision made, we moved onto the rugs, and we brought the swatch along with us (so helpful). My pre-online shopping had me thinking we'd choose the Memphis rug, but Desi stopped us in our tracks! She's a beauty in a dark, soft grey, but when we held up our soon-to-be couch fabric, we realized we were craving a little more color.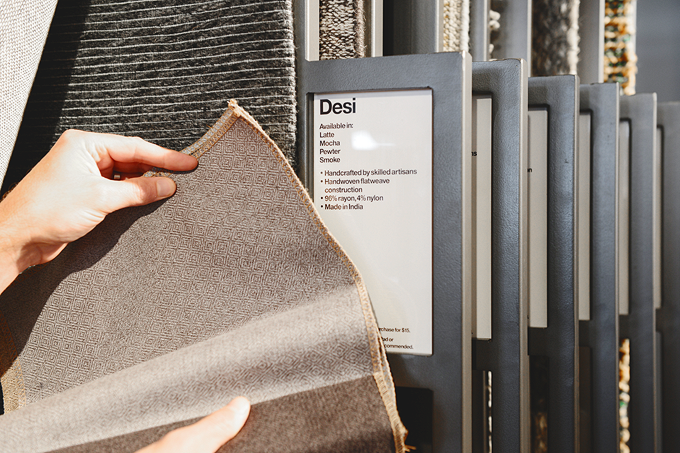 Surprisingly – or maybe not surprisingly? – we landed on Baxter! We recently added the grey Baxter as a part of our bedroom makeover, and we've been loving the feel underfoot in the mornings. Several months of use have proven to be extra durable in a house full of pets, too! For the studio lounge, we ultimately landed on Baxter in Indigo knowing that it would provide a lot of contrast with our couch. We can't wait to unroll it in the room!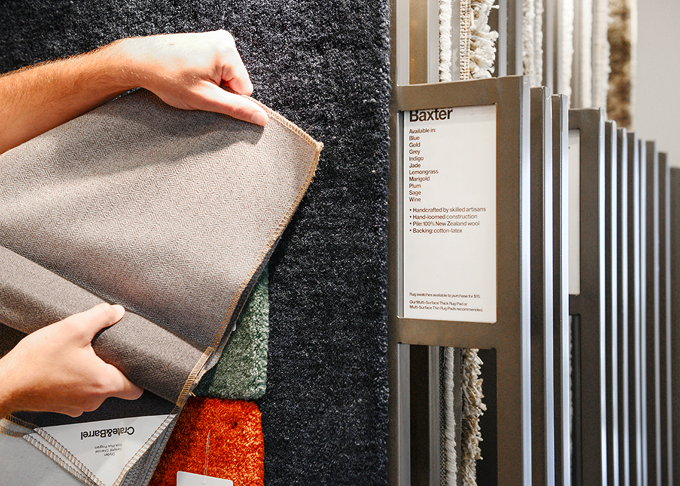 With our grey Dryden and navy rug in mind, we moved over to the curtains. I've always been a white-and-breezy kind of girl when it comes to window treatments, and Scott agreed it would keep the room feeling light and airy.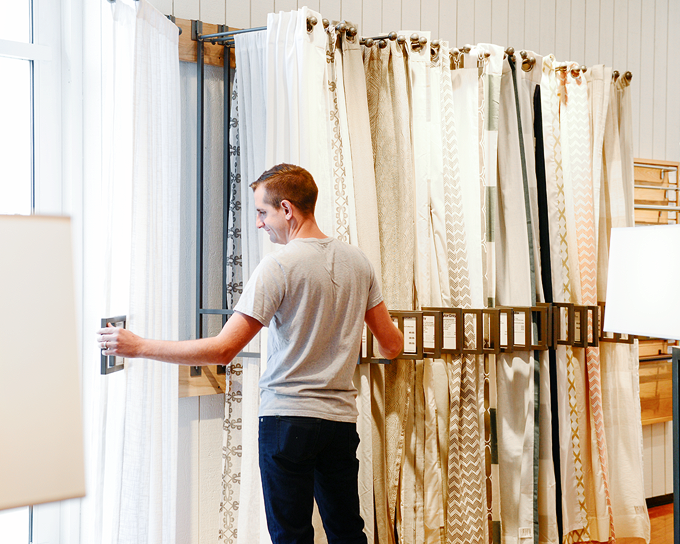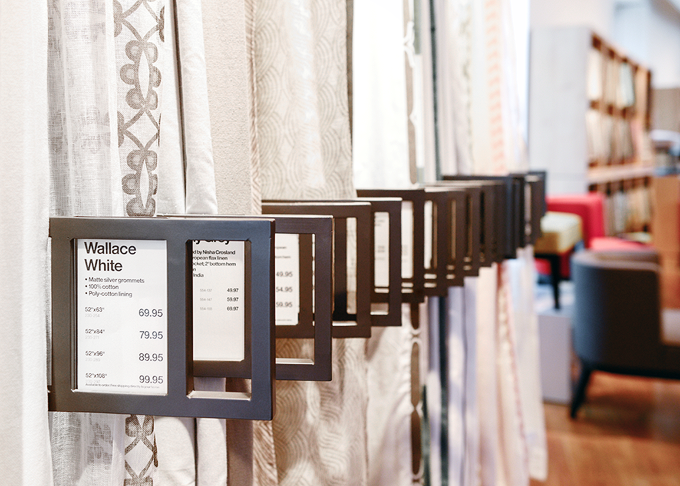 The Wallace White curtain panels offer a height up to 108" (perfect for our almost 10' ceilings), and the thick cotton weave just felt substantial. Although we chose the standard rod pocket curtain, Wallace also has the option of a blackout liner, or grommets. We especially liked that the drapery rods were on display so we could imagine how they'd pair with Wallace. The extra wide brushed brass rod won out!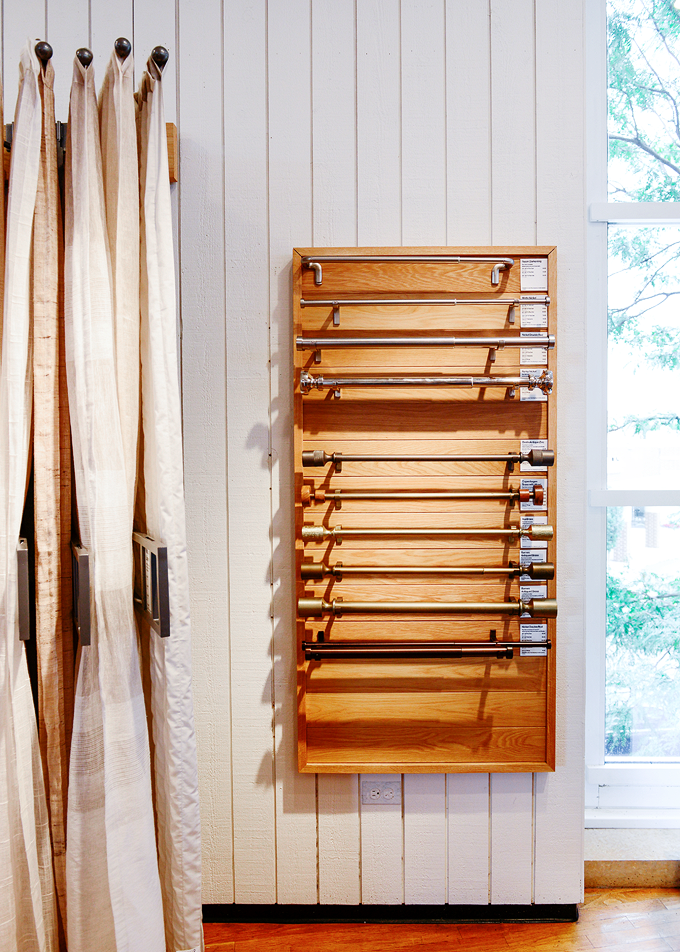 We ended our trip by perusing the custom options Crate & Barrel has to offer – from rows of endless upholstery to their pretty paint line to marble or wood topped tables, there was a lot to take in!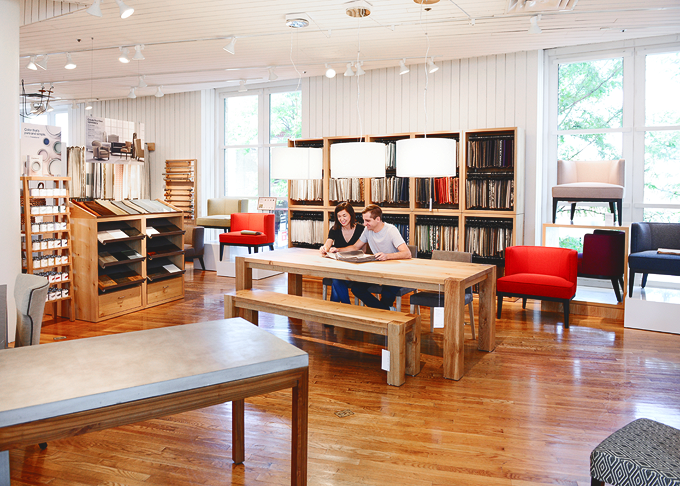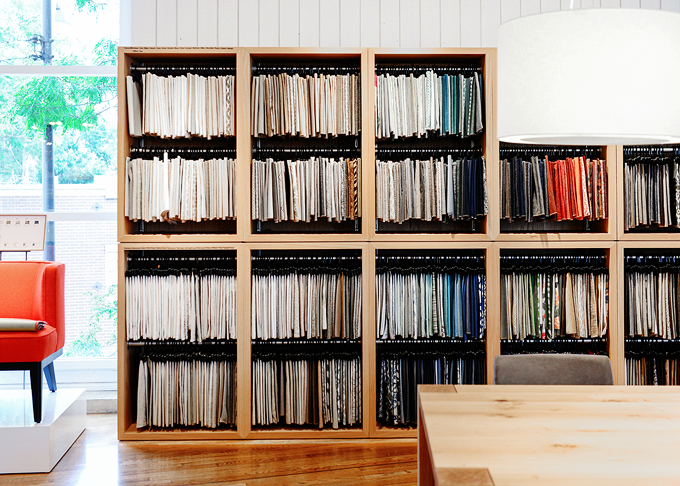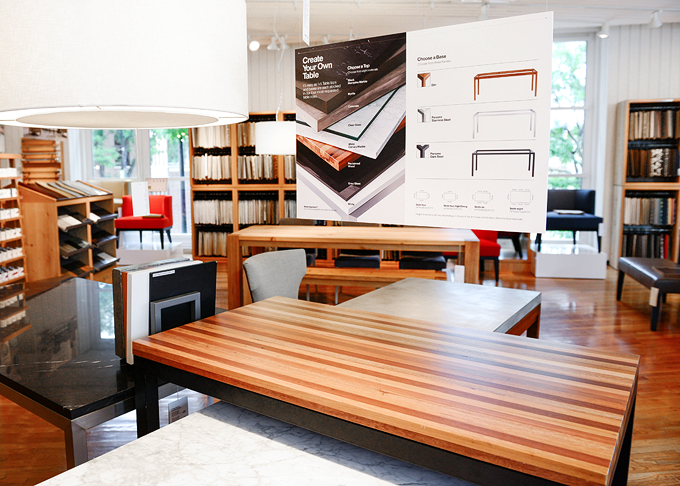 The classic Parsons table was a top contender for an extra long desk, and I made sure to give it a test drive by crossing my legs under its shiny marble top (a habit I can't break). Scott has started working from home more and more, so the wider the table could be, the better.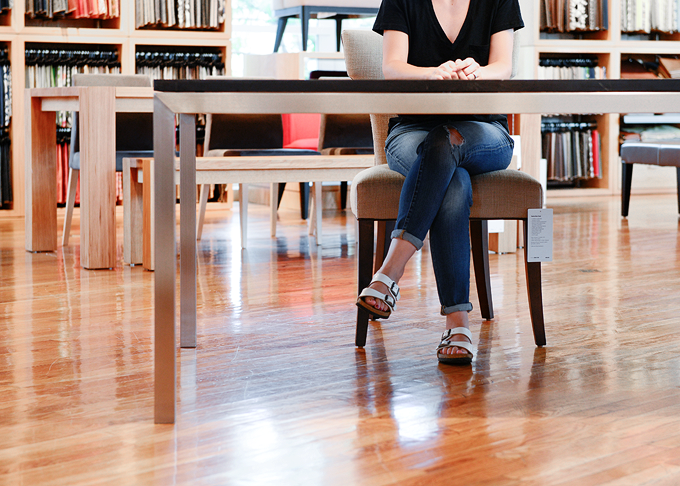 In the end, a last minute switcheroo has us moving in an entirely different direction from Parsons, but what fun would it be if we gave away every last decision we made? We can't wait to share how we start laying out the furniture in the studio design once everything arrives!
Check back soon for Part 2, and enjoy these home decor tips to tide you over while you wait!