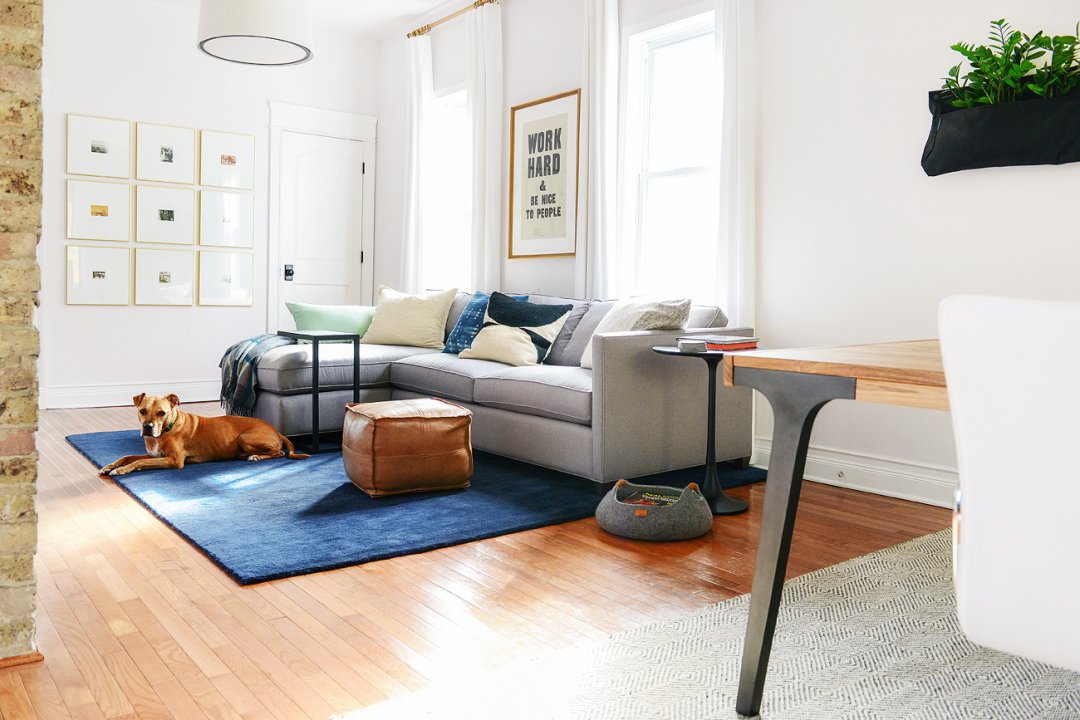 The home office can be easy to neglect, even if you spend a lot of time there. We're partnering with DIY experts Kim and Scott Vargo of Yellow Brick Home to give their home studio a makeover. Now, for the big reveal.
For the last several months, Scott and I have been putting a lot of time and thought into our home studio. Last time we caught up, I shared how the space looked with the foundation laid – a seating area on one side (the 'lounge') and a desk on the other. Over the last several weeks, the remaining accessories have been delivered, and we've been busy installing curtains, making shelves and hanging a gallery wall. We're thrilled with how far the room has evolved, and I'm excited to share it with you today!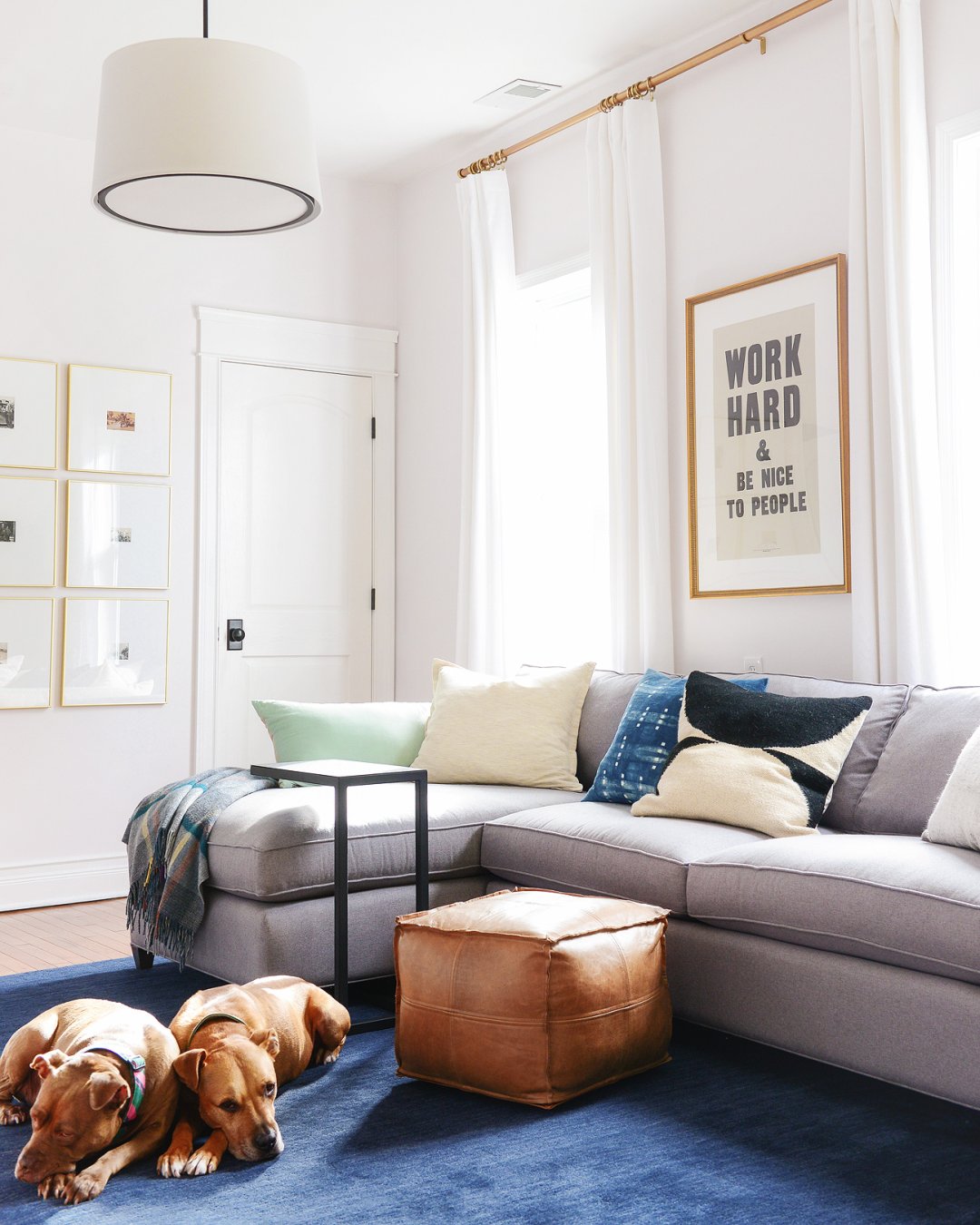 Not surprisingly, the Dryden sofa is the focal point in the lounge, made only more inviting with an assortment of cozy textiles. We landed on a handful of neutral – yet still fun and funky – pillows that would allow our Baxter Indigo rug to remain the statement (the Linden linen pillow is a perfect place to rest your back!), but we love how the Pierce plaid throw picks up on the blue from the floor and adds a punch to the couch, too.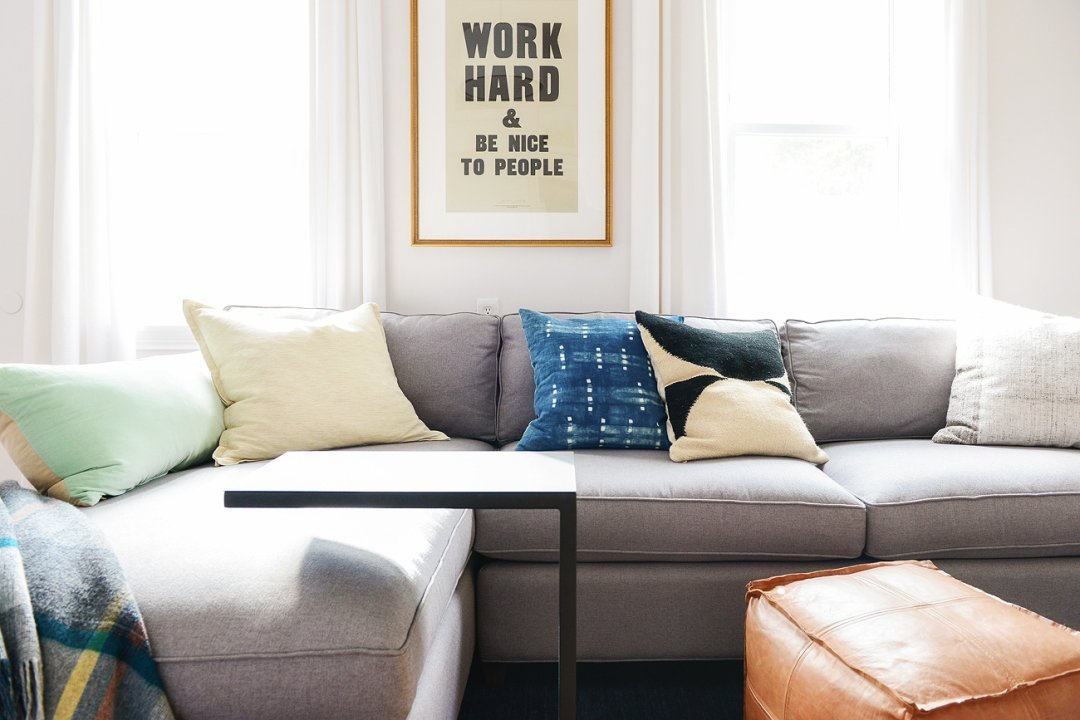 With two large dogs, we wanted to keep the rug space as free and clear as possible to give them lounging room, and the Avenue C table allows us to do just that! The Dryden sofa is almost 10' long (have I mentioned how much we love her?), and we can easily move the C table around the couch depending on whether we're using it for popcorn in the evenings or my laptop during the day. Whether it's for relaxation or work, I'm the first to call dibs on the chaise, but Scott won't complain since we've added a buttery leather pouf!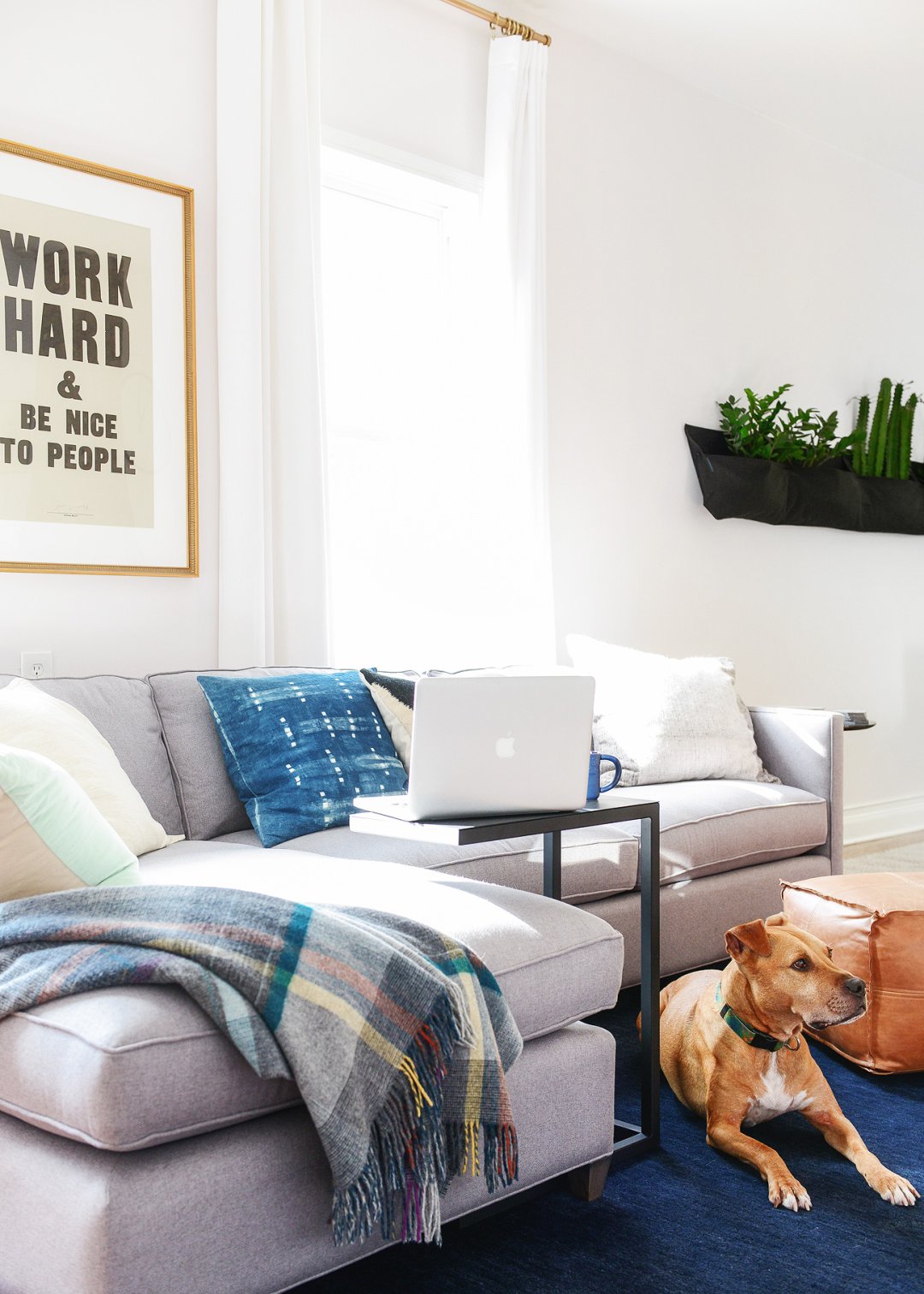 You might have noticed that we have two awkwardly placed windows behind the couch, so rather than fight the off-centered placement of these in the room, we chose to instead highlight them with floor to ceiling white curtains! The Wallace curtain panels have a nice weight to them without feeling fussy, and the thick brushed brass rod and curtain clips fulfill my need to have brass everything. It never ceases to amaze us how different a room feels with curtains (so cozy!), and this case was no exception. They beautifully show off our tall ceilings, and I've already forgotten how off-centered those windows really are!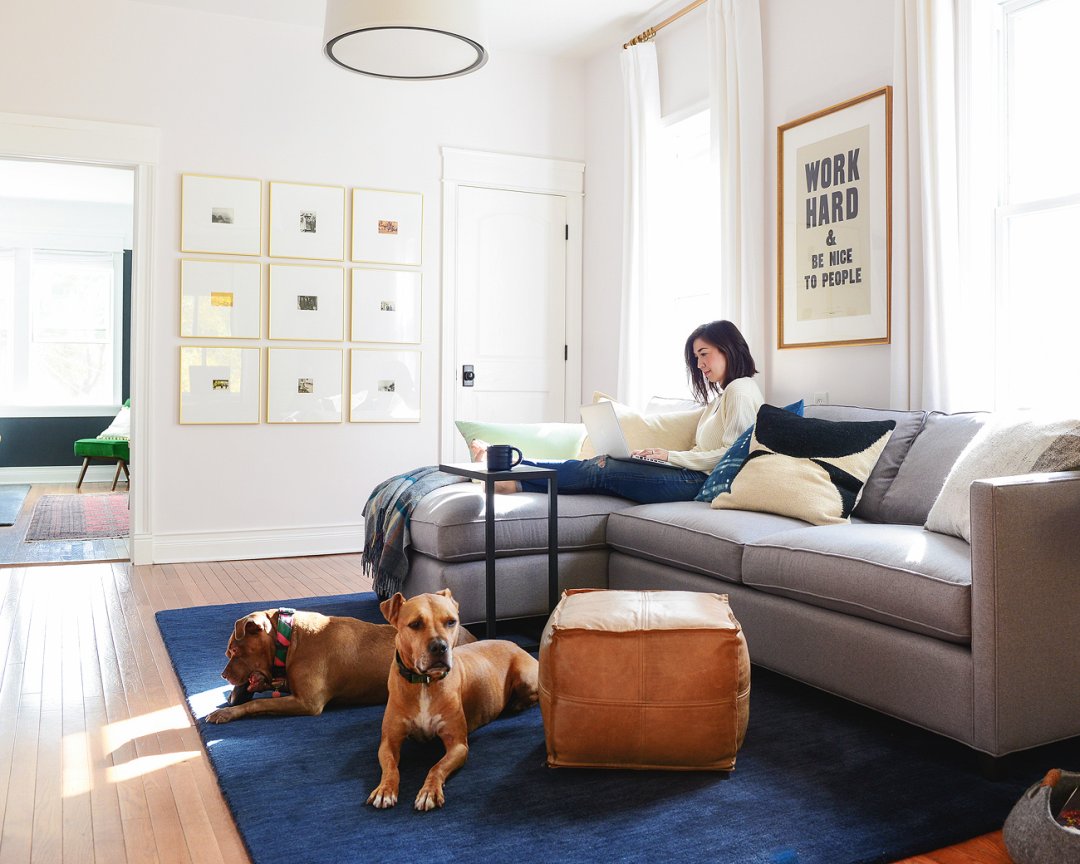 Opposite the couch, we're displaying a handful of our favorite prints from friends and photos from our travel. To mimic the brass in our curtains, we've hung a brass frame amongst all the white, and although the gallery wall doesn't hide the fact that there's a large television, it does give that wall more purpose than a TV alone. For house project brainstorming sessions, we've been using the television as an external monitor, sharing our ideas with one another and sifting through inspirational photos on Pinterest.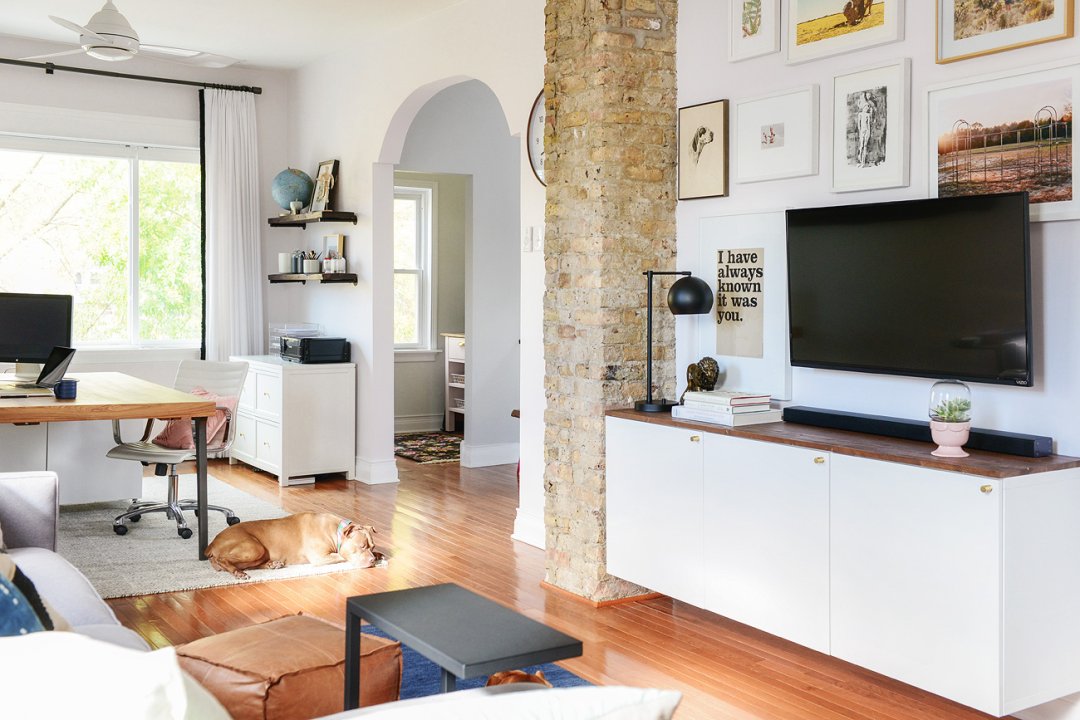 On the office side of the studio, we have been using and loving the Lakin table as a desk! It has two extendable leaves that I store under a dresser when not in use, but it allows us to add more than 3 extra feet if needed. Because this table would typically be used as a dining table, there's plenty of leg room (I'm a habitual leg-crosser), and our Ripple chairs tuck easily underneath – arms and all!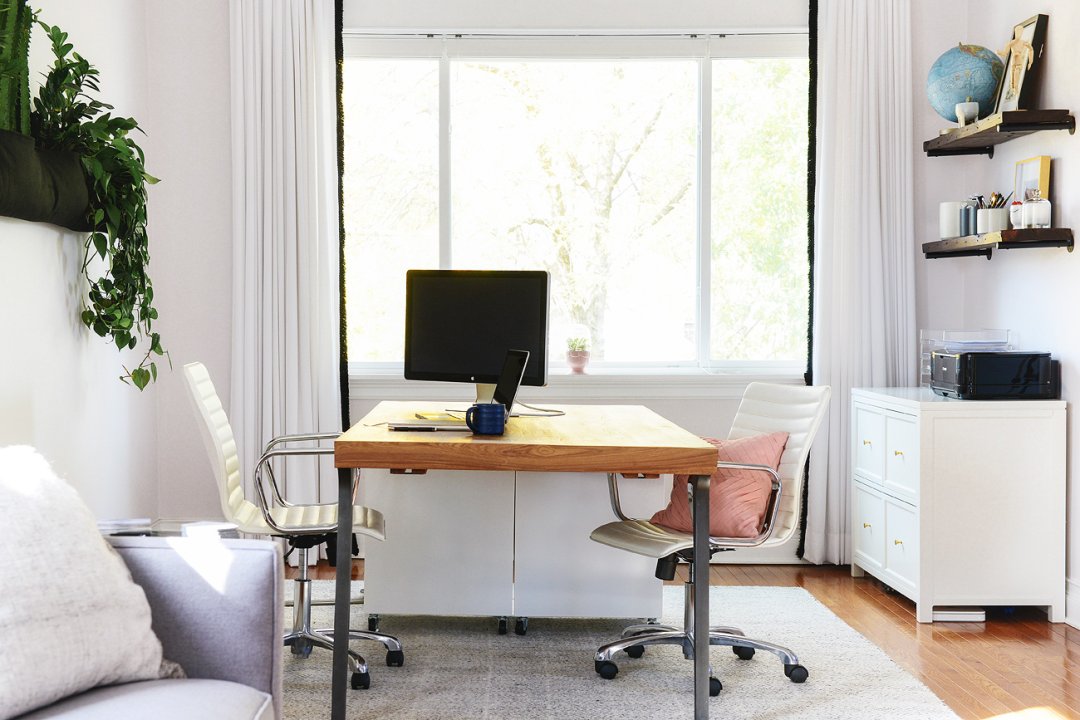 We have a small wall behind our desk where we've added shelves from salvaged wood. I'm also a painter, and rather than hide away my brushes and tubes of acrylic, I've corralled them in pretty Silo canisters. Another brass frame on this side of the room keeps the balance.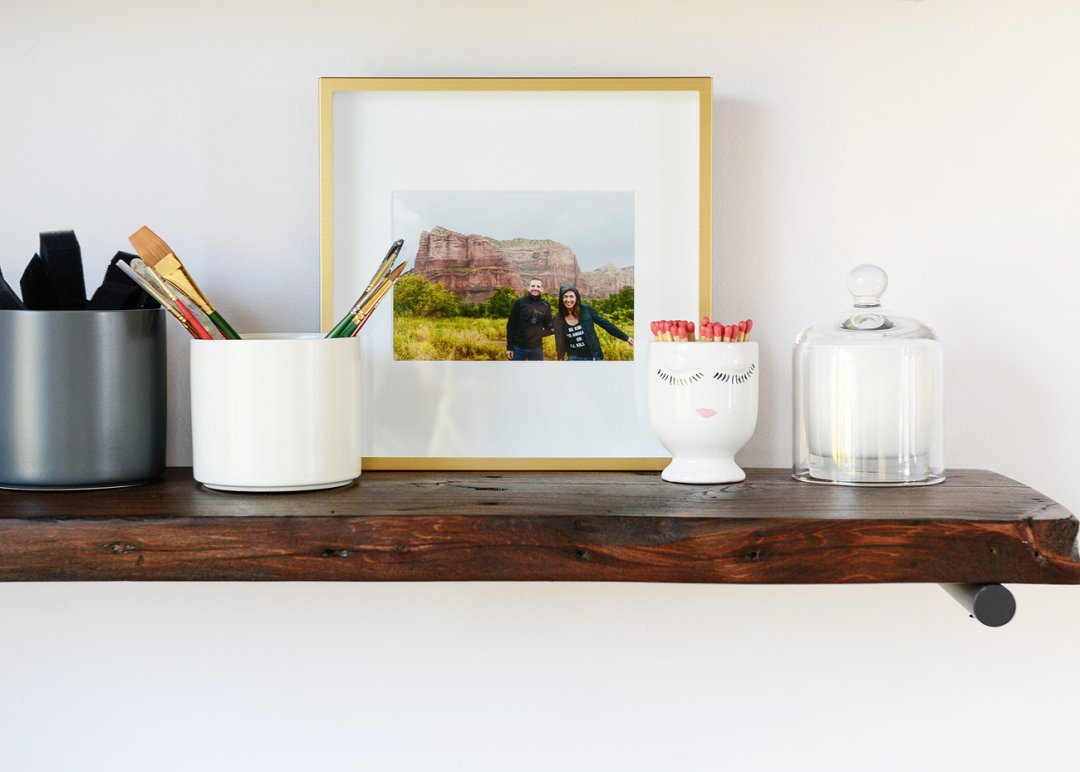 The Pilsen filing cabinets slide neatly under the table, providing us with storage that a dining table lacks. It's where I stash my painting drop cloth as well as various office supplies, and Scott uses the deep drawer on his side for his laptop bag. I'll be sharing more about our office organization soon, but we've been reveling in the fact that for once, everything is in its right place!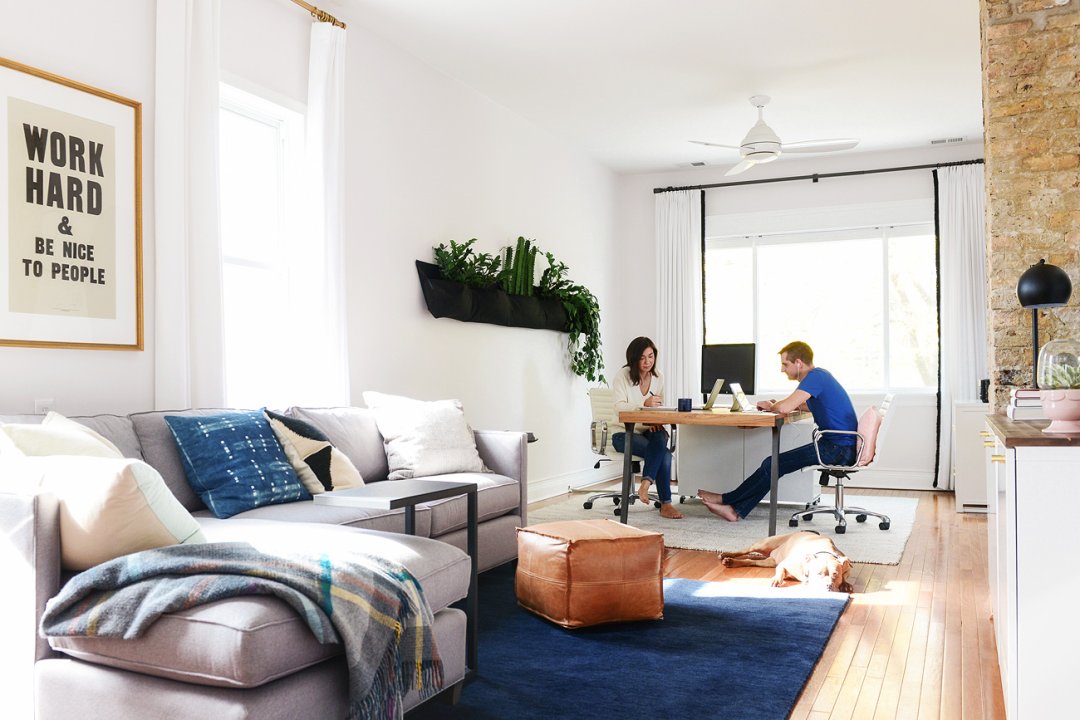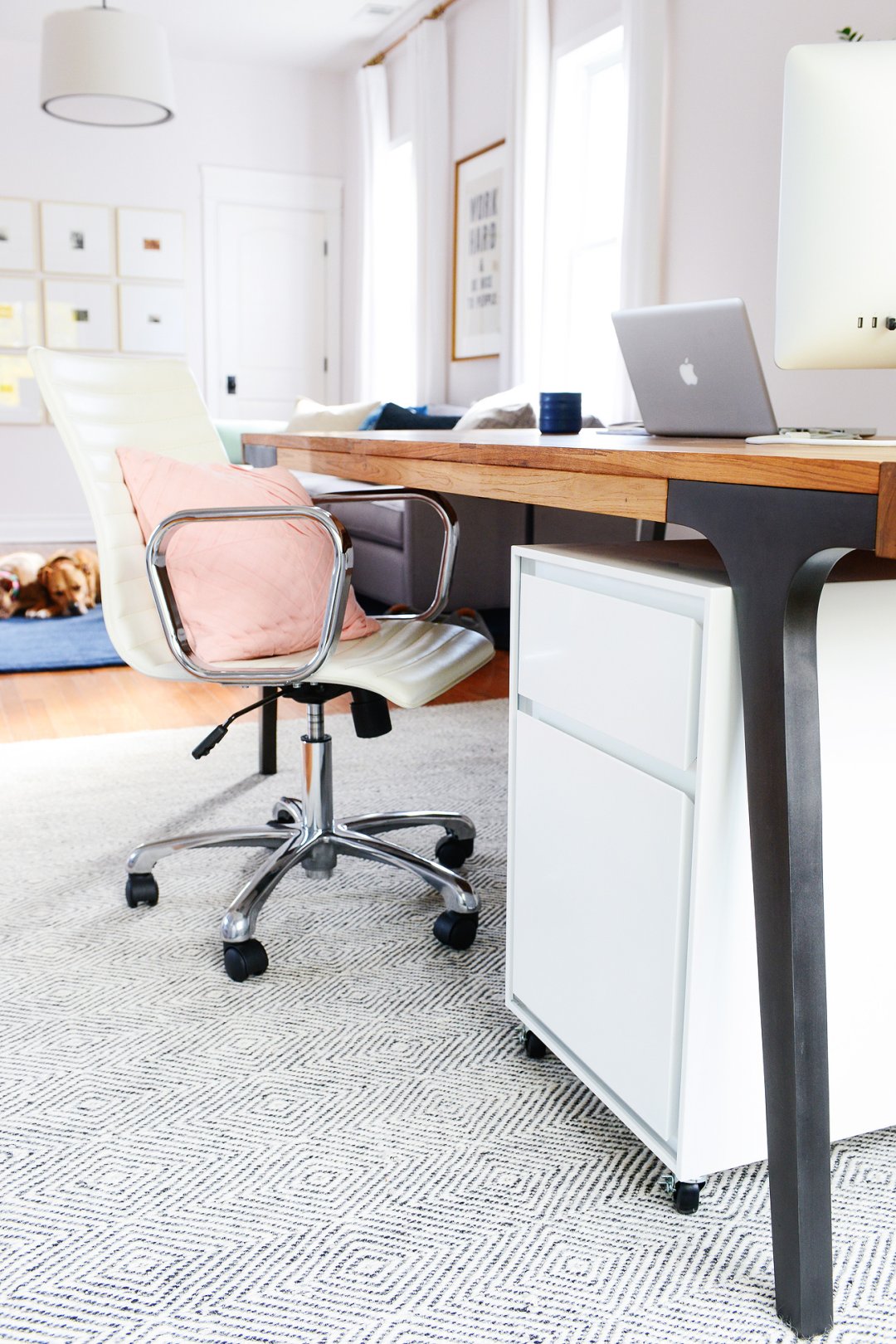 The studio has come so far from where we started, and we couldn't love it more! Our pups have claimed the big, blue rug as their own, and it's so nice being able to co-work together with Scott. The space was always there, but the cohesion had gotten last in translation – until now.
We hope you've enjoyed our studio tour, and thank you for following along! Be sure to check out our shopping trip and our post on the basics that brought this room together if you missed it!