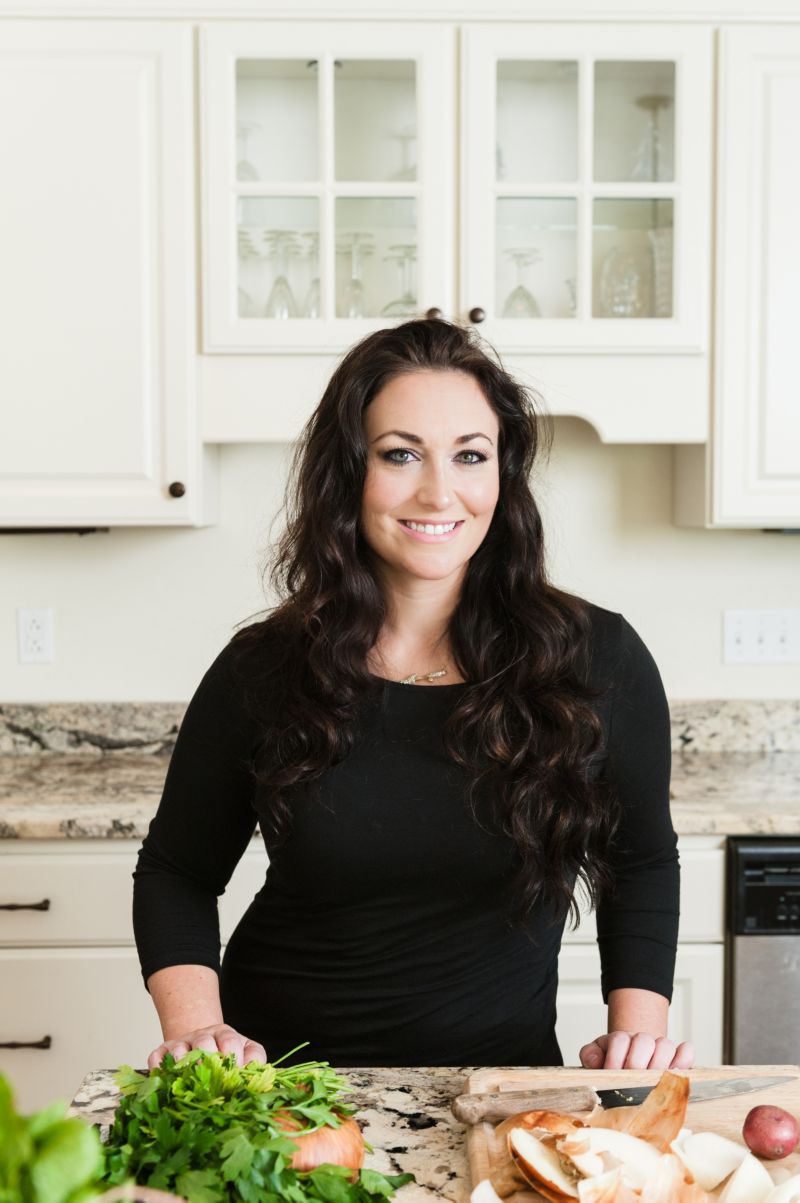 howsweeteats.com
This holiday season we've partnered with some of our favorite bloggers who will be showing you new and inspirational ways to bring the holidays home.
Thanksgiving feasts can start long before the turkey is out of the oven. We've partnered with Jessica Merchant, founder of How Sweet It Is, to see how to kick off the festivities with a delicious appetizer and, of course, a cocktail.
It's quite possible that Thanksgiving is my very favorite holiday, and I'm sure we can all guess why. THE FOOD. Growing up my favorite day was always Christmas, and while the holiday itself will provoke the best memories for me, Thanksgiving is so close behind. Because the food can never be beat.
So I'll be the first to say that I am kind of a purist when it comes to Thanksgiving and don't like to go way outside the box with my choices. I want those traditional, nostalgic tastes that I have once a year (why only once?! why?!) and don't want to mess with it. Especially my mom's recipes, because she makes the best of everything. But!
Occasionally I wish that I could do a little twist on some of my favorite dishes, and that's what we are doing here. Whether it is for your actual Turkey Day dinner or for Friendsgiving or a Monday night you deem special enough, we're going to spice up our old faves.
First up, Thanksgiving snacks and cocktails! When it comes to any type of gathering, the party starts with your appetizers and drinks — duh.
My go-to easy appetizer that I nearly always set out is one heck of an epic cheese board. On this cheese board, I do three or four of my favorite cheeses, fresh and dried fruits (think grapes and dried apricots), roasted nuts and seeds and then a charcuterie selection. I toss it all together on a giant slate board and it might look messy, but it works. That's step number one – it's where I always start.
Step number two includes some sort of dip. It could easily be a cold Greek yogurt herb dip for veggies, but in these chillier months, I love something warm. Warm and cheesy, of course.
I really do not know how to do anything without cheese. It's a blessing and a curse.
That's where this wonderful goat cheese dip comes in. It's whipped together with some pumpkin puree and if that doesn't scream fall, I have no idea what does. Have you ever tried baked, melty goat cheese on pita chips? It is sent from heaven above. I swear it.
This dip is my extra favorite because it's mixed with a hint of freshly grated nutmeg (once you go fresh, you'll never go back) and one of the best fall foods: crispy sage leaves.
Crispy sage leaves are freaking out of this WORLD. I melt a little butter and once it's sizzling, I drop the sage leaves in for a minute or two. So not only does the butter get browned a bit, but the leaves also take on the flavor of the browned butter. Oooomph. So good. I like to whip some of these leaves into the dip but leave half of them out for topping.
Serve it with a bunch of veggies and crackers and bread and boom—you're done. And let me tell you, this dip is so fantastic that even I will consider vegetable only dippers. Which is huge.
The other obviously SUPER important part of your little partay is the beverage choice. Even if you don't consume alcohol, it's fun to have a party punch of some sort of gourmet and boutique-y sodas and sparkling waters for consumption. Complete with fun straws of course.
And if you DO consume alcohol, then you're in luck. Because spiced pear sangria embodies everything about this season that is lovely and warming and magical.
If you're having an extra large party, I'd double the batch. You can store leftovers in the fridge anyway. And if you want to make it without the wine, grab a bottle of sparkling nonalcoholic wine and leave out the brandy. It's super fantastic.
Spiced Pear Sangria
Serves 4
Ingredients
1 bottle dry white wine (like chardonnay)
2 cups pear juice
1 cup non-alcoholic ginger beer
1 cup ginger ale
½ cup ginger brandy
4 pears, sliced (plus an additional pear to use as garnish)
1 handful of cinnamon sticks, plus extra for garnish
Combine all the ingredients together and stir well. Refrigerate for an hour or so before serving. Serve over ice and garnish with extra pear slices and cinnamon sticks.
Note: I find pear juice or nectar in the juice aisle of my grocery store. Not in the refrigerated section.
Pumpkin Goat Cheese Dip with Crispy Sage
Serves 4
Ingredients
10 to 15 sage leaves
3 tablespoons unsalted butter
10 ounces goat cheese, at room temperature
4 ounces cream cheese, at room temperature
2 garlic cloves, minced
¼ cup pumpkin puree
¼ teaspoon freshly grated nutmeg
Pinch of salt and pepper
For serving: fresh vegetables, crackers, pita chips, bread
Preheat the oven to 375 degrees F.
To fry the sage leaves, heat the butter over medium heat. As soon as it melts and starts bubbling, throw the sage leaves in and let them cook on each side for 1 minute. Remove the leaves and place them on a paper towel to drain excess grease.
In a large bowl, whisk or mash together the goat cheese and cream cheese. You can also use an electric mixer to make this smooth and easy! Stir in the pumpkin puree, garlic cloves, fresh nutmeg, salt and pepper. Crumble in half of the sage leaves and mix again. Spoon the mixture in a baking dish. Bake for 20 to 25 minutes, stirring once during cook time, until bubbly and golden. Remove from the oven and stir again. Top with the remaining sage leaves and serve immediately.
Want more recipes for your Thanksgiving Day Menu? Check out these recipes for your turkey and sides, plus some fall-inspired desserts.