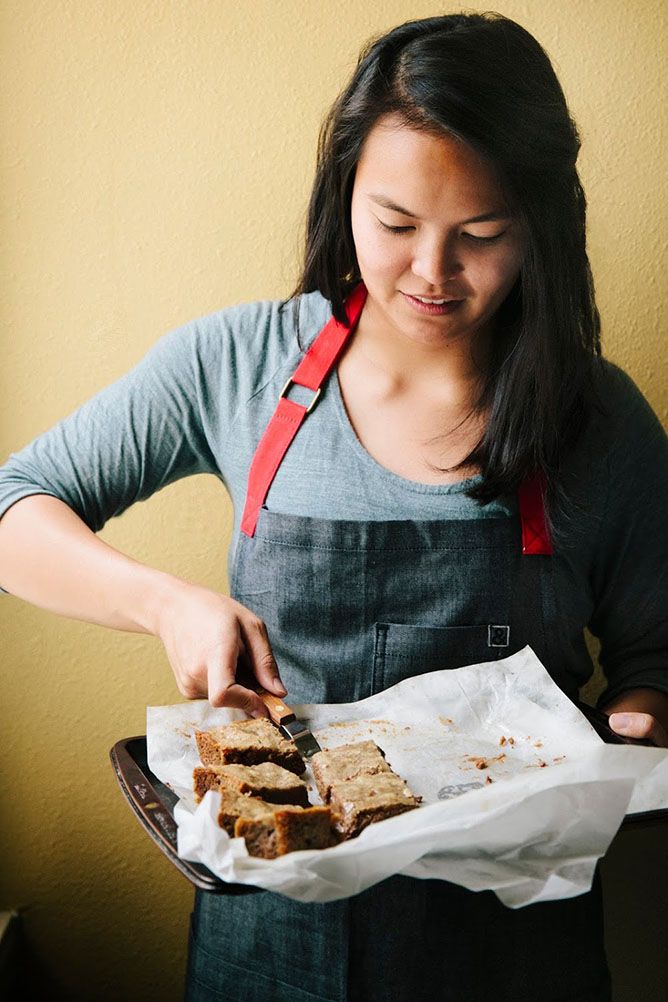 hummingbirdhigh.com
Are you team sweet or team savory when it comes to brunch? What about your partner? We've partnered with Michelle Lopez, founder of Hummingbird High, to create Valentine's Day breakfast recipes with options both sides will love.
When it comes to brunch, I find that there are pretty much only two camps: the folks who like sweet dishes like pastries, pancakes, and waffles, and the folks who like the savories like eggs, bacon, and toasts.
Since I'm a blogger who's known for baking and desserts, you'd think that I'd fall into that first camp. But oddly enough, I'm actually on Team Savory. Given the choice between a decadent eggs Benedict breakfast versus an equally delicious looking stack of pancakes, I'll opt for the eggs Benny every time.
Interestingly enough, Erlend, my boyfriend of five years, is the exact opposite. And it's funny, because apart from his need for sugar in the morning, he really doesn't have much of a sweet tooth otherwise. He politely takes a bite or two of one of my desserts, before gently trying to stop me from eating the rest and encouraging me to eat some kale or something. Between the two of us, he's the one who makes sure we're eating healthy and that we're getting enough protein and fiber in our meals.
Just not when it comes to brunch.
He's a sucker for breakfast sweets like fruit-filled protein shakes, brown sugar oatmeal and challah French toast. I don't really know why. That's just how it is. But because of my preference for the savories, one of us always ends up with the shorter end of the stick when it comes to Sunday brunch. We end up compromising by choosing a savory dish over a sweet dish, and promising to do the opposite next weekend. Promising being the keyword here. Because let's be honest — three out of four Sundays of the month, we end up with eggs and toast on our plate.
Valentine's Day falls on a Sunday this year, and it seemed unfair to make either of us choose between a savory or sweet brunch dish. On Valentine's Day, there should be no arguments about what to eat, no empty promises and absolutely no compromises. I decided to plan ahead for a luxurious, decadent brunch that would satisfy the both of us — a savory dish for me and a sweet dish for Erlend. This Valentine's Day, there will be no winners or losers. Just lots of food. And love.
Happy Valentine's Day!
Breakfast Tacos with Crispy "Smashed" Potatoes, Bacon, and Cheesy Eggs Recipe
I grew up in Texas, where Tex-Mex cuisine reigned supreme. One of my favorite Tex-Mex fusions is breakfast tacos: think of your favorite eggs and bacon scramble, served up in a soft tortilla shell and taco fixings. This Valentine's Day, I decided to create a "Build Your Own Breakfast Taco" station where Erlend and I could customize each of our tacos with different fillings and toppings. The recipe quantities can easily be scaled up or down depending on if you're cooking for just the two of you, or for an entire group of friends and family.
For the Crispy "Smashed" Potatoes with Bacon:
1 pound baby potatoes, scrubbed of any dirt on the outside
6 slices bacon
2 to 3 garlic cloves, smashed
vegetable oil, for frying
salt and pepper, to taste
For the Cheesy Scrambled Eggs:
4 large eggs
¼ cup milk
½ cup shredded cheese (I like sharp cheddar, or Mexican cheese for the tacos)
vegetable oil, for frying
salt and pepper, to taste
For the Taco Bar:
mini corn or flour tortillas
fresh herbs (I used green onions and cilantro)
diced red onions
salsas (I used a regular pico de gallo made with tomatoes and onions, as well as a mango salsa)
sauces (I put out a selection of different hot sauces, Sriracha and ketchup)
sour cream
extra cheese
For the Crispy "Smashed" Potatoes with Bacon:
Place the potatoes (skin on) in a medium saucepan large enough to fit the potatoes comfortably. Cover with water and bring to a boil over medium-high heat; once the water boils, let boil for a minute before reducing the heat to medium-low. Cook at a simmer for 15 to 20 minutes, or until a knife slides into a potato with ease. Use a colander to drain the potatoes and let cool for 20 minutes. Note: if you're looking to save time in the morning, you can go ahead and do this step the night before! Refrigerate the drained potatoes overnight.
As the potatoes are cooling, make the bacon. Center a rack in the oven and preheat to 400 (F). Prepare a wire rack by lining with paper towels. Prepare a baking sheet by lining with aluminum foil. Lay the bacon on the baking sheet in a single layer — don't let it overlap. Place the cloves of garlic in between the bacon.
Bake in the preheated oven until the bacon is golden brown and crispy, around 15 to 20 minutes. The exact baking time will depend on the thickness of the bacon and how crispy you like it. Once the bacon is crispy, remove the baking sheet from the oven and use tongs to transfer each piece to the towel-lined wire rack. Transfer the garlic to the wire rack as well. (At this point, the garlic should have browned and become fragrant in the oven).
Working quickly, reserve some of the grease from the bacon and transfer to a large frying pan or wok over medium heat. Use the back of your hands or the bottom of a glass to smash the potatoes, and transfer each to the pan containing the bacon fat. Cook until crisp, turning once, seasoning with salt and pepper as you go.
When golden brown, crispy and delicious, transfer the potatoes a large bowl or serving platter and serve with the bacon and roasted garlic. You can use kitchen shears or a knife to cut up the bacon into pieces that will fit more easily in a tortilla. Serve immediately.
For the Cheesy Scrambled Eggs:
Beat eggs, milk, salt and pepper in a small bowl until blended.
In a large nonstick skillet over medium heat, heat a teaspoon or two of oil. Pour in the egg mixture. As eggs begin to set, use a spatula to pull them across the pan and form large, soft curds. Continue cooking — pulling, lifting, and folding the eggs — until thickened and no visible liquid parts remain. Sprinkle the cheese over the mixture and remove from heat, serving immediately. Feel free to transfer the eggs into the same platter as the potatoes and bacon, tossing them all together to create one giant scramble.
For the Tacos:
Place a scoop of the potatoes, bacon, and egg scramble in the center of one tortilla. Garnish with the toppings, salsas, and herbs of your choice. Fold up to keep the toppings in place and enjoy immediately!
Mochi Waffle Hearts with a Cherry Brandy Compote Recipe
Mochiko flour (often shortened to mochi) is a sweet rice flour often available in the international section of most major grocery stores. Mochi is famous for being used in Japanese desserts to give them an incredibly chewy texture. But here's a lesser known culinary fact — mochi also happens to crisp up incredibly well in high heat. So if you swap out some of the all-purpose flour in a waffle recipe with mochi, you'll end up with a waffle that's incredibly crisp on the outside while remaining soft and chewy on the inside. One bite of a mochi waffle and you won't ever want plain ol' regular waffles ever again. PS — how cute are these heart-shaped waffles?!
For the Cherry Brandy Compote:
(makes around 1 ½ cups)
1 pound frozen pitted cherries
½ cup granulated sugar
fresh zest from 1 medium lemon
½ cup brandy
½ cup water
For the Mochi Waffles:
(serving size will depend on your waffle maker)
¼ cup granulated sugar
fresh zest from 1 medium lemon
1 cup all-purpose flour
1 cup mochiko flour
3 teaspoons baking powder
¼ teaspoon kosher salt
1 ½ cups whole milk
2 large eggs
1 teaspoon pure vanilla extract
cooking spray
For the Cherry Brandy Compote:
Combine the cherries, sugar, lemon zest, brandy and water in a large, heavy-bottomed saucepan. Bring to a boil over medium-high heat; continue boiling for about a minute before reducing the heat to medium-low to maintain a steady simmer.
Simmer until the cherries soften and the mixture becomes a pretty, deep red color, about 15 to 20 minutes. The liquid in the mixture should become syrupy and thick enough to coat the back of a spoon, creating the compote. While the compote is simmering, make the waffles.
For the Mochi Waffles:
Preheat your waffle iron. Center a rack in the oven and preheat to 200 (F). Prepare a baking tray by placing a wire rack inside a large baking tray; place inside the oven as it preheats.
In a small bowl, combine granulated sugar and the fresh lemon. Use your fingers to rub the zest into the sugar, until the zest is fully incorporated throughout the sugar and the sugar becomes fragrant.
In a medium bowl, whisk together the flour, mochiko flour, baking powder, kosher salt until fully incorporated. Sprinkle the sugar and zest on top of the ingredients and whisk until fully incorporated. Set aside.
In a large bowl, whisk together the whole milk, eggs, and vanilla extract until well combined — the mixture should be a very pale yellow.
Sprinkle the dry ingredients (from the 3rd step) over the wet ingredients (from the 4th step) and whisk until just incorporated. The batter will seem a little lumpy, but that's okay. Just make sure you whisk until there are no more dry ingredients; but be careful not to over-whisk or you'll end up with dense, heavy waffles!
Lightly spray your waffle iron with cooking spray before cooking the waffles according to the waffle iron instructions. The finished waffles should be golden and crispy. You can keep finished waffles warm in the oven by transferring each waffle into the prepared wire rack in the preheated oven. Enjoy the waffles warm with the compote and whipped cream!
Want more recipe ideas perfect for Valentine's Day? Check out this Sweetheart's Chocolate Pie.