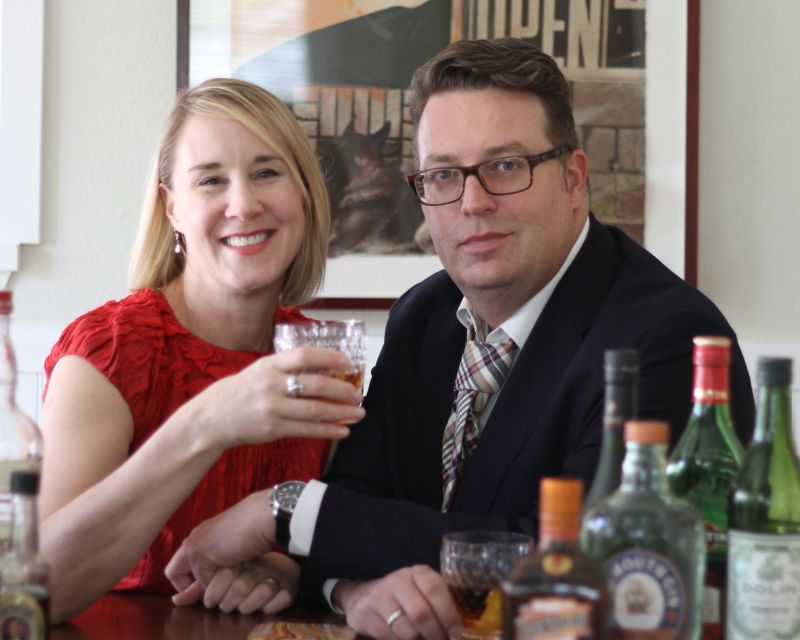 12bottlebar.com
This holiday season we've partnered with some of our favorite bloggers who will be showing you new and inspirational ways to bring the holidays home.
Entertaining this holiday season? We've partnered with David and Lesley Jacobs Solmonson of 12 Bottle Bar to bring you 12 new cocktails, one each week from now until New Years. Cheers!
Many cultures favor the ease and warmth of mulled wine during the holidays. The Brits have served it for centuries. In Sweden, they offer glögg, a mulled wine with a rich red wine base and heavy on the Christmas spices (cinnamon, cloves, cardamom) as well as dried fruits including raisins, apricots and candied orange peel. By far the least known is White Glögg which harkens from Finland. One would think the Finns and Swedes might partake of the same dishes, but the Finns are fiercely independent folk (the country gained independence from Russia in 1917). So it stands to reason that Finnish glögg would be as distinctive as the people who make it.
About White Glögg
Unlike Swedish glögg, which is a heady, spiced brew, Finnish glögg is all about subtlety. It uses white wine and a more gentle selection of spices that, nonetheless, still have plenty of potency, then adds lemon for a burst of tangy citrus. Unlike the ho-ho-ho Santa Claus flavors of red glögg, white glögg is softer and more herbal with less ingredients and a lighter flavor. The bay leaf is especially intriguing; without it, the punch loses its more earthy notes, so don't skip it. Likewise, the ginger and cloves play off each other, offering just enough of a cold weather holiday flavor without overwhelming the palate.
As to the style of wine, the choice is yours, but we recommend a Riesling for a number of reasons. First, Riesling is known for its aromatics and its delicate sweetness, which varies by both classification and vintage. If you want a slightly drier wine with just a touch of sweetness opt for a Kabinett level; if you prefer more sweetness, go with a Spätlese. The same goes for the sugar itself. We leave the actual measurement open because some folks prefer more and some less.
As you may have already realized, white glögg is essentially a punch, but made with wine instead of spirit, and with the requisite citrus and sugar elements. It's the sort of punch that can last an evening, complementing food without competing with it. It can be easily batched and even made the day before, but, as we caution, be sure to remove the solids lest the punch become bitter from sitting.
To serve this seasonal warmer, we needed heat-proof glasses and the Bodum Bistro Mug fit the bill, allowing the lovely, golden hue of the white glögg to shine through the glass.
1

bottle aromatic white wine

such as riesling

1

lemon

1 small

piece

of ginger

or .25 oz. powdered ginger

1

bay laurel leaf

10

cloves

1/2

cup

Cognac

sugar
1

bottle aromatic white wine

such as riesling

1

lemon

1 small

piece

of ginger

or .25 oz. powdered ginger

1

bay laurel leaf

10

cloves

1/2

cup

Cognac

sugar
Peel the lemon, removing as little of the pith as possible.

Add all ingredients (sugar to taste) to a saucepan and bring to a simmer over low heat.

Remove remaining pith from peeled lemon and section into slices.

Serve warm in a heat-proof glass, garnished with a lemon section.

Note: Once you have the flavor you like, remove the solids from the punch as soon as possible, especially the cloves, to prevent oversaturation.
Want more ideas from 12 Bottle Bar? Check out the book!