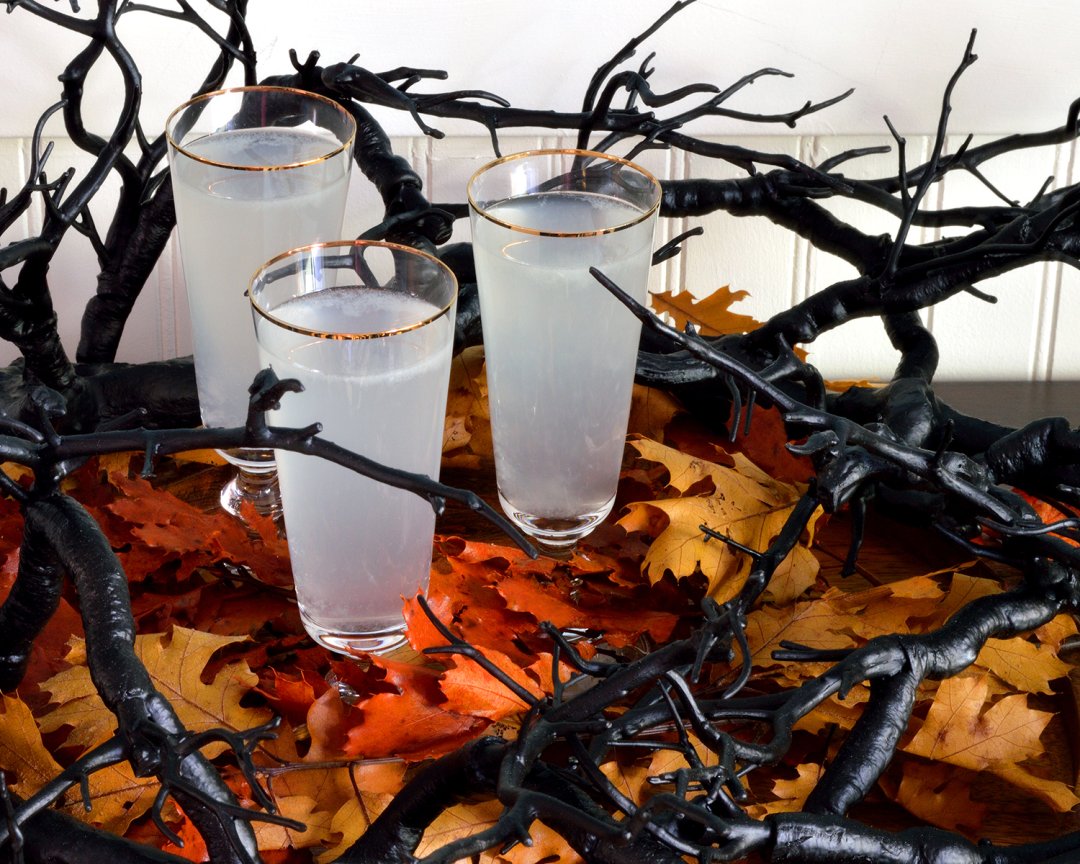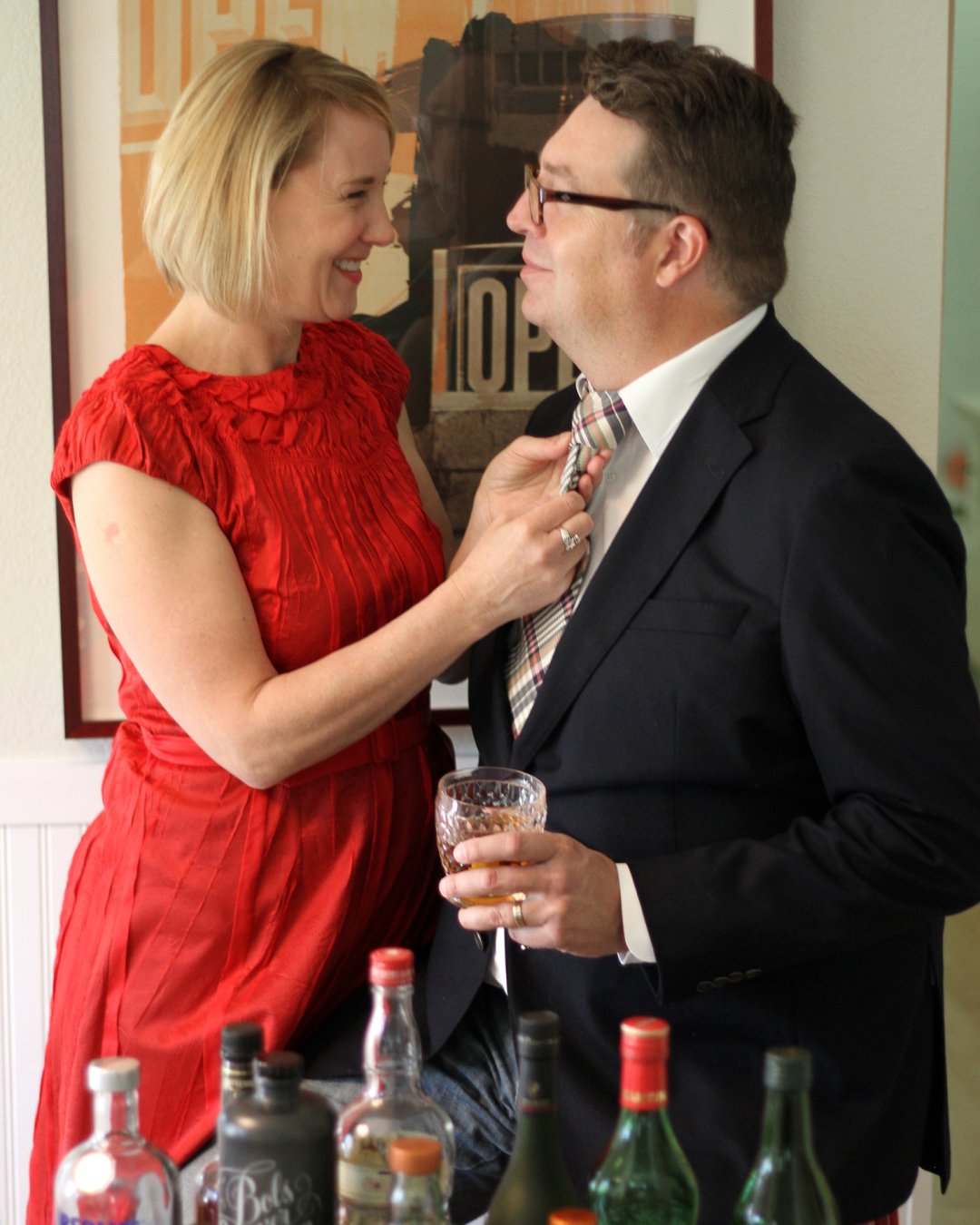 12bottlebar.com
Delight your Halloween guests with this spooky drink from David and Lesley Jacobs Solmonson of 12 Bottle Bar and the ghost story that goes with it.
Perhaps you know Teresa Fidalgo. One night a few years ago, three friends were driving through the Portuguese countryside, one of them filming the journey. On the side of the road, they encountered a young woman, dressed all in white, seemingly stranded and alone. They stopped to give her a lift, and as she entered the car, she informed them that her name was Teresa Fidalgo. When the driver asked Teresa where they could take her, she only vaguely pointed forward. As the car reached the spot that Teresa had indicated, she informed the others, "It was there…that I had an accident…and DIED!"
The camera filming the scene whips to Teresa. The once-lovely young woman has transformed into a hideous banshee. There is a commotion; the camera drops to the ground. In the aftermath, we're told that the car crashed and two of the three original passengers were killed. The police examined the video tape of the incident and began a search for Teresa Fidalgo—only to find that a woman resembling the one on the tape had indeed died at the spot of the accident…in 1983.
But Teresa's story—and her reach—didn't end on that mountain road. A tale began to make the rounds on the internet. Variations of a comment began to appear on various posts on popular websites, specifically on Instagram: "I am Teresa Fidalgo, and if you don't post this on 20 other photos I will sleep with you forever."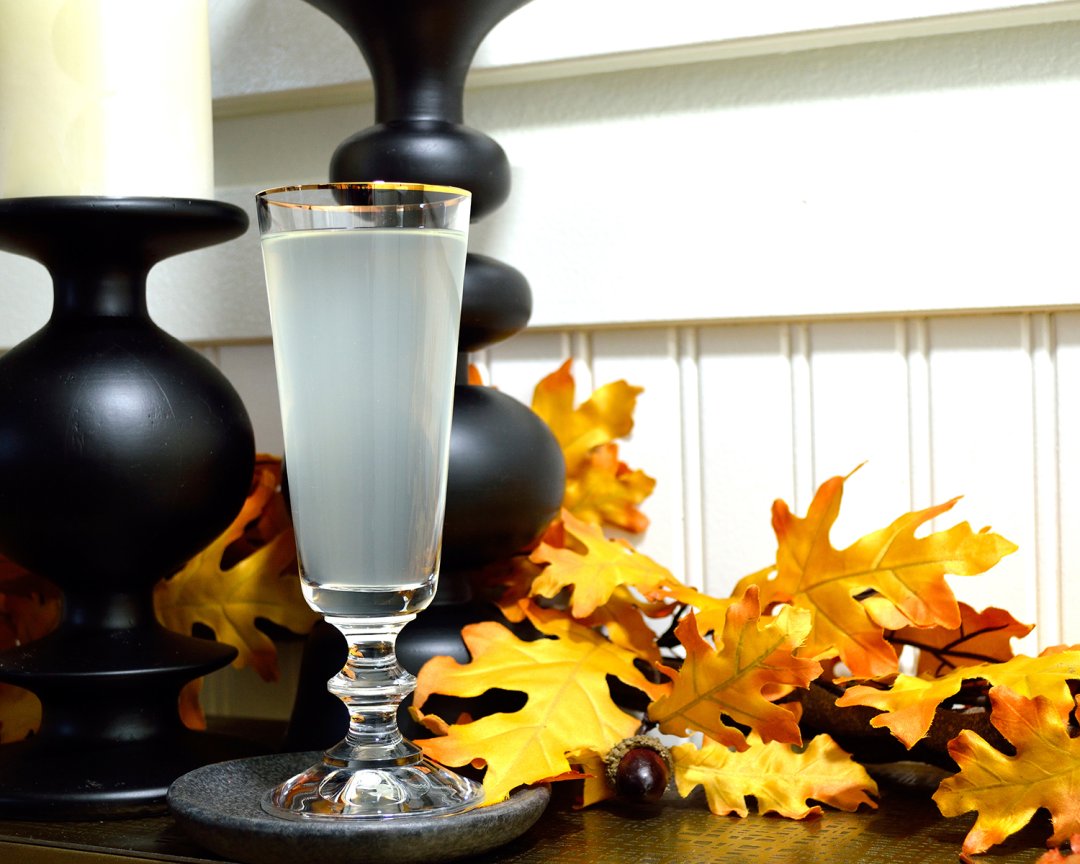 Well, "forever" is a very long time, Teresa. Of course, for as long as there have been ghost stories, there has been some version of the ghostly lady in white, ready to lead unsuspecting souls to their doom. In Iceland, these women are often termed ladies in gray. Venezuela has La Sayona, and, in the Philippines, there is a white lady story for almost every town. In Britain, these tragic souls trace their roots back to the Celtic "bean sidhe," or Banshee, a spirit whose mournful shriek announces the death of a family member.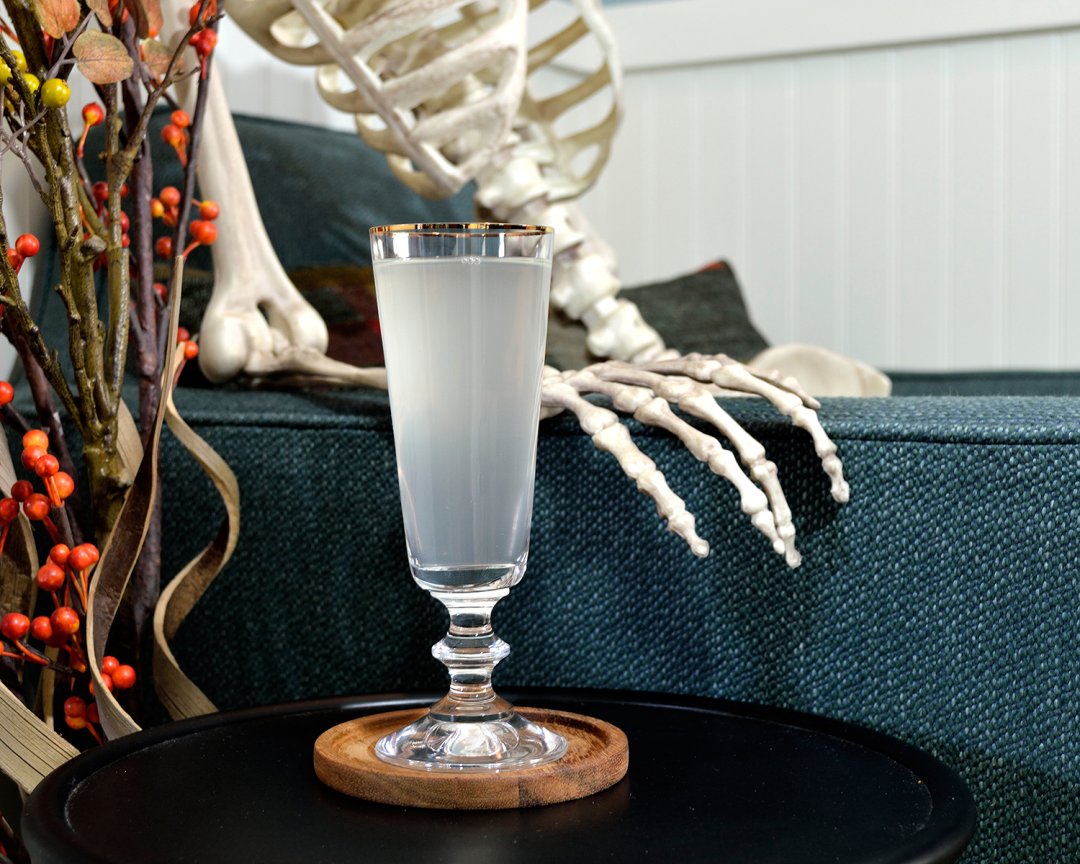 Thus, we come to our haunting drink, the Banshee. In the classic cocktail pantheon, you won't find a more traditional drink style than the sour, a combination of spirit, sweetening agent and citrus. Our Banshee owes its lineage to the White Lady, a popular concoction during Prohibition that featured gin, lemon juice and orange liqueur.
About The Banshee Cocktail
As with the White Lady of ghostly lore, the White Lady cocktail is of questionable lineage. Harry McElhone created his first version with Crème de Menthe while at Ciro's Club in London; he changed the recipe to gin in 1929 when he was bartender at Harry's American Bar in Paris. In 1930, however, a White Lady cocktail was published in the Savoy Cocktail Book and attributed to Harry Craddock. Leaving its origins aside, we can say that it is as tasty a cocktail as you will find, using only three ingredients in perfect balance. Its ghostly white color adds a spectral presence to this spooky season.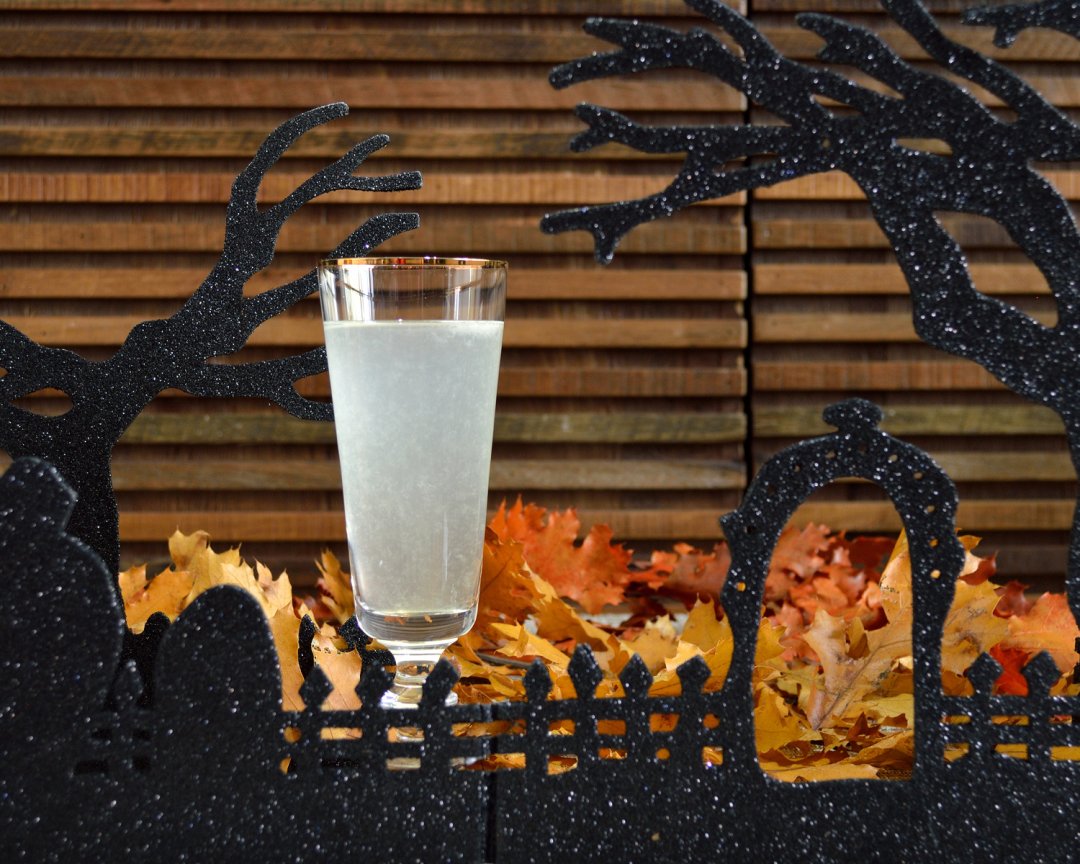 In honor of the holiday, we chose to christen the cocktail with a new name—the Banshee. Featured in the French Champagne glass with gold rim, its ethereal glow is eye catching. Whether peeking out from a Halloween Haunted Graveyard, nestled amidst the tendrils of the Black Branch Wreath, or surrounded by a seasonal Harvest Bunch, this drink is a satisfyingly minimalist addition to a season full of goblins and, yes, perhaps even banshees.
2

oz. dry gin

1

oz. freshly squeezed strained lemon juice

1

oz. triple sec
2

oz. dry gin

1

oz. freshly squeezed strained lemon juice

1

oz. triple sec
Add all three ingredients to a mixing glass. Cover and shake with ice. Strain into a glass.
Why just one signature cocktail when you can have two? Get the recipe for Witch's Brew.